This post may contain affiliate links. Read my disclosure policy here.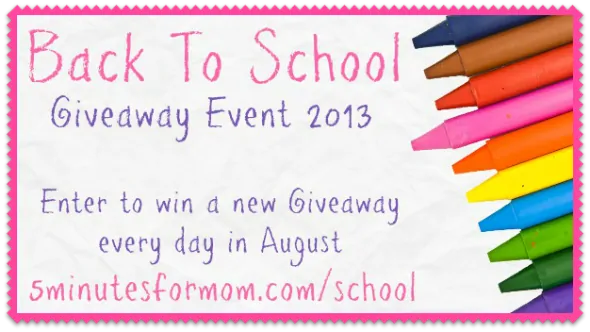 Jennifer here —
Are your kids gearing up for Back to School time? I don't know about where you live, but here in Kentucky, kids go back to school next week! I still cannot believe that summer break is already over. I feel like it just started.
The Big Back to School Giveaway Event
Today starts our month long Back to School Giveaway event. Each day during the month of August, we will be featuring brands and products that will help make your back to school transition smoother.
How to Enter
Each day, when the new Back to School giveaway is posted, just use the Rafflecopter on that giveaway to enter. To be eligible for each prize, you need to enter on each post.
We will be listing all the giveaways on each post so that you can find them easily.
What kind of prizes can I win?
We have all kinds of great prizes to give away this year. For starters, you will have a chance to win products from —
Office Max
Staples
Hewlett Packard
Amazon
Canon
SignUpGenius
Sears Optical
Alternavites
Homemaker's Friend
Kidaroo Crew
Net Nanny
Quote the Walls
Children's books
Lunchbox Notes
Wireless Printer
Pasta Goodie box for fundraising
Relish Subscription (that will come in handy for that dinnertime planning)
Lunch Kits from Fit Fresh
Bon Look Prescription Glasses
Kindle Fire HD
and more!
This year is our most awesome packed Back to School Giveaway event ever. The prize submissions are still pouring in, so we will have even more to add to the list!
Be sure to visit this post every day for a full listing of what is being given away so you can be sure to enter. At the end of August, we will pull all winners and they will be notified by September 5th.
What do you hope to win in this mega giveaway event?
Back to School Giveaways 2013
Spread the Word
We'd love your help sharing this Giveaway Event with your readers. It helps us continue to bring great giveaways to you.

Click Here To Tweet –> It's #BackToSchool #Giveaway time at @5minutesformom – New giveaways posted everyday in August.
If you'd like to add an image to a blog post or to your sidebar, you can use the code below.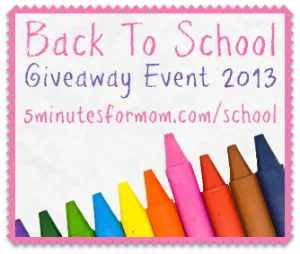 Copy and Paste the following html to add a link in your own blog post.