This post may contain affiliate links. Read my disclosure policy here.
5 Minutes for Books staff reviewer Dawn received a copy of this book to facilitate her review and is here to share her thoughts and offer up a giveaway copy for one of you.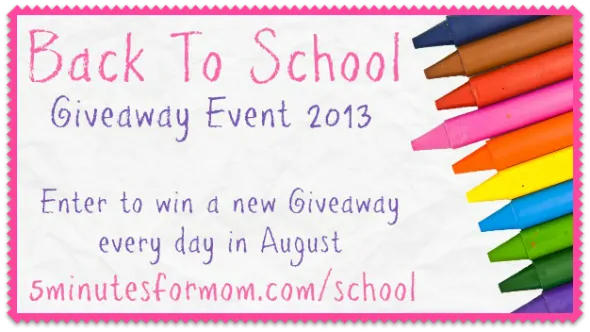 I've always been a fan of using children's literature to help my own children, and the children in the preschool classes that I've taught over the years, to relate to their world. Sometimes that's come in the form of books about sad things like the death of a pet, and other times to deal with upcoming changes, like the birth of a new sibling. This time of year, of course, has always seen me searching out books on the topic of going to school, books I would read to my students and to my own kids as they were working through the transition time of the first few weeks.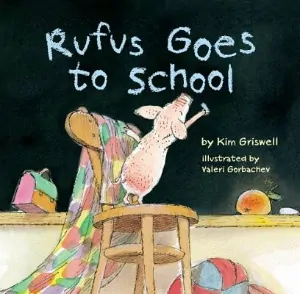 A new picture book by Kim T. Griswell fits the bill quite well, with an extremely enthusiastic student ready to go to school for the first time. In Rufus Goes to School, the title character is a huge fan of books, and he has one particular book that he loves the best. As he looks at it every day, turning the pages and looking at the pictures, he makes up stories to go along with what he sees, because Rufus hasn't yet learned to read. He decides to remedy this by going off to school, so he gets himself a backpack and heads out.
But, as you can see, Rufus is a pig, and this fact causes a little problem when he arrives at the school. The principal isn't a fan of the idea of a pig in a classroom full of children, and he gives several predictions about Rufus' behavior that would disrupt the class, and he sends him back home. Rufus, however, is determined, so he continues to gather supplies and try again and again. In the end, there's one way he can convince Principal Lipid to let him stay, and he finds that his desire to learn to read just might do the trick.
Rufus Goes to School is a delightful book for several reasons. For one, his full name, Rufus Leroy Williams III, is sure to make kids smile. For children who might be experiencing some nervousness about going to school, Rufus' excitement and the silly scenarios presented by the principal might help alleviate their worries by making them giggle, with some of that enthusiasm rubbing off in the process. And you can't forget Valeri Gorbachev's illustrations, ink and watercolor creations that convey light and warmth in every scene.
My own children (a kindergartener and a 2nd grader) have enjoyed reading this book, and my 2nd grade daughter even reported that her new teacher read it to the class the other day during the first week of school. (Public props to her teacher for incorporating brand new children's literature into the classroom!) Rufus is ready for school, and he'd be thrilled, I'm sure, to help your children get excited too!
Enter to win
We have one copy up for grabs in today's giveaway, US mailing addresses only, please.
Use the Rafflecopter form to enter this giveaway. New to Rafflecopter? Watch this 45-second video on how to enter!
Be sure to visit the main Back to School post to find all of our Back to School related giveaways. You don't want to miss out on the amazing prizes.