We're Talking With Moms – Join Us!
We are Janice Croze and Susan Carraretto — identical twins, work-at-home-moms, and founders of the top Mom Blog, 5 Minutes for Mom.com.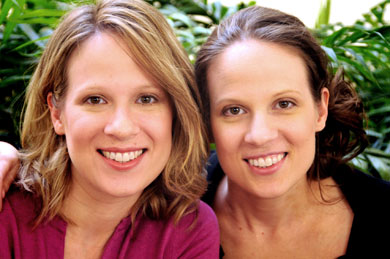 In 2006, we created 5 Minutes for Mom, successfully combining genres to create a shopping/parenting/resource blog that enjoys high traffic and a dedicated readership.
5 Minutes for Mom.com is the perfect website for promoting products of interest to mothers. We are a family friendly site, committed to maintaining an atmosphere of respect and positivity. Since our website is a combination of shopping and parenting related topics, our readers expect and want us to inform them about quality products.
We specialize in creating exciting, unique campaigns that get your message to our readers.
Please click this link to download our media kit.
To determine how best we can help promote you, your company or your brand, please start by completing the form at the top of this page.
You may also contact Janice and Susan at info at 5minutesformom dot com to discuss rates and customize the perfect campaign to fit your goals and budget.
You can reach us on Twitter, twitter.com/5minutesformom or Instagram @5minutesformom.
You'll Love Working With Us…
We care about your business and our relationship with you.

"I can't say enough good things about working with Janice and Susan. They are extremely creative and always find ways to seamlessly integrate our products with their editorial content.
The campaign we recently launched was executed flawlessly and we saw great results. It was a fantastic outcome and I am very happy, and so are many of the 5 Minutes for Mom readers from what I read from their comments. Not to mention that Janice and Susan are an absolute pleasure to work with."
— Tony Obregon, Vice President of Digital Marketing, Cohn&Wolfe
Our Stats
We were quoted and listed as the 2nd top parenting blog in the Wall Street Journal. Recent statistics can be found in our media kit.
How We Can Help You
We can help you get your marketing message to moms through:
Product Reviews and Giveaways

In 2006, we were one of the first mom blogs to expand online product reviews into giveaways and sparked the now huge giveaway movement in blogs.

Today, we continue to lead the blogosphere with some of the most exciting and popular giveaways.

We run giveaways for a variety of companies, ranging from large corporations such as Sony, Kodak, Dyson, Best Buy, HP, Philips, etc. to small Mom-owned and Family-owned stores.

We publish honest, personal, and fun reviews. If we are unable to provide you with a positive review, we will inform you and not publish the review.

Please complete the form here on this page and select the checkbox for REVIEW/GIVEAWAY. We will contact you to discuss our review process and how we can help arrange a giveaway to promote your product.

Creative, Custom Promotion

At 5 Minutes for Mom.com, we work together with sponsors to create interactive, innovative campaigns that engage readers while communicating the company's message.

Your company can choose one of the packages that we offer, or we can work within your budget to create the perfect campaign package for your company.

We are comfortable with all forms of media. We have experience on camera both interviewing and being interviewed, and we can travel to accommodate your campaign needs. The sky is the limit — and we love new challenges!

Speaking Engagements

We are energetic, passionate speakers who love to communicate our enthusiasm and knowledge about blogging, social media, internet marketing, e-commerce and more.

With my (Janice) background in youth ministry and public speaking, I am most comfortable teaching, inspiring and empowering an audience. I love to share my experiences in the online mom community and social media to both moms and marketers.

Susan's experience in software design and business consulting, along with her e-commerce, internet marketing, SEO and technological background, make her an incredible resource for teaching and speaking on a vast array of subjects.

Consulting Services

As pioneers in mom-blogging, who have not only helped to shape the "momosphere" but continue to be leaders in the blogosphere, and as successful e-commerce store owner and "mompreneurs," we offer valuable insight into the online mom community and the future of online marketing.

We are available for a wide range of consulting services such as teaching/speaking engagements, one on one coaching services, training programs, and more. We can work with you in person, online, or over the telephone.

Travel Destinations

We love to travel — and we love to feature family friendly destinations, hotels and vacations.

In recent years, we have covered wonderful destinations such as Walt Disney World, Disney Beach Club Resort, Discovery Cove, and the Four Seasons.

If you want us to tell the world about your fantastic travel destination through our personal, photographic features, please complete the form here on this page and select the checkbox for TRAVEL. Our schedules are packed, but we will do our best to try to accommodate your company.
Get Started
To discuss rates and customize the perfect campaign to fit your goals and budget, please complete the form here on this page. We will contact you as soon as possible.
Please note that our inbox is incredibly busy. If you do not hear from us, please feel free to write back. Your email may have been lost in junk or spam, or you may have slipped through the cracks. Janice and Susan can also be reached on Twitter, www.twitter.com/5minutesformom.
Please take a moment to review our Disclosure Agreement and our explanation of our use of the nofollow tag.