This post may contain affiliate links. Read my disclosure policy here.
Yesterday, I told you all about how I fell in love with Disney World.
It is true — before I arrived in Walt Disney World, I had no idea what I had been missing out on. What I thought would be a fantastic vacation for my kids, turned out to be an incredible, perfect vacation for all of us!
The parks at Disney World were fantastic — my favorite was the Magic Kingdom. (It really IS magical!)
But adding to my vacation bliss was the absolutely fantastic Disney's Beach Club Resort hotel where we stayed.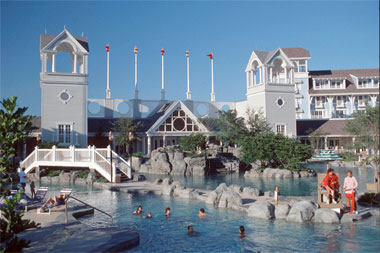 The hotel was simply gorgeous. Stepping through the doors, I felt like I was in a dream. It was stunning and yet completely comfortable.
Jackson loved the TV with kids sized chairs that was constantly running vintage Disney cartoons. He would have sat there all day if we let him. His laughter was hysterical. He was just completely lost in the old school Disney fun. Listening to him laugh was even better than watching the cartoons!
The buffet at the Cape May Cafe was incredible. The food was absolutely delicious and they had everything you could imagine and everything you could want when you are trying to feed fussy little eaters. (Although my kids are not fussy eaters! They devoured everything from ribs to cheesecake.)
And this is Florida. Everyone wants to have some fun in the sun!
Disney's Beach Club Resort not only has a beach by the lake, but even better, the Disney Beach Club Resort has the best "beach" experience a pool could ever offer. In fact – it was better than the beach!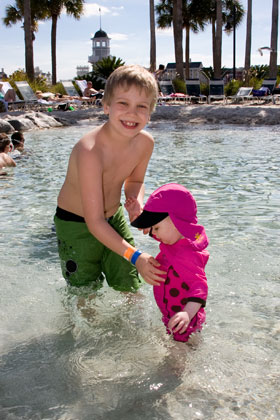 Our afternoon by the pool was so relaxing! With lifeguards posted all over the place, and shallow, open pools, I could relax and watch Jackson have the best time splashing, swimming, and making friends.
Olivia LOVED the sand! And with no big waves to watch out for, we could sit and play completely carefree at this safe, white-sand, "beach."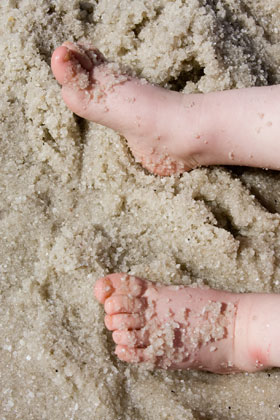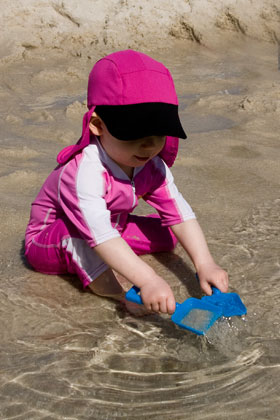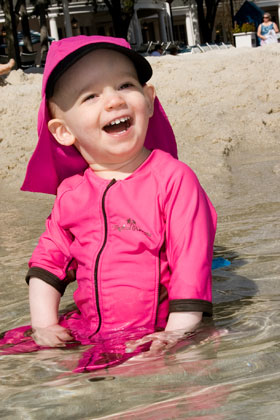 Olivia and Jackson both loved the shovels and pails that came with the kids' meals. Olivia kept calling her shovel a "spoon" and so Jackson figured that sounded like the perfect idea when I forgot to grab him a spoon for his applesauce.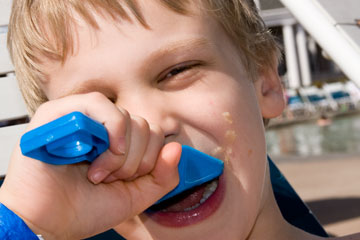 If you are looking for a hotel in Disney World, definitely consider Disney's Beach Club Resort. As I explained in my review post of Walt Disney World, staying at a Disney hotel is the best decision you can make when planning your trip.
They have hotels ranging in pricing from value to deluxe and the perks and benefits are unbeatable! You can seriously save hundreds of dollars! So if you decide to splurge on a deluxe hotel like Disney's Beach Club Resort, you can relax about how much money you are saving with their benefits like free transportation and the Disney Dining Plan.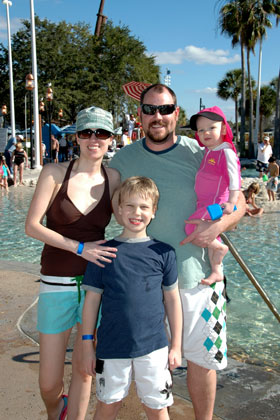 PLUS, if you are staying at one of their hotels with a beautiful pool and recreation facilities like the the Beach Club, you can plan for at least a couple days to skip the parks and enjoy the hotel and all it has to offer. And with destinations like Downtown Disney and The Boardwalk, you will have plenty of Disney to keep you busy!
In all my travels, I am not sure I have ever stayed in a hotel I LOVED more than the Disney's Beach Club Resort. I can't WAIT to go back…
Enter to WIN Four 1 Day Park Hoppers!!!
Thanks to Walt Disney World, we have Four 1 Day Walt Disney World Park Hoppers to give away!
To enter, simply leave a comment at my Disney World Review post.
Updated to add: Yes, in case it wasn't clear in this post, Disney did provide our family with passes to their parks and a stay in their hotel. As we state in our Disclosure Policy, we often receive free products and services when we are preparing a review or a giveaway for this site.
Disney is a fantastic supporter of the blogging community and they have had several bloggers review their parks.
You can read our disclosure policy at http://www.5minutesformom.com/disclosure/.