This post may contain affiliate links. Read my disclosure policy here.
I have to admit, I didn't believe it.
I didn't believe that Disney was the happiest place on earth.
Sure, I planned on eventually going to Disneyland or Disney World for the sake of my kids. (My son was constantly informing me that he was the only first grader in the whole world who had never been to Disneyland or Disney World.)
But personally, my idea of the perfect vacation was to skip the busyness of a fair and head to a beach, armed with a towel and a really good book.
It was how I was raised. My parents were not fair-going people.
Every year they vacationed on the very same beach, under the very same umbrella, loaded down with books and sunscreen. They looked on in disbelief at parents who brought their children with them on vacation. No — to them a vacation was for reading and relaxing.
They did bring us to Disneyland once when I was six. But the subject of returning never came up. My parents were happiest in Hawaii on their beloved beach.
So, I assumed that that beach was where I would be happiest too.
BUT I was wrong!
Now, after experiencing the magic of Walt Disney World — I BELIEVE!!!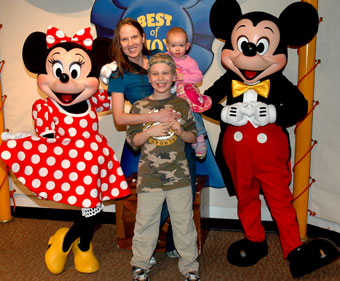 In fact, I am so in love with Walt Disney World, I wish I were there right now! I could return year after year after year and never be full.
It IS simply magical.

Why am I so enamored with Disney? Let me tell you…
For Kids, For Parents, For Everyone!
I knew my kids would love Walt Disney World. I mean come on?!? I think it would be impossible for kids to NOT love Disney!
Disney is imagination come to life!
At Walt Disney World, kids get to be a part of a world they had only imagined before. To a child that interaction can only be understood as magic.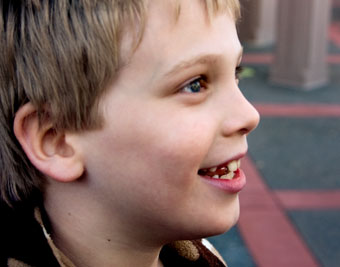 And to a parent, seeing our children's eyes dance, their hearts jump and kick, and their minds travel to a world where dreams really do come true, that is about as wonderful as parenting gets.

My toddler, Olivia, and my seven-year-old, Jackson, were both in childhood bliss in the happiest place on earth — but I was more than just along for the ride…

I loved Disney World myself! Yes — beach loving, book reading, internet addicted, easily nauseated by anything spinning around in the air — me!
I LOVED Disney World!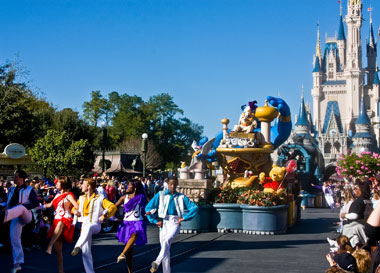 As the parades danced through the streets, as the giant, stuffed characters hugged us, as the fireworks exploded in the sky — with the music of Disney accompanying it all — I was in that magical world too, celebrating the sweetest parts of life.
When I looked around, I saw all ages enjoying the parks. And those without kids were having just as great of a time (maybe sometimes an even better time! LOL) as those of us with kids.

I realized that Disney magic is for everyone!
Vacationing Made Perfect
Disney knows how to do it right!
At every point in our Disney vacation, my husband Phil and I were totally impressed with the well oiled machine that is Disney.
Especially when staying at a Walt Disney World Resort hotel, every moment of your vacation is made hassle-free and convenient.
Even planning your vacation is made simple at their fantastic interactive web site with features like a detailed vacation booking guide, a pricing guide, a pre-arrival guide and more.
Ideas like the Your Key to the World Card, the all-in-one card that you receive upon check-in that acts as your hotel room key and Disney Theme Park ticket, and allows you to charge souvenirs throughout Walt Disney World Resort directly to your room and pay for meals with the Disney Dining Plan, make everything just that much easier.
The benefits of staying at a Disney Resort hotel also save you a ton of money.
With the Complimentary Airport Transportation and the Complimentary Resort Transportation, there is no reason to rent a car or call a cab. You can get everywhere you want to go, quickly and easily, with no cost.
And with the Disney Dining Plan, Disney Resort guests can save up to 30% per adult on dining by purchasing a Disney Dining Plan as part of their Magic Your Way Package. The plan allows guests to choose from over 100 select restaurants throughout the Walt Disney World Resort!.
These benefits can save you hundreds of dollars!
As well, guests at Walt Disney World Resorts can use their Key to the World Card for Extended Theme Park Hours — additional time in the Disney Theme Park (above and beyond the standard operating schedule) at no extra charge.
Best of all, there are Disney Resort hotels for every budget. From value to deluxe, you have all kinds of options.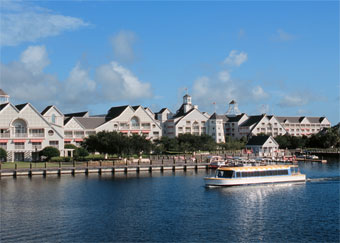 After staying at a Disney Resort hotel, Phil and I will never do it any other way. The perks and savings are unbeatable!
And the customer service was consistently excellent!
There is nothing like impeccable customer service. Perhaps Disney teaches their "cast members" that Walt Disney World can only be magical if their guests are treated like royalty.

It really does make you feel treasured to have staff give you that extra special attention. Every employee of Disney we encountered was there to help make our vacation as perfect as possible.
Disney made our entire vacation experience magical.
"Always Leave Them Wanting More…"
I didn't want to leave. Ever.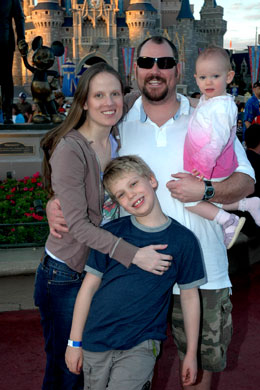 And I can't wait to get back!
Before I landed on Disney's magical soil, I figured one trip to Disney would be good for a lifetime. I could check it off the parenting list as a "been there, done that."
But at Walt Disney World I learned that there are a lifetime of vacations waiting for you. There is so much to do and enjoy, we could go for a dozen trips and still not have done it all!
We met visitor after visitor who return every year to Disney World. I met a mother with an autistic son who brings him a few times every year. "He comes alive at Disney World. He loves it here. It is our thing that we do together." she told me.
We also met so many families who were part of the Disney Vacation Club. Each one of them raved about their experiences. "We love it!" one father told me, "And every other Vacation Club member you meet will tell you the same."
I asked another father what made them come back every year. "It is the best place for family vacations," he explained, "Everything is accessible, convenient and self contained. It is safe, clean and family friendly. It just makes vacationing so easy."
Phil and I are definitely planning to return to Walt Disney World. My son Jackson said, "Mom, we can just put aside a bit of money each month and then we will have enough to come again."
Yes, Jackson, I think you are right! And I will be just as excited as you are when we board the plane to return to Walt Disney World.
Enter to WIN Four 1 Day Park Hoppers!!!
Thanks to Walt Disney World, we have Four 1 Day Park Hoppers to give away!
To enter, simply leave a comment here at this post.
And don't forget — you can get extra entries in our giveaways…
If you already subscribe to our newsletter and/or our RSS feed and/or have our button on your site, you qualify for additional entries. Also, if you tweet or spread the word via facebook, your blog, etc., just leave additional comments letting us know and you will have additional entries. (Your comments are your entries.) So hit your favorite social media sites and then add comments for additional entries!
This giveaway is open for entry until Friday, April 3rd, 2009. The winner will be announced on Saturday, April 4th, 2009.
Please see our site's Terms and Conditions of Use for a complete list of our Contest and Giveaway Rules. This promotion is void where prohibited.
Updated to add: Yes, in case it wasn't clear in this post, Disney did provide our family with passes to their parks and a stay in their hotel. As we state in our Disclosure Policy, we often receive free products and services when we are preparing a review or a giveaway for this site.
Disney is a fantastic supporter of the blogging community and they have had several bloggers review their parks.
You can read our disclosure policy at http://www.5minutesformom.com/disclosure/.