This post may contain affiliate links. Read my disclosure policy here.
Traveling with kids can be tough.
And once you've survived the nightmare of airplane travel with restless children, you deserve to be greeted as royal victors and have all your cares whisked away.
That is how I felt when we arrived at the Four Seasons in Houston, Texas after an exhausting day with a baby and a preschooler flying across the continent and a horrifying cab ride with the world's rudest and most aggressive driver.
As soon as we stepped out of the cab, our trip turned around. The bellman was so polite and welcoming and as we checked in at the front desk, a clerk came around and greeted Julia and Sophia with adorable stuffed horses and a package addressed to them.
Julia could not believe it. She was ecstatic!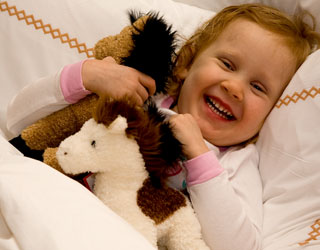 She is not even four and has already stayed in several high rating hotels as she's followed me along on business trips, but never has any hotel given her a stuffed animal.
Her fusses stopped immediately as she clung to her new toy and we finished checking in.
When we entered the room, I could not believe the detailed attention to preparing our stay as a family with young children. Our room was completely baby proofed and had special soaps and shampoos for the girls.
Armed with a package full of coupons, maps and children-friendly destinations and a spacious, beautiful hotel room tailored perfectly for my young children, I was in parenting bliss.
Take a look as Julia, Sophia and I show you around our family friendly hotel room at the Four Seasons.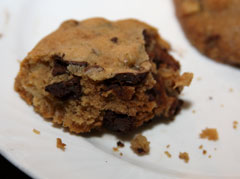 At the end of our very long day of travel, after warm cookies and tall glasses of milk, we all curled up in the most heavenly bed any of us have ever slept in.
Seriously — from the mattress, to the down pillows and duvet, I could not even imagine a more comfortable sleeping environment.
Julia clung to both horses that first night, but the next day Sophia figured out that one horse was hers and claimed it for her own cuddles.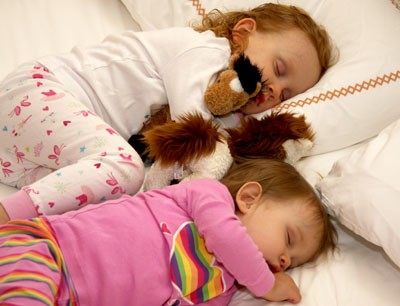 To this day, those horses are their most treasured stuffies and I can't wait till our next stay at the family friendly Four Seasons.
Since I was a speaker at the Mom 2.0 Summit, my room cost was covered by the conference. The Four Seasons offered our assistant Erica a free room as a thank you for us reviewing their hotel.