This post may contain affiliate links. Read my disclosure policy here.
A Dream…
I have discovered an absolutely perfect vacation destination — Discovery Cove in Orlando, Florida.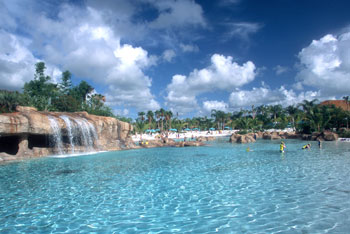 Seriously, it is as if Discovery Cove were built to my dream specifications!
Swimming with the Dolphins
I know I am among many when I say it was a dream of mine to swim with a dolphin. (I think almost everyone longs to interact with these incredible animals.)
So if I were to design my dream vacation, swimming with dolphins would be top priority.
Discovery Cove allows this dream to come true!
Not only are we guests allowed in the water with the dolphins, touching their smooth backs and feeding them fish, but a dolphin even takes us for a ride on its back! And the best part is, the dolphins seem to love spending time with us as much as we do with them.
Of course, we want our kids to have the same fantastic experience. So the resort helps facilitate family involvement too.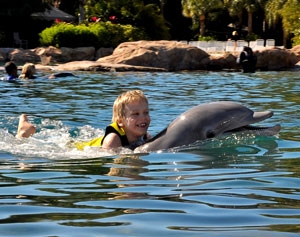 Children over the age of 6 are allowed to participate with the dolphins and have a ride if they want.
If anyone is uncomfortable with deep water, they simply have the dolphin cross through a shallow area of the pool.
Here is a shot of my son Jackson having the time of his life! I am sure he will never forget the day he rode on a dolphin's back.
AND for those of us with children who are too young to participate, the park provides FREE babysitting!
This babysitting option worked perfectly for us, since Olivia simply took her nap in the stroller while the babysitter, a sweet grandmotherly woman, took Olivia for a stroll.
White Sand Beaches
I love the beach. Add soft, white sand, and I am definitely in a dream.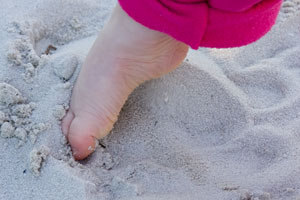 At Discovery Cove, they combine the softest, cleanest white sand with a warm, huge, beautiful pool for the ultimate family beach experience.
I loved that I could let Olivia run around in her bare feet and not worry about her stepping on glass or other litter.
I remarked to the staff how impressed I was with the sand and she told me that every night they clean the sand with a machine that sifts through it to catch any objects like credit cards or litter. Incredible.
Professional Photography
Of course when I am having all these once in a lifetime moments that I want to treasure and relive for the rest of my life, I need someone to capture it all for me on camera!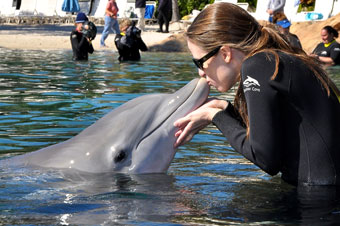 I can't take pictures while the dolphin and I are kissing!
So to make my vacation perfect, I need someone taking my pictures with the option of me choosing and purchasing the shots I want.
Free Food
To eat and not pay… Oh, it makes the day so much more enjoyable.
All the food and drinks you want are included in the price of admission. So every time you grab for a water, a snack or a meal (breakfast and lunch are available,) you don't have to reach for your wallet.
My husband was especially thrilled with the free beer! LOL I am not a beer drinker myself, but apparently free beer in frozen aluminum bottles is almost as incredible to my Canadian, beer loving, husband as swimming with the dolphins is to me!
(And in case you might be worried about the risks of free alcohol, I didn't notice anyone taking advantage and drinking too much. The park was completely family friendly.)
Warm Pools
Jackson was in the pools all day — even though it was an unusually cold Florida day and the lifeguards were bundled up with hats and gloves! (We Canadians got a kick out of that!)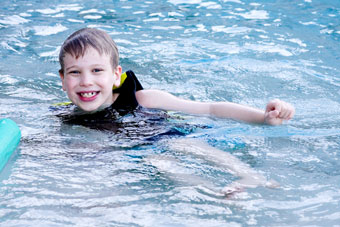 But because the pools were so warm, we were fine to swim and enjoy the day.
The pools with animals are 77 F (25 C) and the large sandy beach pool is a luxurious 86 F (30 C.)
Clean and Beautiful
It is only natural.
We humans love beauty. Scenes of palm trees and sandy beaches and landscaped pools make us breathe in more deeply, with relaxation tingling all the way to our toes.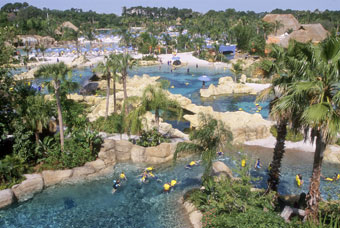 Discovery Cove has created a gorgeous park, a perfect escape to a tropical paradise.
But not only did I appreciate the landscaping and design, I LOVED how clean the park was.
Even the changing rooms and showers were luxurious and spotless.
For a mom like me, who loathes taking my kids to public restrooms, let alone public showers, the restrooms and showers at Discovery Cove were wonderful. (They even supply Crabtree and Evelyn soaps, shampoos, etc.)
Customer Service
I simply can not rave long enough about the outstanding customer service at Discovery Cove.
Every single staff member we encountered throughout our day was extraordinarily courteous, helpful and friendly.
It is amazing how fabulous customer service effects you… It makes your day better. It turns good into great. It makes the world seems like a happier place — gosh, you may even find yourself smiling more!
Safe and Family Friendly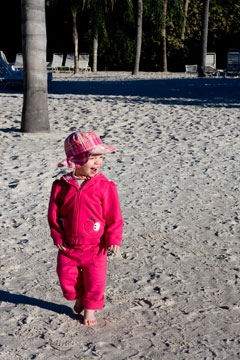 Vacationing with kids isn't exactly easy — or even relaxing sometimes! As parents, we are trying to not only calm irrational temper tantrums and keep our kids entertained, we are trying to keep them SAFE!
At Discovery Cove, I was not only breathing in the tranquility of my surroundings and my interactions with nature, I was relaxed knowing my kids were in a safe, family friendly facility.
With lifeguards watchful eyes, shallow pools, and spotless, groomed sand, this all inclusive resort is the perfect place to relax with your kids. I can't even say who enjoyed the day more — my husband, me, Jackson or Olivia.
We ALL had an incredible time!
Tips to Get the Most Out of Your Day at Discovery Cove
If you are considering a trip to Discovery Cove, make sure you give yourself the whole day to enjoy all Discovery Cove has to offer.
Arrive first thing in the morning and enjoy their free breakfast and then get down to the business of play! Discovery Cove is a full day adventure with operating hours of 9:00 a.m. – 5:30 p.m. daily. Check-in begins at 8:00 a.m.
Even if your 30 minute appointment with the dolphins isn't until the afternoon, you won't be at a loss of things to do!
You can snorkel among thousands of rays and exotic fish, and explore the splendor of coral reefs and grottos. Discovery Cove also has a series of free-flight aviaries where you can touch, feed and interact with hundreds of colorful tropical birds.
And of course, you can relax and soak up the sun or build sandcastles with your kids in the white sand poolside beach.
Also, consider visiting the park during off season like we did.
Attendance is always limited to only 1,000 guests per day at this reservations-only adventure, but if you visit during off season, there may be even less.
No matter when you want to go, you must make a reservation. And if you are planning to go in the summer or during school vacations, book two months in advance.
If you want to enjoy Discovery Cove on a tighter budget, you have some options. The park offers special discounts for Florida residents, early booking discounts and non-dolphin package park admission that allows you to enjoy all the park has to offer, minus the dolphin swim.
Vacation Perfection
As you can tell from this enthusiastic post, my family and I LOVED our day at Discovery Cove.
My son Jackson was literally the last person out of the pool at the end of the day and he begged to come back again.
If I could spend a week at Discovery Cove every year of my life I would be in vacation heaven.
It is vacation perfection.