This post may contain affiliate links. Read my disclosure policy here.
Keto Cheesecake Bites are a delicious low carb dessert that lets you have a treat while sticking to a Keto diet.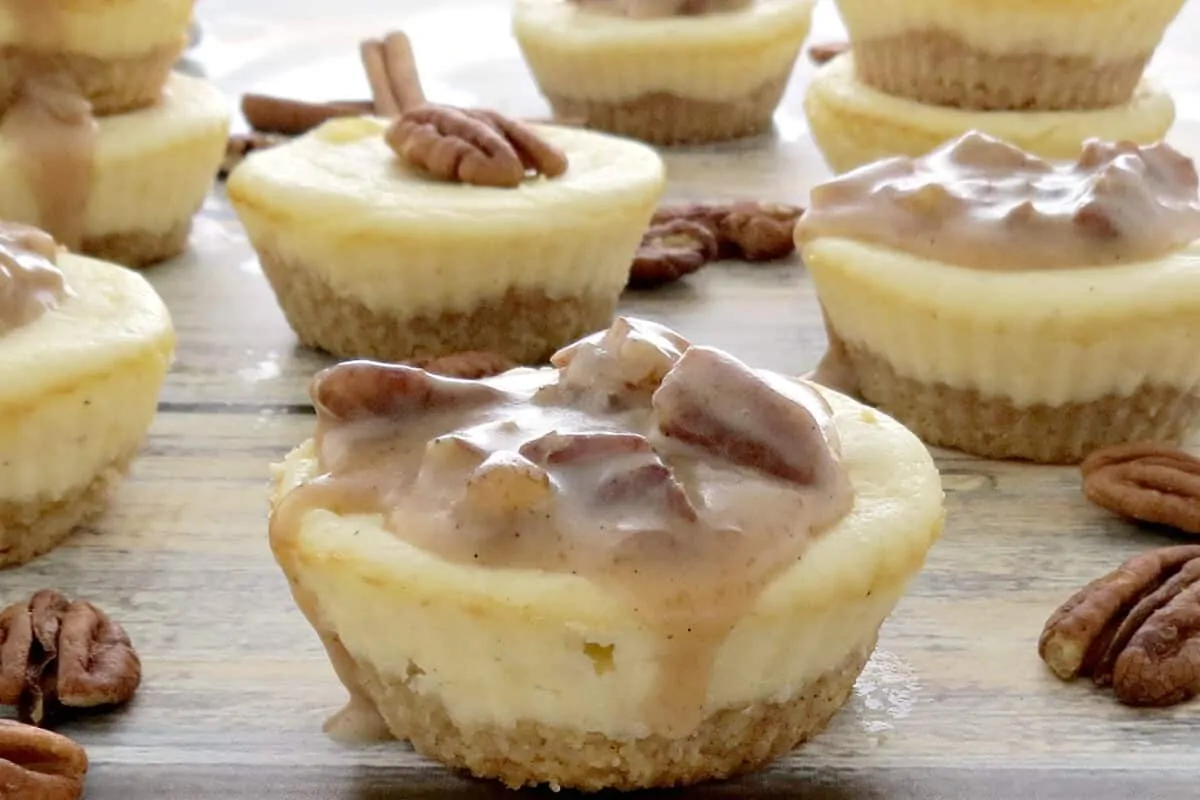 My all time favorite dessert is cheesecake. I love all types of cheesecakes! Since so many of us are reducing carbs or following a Keto diet, we wanted to share a tasty treat that is Keto friendly.
When you're making a low carb cheesecake, the texture is a little different than a regular cheesecake, so we find that mini low carb cheesecakes often turn out best.
You can make any topping for these cheesecake bites. We've included a recipe for caramel pecan sauce, but you can use any nuts for this.
Another tasty topping option would be raspberry coulis… if you want to keep the cheesecake bites Keto, just substitute Monkfruit Sweetener or another Keto sweetener for the regular sugar in our raspberry coulis recipe.
How to Make Keto Cheesecake Bites
Making these Keto Cheesecake Bites with Caramel Pecan Sauce is super easy. Watch this quick video…
Before you start… be sure the cream cheese is at room temperature. We set it out for at least two hours before we start making the recipe. If you need to rush warming the cheesecake, cut it into smaller pieces and set it out at room temperature.
What Type of Sweeteners Are Best In Keto Cheesecake?
Thanks to the wide availability of safe sugar-free sweeteners, we can make all sorts of classic desserts keto-friendly. But the large variety of Keto sweeteners can also feel confusing and overwhelming.
We found the information in Wholesome Yum's Low Carb Sweeteners Guide really helpful when researching Keto sweeteners.
In this recipe we used Lakanto Monkfruit Sweetener, but another great option would be Swerve Sweetener. We really like the Lakanto Monkfruit and find it a touch sweeter. Lakanto Monkfruit Sweetener has a little erythritol in it, but we think it has better flavor than just straight erythritol or Swerve. But you can use them interchangeably.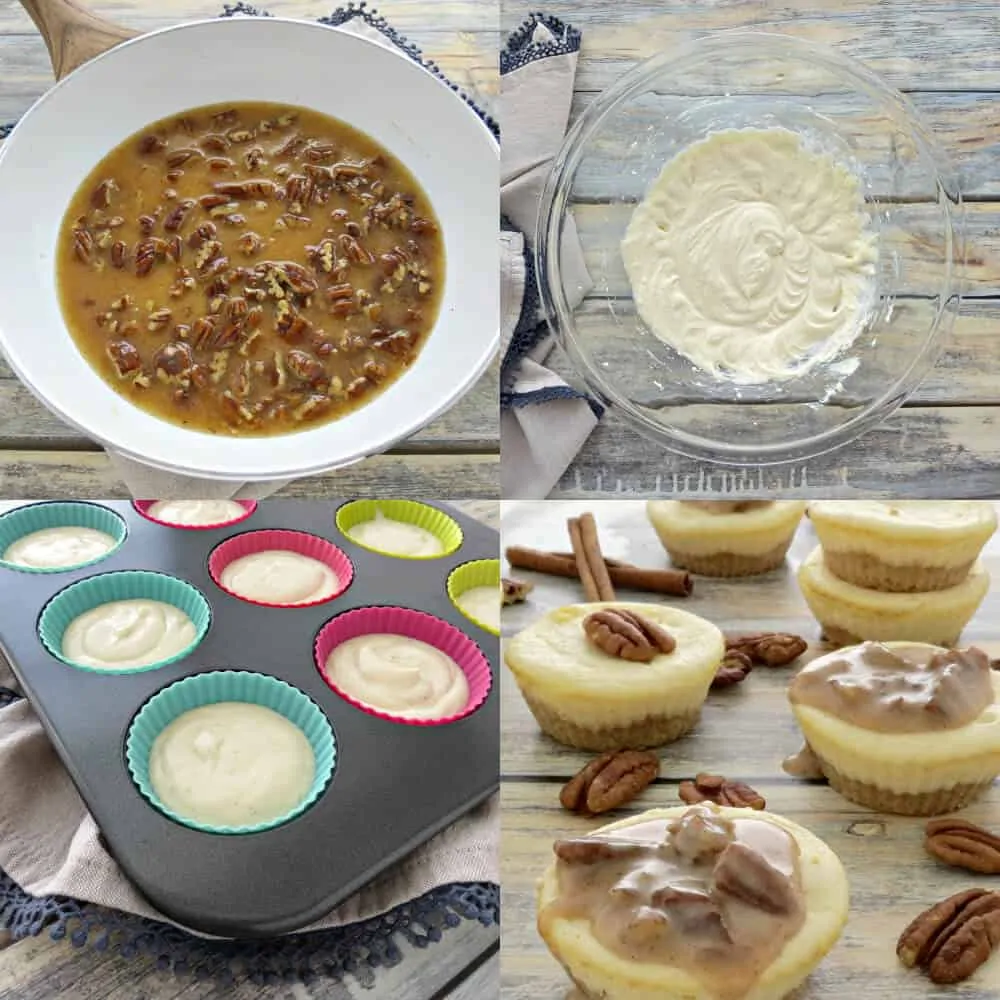 How To Know When The Cheesecakes Bites Are Done
You can tell that your mini cheesecakes are ready when you see a little dryness around the edges and the middle will still jiggle a little.
Once the Keto Cheesecake Bites are done cooking, you need to let them sit for at least three hours. Letting them set even longer, is best. In fact, when we serve these Keto Cheesecake Bites to company, we make them the day before.
Then when it is time to serve the cheesecakes, we take them out of the fridge, make the caramel sauce, let it cool a little, and serve.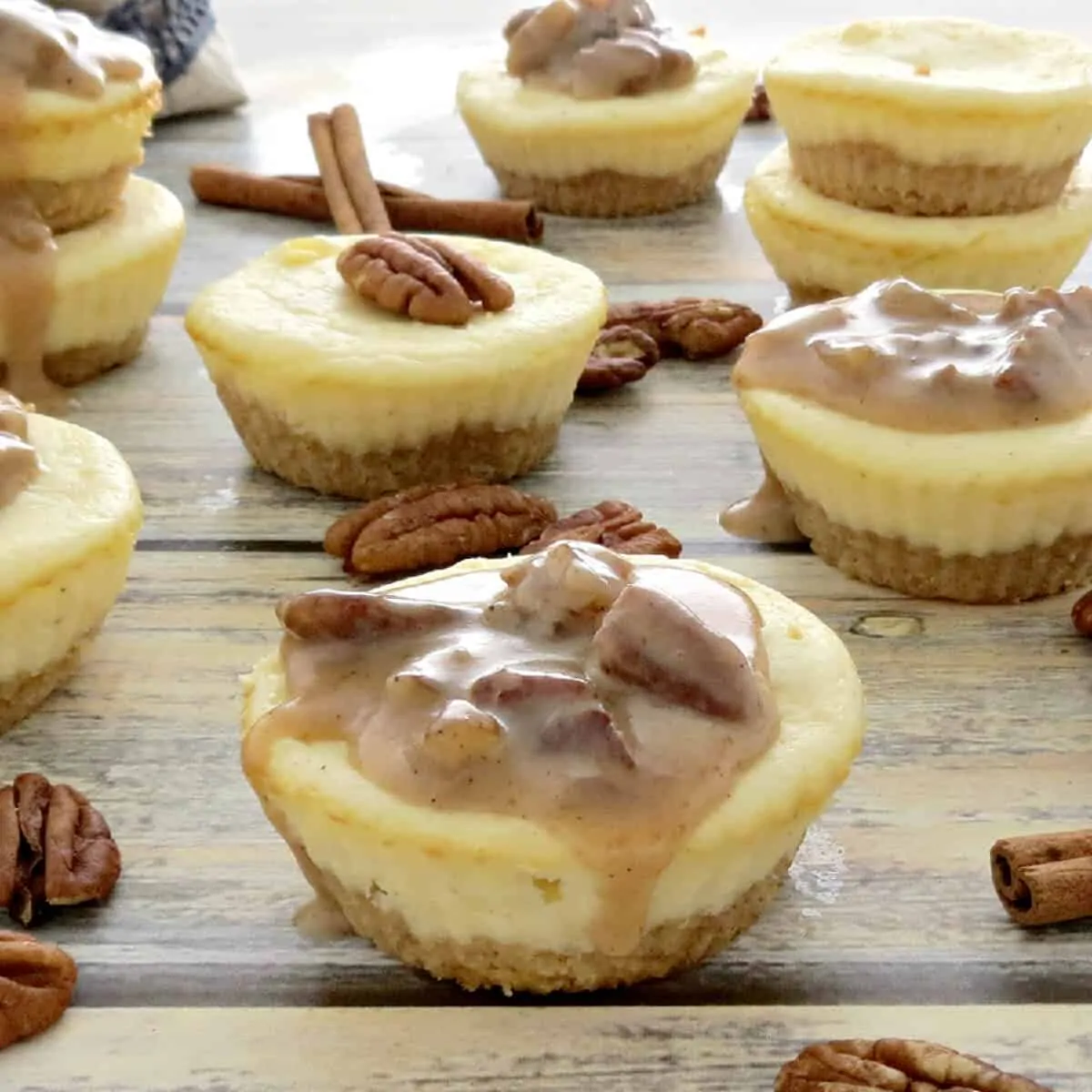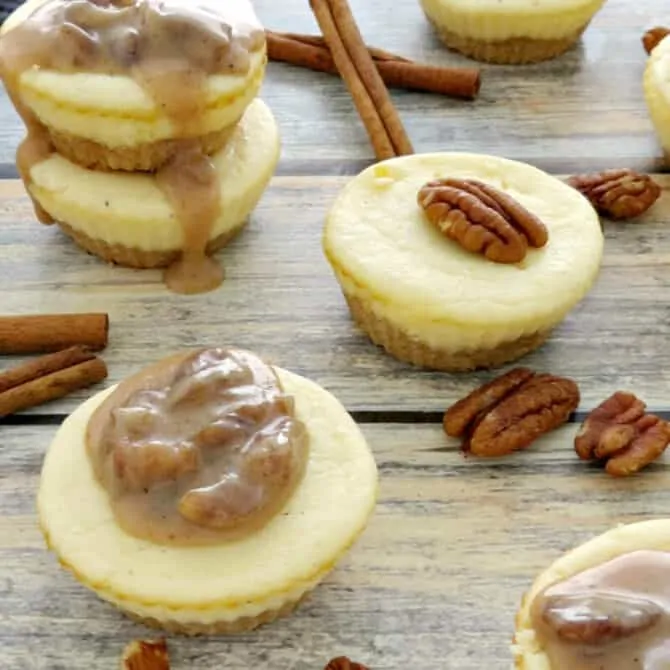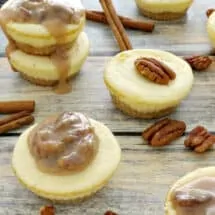 Keto Cheesecake Bites with Caramel Pecan Sauce
These low carb cheesecake bites are delicious and easy to make. Since they need to cool for a few hours, they are the perfect dessert to make the day before a party.
Print
Pin
Rate
Servings: 9
Calories: 281kcal
Ingredients
For the Cheesecake
8 oz cream cheese
1/3 cup Monkfruit sweetener or another Keto friendly sweetener such as Erythrito or Swerve Sweetener.
1 large egg
1/2 tsp vanilla extract
1/2 tsp lemon juice
1/8 tsp salt
Caramel Pecan Sauce
4 tablespoons unsalted butter
2 tablespoons Monkfruit sweetener
1/2 cup heavy cream
1/2 teaspoon vanilla paste
1/8 teaspoon salt
1/2 cup pecans
Instructions
Preheat the oven to 325°F.
For the crust:
Add the melted butter, sweetener, cinnamon, and salt to a bowl and stir to combine.

Add the flour and mix well.

Place paper or silicone liners in a cupcake pan.

Evenly distribute the flour mixture between 9 cups, and use your fingers to press it down gently.

Bake the crust for 8-10 minutes. Watch it close and don't let it get too dark.

Remove it from the oven and allow it to cool for ten additional minutes.

This gives you time to make the filling.
For the filling:
Add the softened cream cheese to a big bowl and beat until fluffy, about 60 seconds.

Add the egg, sweetener, vanilla, lemon, and salt, and beat again until smooth and thoroughly combined.

Evenly distribute the cheesecake batter between the 9 cups.

Gently tap the pan on the counter to get some of the air out.

Bake the cheesecakes for 18 to 20 minutes. * see note

Allow them to cool on the counter for 30 minutes and then put them in the refrigerator for no less than 3 hours before serving.
To make the caramel pecan topping:
In a small, non-stick pan over medium heat, cook the butter until it just starts to turn golden. This will take a few minutes, and you want to whisk or swirl the pan every minute or so.

When the butter is golden brown, add the sweetener and whisk for about 30 seconds to dissolve.

Add the heavy cream and continue whisking and cooking for 2-3 minutes over low heat. It will look separated but will come together into a smooth sauce as you whisk. Whisk slow and constantly. You don't have to whisk too hard, just constantly.

Remove the pan from the heat and add the vanilla and salt. Whisk again until smooth.

Add the pecans and use a spatula to stir them in.

Let cool for about five minutes before drizzling over the cheesecakes. It will thicken more as it cools.
Notes
You'll know the cheesecakes are done when you see a little dryness around the edges, but the middle still jiggles a bit. The cream cheese must be room temperature. Set it out for at least two hours before preparing the cheesecakes.  The caramel pecan topping will harden up as it sits. To loosen it up again, you can either put it in the microwave for a few seconds at a time or put it in a pan over low heat. If it's still too thick, add a splash or two of milk and reheat.
Nutrition
Calories: 281kcal | Carbohydrates: 4g | Protein: 4g | Fat: 29g | Saturated Fat: 13g | Cholesterol: 84mg | Sodium: 180mg | Potassium: 74mg | Fiber: 1g | Sugar: 1g | Vitamin A: 792IU | Vitamin C: 1mg | Calcium: 54mg | Iron: 1mg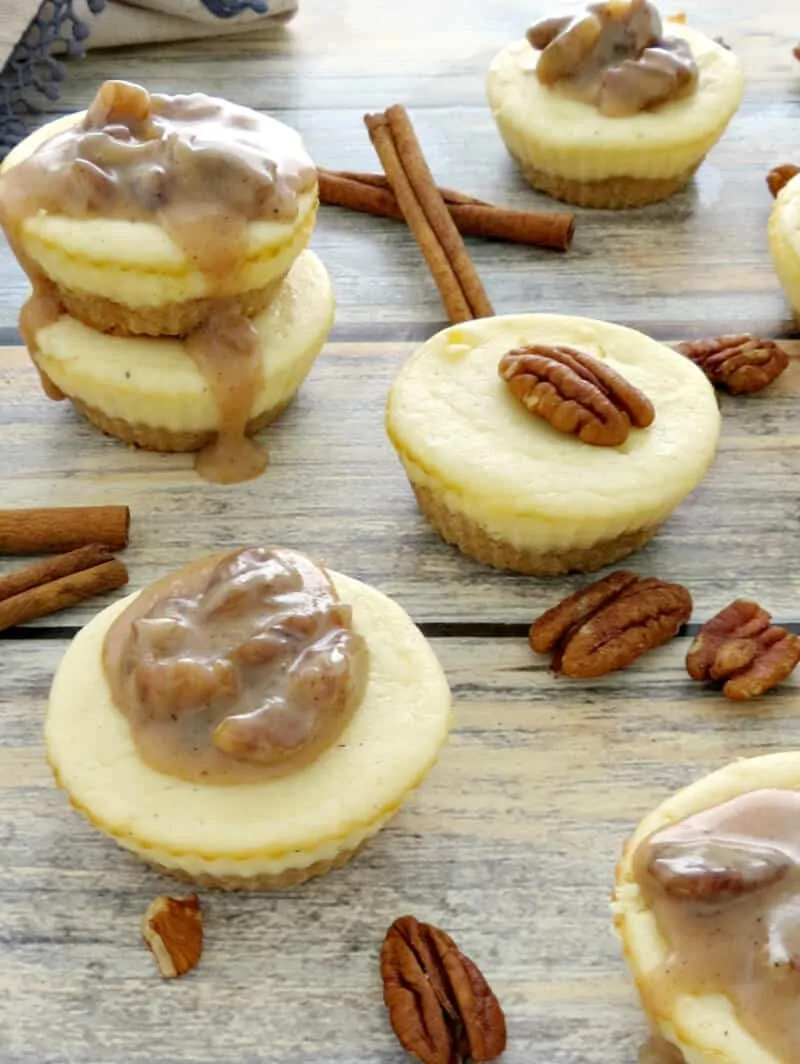 More Cheesecake Recipes
If you love cheesecake and you're not on a Keto diet, you may want to treat yourself to these super yummy (but not low-carb) cheesecake recipes.
Cookies 'n Cream No-Bake Cheesecake Recipe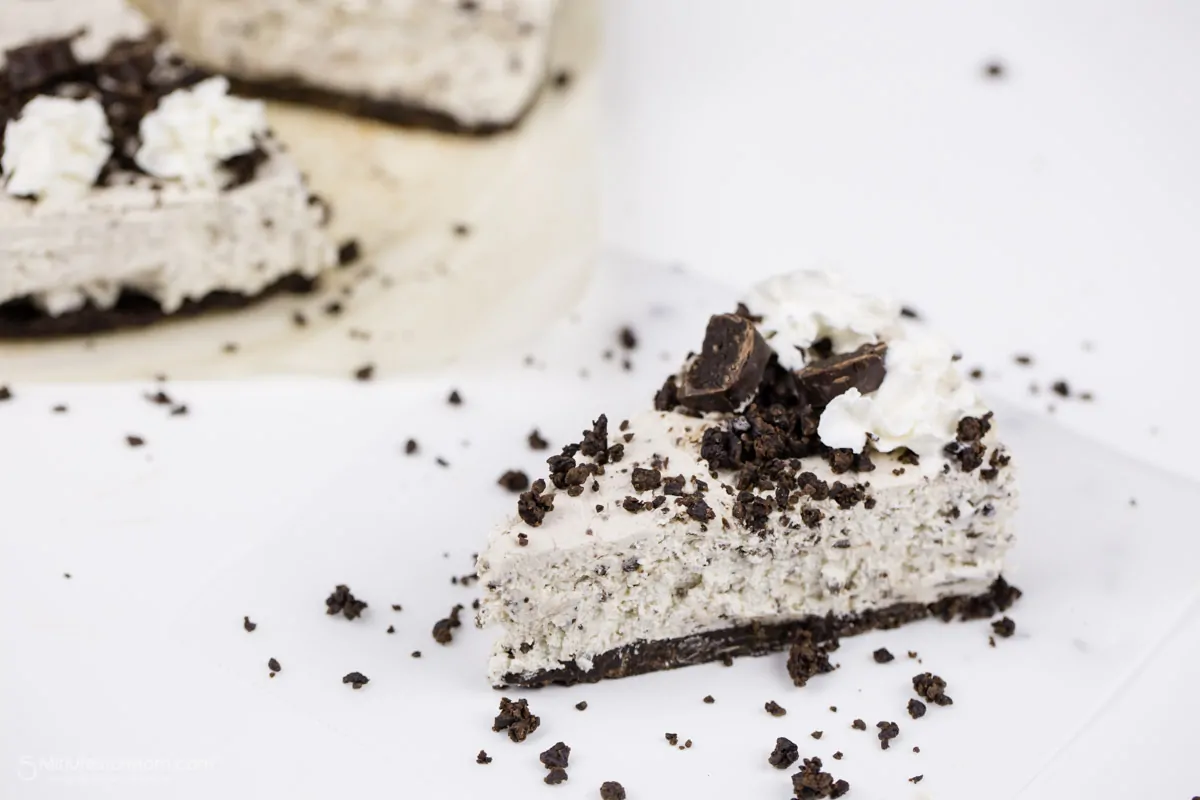 Disclosure: This post contains Amazon affiliate links.
Written by Susan Carraretto, co-founder of 5 Minutes for Mom
Talk with me: @5minutesformom and Facebook.com/5minutesformom
Pin with me at pinterest.com/5minutesformom