This post may contain affiliate links. Read my disclosure policy here.
Sweet and tangy Raspberry Coulis is a simple but exquisite sauce that adds a pop of color and flavor to a myriad of dishes and desserts. If you have never made a homemade raspberry sauce before, you are in the right place. In this post, you'll learn what is a coulis and everything you need to know about how to make raspberry coulis and how to make our special raspberry sauce recipe — a Rosé Raspberry Coulis.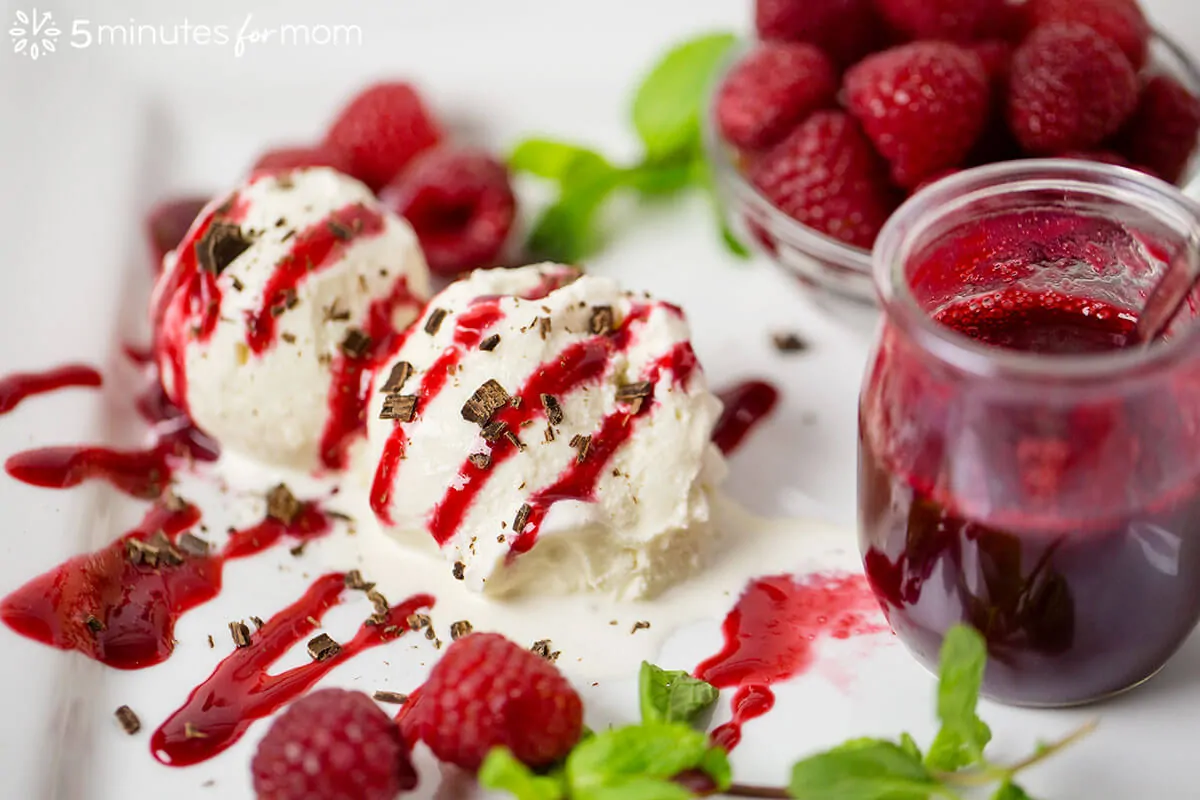 There are some luxuries in life that most of us will never get to experience. Most of us will never dine at the top-rated restaurant in the world. We will never get to stay at the most exclusive resorts or sail on giant yachts owned by billionaires.
But there are some luxuries in which we common folk CAN indulge — and raspberry coulis is one of them. You don't need to have a pastry chef on staff to treat yourself and your family to this luxurious dessert topping.
The particular version I created for this post, a Rosé Raspberry Coulis, tastes so incredible and feels so decadent, you will be shocked at how easy it is to make.
What is Coulis?
The word coulis comes from the French verb "couler" which means "to flow."
A coulis, pronounced koo-LEE, is a smooth sauce made from pureed and strained fruit or vegetables.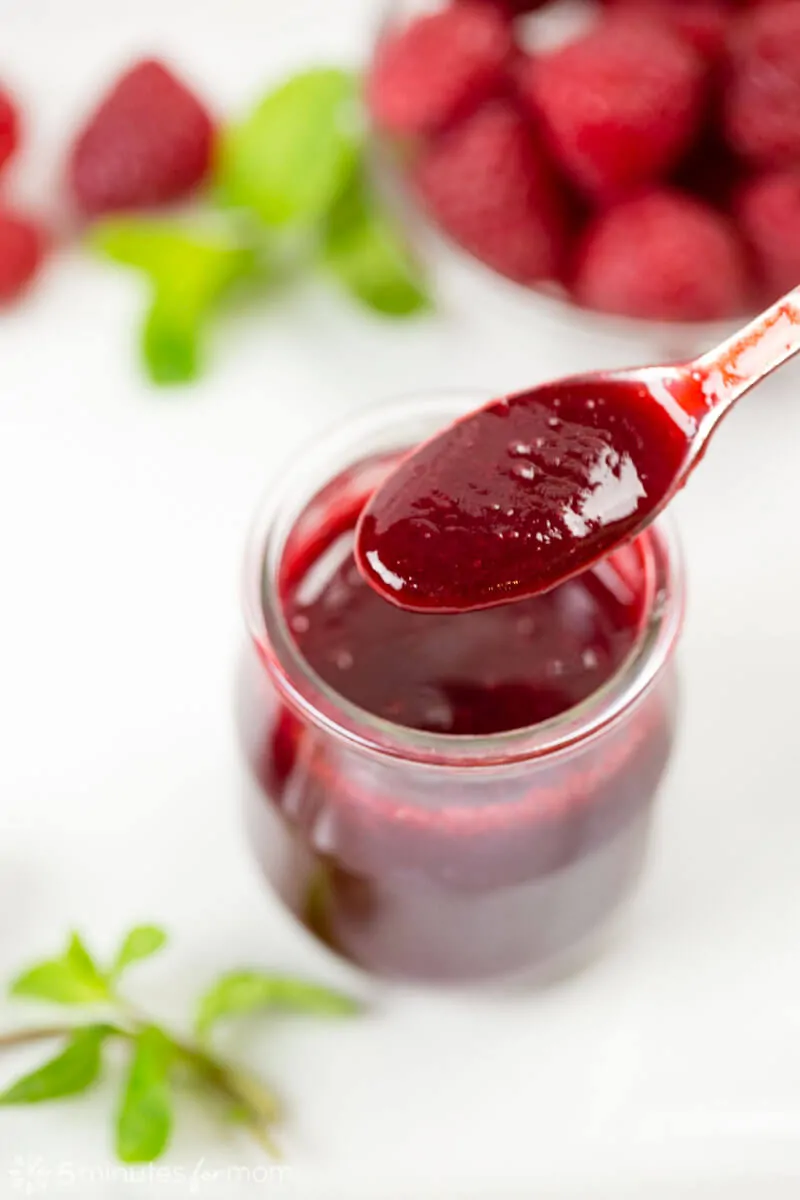 Coulis can be used in different ways in order to offer a pop of flavor or color to a dish, such as a garnish, topping, or plate decoration. It can also be used as the base or sauce of a dish.
I spent several days researching the history and uses of coulis in the culinary world and learned that there are differing opinions on what defines a coulis, especially the debate over whether a cooked sauce can be classified as a coulis. (source: Culinary Lore)
An uncooked coulis is a puree of fresh fruit blended with icing sugar (or a simple syrup) and a small amount of water and/or lemon or orange juice and then pressed through a sieve to remove seeds.
For a cooked coulis, fruit is broken down over medium heat in a saucepan with sugar, water and/or lemon or orange juice, and then pressed through a sieve to remove seeds.
How to Make Raspberry Coulis or Raspberry Sauce
Raspberry coulis is as delightful to serve as it is simple to make.
There are three different ways to make raspberry coulis:
The first method is to use a food processor or blender and puree fresh raspberries with sugar, (icing sugar, super-fine sugar, or a simple syrup,) and a small amount of lemon/orange juice and/or water. After pureeing, the mixture is pushed through a sieve to remove seeds.

The second method is to cook fresh or frozen raspberries in a saucepan with sugar and a small amount of lemon/orange juice and/or water until the berries have broken down but do not come to a boil. Then the mixture is pressed through a sieve to remove seeds.

Finally, the third way to make a coulis is similar to the second method but the raspberry/sugar/liquid mixture is brought to the boil and cooked longer to evaporate the liquid and create a reduction sauce.
Our Rosé Raspberry Coulis recipe falls into the third method I listed above.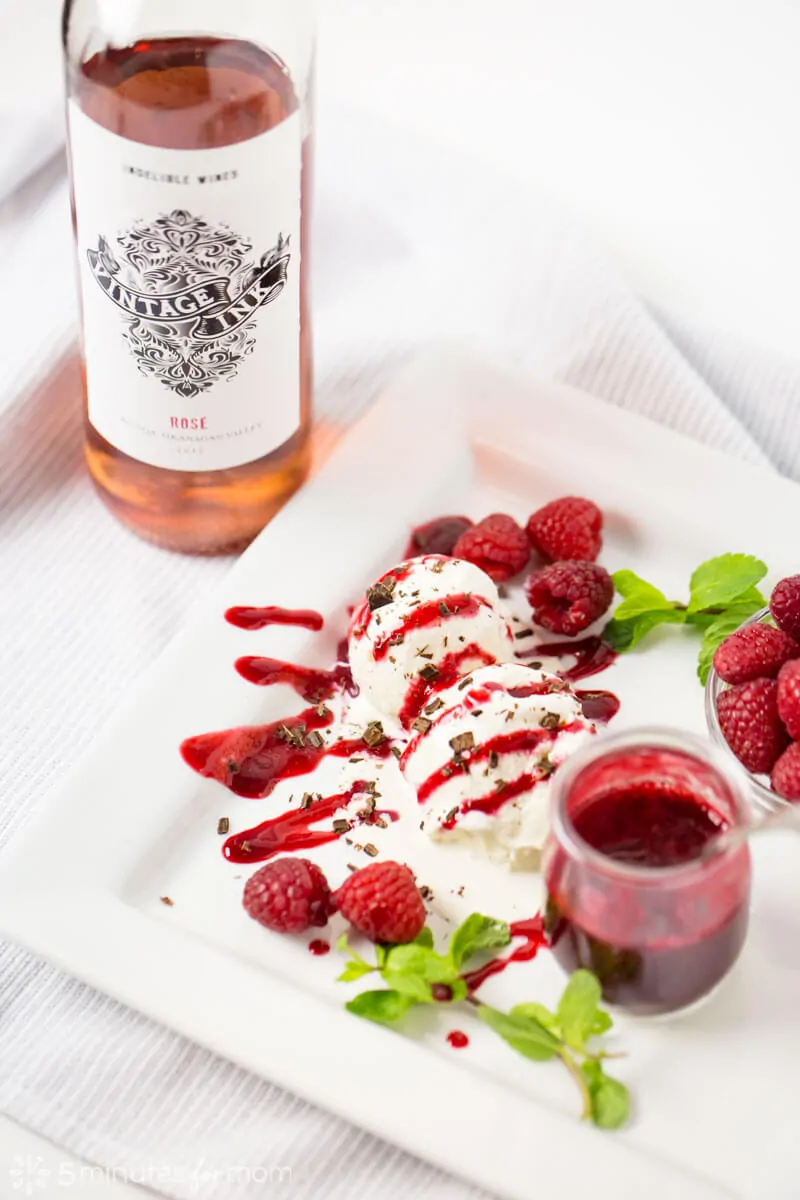 Because I wanted to create an intense sauce with a greater depth of flavor, instead of adding water and lemon juice, I used a cup of rosé wine to make my coulis.
I then simmered the sauce until it had reduced by half to create the most delicious raspberry sauce I have ever tasted.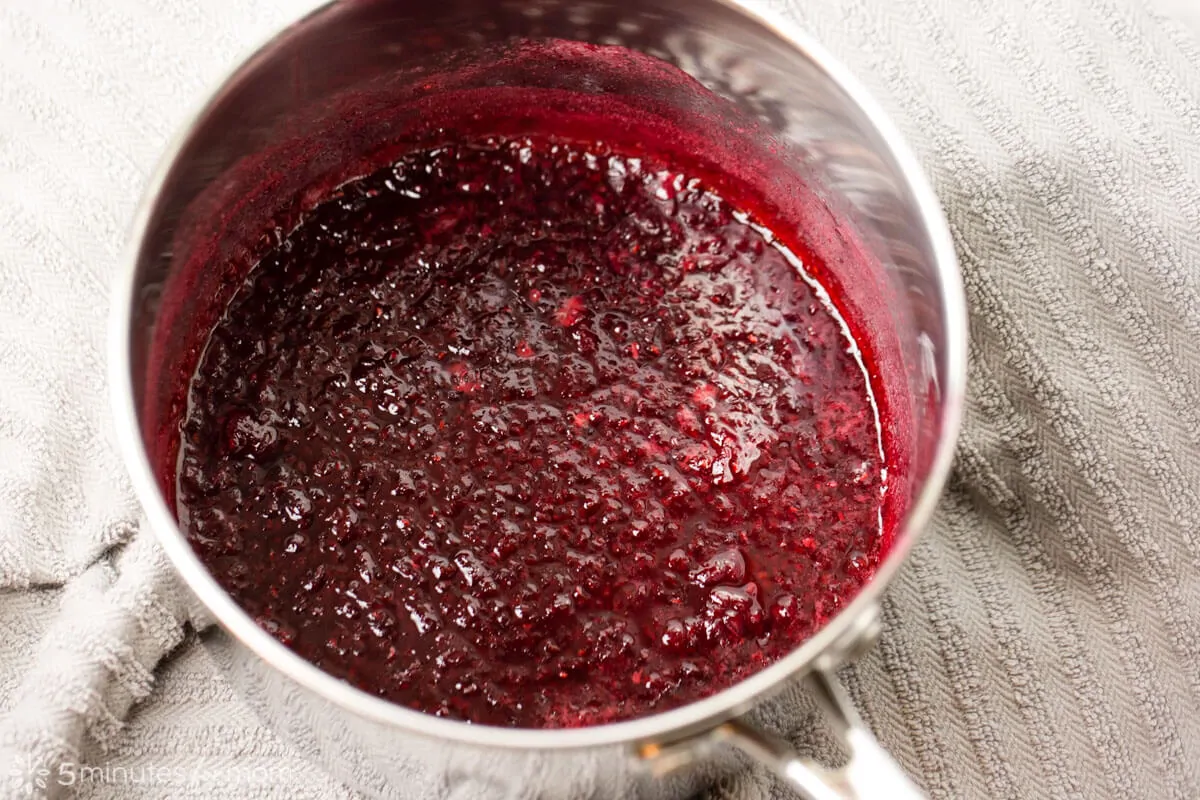 I do want to emphasize how critical it is to STRAIN your sauce to remove the seeds from your berry coulis.
While some people might not mind raspberry seeds in their raspberry sauce, I imagine they are few and far between.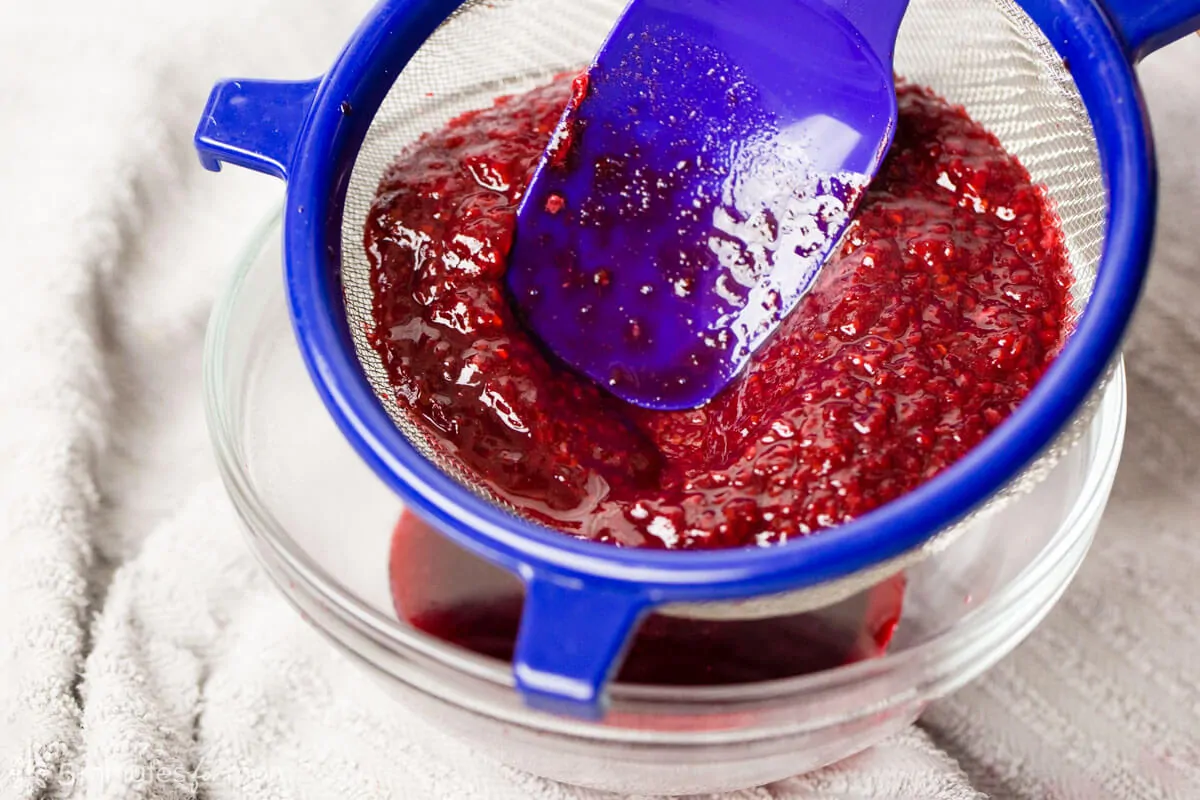 A coulis should be smooth and melt-in-your-mouth-delicious. If you have to chew seeds, oh the horror!
Trust me. I know it is tempting to skip the step of straining, but it is the most important part of making a fabulous fruit coulis.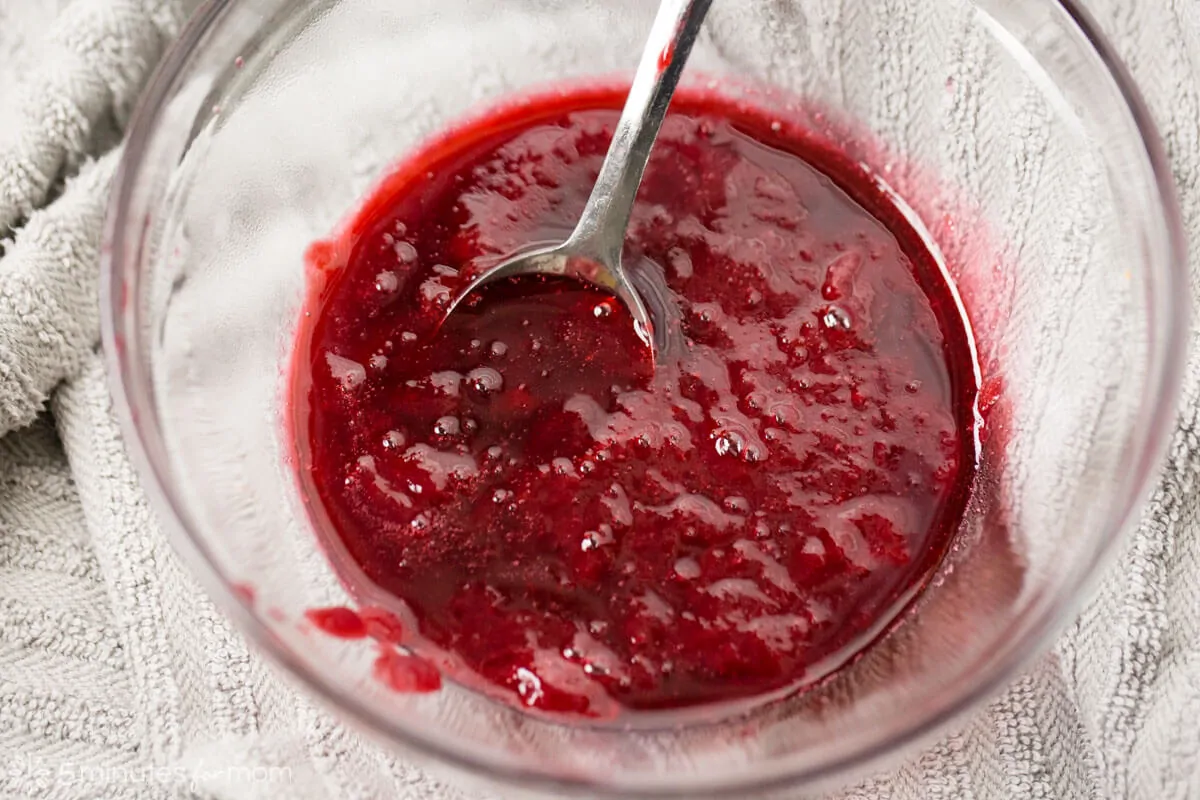 Whether you choose to make your coulis uncooked or cooked, whether you use lemon juice or wine, once you whip together your first raspberry coulis you will be hooked.
With this easy but elegant raspberry sauce, you can take basic dishes, desserts, and drinks to gourmet heights with a mere drizzling. Ice cream, cheesecake, oatmeal, waffles, chocolate cake, cocktails… You can never run out of ways to indulge in this sweet and tangy raspberry dessert sauce.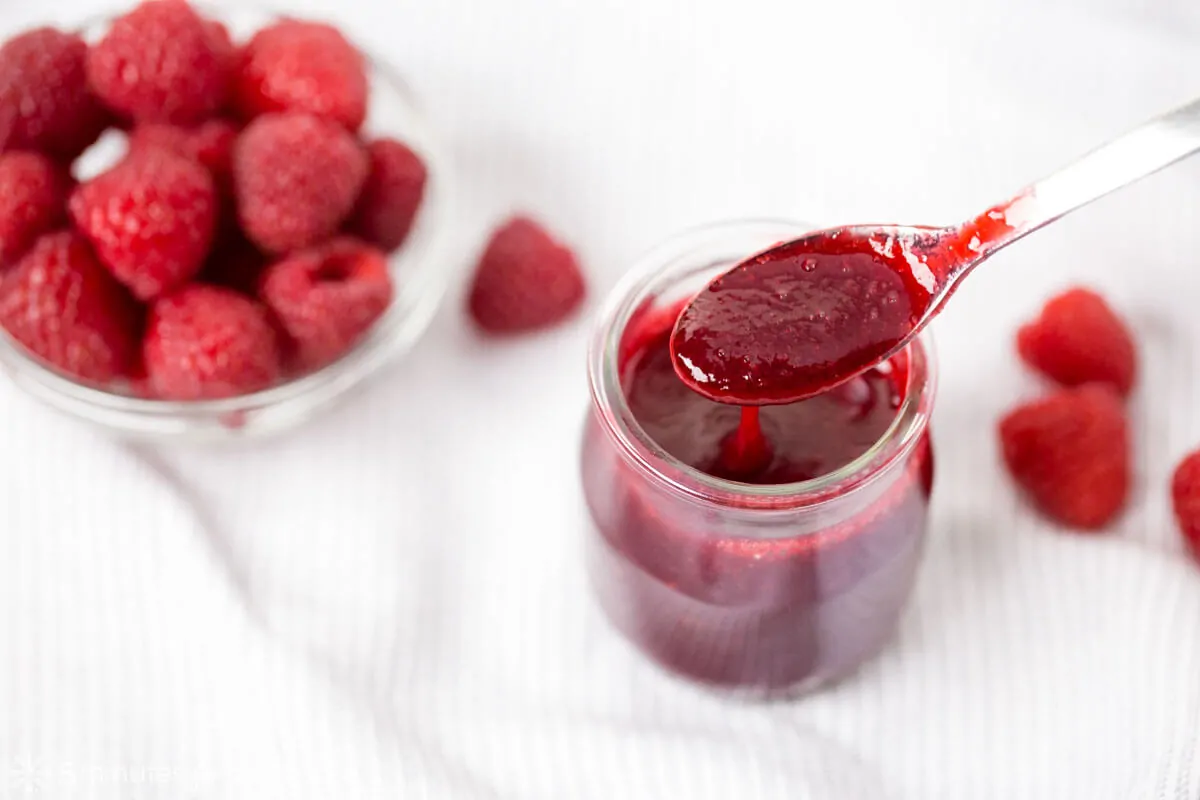 How Do You Thicken Raspberry Coulis?
YES, you can make a beautiful, thick raspberry sauce without cornstarch!
The ideal consistency of your coulis can depend both on personal preference and how you plan to use your coulis. But generally speaking, you will want your coulis to have a syrup-like consistency that is not too runny and not too thick.
For example, you may want to put your coulis in a squeeze bottle to drizzle over your dessert or plate before serving. You will want the sauce to hold its shape and not spread. But you also do not want your coulis to be too thick. It should coat the back of a spoon and pour nicely.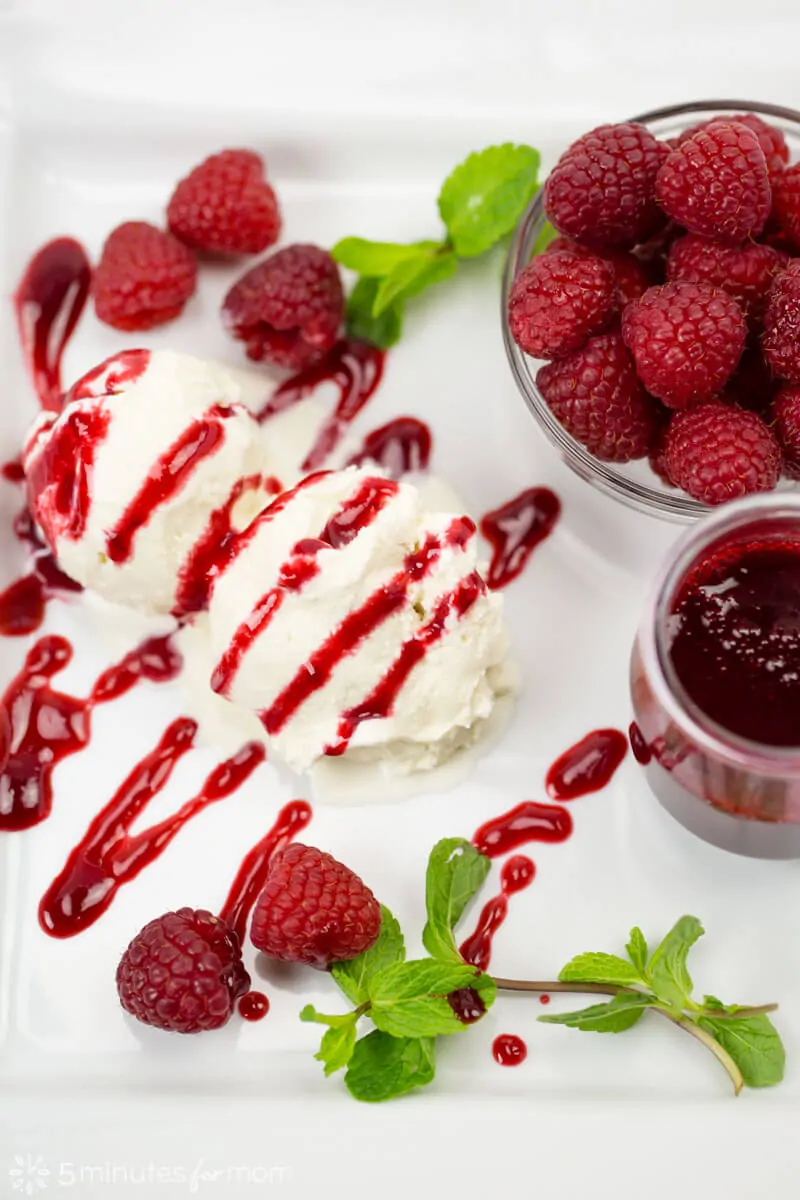 So what do you do if your coulis is too thin?
Many recipes will suggest adding cornstarch.
But I do NOT recommend using cornstarch to thicken your raspberry coulis.
While the cornstarch will definitely thicken your sauce, it will also alter its taste, texture, and color. With cornstarch, your sauce will be gummier, darker, and duller.
INSTEAD of adding cornstarch, you can thicken your coulis by cooking it and reducing the liquid — essentially making a reduction sauce.
Reducing the liquid in your sauce by simmering will produce a more intense sauce.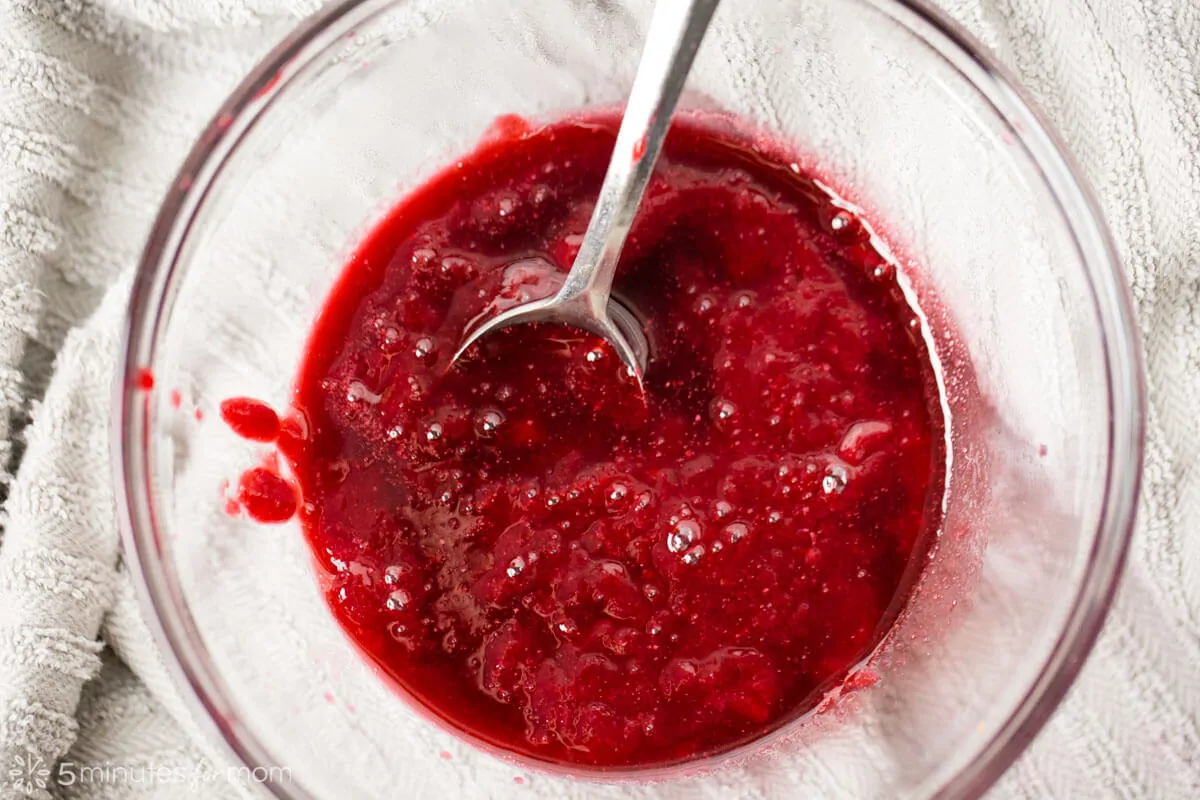 As I noted earlier, a coulis is traditionally made by pureeing uncooked fruit with icing sugar and then pressing through a sieve. While you might be straying from the conventional definition of a coulis, cooking your berries releases their juices and creates a more flavorful sauce.
In my research, I noticed that many chefs and food bloggers, including Gordon Ramsay, also cook their raspberry coulis to break down the berries and simmer to reduce the liquid. I would say those of us who are in the cooked coulis camp are in good company.
So if you want a rich, fabulous raspberry sauce, put down that cornstarch and let your sauce simmer instead.
Can You Make Raspberry Coulis from Frozen Raspberries?
You can make raspberry coulis from fresh or frozen raspberries.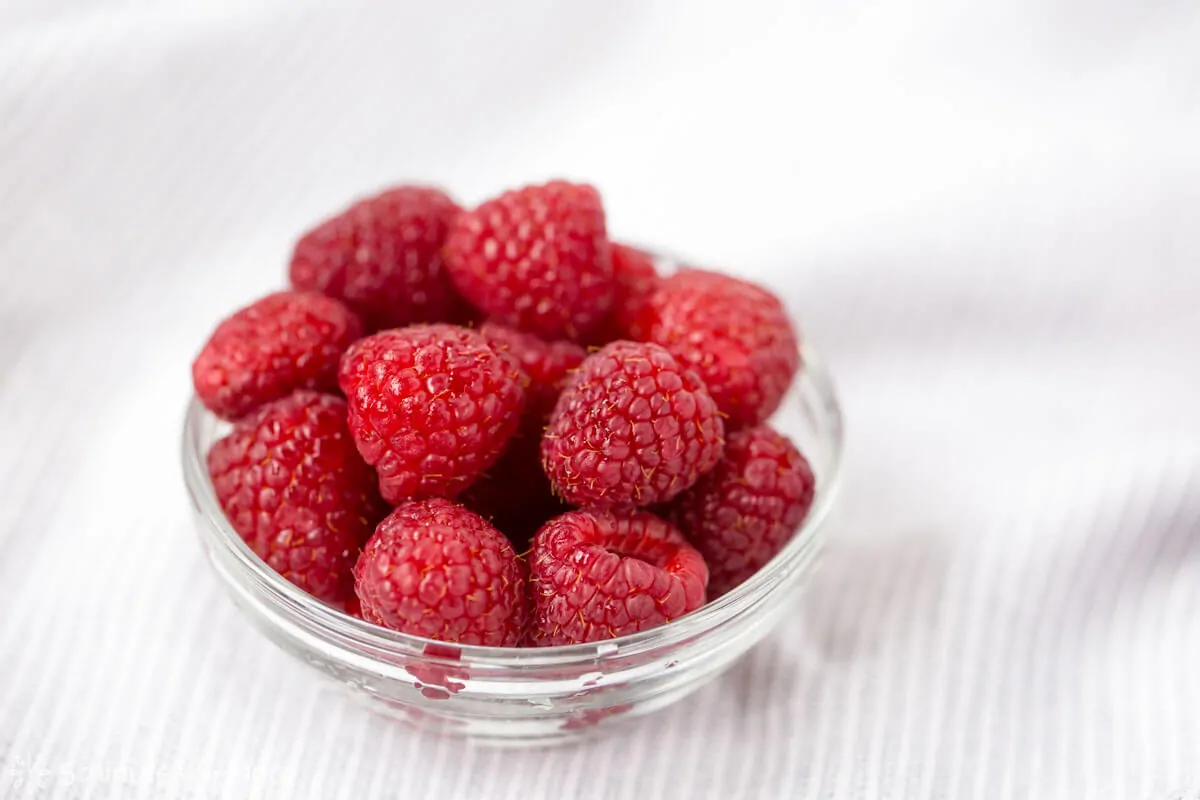 Some people insist that fresh raspberries make the best raspberry sauce, while others always make their raspberry sauce with frozen raspberries.
Whether your berries are fresh or frozen is not actually the most important factor in an excellent coulis. The key to a fabulous coulis is the quality of your berries.
In many cases, the best quality berries you have might be fresh berries.
I am blessed to live in the suburbs of Vancouver BC, where we have incredible berries in the summer. I freeze over two hundred pounds of blueberries, raspberries, and strawberries to keep us berry-rich all winter long.
In my recipe, I have used frozen organic, local BC raspberries that I froze from our local raspberry fields during the summer. However, the berries I have pictured as garnish are fresh organic raspberries I bought at Costco.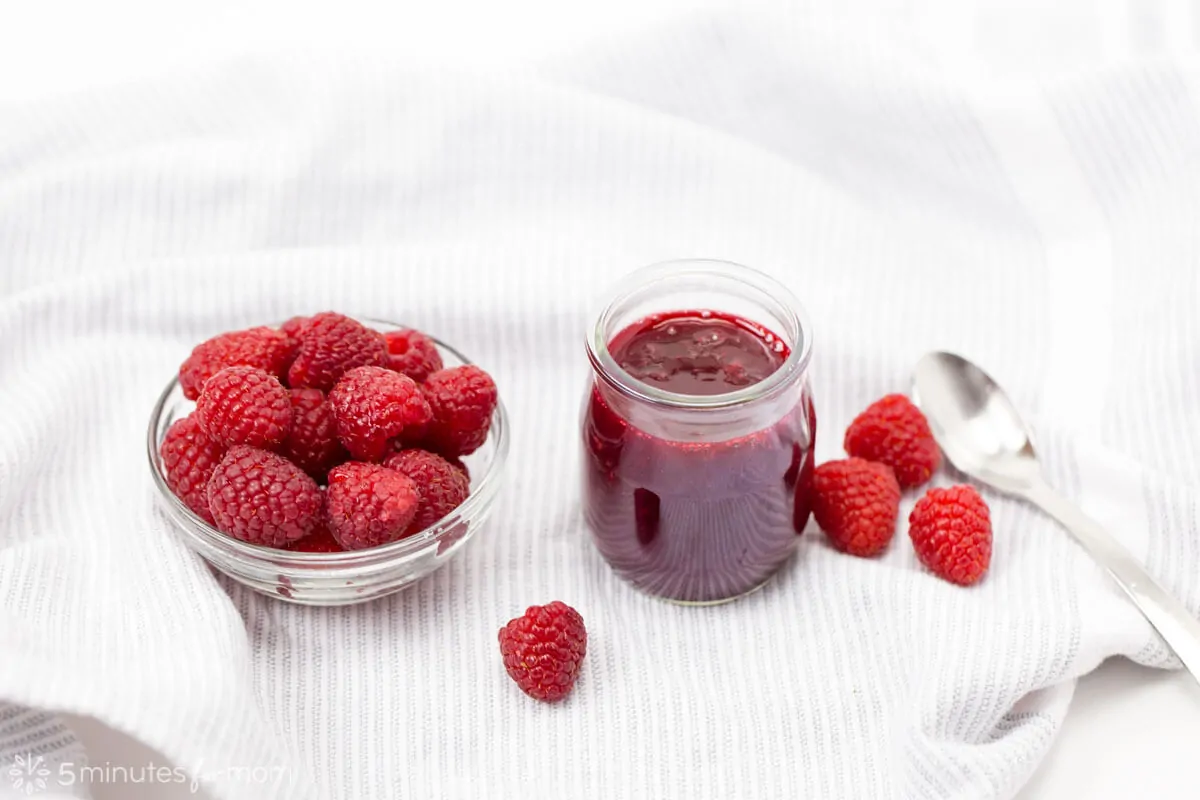 Before I use my frozen berries, I rinse them thoroughly to remove any ice crystals and to partially thaw them. Then, I add the raspberries directly to my pot and continue thawing on the stovetop while I make the sauce.
Some recipes may instruct you to thaw your berries overnight and then to discard some of the juice so that your sauce is not too thin. Personally, I don't recommend throwing out any of your raspberry juice as you want to keep all that flavorful (and expensive) juice to make your sauce.
Since we are cooking our coulis and allowing extra moisture to evaporate, you do not need to worry about the additional liquid. So you can thaw your berries ahead of time or rinse your frozen berries and then cook from frozen. Either way will work. Just don't throw out any of the raspberry juice.
Rosé Raspberry Coulis Recipe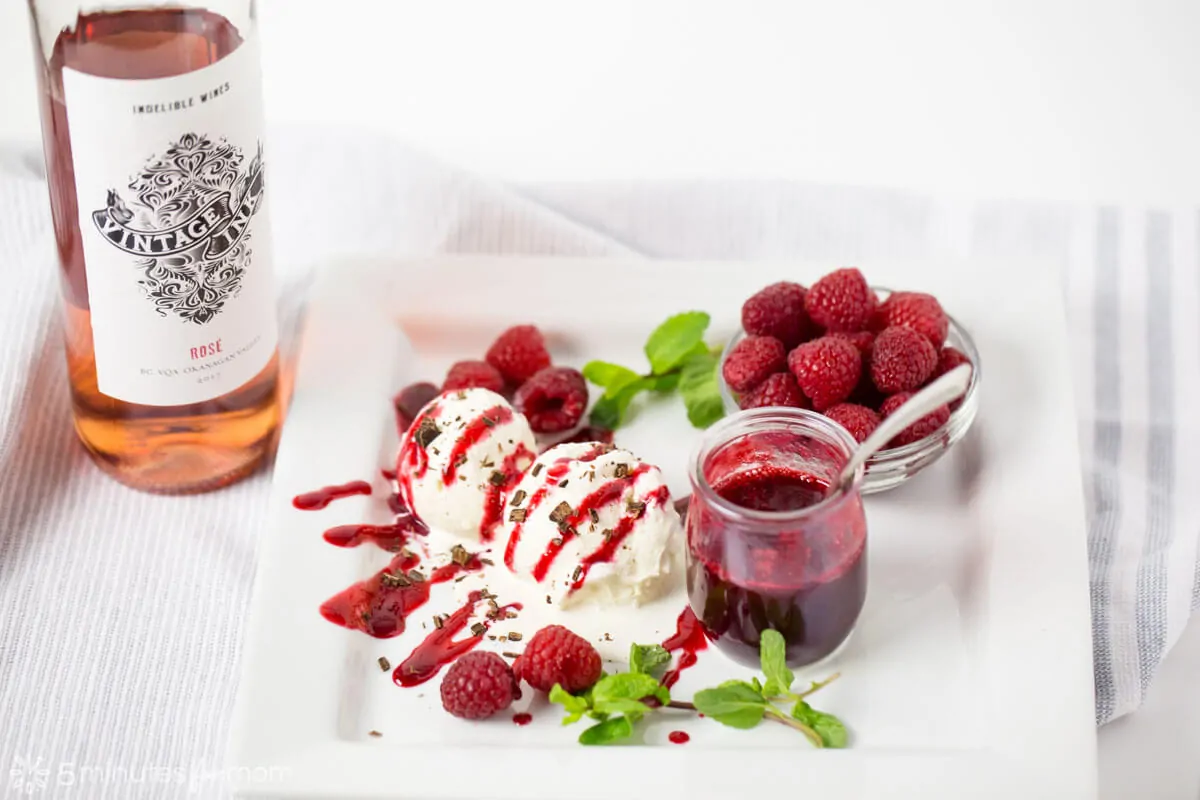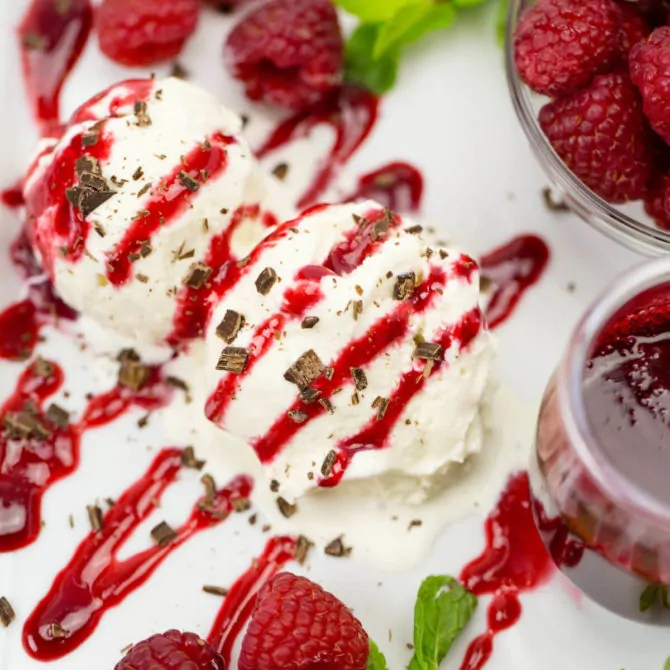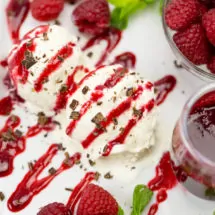 Rose Raspberry Coulis Recipe
Sweet and tangy Raspberry Coulis is a simple but exquisite sauce that adds color and flavor to various dishes and desserts.
Print
Pin
Rate
Servings: 8 Servings (2 Tablespoons Each)
Calories: 71kcal
Ingredients
12 ounces raspberries fresh or frozen
1/4 cup sugar or more to taste
1 cup rose wine OR substitute wine with 1/2 cup water + 2 tablespoons lemon juice
Instructions
Wash fresh berries or rinse frozen berries to remove excess ice crystals and partially thaw.

Combine berries, wine, and sugar in a saucepan and, while stirring, bring to a boil on medium-high heat.

Reduce heat to medium and simmer, stirring frequently for ten to fifteen minutes or until sauce reduces by half. The sauce will resemble syrupy jam but it will thicken as it cools.

Allow sauce to cool for about a few minutes and then press through a sieve to remove seeds.

Using a mesh strainer over a bowl with a wooden spoon or spatula works fine. You may want to also use a second spoon or spatula to scrape the outside of the strainer to collect the pulpy part of the sauce which doesn't fall into the bowl on its own.

Once you have collected as much of the sauce as possible, discard leftover seeds and cool sauce in fridge before serving. Drizzle over desserts, ice cream, yogurt, oatmeal, waffles, chocolate cake, etc.
Notes
In this recipe, rose wine adds extra richness and depth to this raspberry coulis, but the wine may be easily substituted with 1/2 cup of water + 2 Tbsp lemon juice or orange juice.
Nutrition
Calories: 71kcal | Carbohydrates: 12g | Protein: 1g | Fat: 1g | Saturated Fat: 1g | Sodium: 2mg | Potassium: 94mg | Fiber: 3g | Sugar: 8g | Vitamin A: 14IU | Vitamin C: 11mg | Calcium: 13mg | Iron: 1mg
More Recipes You'll Want To Try
Here are a few more of our readers' favorite recipes…