This post may contain affiliate links. Read my disclosure policy here.
Did you know you can make a fruit crisp in your Instant Pot? This Instant Pot Apple Crisp recipe makes a delicious, irresistible apple crisp that is ready in mere minutes…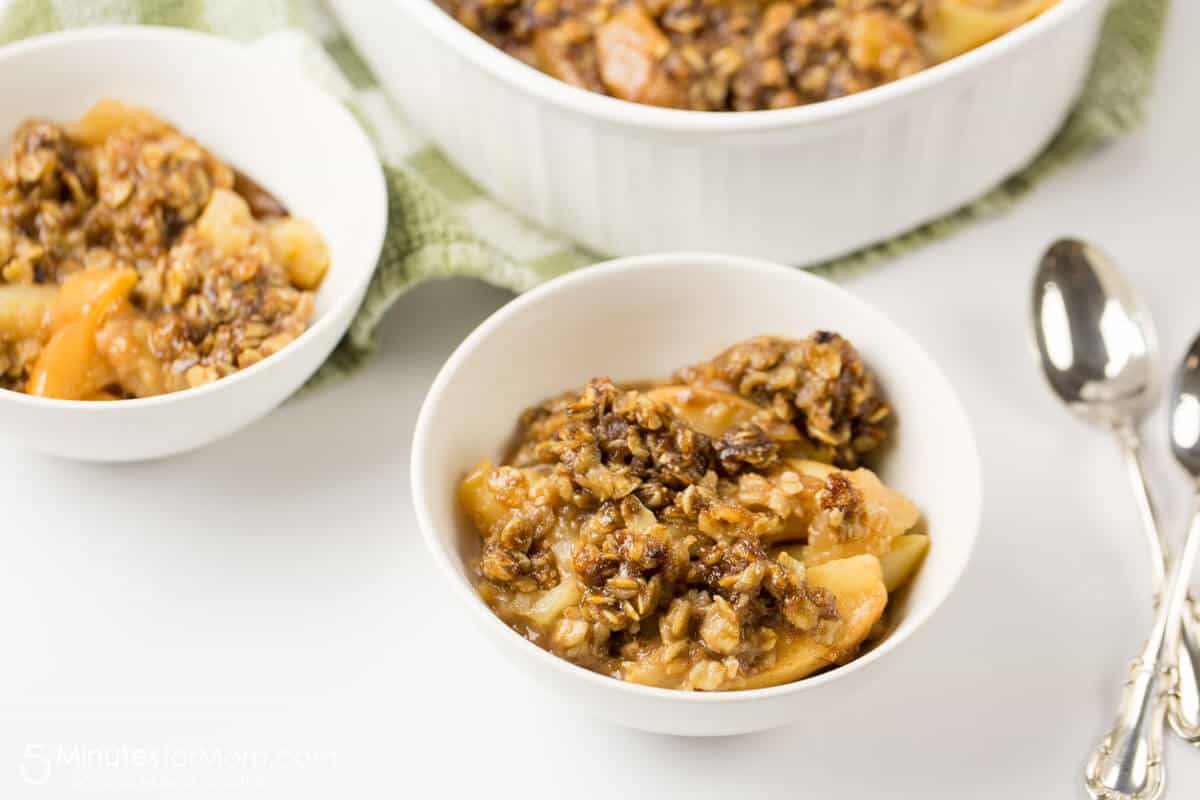 Apple crisp is the all-time dessert winner in our family's kitchen.
It is the dessert that I have made more than any other in my life — and, when I was growing up, apple crisp is the dessert that my mother made more than any other. So I had to figure out how to make my favorite dessert in my favorite cooking appliance… and I made this Instant Pot Apple Crisp.
My teenage son loves fruit crisps so much he has told me he would rather have an apple crisp than a birthday cake!
Fruit crisps are my go-to dessert because they are so easy to make, they are healthier than cakes and pies, and everyone loves them. My kids get servings of fruit and oatmeal — and I try to get away with adding as little sugar as I possible.
While I love to use different combinations of apples and berries in my crisps, I bake apple-blueberry crisps most often, I also love to make classic apple crisps. Cinnamon, brown sugar, and apples… Mmmm… it is homemade goodness.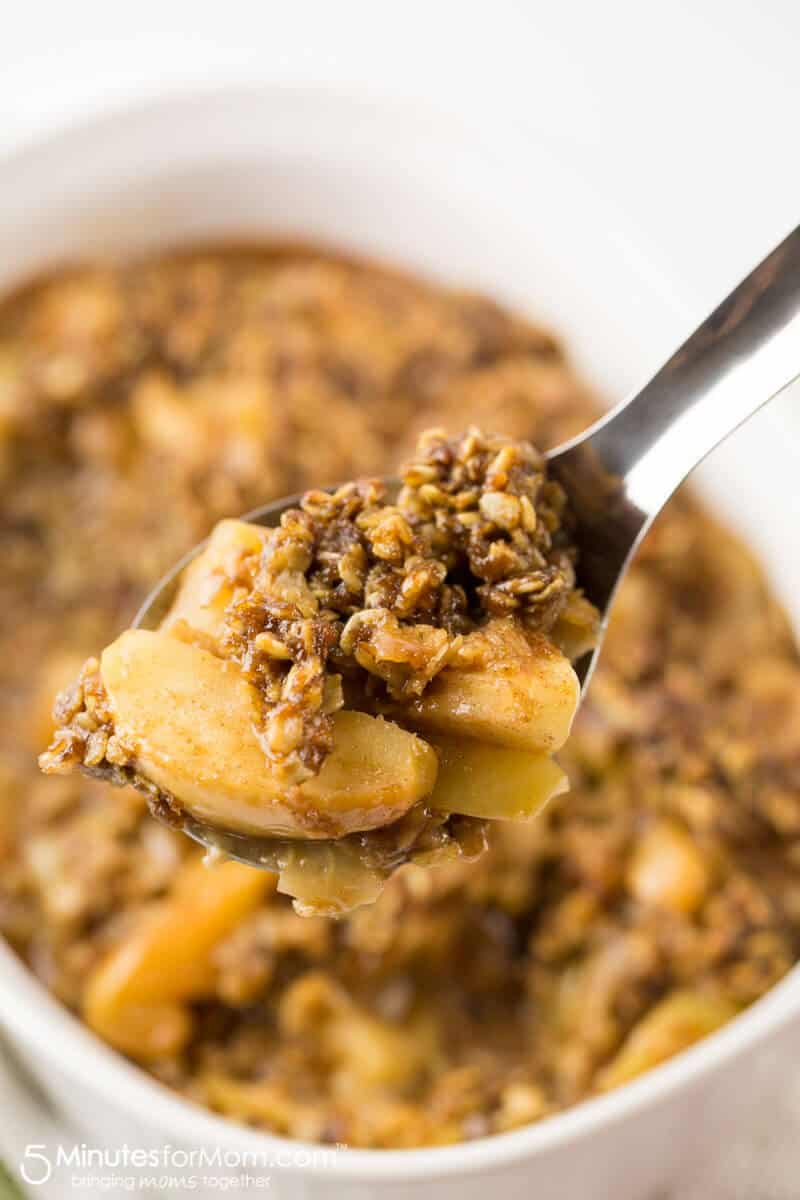 How To Make Instant Pot Apple Crisp
Baking an apple crisp in the oven takes about 45 minutes. When my kids are begging for a crisp and I want to hurry and get dessert on the table, that wait can seem like hours.
So, since I am one of the millions of Instant Pot fans, I had to try making an apple crisp in the Instant Pot.
After some testing, (very yummy testing,) here is my classic apple crisp recipe converted into an Instant Pot Apple Crisp recipe.
It is as delicious as it is FAST to make. Oh my goodness, the Instant Pot has those apples soft so fast you will barely have time to clear the dinner dishes before it is ready.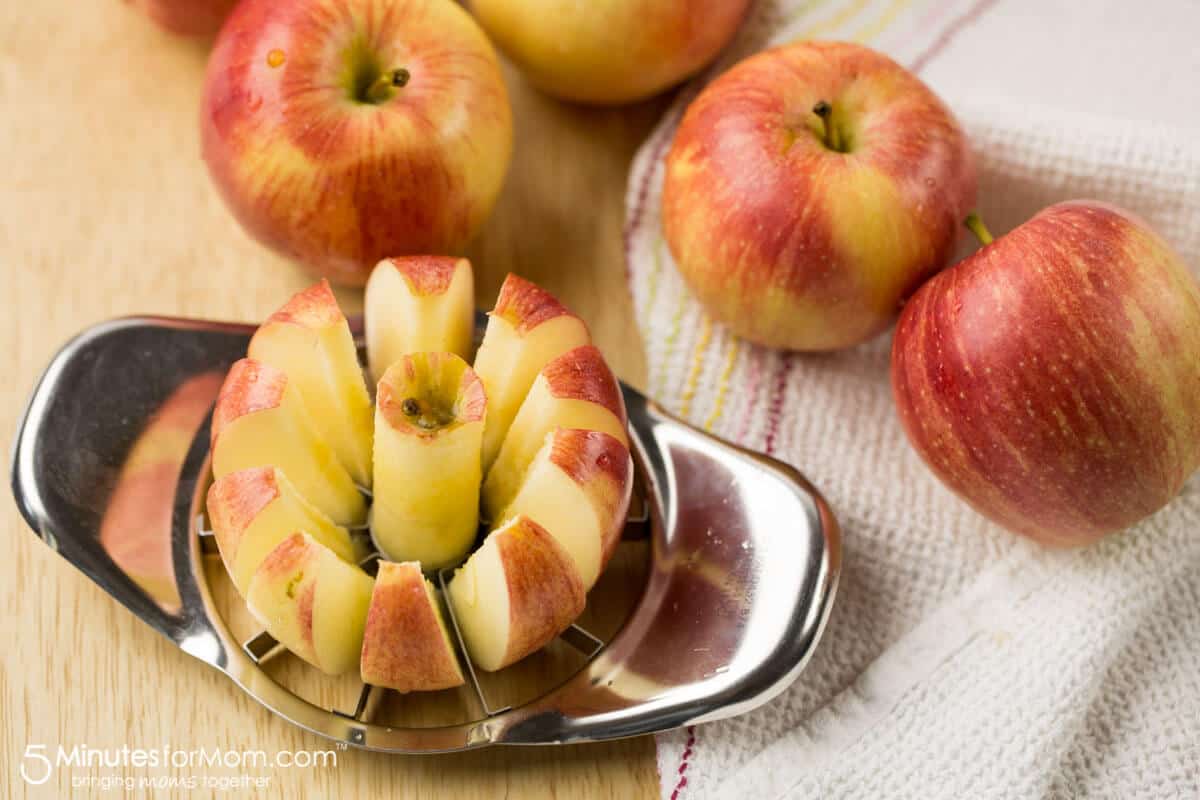 Since the Instant Pot cooks the apples and skins so fast, you don't have to worry about cutting super thin slices to speed up the cooking time like you do when you are baking in the oven.
Since the Instant Pot needs liquid to cook, my Instant Pot Apple Crisp Recipe is different than my classic Apple Crisp Recipe. If you don't yet have an Instant Pot, this is the one we have and love!
For the liquid in this recipe, you can use apple cider, apple juice, or just water.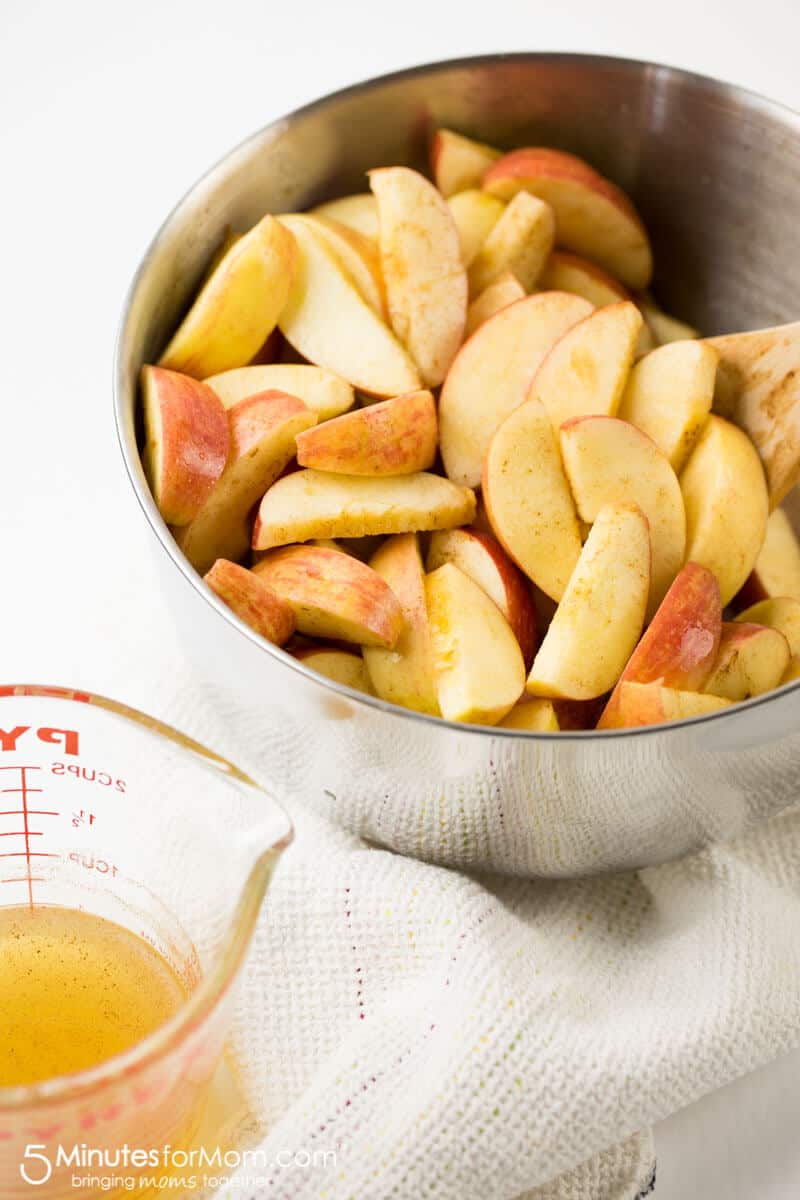 I use apple juice when I don't have any apple cider in the house and I use a tablespoon of apple cider vinegar and a couple tablespoons of lemon juice to give the crisp a more robust flavour.
Don't worry — you will not taste the vinegar, you will just taste the fabulous results.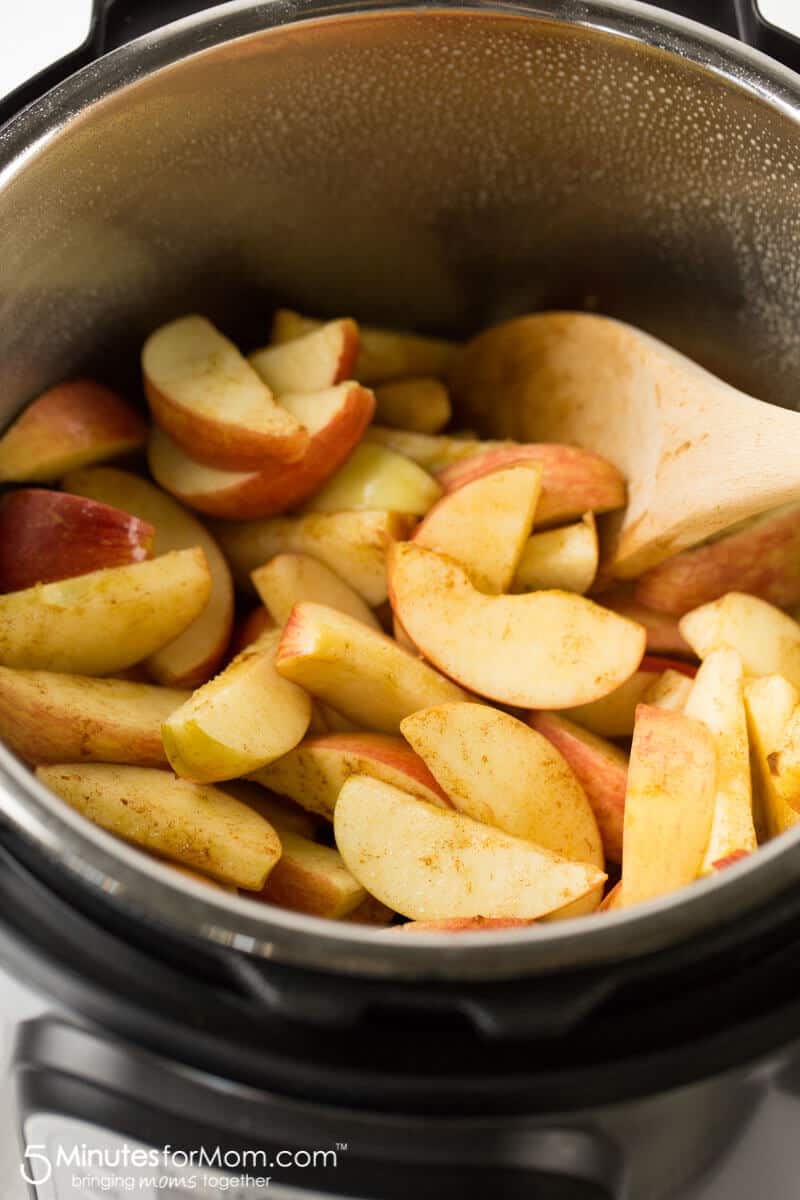 To thicken up the liquid, you can use arrowroot flour, cornstarch, or your other favourite thickening starch or flour. I use a couple tablespoons of arrowroot flour.
Also, I should let you know, this apple crisp recipe uses DOUBLE the usual amount of rolled oats for the crisp topping.
My kids and I love apple crisp topping SO much and everyone always wants extra topping, so whenever I make a fruit crisp, I double the oats.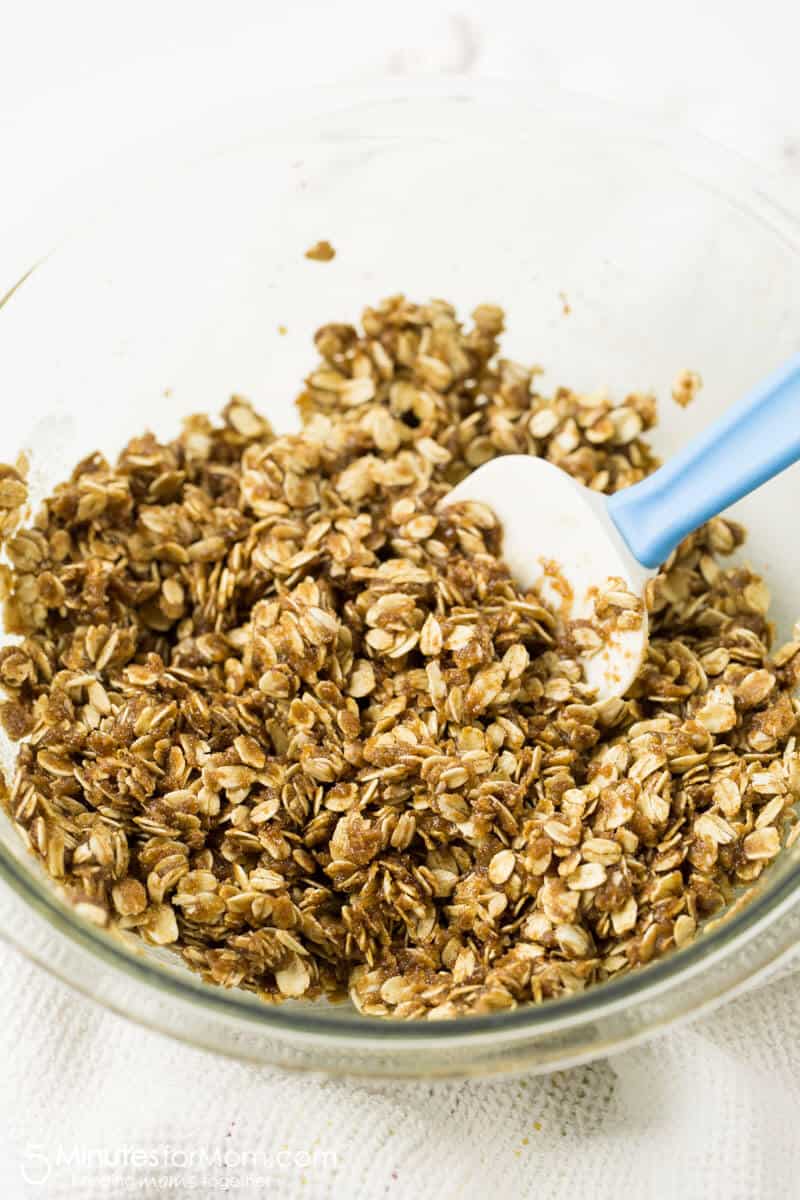 If you want less topping, feel free to cut the topping ingredients — the oats, flour, brown sugar, spices, and butter — in half.
But, I recommend following the recipe as is. The topping is SO incredible, everyone will want lots with their serving.
To cut down on any guilt and to make your crisp healthier, use less brown sugar and use grass-fed butter or coconut oil.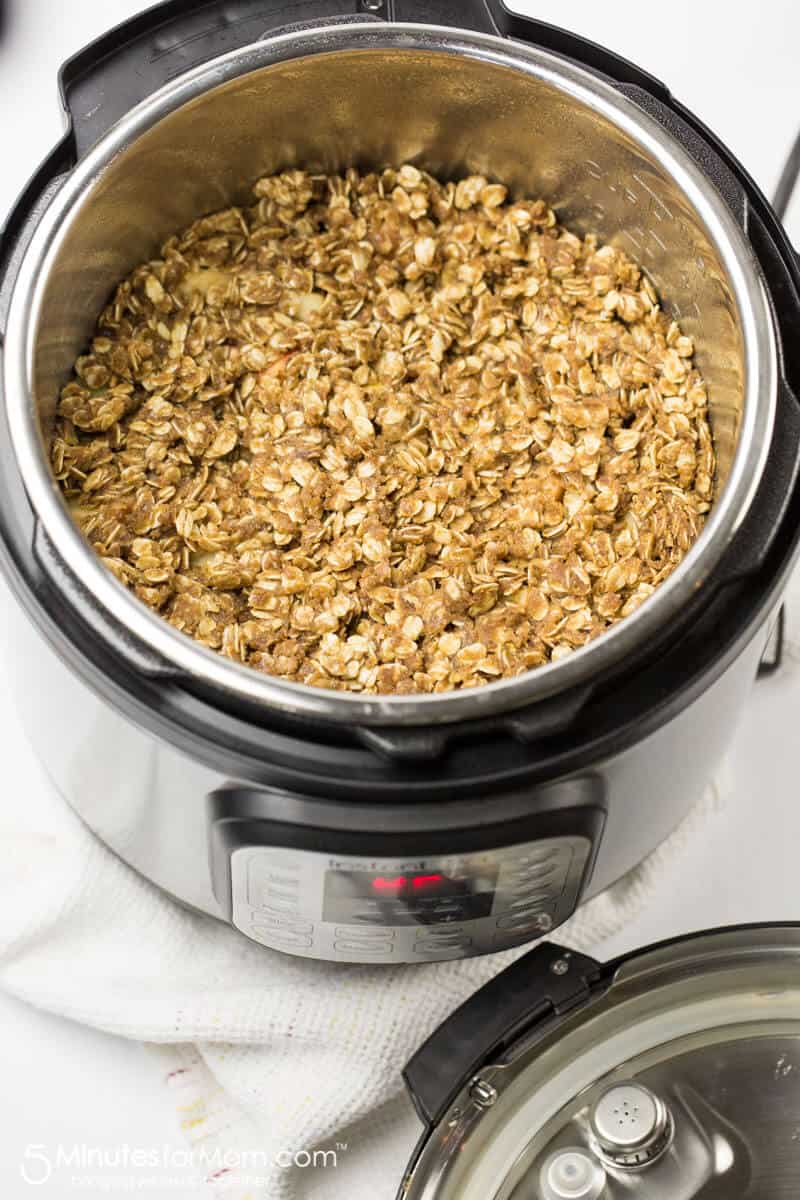 You may notice that I don't put any granulated sugar in with my apples. I never do when I make crisps. I find that the fruit is sweet enough and the topping will sweeten the dish more than enough.
The majority of the time that the crisp is in the Instant Pot will be while the pressure is building in the pot. It can take between 7-10 minutes for it to come to pressure. Then the actual cooking time is can be as short as 1 minute. When I made this recipe, I cooked it for 7 minutes, but it depends on how soft you want your apples and what kind of apples you are using. After testing the recipe with various types of apples, I have found that you will get the best results after only 1 minute of official Instant Pot cook time.
Ambrosia apples are in our local stores right now and they are one of our favourite apple varieties. Ambrosia apples are what you see in these recipe photos.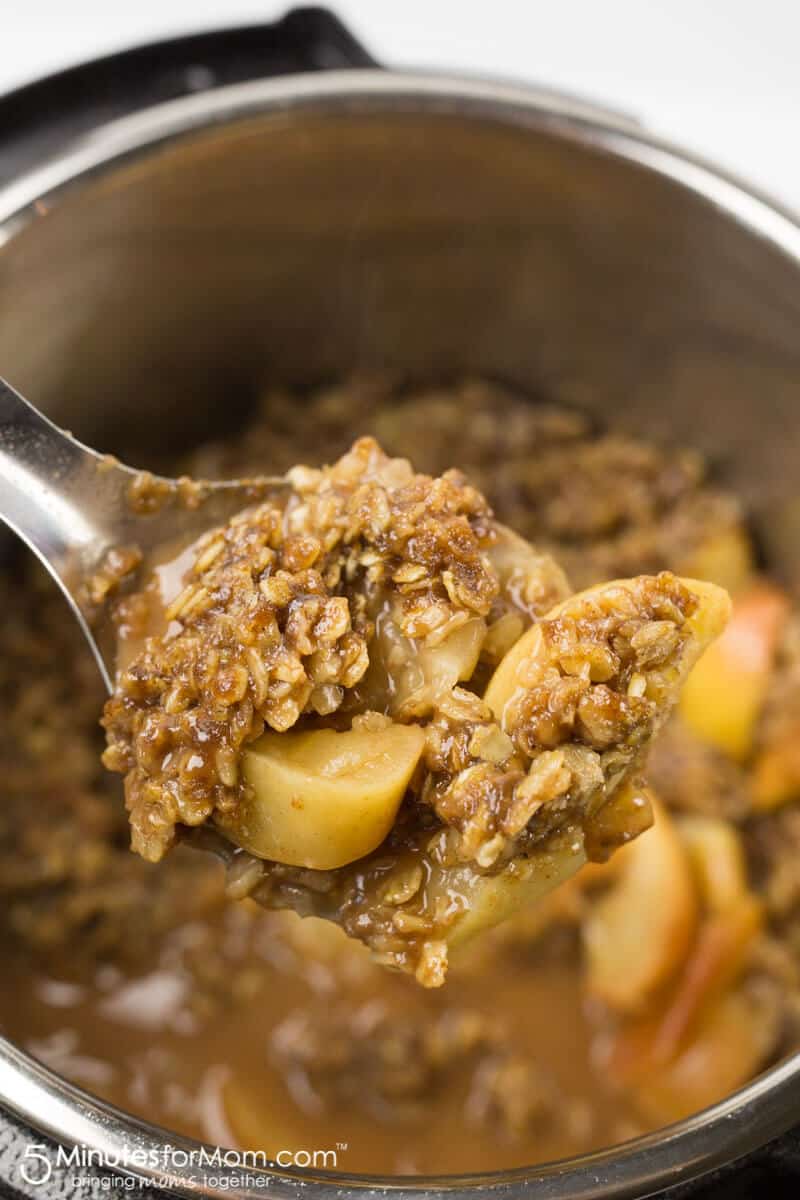 Serve warm, as is, or serve with vanilla ice cream or whipped cream. We eat ours with vanilla frozen Greek yogurt.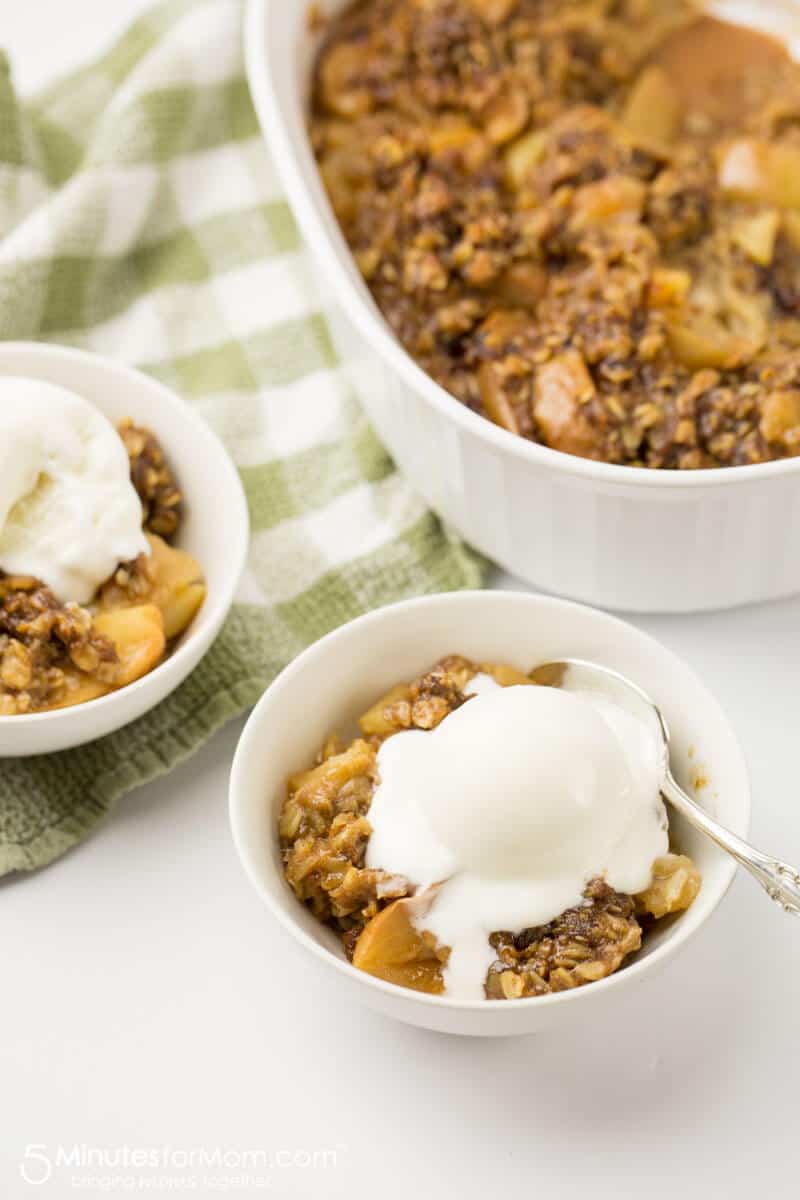 Frozen Greek yogurt has twice the protein of regular frozen yogurt or ice cream, so it is a great substitute. You can feel a little less guilty about your scrumptious indulgence.
Important Tips for Making Apple Crisp in an Instant Pot
Making apple crisp in an Instant Pot can be a bit tricky… and there is a risk of your apples getting too soft. After extensive recipe testing, I have decided to lower my recommended actual "Instant Pot" cook time from 5-7 minutes to only 1 minute! That is because it often takes about 7-10 minutes for the Instant Pot to come to pressure. And then you usually only need 1 minute to finish cooking the apple crisp.
When I originally made and photographed this recipe, I didn't peel my apples and I core and slice with this fabulous apple slicing tool.
But I have learned from our readers and other bloggers, that peeling half the apples helps reduce the chance of getting a "burn" message on your Instant Pot.
As soon as the 1 minute cook time is up, do a quick release and open the lid. You will have best results if you transfer the apple crisp from the Instant Pot into another dish so that it cools and doesn't keep cooking in the hot pan. Let it cool for 10 minutes to thicken. Or put it in an oven safe dish and broil it in the oven for 5 minutes to brown the topping.
Tips from a Home Ec Teacher
One of our fabulous readers named Judy Whitelock, a retired Home Ec teacher, wrote to us to share her recipe tips. She's made this recipe dozens of times in the last few months for her family. Judy pointed out that the key to having the Instant Pot come to pressure and not get a burn warning is having enough moisture. The type of apples can affect the amount of moisture because some types break down very quickly while others are drier and keep their shape.
Judy found that if she got a burn message or the Instant Pot won't come to pressure, she could just add a couple more tablespoons of water and turn the pot a quarter turn to move the area that is getting too brown on the bottom. She finds that some pots have a hot spot that seems to be where the heat source is concentrated. She also says she browns the topping in a FlavorWave Tabletop Oven. The Instant Pot fits in perfectly with the collar and takes exactly 3 minutes.
Instant Pot Apple Crisp Recipe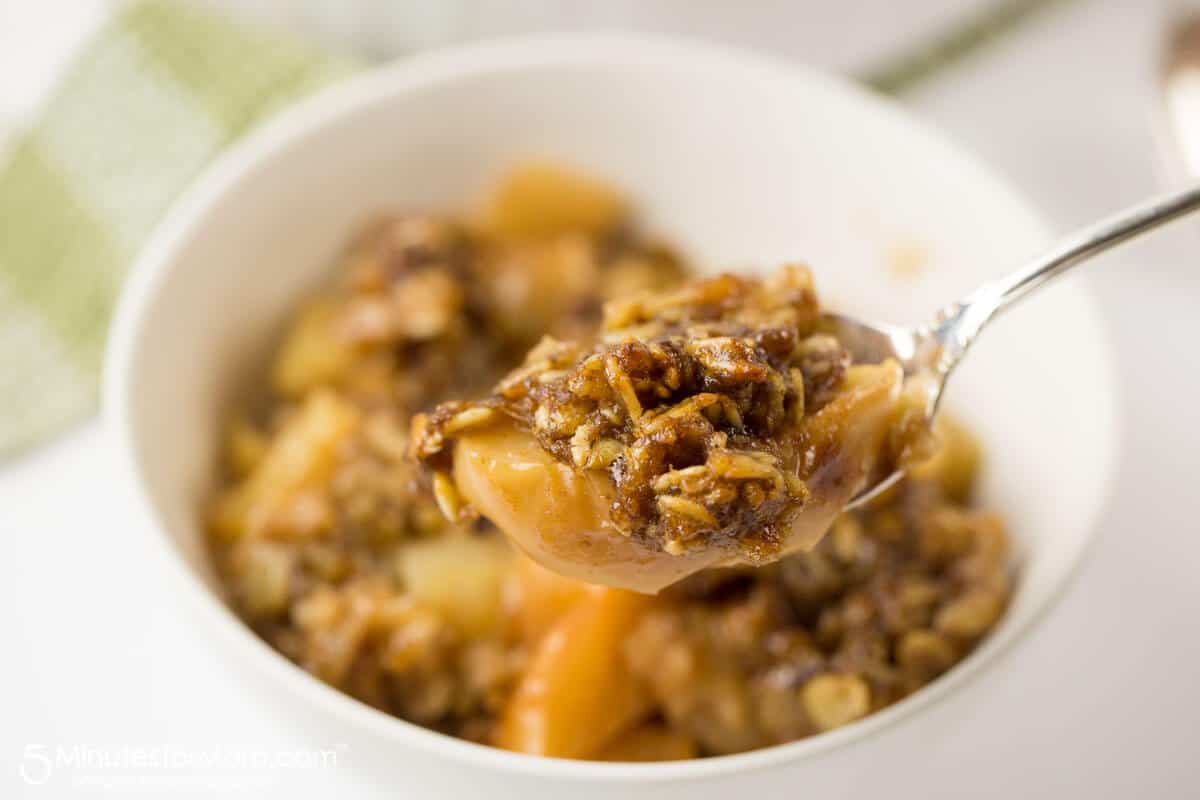 Instant Pot Apple Crisp
Did you know you can make a fruit crisp in your Instant Pot? This Instant Pot Apple Crisp recipe makes a delicious, irresistible apple crisp that is ready in mere minutes…
Prep Time: 20 minutes
Cook Time: 8 minutes
Total Time: 28 minutes
Course: Dessert
Servings: 12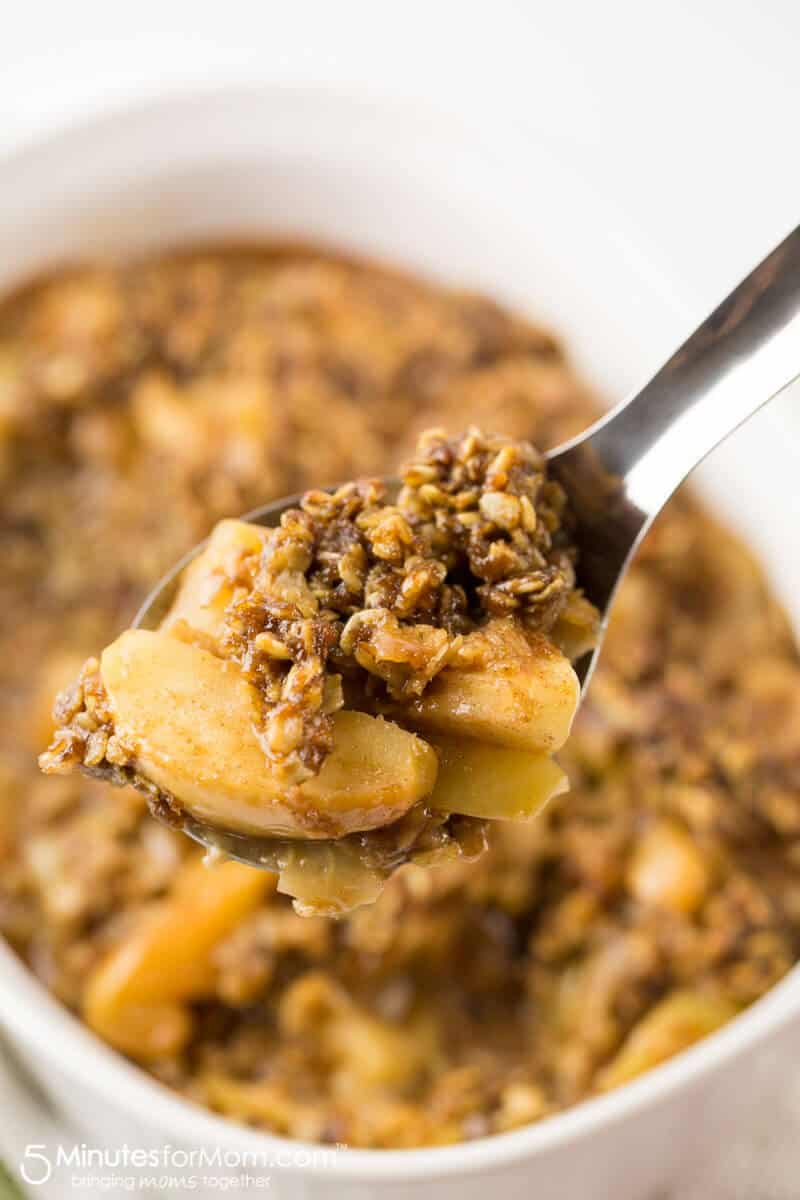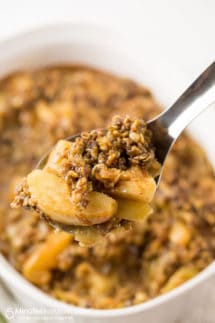 Ingredients
9 cups apples (small firm apples such as Granny Smith, Gala, or Ambrosia, work well. Cored and sliced. Peeling half of the apples gives the best results.)
1 cup apple juice/apple cider/water
2 tablespoons water (extra bit of water helps to create steam and bring to pressure)
2 tablespoons lemon juice
1 tablespoon apple cider vinegar
1 teaspoon vanilla extract
2 tablespoons arrowroot flour or cornstarch
2 cups rolled oats
1/2 cup flour
1/2 cup packed brown sugar (could increase to 3/4 cup)
3/4 cup butter melted (for healthier option use grass-fed butter or coconut oil)
2 1/2 teaspoons cinnamon
1/8 teaspoon nutmeg (could increase to 1/4)
1/8 teaspoon ground cloves
1/4 teaspoon salt (if using unsalted butter)
Instructions
Spray or grease the liner of the Instant Pot. (I use an olive oil spray or an avocado oil spray.)

Core and slice apples. You can peel your apples if you wish. It seems that peeling half of the apples helps create the best consistency.

Add sliced apples to the greased Instant Pot.

To the apples, add 1/2 teaspoon of cinnamon, and a pinch of salt.

In a measuring cup or bowl, combine apple juice, lemon juice, apple cider vinegar, and vanilla extract.

Pour half of the apple juice mixture over the apple and add the extra 2 tablespoons of water. Set aside the remaining liquid.

In a small bowl or a cup, mix arrowroot flour/cornstarch with 2 tablespoons or so of water.

Add arrowroot/cornstarch mixture to the apples and stir until apples are coated and cinnamon is well distributed.

In a large bowl, add rolled oats, flour, brown sugar, remaining cinnamon, nutmeg, cloves, and salt if using unsalted butter.

Add melted butter and stir until well combined.

Pour oat topping on top of the apples in the Instant Pot and smooth out the oats, taking care to cover all the apples.

Once oat topping is spread over the apples, gently pour the reserved apple juice mixture over the oat topping.

Close Instant Pot and set valve to sealing.

Press Manual and set for 1 minute. It will take between 7 to 10 minutes to come to pressure and then the countdown for 1 minute will start.

When cooking time is finished, do a quick steam release.

Transfer the crisp to another baking dish and let it sit and cool for ten minutes before serving.

OR if you would like a crisper topping, transfer the apple crisp into an oven-safe dish and broil it in the oven for 3 to 5 minutes to brown the topping.

Serve warm, as is, or serve with vanilla ice cream, frozen yogurt, or whipped cream. We eat ours with vanilla frozen Greek yogurt.
Nutrition per serving
Calories: 273kcal
Fat: 13g
Saturated fat: 7g
Cholesterol: 31mg
Sodium: 155mg
Potassium: 191mg
Carbohydrates: 39g
Fiber: 4g
Sugar: 21g
Protein: 3g
Vitamin A: 405%
Vitamin C: 5%
Calcium: 29%
Iron: 1%
Keyword: apple
Pin it for Later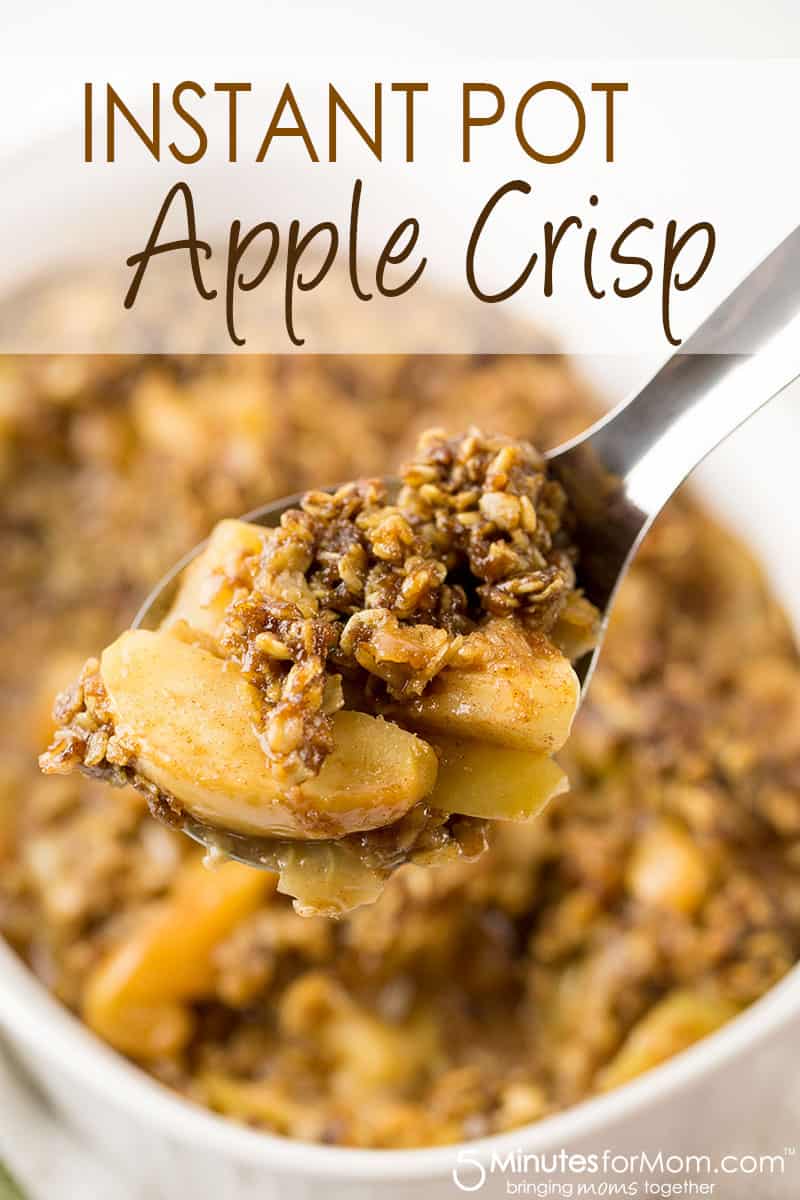 Another Easy and Amazing Instant Pot Recipe
If you are new to the Instant Pot or you are looking for another delicious and easy Instant Pot recipe, try making this Instant Pot Risotto with Lemon and Peas Recipe. I love making risotto in my Instant Pot — I will never make it on the stove again!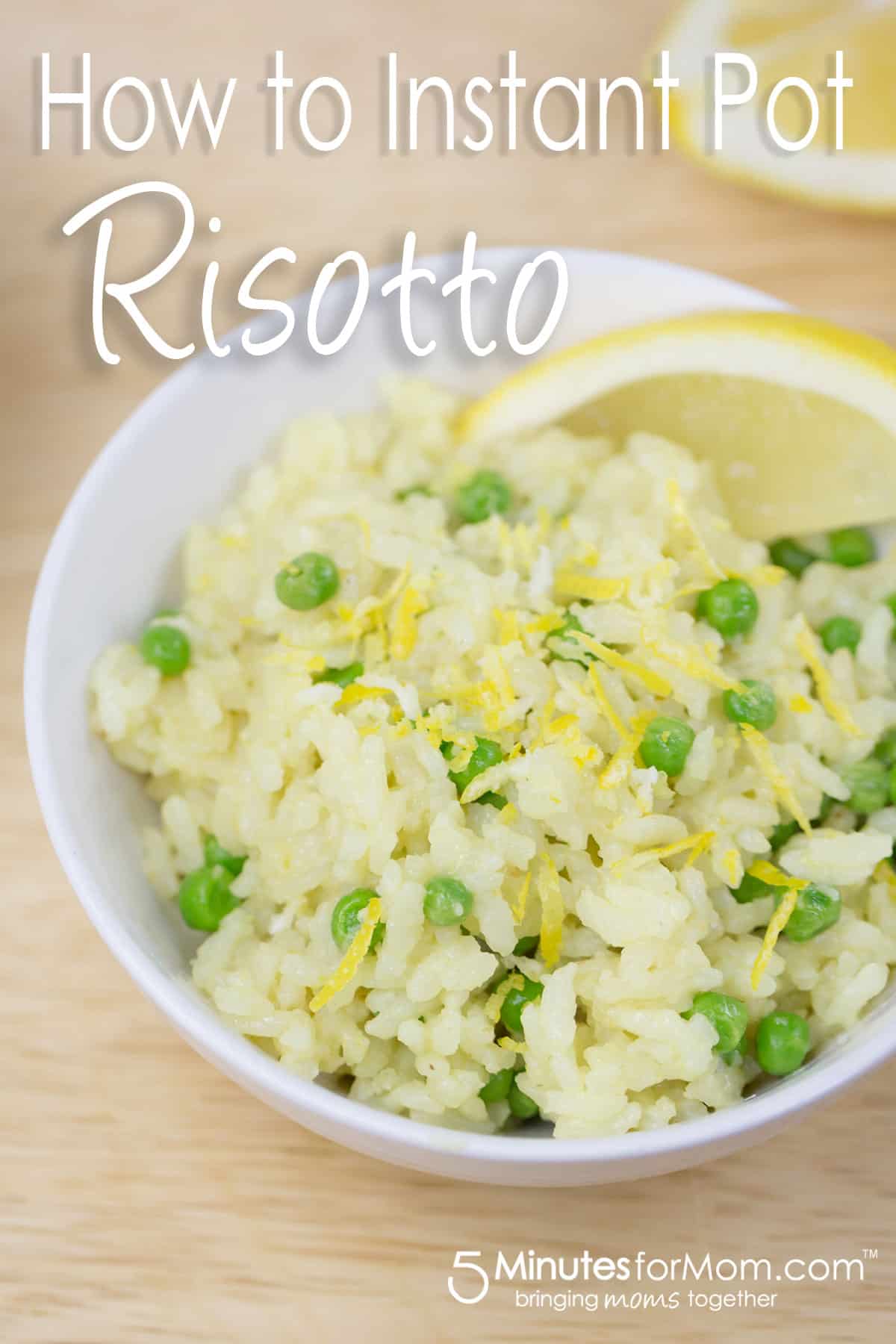 Just so you know, this post contains Amazon affiliate links. We first published this Instant Pot Apple Crisp recipe on April 27, 2018 and it has been such a hit that we've updated and shared it again.
Written by Janice Croze, co-founder of 5 Minutes for Mom
Talk with me: @5minutesformom and Facebook.com/5minutesformom
Pin with me at pinterest.com/5minutesformom
Also Try These Tasty Apple Recipes…
If you like this Instant Pot Apple Crisp recipe, you'll also love these delicious apple desserts…
Airfryer Apple Pie Filo Pastries