This post may contain affiliate links. Read my disclosure policy here.
Apple crisp is one of those desserts that looks much fancier and harder to prepare that it actually is. The warm gooey apple filling and crispy topping are comforting and delicious!
Gluten free oats and coconut flour keep this apple crisp gluten-free, but your guests won't be able to tell the difference.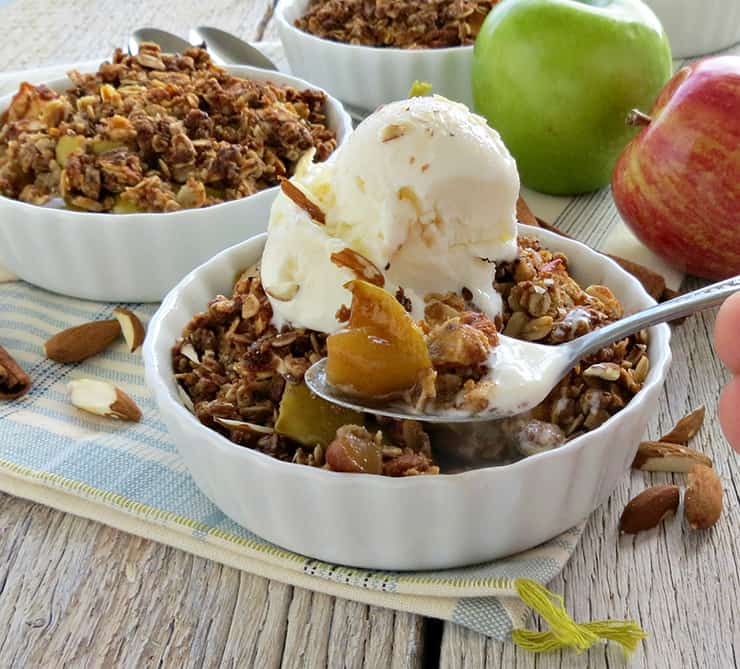 You can easily use substitutions for this recipe. If you don't have coconut sugar, feel free to use white sugar. If you don't have almonds, you can use pecans or walnuts. And if you don't have apples, a mixture of fresh berries is a great substitution.
Using a combination of tart Granny Smith and sweet Gala apples gives the dish texture and flavor. They both cook up well and don't get mushy. Some other good options are Braeburn, Honeycrisp, and Pink Lady.

To cut the apples quickly and easily, we suggest using an apple core slicer.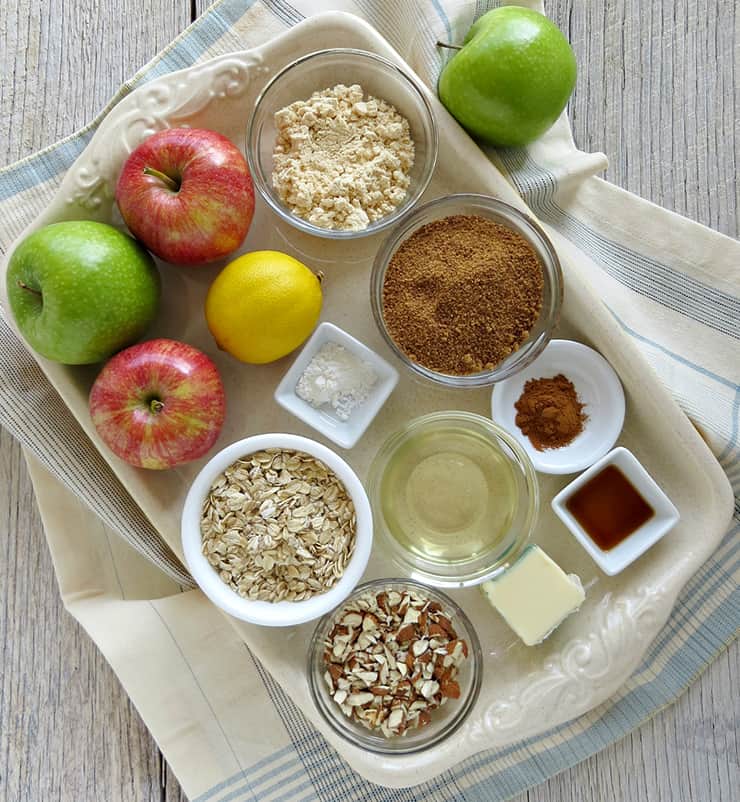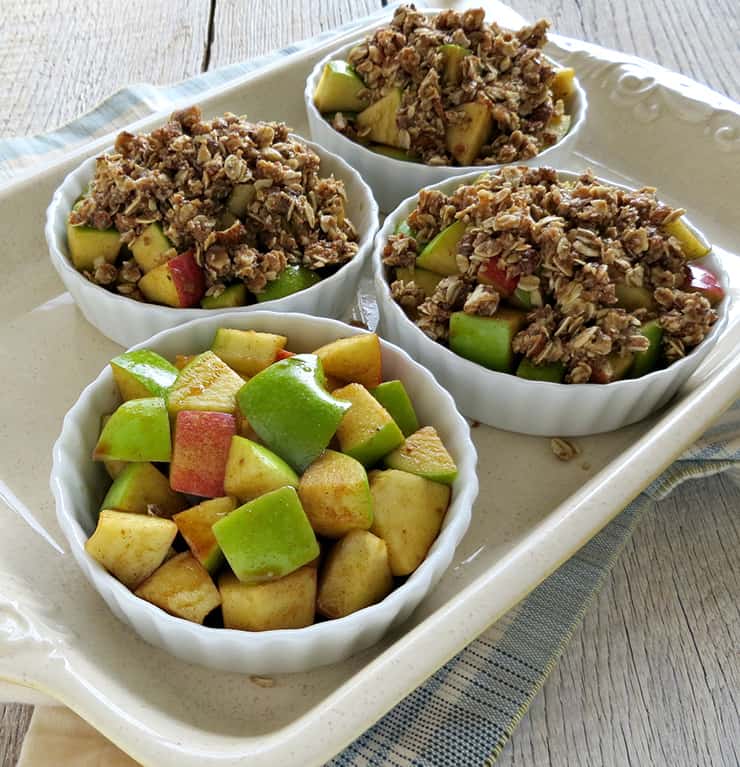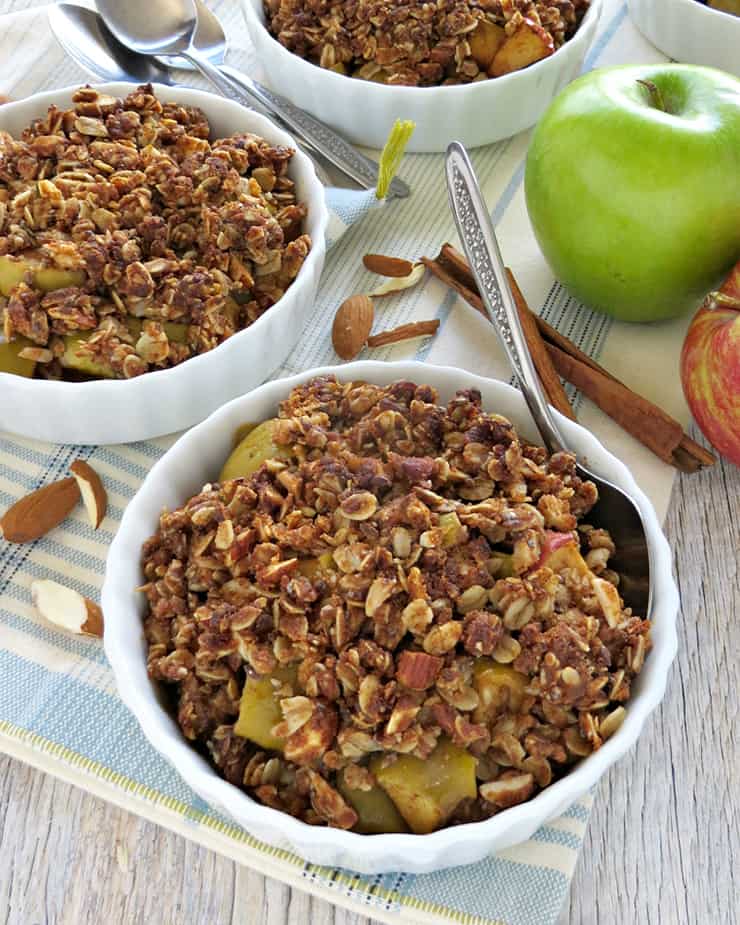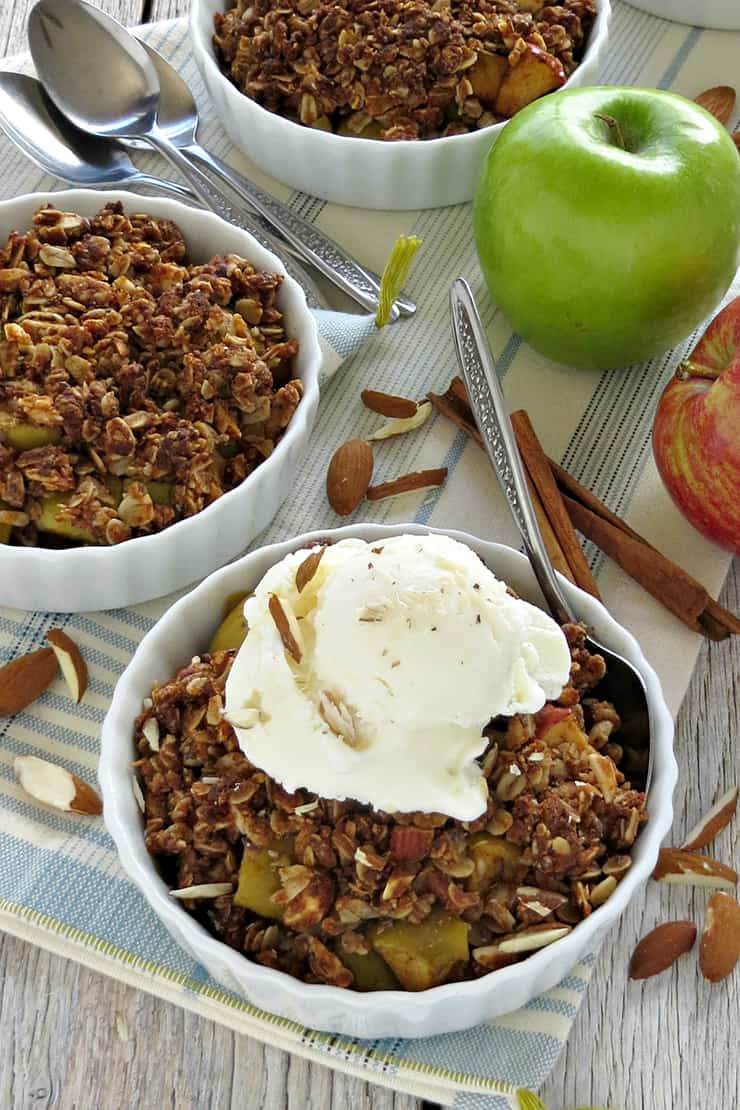 Gluten Free Apple Crisp with Oats and Almonds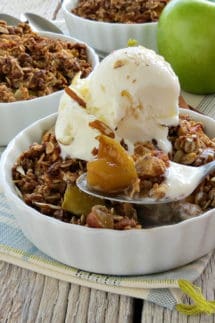 Ingredients
4 medium size apples (Granny Smith and Gala)
2 teaspoons fresh lemon juice
1 teaspoon vanilla
1 tablespoon cornstarch
1 teaspoon cinnamon (divided)
1/2 cup coconut sugar (divided)
3/4 cup gluten-free old fashioned oats
1/4 cup coconut flour
1/4 cup chopped almonds
1/8 teaspoon salt
1/4 cup melted coconut oil
3 tablespoons butter (cubed)
Instructions
Preheat the oven to 350F.

Remove the core from the apples, and cut them into bite-size pieces. To cut the apples quickly and easily, we suggest using an apple core slicer.

Toss the apples with the lemon juice, vanilla, cornstarch, half the coconut sugar, and half the cinnamon.

In a separate bowl, add the oats, coconut flour, almonds, salt, and remaining cinnamon and sugar. Stir to combine.

Drizzle the coconut oil over the oats, and stir to evenly coat.

Add the cubed butter, and stir to combine. Use the back of your spatula to press the butter into the mixture.

Spray four 5" ramekins with nonstick cooking spray, and divide the apple mixture evenly among them. (If you prefer to make this one dish, pour the apple mixture into a shallow, two-quart baking dish before adding the topping.)

Using your hands, sprinkle the topping over the apples, gently pressing it down as you go.

Place the ramekins on a large baking sheet, and place the pan and the center of the oven.

Bake for 25 to 30 minutes or until the apples are tender and the top is nicely browned.

If you test the apples and they still feel firm, leave it in the oven a little longer. If the topping is getting too dark, cover it loosely with aluminum foil.

Allow the crisps to cool for 10 to 15 minutes before serving. The topping will crisp up as it sits.

Serve with vanilla ice cream or whipped topping, if desired.
Pin for Later
We truly appreciate your pins and shares!