This post may contain affiliate links. Read my disclosure policy here.
This recipe for Instant Pot Risotto with Lemon and Peas is so delicious and everyone in the family will love it. If your kids have never had risotto, they'll get hooked right away. This risotto recipe works well as a side dish or a main entree. You can add some diced cooked chicken to make it more filling for a complete dinner.
This recipe post is sponsored by Workman Publishing.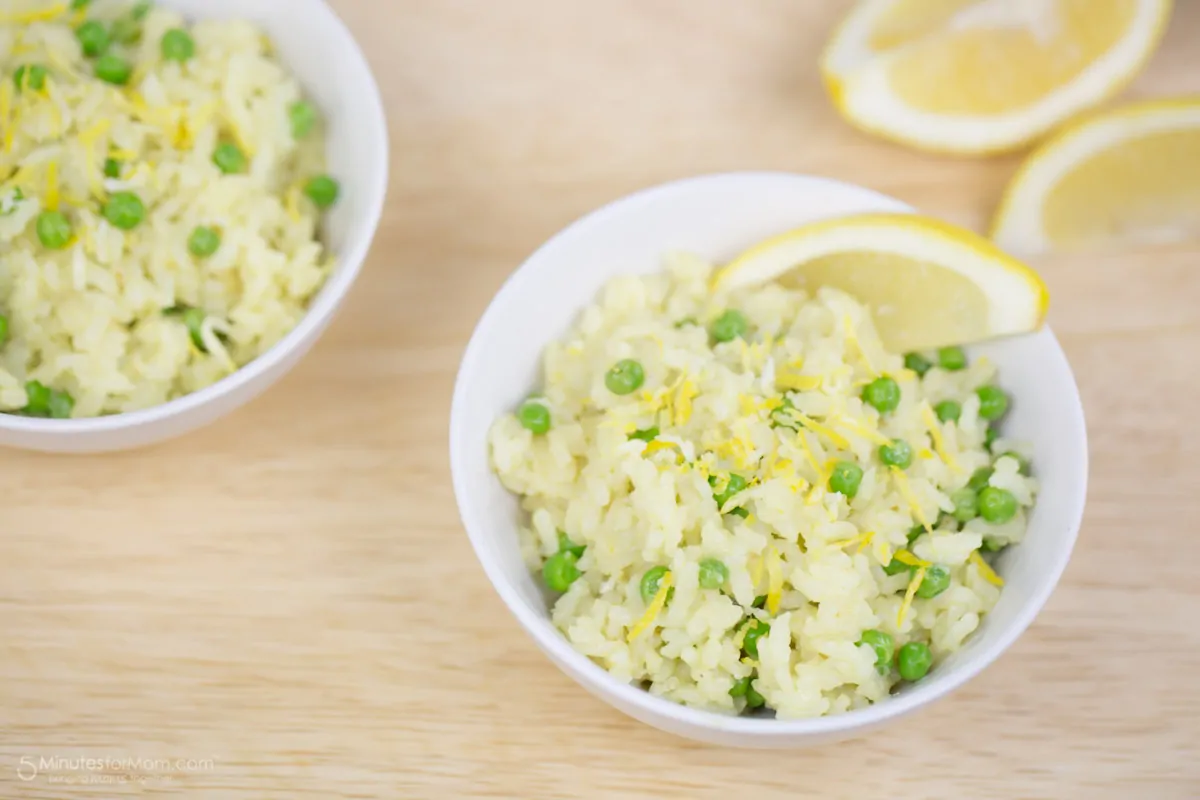 Whether you still aren't sure what an Instant Pot is or you have already become an Instant Pot fan, you can master cooking with an Instant Pot and get inspired with over 100 delicious one-pot meals with the new HOW TO INSTANT POT cookbook by Daniel Shumski.
Do YOU Instant Pot?
If you haven't given into the craze yet, what is holding you back?!?
Trust me, this is one bandwagon you want to jump on.
There is a reason the Instant Pot has created such a sensation — it is simply sensational.
You can have all of the speed and convenience of a pressure cooker, without any fear your next meal will explode and hit your ceiling.
The Instant Pot is safe and easy to use — and creates incredible, fast meals.
Plus, the Instant Pot can also work as a Slow Cooker, Rice Maker, Yogurt Maker, and Steamer.
BUT in case you are feeling overwhelmed at the idea of learning how to use the Instant Pot — or perhaps you already OWN an Instant Pot but you are still a bit intimidated by all its functions and buttons…
HOW TO INSTANT POT by Daniel Shumski will help you master your Instant Pot almost instantly!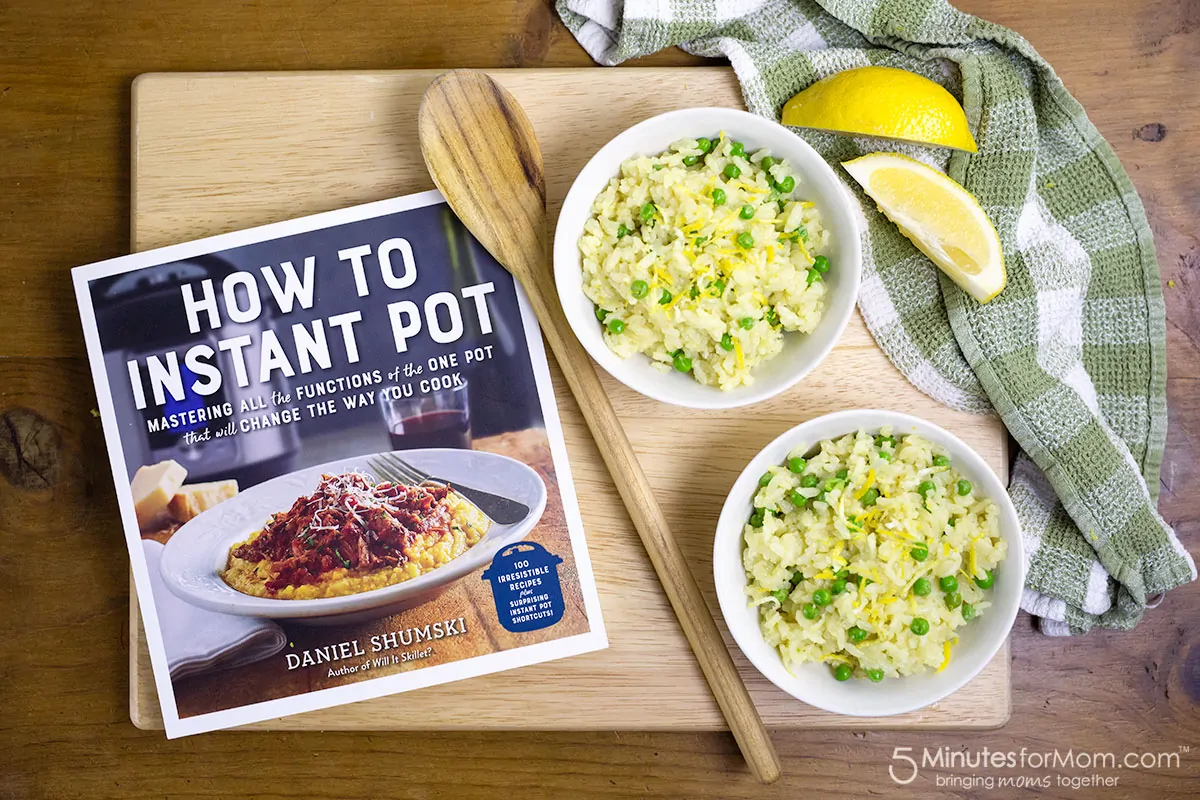 Workman Publishing sent us a copy of How to Instant Pot to review and it is fantastic.
I curled up this weekend and read it cover to cover. It is that good.
How to Instant Pot is organized by function which makes it an organized, thorough guide on how to get the most out of an Instant Pot, with corresponding recipes that are unique and inspiring.
While I have been using my Instant Pot for a year, after reading How to Instant Pot, I feel confident and ready to try new recipes and to use my Instant Pot in ways I haven't yet.
I have made stews, ribs, and chicken recipes in my Instant Pot — and have loved it all. But I haven't tried to use it as a rice cooker, as a slow cooker, or to make yogurt.
And when I saw Daniel's recipes for risotto, I knew that I had to make risotto immediately. I LOVE risotto!
How to Make No-Stir Risotto in an Instant Pot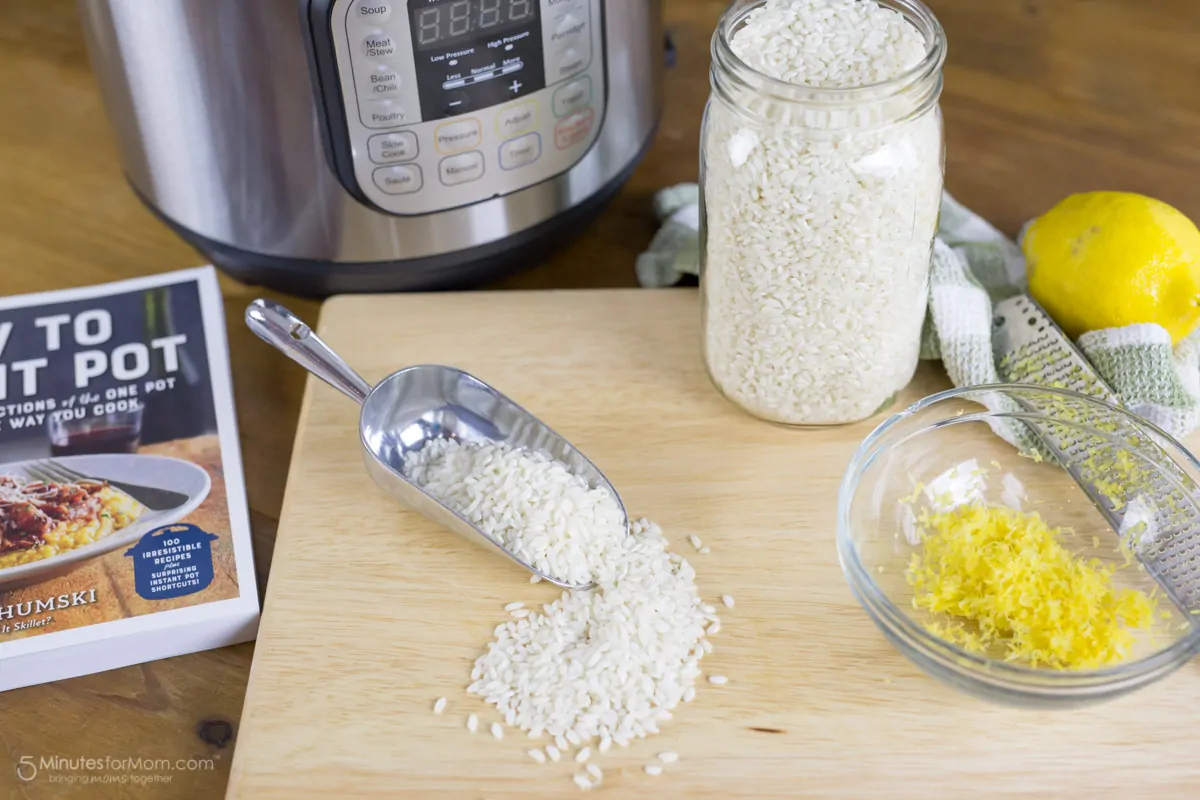 One of the best parts of How to Instant Pot is how author Daniel Shumski explains the techniques and ingredients of a basic recipe and then offers his own delicious versions of that recipe.
But, he doesn't stop there, Daniel also provides tips and jumping off points for us to customize and create our own recipes. I love these sections because I am always customizing and coming up with my own recipe riffs.
For making risotto, Daniel follows this teaching pattern. He explains his Master Method, then he has three recipes, and follows it all up with ideas for us to break out and create our own risotto masterpieces.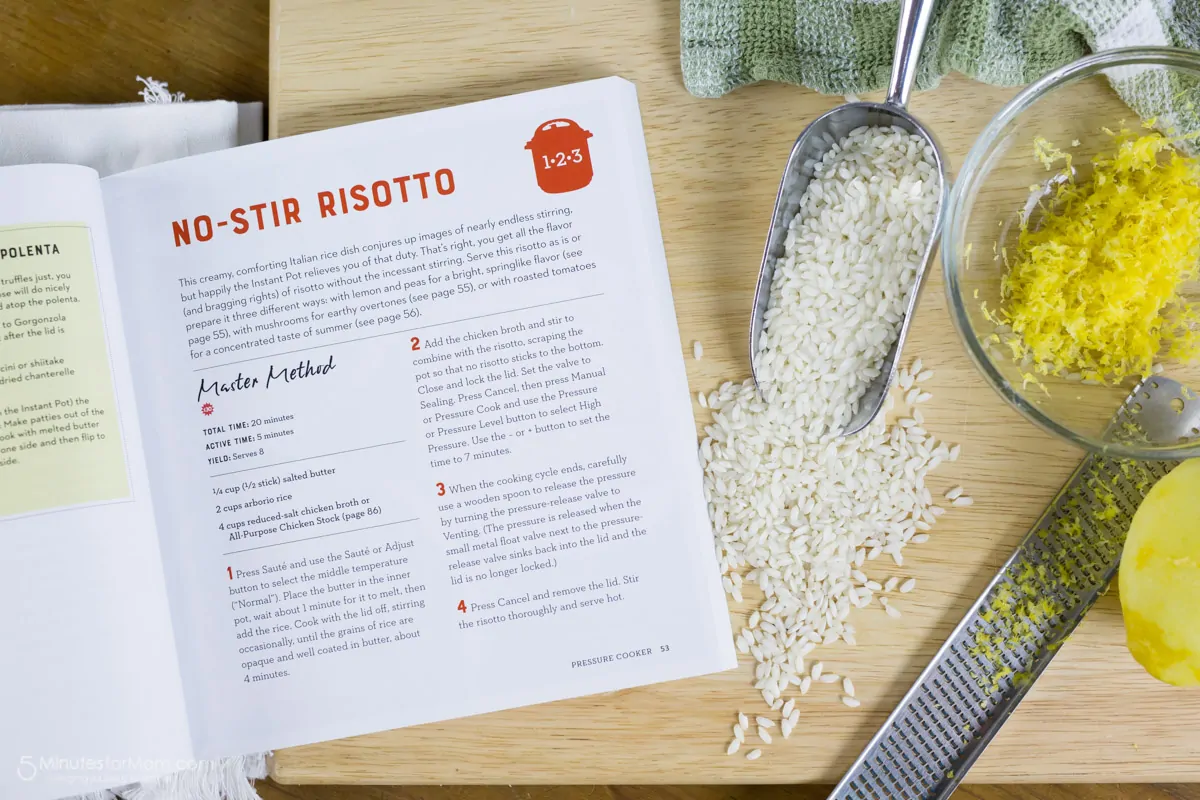 As I explained above, How to Instant Pot first lays out the basic recipe method and then follows with different variations. I made Risotto with Lemon and Peas that is based on the Master Method of making No-Stir Risotto in the Instant Pot.
Risotto is the creamy Italian rice dish that is made using arborio rice. (You can purchase aroborio rice at your regular grocery store.)
When you make risotto on the stove, you must stir constantly as the rice cooks. Using the Instant Pot to make No Stir Risotto is so ridiculously quick and easy, it might just become one of your favorite ways to use your Instant Pot.
No-Stir Risotto with Lemon and Peas
Excerpted from How to Instant Pot by Daniel Shumski (Workman Publishing). Copyright © 2017.
Total Time: 20 minutes
Active Time: 5 minutes
Yield: Serves 8
Ingredients:
1/4 cup salted butter
2 cups arborio rice
4 cups reduced-salt chicken broth or All-Purpose Chicken Stock (page 86)
Zest of 2 small lemons (for Risotto with Lemon and Peas)
1 cup frozen peas (for Risotto with Lemon and Peas)
STEP 1
Press Saute and use the Saute or Adjust button to select the middle temperature ("Normal"). Place the butter in the inner pot, wait about 1 minutes for it to melt, then add the rice. Cook with the lid off, stirring occasionally, until the grains of rice are opaque and well coated in butter, about 4 minutes. For Risotto with Lemon and Peas, add the finely grated zest of 2 small lemons to the melted butter before adding the rice.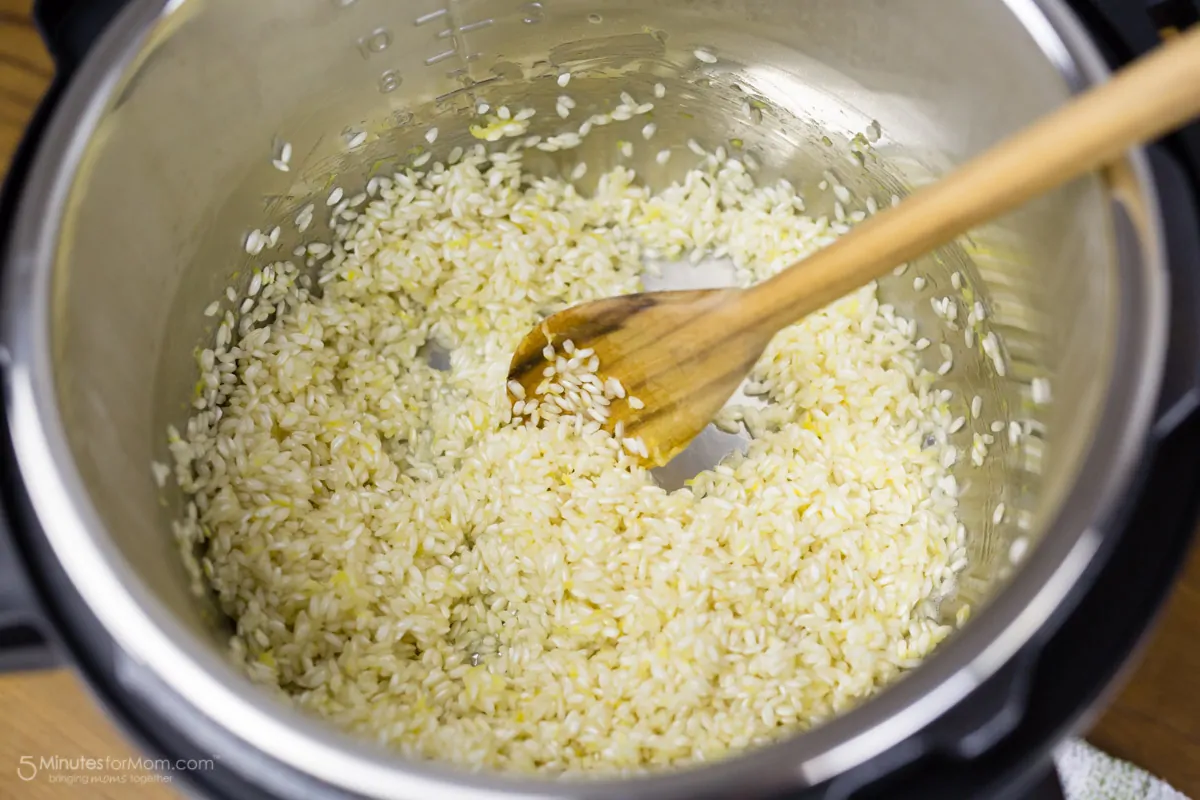 STEP 2
Add the chicken broth and stir to combine with the risotto, scraping the pot so that no risotto sticks to the bottom. Close and lock the lid. Set the valve to Sealing. Press Cancel, then press Manual or Pressure Cook and use the Pressure or Pressure Level button to select High Pressure. Use the – or + button to set the time to 7 minutes.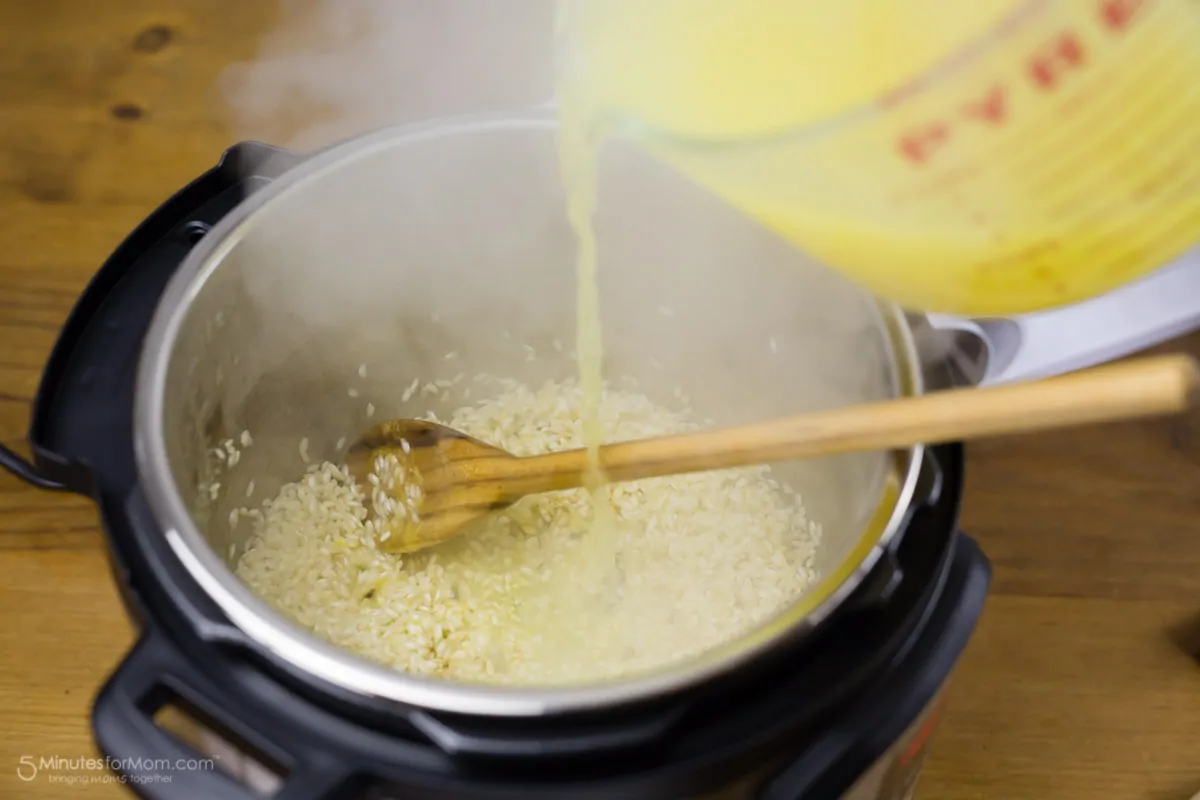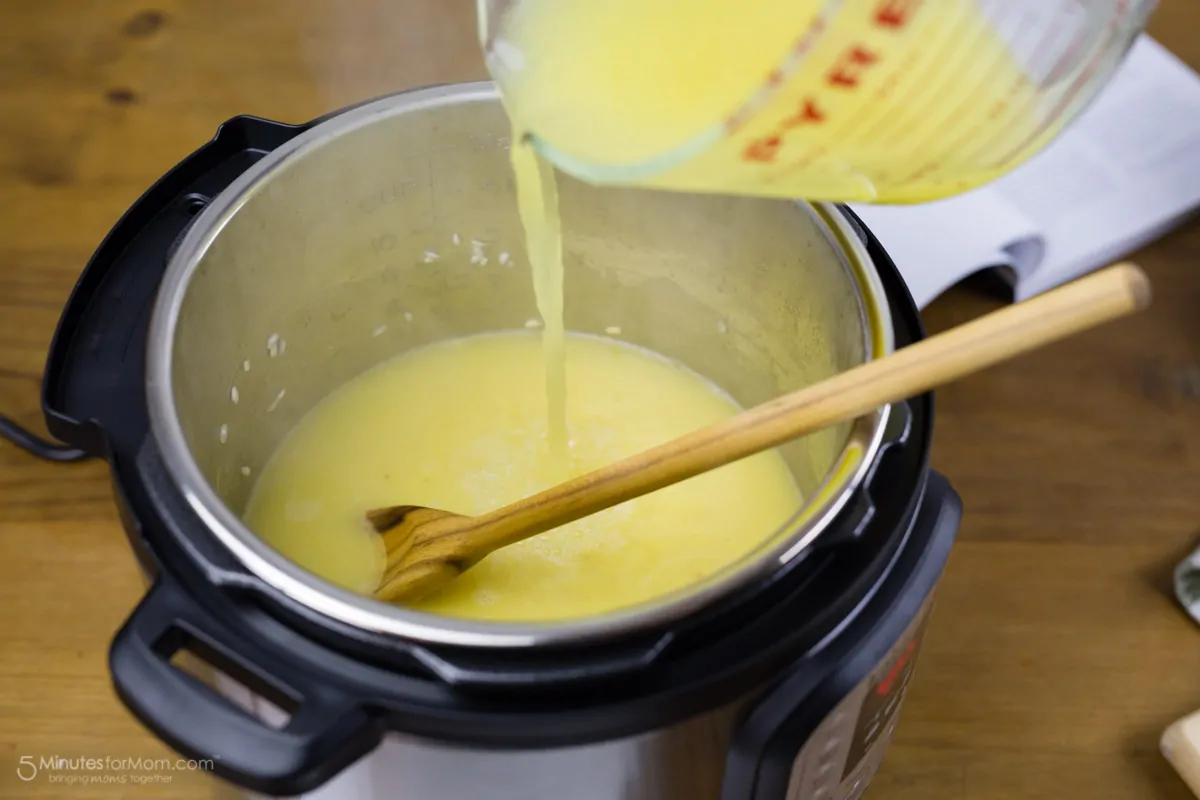 STEP 3
When the cooking cycle ends, carefully use a wooden spoon to release the pressure by turning the pressure-release valve to Venting. (The pressure is released when the small metal float valve next to the pressure-release valve sinks back into the lid and the lid is no longer locked.)
STEP 4
Press Cancel and remove the lid. Stir the risotto thoroughly and serve hot. For Risotto with Lemon and Peas, add 1 cup frozen peas and stir frequently until the peas are warmed through, about 2 minutes.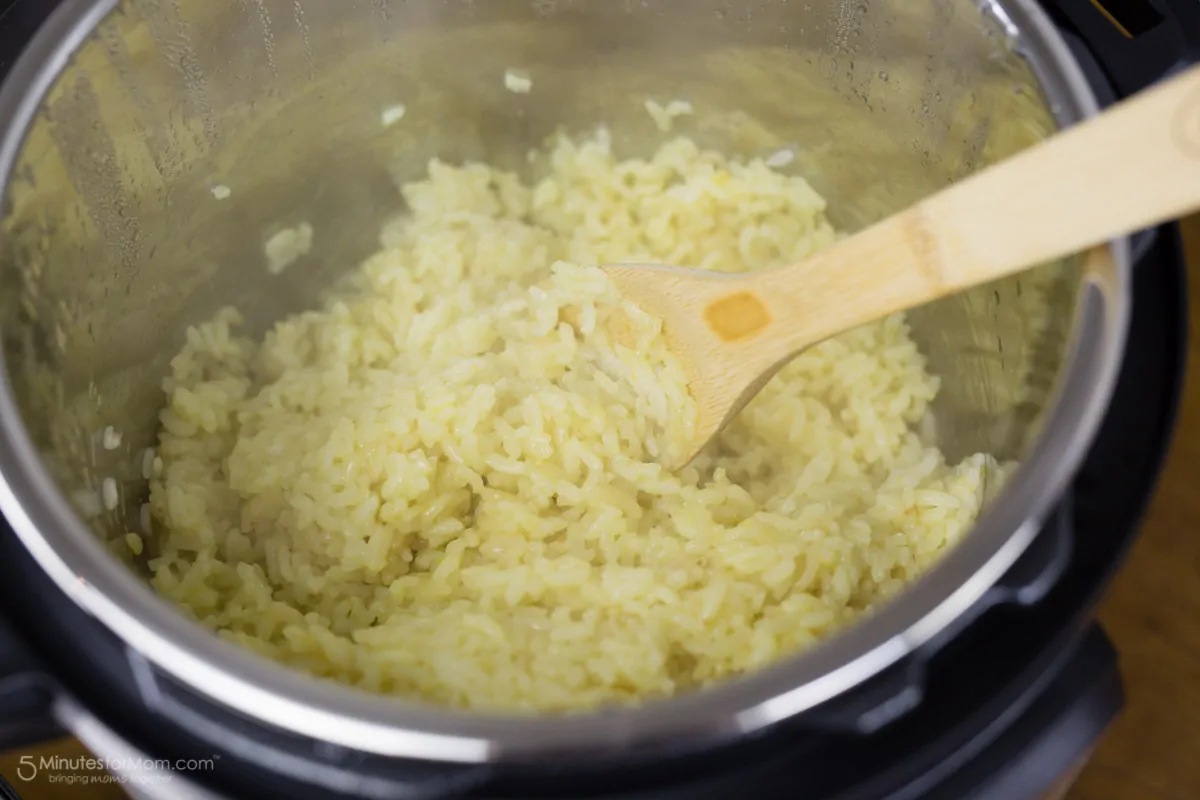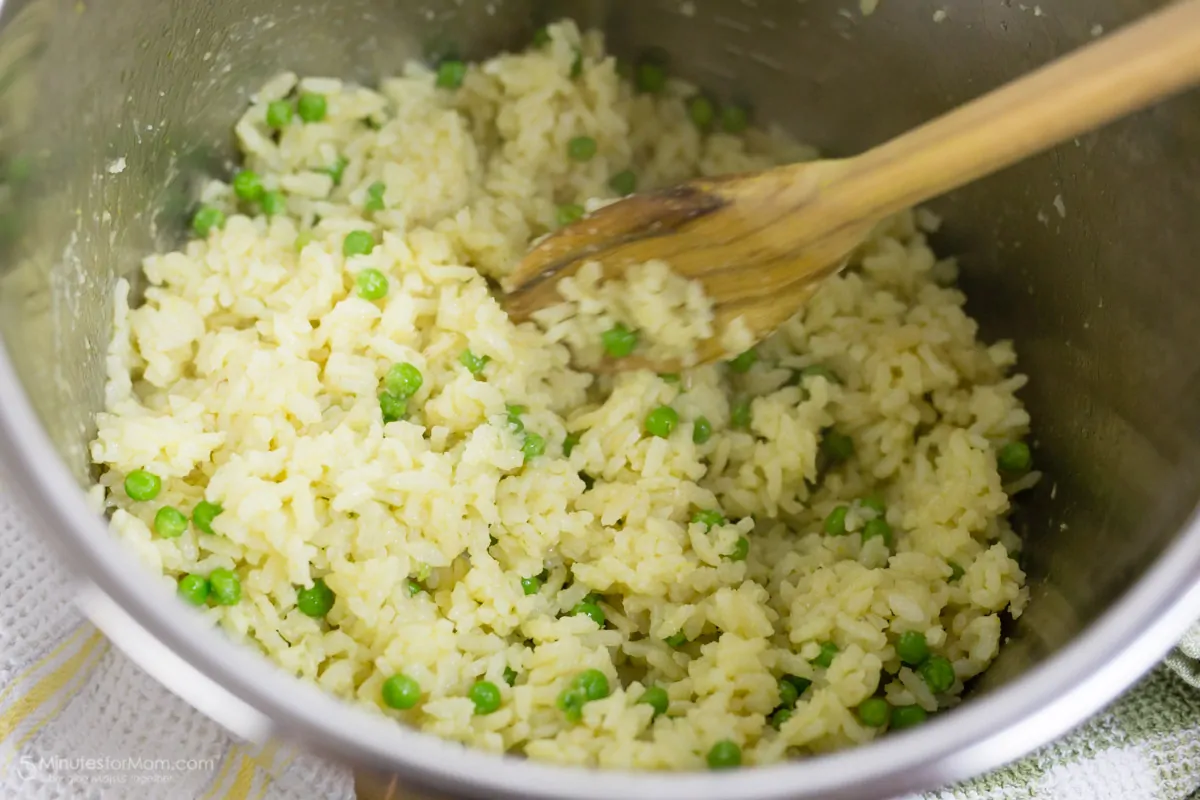 No-Stir Risotto will keep, in an airtight container in the refrigerator, for up to 3 days. Risotto does not reheat particularly well, though. Your best bet is placing it in a pot with a generous splash of chicken broth. Warm the pot on the stovetop over medium-low heat while stirring occasionally for about 5 minutes, adding more broth as needed to give the risotto a loose and creamy texture.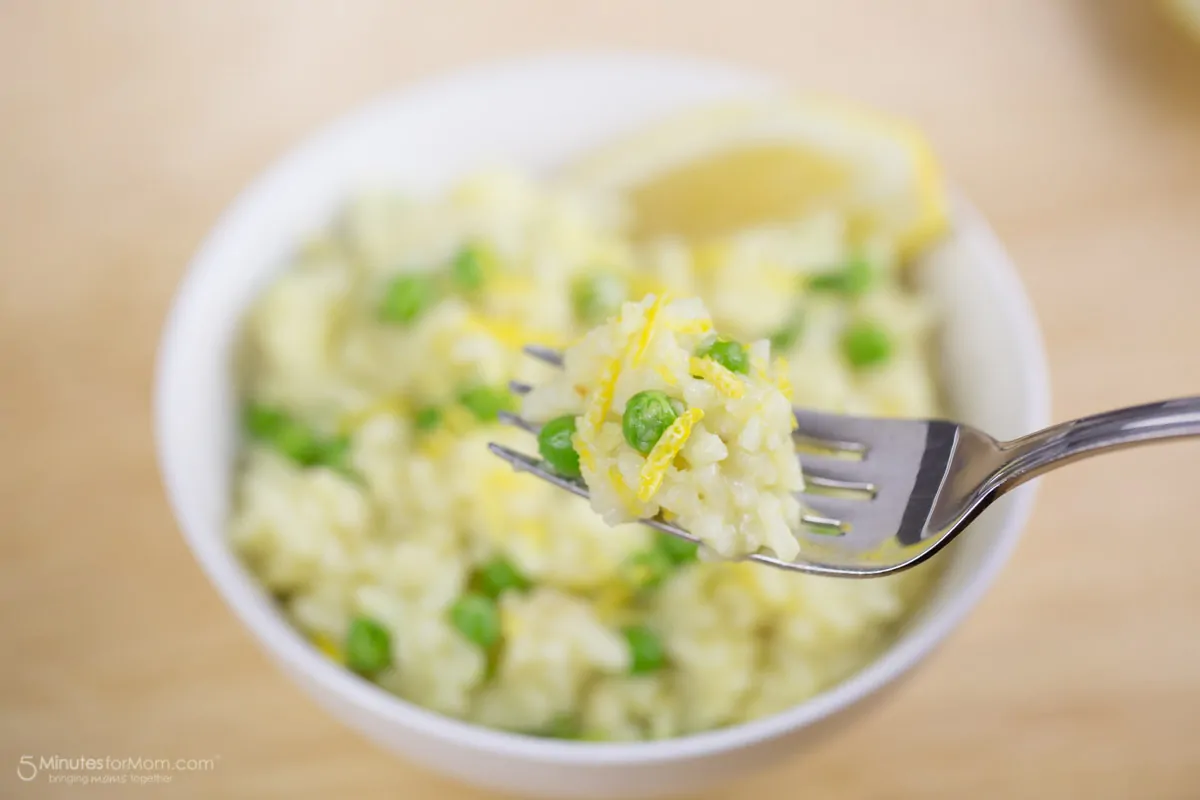 Risotto with Lemon and Peas was a hit in our house! Everyone loved it. For my teenage son, I added some diced cooked chicken and he had a huge plateful for dinner.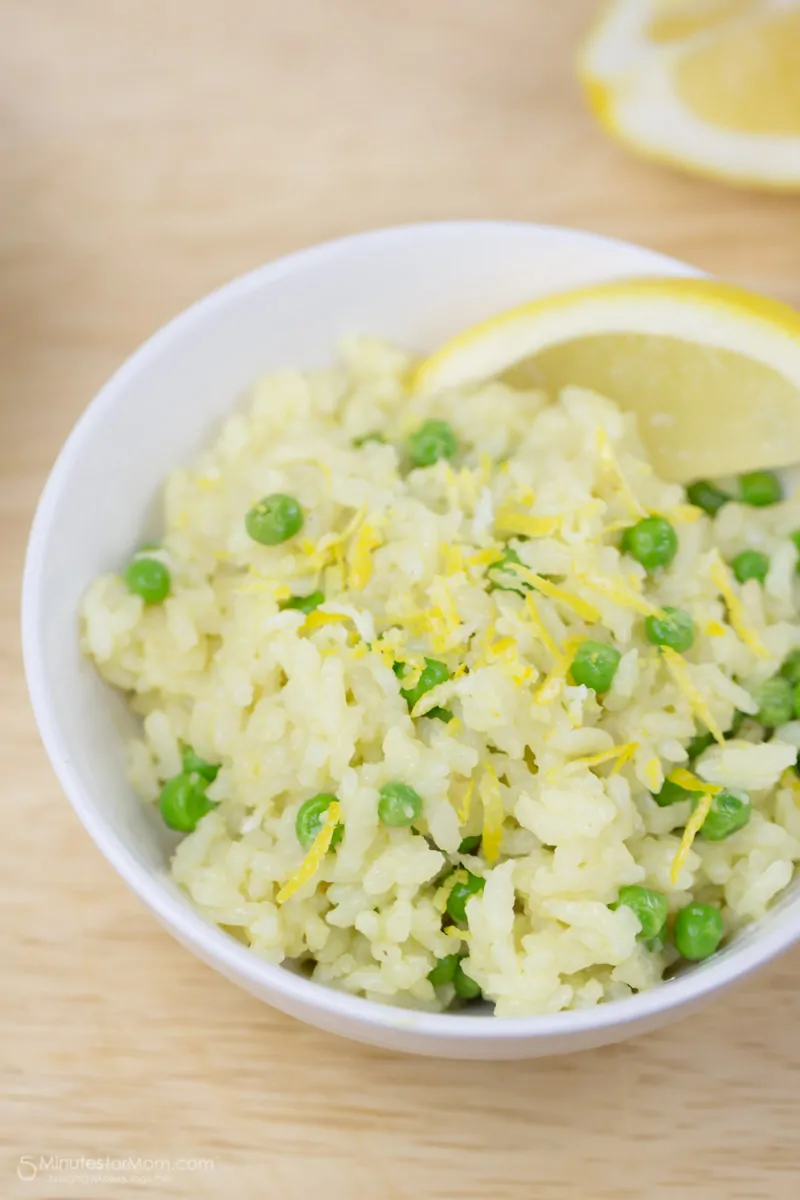 For more info, visit the Official Site
Interact with the book: Twitter | Instagram
Follow the publisher: Twitter | Instagram | Facebook
#HowtoInstantPot
Pin it for Later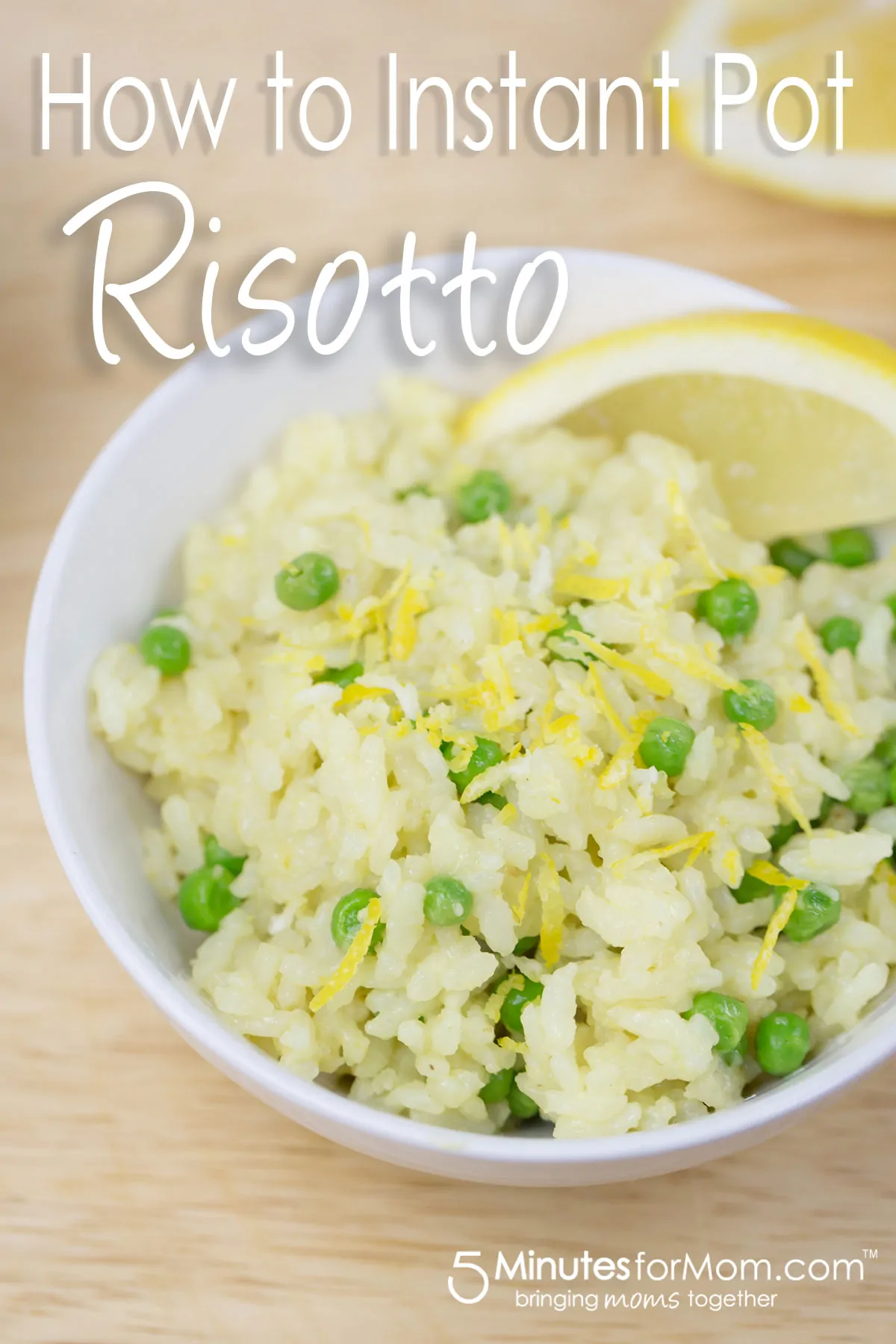 Written by Janice Croze, co-founder of 5 Minutes for Mom and Janice Croze Photography.
Talk with me: @5minutesformom and Facebook.com/5minutesformom
Pin with me at http://pinterest.com/5minutesformom/