This post may contain affiliate links. Read my disclosure policy here.
Crispy kale chips are the perfect, healthy snack and they are super easy to make! Follow these 5 steps to make the best kale chips… even kids love them.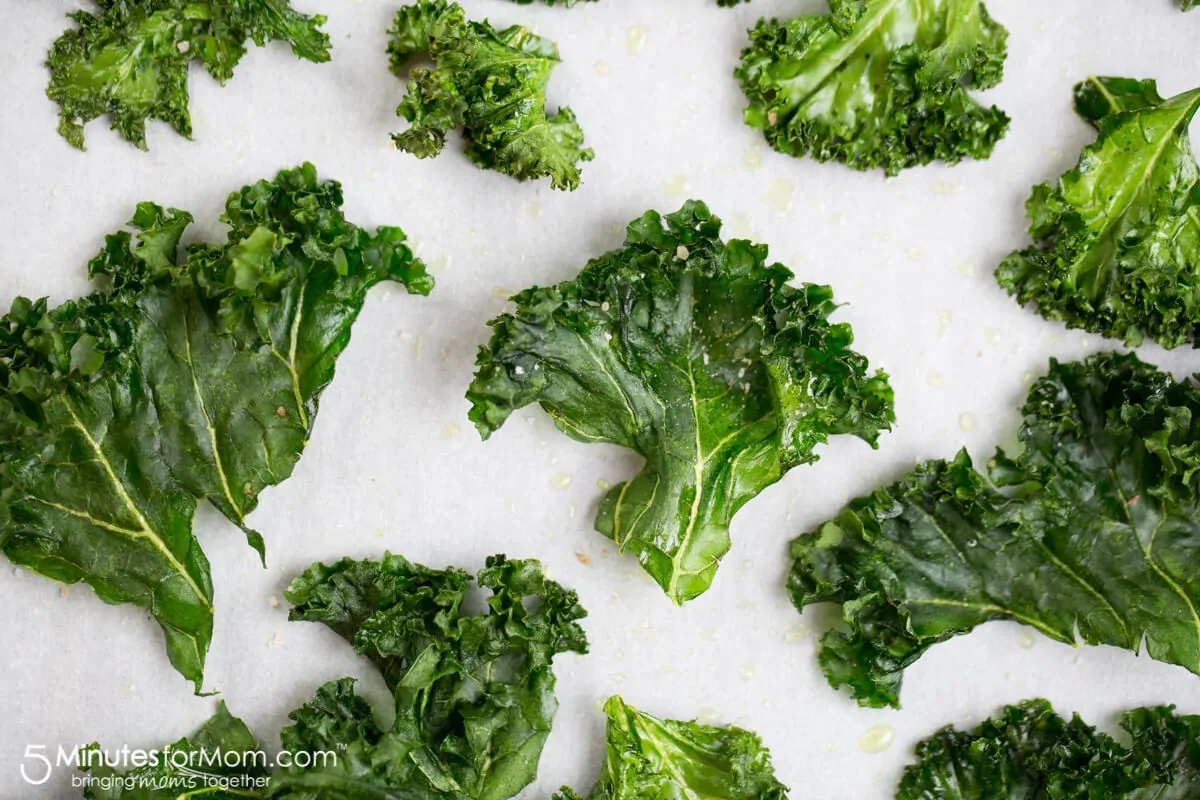 It has been a number of years since the kale chips craze began, so we thought you might enjoy a reminder of how tasty this healthy treat really is.
We make kale chips SO often in my house and everyone from my 80 year old mother, to my 19 year old son, to my ultra picky 13 year old daughter devour them before I can even get them off the baking sheets.
Grab a bunch of kale on your next trip to the grocery store and prepare to have a crunchy, addictive snack that you don't have to feel guilty about loving.
We use kale chips as an after school snack (my nieces are crazy for kale chips too,) as a side dish for simple kid-friendly meals like chicken strips, or as a go to snack when we are craving something salty.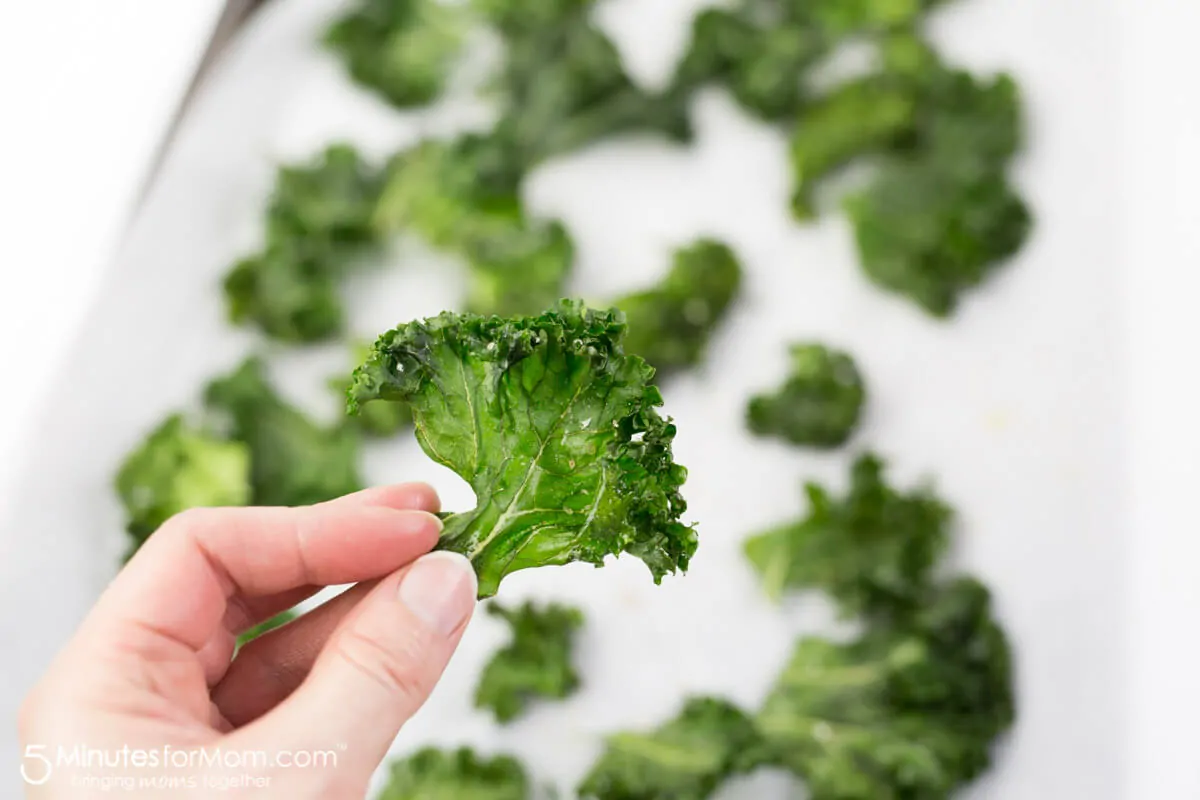 Kale chips are totally versatile and you can spice and flavor them however you wish. You can make them cheesy with Parmesan or your other favorite cheese, spicy with hot sauce or red pepper flakes, tangy with a splash of apple cider vinegar, etc. The possibilities are up to you.
Around here, our favorite way to make kale chips is simply with olive oil and freshly ground salt. Simple and perfect.
If you have never made kale chips or if you have ever made a disappointing batch, there are a few key steps to making crispy, melt in your mouth kale chips.
1. Use Any Kale Variety But Do NOT Use Baby Kale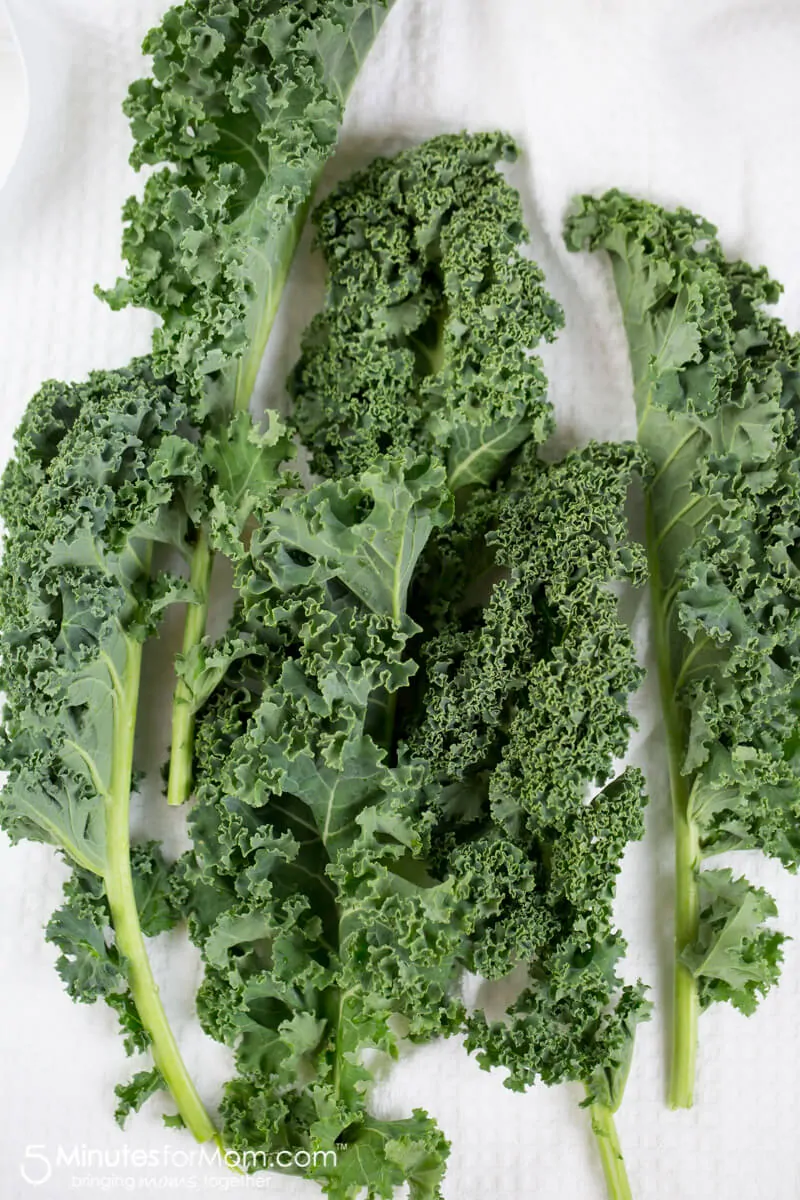 You can use any kind of kale you want for kale chips.
The most common varieties of kale are Curly kale, the kind I am using in this post, and Lacinato (aka Dinosaur kale) which has tall narrow leaves with a wrinkled texture.
But do not use Baby kale. The leaves are not robust enough. Once the water evaporates during baking, you will be left with little more than a ghost of what was once your baby kale.
How do I know? Well, one day my daughter was begging for some kale chips and all I had was the Baby kale I use in my salads. I thought, "Well, let's see what happens." And, as I imagined, the little wisps of kale remnants that were left on our baking sheet were not exactly enough to be called "chips."
When I want a kale chips SHORTCUT, I buy a pre-washed bag of kale.
If you can find a bag of fully grown kale that is pre-washed and ready to eat, that can really save you time.
But keep in mind that the pieces in a pre-washed bag are usually a little smaller than is ideal. So, if you make kale chips with pre-washed pieces, cut down your baking time and watch closely that they do not burn and disintegrate into nothingness.
If you are buying bunches of kale, one bunch of kale will generally make two baking sheets of chips. But note that once the water is baked out of the kale, it is much smaller. So one bunch of kale makes about two to four servings, depending on the serving size.
My kids and I often eat one baking sheet of kale chips each. Yes. They are that good.
2. Remove the Kale Leaves' Center Stems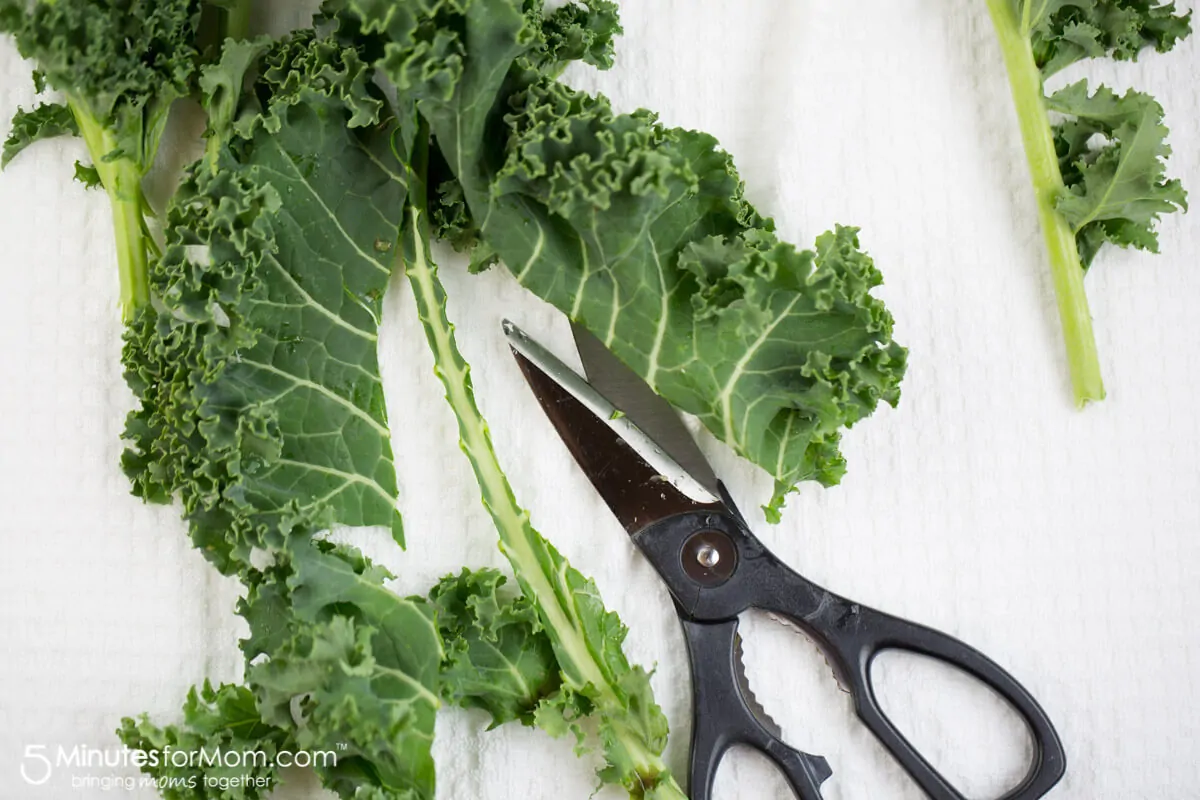 If you are using bunches of kale, the first thing you need to do is to remove the center stem on each kale leaf.
You can cut them out with scissors or tear the leaves off in large pieces. It is your choice.
I choose to do this step BEFORE I wash my kale because immersing the entire leaf in a bowl of water is impossible if the leaves are large.
If you are using curly kale, trying to wash it can be a bit difficult.
I find the most thorough way to wash kale, (and actually how I wash most of my veggies,) is to immerse it in a bowl of water.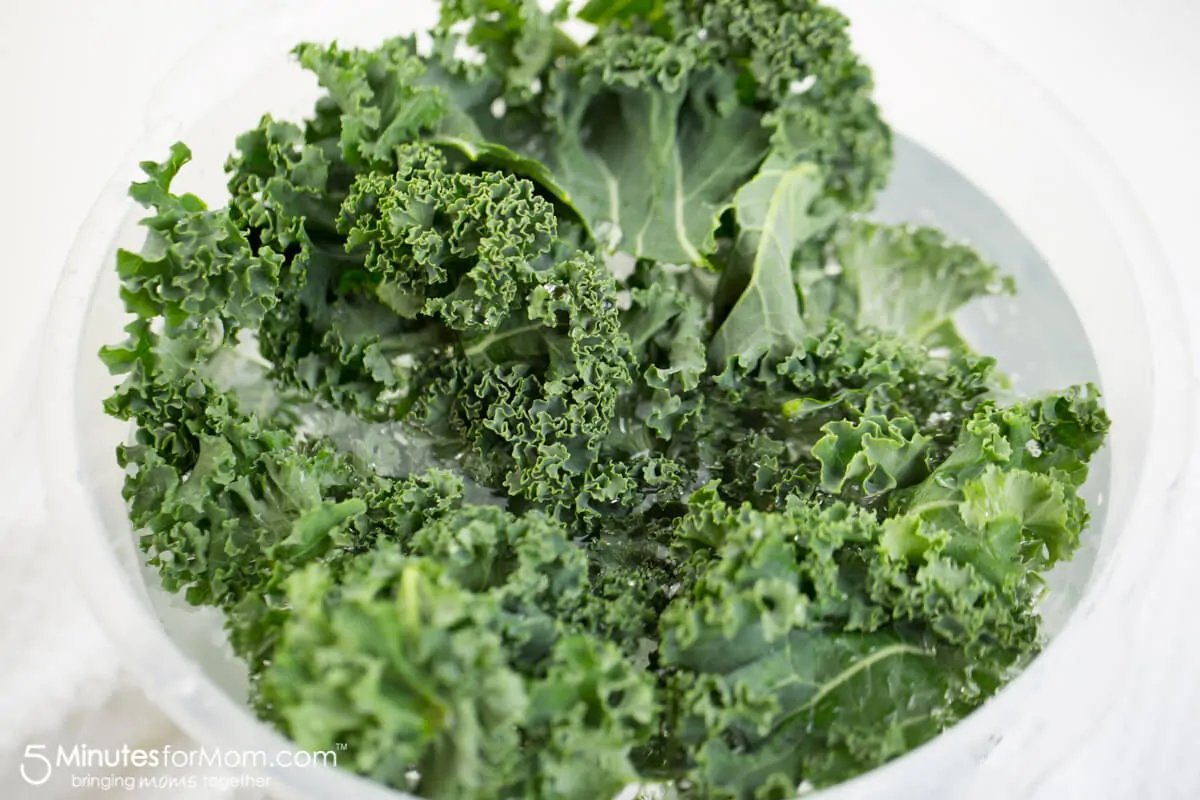 Once in the bowl full of water, I swirl it all around and gently rub to remove the dirt. Then I dump the dirty water, refill and repeat.
Having my kale torn into large pieces with the center stem removed makes this washing step much easier.
3. Make Sure Your Kale is DRY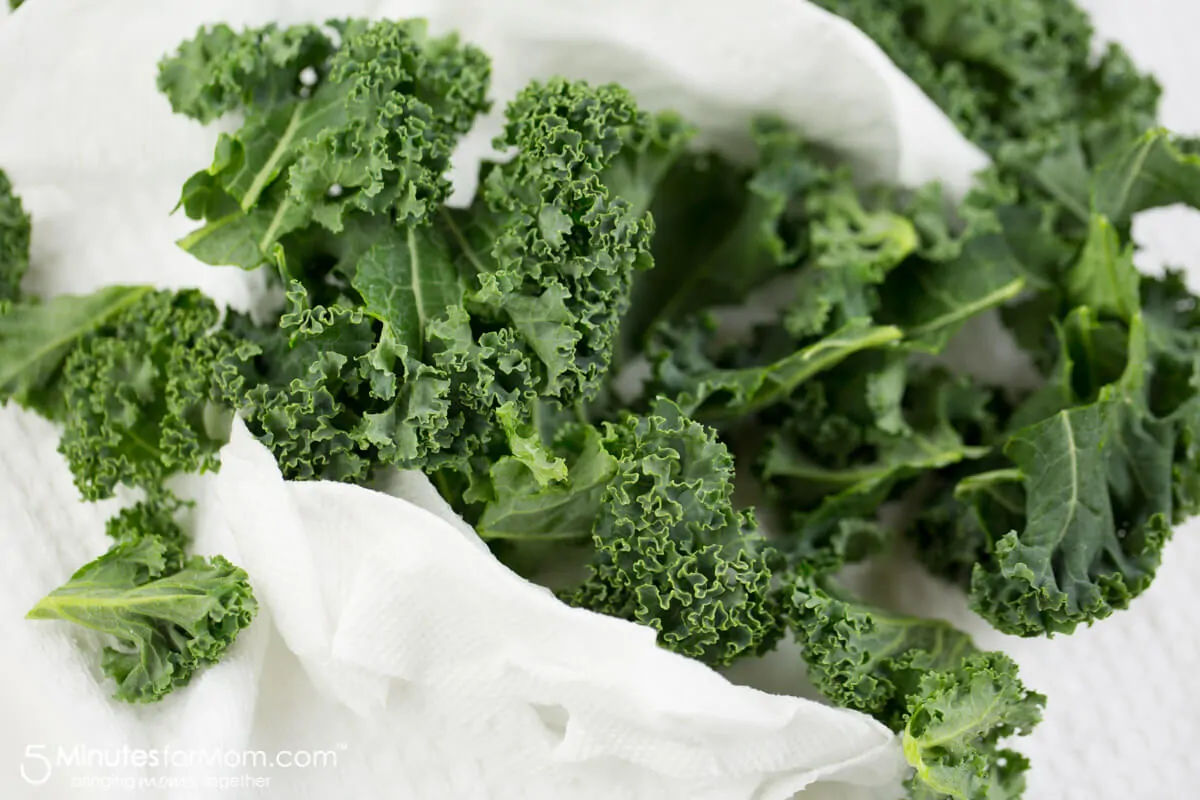 Dry kale is THE most important component of successfully baked kale chips. If you read any of the fabulous recipes kale chip recipes on Pinterest, you will see that we all agree: your kale must be totally dry.
There are a few ways to dry your kale.
After I wash my kale using my method above, I use a salad spinner to dry it.
But my TRICK to fast drying is, after an initial spin to remove the excess water, I add a couple sheets of paper towel to the spinner to help absorb most of the remaining water.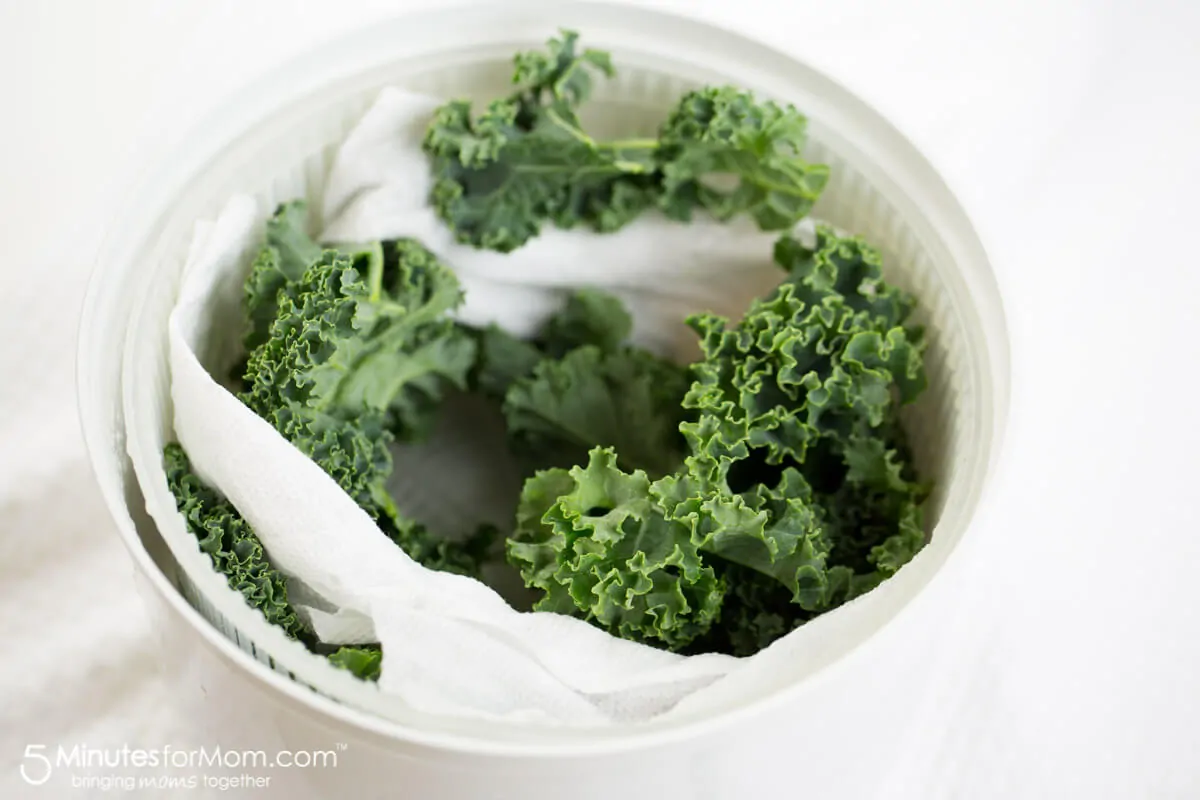 TIP: I always add a couple sheet of paper towels to my containers or bags when I am storing greens in my fridge. This makes my greens last so much longer, whether they are pre-washed greens or I have washed them myself.
After spinning my leaves, I pour them onto a clean tea towel. I dab them with the towel or the paper towels to dry any remaining moisture.
Then I wrap up the towel, closing it tight so no leaves can fall out, and give it a nice long shake.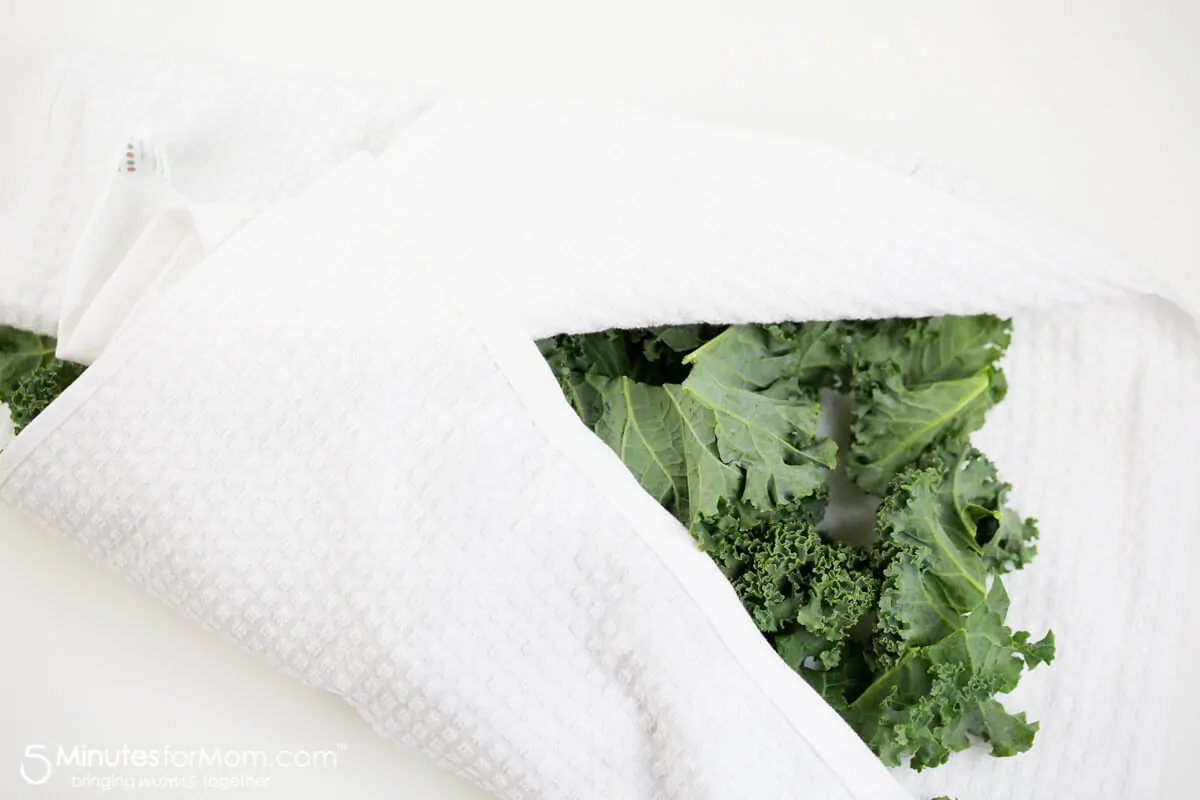 If I am not in a hurry, then sometimes I just let the kale sit out for awhile to ensure it is bone dry before I prep them to bake.
If I don't have time to let my kale sit around and I am really concerned that I want the absolute best kale chips, then I use Eat Health Eat Happy's hair dryer trick (a diffuser keeps it from blowing kale everywhere) to speed up the drying process.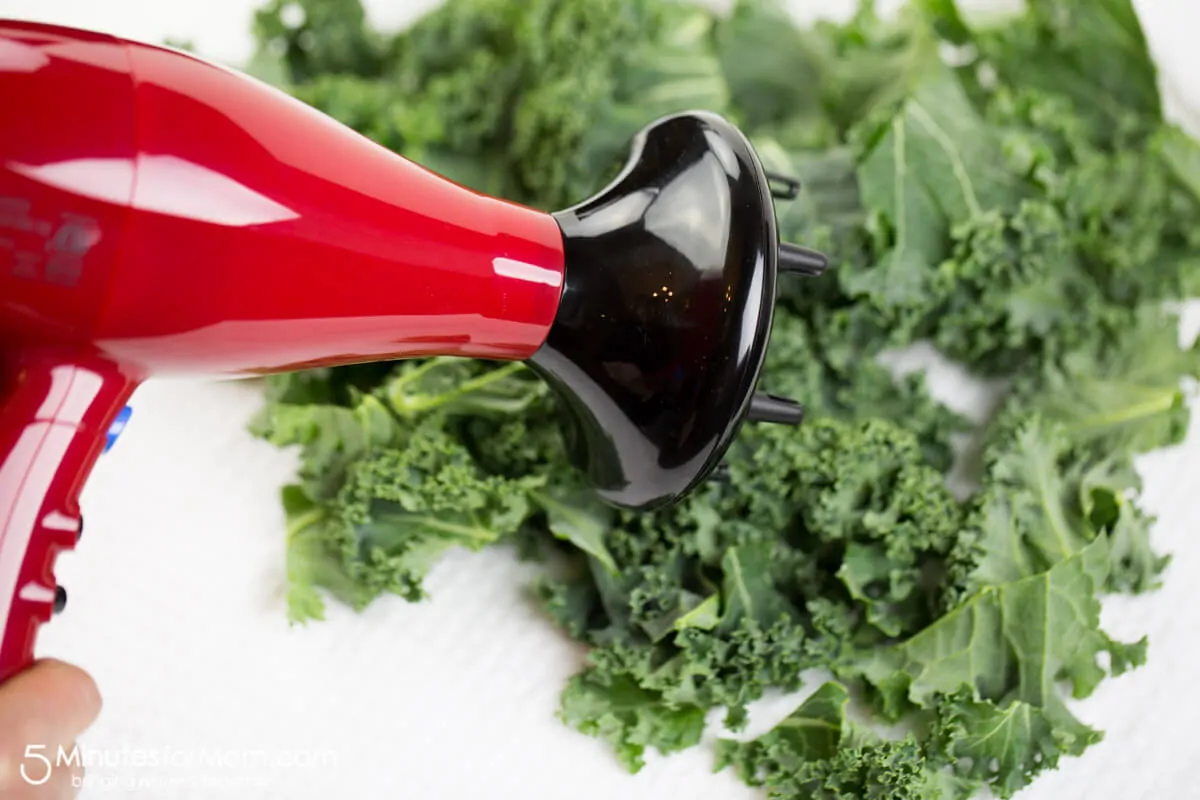 But most of the time, my kale is dry enough using my paper towel in the spinner trick and then tossing in a tea towel and blotting up any last spots of water.
4. Massage Your Kale with Oil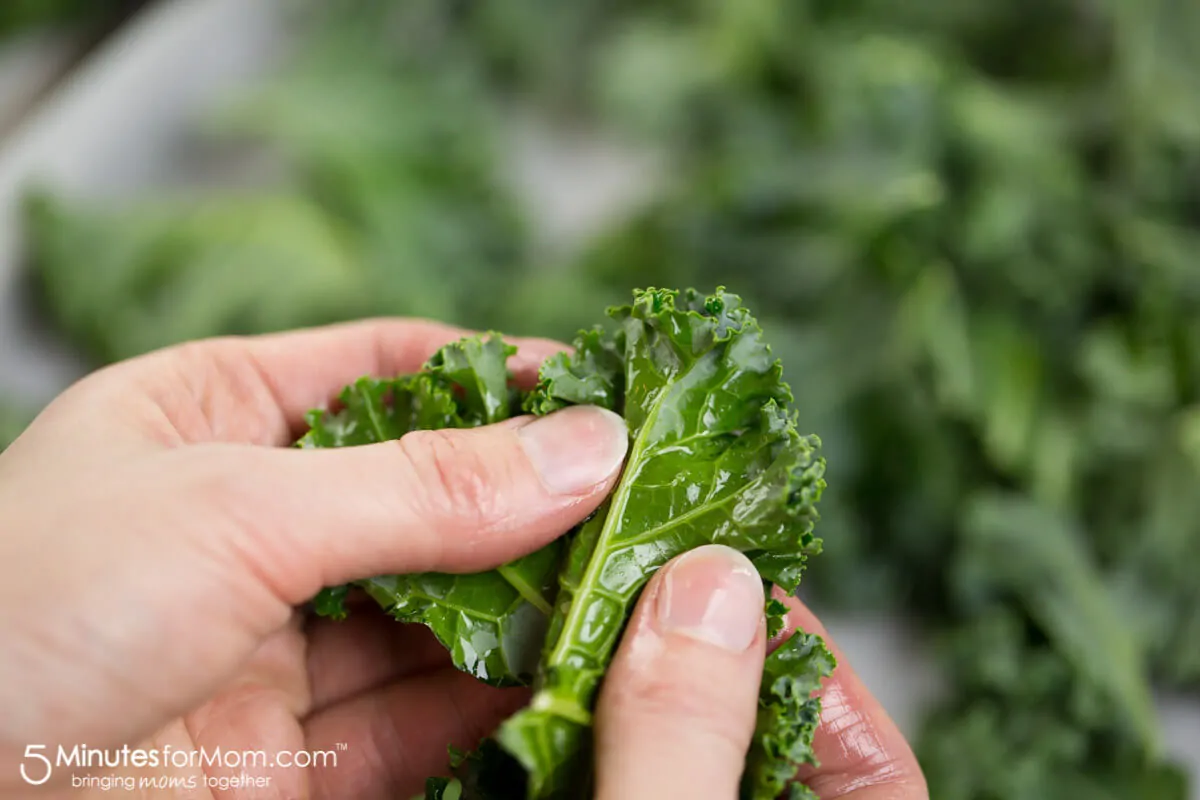 I am absolutely obsessed with olive oil. I always make my own olive oil vinaigrette for my salads and my favorite way to prepare vegetables is roasting them with olive oil.
We go through a lot of olive oil.
So while you can use whatever oil you prefer for your kale chips, I have only ever made mine with olive oil.
You only need about 1-2 tablespoons of oil. I never measure. I just drizzle some on like so…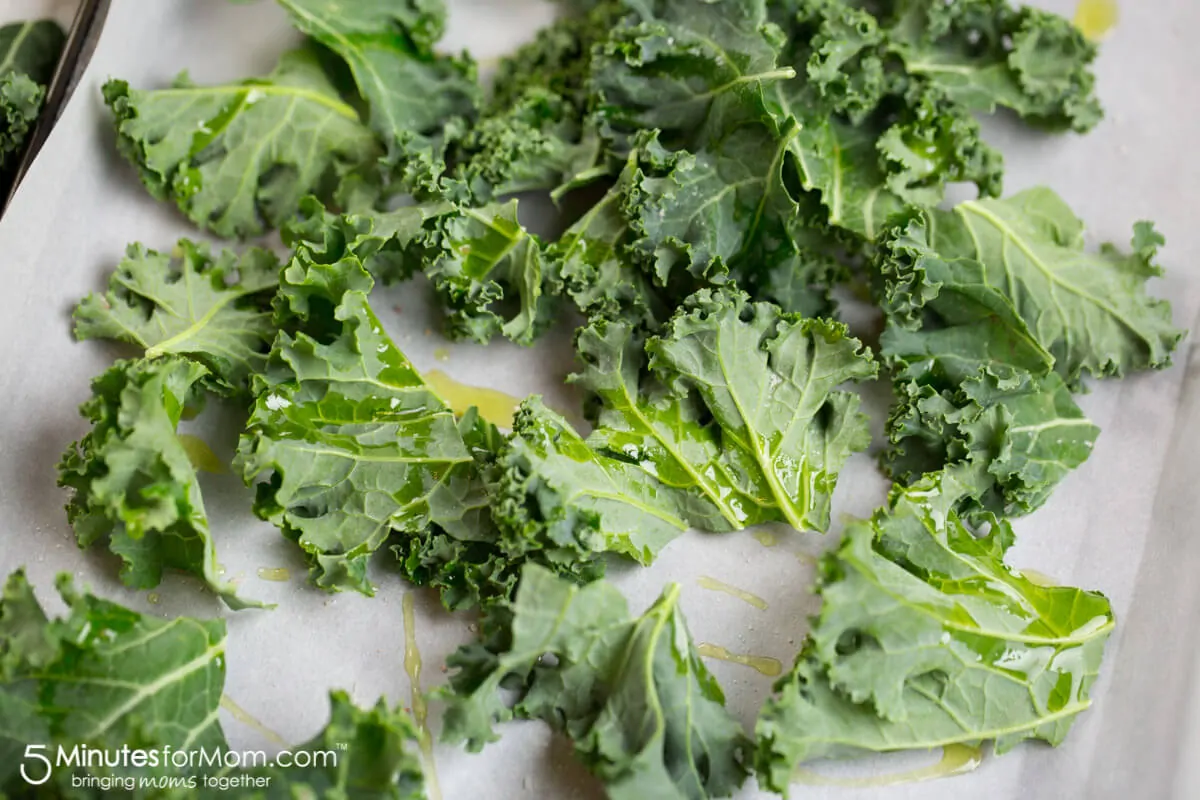 The key to adding the oil to kale is that you need to massage the oil into the leaves, especially the Curly kale, to make sure every part of the kale is covered.
This little step may seem a bit messy and time consuming, but it will make all the difference.
5. Don't Crowd Your Chips and Watch Closely While Baking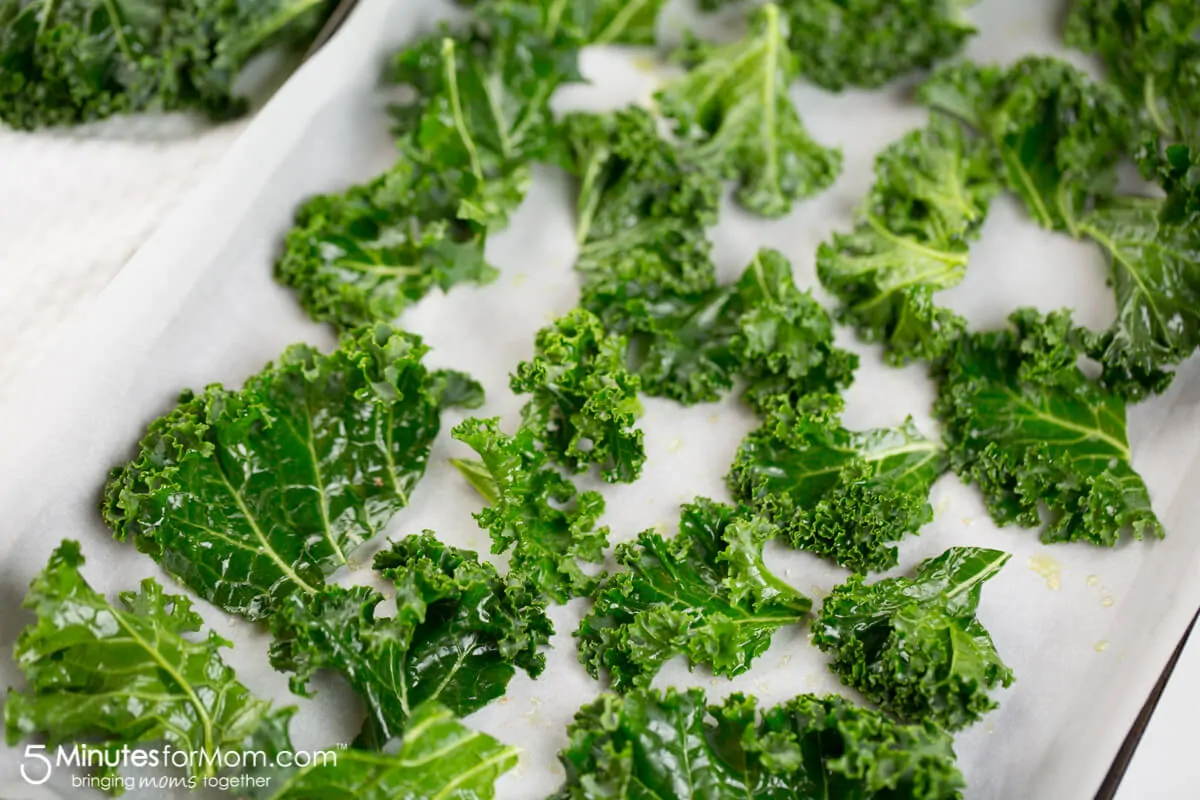 When you are spreading out your kale pieces, make sure you don't overlap the pieces.
You don't need to have a ton of space between the pieces because as soon as they start baking, they will start shrinking.
For the ideal oven temperature, I have tried baking our kale chips at various temperatures.
I have the best success baking at 300F for 16-18 minutes, rotating the baking sheet half way through cooking.
You need to keep a close eye on your chips as baking time will vary depending on your oven and depending on the sizes of your kale pieces.
You may need to rescue some of the smaller pieces earlier and let larger pieces bake a bit longer.
For light and crispy chips that are not tough or chewy, you must let the chips cook long enough.
If there is any moisture left they will be a bit chewy.
Ideally, your chips will still be a vibrant green with a slight browning around the edges.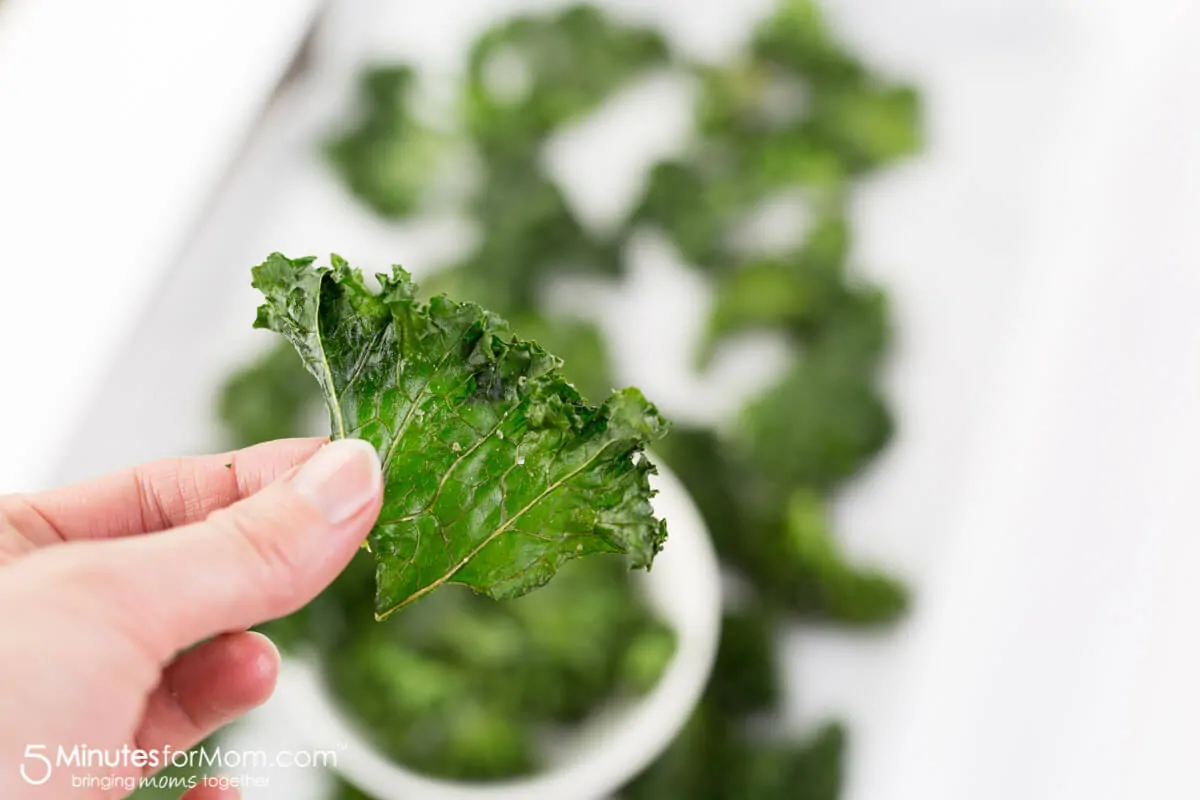 I suggest testing one near the end of the baking time to see if they are done to your liking.
Serve immediately and store any leftovers in an air tight container. Although the storing is mostly in theory for us. I don't think we have had many leftovers in this house.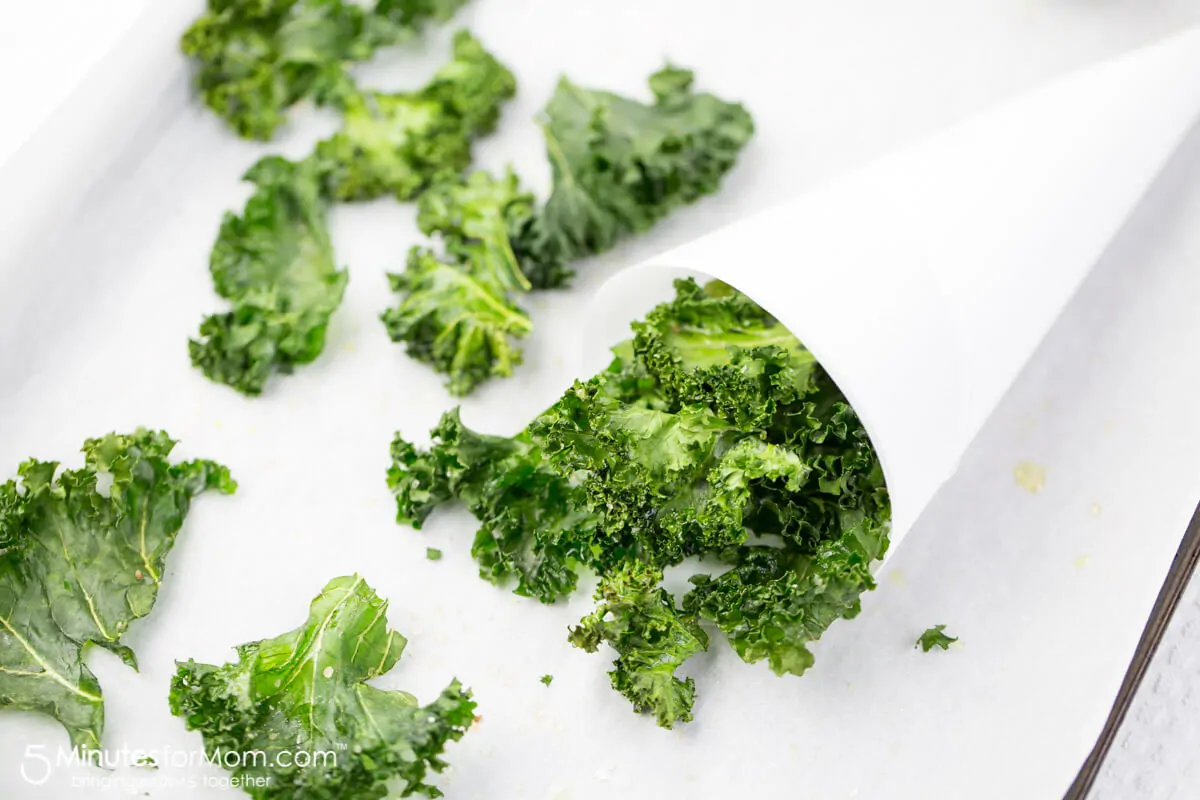 There you go — you are now an expert in making kale chips.
Crispy Baked Kale Chips Recipe
I wish you kale chip baking success and please let me know how you and your family prefer to prepare your kale chips. Are you simple and salty or do you add more flavors and zing?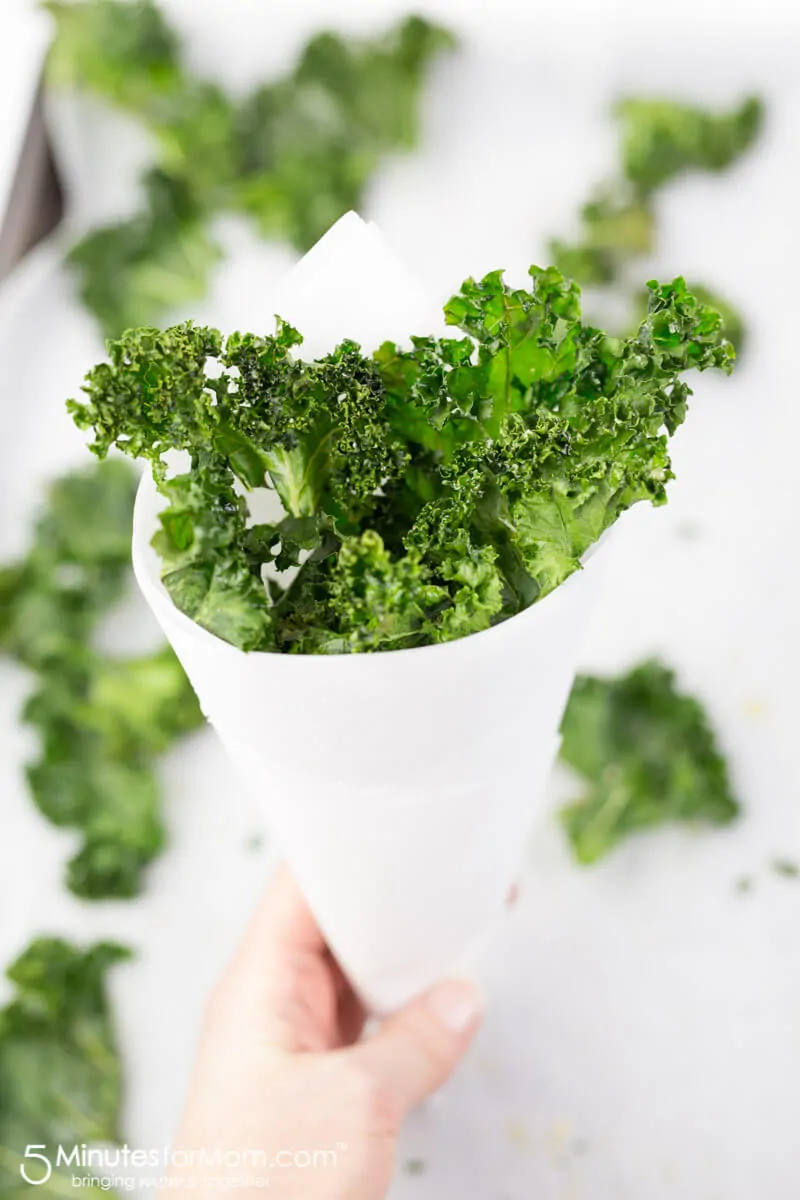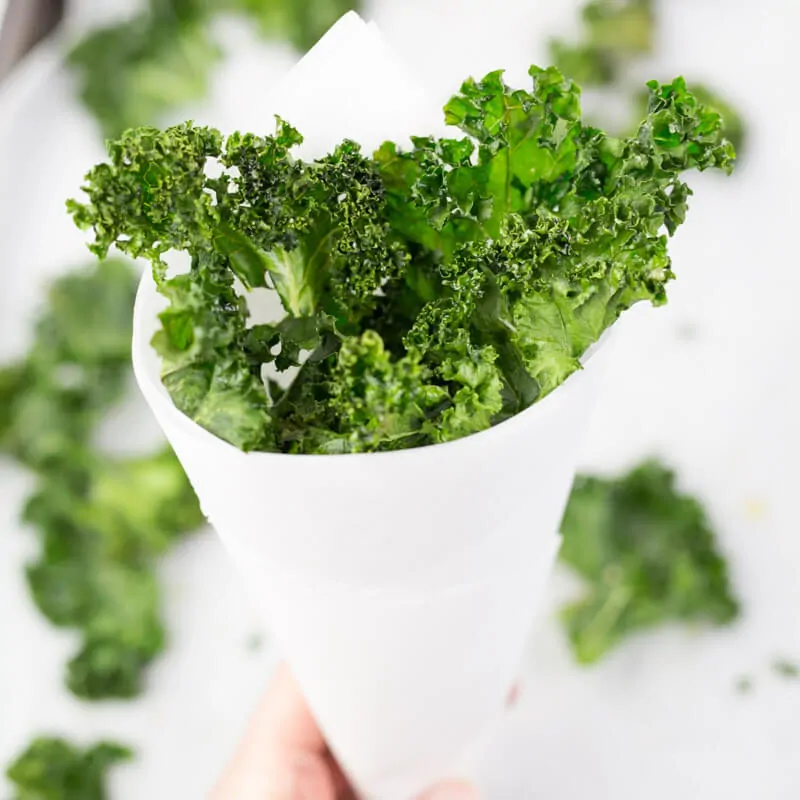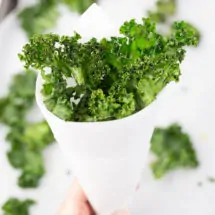 Crispy Baked Kale Chips Recipe
Crispy kale chips are the perfect, healthy snack and they are super easy to make.
Print
Pin
Rate
Servings: 4
Calories: 78kcal
Ingredients
1 head fresh kale
2 tablespoons olive oil divided
salt to taste
optional spices cheese, vinegar
Instructions
Remove center stems from kale

Tear into large pieces

Wash and dry thoroughly, ensuring all moisture is gone from kale leaves

Divide kale into two batches and spread out on two parchment lined baking sheets

Drizzle approximately one tablespoon of oil over kale pieces on each baking sheet

Sprinkle with salt (and optional spices or flavorings)

Massage oil and spices into each piece of kale, taking care that every part of kale is covered with oil

Bake at 300F for 15-18 minutes, rotating baking sheets half way through cooking time

Monitor chips to ensure they do not burn -- smaller pieces will take less time to cook

Chips should be vibrant green but browning on edges and should not be tough or chewy
Nutrition
Calories: 78kcal | Carbohydrates: 3g | Protein: 1g | Fat: 7g | Saturated Fat: 1g | Sodium: 12mg | Potassium: 160mg | Vitamin A: 3247IU | Vitamin C: 39mg | Calcium: 49mg | Iron: 1mg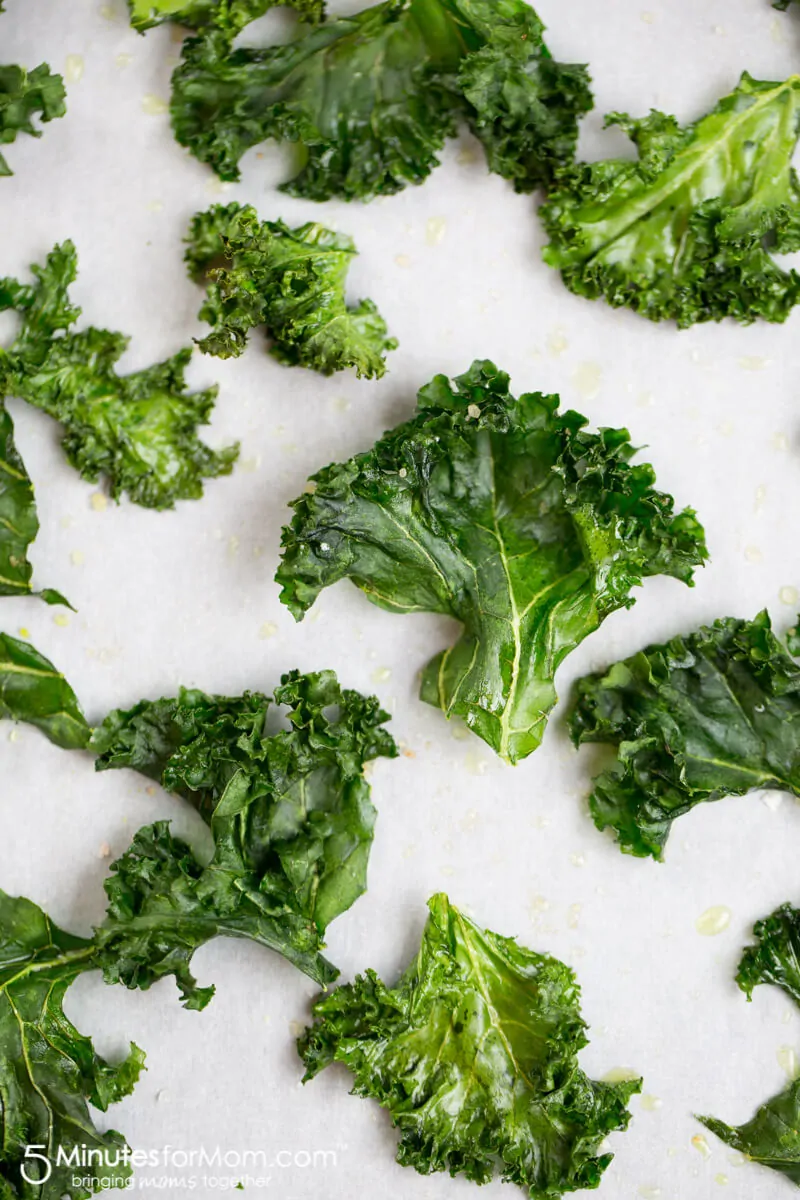 Written and photographed by Janice Croze, co-founder of 5 Minutes for Mom and Janice Croze Photography. We published the first version of this post in 2018.
Talk with me: @5minutesformom and Facebook.com/5minutesformom
Pin with me at pinterest.com/5minutesformom