This post may contain affiliate links. Read my disclosure policy here.
Theresa, 5m4m contributor, shares insights into this back to school giveaway provided by Dickies. We were provided items to review and to giveaway, however all opinions remain her own.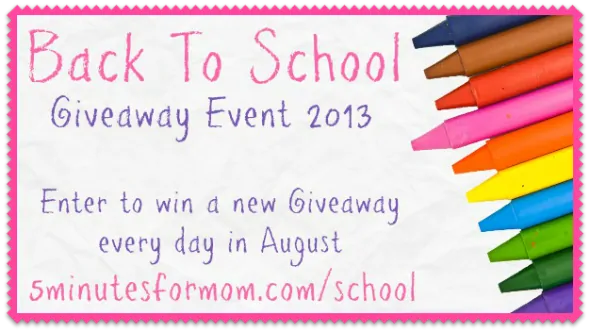 The summer break is disappearing fast and it is the time when I enter my children's closet to inspect their school uniforms from the previous year. This is the time of the summer I start the process of sorting, purchasing and labeling everything ready for the start of the new school year. I quickly realized that my son had somehow grown two inches over the summer and all his pants were above his ankles.
As a parent, I know how expensive school uniforms can be. My son attends school one day a week at a consortium academy and must wear a uniform. The academy is not lax in the uniform department and he must look presentable, with a belt, a tie and a jacket as he enters junior high. I personally feel the way a student dresses helps set the tone for his (or her) conduct whilst in school.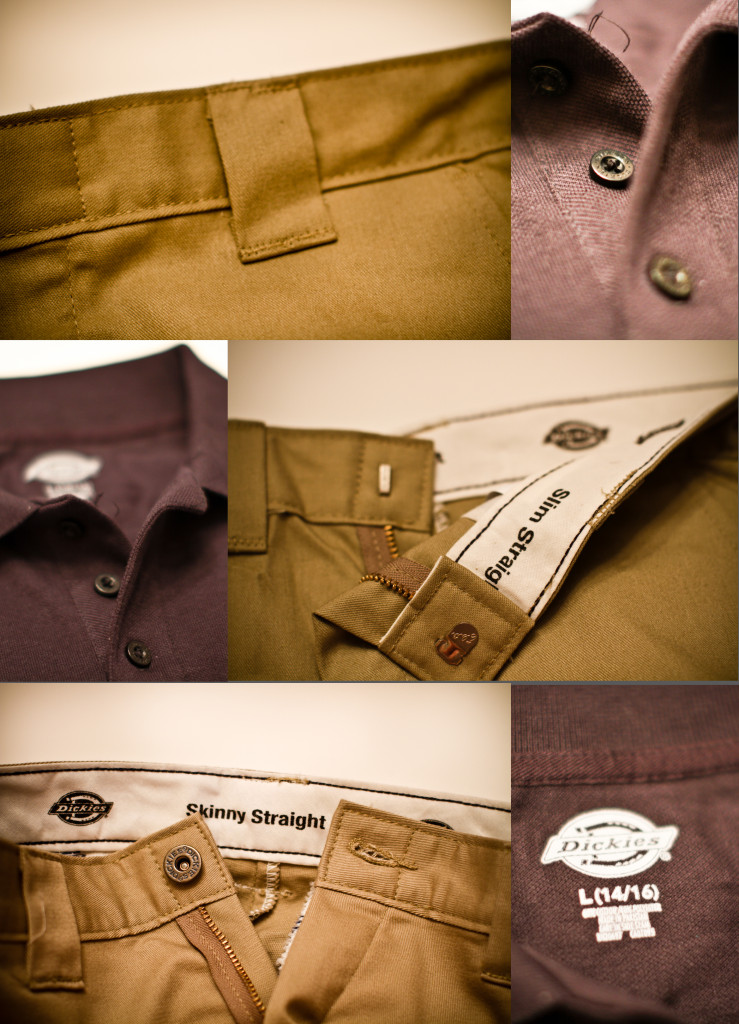 This is what Dickies had to say about school uniforms:
"Influencing Classroom DisciplineAlmost 80% of schools with uniforms say classroom discipline has improved. Uniforms promote good behavior and provide an improved environment for learning. Improving the Learning EnvironmentTeachers surveyed say that uniforms promote a "down to business" approach. Kid's view uniforms as work clothes and take school more seriously. 52% of principals surveyed said that uniforms had a positive effect on student achievement."

What I look for in school uniforms:
I look for a good quality uniform at an affordable price. Price is a huge factor for me as I have three children. Quality is extremely important to me. I do not want to have to purchase new school uniforms in a couple of months because the uniforms can not withstand the activities of my active children. The uniforms also need to wash well. I don't want the colors to fade after a couple of washes and I don't want the pants to shrink.
Comfort is another important element when purchasing school uniforms. My son has issues with clothing if they are not made of soft materials. My children also need to have fasteners on pants and skirts that are manageable as I will not be at school to assist.
What we think of Dickies school uniforms:
My son loves the Boys' Slim Straight Pant They are wrinkle and fade resistant, which I love since I am not a fan of ironing. My son is especially happy with the twill pants fastener. He was literally giving some whoops quite loudly in excitement over the twill pants fastener. My son is quite slim and lanky and the fit on the twill slim straight pants are perfect for him as they are a slimmer fit and have a straight leg.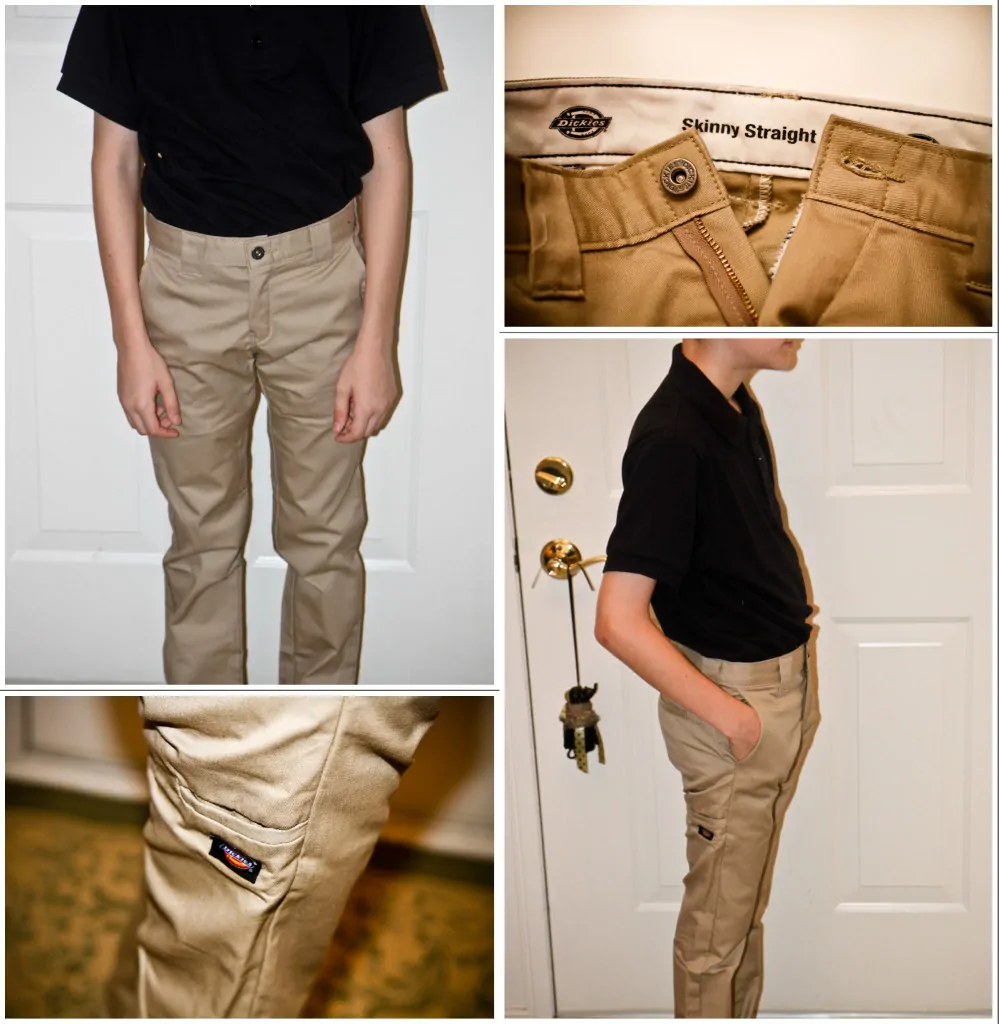 We also received the Boys' Skinny Straight Pant. The skinny straight twill pants are also easy to care for, have stain release and are wrinkle and fade resistant. Both pants have longer tunnel belt loops, which make it easier for little hands to loop their belts. The skinny straight twill pants have a nifty side pocket that my son was pleasantly surprised about. He has a habit of placing his pencil in his front pocket and losing them throughout the day. This fabulous multi-use pocket is a perfect location for his pencils and I see lost pencils a thing of the past. The pants are really well made and looked very smart on my son, and the hems, waistband and fastenings are all sewn well.
My son will also be wearing the Kids' Short Sleeve Pique Polo Shirt. The polo shirt has a tagless label, which is wonderful for my sensitive son. The polo shirt is an easy care shirt, has stain release and is wrinkle and fade resistant. It fits well and it not itchy, which is important to young boys. The polo shirt is the same in terms of quality, well made and smart looking with the buttons very firmly sewn on.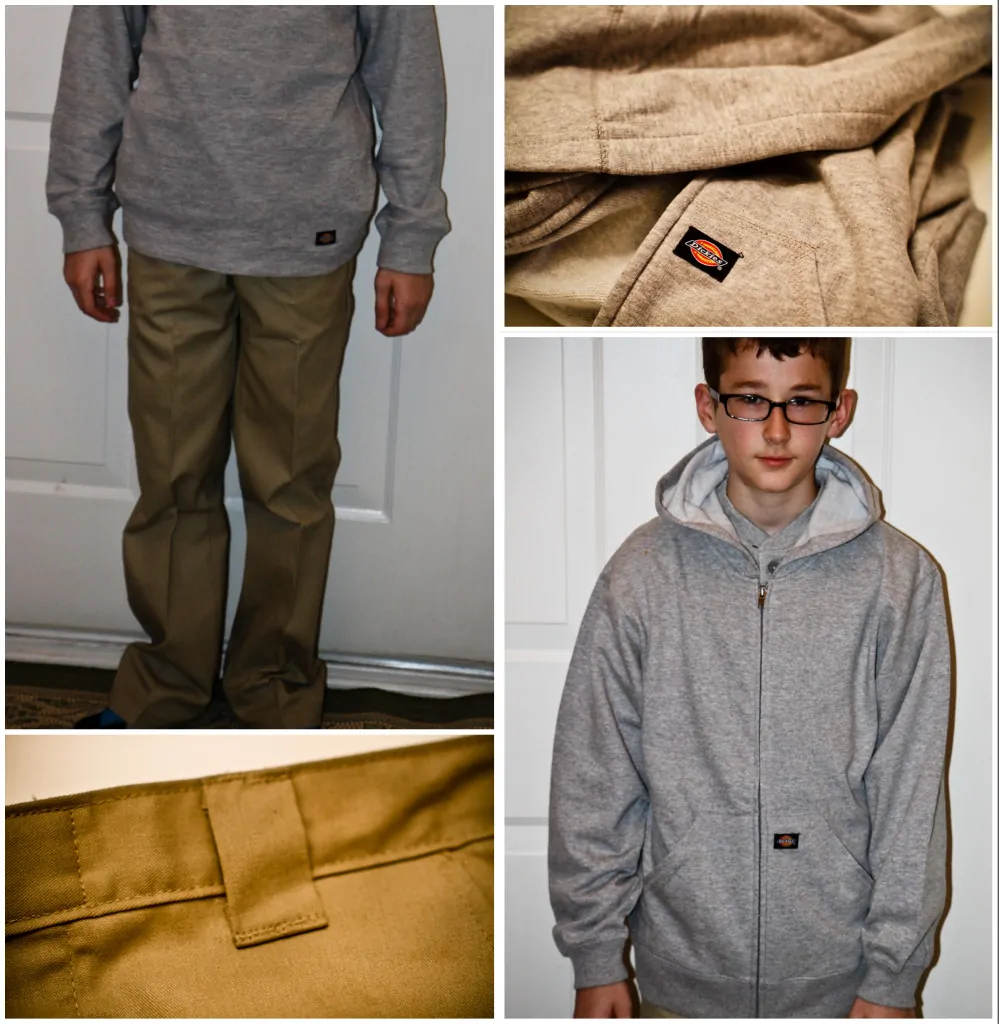 In addition to great school uniforms, Dickies also carries some wonderful henleys and hoodies. My son is quite taken with the Boys' 3-Button Thermal Henley and has pretty much been wearing it for three days straight. It is, like the polo shirt, tagless, and very soft. It is 100% cotton and a mid-weight thermal for warmth, which is needed in the midwest right now. The Kids' Full Zip Fleece Hoodie is also made of super soft cotton.
My son and I are very pleased with Dickies school uniforms and boy's clothing. I would purchase these for my children and I can't wait to see how they wash and wear through the school year.
Enter to win
One reader is going to get her chance to win the following 5 items for your boy this school season.
Use the Rafflecopter form to enter this giveaway. New to Rafflecopter? Watch this 45-second video on how to enter!
a Rafflecopter giveaway

Be sure to visit the main Back to School post to find all of our Back to School related giveaways. You don't want to miss out on the amazing prizes.