This post may contain affiliate links. Read my disclosure policy here.
Fabric spray paint DIY pillow covers are one of the easiest ways to add a splash of personalized design and seasonal decor to your home. You can make these pillow covers incredibly quickly using simple stencils and fabric spray paint.
We hope you love this latest Crafternoon activity in our ongoing sponsored partnership with Testors.com.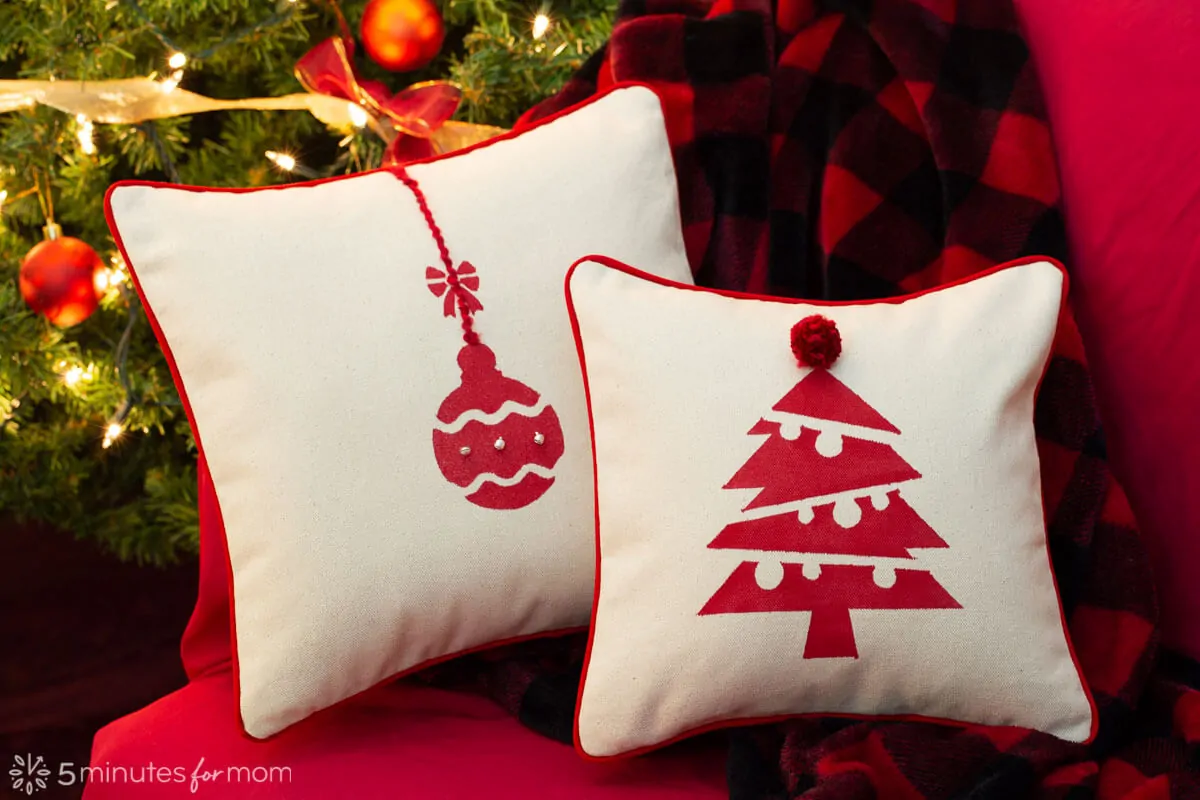 Decorating your home for Christmas can mean more than putting up a tree and decorating your mantel. You can bring the Christmas cheer into your living room, family room, and bedrooms with these easy to make fabric spray paint DIY pillow covers.
(And of course, you can make these fabric spray paint pillow covers at any time of year. While they are wonderful for seasonal decorating, you can spray paint any template image on your pillow covers and keep your pillows out all year long.)
Today we are happy to host our second Testors Christmas Crafternoons activity to show you how to use fabric spray paint to create your own Christmas decor.
Be sure to also check out our other two recent Christmas Crafternoon projects: DIY Photo Ornaments and How To Spray Paint Your Christmas Tree.
And our Christmas Crafternoons from 2018: Painted Rocks, Painted Ornaments, and Driftwood Christmas Trees.
How To Fabric Spray Paint DIY Pillow Covers
Throw pillows are one of the quickest ways to refresh home decor. And when you use Testors Craft fabric spray paint to add seasonal decorations to pillow covers, you can make affordable pillows for each season.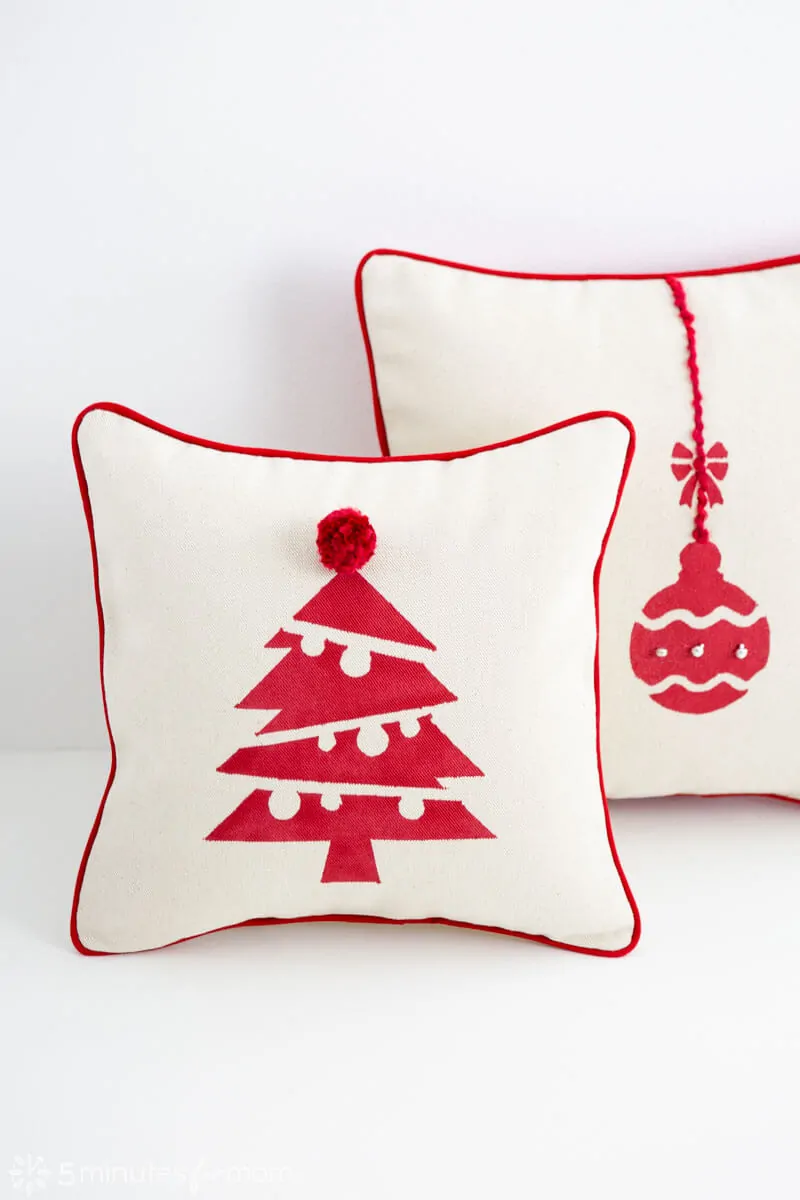 Since it's time to decorate for Christmas, we're showing you how to spray paint Christmas stencils on fabric pillow covers.
But you can make these spray painted pillow covers for any season by simply using other stencils.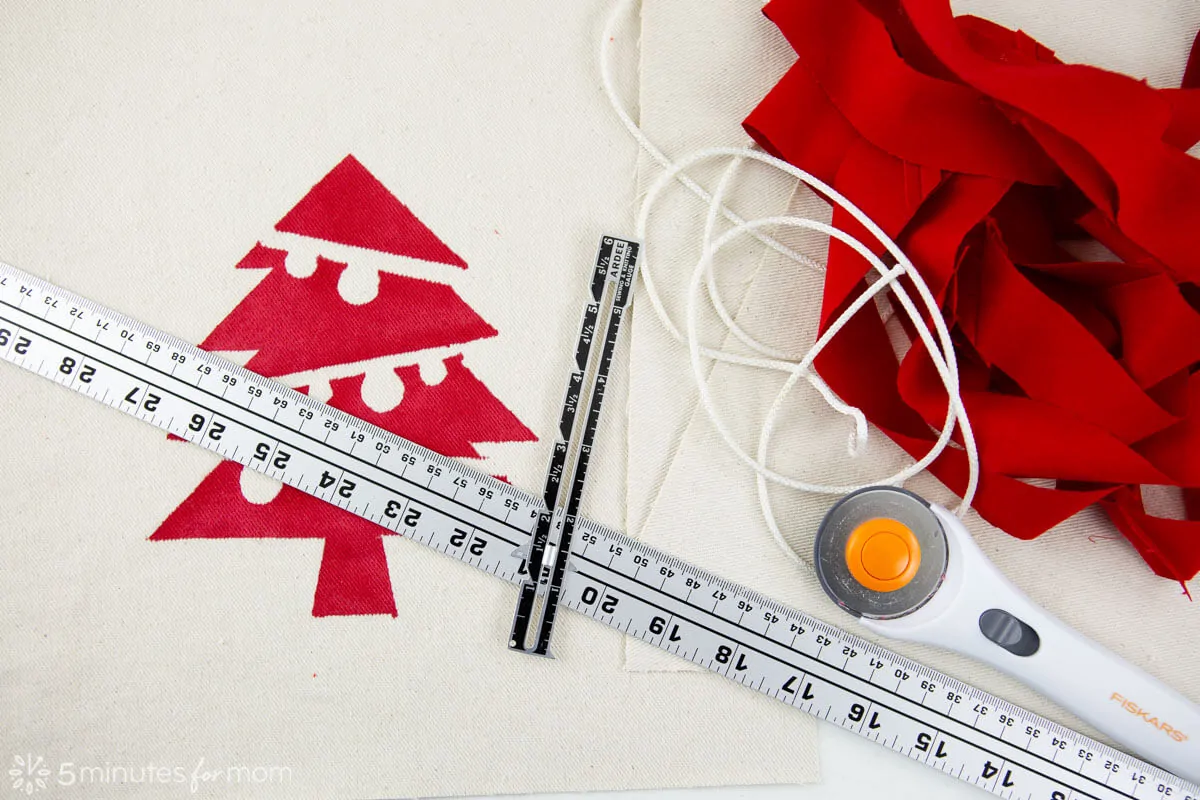 Supplies
Fabric spray paint

We used Testors Craft Fabric Spray Paint in Red, White and Black.

Canvas pillow covers OR fabric to make pillow covers

You can either purchase pillow covers or make your own pillow covers. We will publish another post soon with detailed instructions for how to make a pillow cover.

You can buy pillow inserts on Amazon or at Michaels, WalMart, or many other retailers. Pillow inserts come in variety of sizes including 12″x12″, 14″x14″, 16″x16″, etc.

Printable stencils

You can use any printable stencils, but here are the 7 Christmas Stencils that we used.

Freezer paper

Freezer paper is also called "butcher paper". It's sometimes white but the freezer paper you usually see at the butcher and the paper we are using here is brown.

One side of the paper is plastic-coated and provides a barrier to air and moisture which is good for freezing meat.

But crafters have figured out that you can use freezer paper for stencils.

It can sometimes be hard to find freezer paper in stores in the US and Canada. But if your grocery store carries it, you'll usually find it next to the parchment and wax paper. You can also buy freezer paper on Amazon.

Optional extra items for decorating such as piping, yarn, etc.
Iron
Instructions for Fabric Spray Paint DIY Pillow Covers
Step 1
Print stencils and trace/cut out shape on freezer paper.
You can use any stencil to fabric spray paint DIY pillow covers. We're providing 7 Christmas stencils you can download for free and use for your personal use only.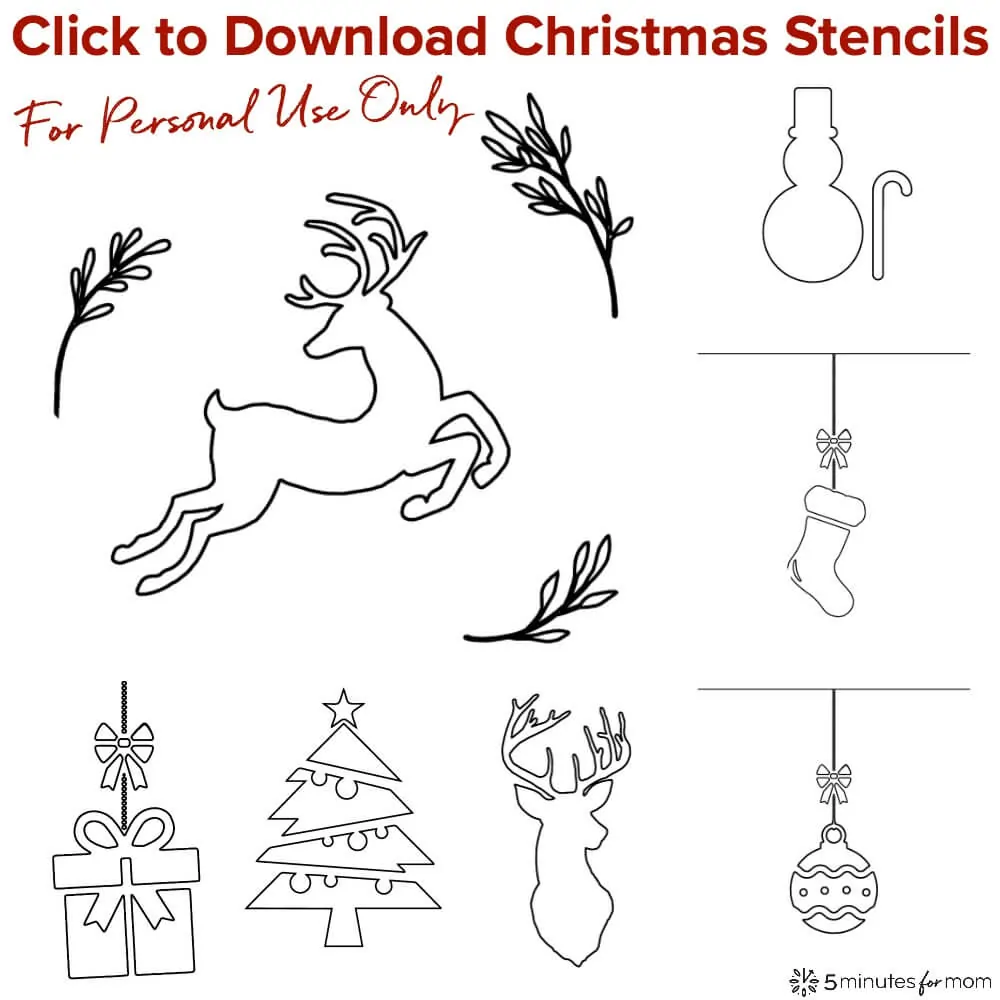 Once you have downloaded the PDF file, you can print one or more of the 7 pages.
Click Here To Download Christmas Stencils.
I recommend you print out a test page and hold it up to your pillow insert to see if it is the size you want. If you want the stencil to be larger or smaller, simply select custom size in your print settings and set to larger or smaller than 100%. For example, you might find that setting the print size to 80% creates a better size for the picture you are spray painting on your fabric.
Some people print directly onto freezer paper, but I was worried about putting a piece of freezer paper in my printer. So I just put my stencil down on my cutting surface, then placed my freezer paper on top of it, and traced it out with my knife.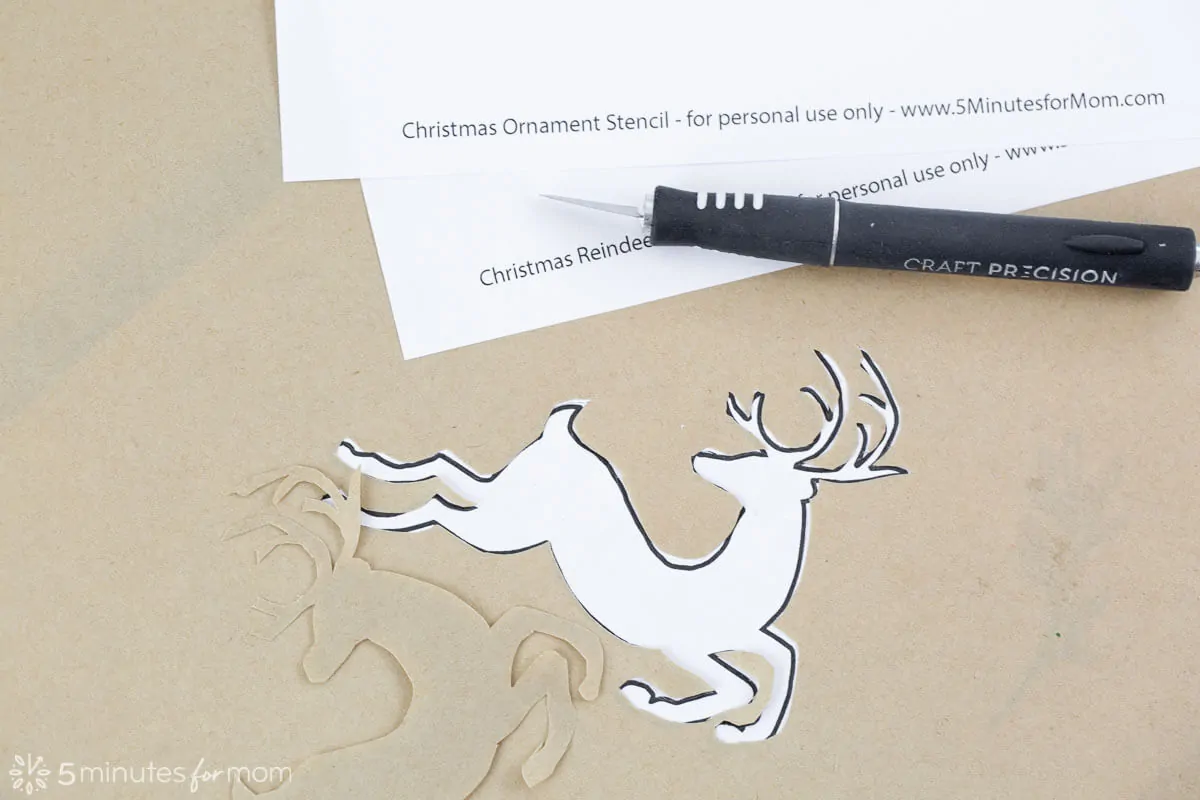 TIP: When you're tracing the stencil, work in a very well lit area.
We have made these easy stencils that you can cut yourself so you do not need a cutting machine. But if you have a cutting machine, you can make more intricate designs for your fabric spray paint DIY pillow covers.
Step 2
Iron your freezer paper (that has the cut out stencil shape) onto the pillow cover or fabric.
Place the shiny side of the freezer paper down on to your pillow fabric and then iron it in place. You can use a pressing cloth to protect your iron from the freezer paper.
When ironing, press the iron down firmly over the stencil for 3 to 5 seconds. Repeat a few times until the freezer paper stencil is well sealed.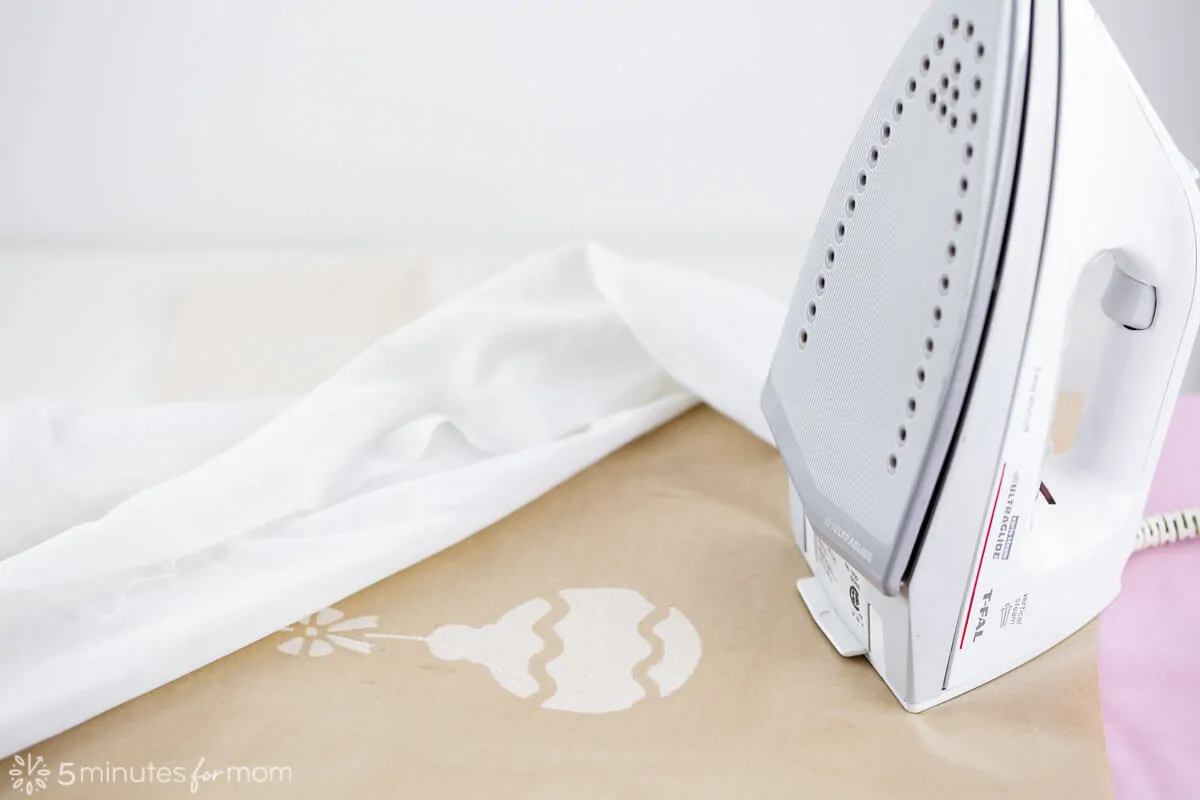 Step 3
When the freezer paper with stencil shape is firmly pressed in place and the edges of the stencil shape are well-sealed, you are ready to spray your fabric paint.
TIP: If you are using a ready-made pillow cover, you must insert a piece of cardboard in between the front and back cover so that the fabric paint does not soak through to the back cover.
In a well ventilated area, protected from overspray, spray the stencil and exposed fabric with Testors Craft fabric spray paint. Spray 6-12″ away from the fabric.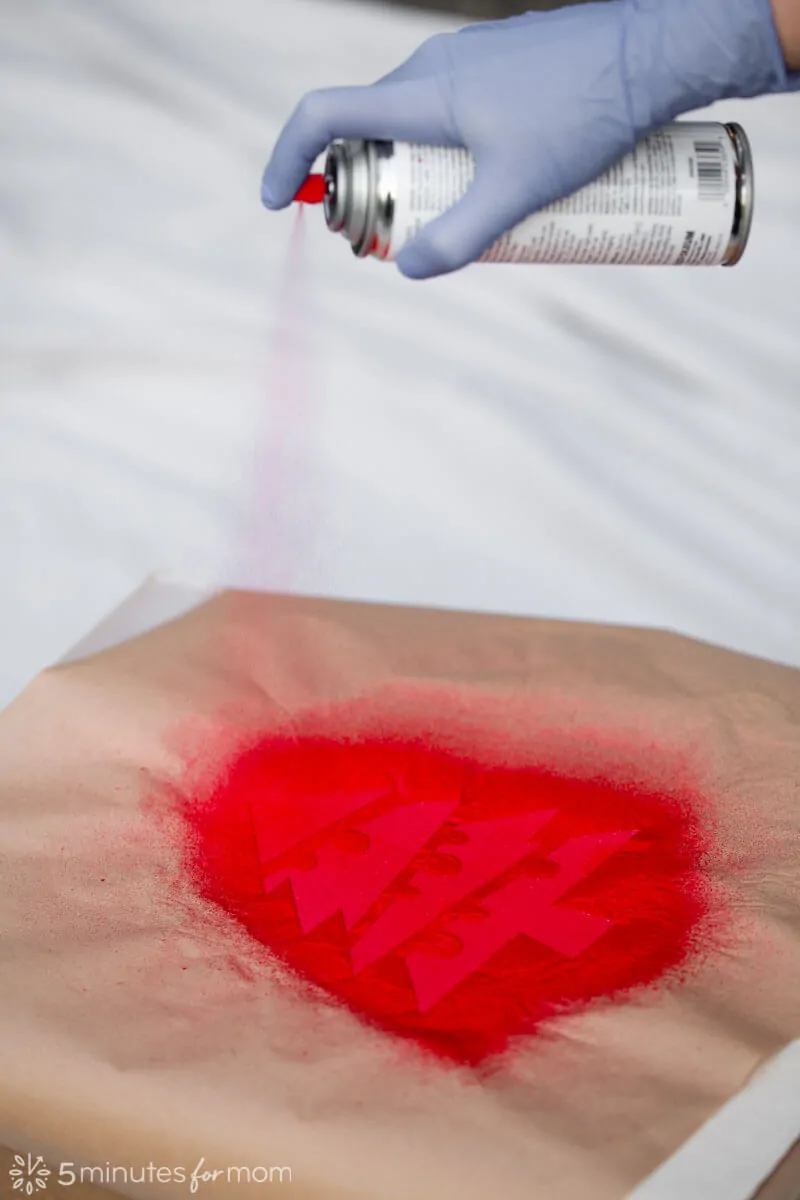 Spray two or three light coats, a few moments in between.
We found that the white fabric spray takes more coats to achieve full coverage. Color fabric sprays need only about two coats for full coverage.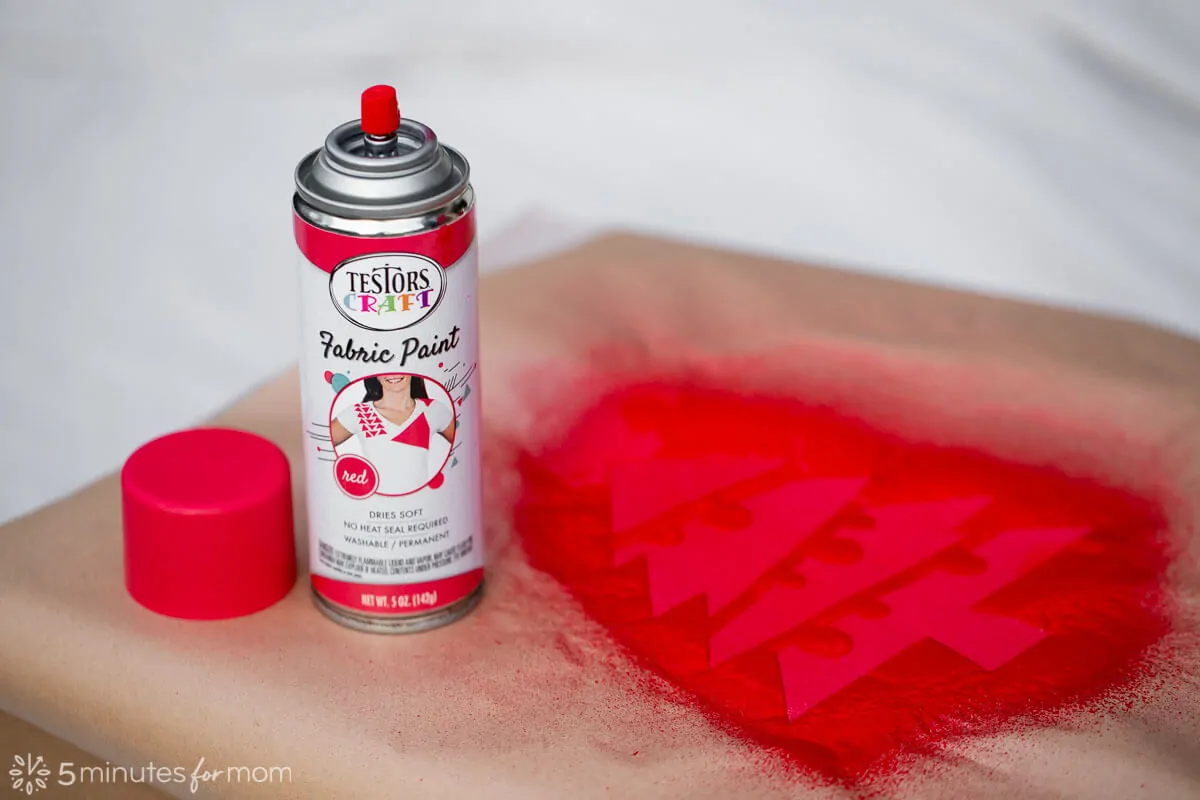 Step 4
Once the fabric is well coated with spray paint, allow the paint to dry for several minutes and then carefully peel up the freezer paper.
If there is a significant amount of paint on the stencil, use a paper towel to soak up any excess paint so it does not drip on your fabric when you remove your stencil.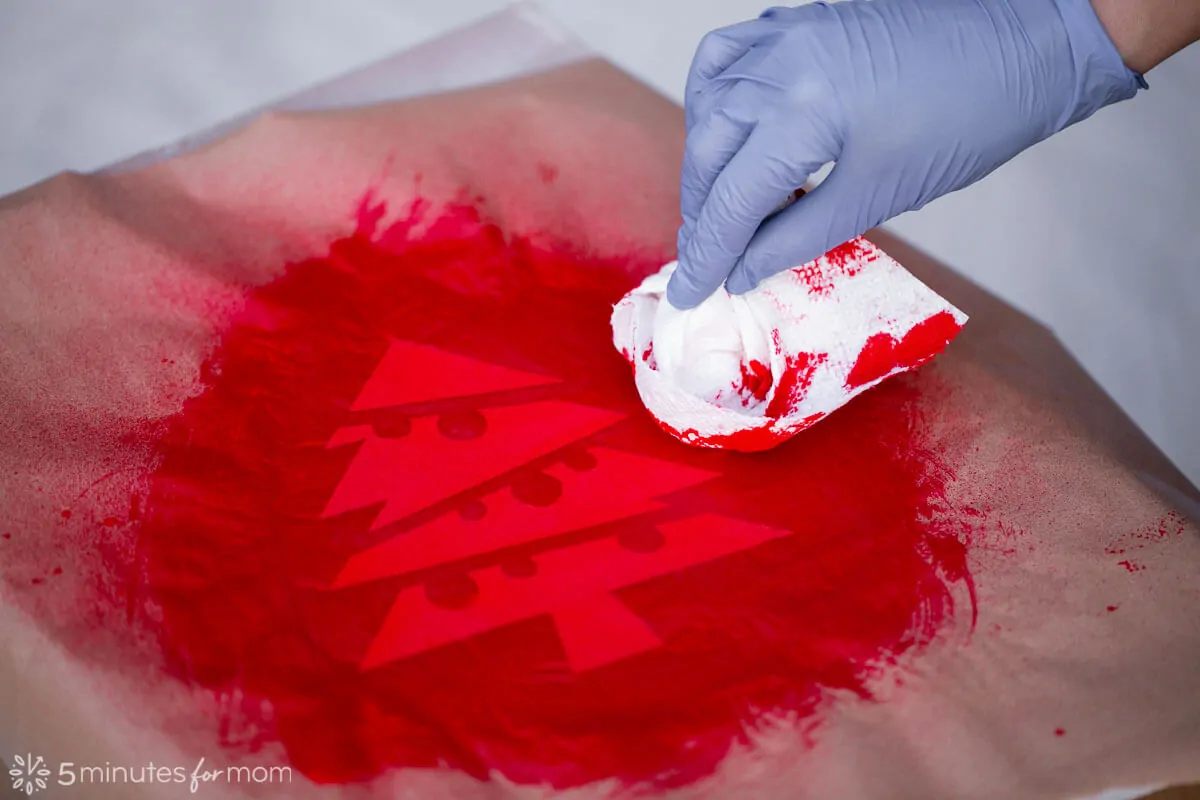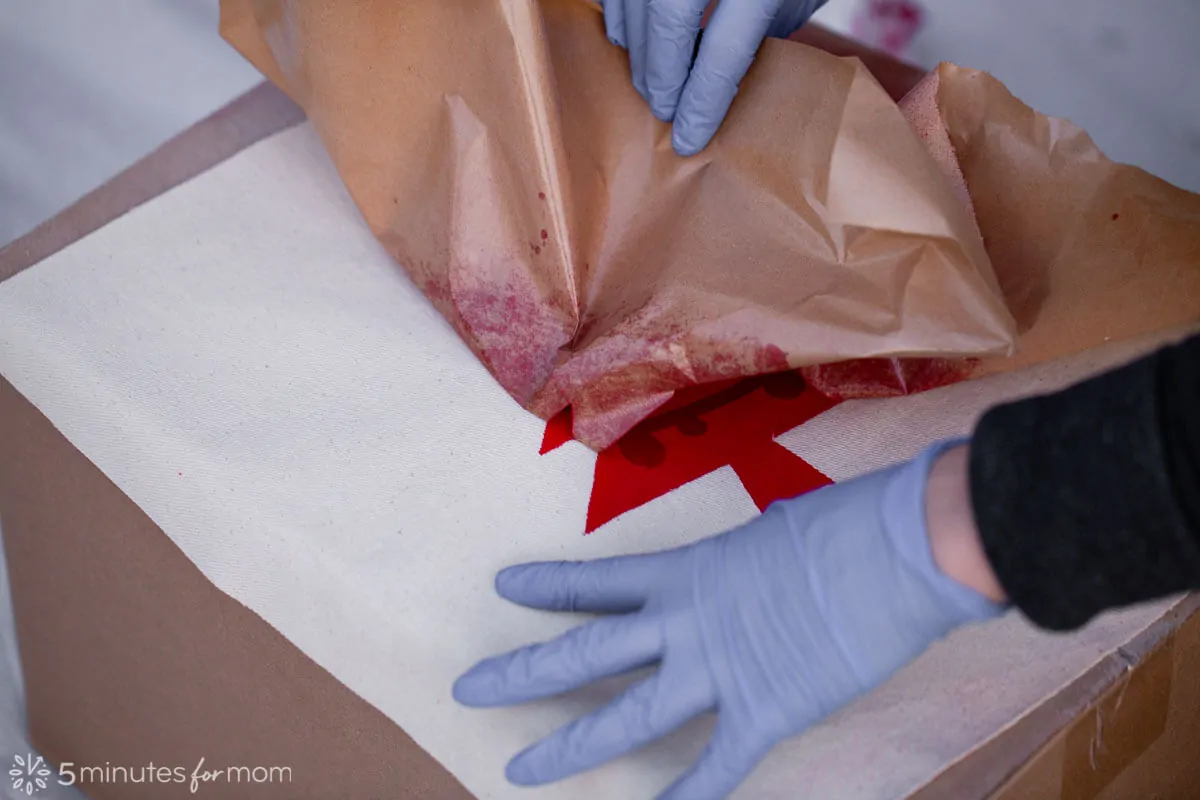 Step 5
Allow the fabric spray paint to fully dry.
If you are using a ready-made pillow cover, you can add any additional decoration you want to your design, such as yarn or pom poms. To see how to make a pom pom, refer to our tutorial on How to Make Yarn Pom Poms.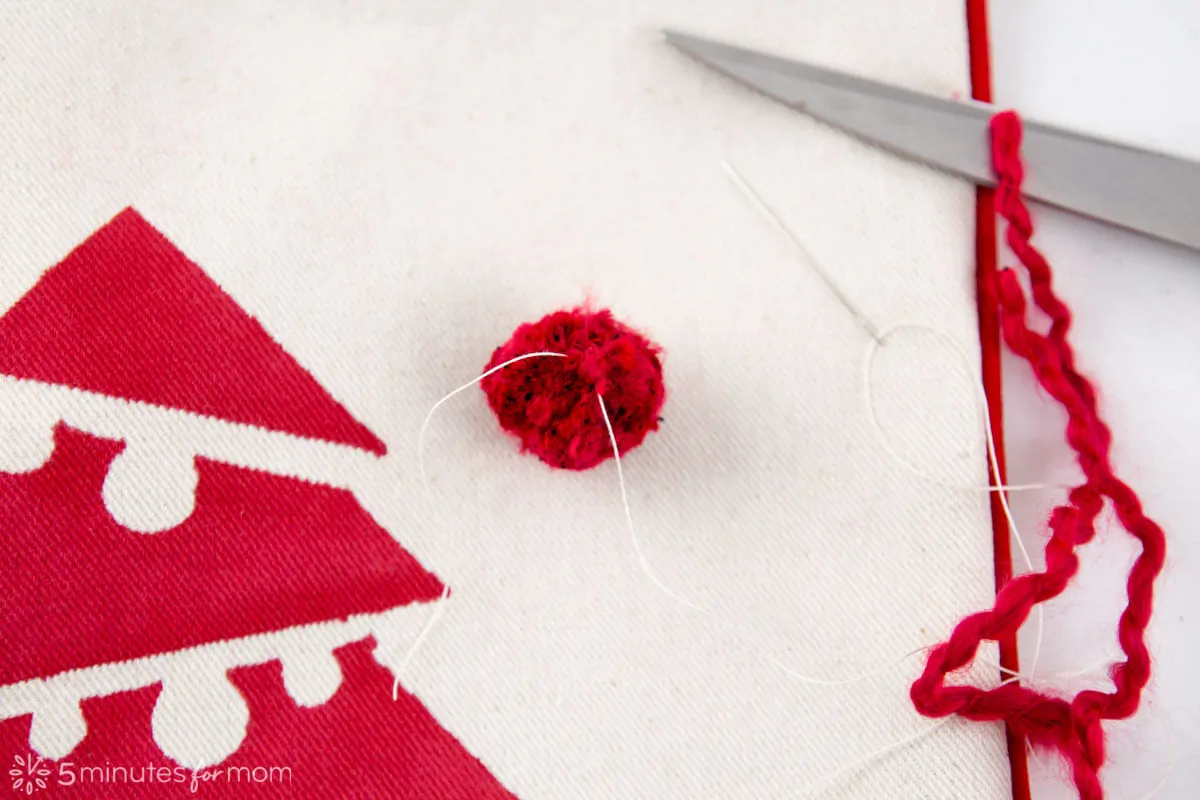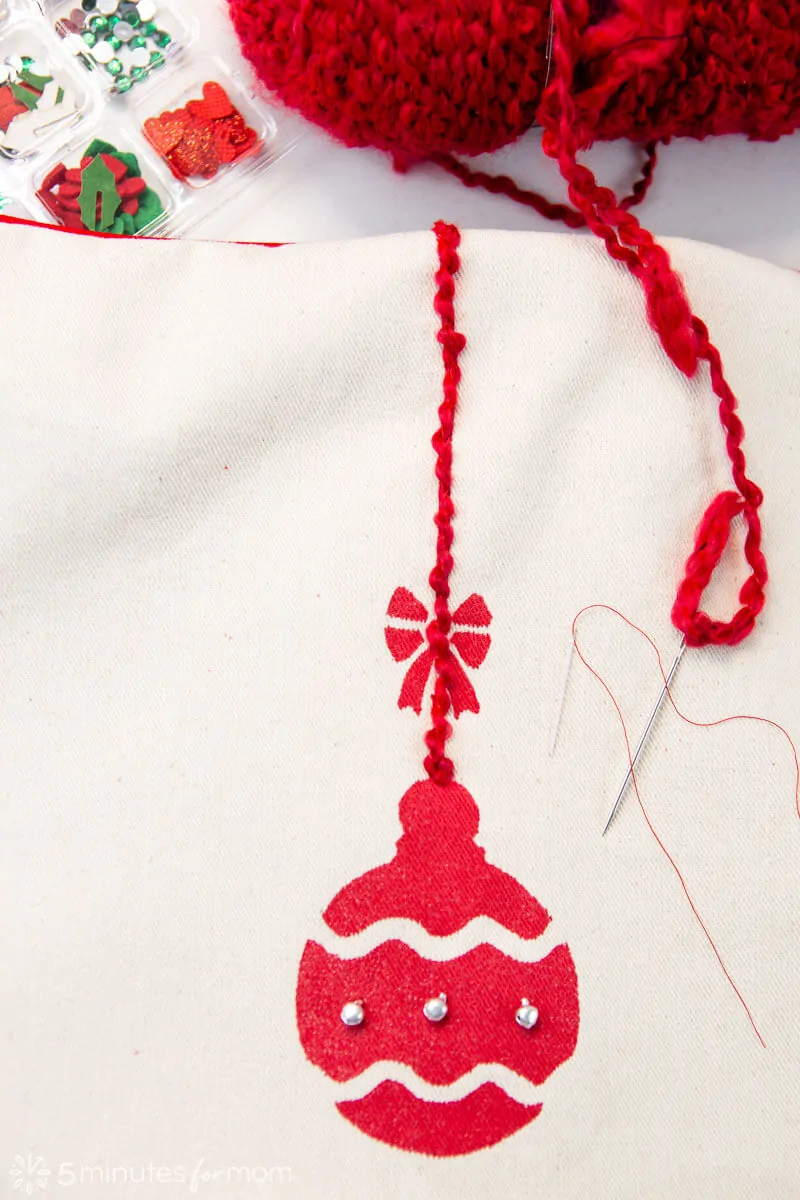 If you are sewing your pillow cover, be sure to wait until the fabric paint is completely dry before you start sewing. We will soon be publishing another blog post with instructions on how to sew a simple envelope opening pillow cover.
Insert your pillow into your newly decorated pillow cover.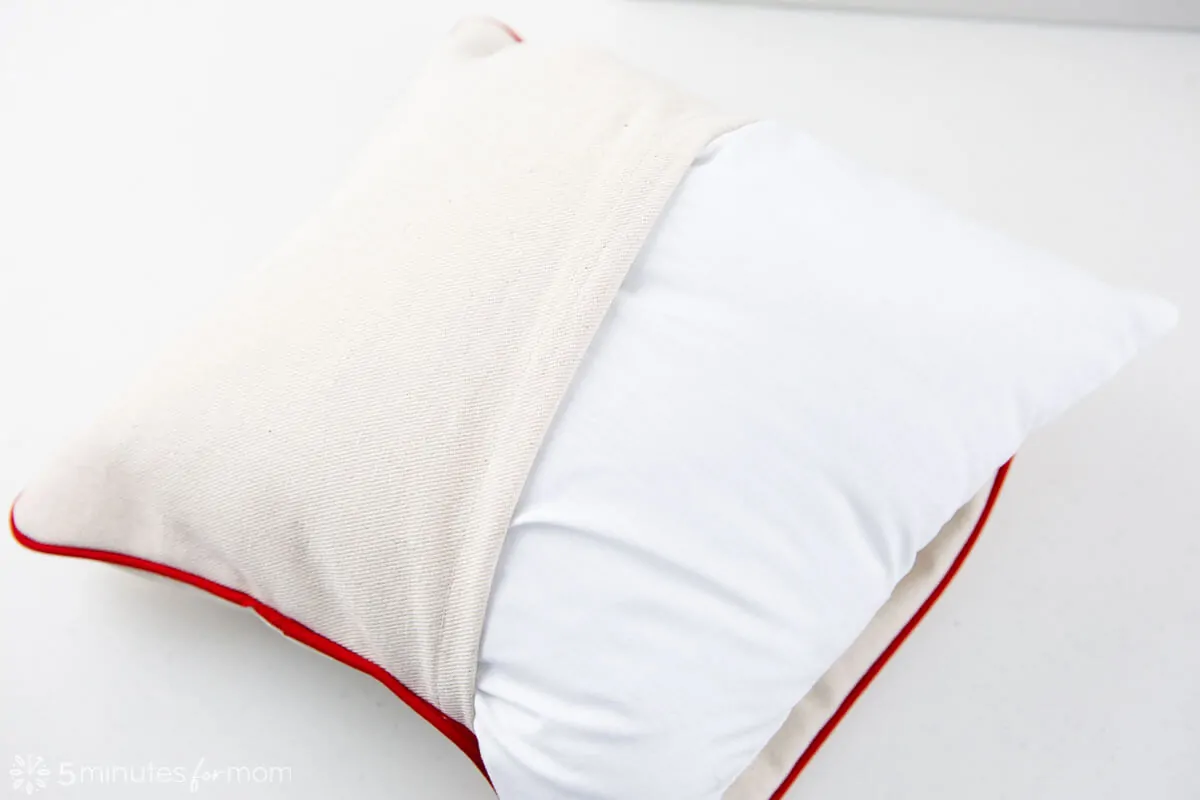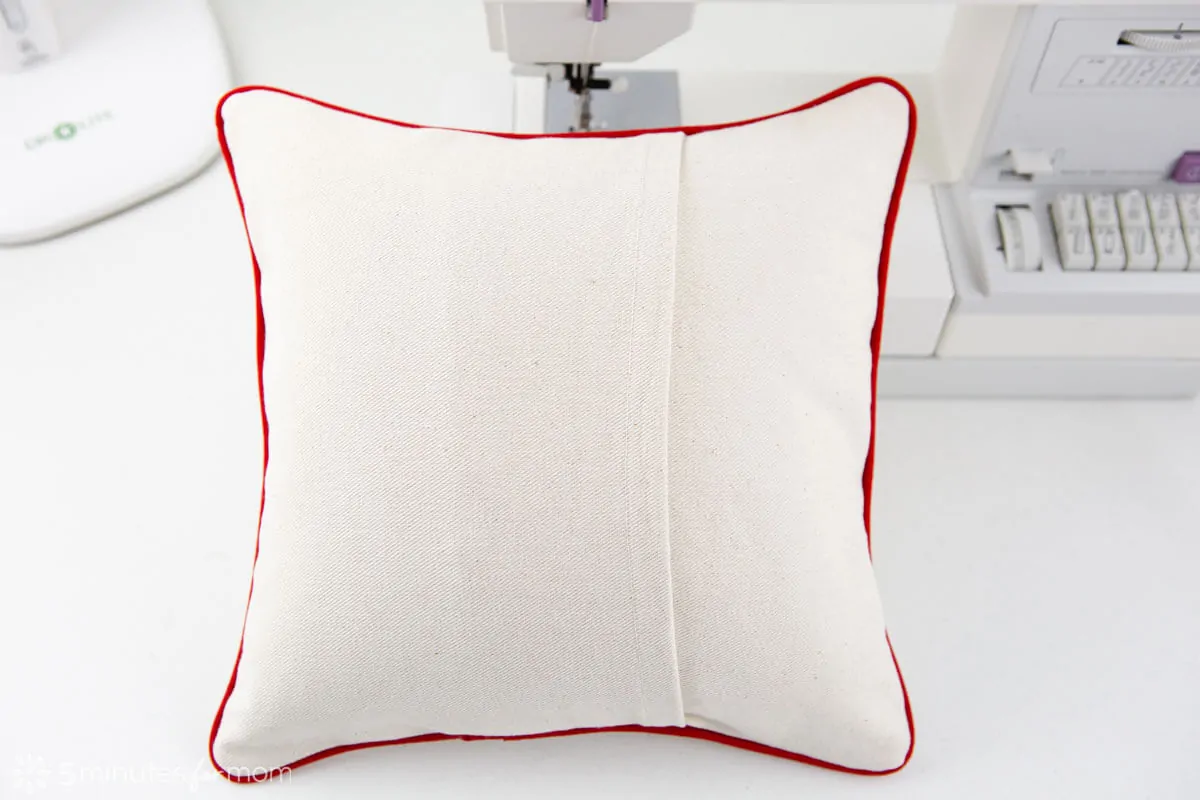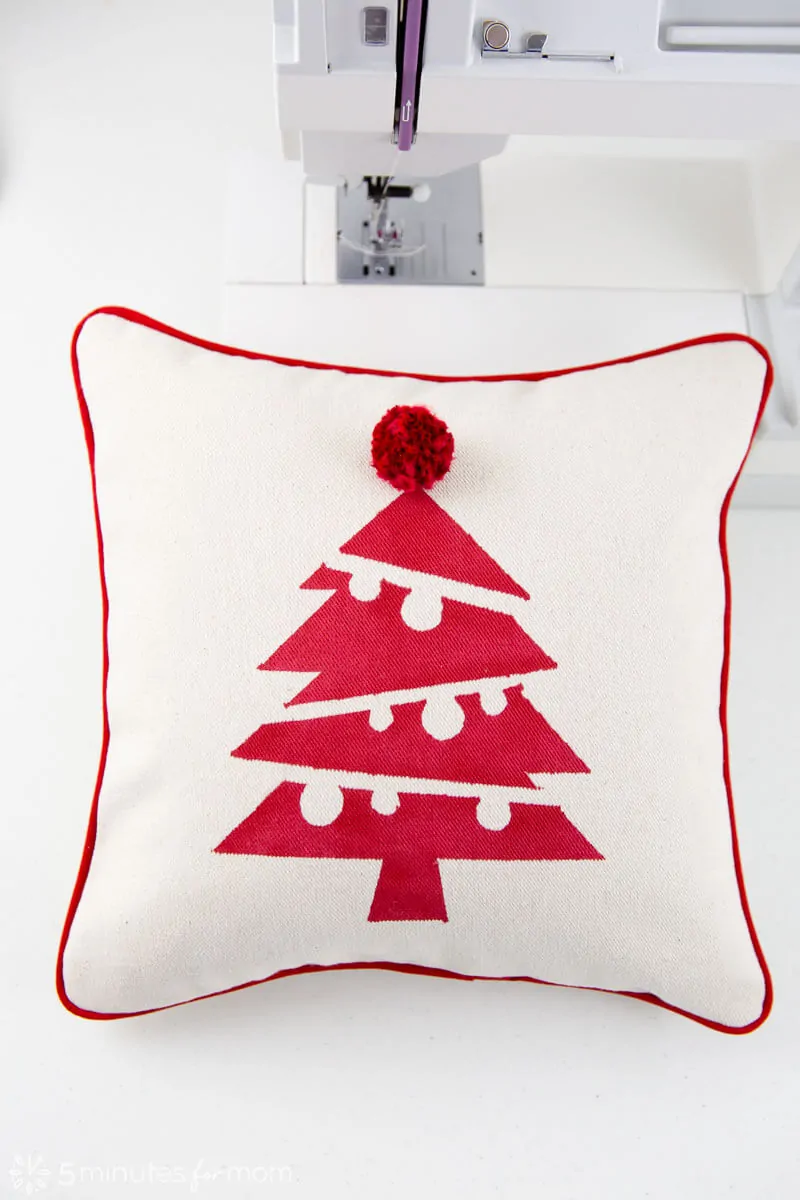 Show Off Your Work Of Art
Display your finished fabric spray painted pillows with pride.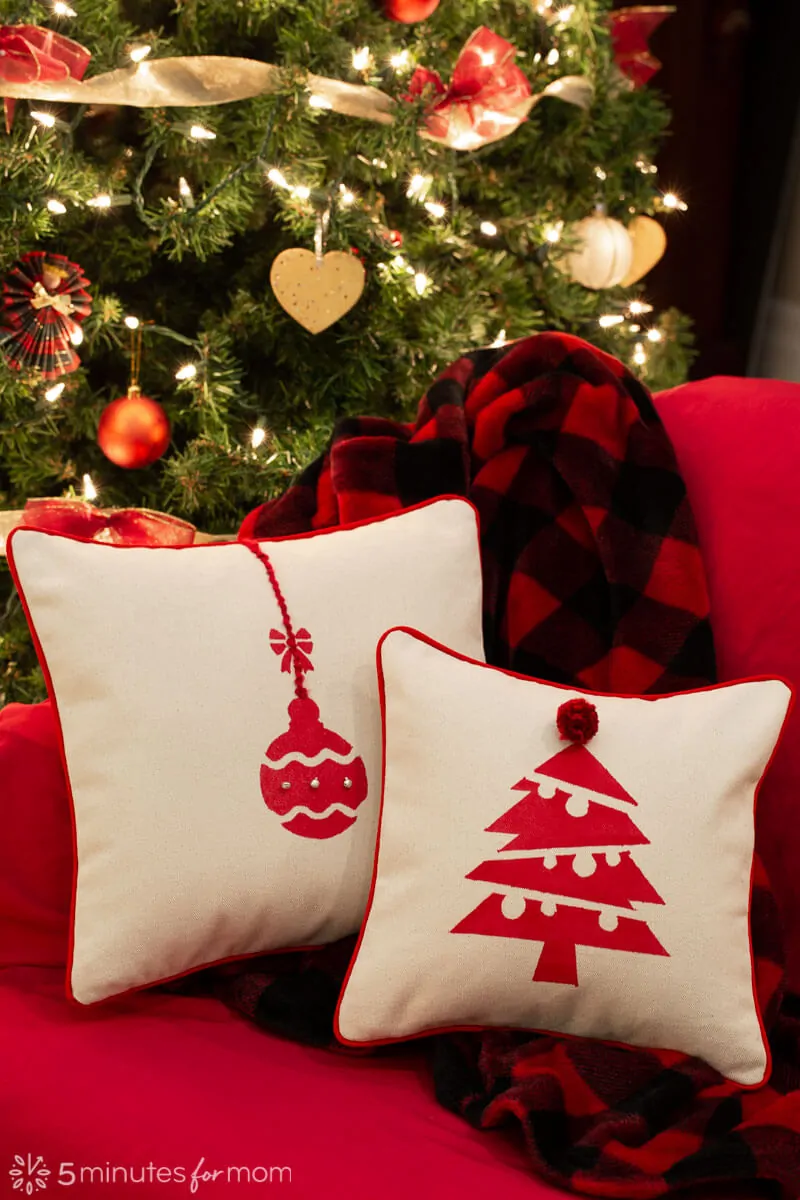 You'll likely be addicted to making these pillows and you'll be looking for all sorts of other ideas for using fabric spray paint.
It's so much fun to create your own Christmas decor. Enjoy and be sure to let us know what you make.
Pin It For Later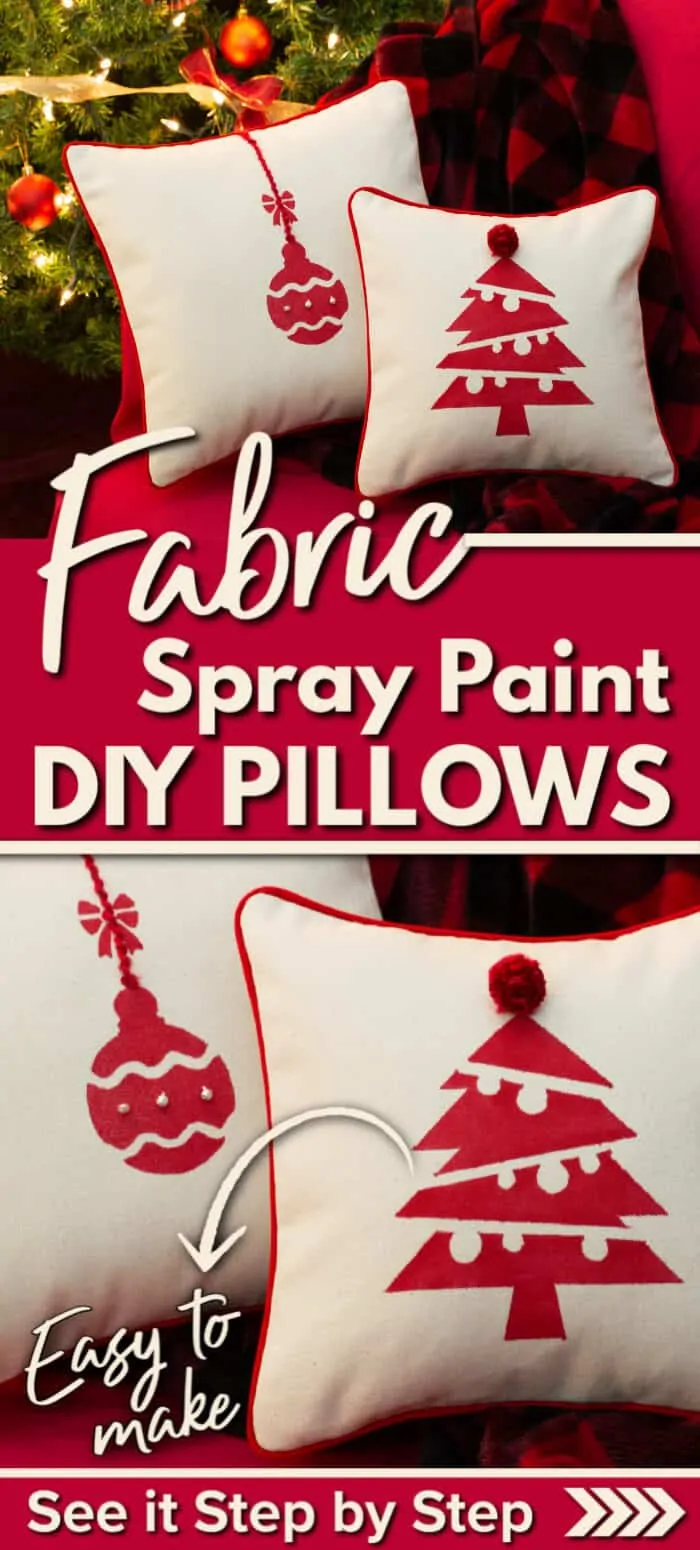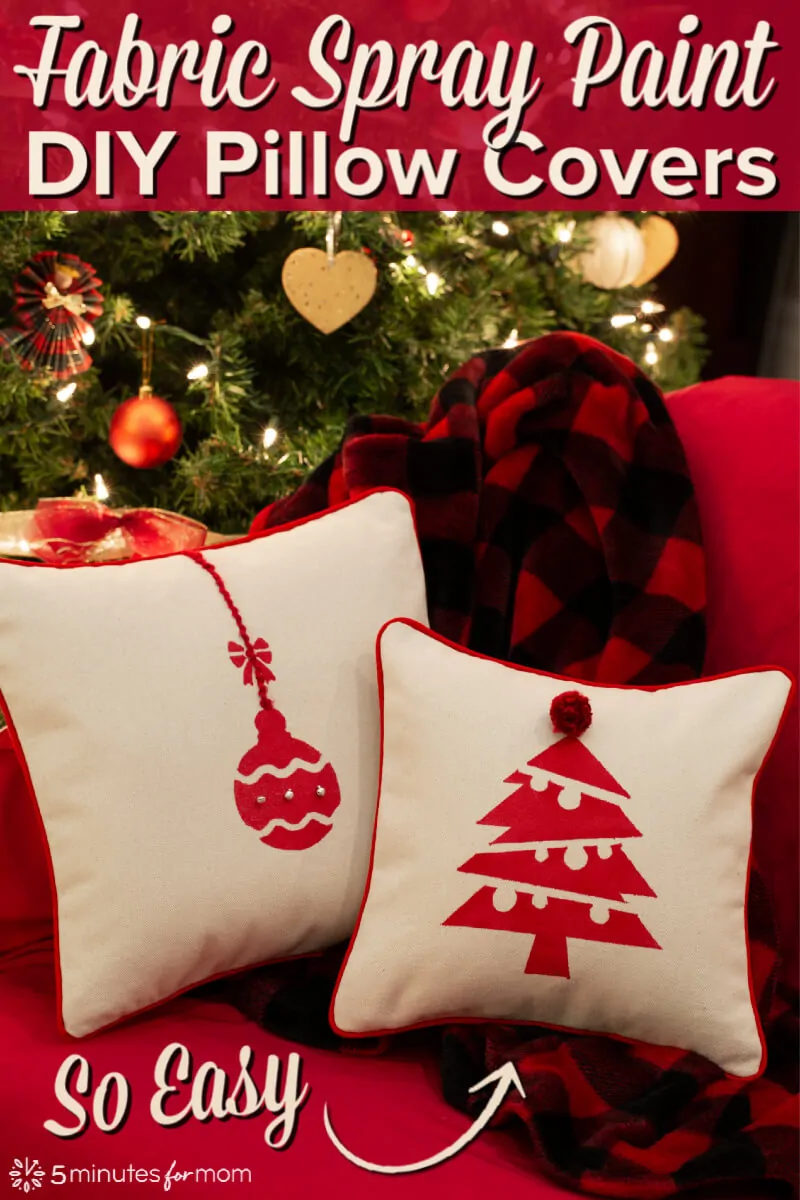 More Craft Paint Fun
Here are more DIY and craft paint ideas for you and your kids to get your creative with different types of paint…
Disclosure: This post is sponsored, so extra thanks for reading and sharing.
Written and photographed by Janice Croze, 5 Minutes for Mom
Talk with me: @5minutesformom and Facebook.com/5minutesformom
Pin with me at pinterest.com/5minutesformom