This post may contain affiliate links. Read my disclosure policy here.
Contact lenses can be a fantastic way to correct vision problems for kids (ages 8-12), teens, and adults. If you are new to wearing contacts, we've created a thorough list of contact lens tips and tricks to help you start wearing contacts.
Thanks to CooperVision for sponsoring this post and providing us with sample contact lenses.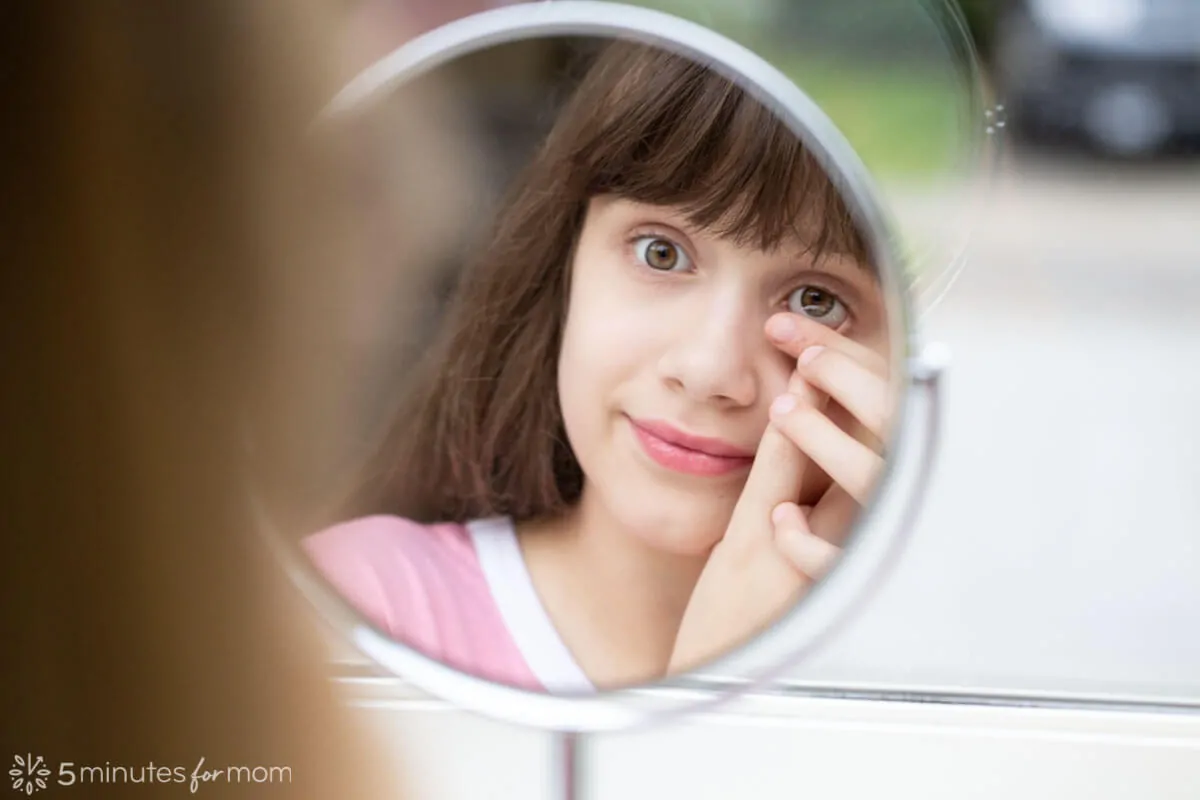 Be sure to also read the other two posts in this 3-Part Series:
Janice and I started wearing contact lenses when we were 11 years old, and as I shared recently, my own daughters just started wearing contacts at ages 11 and 14 years old. You can find out more about their experience getting their first contacts in this earlier blog post. We are all wearing CooperVision clariti® 1 day silicone hydrogel contact lenses and find them extremely comfortable.
Kids and teens can wear contacts, but you'll want to help them get started.
20 Expert Contact Lens Tips
Visit an Optometrist for an eye exam and contact lens fitting.

If you or your child wants to get contact lenses for the first time, visit an eye care professional to get your eyes examined. The eye care professional will conduct a trial fitting and supply a lens (if reusable) or several lenses (if 1 Day) for a trial period. Then the optometrist will examine your eyes with the lenses in to ensure a correct fit and you are getting the best vision possible.

Before you put contacts in for the first time, have the optometrist show you the correct way to insert and remove them. Then try to relax and remember after a little practice, it will be easier.

My 14-year-old daughter has incredibly sensitive eyes and I was worried she wouldn't be able to handle contacts. At her first optometrist appointment, she wasn't able to get them in herself. So the doctor put them in her eyes so she could see how it felt and how great her eyesight would be wearing them.

The next day we returned to the office for her to make another attempt at putting in the lenses. After a few minutes of trying she succeeded at putting them in and taking them out. Then after a couple of weeks of wearing them, she was able to easily and quickly insert and remove her contacts. She is so thrilled at how clear her vision is now.

Always have glasses with you.

Keep a pair of glasses in your purse, backpack, or car. You never know when something may bother your eyes and you need to remove your contacts. It is critical to have a backup pair of eyeglasses with you in case you have to take your contact lenses out of your eyes.

Wash your hands well before touching your contacts.

Before you put in your contacts or remove them, you need to wash your hands with soap and dry them. Do not use lotion on your hands before you touch your lenses.

You may also want to have your fingernails trimmed short when you are just learning to put in contacts.


Wash and dry your hands before handling contacts.

This may seem obvious to most, but make sure you carefully wash and dry your hands before handling your contact lenses.

Apply your makeup AFTER you put in your contact lenses.

You may want to ensure that your makeup is non-allergenic and doesn't irritate your eyes

Close your eyes when applying makeup powder or plush.

Remove your contact lenses carefully before you wash off your makeup.

Start with the same eye.

Our optometrist shared this contact lens tip with us… When you're putting your contact lenses in your eyes, always start with the same eye, so that you don't accidentally put them in the wrong eyes. Many people have different prescriptions in their left and right eyes, so it is critical that you put the correct lens in the correct eye.

Also, this process should help you avoid accidentally trying to put a second contact lens into your eye. If you're right-handed, put in your right contact first. If you're left-handed, start with your left eye.

Check that your lens is not inside out before you put it in your eye.

You can easily tell if your contact has been turned inside out. Put it on the tip of your finger and make sure it is curved upward in a perfect bowl shape. If it is inside out, the sides will flare out a little bit.

Some people describe it as a mixing bowl being correct, versus a saucer that flares out a little at the top. You can flip your contact back and forth to compare how it looks.

But don't panic if you do put your contact lens in your eye inside out. You will not damage your eye, but it may feel uncomfortable and your vision may not be as clear as normal.

Cover the sink.

If you are putting in your contacts or removing your contacts near a sink, put a towel over the sink or counter.

Be careful of torn lenses.

Be gentle with your contacts because they may tear if mishandled. If you tear a lens, discard it.

Do not panic that your contact lens is lost in your eye.

Your contact lens cannot move behind your eye. There is a membrane that connects the back of your eyelid to your eye. The lens may have moved under your eyelid. You can blink and gently move the lens down by manually manipulating your upper eyelid to help dislodge and then remove it.

If something feels different or discomforting or your vision is not clear, remove your lenses.

You shouldn't have any major discomfort when your contacts are in your eyes. If you do feel something hurting or irritating your eyes, remove your contacts immediately and look to see if the lens is damaged or dirty. Clean the lens before putting it back in your eye. If this continues, leave your lenses out and see your eye care professional.

Have any problems checked by an optometrist.

If your contacts are not feeling comfortable, your eyes are red, or your vision isn't clear, see an optometrist, so that they can check your contacts.

Only wear contact lenses for the amount of time they are designed for and that has been recommended by your ECP.

If they are 1 Day contact lenses, remove them at night and throw them away. If they are designed to wear on a daily basis for 30 days, be sure to remove them every night and clean and disinfect them, and then discard them after 30 days.

Don't swim wearing contacts.

You should not shower, swim, or go in a hot tub while wearing contacts, even while wearing goggles. The germs and bacteria in the water can cause an infection in your eye. Water and contacts do not mix.

Clean contacts with contact lens solution only.

This tip is critical to follow at all times… If you are not using 1 Day contact lenses, clean and disinfect your contacts with multipurpose disinfecting contact lens solution. Never use water to clean or store your contacts.

Be sure to empty the solution from your case on a daily basis, rinse it out with clean solution and leave it open to air dry.

Throw out your contact lens case after at least every 3 months of use and get a new case.

Drink lots of water.

It's always important to keep your body hydrated, but when you wear contacts, your eyes may become drier than usual. If your eyes are feeling dry, you can use rewetting drops that are designed for contact lenses. Please discuss any dryness symptoms with your eye care professional, so they can help see whether an alternative lens material or modality might help minimize your symptoms.

Wear sunglasses.

Even if your contacts offer UV blocking, you still need to help protect your eyes from the transmission of UV with sunglasses.

See your optometrist every year to have your eyes examined.

Our eyes are continually changing as we age. Not only can your prescription needs evolve, but the type of contact lens that will work best for you may also change.

If you are over 40 years old, you can discuss the possibility of wearing multifocal contact lenses.

Remember to blink.

If you're staring at a computer screen for a long time, try to remind yourself to blink often. We blink less when working on a computer and our eyes can feel drier when wearing lenses and looking at a computer for extended periods of time.

Be careful where you buy your contacts.

If you or your child wants colored contact lenses for everyday wear, or for a costume, ensure they are FDA approved and prescribed by an eye care professional.

We recommend that you visit an optometrist to get fitted before you buy your first set of contact lenses. Once you know exactly which contact lens you need to purchase, you can always search online and purchase from a number of different online retailers.

For example, once you know you want clariti® 1 day from CooperVision and you have your prescription, you can either order them through your optometrist or shop online.
If you follow all of our contact lens tips, you will be sure to enjoy clear vision and help maintain healthy lens wear.
Kids and teens can be surprisingly responsible when motivated to wear contacts instead of glasses. Once you let them know what is required to be able to wear contacts, they will usually quickly learn how to put in and remove their lenses. 1 Day contact lenses are so easy and comfortable to wear, your entire family will love wearing them.
Get a FREE TRIAL of contact lenses here…

Pin it for Later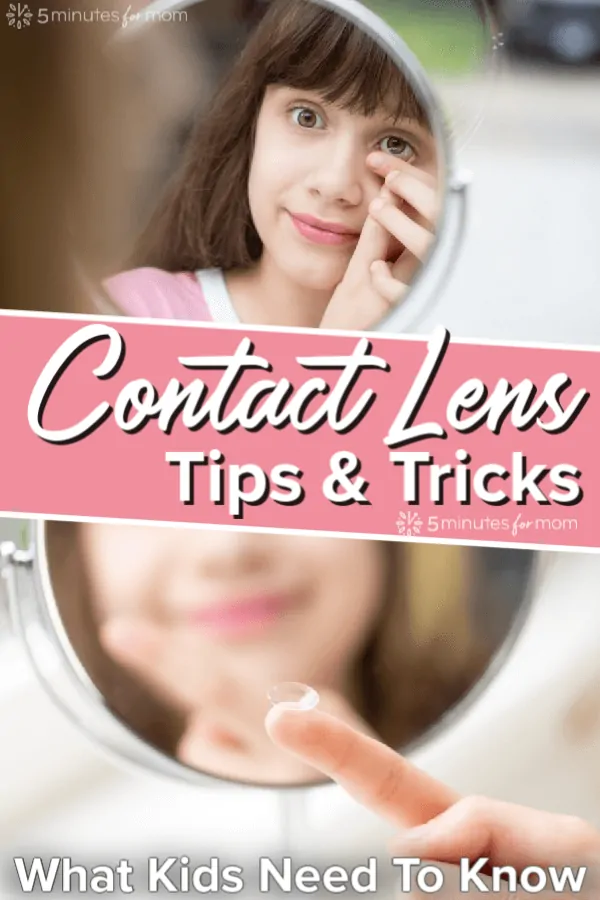 Disclosure: This post is sponsored by CooperVision, so extra thanks for reading and sharing.
Written by Susan Carraretto, co-founder of 5 Minutes for Mom
Talk with me: @5minutesformom and Facebook.com/5minutesformom
Pin with me at pinterest.com/5minutesformom