This post may contain affiliate links. Read my disclosure policy here.
Have you heard the news? REDEEMING LOVE — the film adaptation of Francine River's bestselling historical romance novel — is coming to theatres on January 21st in Canada and the US.
This post is sponsored by Graf-Martin Communications on behalf of WTA Media, Universal Pictures and Pinnacle Peak, the opinions expressed are our own.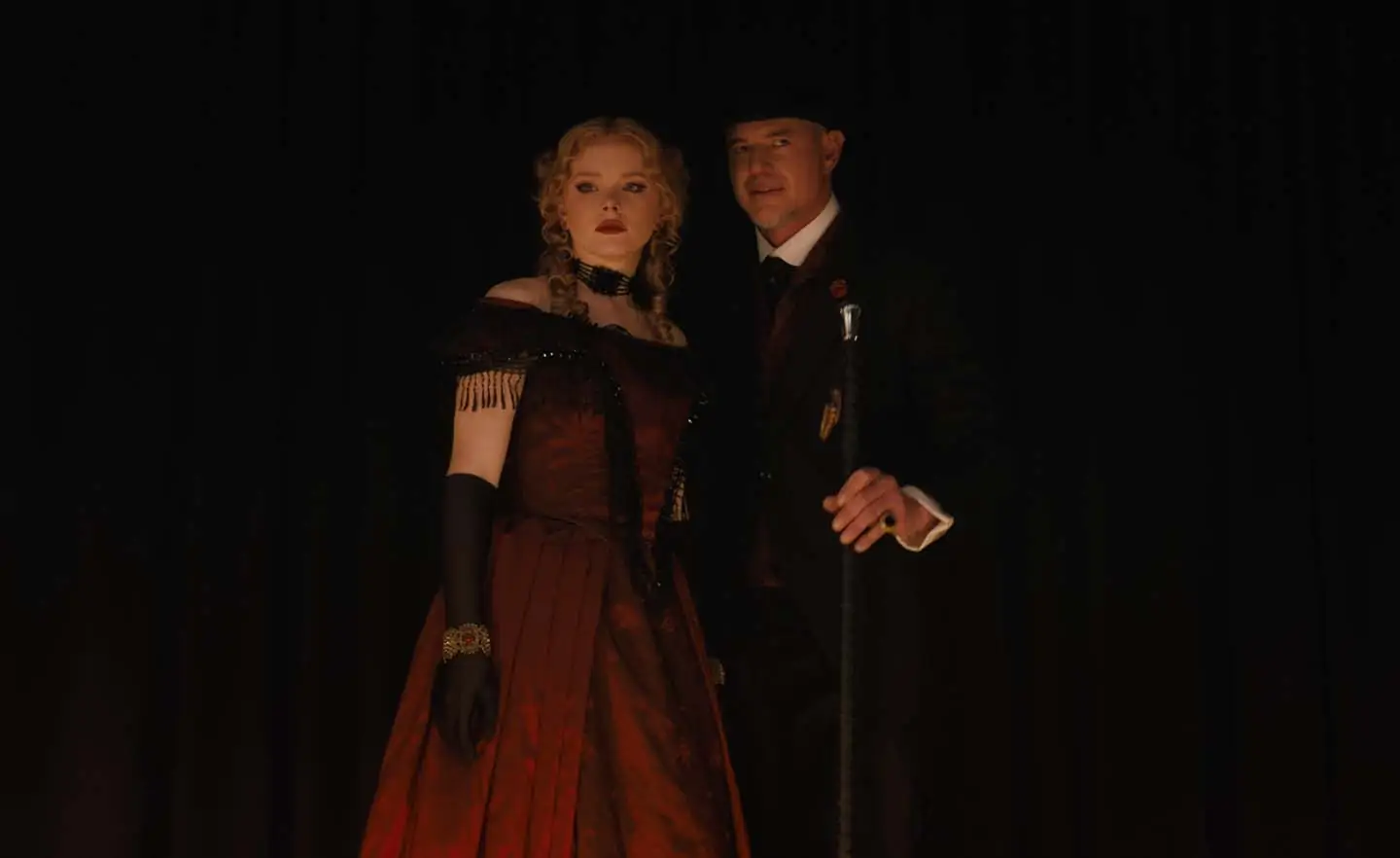 UPDATE: Wow! I just finished watching REDEEMING LOVE and I was moved to tears. I don't want to tell you too much more about the movie because I want you to experience the entire story… but you can read what I wrote below, which was before I'd had a chance to watch the file. There aren't any spoilers in my post. Let me simply say, I promise you WILL love this movie.
I love movies!!! One of my favorite ways to take a break has always been to head to a movie theatre and dive into a bucket of buttery popcorn as I escape in a story on the big screen.
Of course I watch tons of movies at home too, but I've always loved seeing new releases in the theater. With your phone turned off and no kids hollering for yet-another-snack, you can truly lose yourself in a story that's literally larger than life.
It's one of the things I've missed the most since our world changed in 2020. And I really hope that the experience of watching movies in the theatre soon gets back to what it used to be for all of us.
So to help make that happen, I like to support the release of the types of movies I want to watch. Movies like REDEEMING LOVE which tell quality stories featuring strong female characters.

Redeeming Love Movie
Set in the California Gold Rush of 1850, an epic love story unfolds…
I'm so excited to see this movie… I've watched both of the trailers and listened to several of the actors' interviews from the premiere. It seems like fans of this beloved novel are going to be thrilled with how well the movie has been made.
A few of my lucky friends have been able to watch an early screening of the movie, and they all adored it. From the trailers and teasers I've seen so far, I'm confident I'll love it too. A talented cast, timeless story, and stunning scenery sounds like a recipe for success to me.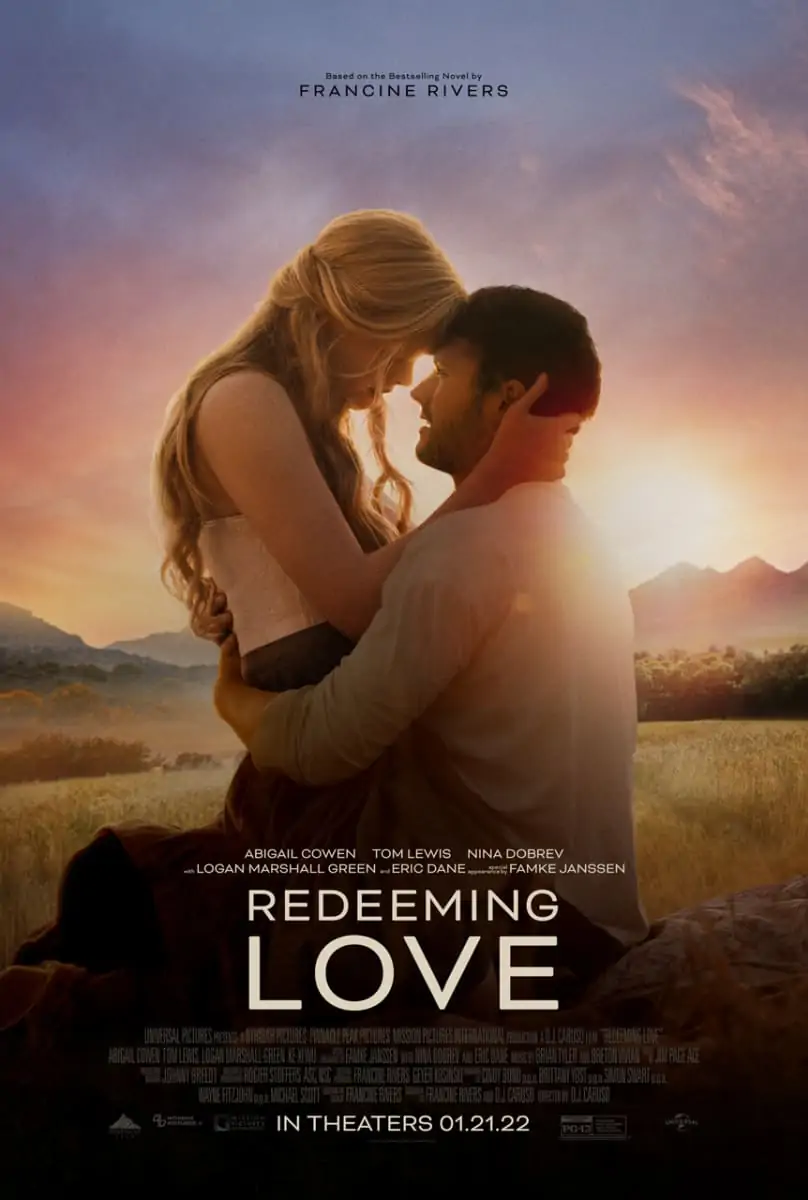 What is the Redeeming Love movie about?
REDEEMING LOVE is about the power of unconditional love. During the California Gold Rush of 1850, a young girl called Angel is sold into prostitution and endures a tragic life until she meets Michael Hosea. Their complex and passionate story will sweep you away and remind you of love's healing power.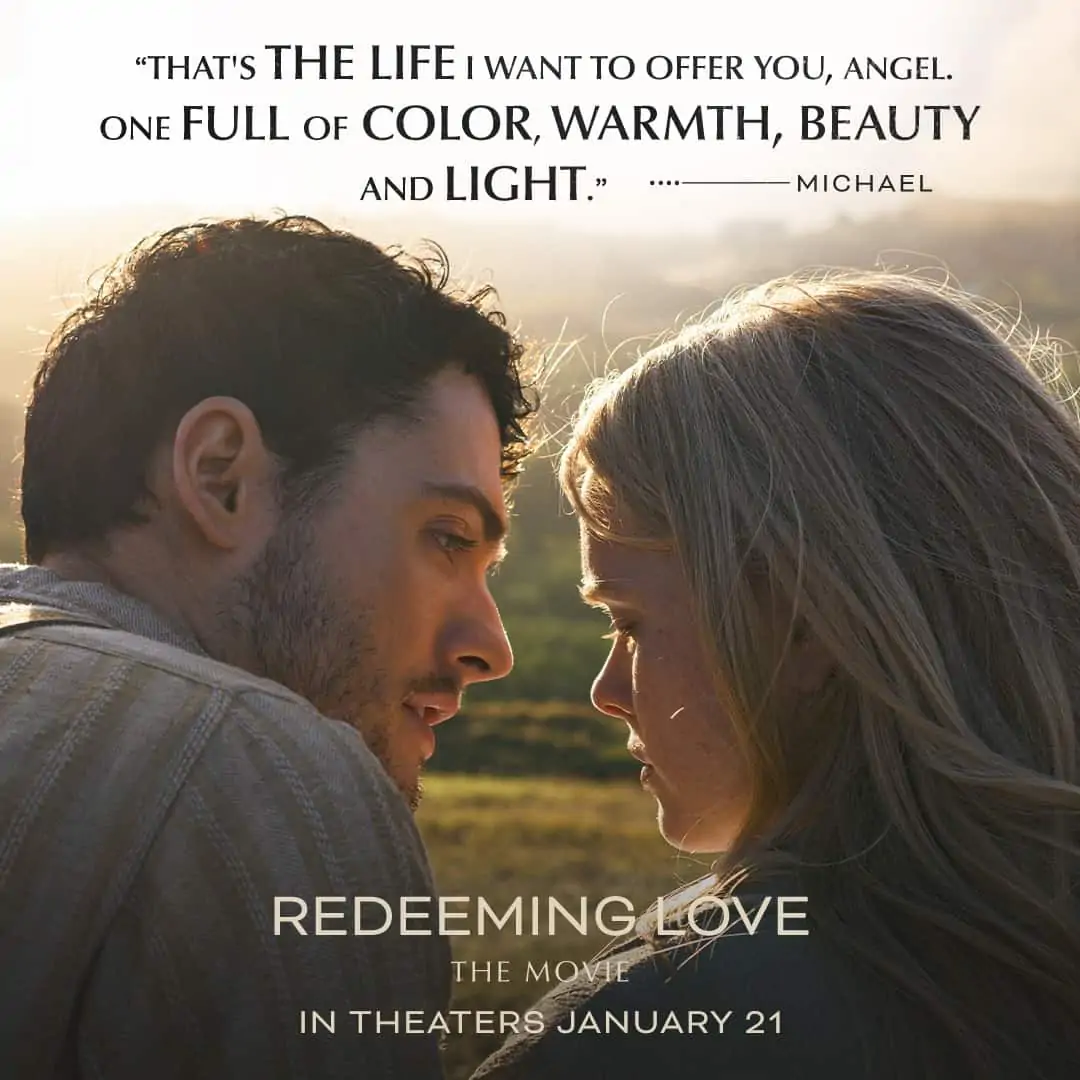 It's based on an award-winning historical romance novel written by Francine Rivers and published in 1991. The novel has been translated into more than 30 languages and been on various bestseller lists for over 15 years. The author worked on the screenplay with Director D.J. Caruso to create an authentic adaptation of the book.
Interesting Trivia:
You may be surprised to learn that the story is inspired by the book of Hosea in the Bible. In the biblical account, Hosea is told by God to marry a woman known to be "promiscuous" (Hosea 1:2).
Where was Redeeming Love filmed?
REDEEMING LOVE was filmed in Cape Town, South Africa.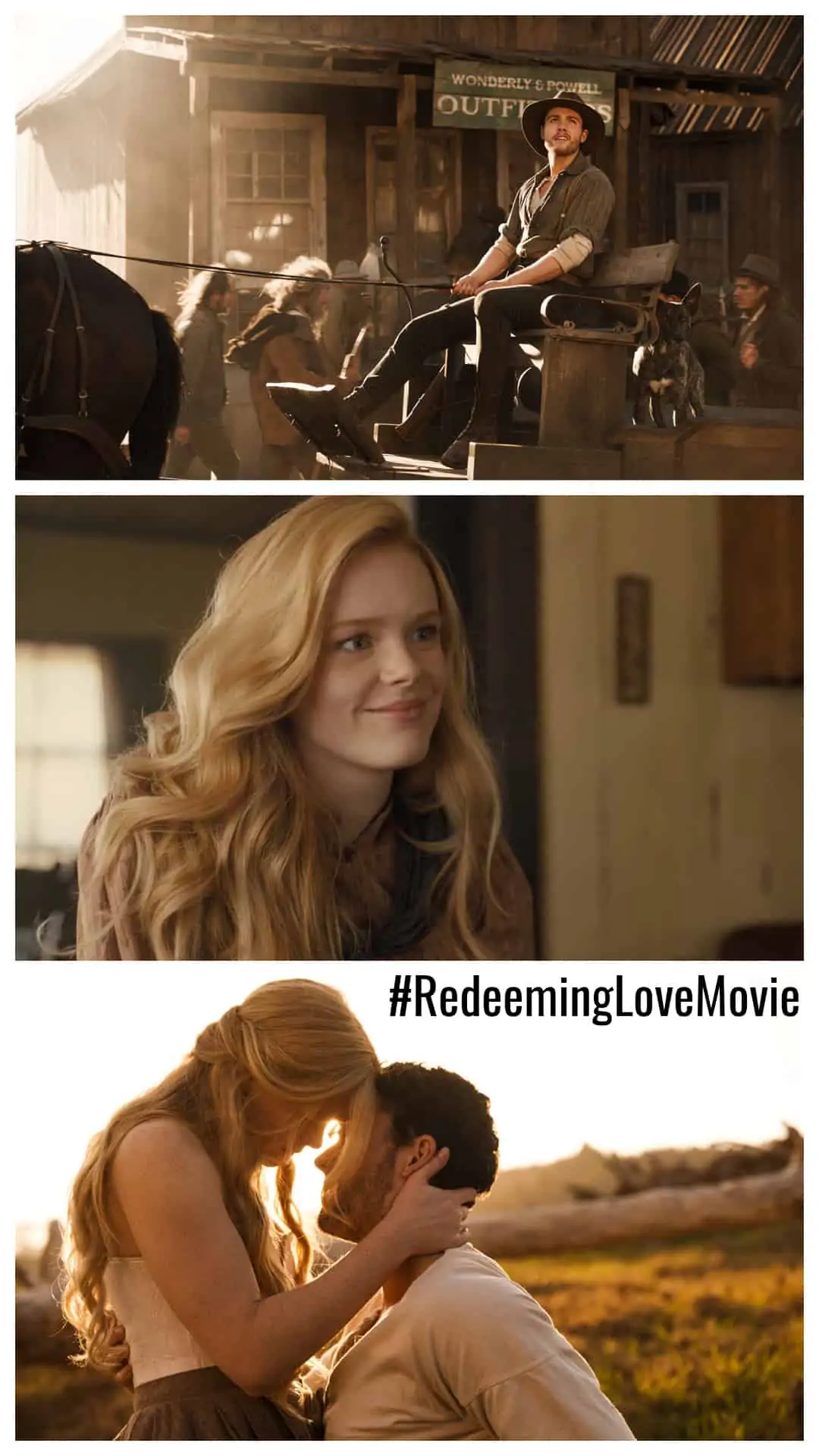 How to Dig Deeper into #RedeemingLoveMovie?
After I've seen a movie that really speaks to me, I love to dig deeper and find out everything about it.
You can visit RedeemingLoveMovie.com to discover fascinating background on the story, learn about the cast & crew, view a gallery of photos, share gifs, and more.
I'm blown away that there's actually an entire podcast devoted to learning more about REDEEMING LOVE including the process of adapting the book to film, behind-the-scenes content, and insightful interviews.
Where to Watch REDEEMING LOVE
REDEEMING LOVE is launching in theatres January 21, 2022 in the US and Canada.
If you're healthy and able to safely go to a movie theatre, go see REDEEMING LOVE in your local theatre this weekend.
And if you're not yet able to get to a movie theater, don't worry too much… while I don't know exactly when it will be available to stream, I'm hopeful the wait won't be too long.
You can keep an eye on @redeeminglovemovie Instagram account or their website for the streaming date and international launch dates.
At the time I'm writing this post, the streaming date and international release dates have not yet been announced. I will try to update here as soon as I know more details.
Redeeming Love Sanctuary Foundation
This is amazing…
Francine Rivers donates profits from her bestselling novel REDEEMING LOVE to charity… but ALSO now through The Redeeming Love Sanctuary Foundation she's donating her #RedeemingLoveMovie proceeds to help end sex trafficking and abuse.
Our mission is to aid in preventing sex trafficking and abuse by funding survivor support services, education, and recovery programs in the United States and abroad.

Find out more at RedeemingLoveSanctuary.org.
Giveaway
To celebrate the launch, we are hosting a giveaway on our Instagram account @5minutesformom.
UPDATE: Thank you to everyone who entered. The giveaway is now closed and our winner has been announced on our Instagram post.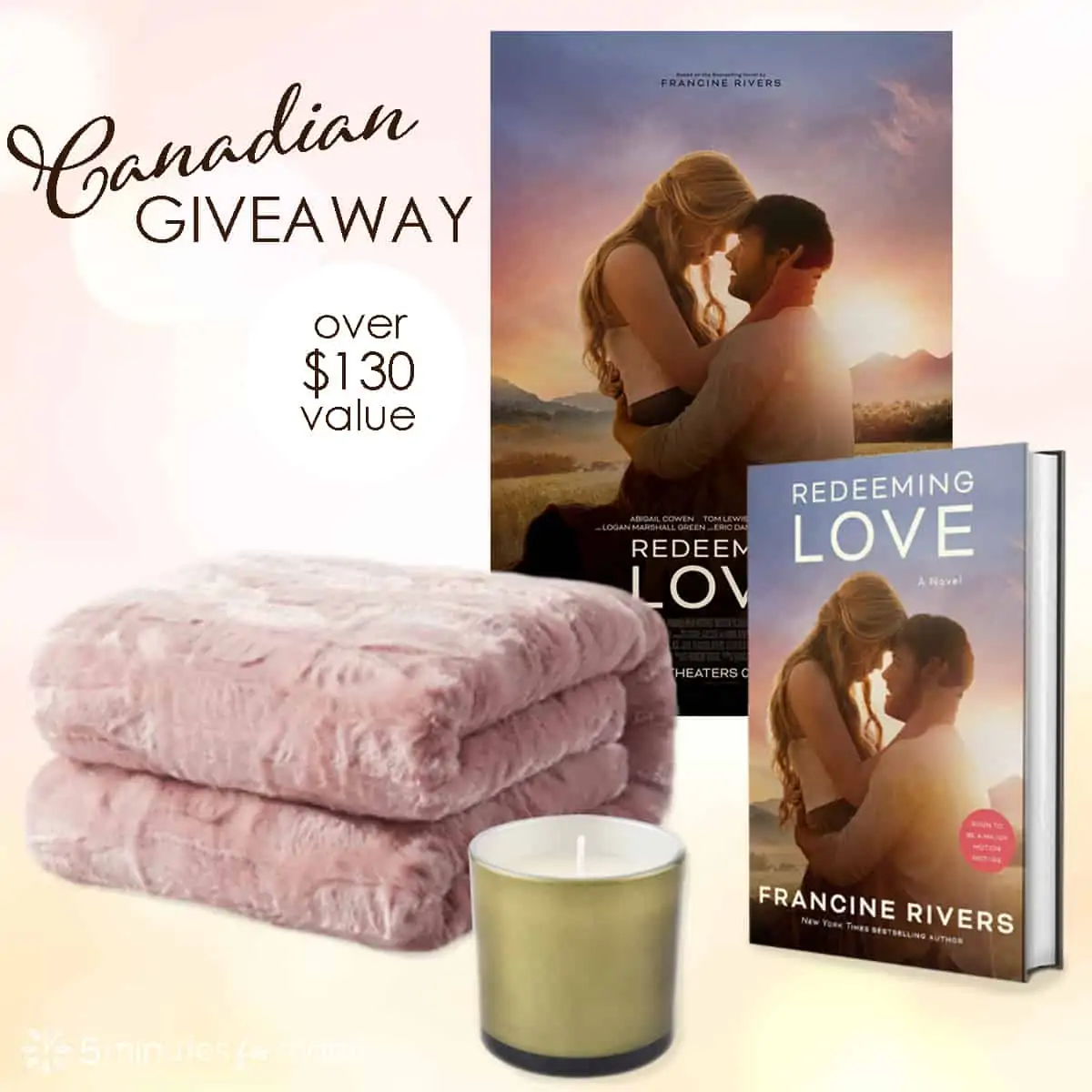 We hope you love the movie as much as we think you will. Leave us a comment and let us know if you've read the book and if you're excited to see the movie.


Disclosure: This post is sponsored, so extra thanks for reading and sharing.
Press images used with permission.
Written by Susan Carraretto, co-founder of 5 Minutes for Mom
Talk with me: @5minutesformom and Facebook.com/5minutesformom
Pin with me at pinterest.com/5minutesformom