This post may contain affiliate links. Read my disclosure policy here.
Summer word search puzzles for kids are the perfect way to keep your little ones entertained and learning during the summer. We've created a fun "At The Beach" Word Search and Puzzles Activity Pack for kids that you can download and print for free.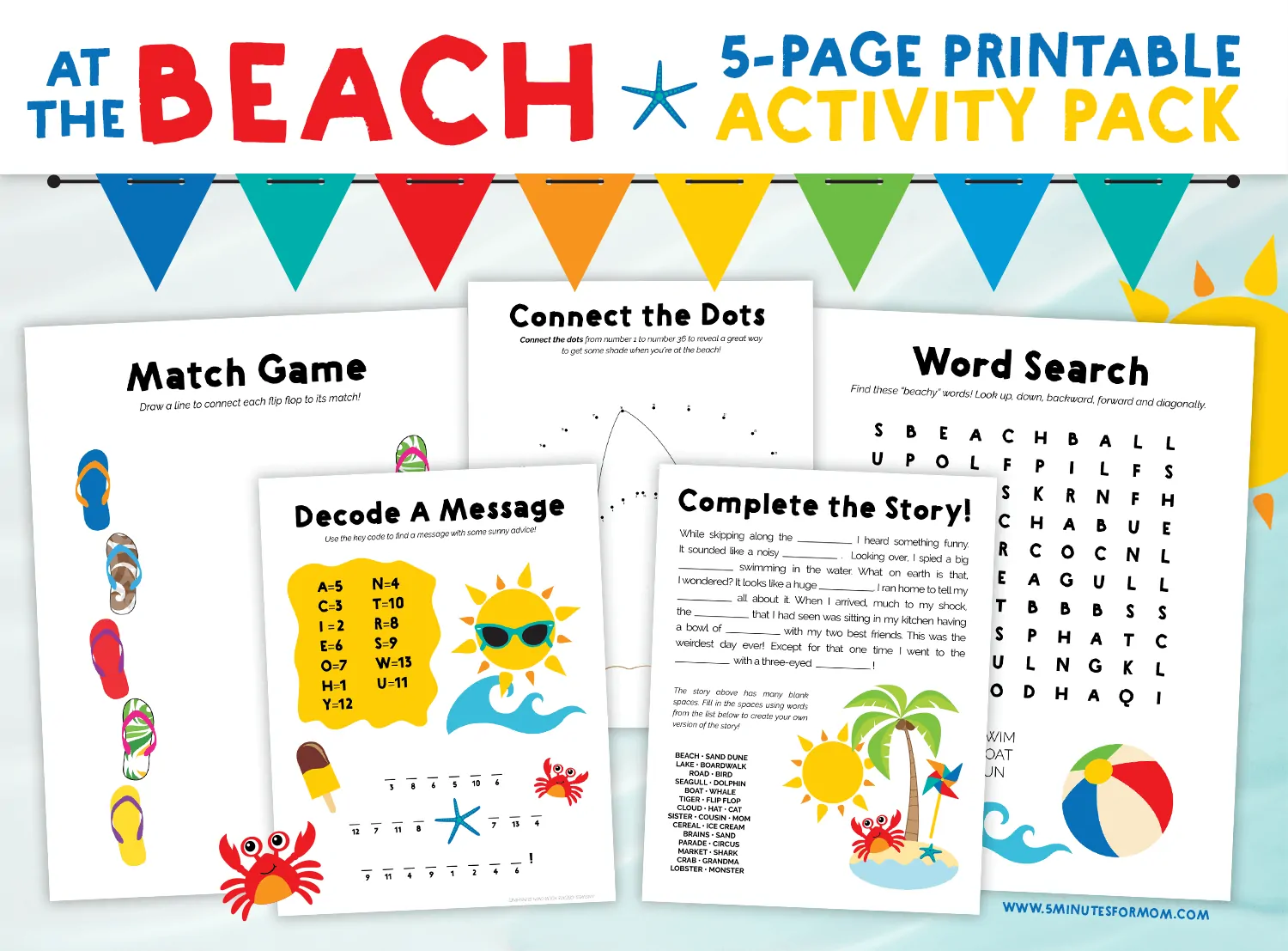 Keeping kids reading and writing over the summer break is so important. And the easiest way to do that is to use fun puzzles and activity sheets.
This Summer Word Search and Puzzles Activity Pack contains:
Word Search
Match Game
Decode a Message
Connect the Dots
Complete The Story
Click here to Download our Complete Beach Activity Pack
Or you can see what each activity sheet looks like below, and download each printable .pdf file individually.
Smart Parenting Hack:
A great way you to extend the learning and time your kids spend with printable activities is to encourage them to turn over the paper once they are done the puzzle and try to make a puzzle or picture of their own. They could draw or write a story inspired by the beach scene.
Individual Summer Activity Sheet Printables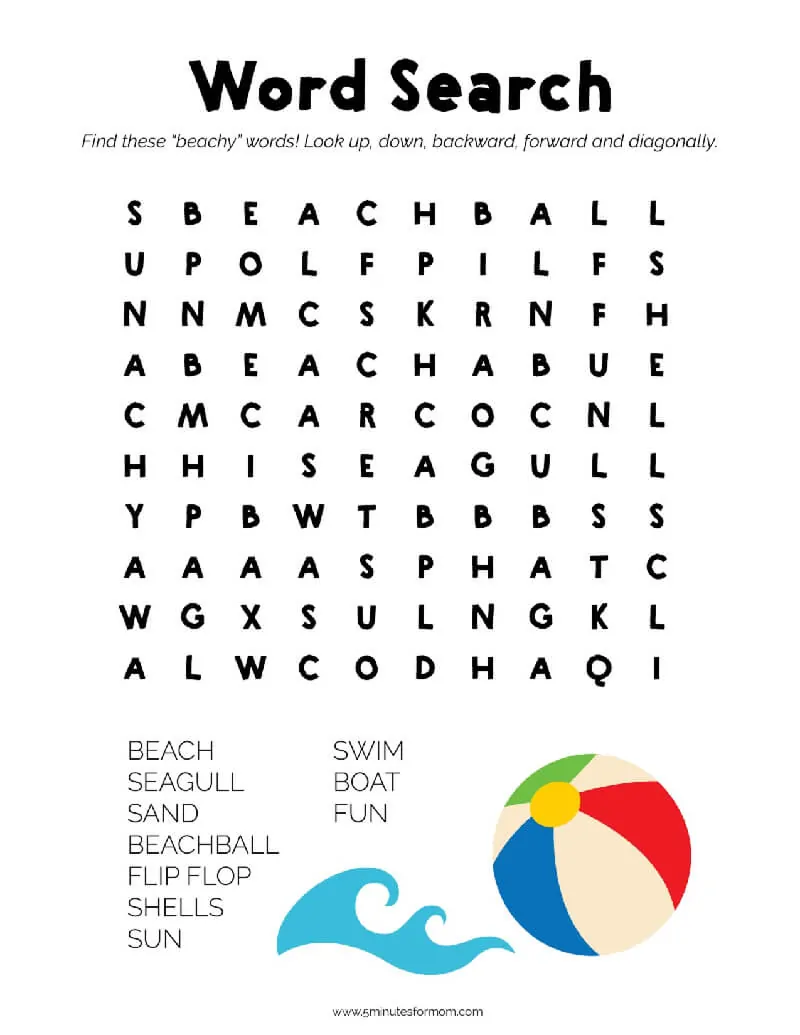 Click Here to Downlaod Summer Word Search Printable
Complete Summer Activity Pack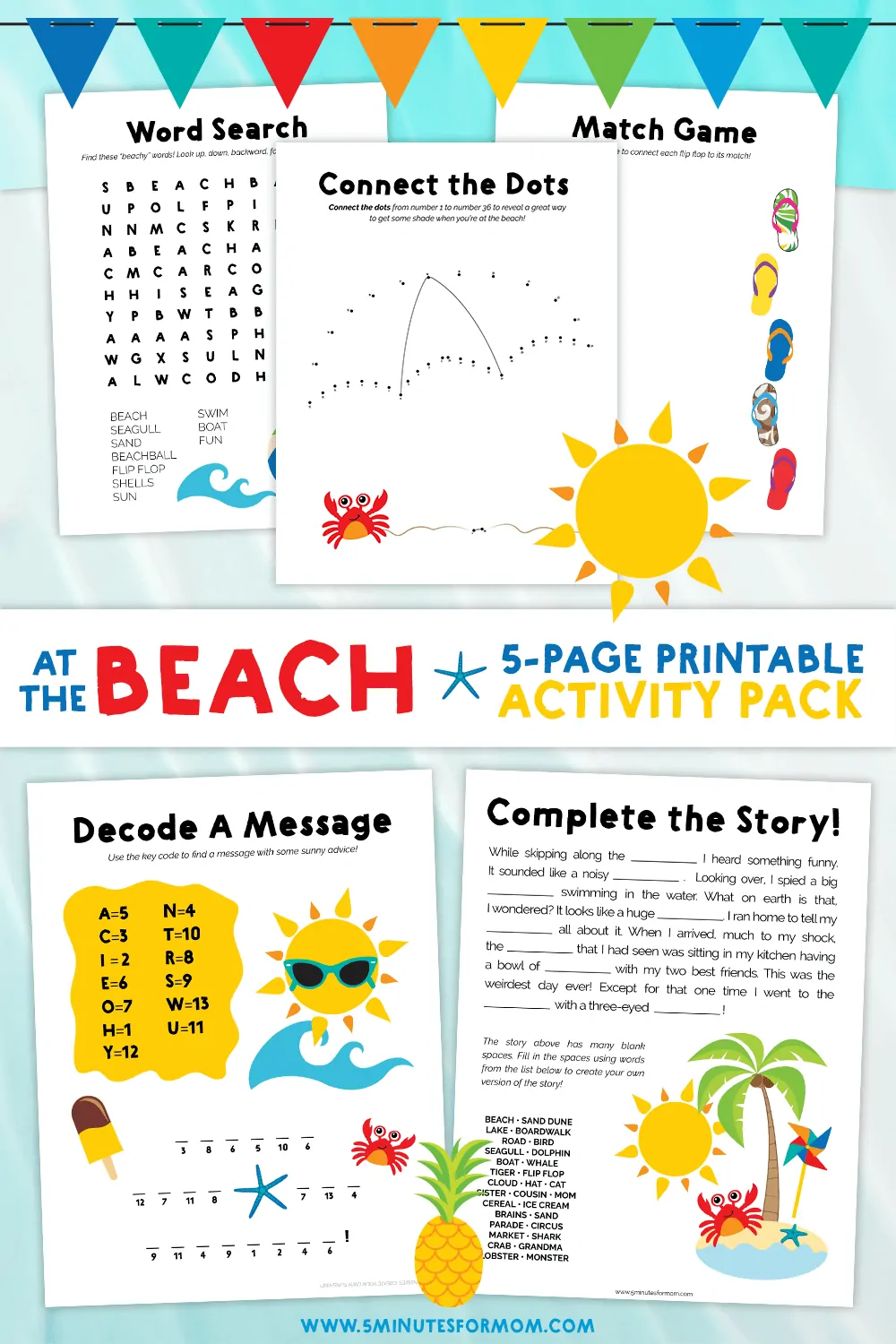 Click here to Download the Complete Beach Activity Pack
More Summer Fun For Kids
While some days during the summer holidays can feel long when you're trying to battle your kids' boredom, school will be here again before you know it. So be sure to download and print this cute summer bucket list for kids. It will help them think of fun activities to do each day so their summer is packed with memories.
Find even more coloring pages and summer printables you and your kids will love. And our friend Wendy who owns Woo Jr. has lots of word search printables here.
If your kids are a little older, you can help them make these lovely handmade journals for summer.
And when they are happily coloring, crafting or even playing with kinetic sand, try streaming some classical music for kids in the background. You'll be amazed at how you all feel more relaxed and inspired after listening to even 15 minutes of classical music.
We hope you have some fabulous family time together this summer break.