This post may contain affiliate links. Read my disclosure policy here.
Do you ever wonder if your kids are doing a good enough job brushing their teeth? Or if they're even brushing at all?
I've got fantastic news… we've been testing out a clever new invention that's like a fitness tracker for toothbrushes.
But first, we want to thank them for sending us samples to test and sponsoring this post so that we could take the time to create this blog post and video for you.
I have two teenage girls and while I think they do a pretty good job brushing their teeth, I never knew for sure. And my 14-year-old has braces right now, so it's especially important that she's effectively brushing her teeth.
So I was thrilled for our family to test out Truthbrush.
(Psst: We got an EXTRA 10% discount for you. More about that soon…)
What is Truthbrush?
Truthbrush is an activity tracker for your toothbrush. You simply attach a tracker to each family member's toothbrush and it reports everyone's brushing behaviour in a free app on your phone.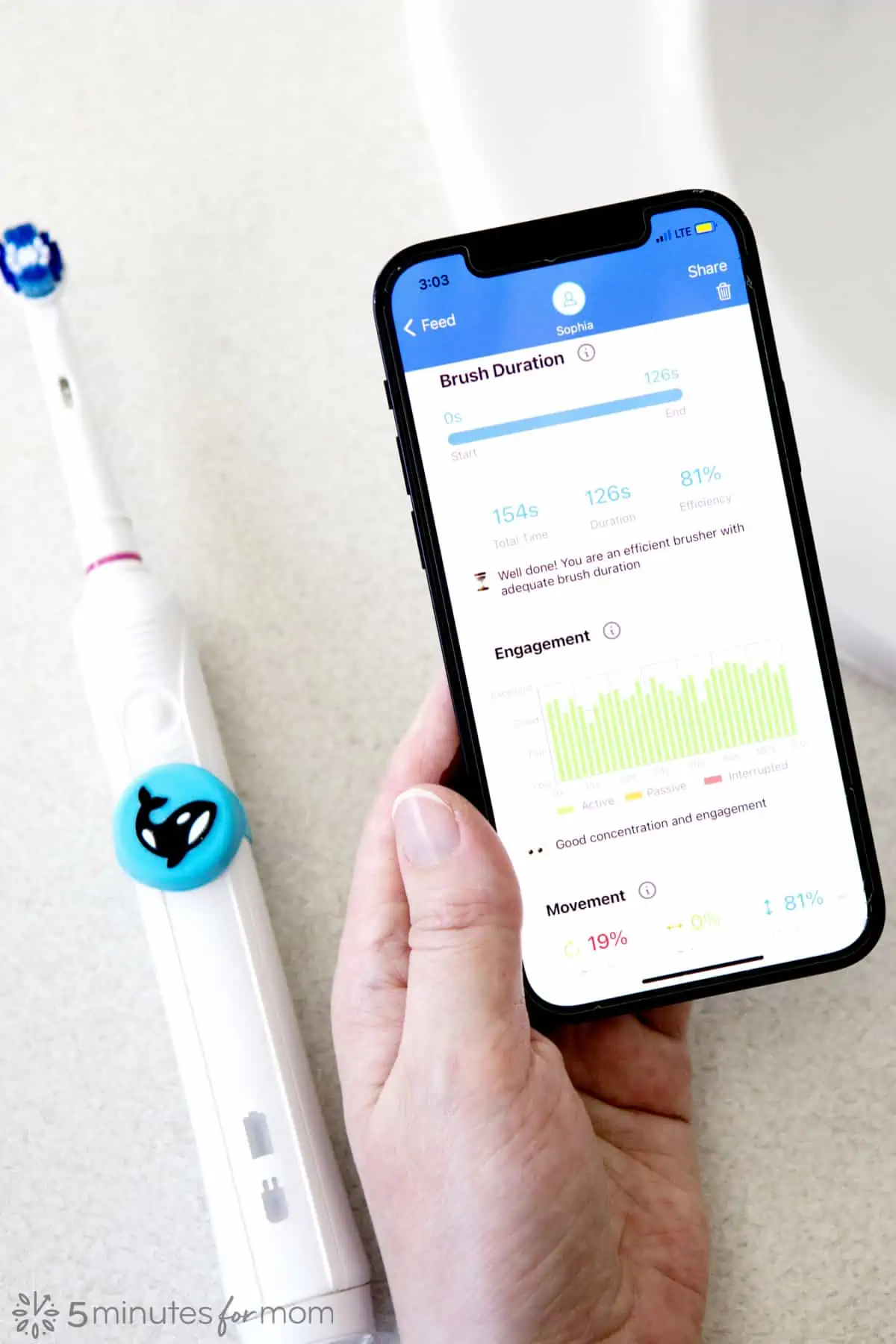 It's so easy to use, that even little kids can have their own trackers.
Your kids do not need to bring a phone into the bathroom while they brush their teeth and they don't even need to turn on a tracker or anything else.
They just brush their teeth as usual.
The Truthbrush tracker detects what you're doing right when brushing your teeth and also how you can improve. It creates a 3D model of your teeth each time you brush and shows any areas that didn't get properly cleaned.
Take a look at their website to find out more…
Our Results
For the last few weeks, I've been testing Truthbrush with my own kids and my elderly mother. I am truly impressed with how simple it is to use and how helpful the results can be.
Here's what I love the most about it:
It's a low cost tracker that attaches to your current toothbrush.
No phone is needed near the sink.
It works with any type of toothbrush.
You can set up goals and rewards for your kids.
All your family's toothbrushing activity shows together in one app, which is great for "healthy" family competition.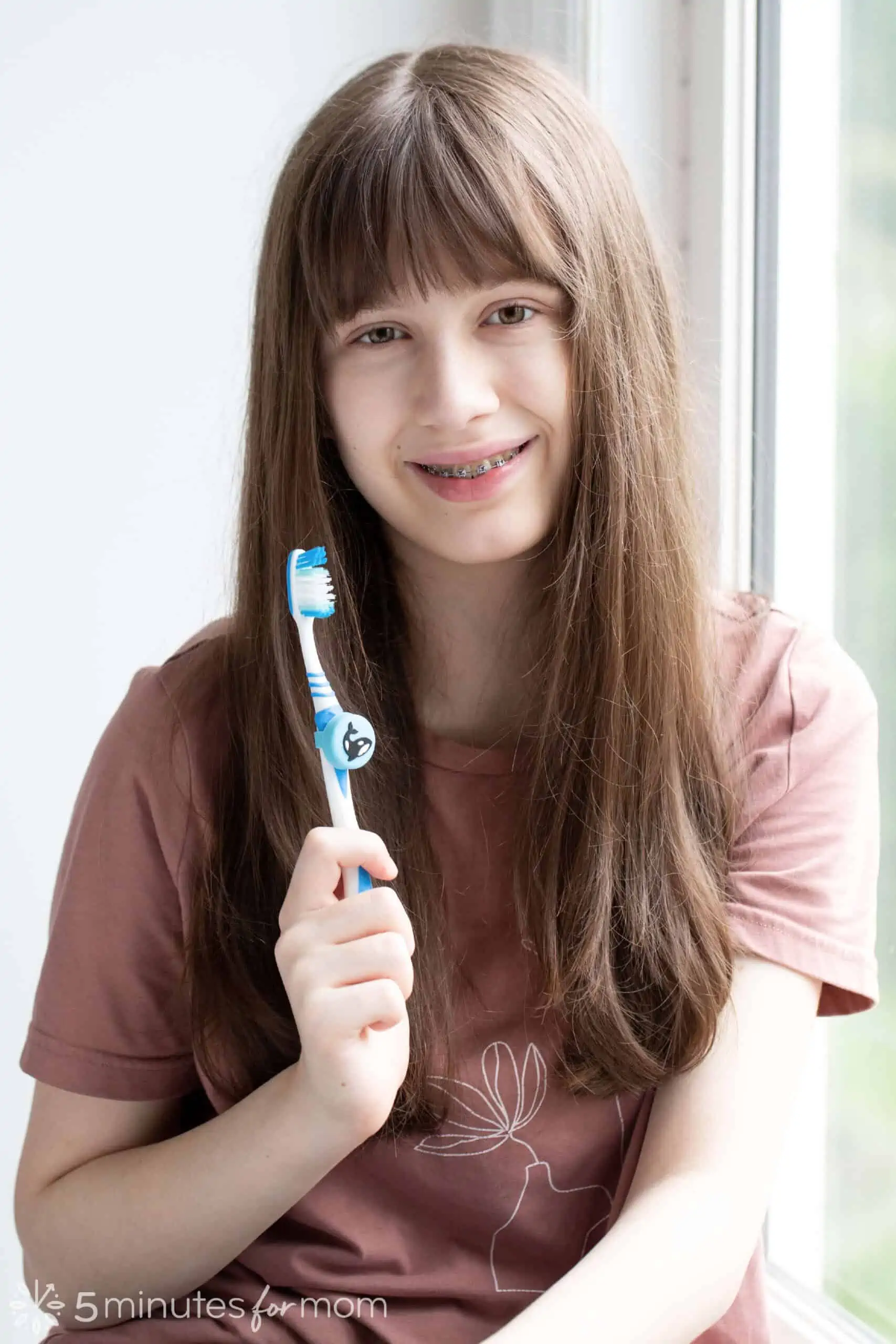 My daughters have loved seeing that their toothbrush technique and brushing scores have been better than mine!
My 14 year old has been the clear winner in our family.
I've found that I pay more attention to how well I'm brushing my teeth now that I'm using Truthbrush.
Since I'm a busy mom, I tend to try to do everything as fast as I can. And that means I brush my teeth fast before running out the door in the morning and quickly brush my teeth before falling into bed at night after an exhausting day.
But obviously it is not a smart choice to shave 60 seconds off my toothbrushing time and thus damage my oral health.
And yet when I'm rushing through my day, I don't realize that is what I'm doing. I'm just used to hurrying through my tasks.
Now that I have Truthbrush, I'm finally spending 2 minutes properly brushing my teeth.
Where To Buy Truthbrush
Truthbrush is available online and we've been able to get an EXTRA 10% discount for you!
But hurry because this 10% discount will only work for the first 100 customers.
Be sure to shop with our offer link to get the extra discount.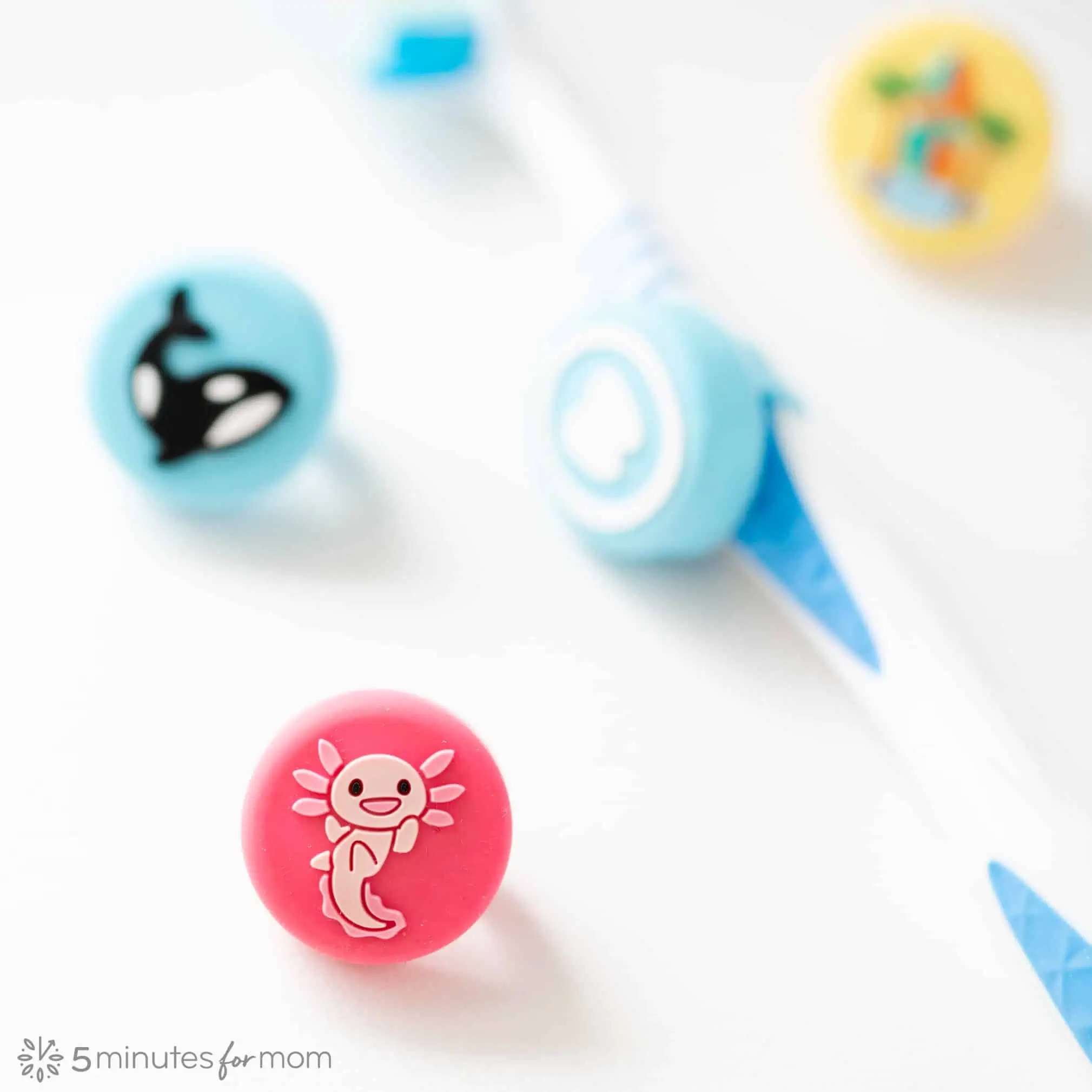 Benefits of Truthbrush for Different Ages
Truthbrush is about positive reinforcement and encouraging each family member to see their progress and take action on any areas for improvement.
But I think there are specific benefits for different age groups…
Young Children

I think back to when my kids were little and how much they would have loved to have had one of these cute trackers on their toothbrushes and kept track of their brushing scores.

One of the biggest challenges to getting young children's teeth properly cleaned is knowing how well they're actually brushing. Since parents are still very involved in young kids' routines, they likely know whether or not their kids brushed their teeth, but they don't know how WELL they brushed.

The Truthbrush app solves this problem by letting kids see how to improve their brushing and they can be motivated and feel encouraged as they improve their scores.


Tweens and Teens

Parenting tweens and teens is tough and one of the best strategies to keeping a good relationship with them is to minimize nagging.

You don't want to have to continually remind them to brush their teeth or ask them if they have. (And they may not tell you the truth anyway.)

Once you have the Truthbrush app installed, you never have to ask them whether or not they brushed their teeth again! That is a huge benefit for the entire family.

They can see their results if they want, or you can just keep an eye on it and let them know if they could improve brushing in a certain area or brush for a longer time.


Adults

You will be surprised how helpful the Truthbrush is for you as an adult. I didn't realize how much I rush through brushing and sometimes even miss certain areas of my teeth.


Elderly

I'm especially thankful to have a Truthbrush device for my elderly mother to use on her toothbrush. Even though she lives in a different house from me, I can get her notifications on the app on my phone.

Since she is getting quite old now, she tends to forget things and the Trushbrush tracker will help me ensure she continues to properly clean her teeth even as her dementia gets worse.

Remember To Get Your 10% Discount
Be quick, you don't want to miss out on the EXTRA 10% discount.
We could only get this deal for the first 100 of our 5 Minutes for Mom readers.
Get Your Truthbrush for 10% Off.


Disclosure: This post is sponsored, so extra thanks for reading and sharing.
Written by Susan Carraretto, co-founder of 5 Minutes for Mom
Talk with me: @5minutesformom and Facebook.com/5minutesformom
Pin with me at pinterest.com/5minutesformom