This post may contain affiliate links. Read my disclosure policy here.
Kinetic Sand brings home the fun of building castles at the beach, without the mess — or the sunscreen! Our kids tested and compared Spin Master's Kinetic Sand with four other play sands, including a DIY play sand, to find out what is the best kids play sand. This post and video are sponsored by Spin Master but our opinions are always our own.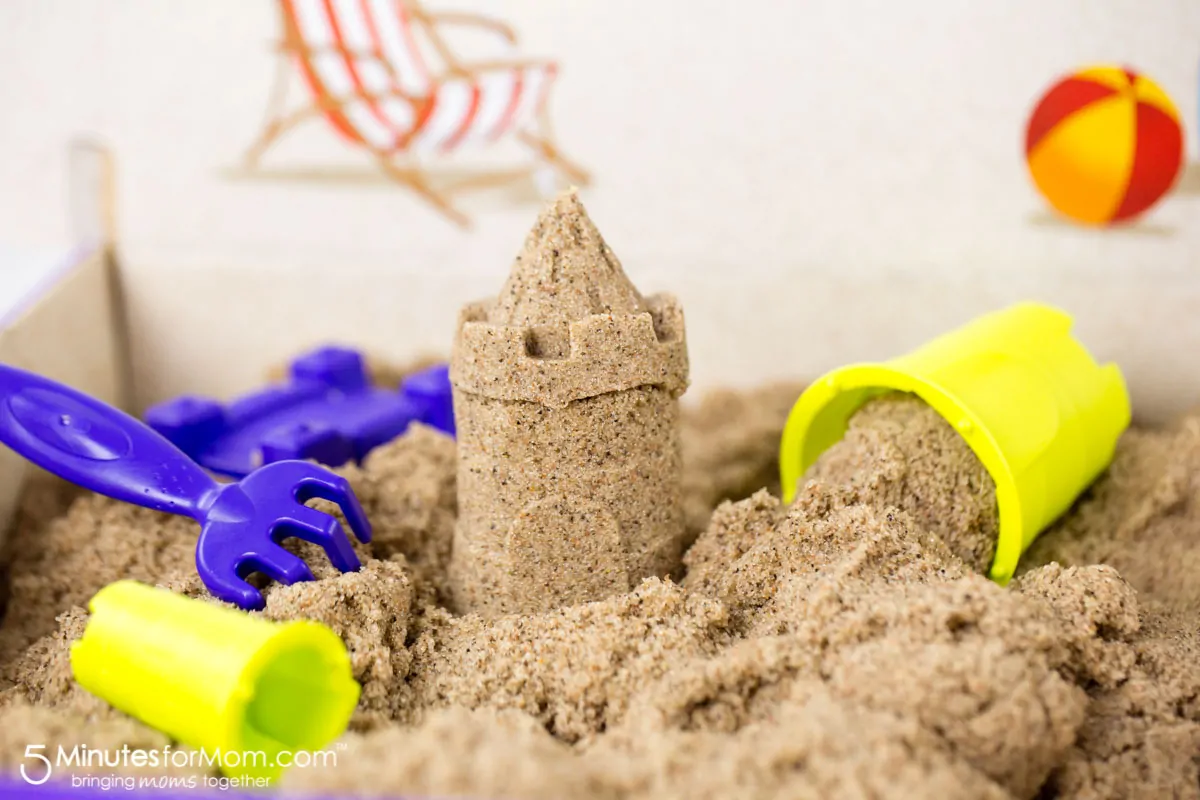 If I could close my eyes and wish myself anywhere in the world, I would land myself on a sandy beach next to an azure sea, where I could wiggle my toes in the sand while I sipped an icy drink and made sand castles with my kids.
Yes, there is nothing more peaceful than a perfect day at the beach — there is just something blissful about making sand castles and letting warm sand run through our fingers.
But when those white sand beaches and turquoise waters are thousands of miles away or we just don't want to slather on sunscreen and pack the car to head to our local beach, my kids and I can have some magical sand fun at home with Kinetic Sand — a play sand that is so addictive and oddly satisfying you will love it as much as your kids do.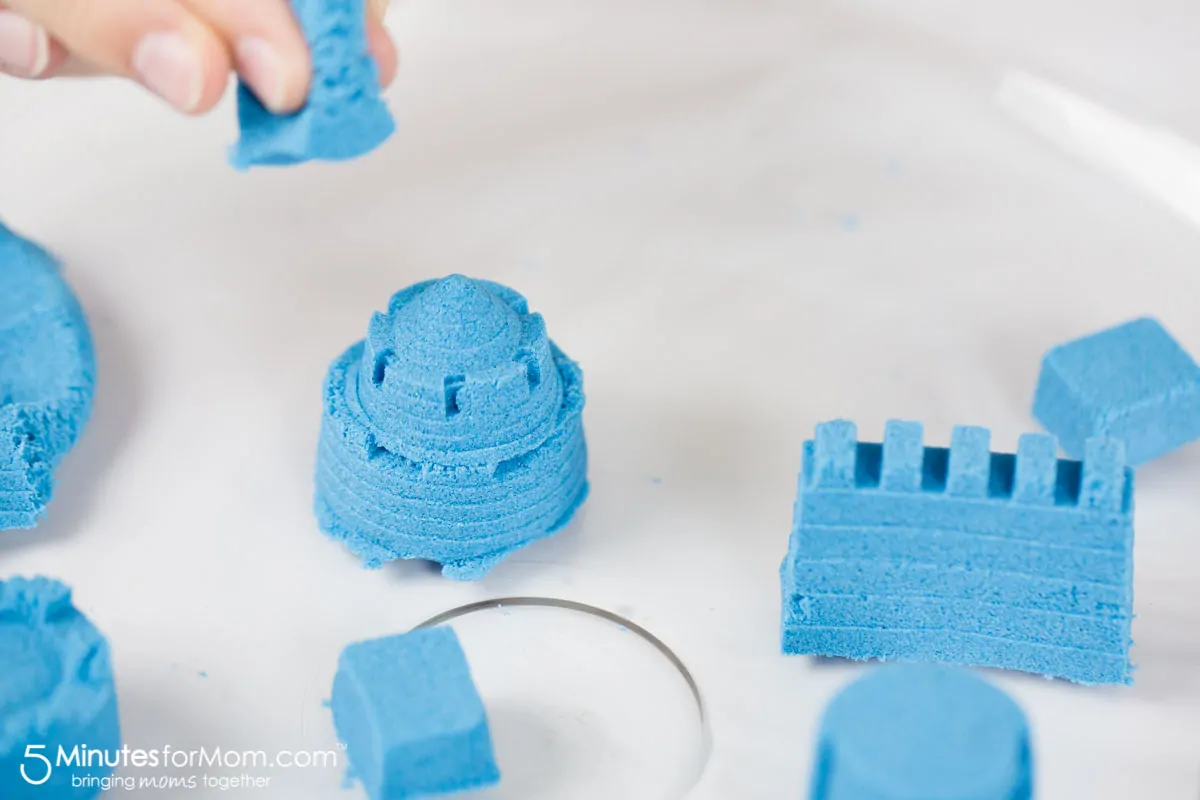 A Kinetic Sand Comparison — What Play Sand is Best?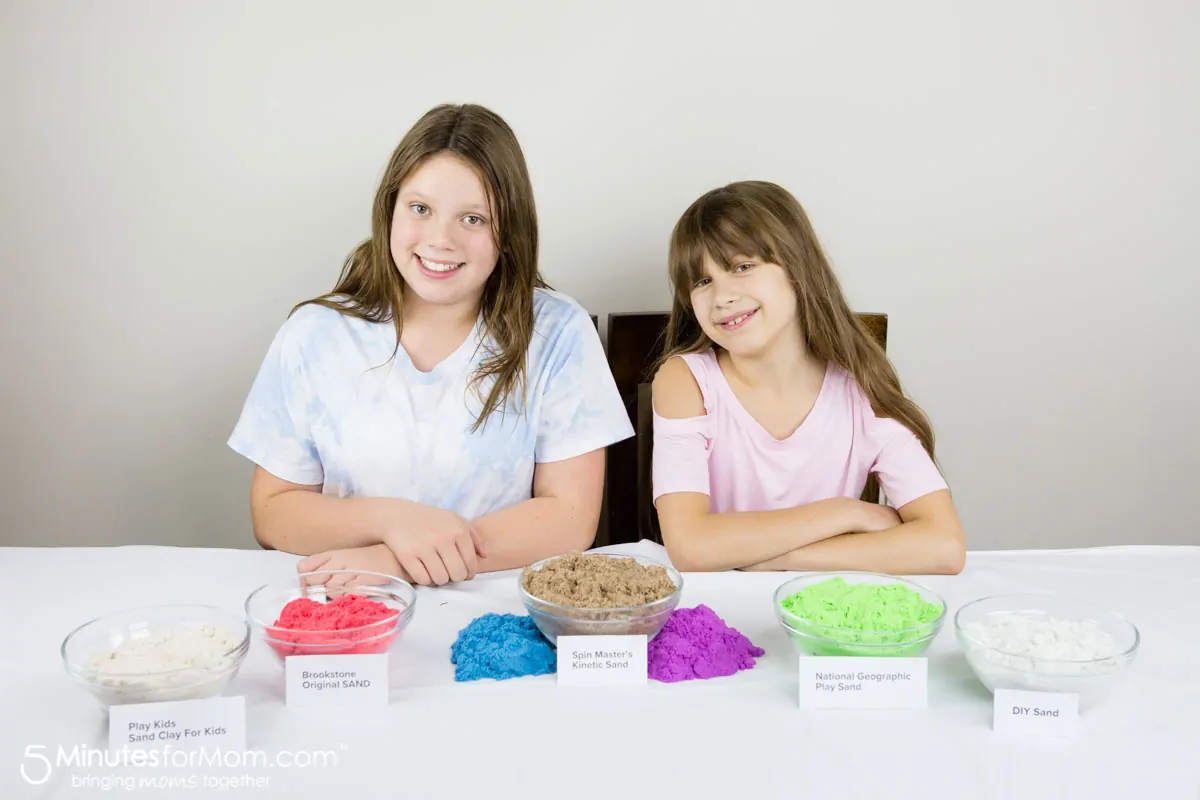 If you are wondering how Kinetic Sand compares to the other varieties of play sand on the market, our daughters, Olivia and Sophia, tested and compared Kinetic Sand with four other play sands, Play Kids Sandy Clay, Brookstone Original SAND, National Geographic Play Sand, and a DIY Sand we made ourselves.
Watch our video below to find out what our girls decide is the best (and least messy) kids play sand and how they ranked each one. You can also watch the video on our YouTube channel.
Kinetic Sand is a great sensory toy for kids and helps develop fine motor skills — but we bet you will play with it too! It really is a squeezable, satisfying sand sensation that you will never want to put down. So many kids can benefit from sensory play and this play sand is one of the easiest ways to give kids (and adults) that sensory input to help them relax and unwind.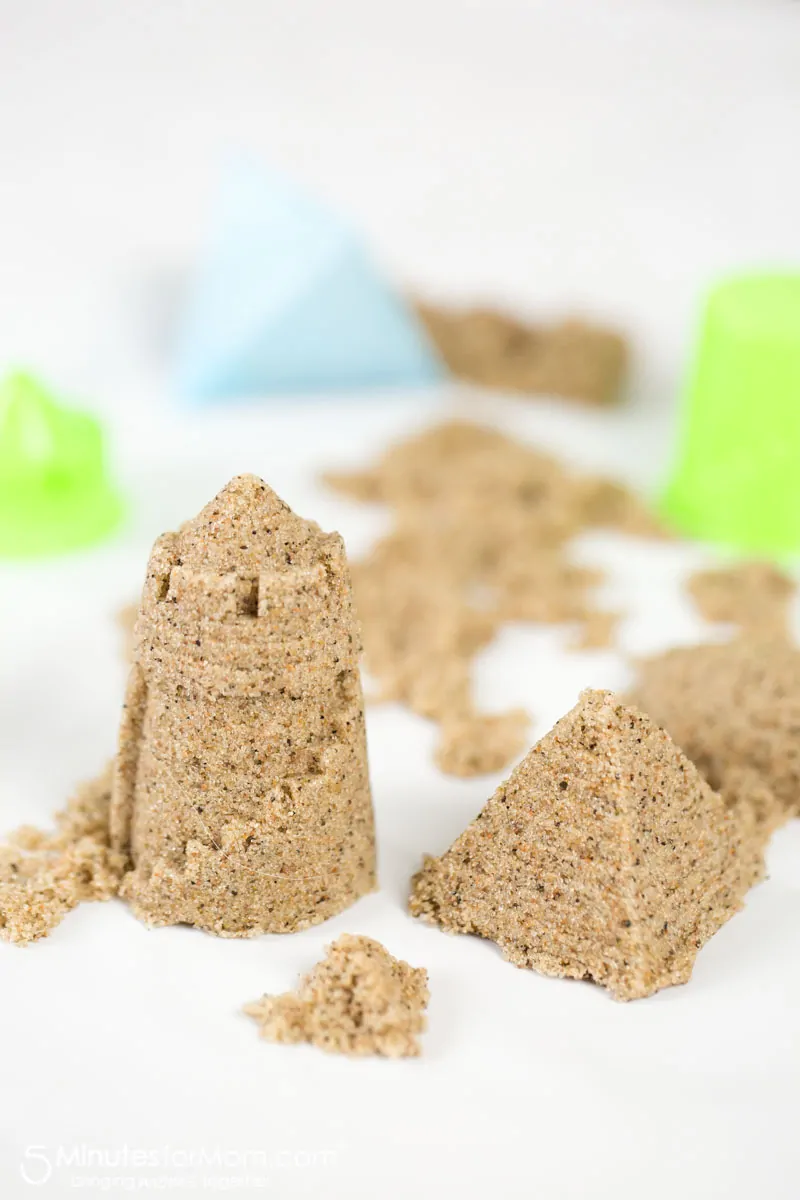 There is a good reason that Kinetic Sand videos and photos are blowing up online. When you grab a handful of Kinetic Sand, smoosh it between your fingers and begin to mold it into shapes, you will understand the power of this wild creation.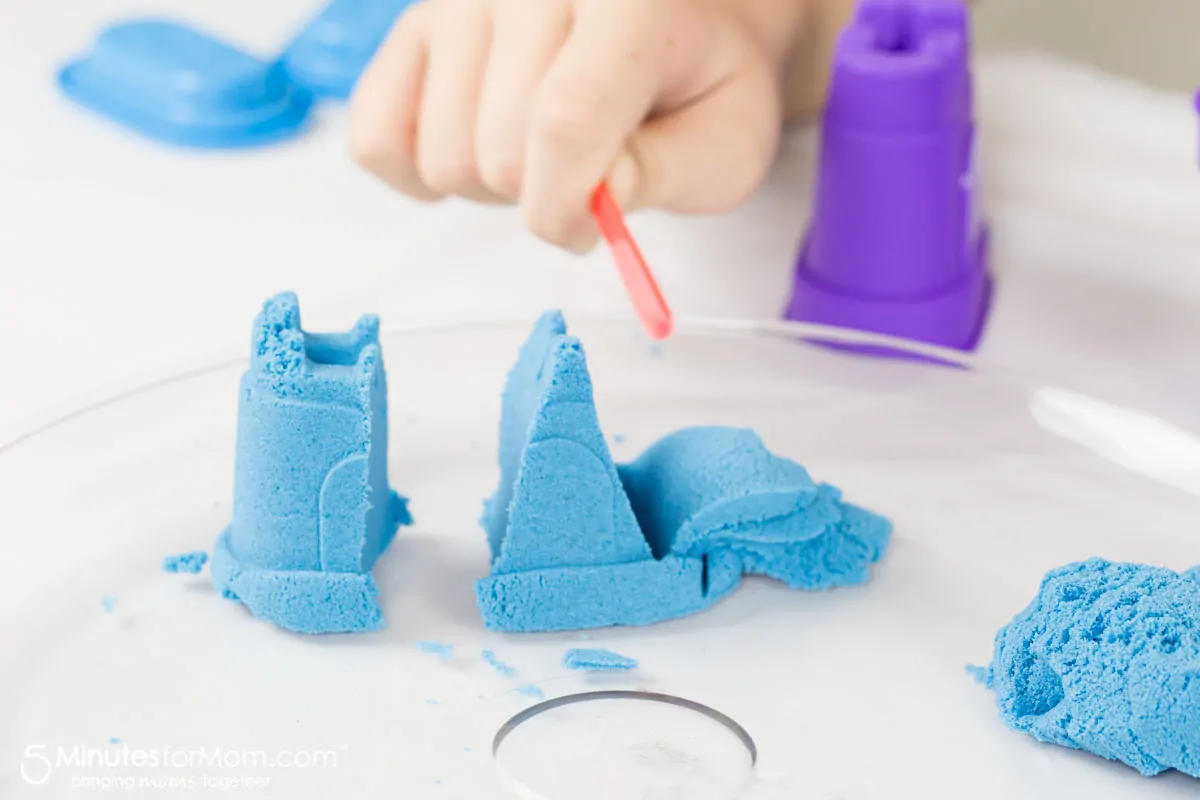 There are millions of views of people slicing knives into Kinetic Sand creations because it is so crazy satisfying! It is the strangest sensation — unlike anything you have felt before.
Once you see it, you too will be grabbing a knife and sliding it through Kinetic Sand castles too. It really is #SANDISFYING.
What IS Kinetic Sand?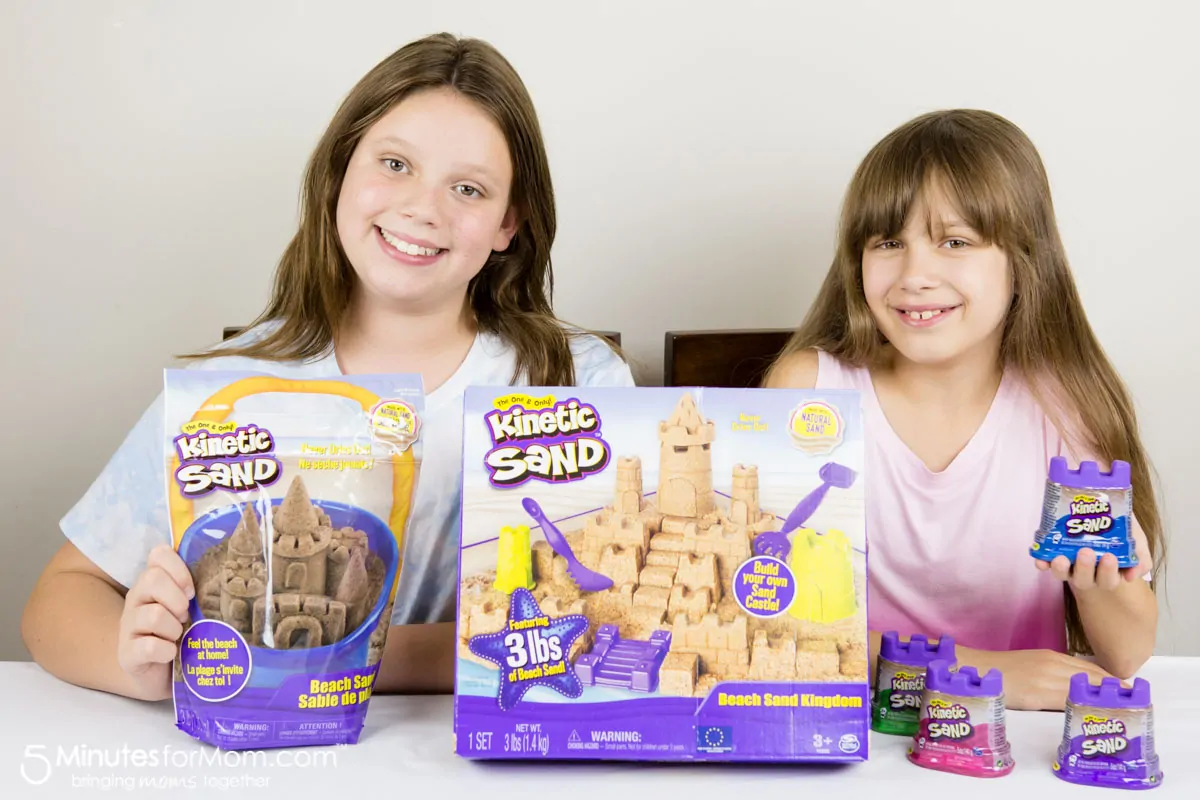 Kinetic Sand is a magical mixture of 98% sand and 2% polymer, or what we like to call magic. The polymer allows the sand to ooze, move, and flow — hence the name "kinetic".
But when pressed together, the polymer makes the sand stick to itself and keep its shape like wet sand yet leaves your hands completely dry.
So you can let Kinetic Sand flow through your fingers, oozing and melting before your eyes, or you can squish it, stretch it, shape it, and mold it into whatever sand creations you can dream up. And you can do it all WITHOUT making a mess!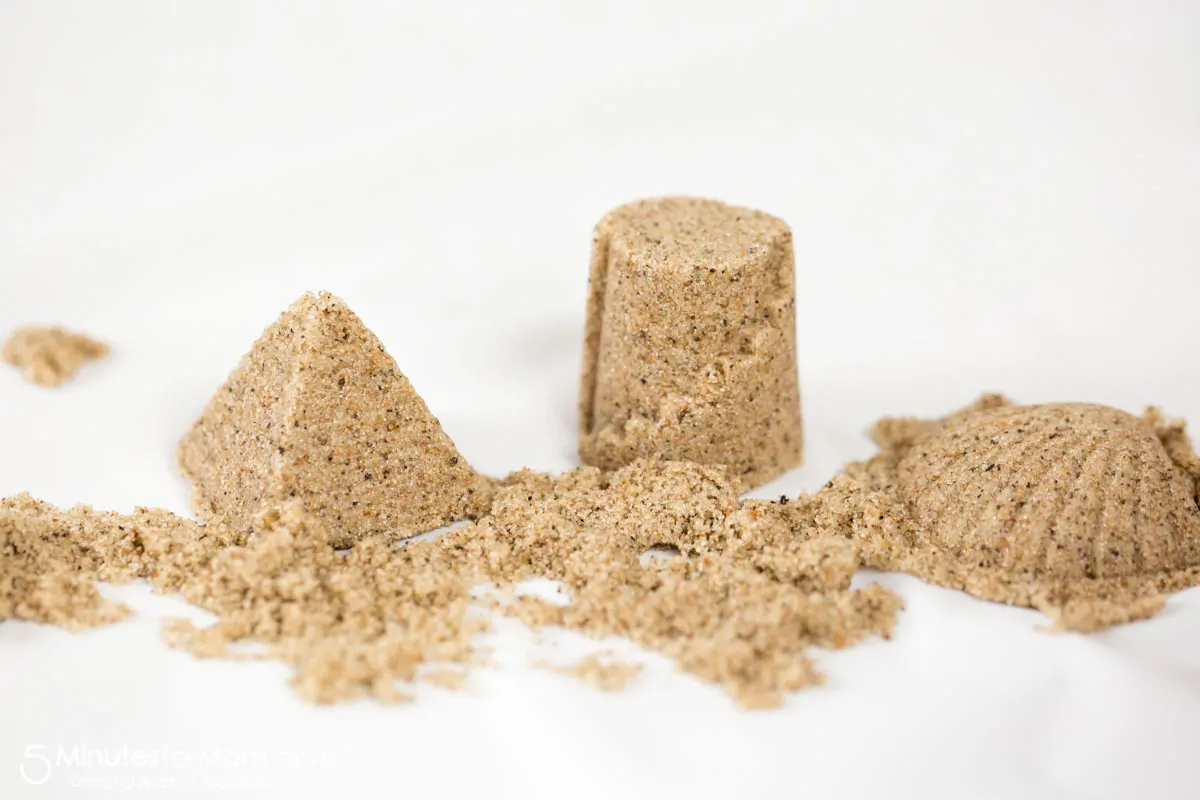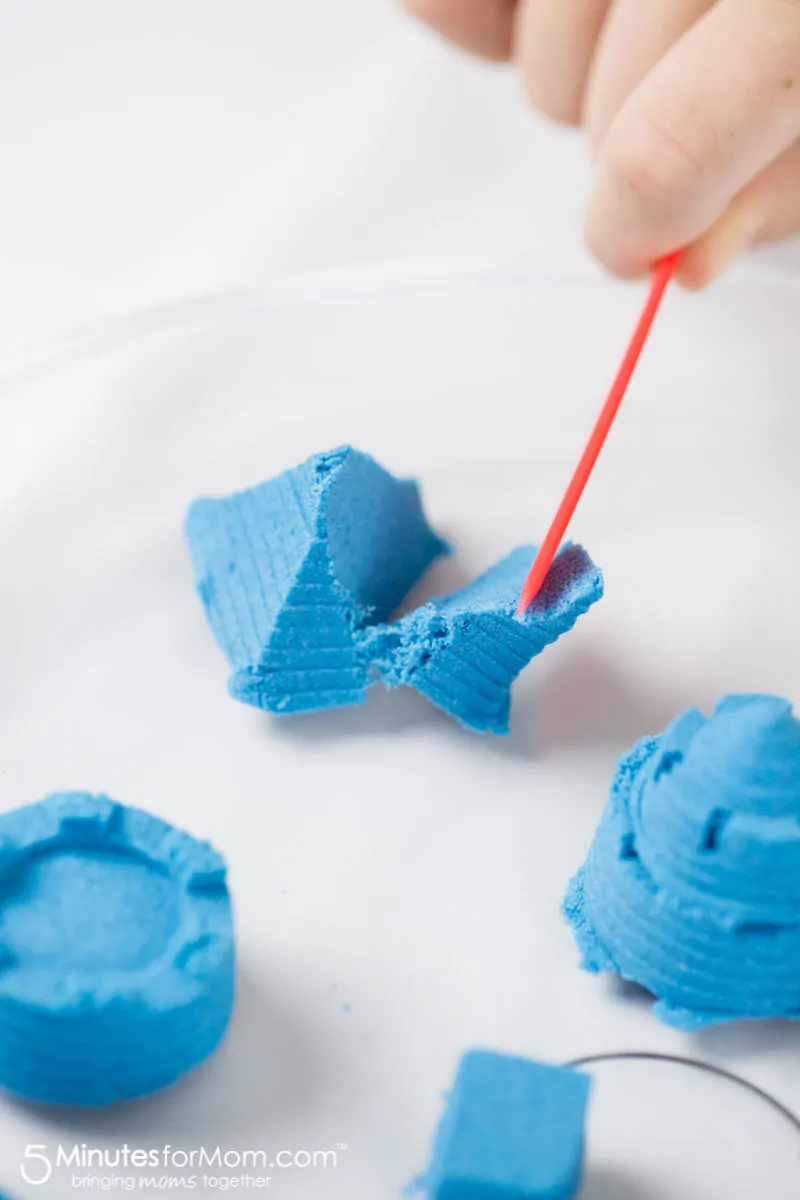 The sand sticks to itself and not to you or surfaces, so it doesn't make a mess and is easy to clean up. A mother's dream.
While the other play sands we tested promised to be mess-free, we found that only the Spin Master Kinetic Sand is truly mess-free.
Kinetic Sand comes in an array of multi-colored sand, from brilliant neon colors to shimmering metallic ones.
Even the colored varieties of Spin Master's Kinetic Sand didn't make a mess. We found the neon colors to be slightly softer and silkier than the beach sand version. And while the neon colors were slightly more crumbly than the beach sand Kinetic Sand, the clean up was incredibly easy.
The Kinetic Sand sticks to itself so you can just dab it up with a handful of sand.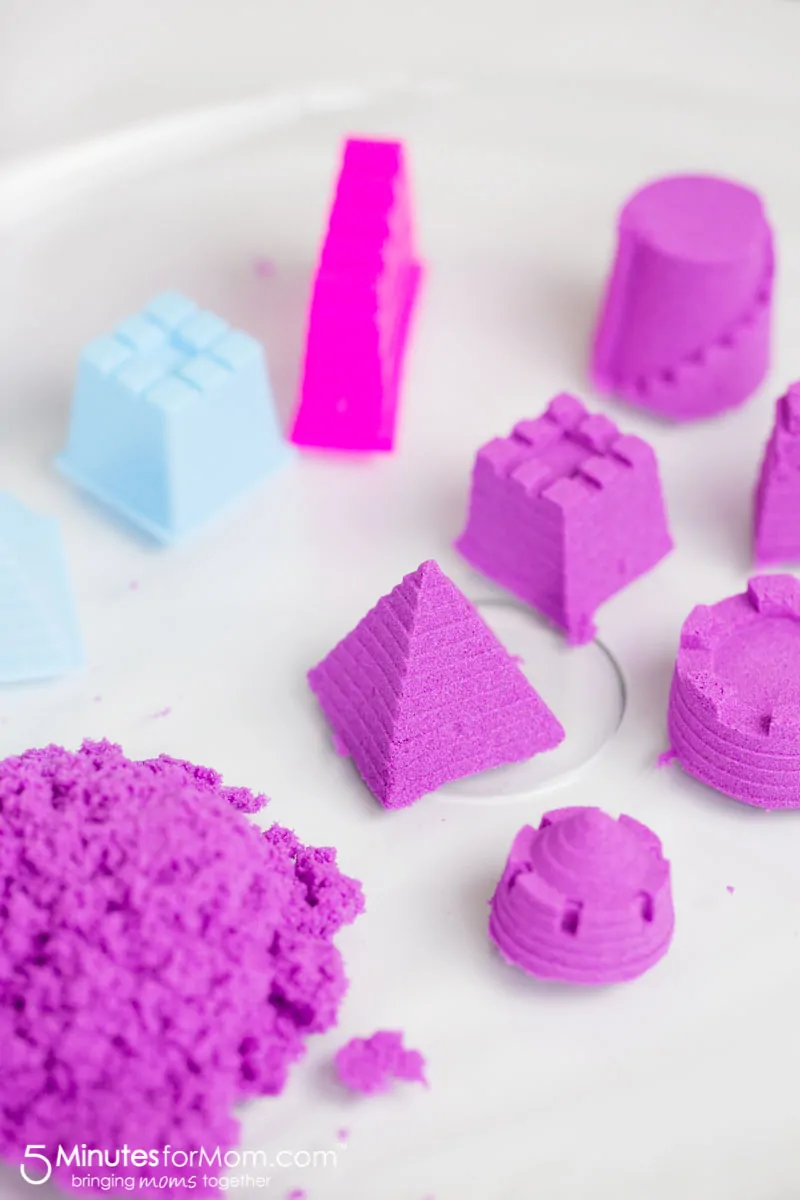 Something important we noticed was that while the red Brookstone Sand we tested was very crumbly and messy and it turned our hands and our white plastic tablecloth pink, the neon-colored Kinetic Sands didn't leave any color on us or on any surfaces.
We can let our kids play with all of the varieties of Kinetic Sand without worrying about staining or crumbly bits of sand everywhere.
And if allergies are a concern in your home, Kinetic Sand is made with 100% natural sand is free of gluten, casein, and wheat. So it is safe for kids with these allergies to play with (especially for kids who are allergic to the ingredients in Play-Doh.)
How To Make Kinetic Sand
As you can see in our video, we made DIY sand to test against the Kinetic Sand and other store brand play sands.
It can be tricky to get the consistency and mobility right. You can see in the video that it was too dry at first because we had made the sand a few hours before we filmed the video. So then we added some more of the soap mixture to activate the "kinetic" properties of the play sand.
You can play around with the amounts of each ingredient, but here is the basic recipe we used.
Supplies
3 cups fine grain sand
3 tbsp corn starch
3 tsp dish soap (This is the key ingredient!)
about 1 – 2 cups water (You may not need all the water.)
Just 3 Simple Steps
Add the corn starch to the sand. Set aside.
Add dish soap to water and stir.
Slowly add the soapy water to the sand mixture. Mix together with your hands. Add only as much of the soapy water as you need to get the desired consistency and moldability. You can add more as you play with the sand and it dries.
As our girls demonstrated in the video, the DIY sand is messier than the real Kinetic Sand and can't truly compete with the real thing. But it is still fun for kids to make and play with. You can even have your kids do their own experiment to see if they can make the best play sand possible.
For us as moms, we absolutely love how the real Kinetic Sand is so easy to clean up and doesn't dry out. You can keep it in a container in your playroom and the kids can play with it any time they want.
We have found that Kinetic Sand is such a fantastic sensory experience that it's great for all ages. Keep some handy for quick homework breaks for older kids and to soothe younger kids when they need a break to calm down.
Enjoy!

Disclosure: This post is sponsored, so extra thanks for reading and sharing.
Written and photographed by Janice Croze, co-founder of 5 Minutes for Mom
Talk with me: @5minutesformom and Facebook.com/5minutesformom
Pin with me at pinterest.com/5minutesformom