This post may contain affiliate links. Read my disclosure policy here.
Can kids wear contacts? How old do you have to be to wear contacts? Are contact lenses a convenient and healthy way to correct your vision? If you have kids or teens asking for contact lenses, here is what you need to know about contact lenses for kids and the whole family.
Thanks to CooperVision for sponsoring this post and providing us with sample contact lenses. We also want to thank the team at IRIS in Grandview Corners – Surrey, British Columbia for their fantastic service and allowing us to take so many photos and videos of our eye exams and contact lens fittings.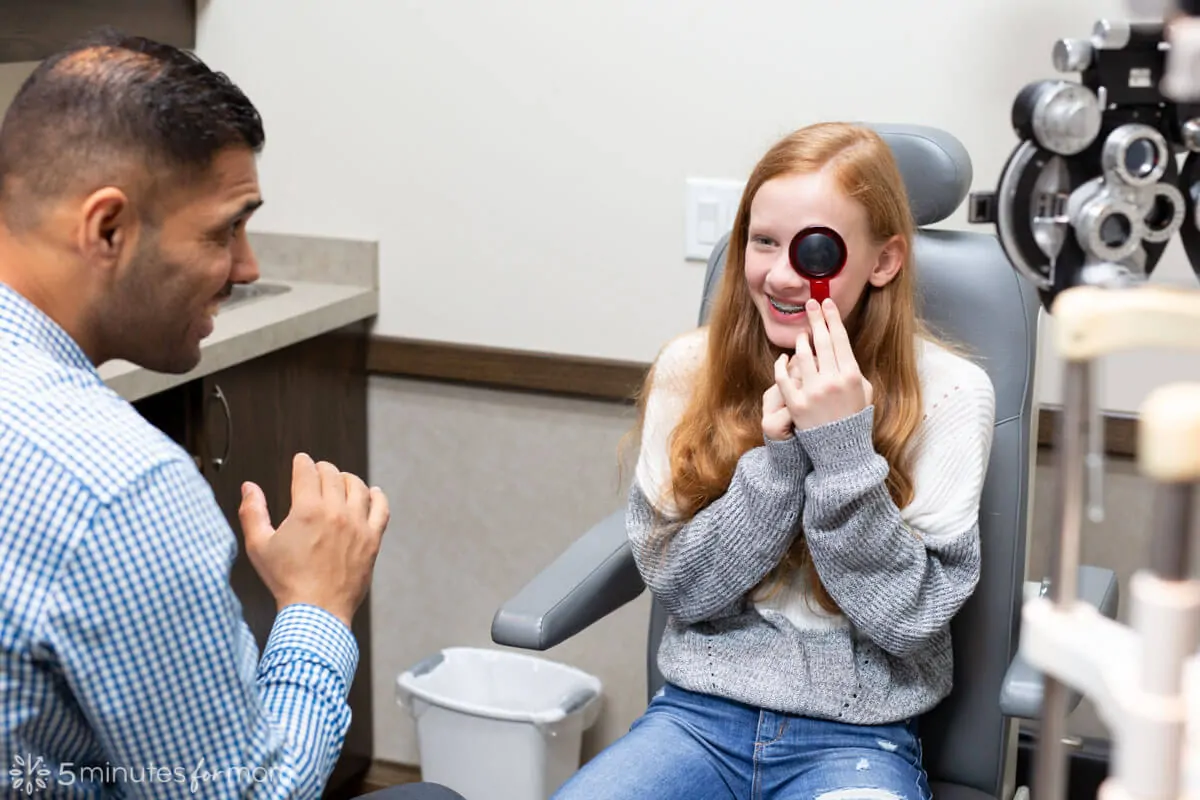 Be sure to also read the next two posts in this 3-Part Series:
Are you wondering about getting contact lenses for your kids? Or perhaps you want contacts for yourself or someone else in your family? Are you worried about what age kids should start wearing contacts? Or how to correct your astigmatism? Or the fact that you may need multifocal lenses?
We're here to help.
Watch our quick video below for a peek into our journey to get contact lenses. (My 11-year-old and 14-year-old daughters got their first contact lenses!)
We've Come A Long Way… And So Have Our Contact Lenses
I got my first pair of glasses during preschool. I was really young, but I think I remember trying on glasses in the optometrist's office with my twin sister, Janice. Of course, as identical twins, we had to have identical frames.
We didn't get to choose from the fun, funky glasses available for kids these days. Four decades ago the styles were… limited. I don't remember actually choosing our glasses. I think our mom made the final decision.
One thing I do remember is hating those brown circle frames. Janice and I would do everything to avoid wearing them, including leaving them in our desks at school, especially on Friday afternoons, or on the last day before vacation.
When we were 11 years old, we started begging for contact lenses. Our parents resisted and said we were probably too young for contacts.
Much to our joy and relief, when we went for our annual visit to the optometrist, he said we were indeed old enough to wear contact lenses!
Janice and I were in shock. It was really happening. We were finally free from our glasses!
For the next decade, we were almost never seen wearing glasses. If we were going to be seen in public, we wore our contact lenses. We were so grateful for those contacts.
Would Our Kids Need Contacts?
When we became mothers, we wondered if our kids would need glasses or contacts. Surprisingly, they hadn't needed them – until now. While Janice's kids still have good vision, my girls' eyesight has been slowly worsening.
So as part of our back to school routine, we went to get their eyes examined. The optometrist at IRIS in Grandview Corners told the girls they now need prescription lenses and they were so relieved to get fit for CooperVision clariti® 1 day contact lenses.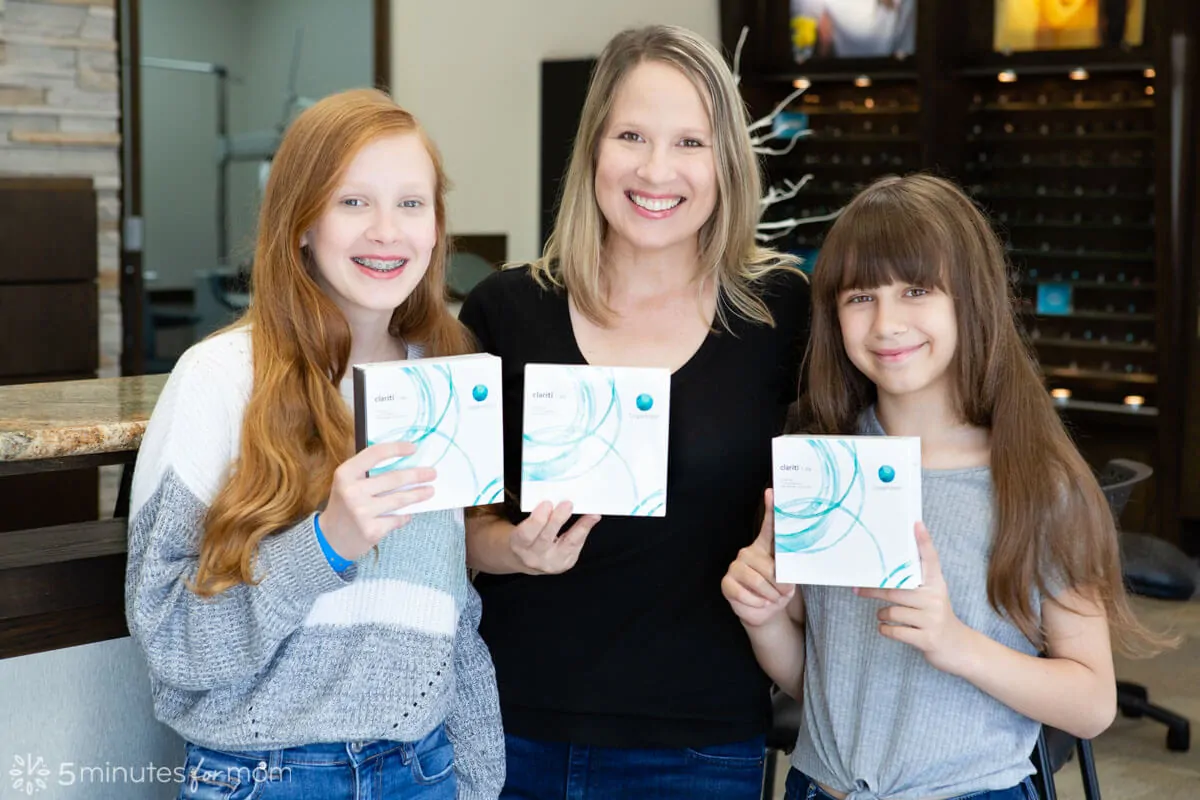 My eldest daughter, Julia, is 14 years old and doesn't want to wear glasses to school, so she is loving her new contact lenses. And since Julia is a cheerleader, it is great that she can wear contacts instead of glasses when she cheers.
My younger daughter, Sophia is 11 years old and is excited to have the option of wearing either glasses or contact lenses. She thought she would hate glasses, but she found a cute pair that she loves. So she is going to mix it up and wear her glasses on some days and her contact lenses on other days.
It is recommended that anyone who wears contact lenses get glasses as well, so that they have them as a backup whenever they don't have their contacts in their eyes. So, Julia picked out a cool pair of frames at IRIS as well.
Contact Lenses for the Entire Family – What You Need to Know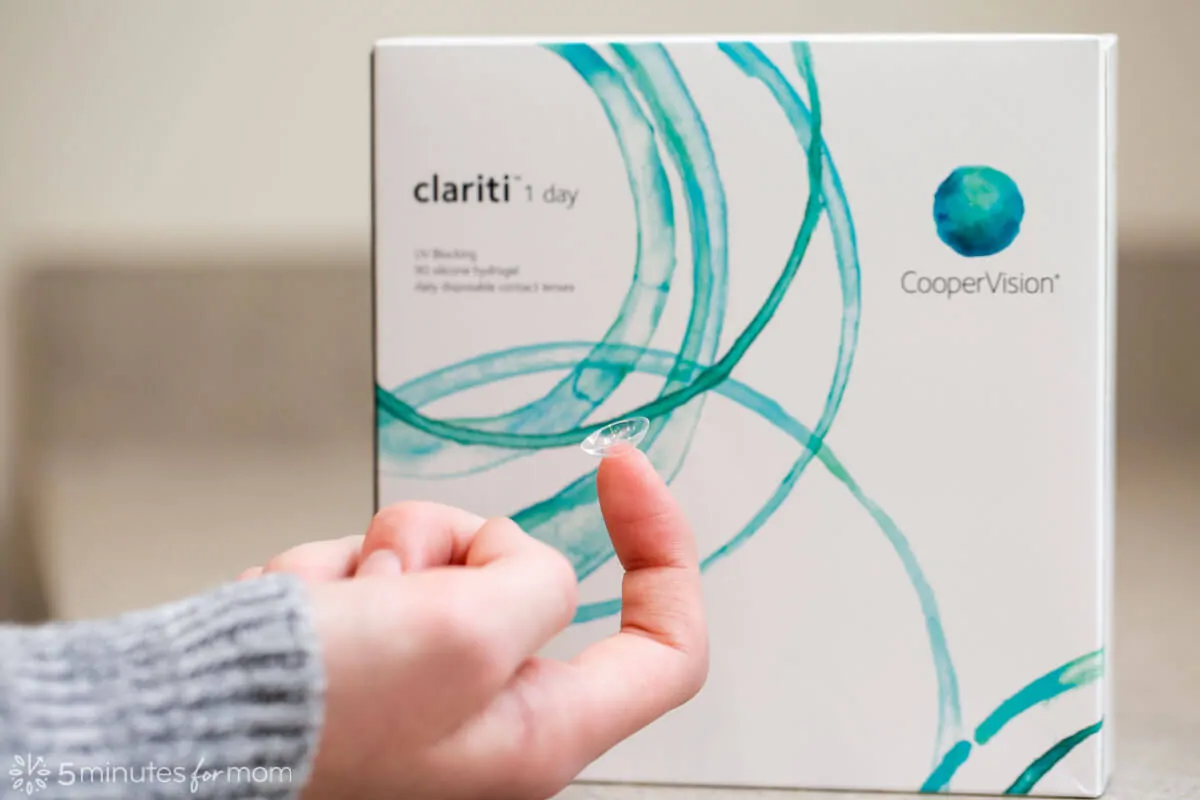 How old do you have to be to wear contacts? Can kids wear contacts?
Optometrists can fit contact lenses for children, tweens, teens, and adults. Children as young as 8 years old can learn to apply contact lenses on their own.
If you are trying to decide what age is appropriate for contact lenses, you really need to think about your own child's maturity level and if you think they are responsible and ready for contacts. The right age for kids to get contacts really depends on the individual child. Younger children are often more likely to take direction well and have more parental supervision.
Soft contact lenses have been shown to be a healthy way to wear contact lenses, irrespective of age.
But you may be wondering if contacts are a healthy way to correct your vision in the first place?
Can contacts help satisfy demanding lifestyles?
Yes, contact lenses can certainly help satisfy demanding lifestyles. The CDC says, "When cared for properly, contact lenses can provide a comfortable and convenient way to work, play, and live."
But they go on to explain, "contact lenses are medical devices, and failure to wear, clean, and store them as directed can increase the risk of eye infections, such as microbial keratitis."
So, the best way to help ensure contact lenses are clean, which may help to minimize the chance of infections, is to wear daily disposable contact lenses.
Which contact lenses are most ideal for kids?
Daily disposable contact lenses are the best option for children and teenagers because they are convenient – you don't have to worry about cleaning and storing the lenses.
Optometrists most frequently prescribe daily disposable contact lenses for children 12 years old and under.
You may find that daily disposable contact lenses cost a little more than monthly contacts, but we feel that the simplicity and convenience of this type of soft contacts make it worth the price difference.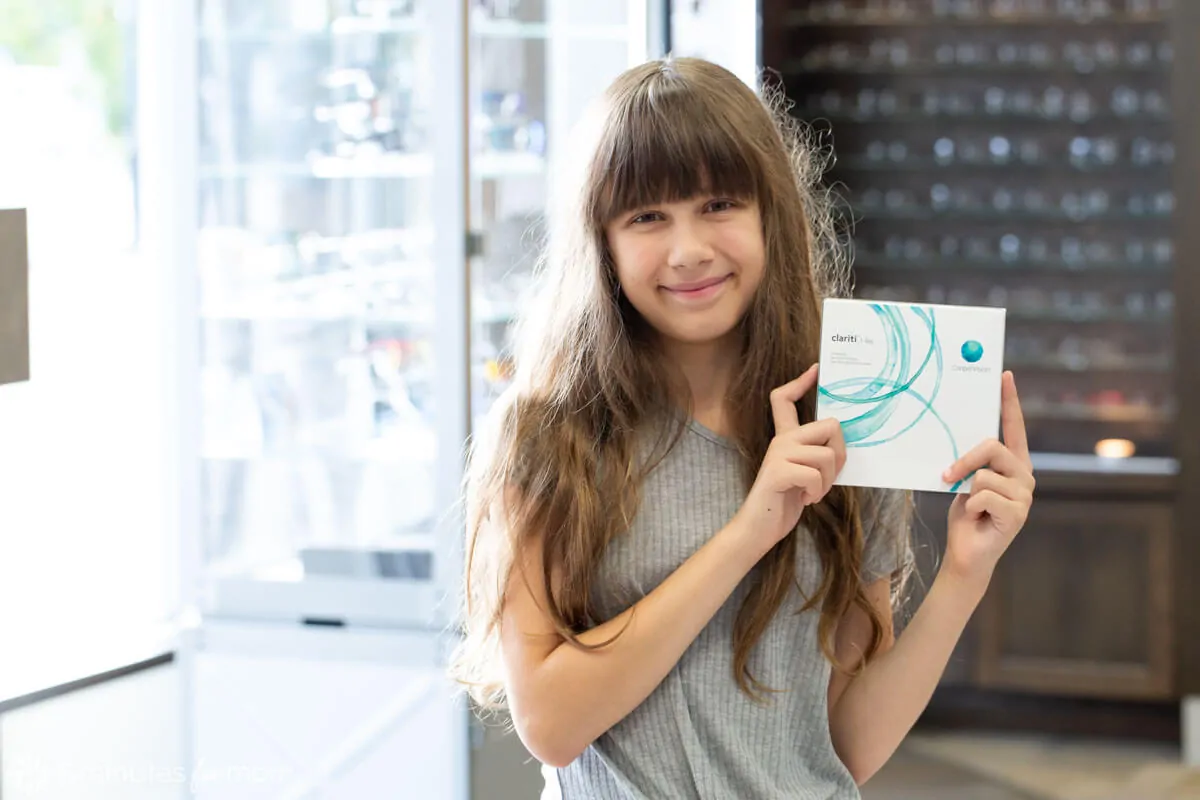 Are contact lenses comfortable and breathable?
Modern contacts can be so comfortable and breathable!
The CooperVision clariti® 1 day material allows for a lens that is soft and flexible.
CooperVision clariti® 1 day silicone hydrogel contact lenses deliver 100 percent of the oxygen your corneas need for white, bright eyes, all while also helping to block the transmission of some of the sun's harmful UV rays.
Silicone hydrogel contact lenses are the latest in a line of developments in soft lens material aimed at increasing the oxygen delivery.
Are contact lenses better than spectacles for sports?
If your child plays sports, contact lenses are an ideal solution when compared to glasses. Contacts give a wider field of vision, increased clarity, and improved peripheral vision.
And most importantly, athletes wearing contact lenses remove the risk of suffering injury from their glasses. They can also more comfortably wear helmets and protective goggles.
How do I teach my child to wear contacts?
Learning to apply contacts for the first time can be a challenge.
Not to worry. Your optometrist's office will teach your child how to apply contacts and remove them. They will ensure that everyone in the family can easily do it.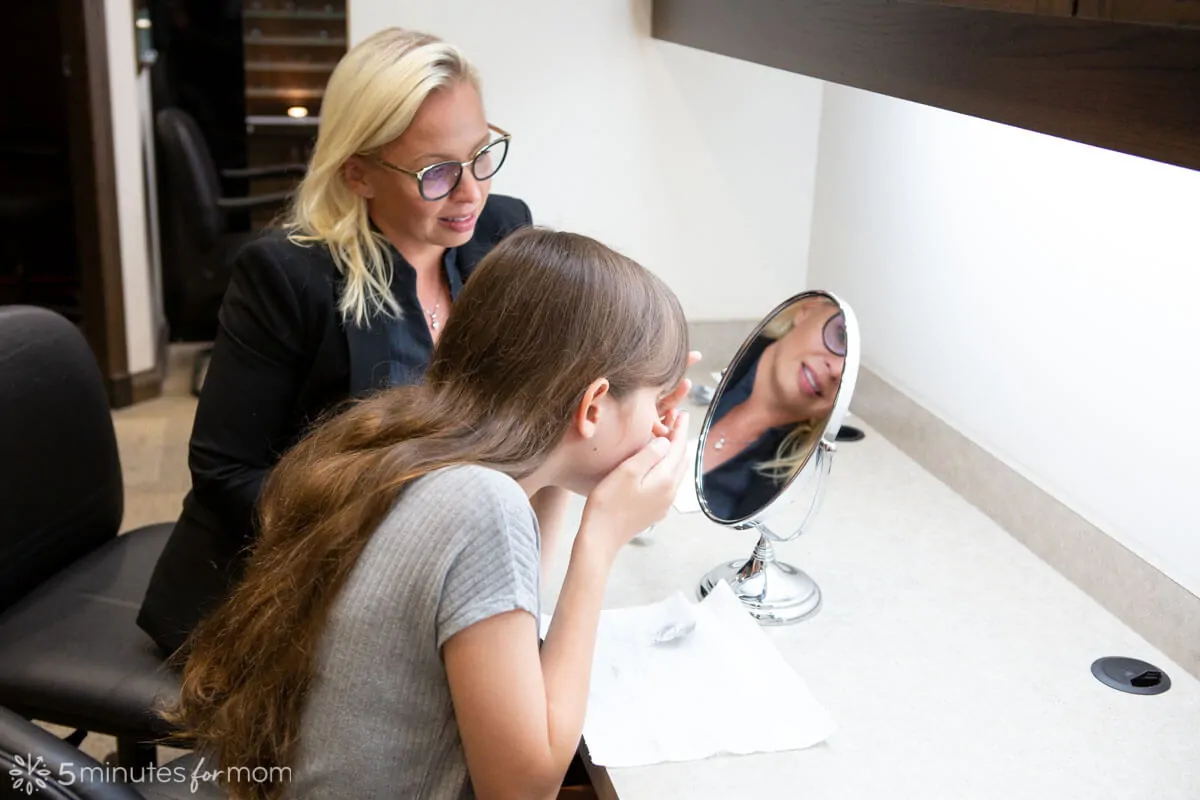 When Should I Take My Child to the Optometrist?
Regular eye exams are important for everyone. We book our eye exams before our kids go back to school in September. By keeping their eye exams as part of our back to school routine, it's easy to remember.
The American Optometric Association (AOA) recommends that you take your child for their first eye exam between 6 months and 12 months of age. And if their vision is good, you can wait until they are between 3 years old and 5 years old for their second visit. Then, be sure to take them again before they start grade 1 and then continue annual checkups.
Even when children have vision screenings at school, eye exams at the optometrist are important to test other areas of vision such as color vision or focus and tracking problems, and to check the general health of the eyes.
Depending on where you live, your child's eye exam might be covered by the government. If not, check your health insurance, as it will likely be covered.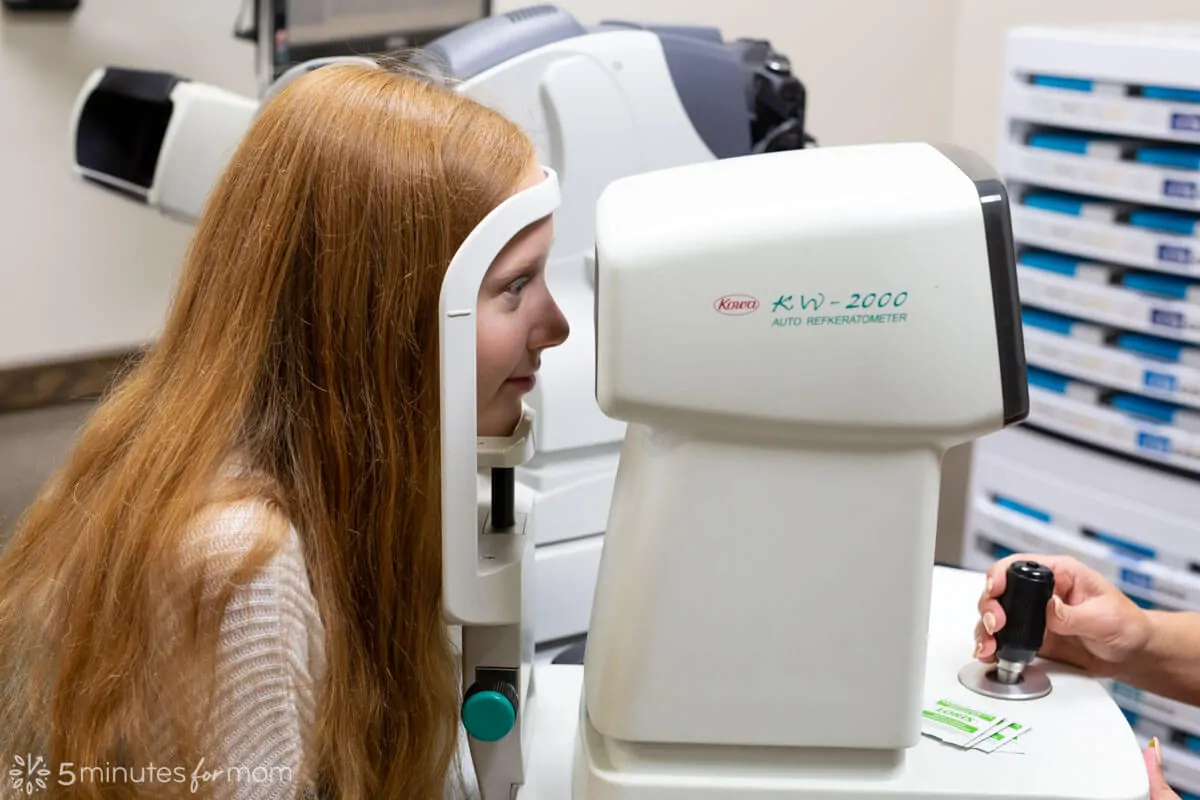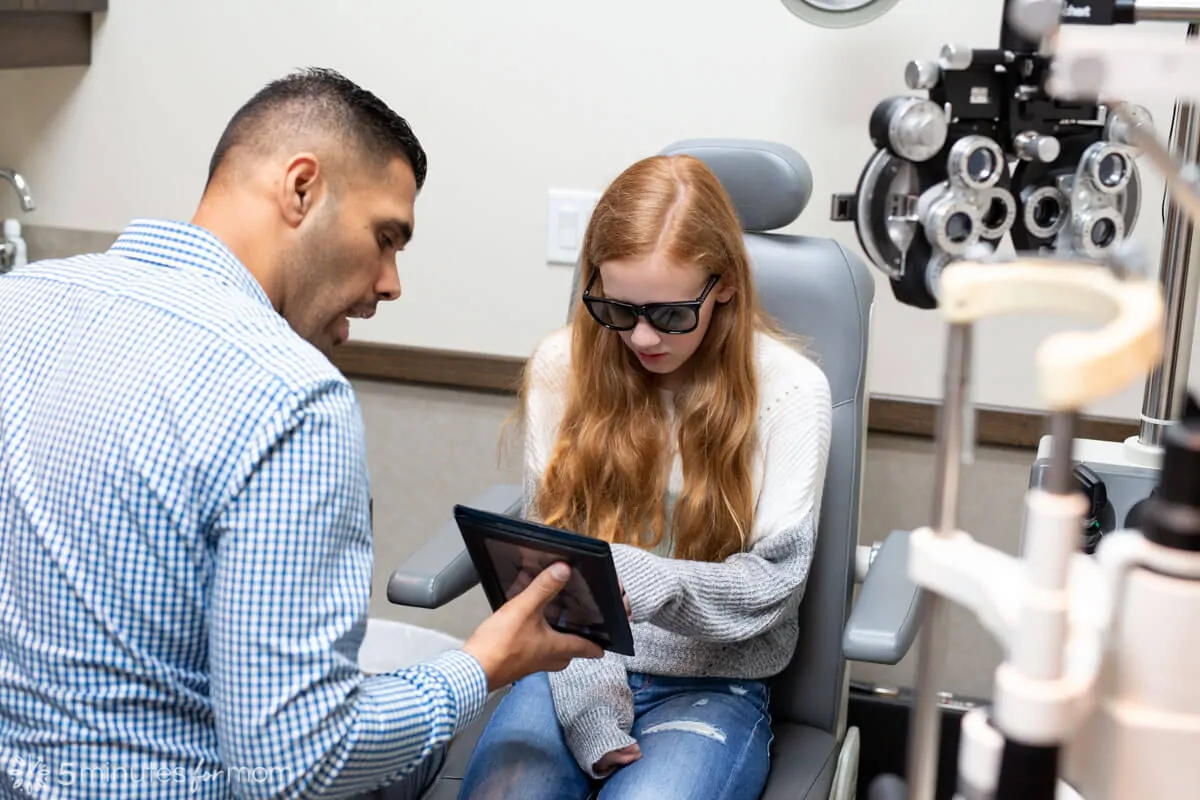 Can contacts work for complicated prescriptions?
If you are like me and have a complicated prescription, you might be wondering if contact lenses will work for you.
The CooperVision clariti® 1 day family of contact lenses covers most vision correction needs – whether you are nearsighted, farsighted, have astigmatism, or need reading glasses.
Adults who require reading glasses and are also nearsighted or farsighted can use clariti® 1 day multifocal.
In fact, you might be surprised that contact lenses make your vision even clearer than eyeglasses.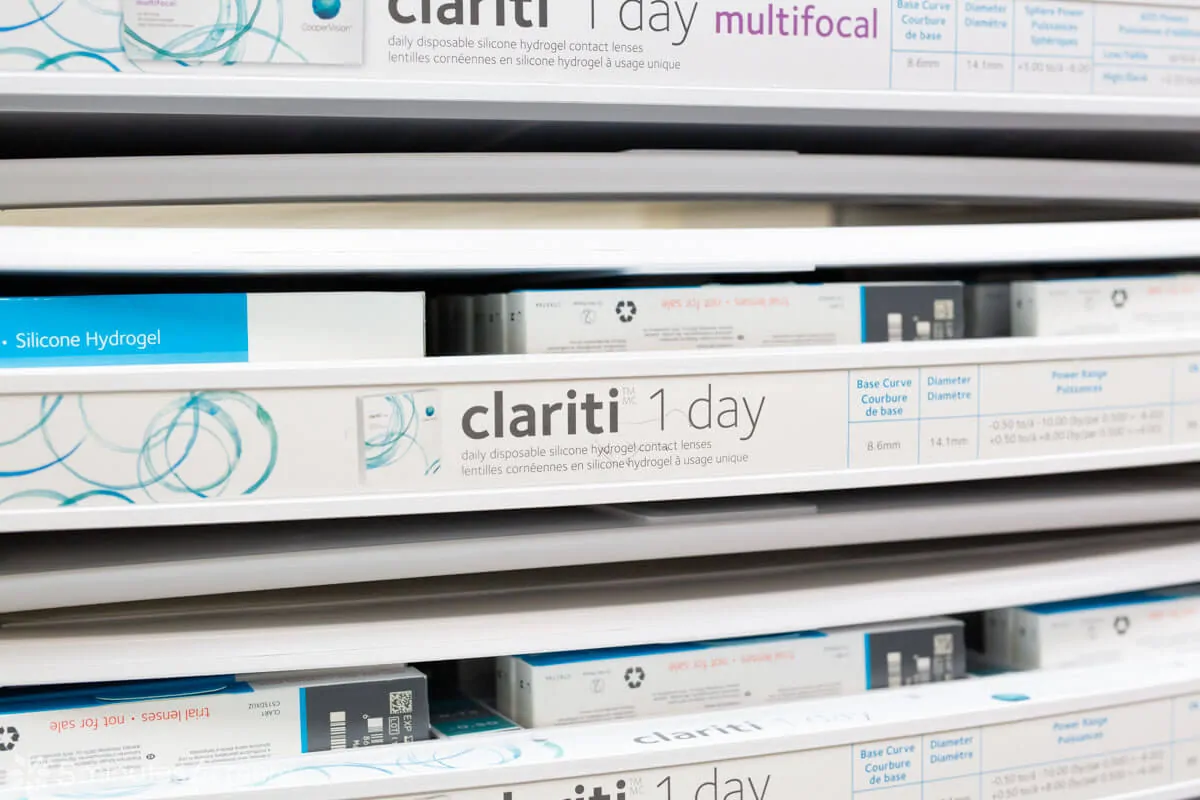 How do I get contacts?
Getting contacts might seem overwhelming, but it really isn't. You just need to go to an eye doctor and they will guide you through the process. Here are some tips to find an eye doctor.
Contact lenses are medical devices and need to be fit properly to ensure your vision is optimally corrected and the ongoing health of your eyes is monitored.
The optometrist will give you a prescription for contact lenses. Please note that your contact lens prescription will be different than your eyeglasses prescription.
You can order your contacts through your optometrist's office to make the process as simple as possible. They might give you a sample set to try for a week to ensure the fit is perfect. Then, they will order the lenses and call you once they arrive.
Remember, it's important to ensure your contact lenses fit correctly, so it's best to order your contacts through your eye doctor.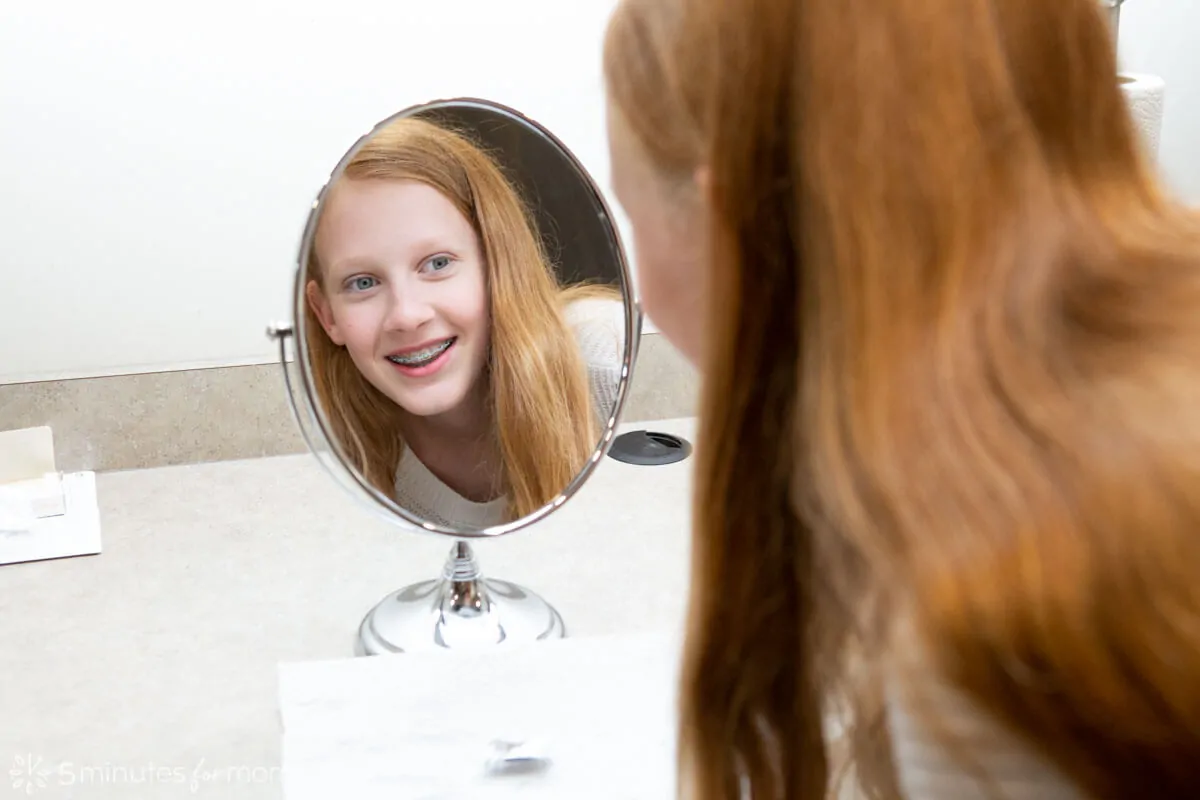 You can also shop online if you know exactly which contact lens you need to purchase. For instance, once you know you want clariti® 1 day from CooperVision and you have your prescription, you can search online and purchase from a number of different online retailers. You should do some research to make sure the online reseller you are considering is reputable – check with consumer groups or your eye care professional.
However, if you are getting contact lenses for the first time, or you need a new prescription, I definitely suggest you order your contacts directly through your eye doctor. They will ensure you get the right contact lenses and help you achieve your best vision possible.
Get a FREE TRIAL of contact lenses here…

Pin it for Later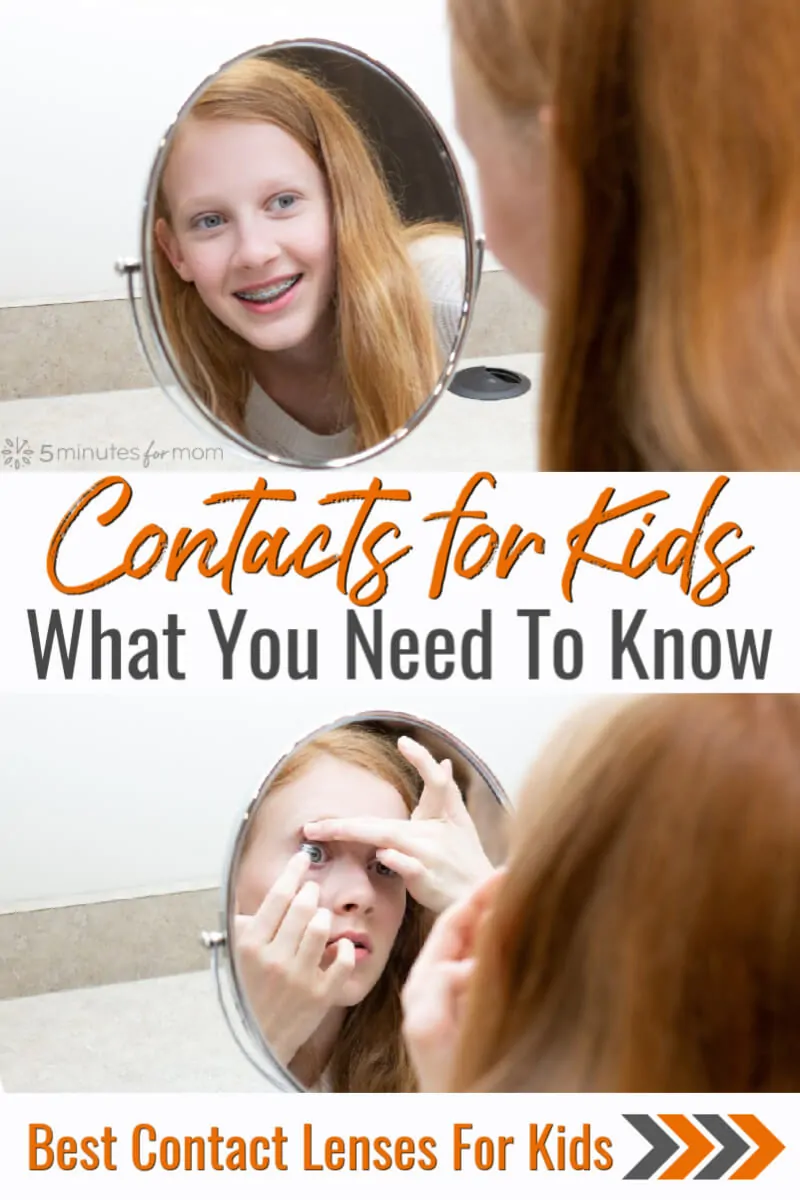 Disclosure: This post is sponsored, so extra thanks for reading and sharing.
Written by Susan Carraretto, co-founder of 5 Minutes for Mom
Talk with me: @5minutesformom and Facebook.com/5minutesformom
Pin with me at pinterest.com/5minutesformom