This post may contain affiliate links. Read my disclosure policy here.
Do you want to make Valentine Sugar Cookies FAST? We're here to help… Follow our easy Valentines Day sugar cookies recipe and use our quick tips for success! And if you want gluten-free sugar cookies, this recipe provides options for regular flour and gluten-free flour.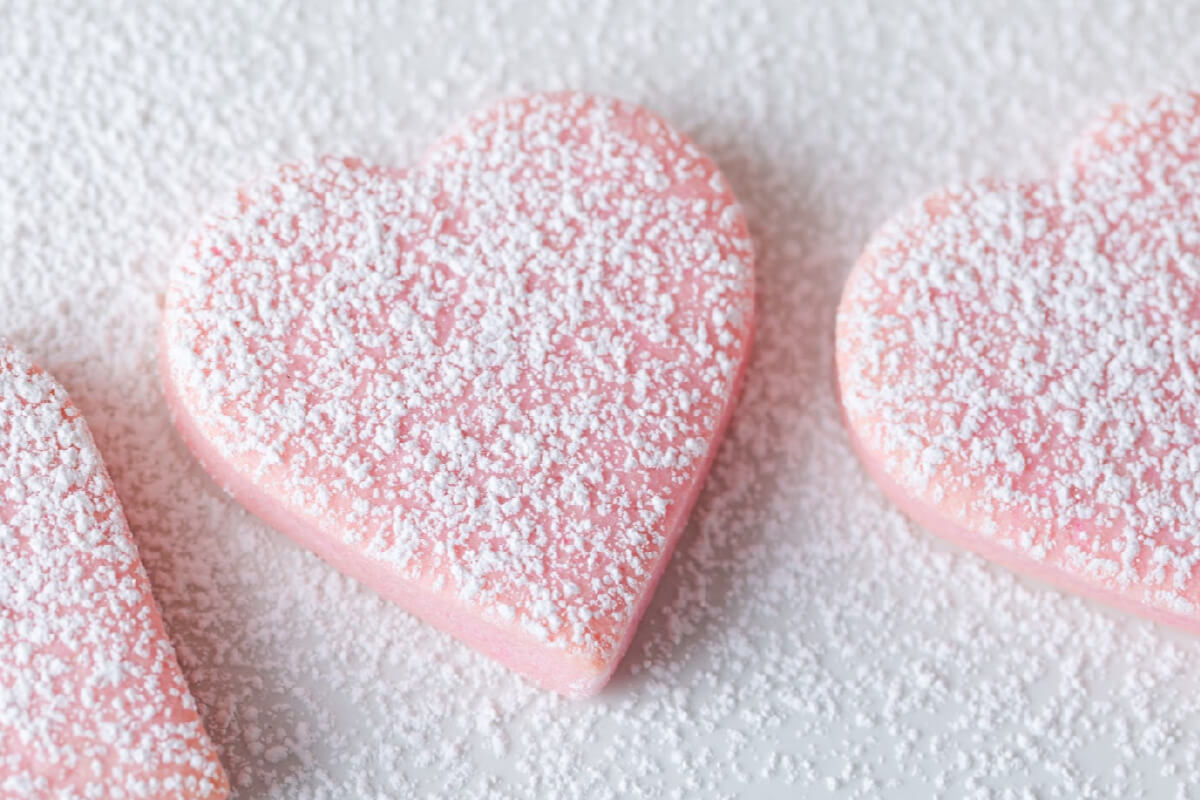 How to Make Beautiful Valentine Sugar Cookies… in a Hurry!
Don't have time to waste?
I have a feeling you are about as busy as I am — which means you don't always have time for the extras in life, like when your child comes home from school asking to make sugar cookies for the class Valentine's party. Your first instinct is to pick up a couple dozen from the bakery in the morning and put them on a plate and cover them with plastic wrap. No one needs to know. But, your daughter begins to jump up and down with excitement over the idea of making them with you, and you just can't break her little heart.
So you hit Pinterest to find a recipe. And then you start to whimper a little. Quietly, so your daughter doesn't hear. You don't have time for chilling dough overnight or waiting 24 hours between coats of royal icing. And speaking of making royal icing, who has meringue powder in their cupboard??? This is Thursday night people. The party is tomorrow!
How To Make Easy Valentine Cookies
It is time for short cuts baby. And I promise you, your valentine sugar cookies will be so delicious, no one will miss the layers of royal icing.
(Of course, no disrespect to royal icing. If you have time, decorate away! I adore incredible sugar cookie designs, but some moments call for short cuts.)
Color Them Quick
It is Valentine's Day and you want your cookies to show it. You and your daughter want Valentine sugar cookies that are playful and cute. But that doesn't mean you need to mix up five shades of homemade royal icing.
Nope, a couple of quick drops of pink or red food coloring into your DOUGH will do the trick.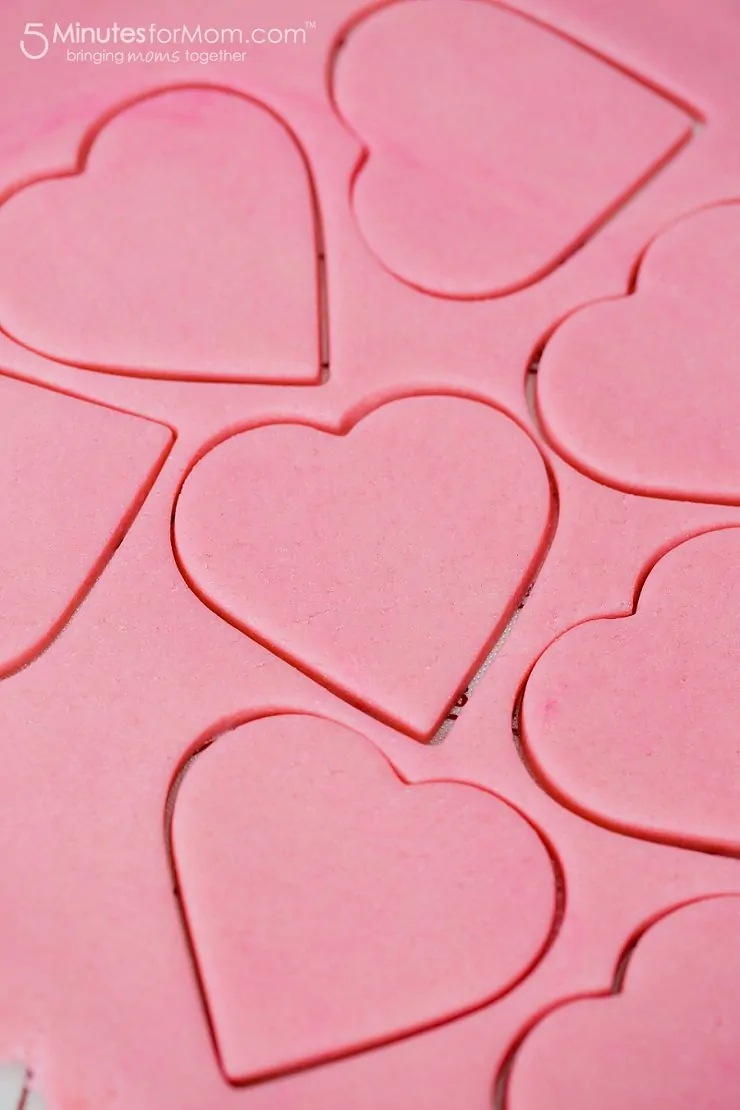 Yes, you have got your color within seconds. Just knead the food color throughout the dough before you roll it out and then cut those heart shapes. (If food dyes bother you or your child, you can buy natural food coloring. It is much more expensive than regular food coloring, but it is a great option.)
Another time-saving, headache-saving tip is to roll and cut your dough on the parchment paper you will use on your cookie sheet. Then just peel up the extras and leave the cookies on the parchment.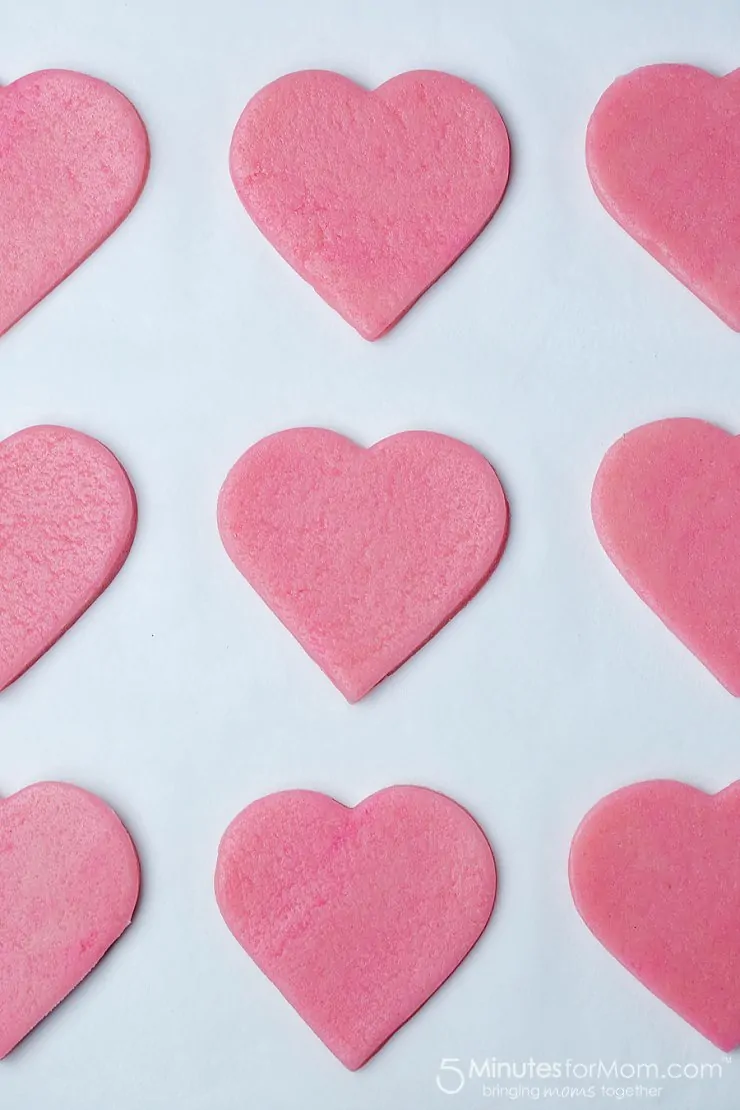 Cool Them Down Fast
If you don't have time for excessive dough chilling, it is ok. Your valentines day sugar cookies will survive and still taste great.
Once you have rolled out your dough on parchment and cut out your first batch of hearts, move the parchment onto a cookie sheet and pop in the fridge while you heat your oven and continue rolling and cutting out the rest of the cookies. Remember, you will need to roll out onto something that won't stick to your dough, such as parchment paper or a baking mat like a Silpat.
If your flour is sticking to your floured rolling pin, you can roll your dough between two pieces of parchment or wax paper.
Also, I find greasing my cookie cutter with a bit of butter or oil works better than flouring it if it is sticking to my dough. Although, the batch pictured here didn't stick at all.
It rolled and cut perfectly with no flouring. I just used my baking mat and my rolling pin. I even used my fingers to pick up the hearts and move them onto my parchment lined cookie sheet.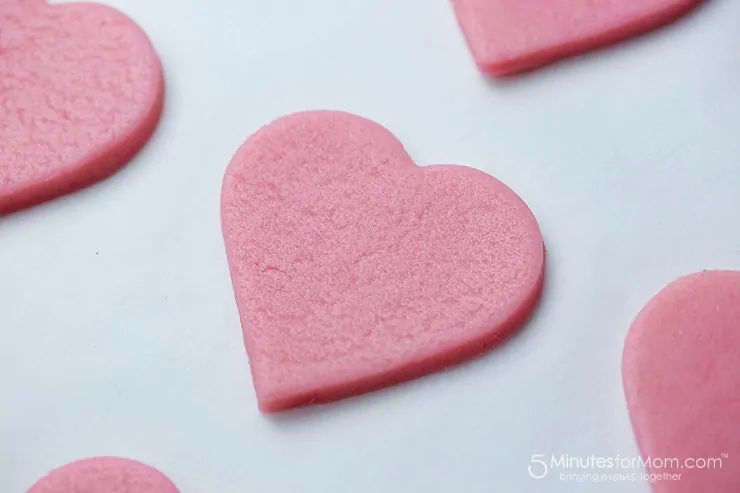 When the first sheet is in the oven, pop the next filled cookie sheet in the fridge to cool while the first sheet bakes. And keep a CLOSE eye on the oven.
Sugar cookies bake super fast and will be done between 6-9 minutes, depending on size and thickness.
You want to take them from the oven the moment the edges hint at brown and the centers look firm. You might think they aren't done, but they will finish cooking on the baking sheet. The longer they cook, the crispier your cookies will be.
Powder Them Up
If you don't have much time between cookies coming out of the oven and running out the door, or if it is bed time by the time the cookies come out, no worries. Decorating these cookies is faster than powdering your own nose.
Simply allow the cookies to cool for a few moments on the parchment lined baking sheets.
Then slide the parchment with the cookies still on to a cooling rack to continue to cool.
Or, if your cookie sheet has sides and sliding won't work, use a thin spatula to place cookies on to rack.
When the cookies are cool, grab a mesh strainer (a small one or even a large one will do,) and pour in a bit of icing sugar.
Dust the cookies with the sugar and you instantly have decorated, adorable sugar cookies.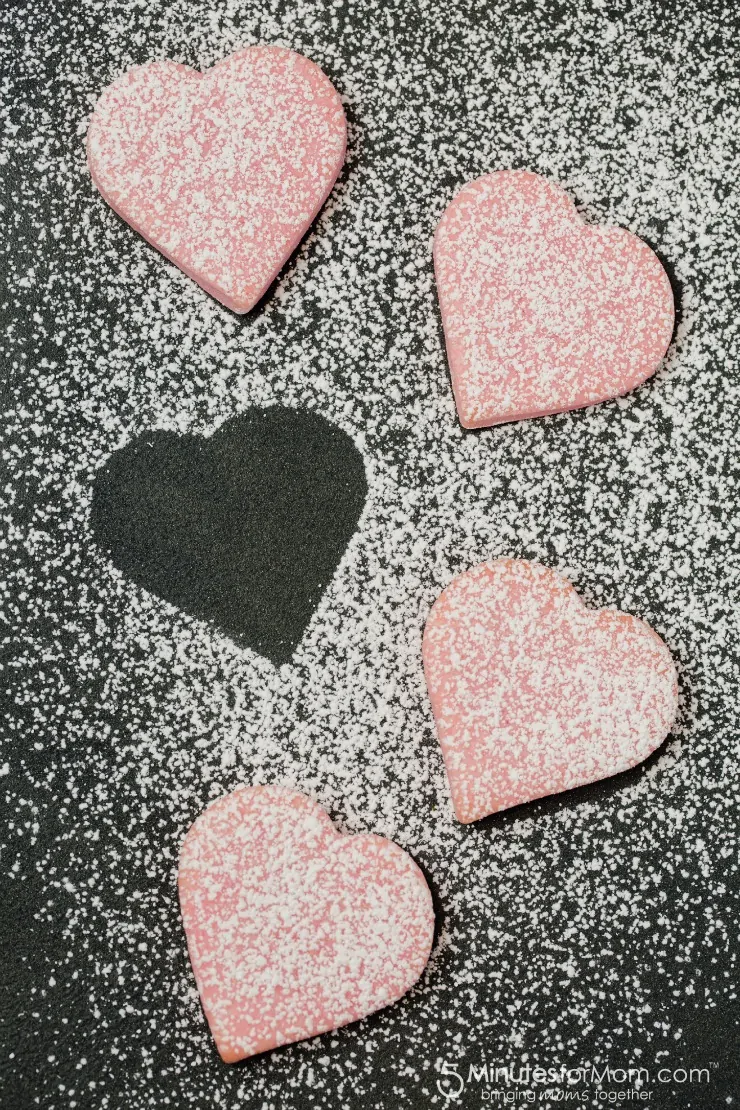 There is no waiting for icing to dry, just wrap up your cookies and you are good to go. And perhaps the best part of these powdered sugar cookies — they aren't nearly as sugary and sweet as cookies with a thick layer of icing. Yes, I use that reasoning when I eat more than a few as I pack them up…
Fast and Easy Valentine's Sugar Cookies — and Gluten-Free if You Choose
This recipe will work with gluten or without. I often choose to make our cookies gluten free. I used Better Batter Flour for this batch and they were delicious. I have also used an almond/coconut/rice/tapioca flour blend I made as well, and it was wonderful.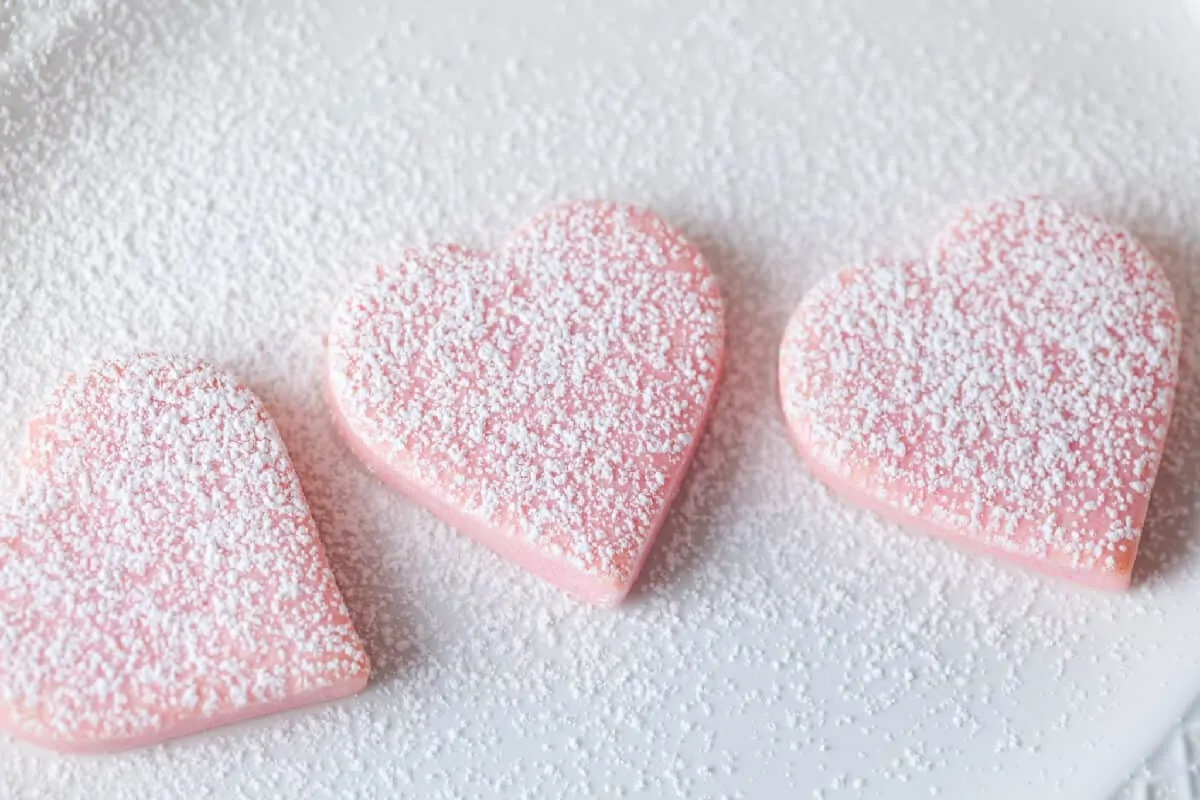 The key to making delicious gluten free baked goods is a great flour blend. If you just use rice flour, your baking will be sticky, gluey and very disappointing. You can purchase good gluten free blends or you can make your own blend. I have spent the past few months experimenting with different versions of flour blends and I have created a recipe to Make Your Own Gluten Free Flour Blend using my favorite combinations and the great resources I have found.
With wheat or without, this basic sugar cookie recipe will serve you well…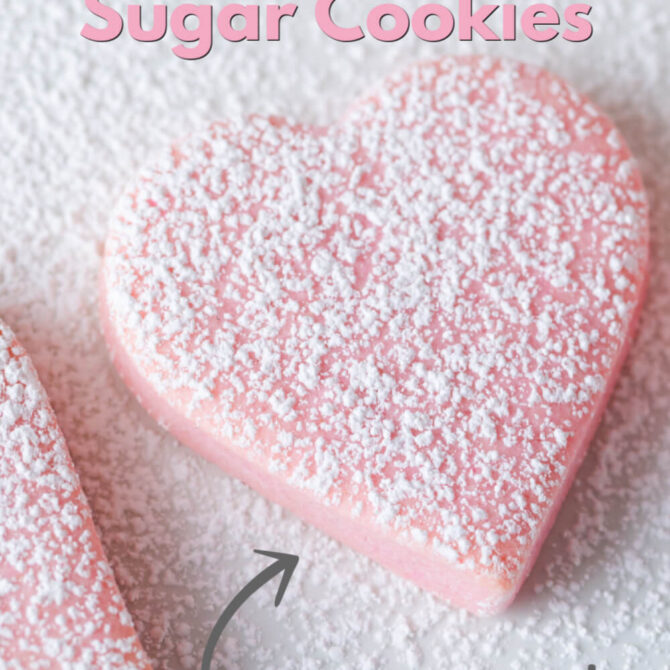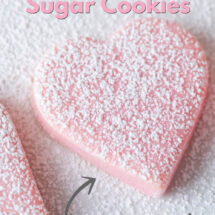 Fast and Easy Valentine's Sugar Cookies
A quick and simple sugar cookie recipe that will work well with gluten or without.
Print
Pin
Rate
Servings: 24 cookies
Calories: 157kcal
Ingredients
1 cup unsalted butter room temperature or softened slightly
1/2 cup granulated sugar
1/2 cup powdered sugar plus extra for sprinkling on top of cookies
2 large eggs
1 tsp vanilla extract
1/2 tsp almond extract optional
3 cups flour or gluten free flour blend
1 1/4 tsp xanthan gum OPTIONAL - only if using gluten free flour blend that doesn't contain xanthan gum
1 tsp baking powder
3/4 tsp salt
Instructions
Cream butter and both types of sugar in mixing bowl for two minutes

Add eggs, one at a time, and blend until well incorporated

Add vanilla extract (and almond extract if using) and mix until combined

In separate bowl, whisk together dry ingredients

Add dry ingredients, a cup at a time, to wet ingredients, mixing until blended

Add 1-3 drops of food coloring, depending on desired intensity

Mix until dough begins to form and color is blended

Remove dough and divide into two balls

Knead each ball of dough until color is fully blended and smooth

Roll out dough on parchment paper, baking mat, or floured surface

Roll to 1/4 inch or 1/3 thick and cut out shapes with greased cookie cutter

Move shapes onto parchment lined cookie sheets and chill for 10-15 minutes in fridge

Bake in 350 F oven for 6-9 minutes, depending on size and thickness

Watch closely and remove when cookies firm in the middle and before edges brown

Allow to cool for 3-5 minute on cookie sheet to allow cookies to continue cooking and to firm up

Move cookies to cooling rack, if desired

Once fully cooled, use a mesh strainer to dust cookies with powdered sugar
Notes
Using a combination of granulated sugar plus powdered sugar makes these cookies softer than typical sugar cookies made with only granulated sugar.
Nutrition
Calories: 157kcal | Carbohydrates: 19g | Protein: 2g | Fat: 8g | Saturated Fat: 5g | Polyunsaturated Fat: 0.4g | Monounsaturated Fat: 2g | Trans Fat: 0.3g | Cholesterol: 34mg | Sodium: 84mg | Potassium: 42mg | Fiber: 1g | Sugar: 7g | Vitamin A: 256IU | Calcium: 14mg | Iron: 1mg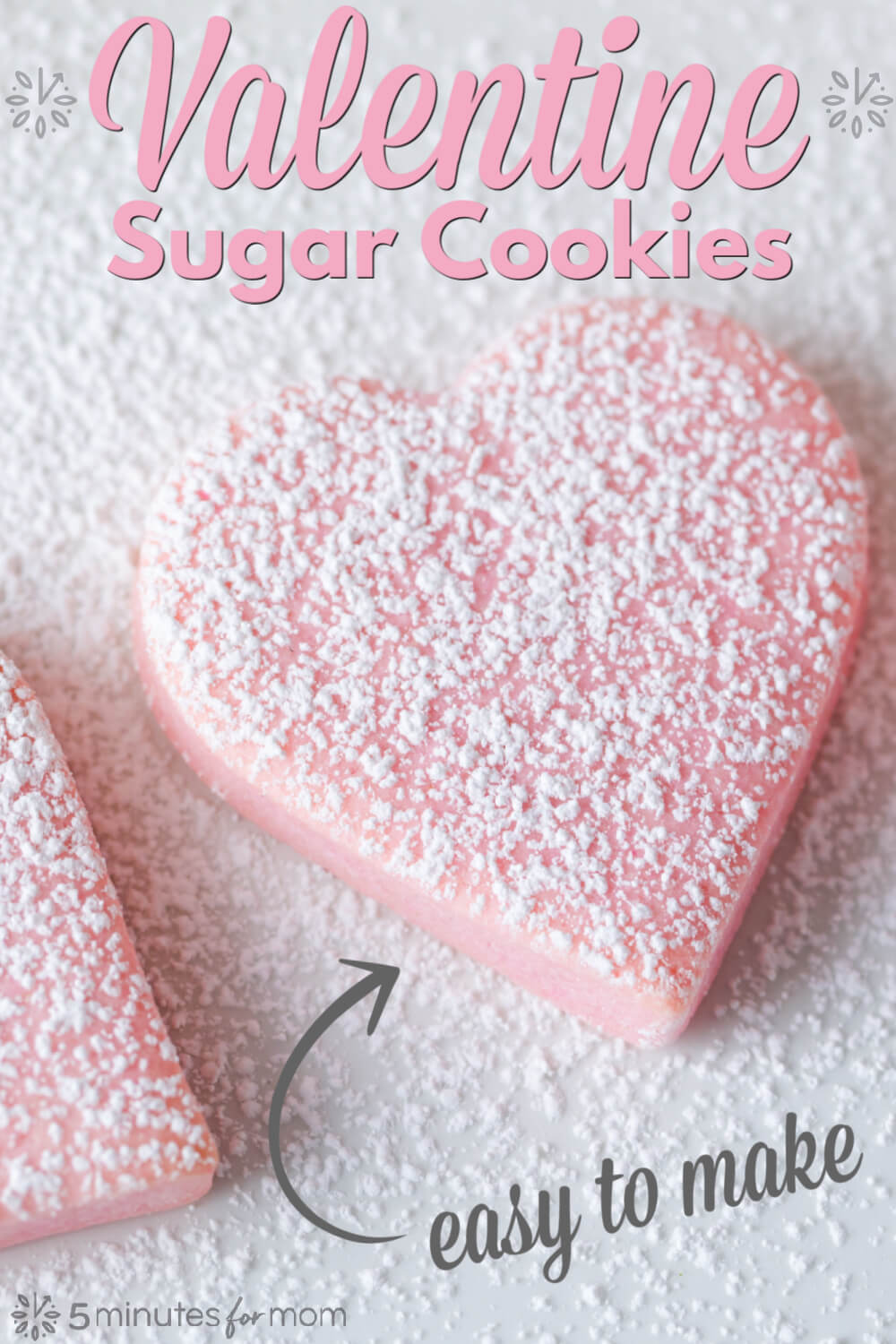 More Valentine Cookie Recipes
Our
White Chocolate Sugar Cookies
recipe is another quick and easy way to make and decorate Valentine sugar cookies.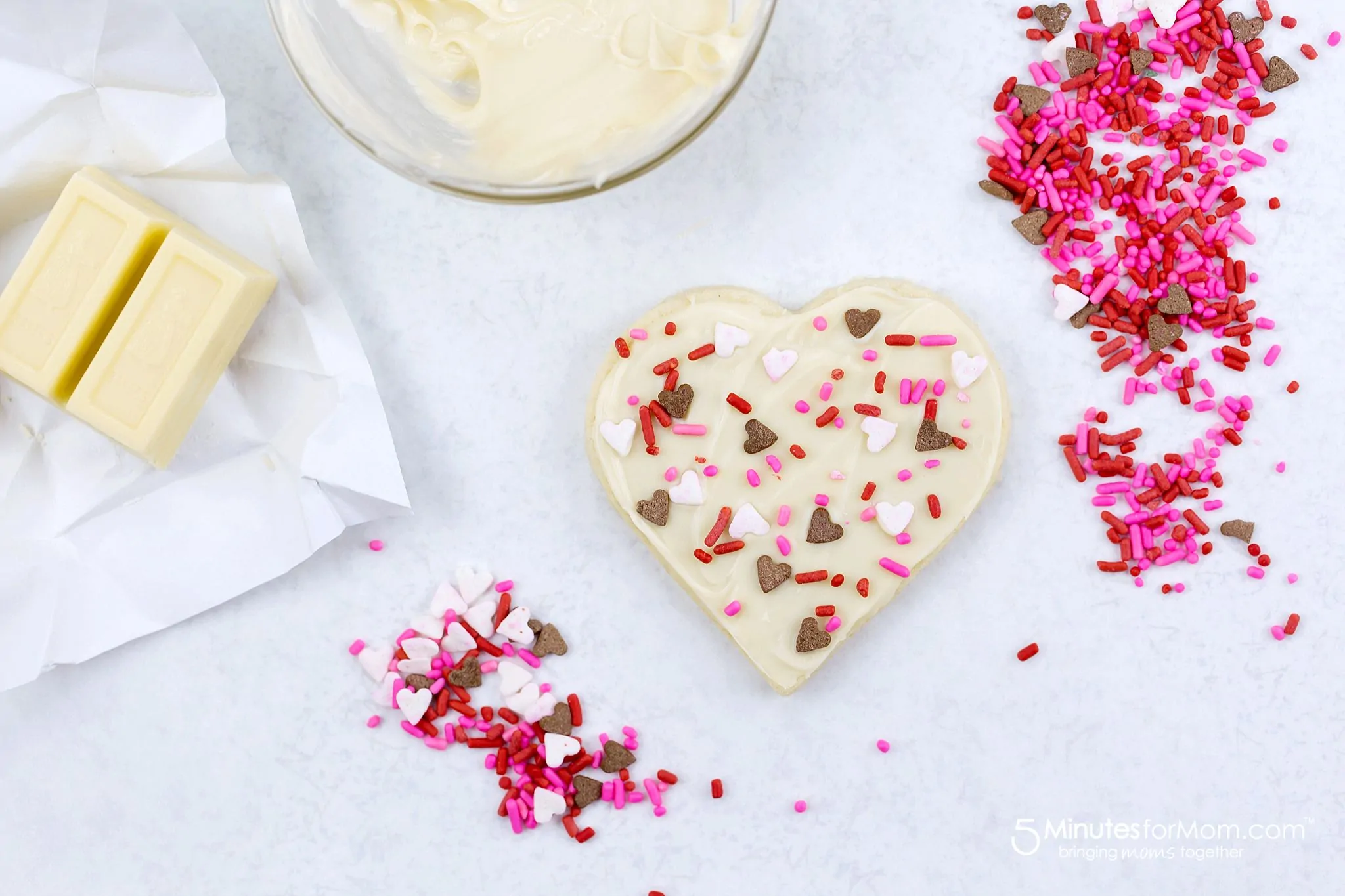 And you'll find yet another cute way to decorate Valentine sugar cookies without royal icing in our
Conversation Heart Valentine Cookie Recipe
.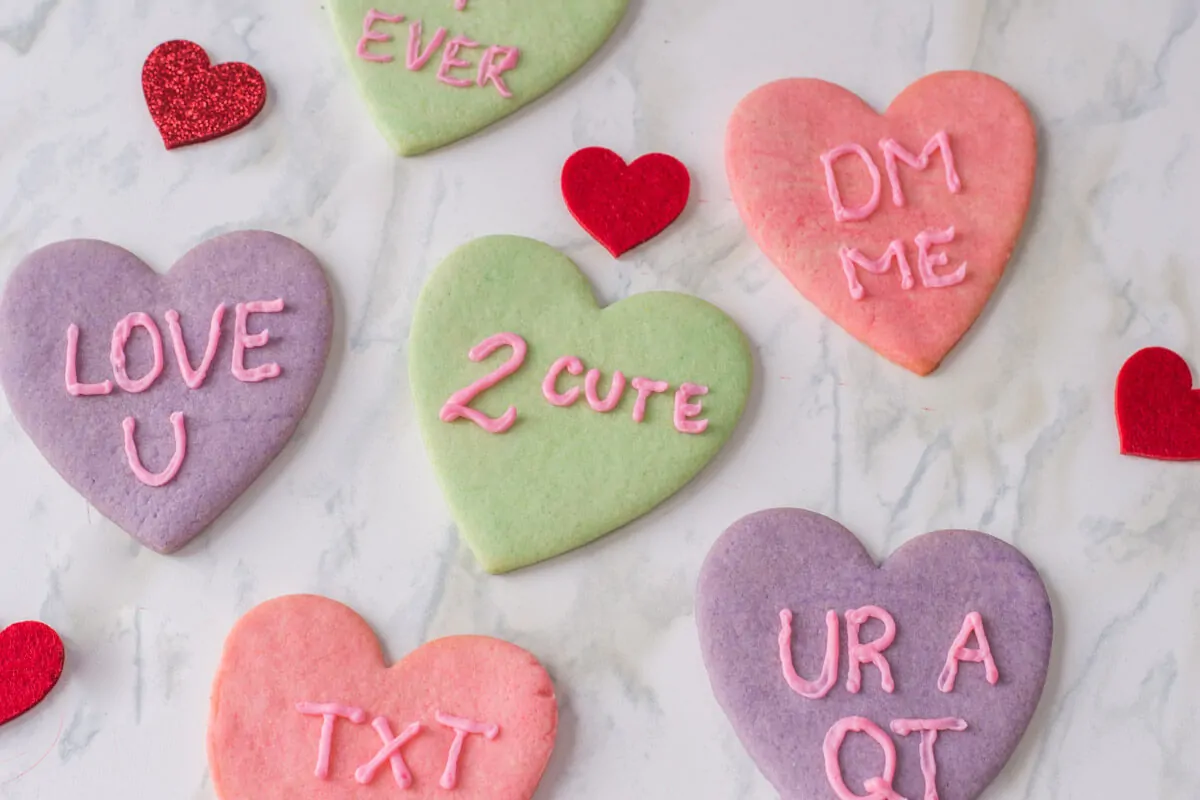 If you'd like another shortcut to delicious Valentine cookies, try making these
Red Velvet Cake Mix Cookies
.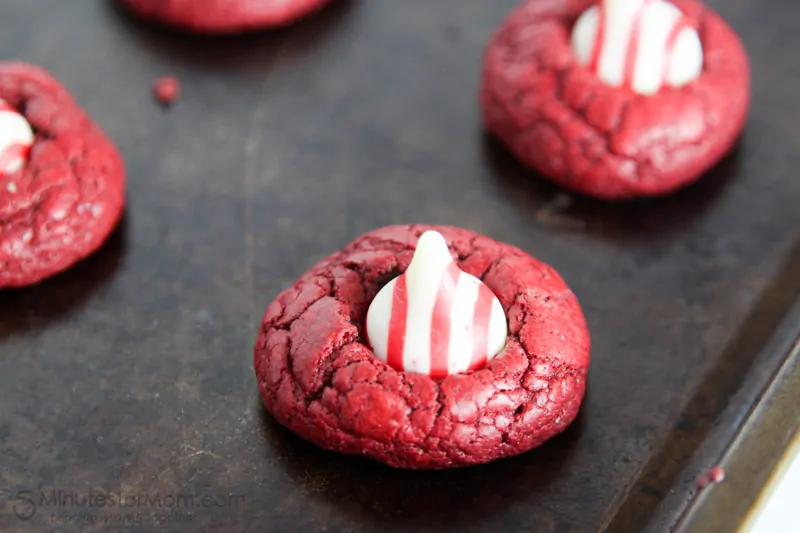 Finally, if you're a chocolate chip fan, you can make these
Red Velvet Chocolate Chip Cookies
for your Valentine.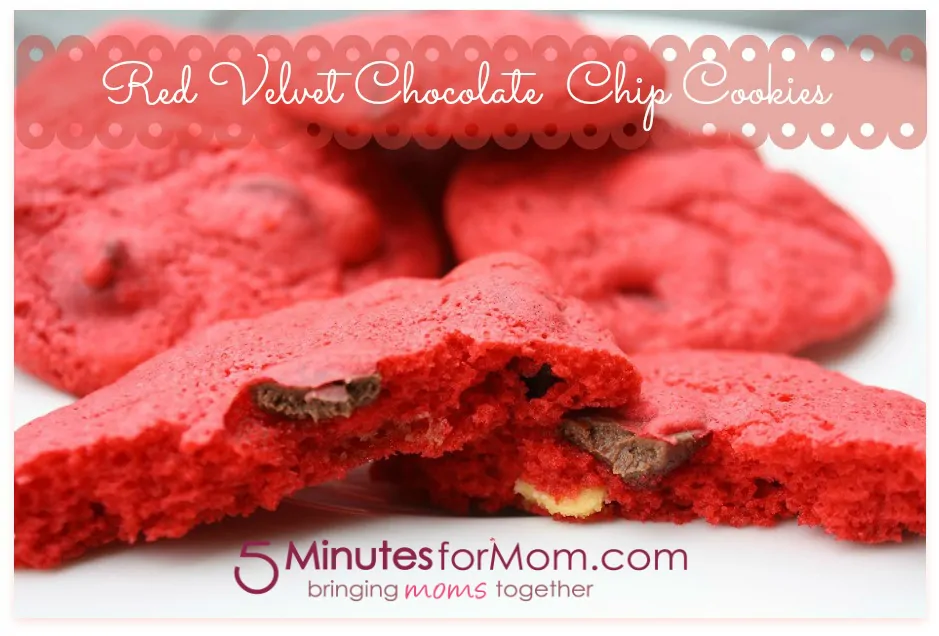 Valentine's Day Giveaway
We're giving away a $50 Amazon Gift Card in our Valentine's Day Giveaway. Open to both US and Canada. We're sponsoring this giveaway and providing the prizing ourselves.
Enter to win in our Valentine's Day Gift Guide for Women. And also check out our Valentine's Day gifts for kids and gifts for men.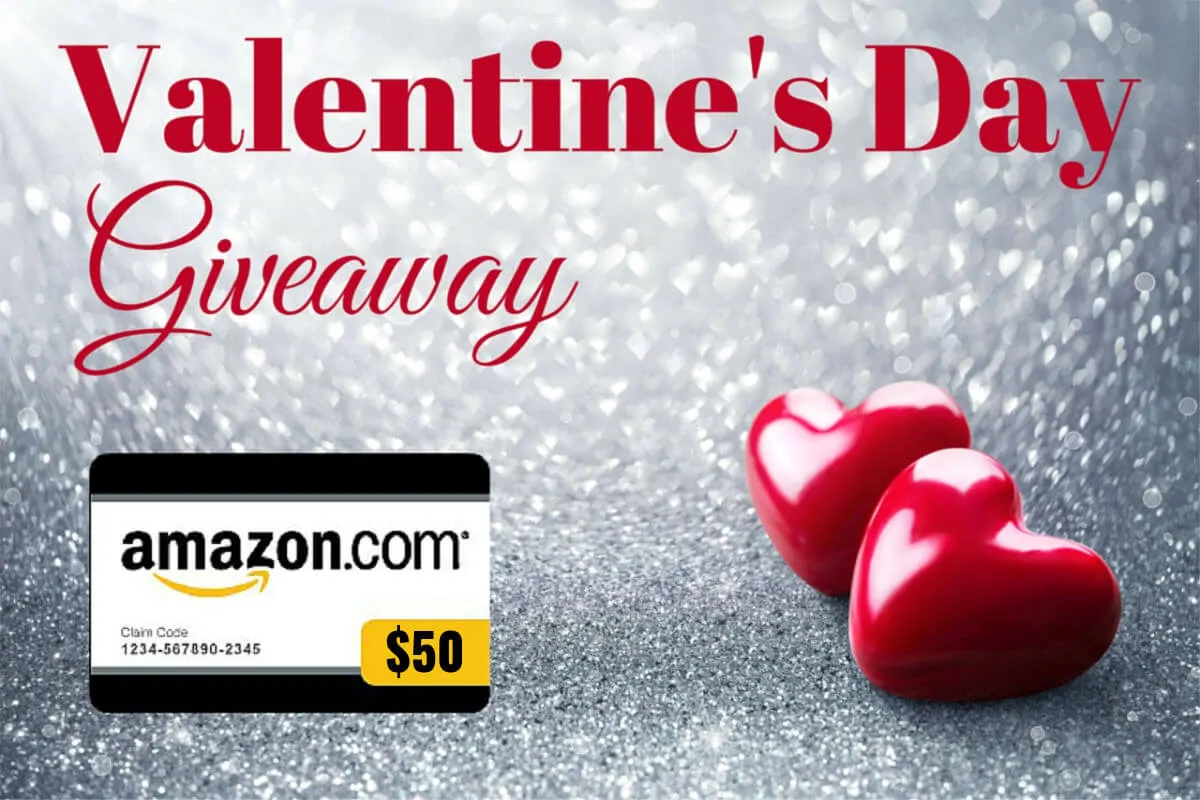 We published the first version of this post on January 23, 2015.
Written by Janice Croze, co-founder of 5 Minutes for Mom
Talk with me: @5minutesformom and Facebook.com/5minutesformom
Pin with me at pinterest.com/5minutesformom