This post may contain affiliate links. Read my disclosure policy here.
If you're looking for easy Valentine's Day crafts for kids, this collection will give you creative inspiration for playtime, classroom fun, or a rainy day project.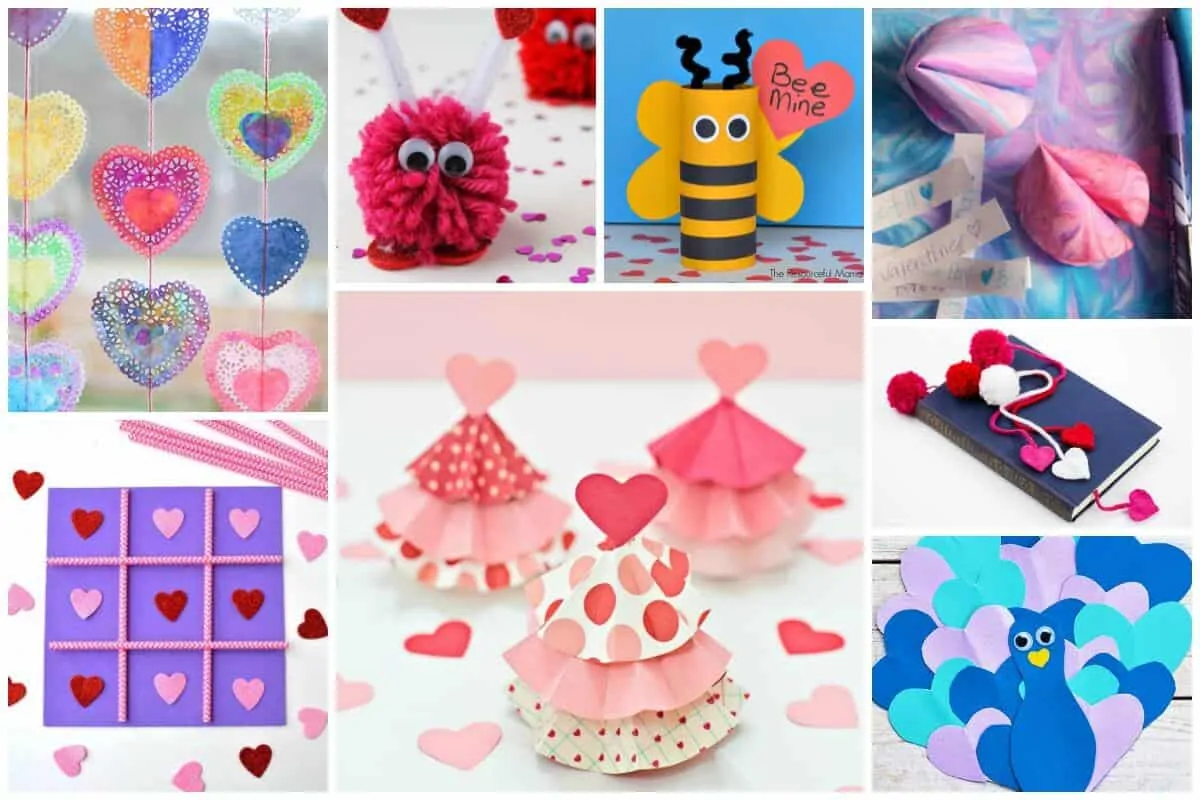 Kids will love working with paint, pipe cleaners, buttons, beads, construction paper, glitter glue and popsicle sticks to create these sweet crafts. These easy Valentine's ideas are a great way to share the love with family and friends through fun projects that have a personal touch. These crafts can be used for play, decor or even exchanged as a valentine.
These love-themed handmade crafts will delight both kids and recipients as a way to celebrate Valentine's Day. From toddlers to tweens, you'll find 25 super cute and easy Valentine craft ideas in this fun and creative collection.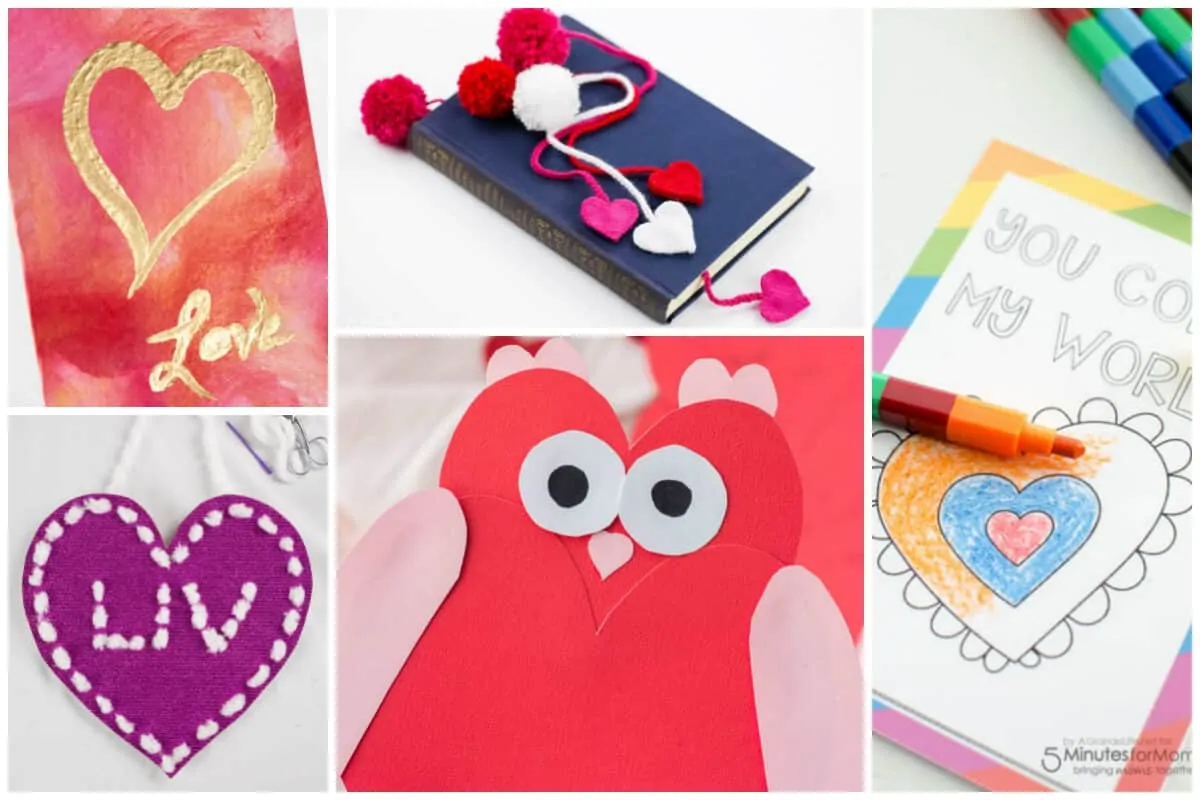 Let's start off with 5 Valentine Crafts from us here at 5 Minutes for Mom…
1. Valentine's Day Paintings and Cards
We love arts and crafts that all ages and skill levels can enjoy together. Get all your kids (and yourself) painting and making stunning Valentine's Day cards. With this step-by-step method for Valentine Painting, you will all create masterpieces you'll be proud to present to your loved ones.
2. Yarn Pom Pom Bookmarks with Felt Hearts
If you want a fun Valentine's Day craft that makes a perfect gift, make a Pom Pom Bookmark. The felt heart on the end turns this craft into a sweet DIY Valentine's Day gift idea. Making pom poms is surprisingly easy and addictive. We bet you'll end up making lots of these bookmarks.
3. "You Color My World" Free Printable Valentines
Making DIY Valentine's Day cards for your child to hand out at school, doesn't have to be a ton of work. You can print out these cute You Color My World Valentines and simply attach crayons to them. Putting these Valentines together is a great activity for you and your child and the other parents will thank you for not handy out more candy.
4. Valentine's Day Card Holder
One of the most fun parts of Valentine's Day for kids is receiving lots of cards from their friends at school. Thankfully, most elementary schools these days require that kids who choose to hand out cards must include all the other kids so that nobody gets left out. To extend the fun, help your children make this Valentine's Day craft for kids and they can use their new valentine card holder to keep all their treasures safe.
5. Owl Heart Shape Valentine's Day Cards
Get creative with paper hearts and turn them into owl shaped Valentine's Day Cards. This super cute owl paper craft is a fun activity to make with your kids. You can adjust the difficulty level by helping cut the pieces out for your toddlers. And older kids will love practising their cutting skills as they cut out the shapes using the printable template.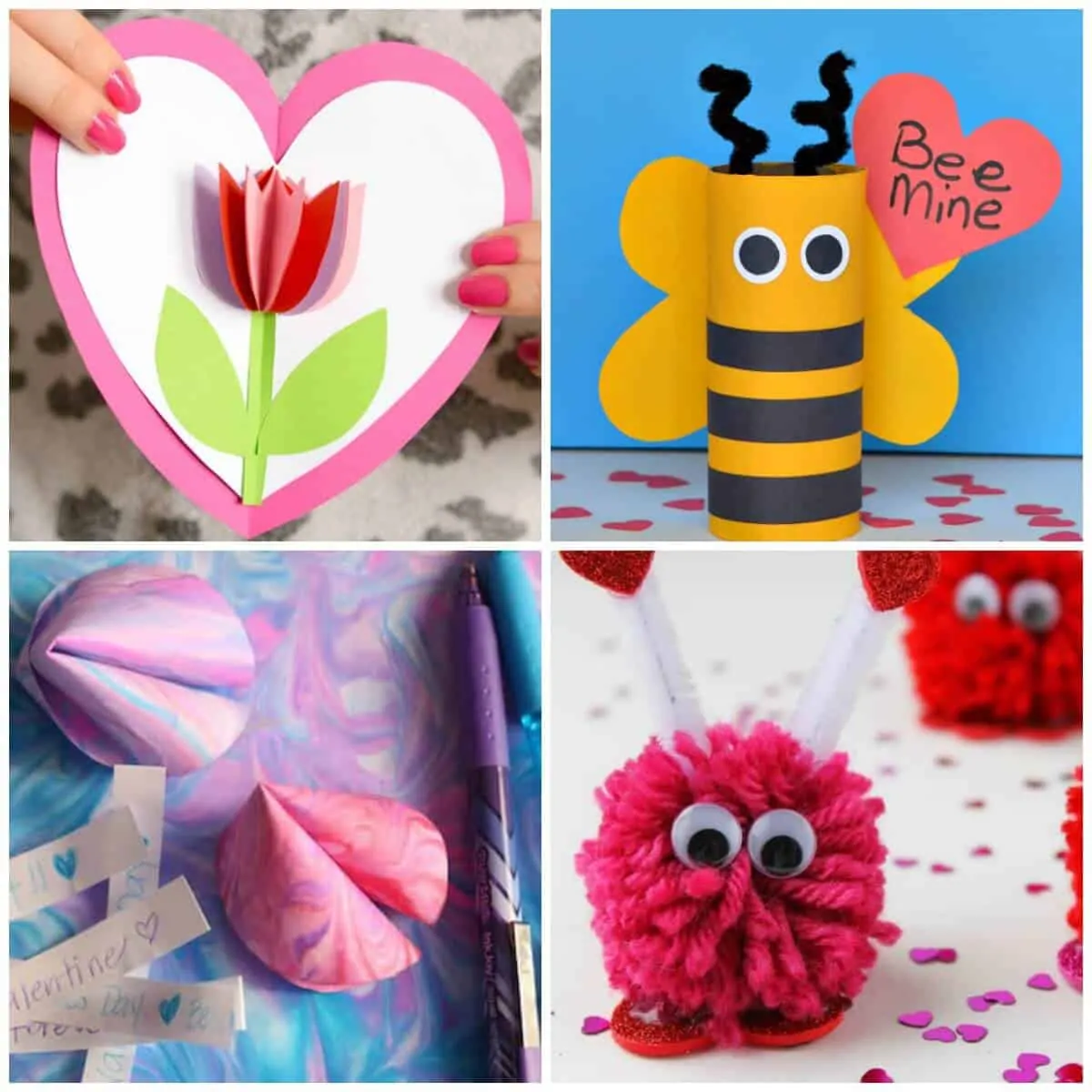 6. Tulip In A Heart Card
Kids will love creating this Valentine's Day card that opens to reveal a 3D pop up tulip flower! Using the templates provided, craft a heart and the flower parts from construction paper. Use a variety of paper colors for the tulip for the full 3D effect. Impressive!
Tulip In A Heart Card by Easy Peasy And Fun
7. Bee Mine Valentine's Day Craft
Here's a great Valentine's Day craft idea using recycled toilet paper rolls… Bee Mine Valentine's Day Craft by The Resourceful Mama. Fashion a yellow and black bee from the roll using paint, construction paper and pipe cleaners. Cut wings, stripes, a heart shape and eyes from the paper and attach with glue. Sweet!
8. Valentines Paper Fortune Cookies for Kids
You'll be amazed at how easy it is to make these adorable Valentine's Day fortune cookies from paper. Uses any type of paper, but decorated, marbled or printed paper make these cookies even more unique. Write out the "fortunes", insert them in the cookies, fold and secure the cookies with a little glue and you're done. These Valentines Paper Fortune Cookies for Kids by Happy Hooligans are a sweet and fun way to give out Valentines this year.
9. Pom Pom Monsters
Using an inexpensive pom pom maker, craft these adorable monsters in shades of pink, red, black or purple to celebrate Valentine's Day. With just a little yarn, foam hearts, some googly eyes and pipe cleaners you can assemble these little pom pom monsters with a hot glue gun. These
Valentine Pom Monsters by Create Craft Love are so much fun.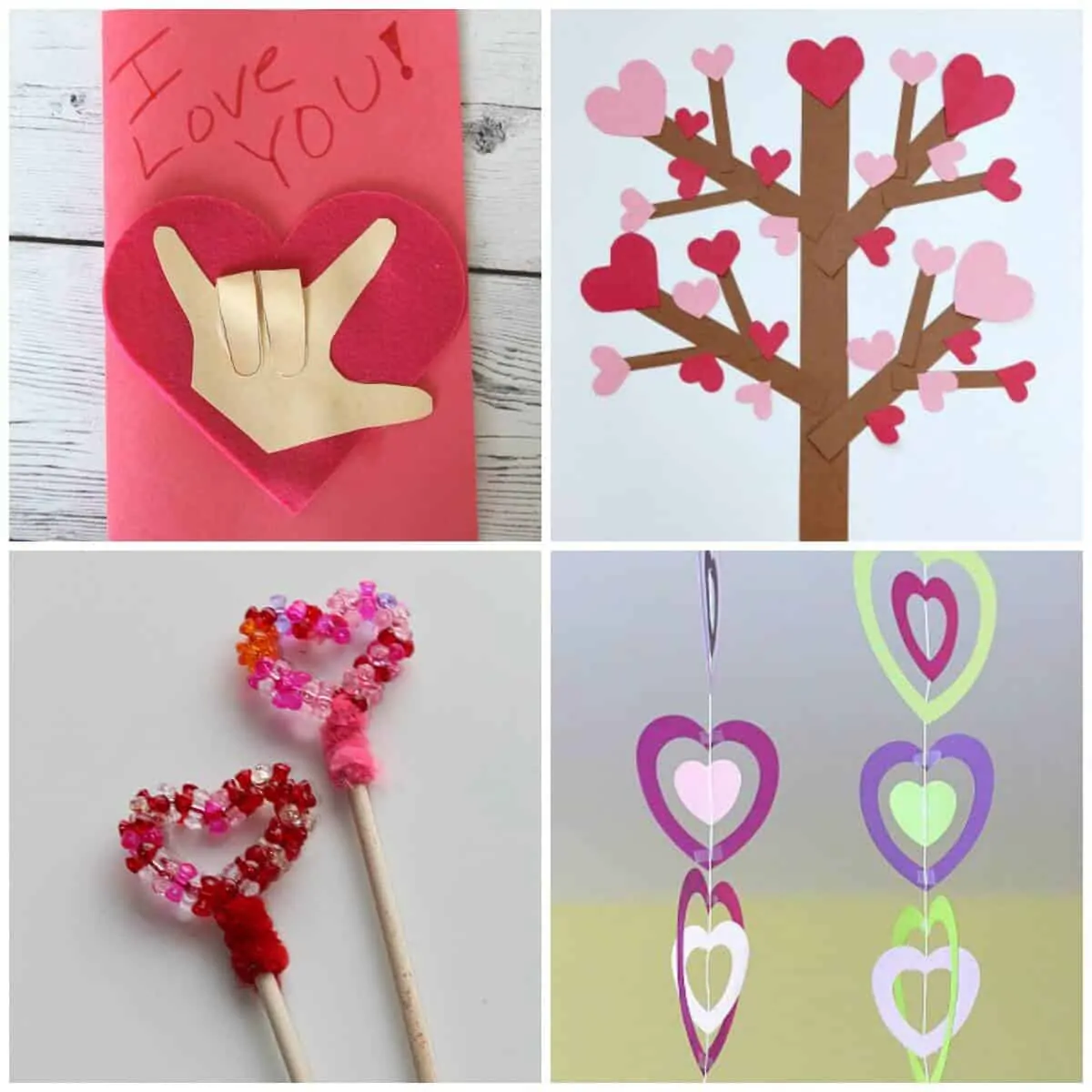 10. American Sign Language (ASL) Card
Say "I love you" in American Sign Language (ASL) with this sweet Valentine's Day craft for kids… ASL I Love You Craft by Busy Mom Media. Kids get to trace their hand, cut out the hand shape and then fold the fingers into position. Construction paper, glue, scissors and decoration such as glitter, buttons, or heart-shaped cutouts are all you need to create it. Adorable!
11. Flowering Heart Tree Paper Craft
Craft a paper tree blooming with red and pink hearts in this pretty kid's Valentine's Day paper project. A glue stick, construction paper and scissors are you'll need to make this Flowering Heart Tree Paper Craft by Housing A Forest. Love this idea!
12. Bead Heart Wands
Kids will get a workout with their fine motor skills with this beading craft… Bead Heart Wands by No Time For Flash Cards. You'll need wood dowels, pipe cleaners, glitter glue and and tri-beads in your choice of colors. Beads get threaded onto the pipe cleaner and then bent into a heart shape. Decorate the dowel with glitter glue. Attach the heart by wrapping the ends of the pipe cleaner around the dowel. Magical!
13. Valentine's Day Kids Paper Heart Mobile
Decorate your space with this easy Valentine's Day mobile full of colorful heart cut-outs. To make this Valentine's Day Kids Paper Heart Mobile by Buggy And Buddy, the only supplies you'll need are paper, scissors, tape and string. Have fun choosing themed colors for your mobile. Assembly is easy, too. Charming!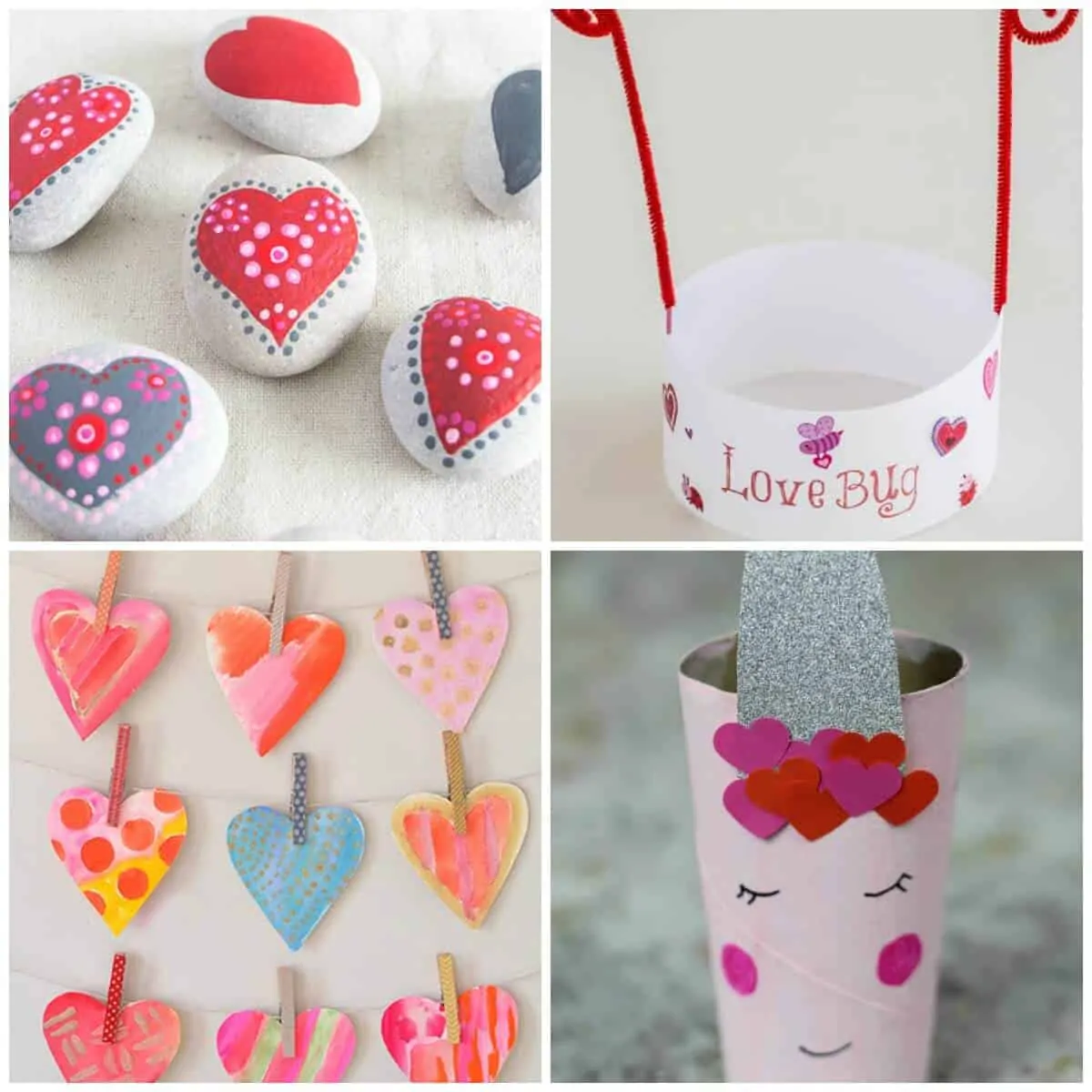 14. Heart Painted Rocks
Older kids will enjoy painting rocks with acrylic paints. Here, this tutorial guides you through how to paint Valentine heart mandala designs, but for a free-form project, kids can design and paint their own. Gather smooth rocks and wash them to clean them, or purchase them at a craft store. These Painting Rocks Heart Designs by Sustain My Craft Habit are so pretty!
15. Love Bug Hats
Construction paper, red pipe cleaners, tape and Valentine stickers are you need to craft these Love Bug Hats For Valentine's Day by Do It Yourself Divas. Let the kids decorate the hat with stickers, or even markers, paint or crayons depending on their age. A fun craft idea that lets the kids express their creativity!
16. Watercolor Valentine Heart
This Watercolor Valentine Heart by Art Bar Blog is a great art project for kids of any age. Use watercolor paint to create gorgeous painted hearts. Group as many drawn heart shapes on a paper as you want, paint them in and then cut them out to display. Beautiful!
17. Unicorn Valentine's Day Toilet Paper Roll Craft
The unicorn-obsessed will adore creating this Valentine craft by painting a recycled toilet paper roll pink and attaching simple decorations. The unicorn horn is made from glitter card and attached with double-sided tape. Draw on a face and attach more small colorful hearts for a sweet craft that kids will love. Find the full craft tutorial at Unicorn Valentine's Day Toilet Paper Roll Craft by Crafts On Sea.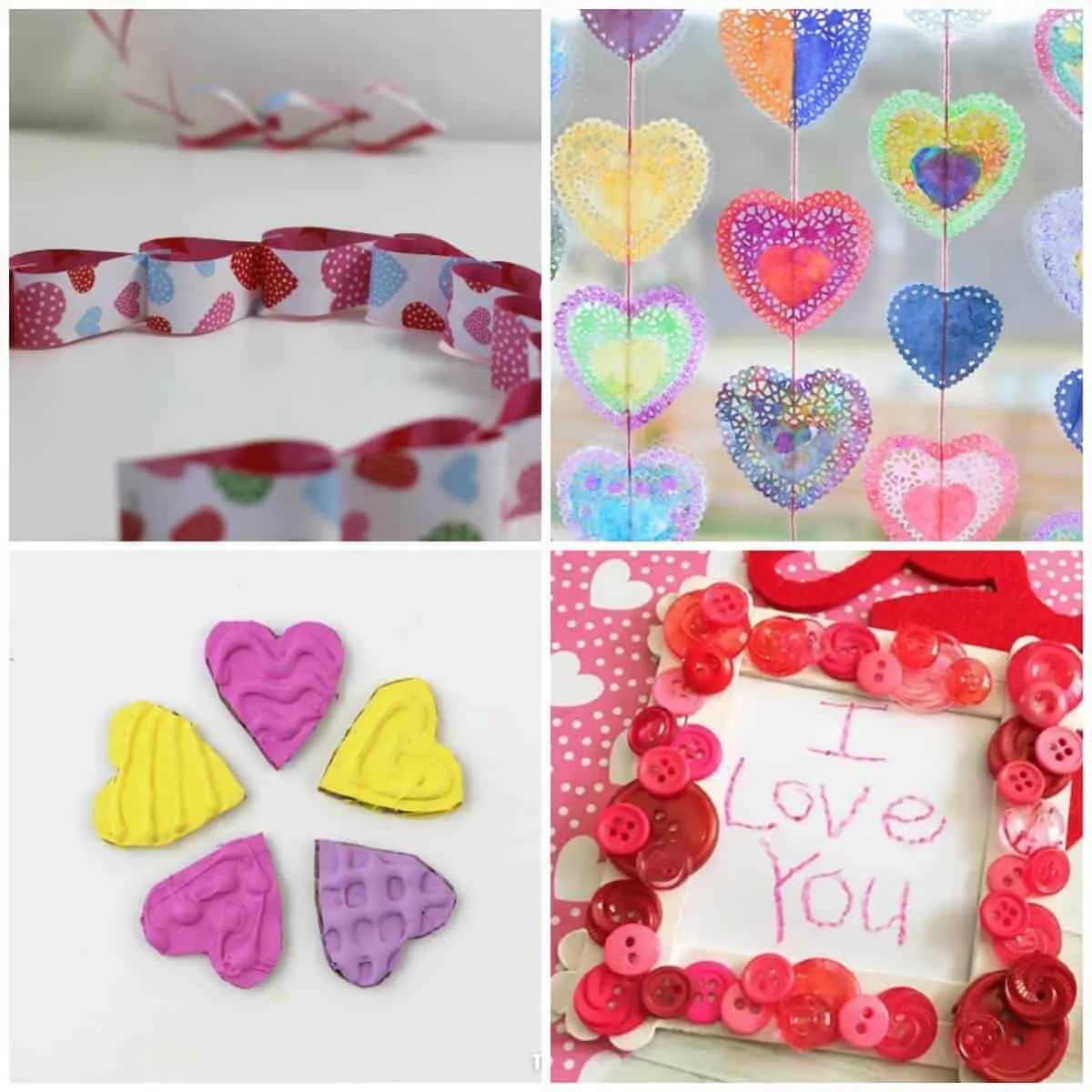 18. Heart Shaped Paper Chain Valentine's Day Craft for Kids
This easy and quick paper craft uses any type of paper, but consider two-sided wrapping paper for a fun design effect. Cut strips of paper to create the chain. Shape into hearts and use a stapler to help keep the form and attach each heart to make the chain. Lovely! See how to make it at Heart Shaped Paper Chains by Mum In The Madhouse.
19. Valentine Suncatchers
This Valentine's Day Craft for Kids, Valentine Suncatchers by Paper And Glue, is a great way for kids to get creative. Heart-shaped doilies make the perfect sun catchers with their intricate little cutouts. Just add watercolor paint and when dry, attach to a yarn to create a vertical garland for hanging in a window. The kids will love seeing their artwork hanging in the windows to admire!
20. Heart Shaped Cardboard Necklace
Recycle cardboard by cutting out small hearts and creating a textured pattern on each by using a hot glue gun. Paint each heart and when dry, sew them into a strand of embroidery thread to create the necklace. A sweet craft for older kids! Find this Valentine Craft at Heart Shaped Cardboard Necklace by The Craft Train.
21. Valentine's Popsicle Stick Craft
Craft a simple picture frame from popsicle sticks, paint it and decorate it with red, pink, and white buttons of various sizes. Hot glue a piece of card stock to the back to cover the opening and let the kids write their special Valentine's Day message on it. Precious! See the full craft instructions at
Valentine's Popsicle Stick Craft by Craft Create Cook.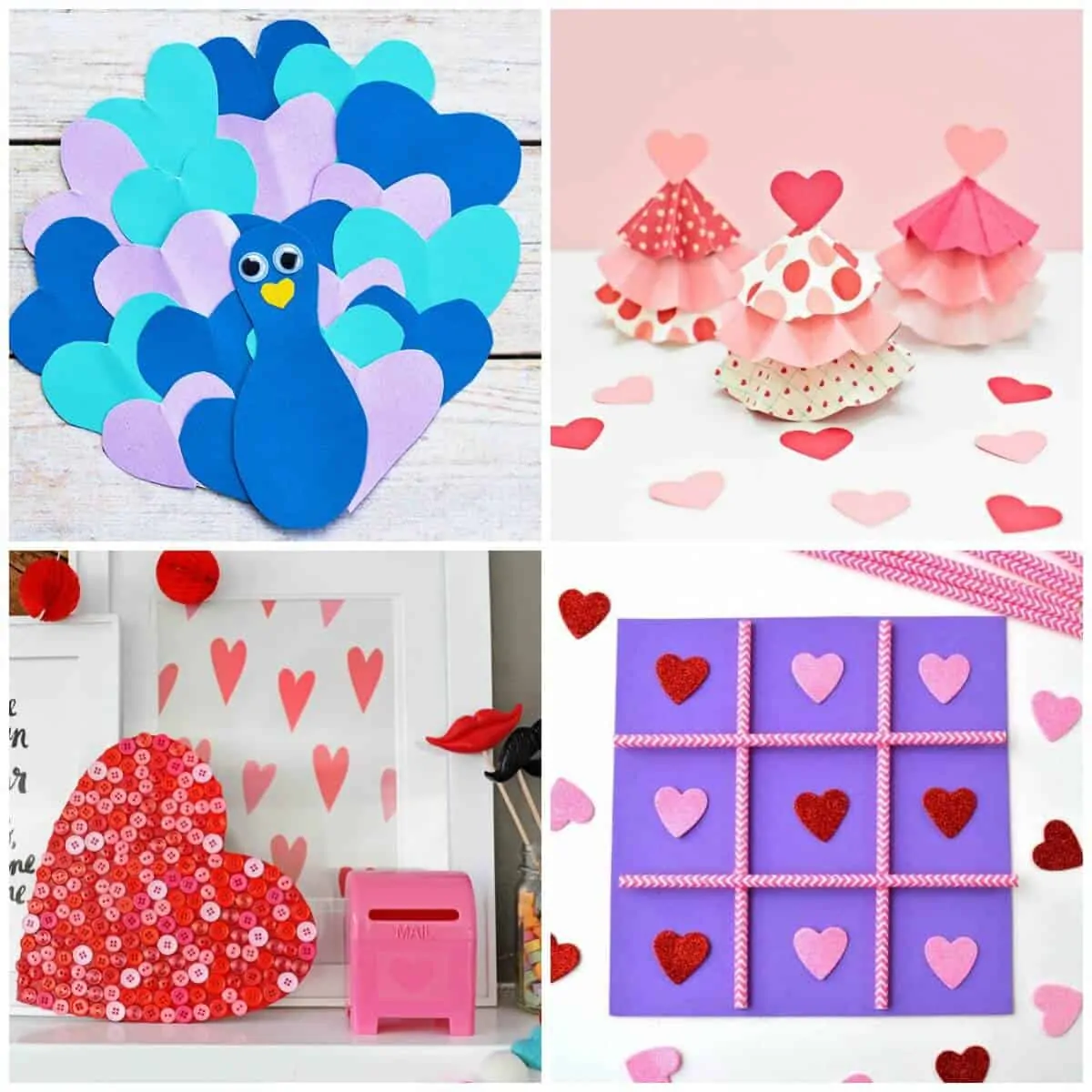 22. Heart Peacocks Valentines Craft
We love this sweet Valentine kids craft tutorial for Heart Peacocks by I Heart Arts N Crafts. Using simple supplies of card stock paper in shades of blue, green and pink, along with scissors, a glue stick and googly eyes, create this colorful peacock Valentine's Day craft. What makes it special is that the peacock feathers are overlapping heart shapes. Fun, easy and so pretty!
23. Valentine Paper Tree Craft
Using the template provided, cut out these circular Valentine Trees from colorful card stock paper. Fold the circle and then thread them on a straw for the "tree." Attach a heart to the top and admire your forest of Valentine trees! Get the craft instructions at Valentine Paper Tree Craft by Hello Wonderful
24. Valentine's Day Button Art
Here is another fabulous Valentine's Day Craft for Kids… Valentine's Day Button Art by Eighteen 25. Paint a wooden heart shape, easily found at a craft store, with acrylic paint. When dry, add white tacky glue and begin covering it with buttons. Use red, pink, white, purple colors and different sizes, too. So fun and pretty!
25. Valentine Tic Tac Toe
Create this awesome Valentine's Day tic-tac-toe board from foam paper, paper straws, scissors and a hot glue gun. You could make your own pink and red heart shaped table scatter or just purchase a packet at a dollar store. These make great gifts to go with a Valentine card. Find the craft tutorial at Valentine Tic Tac Toe by Crayons And Cravings. Easy, colorful and fun!
Valentine's Day Giveaway
We're giving away a $50 Amazon Gift Card in our Valentine's Day Giveaway. Open to both US and Canada. We're sponsoring this giveaway and providing the prizing ourselves.
Enter to win in our post with Valentine's Day Gifts for Her. Also check out our Valentines gifts for kids and Valentines gifts for men.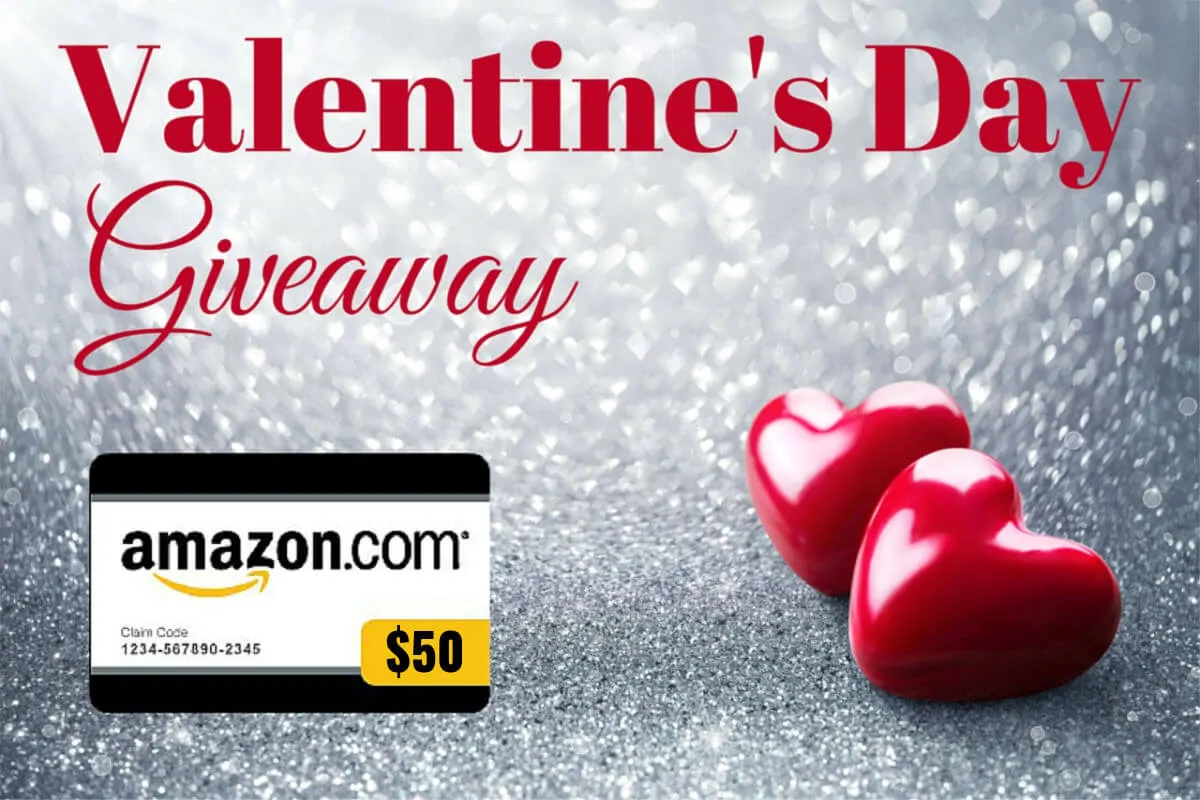 Pin these Valentine's Day Crafts For Kids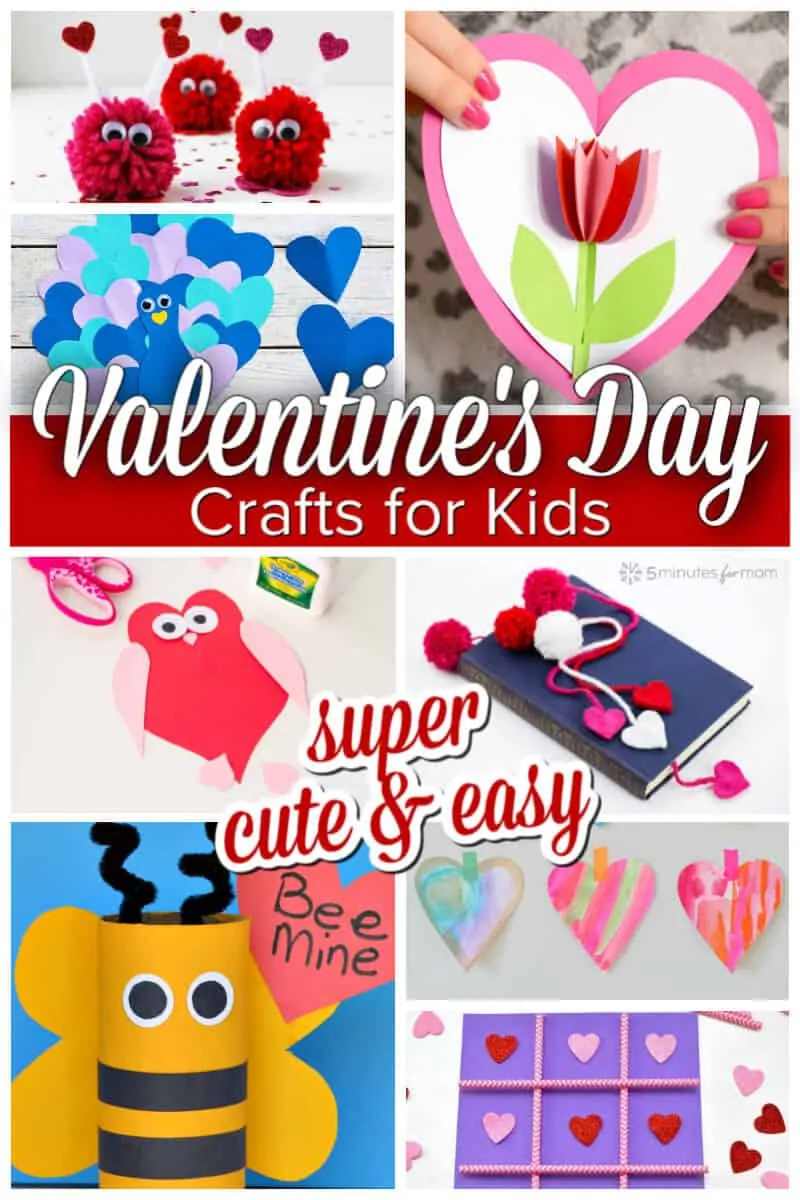 Written by Susan Carraretto, co-founder of 5 Minutes for Mom
Talk with me: @5minutesformom and Facebook.com/5minutesformom
Pin with me at pinterest.com/5minutesformom