This post may contain affiliate links. Read my disclosure policy here.
White Chocolate Sugar Cookies are the perfect Valentine's Day treat! If you want to whip up some sugar cookies for Valentine's Day, but want to skip the royal icing and difficult decorations, opt for this quick and delicious alternative — "frost" your cookies with melted chocolate instead.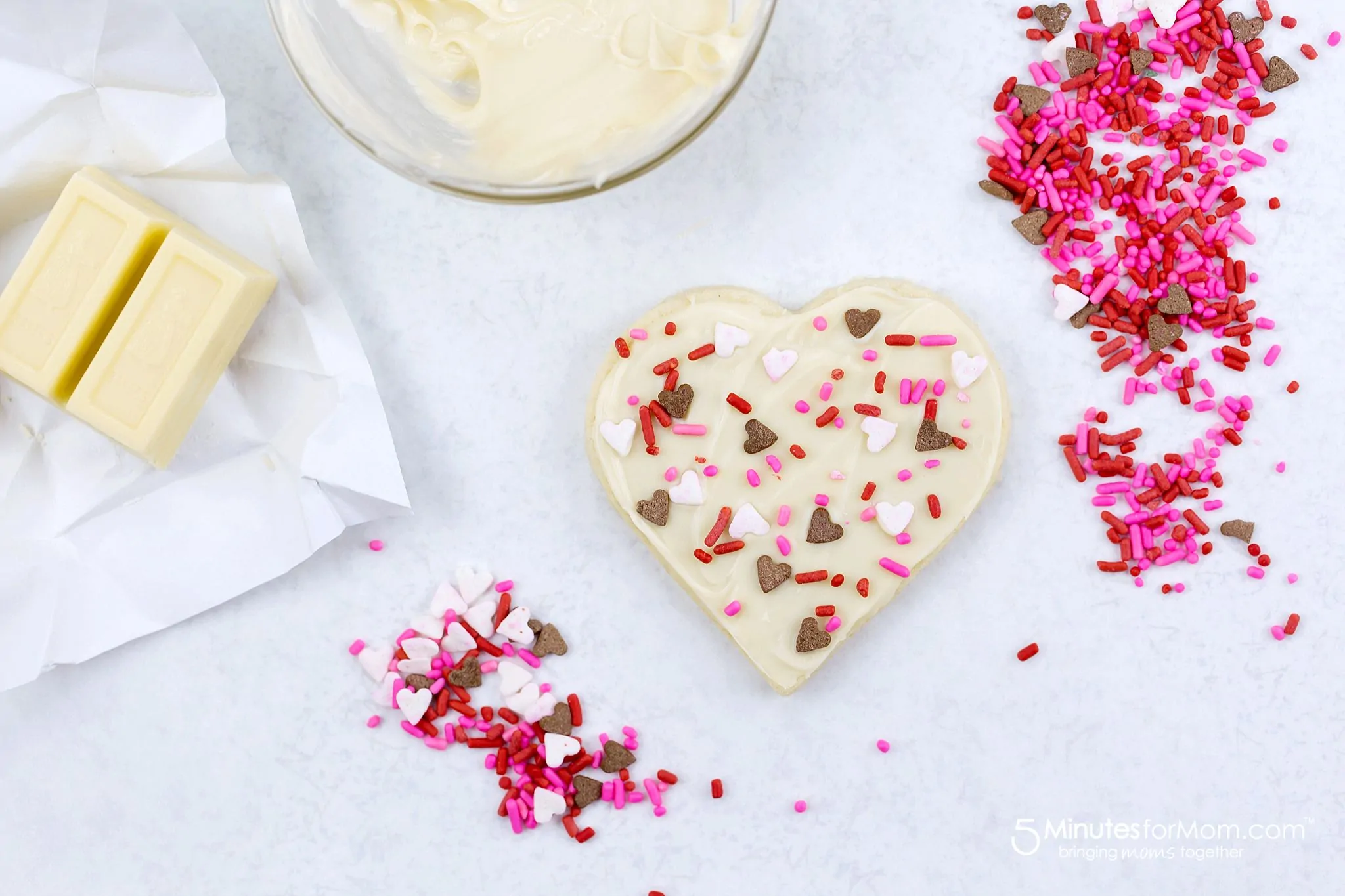 Olivia came home from school on Wednesday afternoon and announced she wanted to make – and decorate – a batch of sugar cookies, all before she headed to cheerleading at 5pm, of course.
She pulled up Pinterest and started pointing out the most delicately iced creations she could find. I may be crafty, but I can't draw or paint to save a life. I will never be able to decorate a cookie like a professional. My style can't demand a steady hand.
I was about to be the voice of reason — we didn't have time for chilling dough, cooling cookies, preparing royal icing, and perfecting Pinterest-worthy decorations ALL while she was supposed to be doing her homework.
But, I decided to go a different route.

We could do my short-cut sugar cookie recipe (chilling the dough on the cookie sheets before popping in the oven) and we could SKIP the royal icing and try "frosting" our cookies with melted chocolate instead…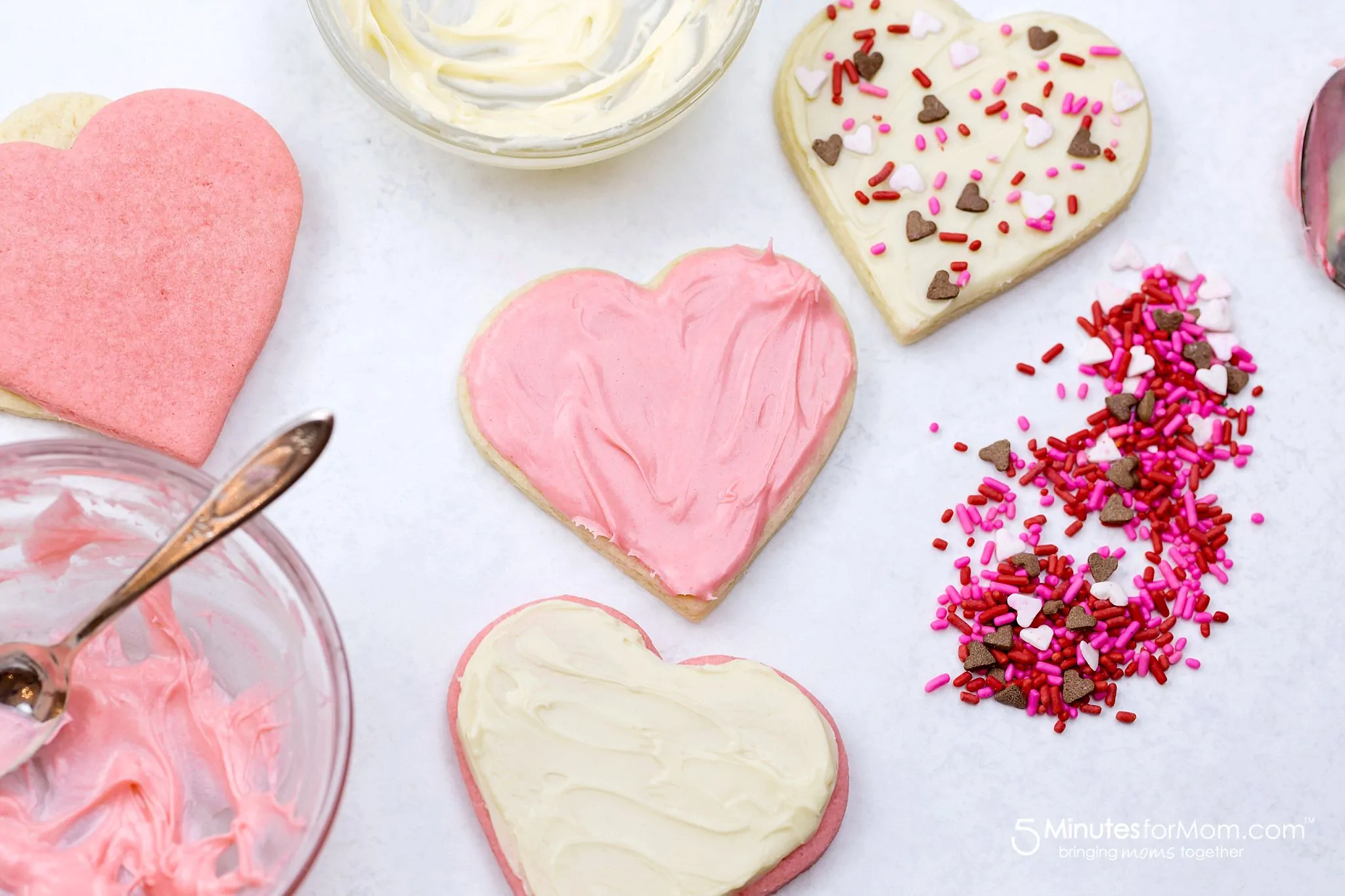 And, while I whipped up the batch of cookie dough and rolled it out, Miss Olivia could do her homework.
Well, at least the COOKIES were a success. (Olivia spent most of her "homework time" fussing about how much she HATES math. If only practicing math times tables were as fun as making and eating cookies.)
Three Short Cuts for Faster Sugar Cookies
I have to admit, I rarely "plan" to make cookies.
Most cookie batches around here are whipped up when one of my children has a sudden "need" for cookies, (I can't keep cookies in this house because I have two cookie monsters living here,) and I have a weak moment and give in.
1. Chill on the Cookie Sheet
Since I am a last minute baker, as much as I know that cookie dough needs to be chilled, my dough rarely gets more than twenty minutes of chilling.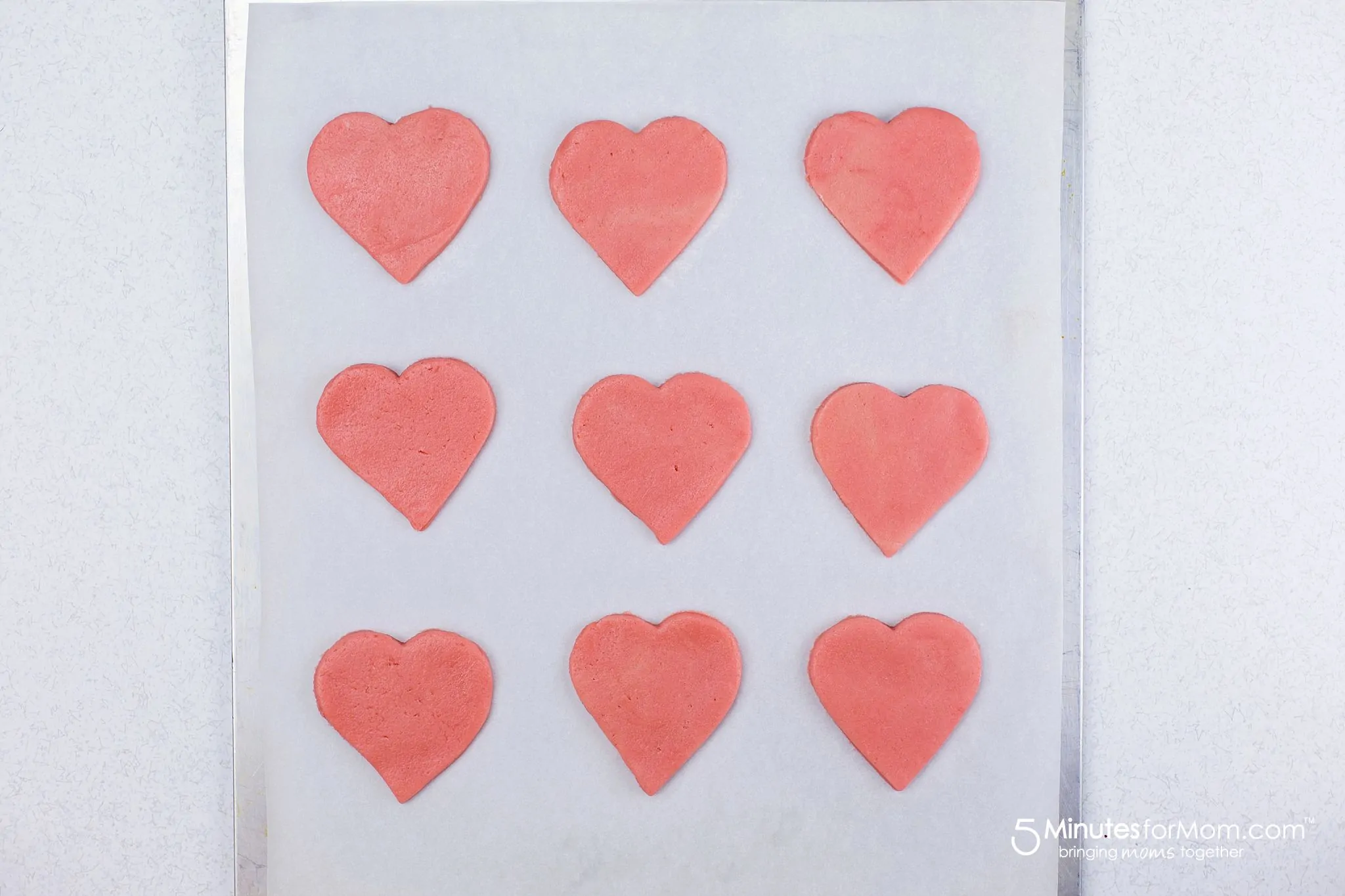 Therefore, as in the case of these Easy Valentine's Day Sugar Cookies and this batch, I did the chilling once the dough was rolled and the hearts were cut out and on the cookie sheet.
I just popped the first sheet in the fridge once the hearts were cut and let them chill while I heated the oven and finished cutting out the rest of the cookies.
I roll out my dough between two sheets of parchment paper to keep them from sticking to the rolling pin. This is especially helpful when I am working with gluten free dough.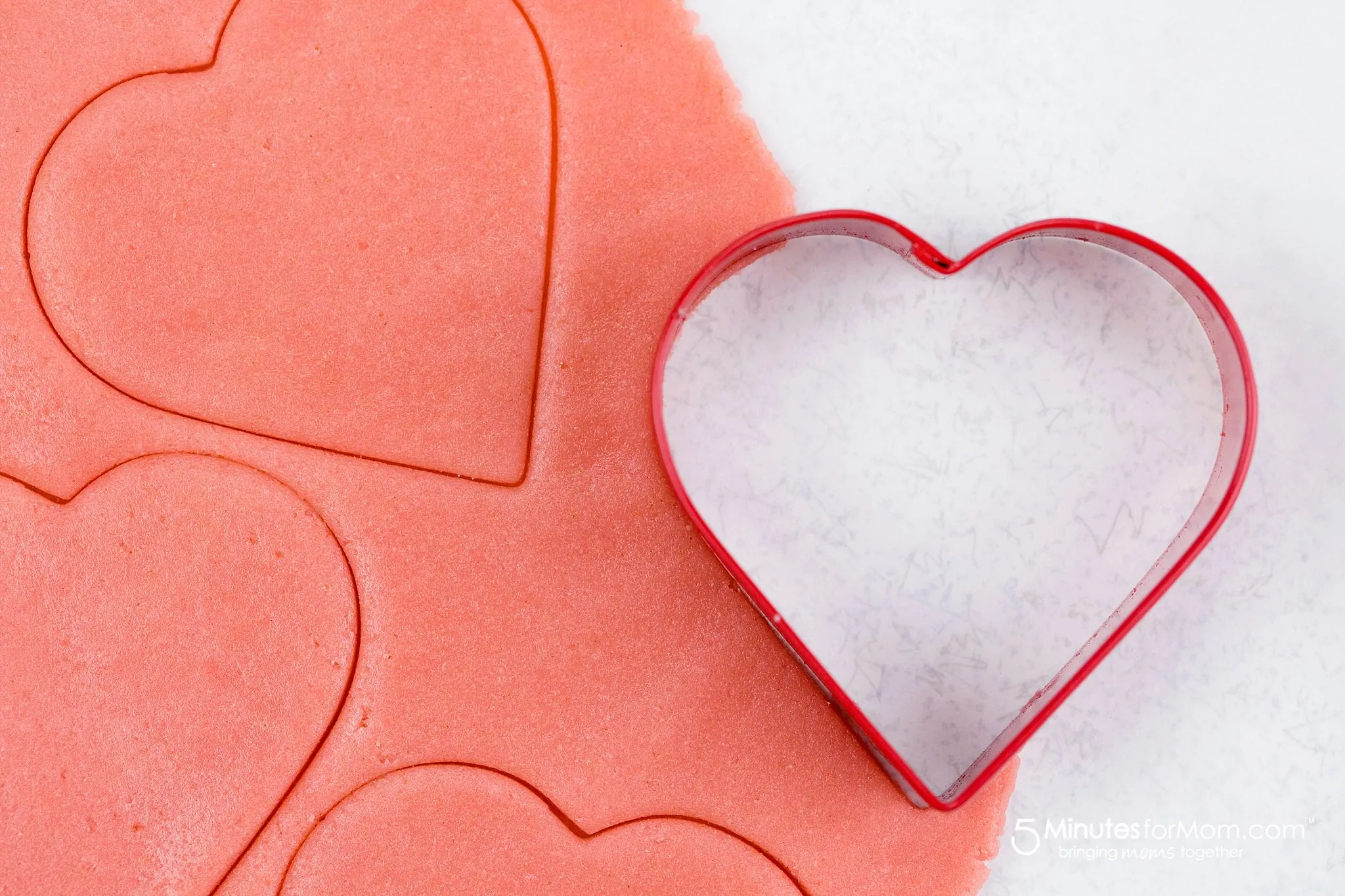 For more tips on quick sugar cookies, check out my first Easy Valentine's Day Sugar Cookies.
2. Decorate the Dough
Another short cut I took for this batch, that I also used when I made my Easy Valentine's Day Sugar Cookies, was to color some of the dough to make pink cookie dough.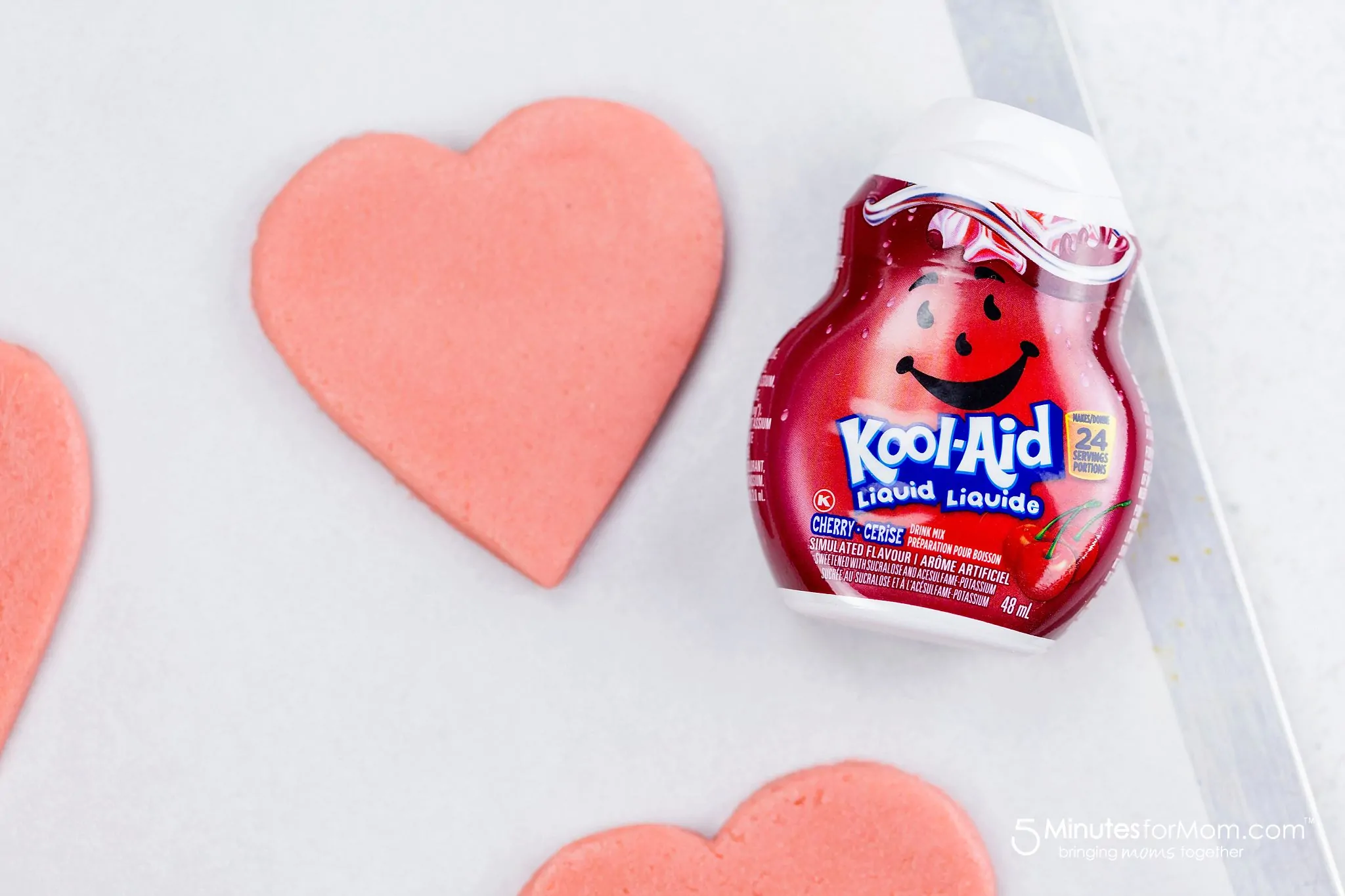 Since it is Valentine's Day coming up, I wanted to add some extra pretty in pink to our cookies.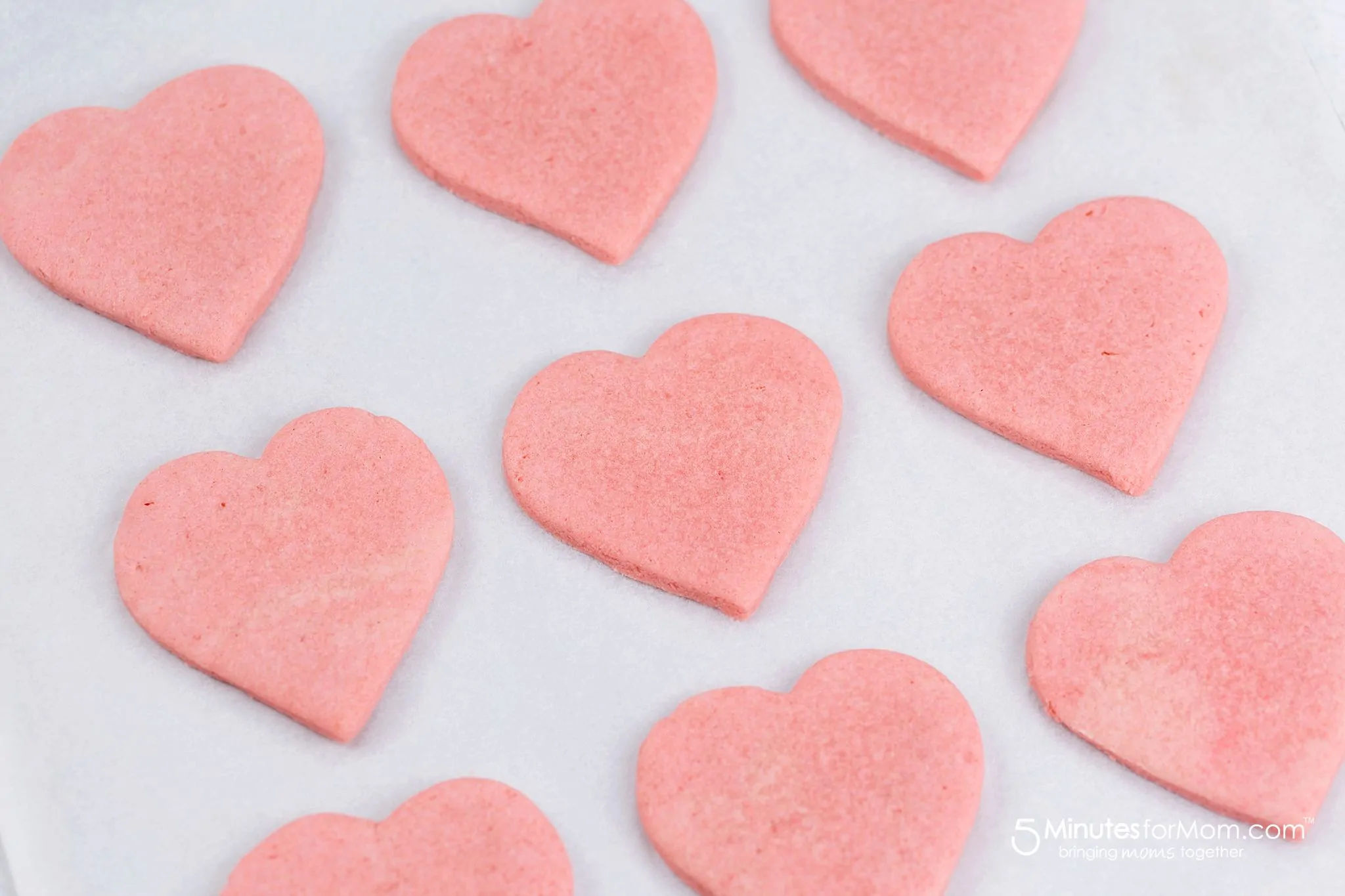 This time, I used cherry flavored Kool-Aid to achieve a deep pinkish red color. Of course, you can use food coloring if you prefer.
3. Frost with Melted Chocolate
If you don't have meringue powder on hand, or you don't have the time or the will to master the art of decorating with royal icing, or you simply don't love the taste of hardened sugar frosting, I have a better, yummier way to go –> Melted chocolate!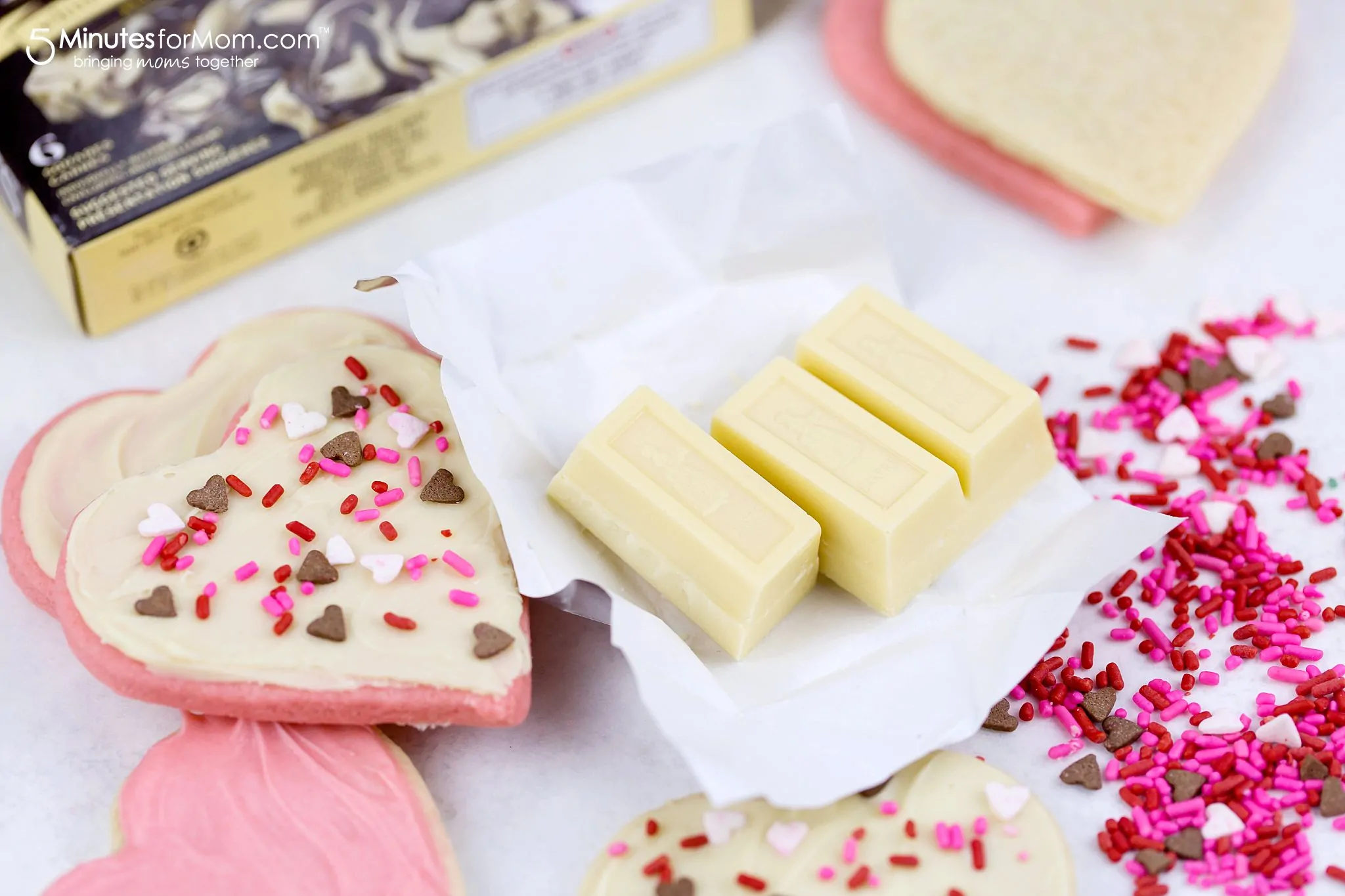 Yes, to me what is missing in a sugar cookie is chocolate anyway. So why not skip the royal icing, and just paint those sugar cookies with melted chocolate?
You can get fancy and make a chocolate ganache to coat your cookies. Don't get too scared — ganaches are actually really simple to make. You can do it!
Here is a post I wrote about how to make Homemade White Chocolate and White Chocolate Ganache. And here is a post about How to Make Chocolate Ganache.
Or, you can just throw some chocolate chips or baking chocolate in the microwave for 20-30 seconds, stir, and slather on the gooey goodness.
If your kids are looking for some extra fun, you can add some food coloring to your melted white chocolate and let them go crazy with whatever sprinkles or candies you have in the cupboard.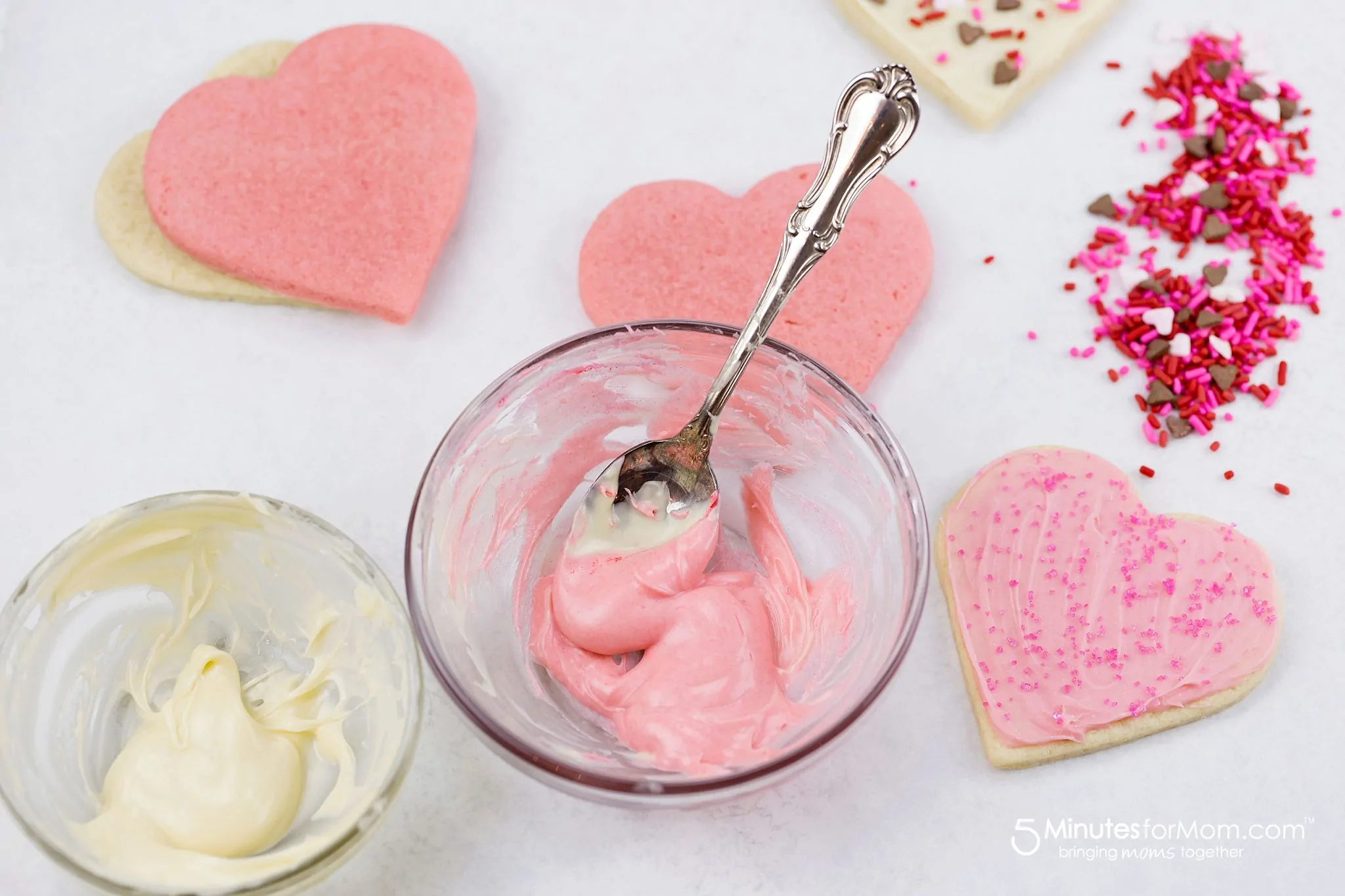 The melted chocolate will grasp on to the goodies and you will have gorgeous, festive cookies for any special occasion – or Wednesday afternoon.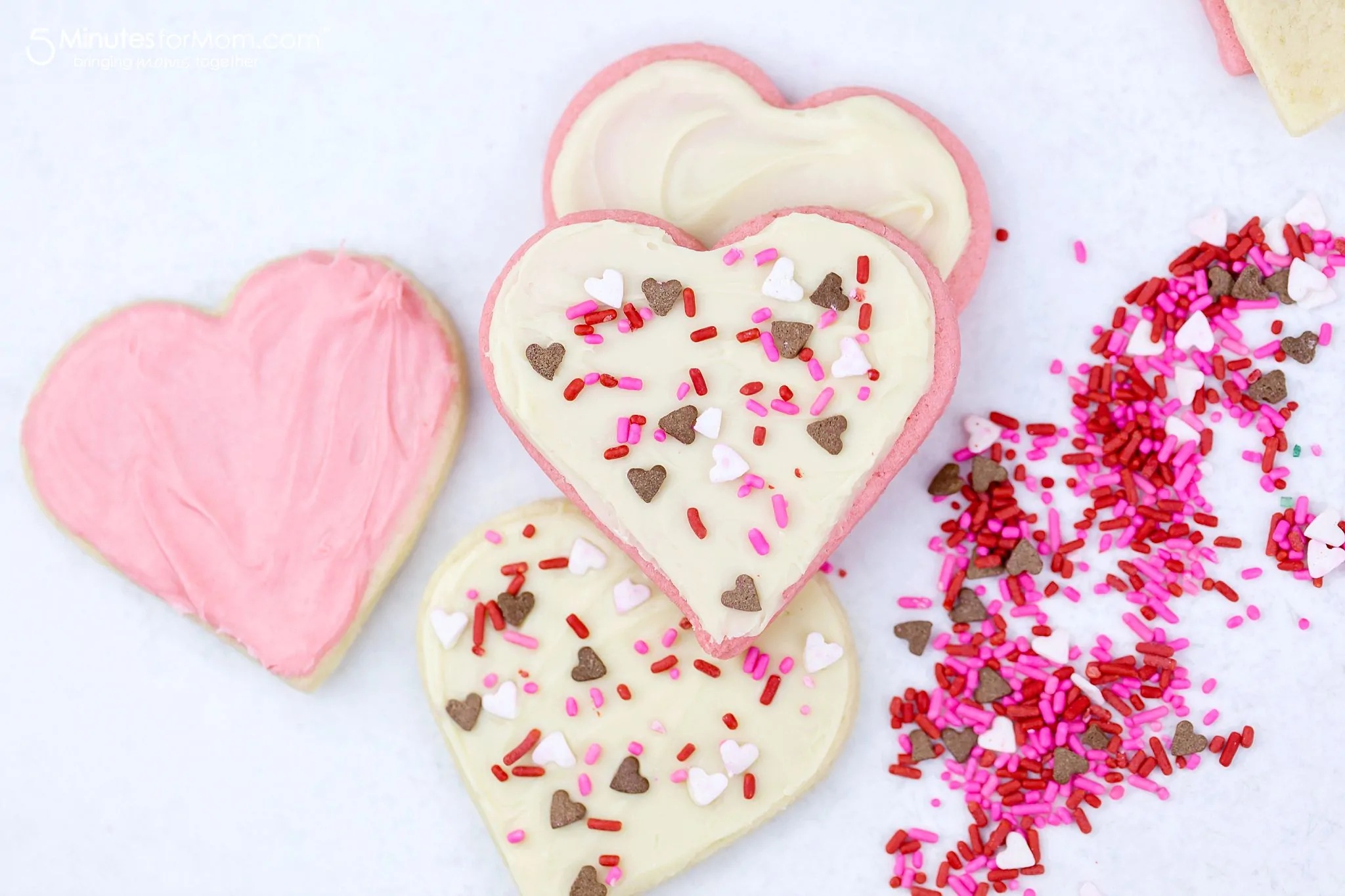 Simplified Sugar Cookies
Over the past few years, I have made more than a few batches of sugar cookies, experimenting with different kinds and amounts of sugar, making them gluten free, etc.
I prefer my sugar cookies to be soft and to melt in my mouth, and I like the tops to be smooth and even.
So, I like to use powdered/icing sugar instead of granulated sugar.
Sometimes I use a combination of half powdered and half granulated, but I find my cookies made with granulated sugar have little pock marks from the granulated sugar.
For the white sugar cookies I made in this post, I did half granulated sugar and half powdered sugar. But indeed, they had the spots of granulated sugar showing through. That isn't a problem if you are covering in icing or chocolate, but they bother me if I am leaving them plain.
To get a smooth finish, for the Kool-Aid Sugar Cookie batch I used only powdered sugar.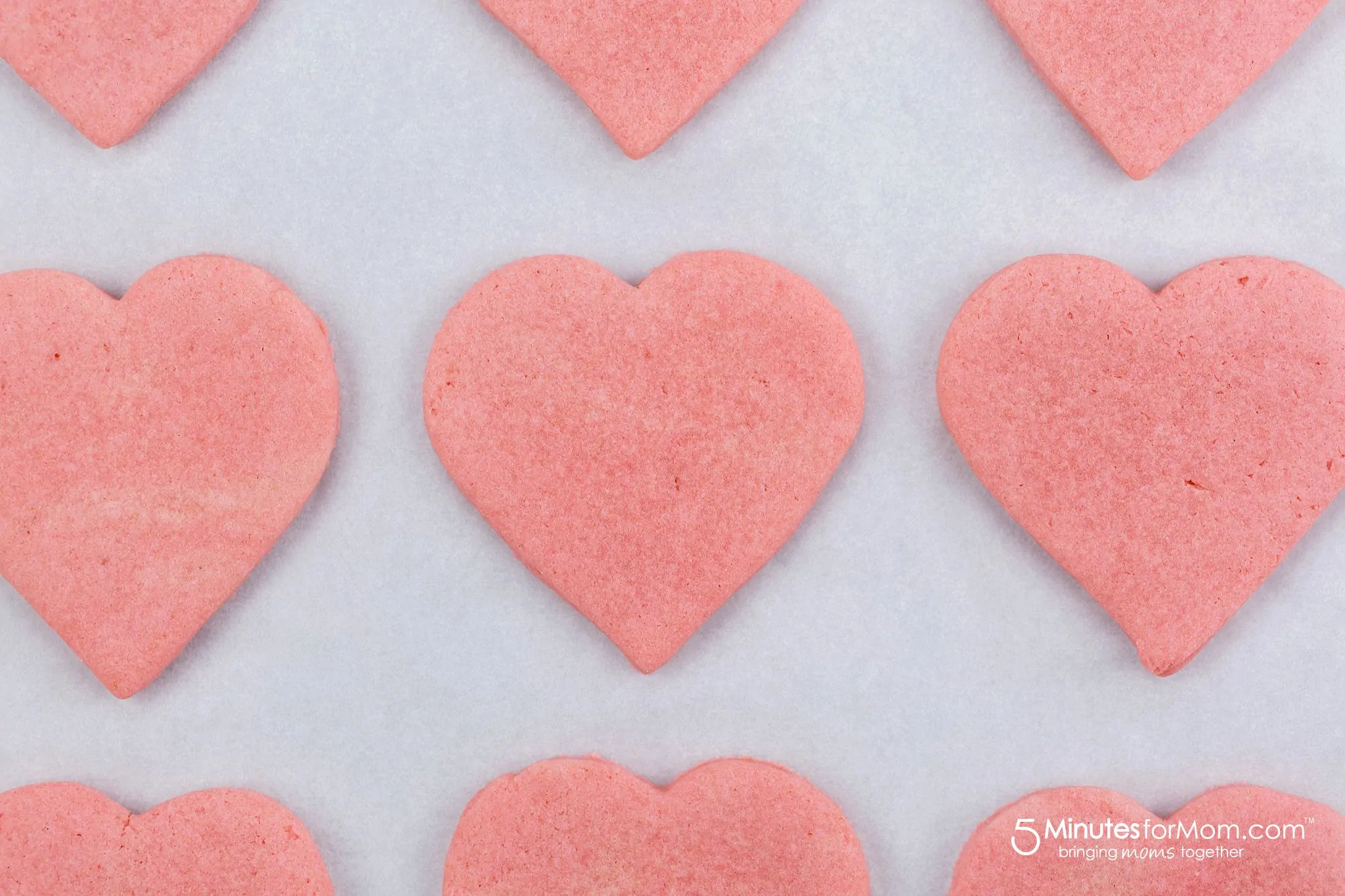 One more thing to note — I find this sugar cookie recipe performs just as well with wheat flour as it does with gluten free flour.
For the white sugar cookies, I used all purpose wheat flour. However, I didn't have enough wheat flour left over for the pink/Kool-Aid batch.
I prefer to use gluten free flour anyway, so for the Kool-Aid batch I used my Gluten Free Flour Blend and 1/4 teaspoon xanthum gum.
Of course, success with gluten free baking completely depends of your gluten free flour BLEND. If you try to bake these with just rice flour, you will have a disappointing mess on your hands.
For more about gluten free flour blends read my post, How to Make a Perfect Gluten-Free Flour Blend.
White Chocolate Topped Sugar Cookies Recipe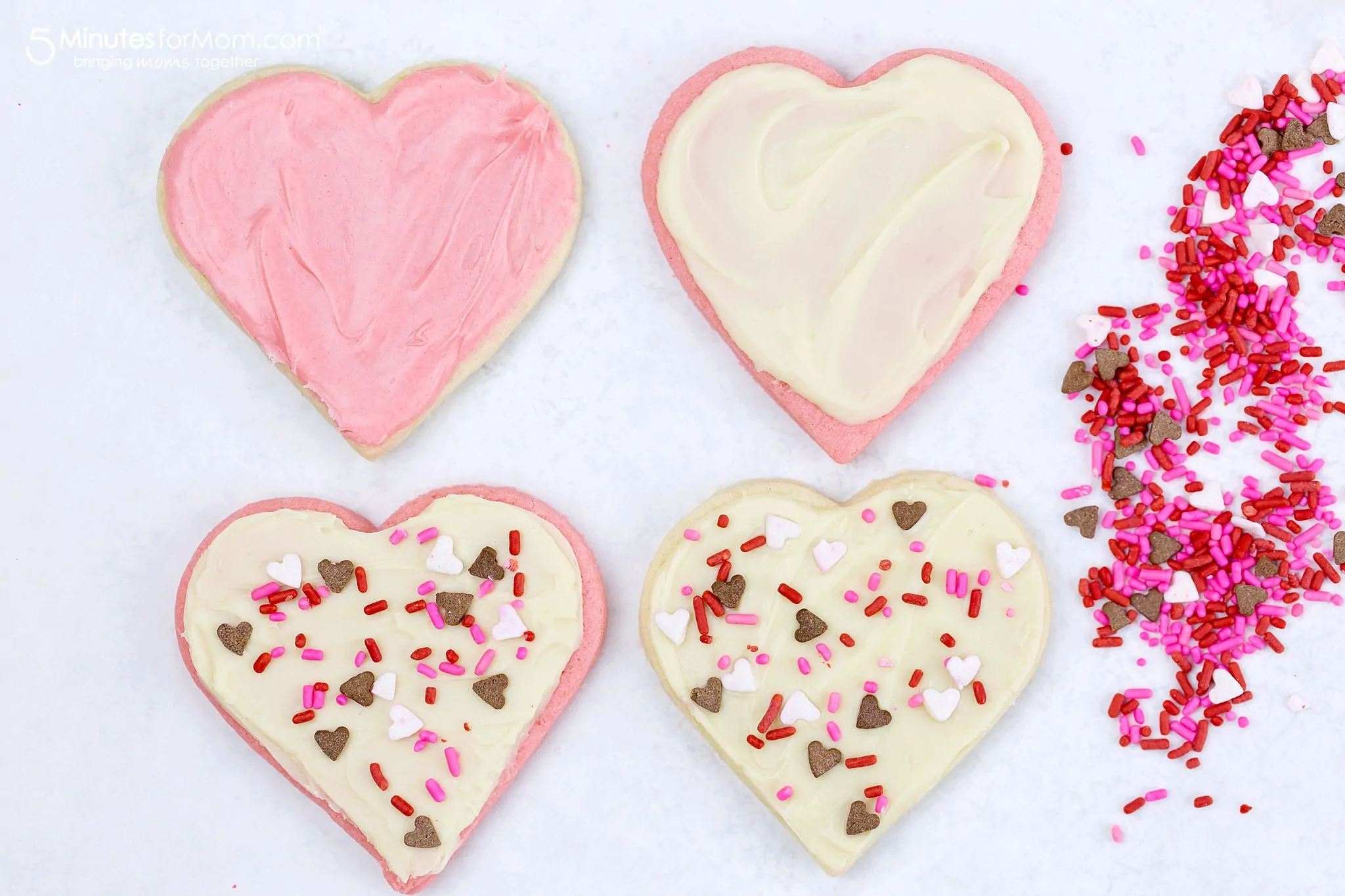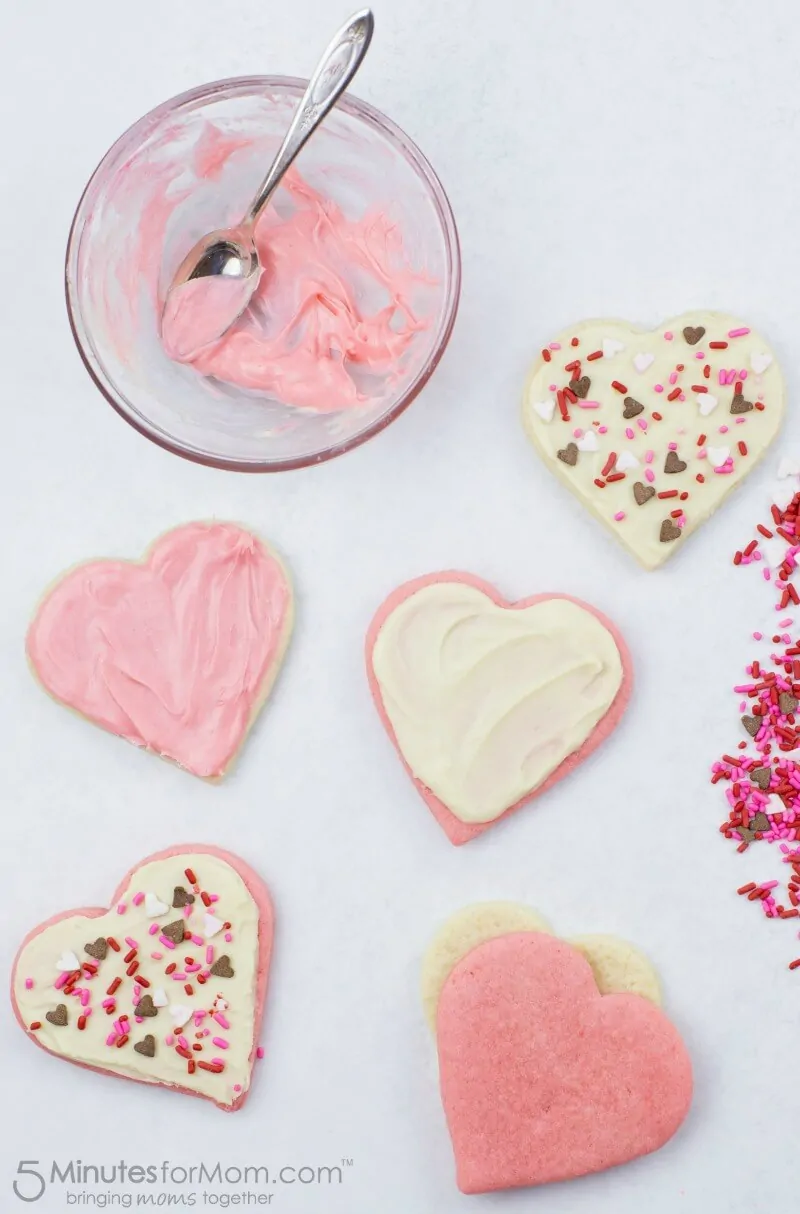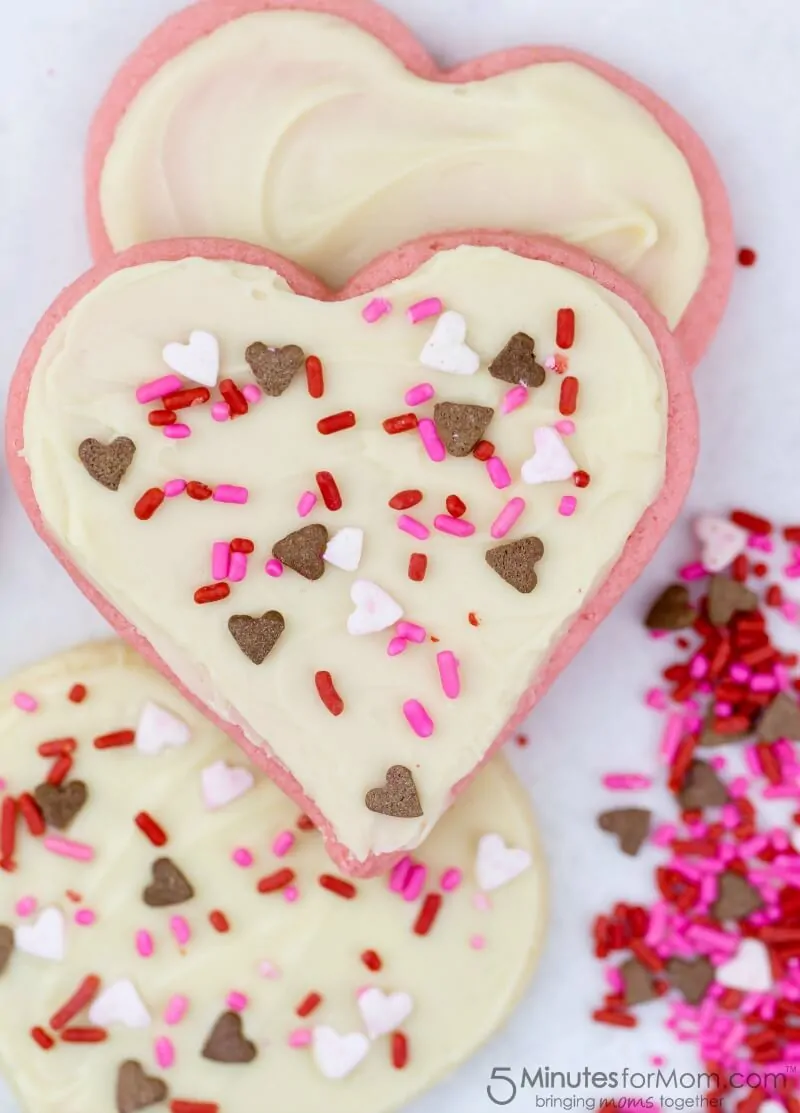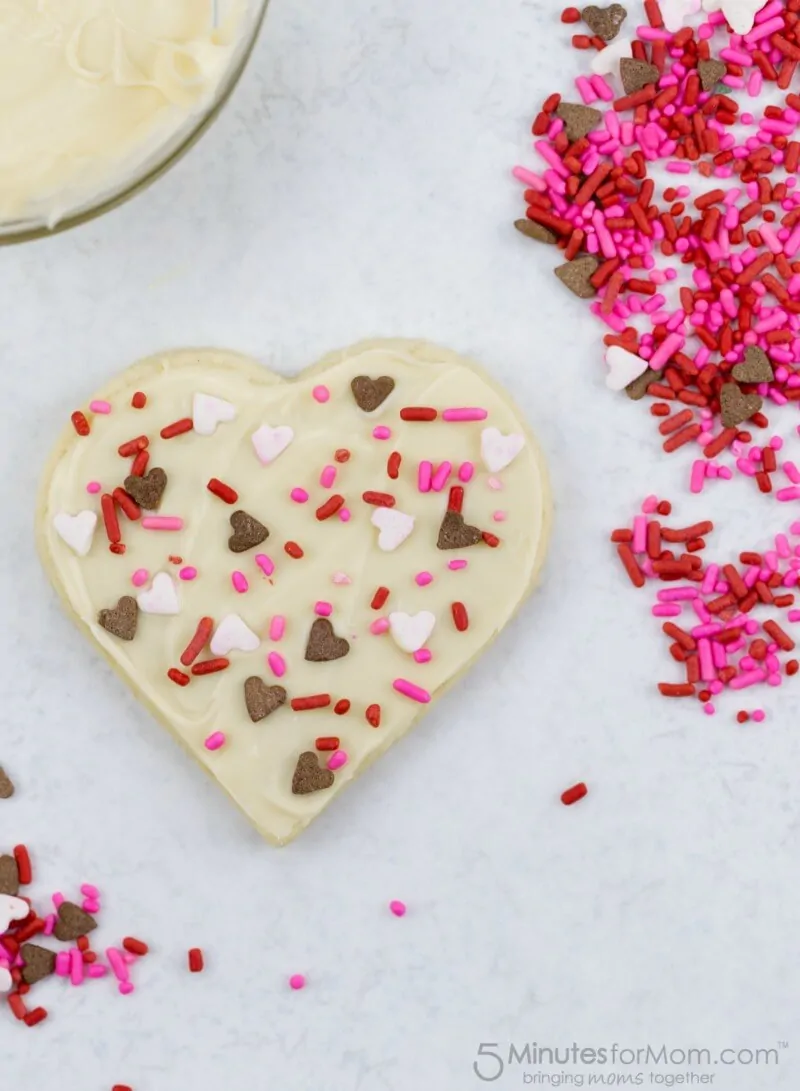 PIN FOR LATER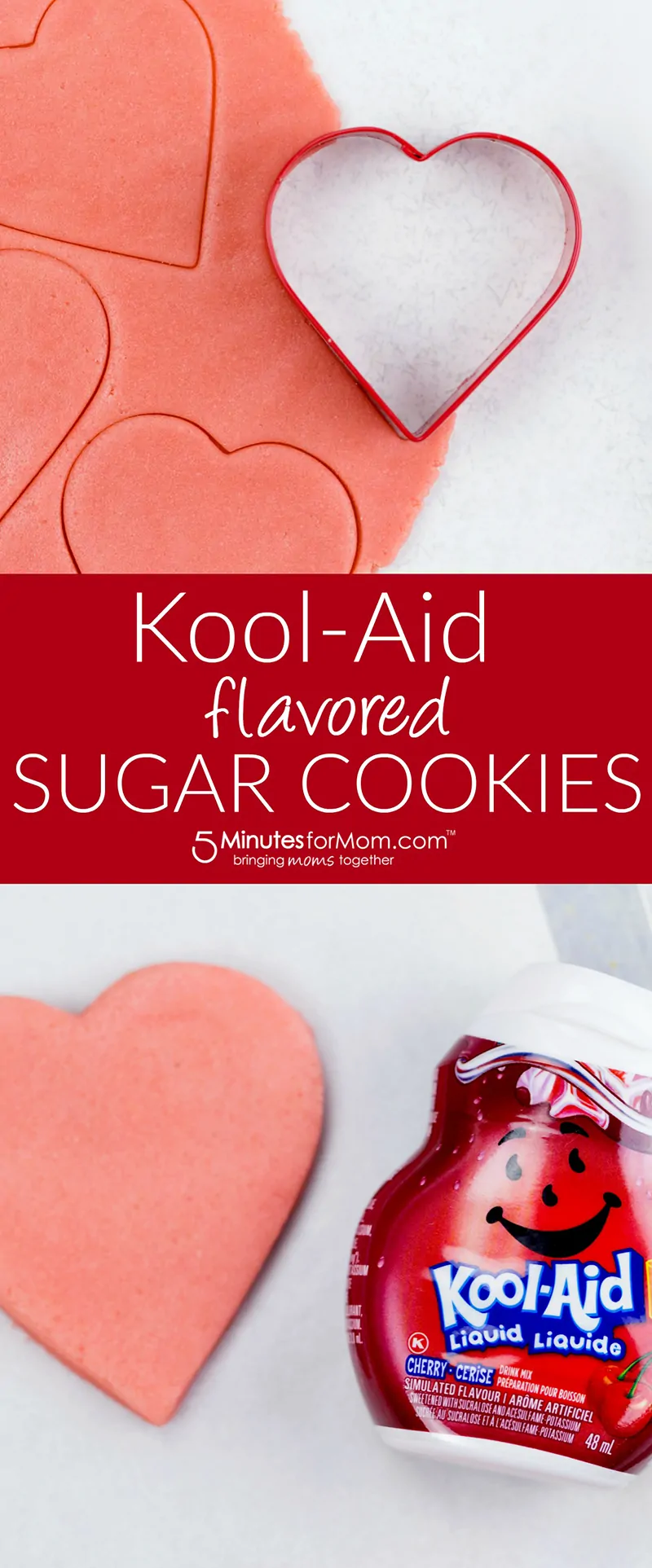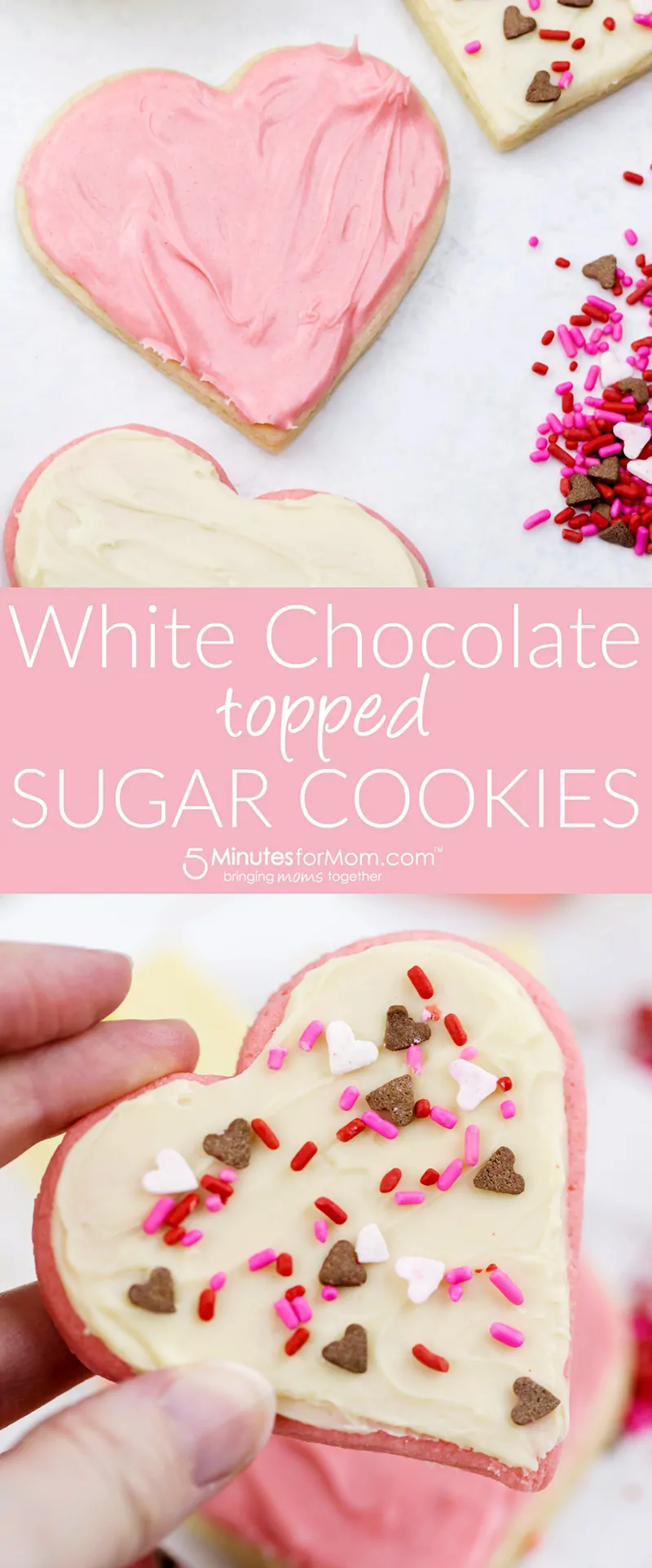 Written by Janice Croze, co-founder of 5 Minutes for Mom
Talk with me: @5minutesformom and Facebook.com/5minutesformom
Pin with me at pinterest.com/5minutesformom
Valentine's Day Crafts
Your kids will love these Valentine's Day painting ideas and you'll be amazed how pretty the cards turn out.
Another fun Valentine craft is making pom pom bookmarks and they are fantastic to give as gifts.
And hop over to these easy Valentine crafts for even more creative ideas.