This post may contain affiliate links. Read my disclosure policy here.
White Chocolate Truffles may seem daunting to make, but they are actually rather simple. And, to add some extra sparkle to your truffles, why not shake up some Lemon Sugar? It really is as easy as shaking a jar. So come on… let's tempt our sweet tooth together.
Thanks to Wholesome Sweeteners for sponsoring this recipe and post.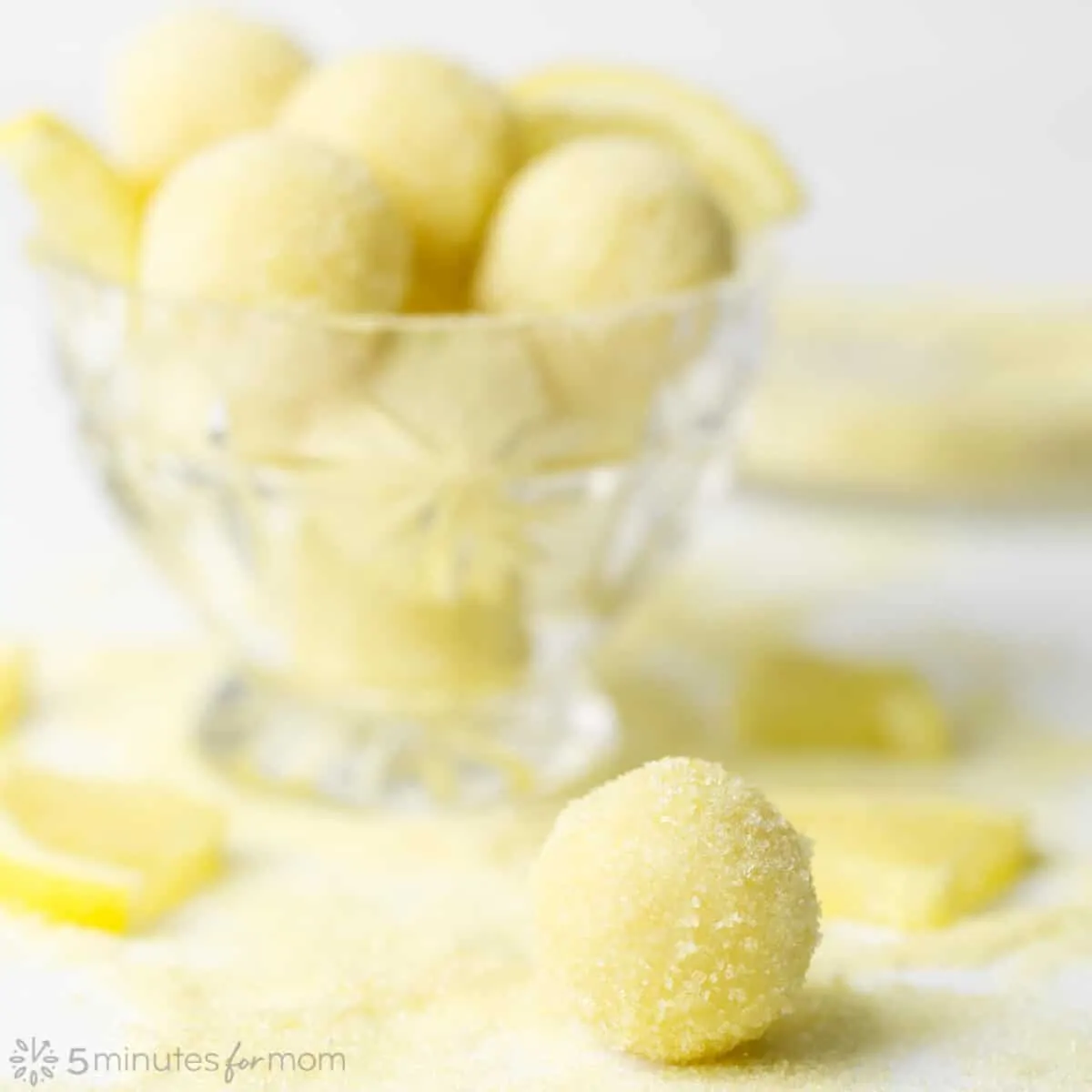 I have always loved white chocolate. I know it isn't technically "chocolate." It's mainly just sugar and cocoa butter… simple yet rich sweetness.
Earlier, I shared with you my recipe for making one of my favorite chocolate treats… Coconut Oil Dark Chocolate. And I also showed you how to make Ganache Truffles, with these Dark Chocolate Peppermint Kahlua Truffles.
So now I thought I would show you how to make your own white chocolate – from cocoa butter and powdered sugar – and then how to turn your white chocolate into White Chocolate Ganache Truffles.
To make your white chocolate truffles even more spectacular, I am sharing a super simple way to turn your granulated sugar into Lemon Sugar for an incredible coating.
Yes, this post is as delicious as it looks… so lets get started.
How to Make White Chocolate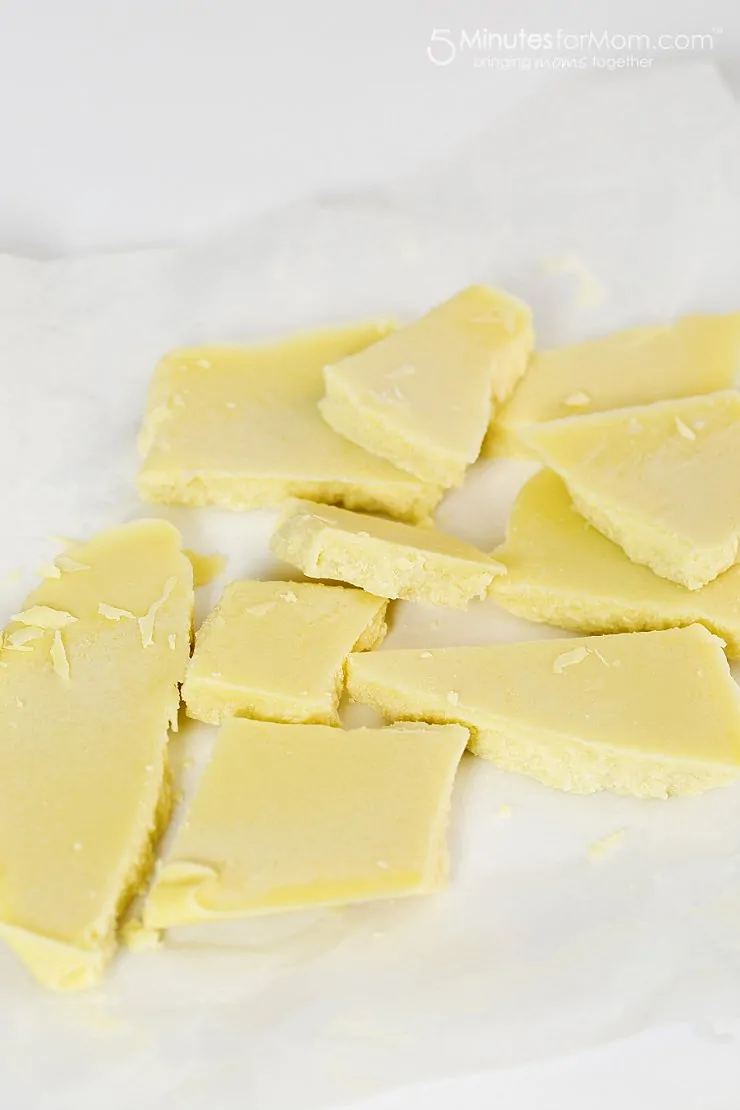 You may be surprised how simple it is to make white chocolate. In fact, the hardest part may be to find a place to buy food grade cocoa butter. I wasn't able to find any in our local grocery stores or at our local health food store, but I did buy some from a cake decorating store nearby. They only sold them in small 1.5 ounce containers though and each one was almost $3. Definitely not an economical way to go.
But if you plan ahead, you can purchase food grade cocoa butter online. It will probably be easier and cheaper.
Once you have your cocoa butter, just grab your best powdered sugar, some dry milk powder, and you are ready to go.
For this recipe, I used Wholesome Sweeteners Organic Powdered Sugar.
Since I tried Wholesome Sweeteners organic sugars this fall, I am in love with them. I was so happy to find that both my local grocery store and health food store carries their products and now I reach for them every time.

If you have a double boiler, pull it out and add an inch or two of water. If you don't have a double boiler, you can rest a pot or bowl on top of pot of water. Just make sure that the water in the pot doesn't touch the smaller pot/bowl.
Bring the water to a boil and then turn down the heat so it doesn't heat the top pot too harshly.
Add in your cocoa butter and melt, stirring often.
Once the cocoa butter is melted whisk in your powdered sugar, powdered milk, a pinch of salt, a few drops of vanilla extract and continue to whisk until smooth.
Pour into molds or even just a parchment lined bowl or dish.
Refrigerate for an hour or so and you will have your very own homemade white chocolate.
How to Make Lemon Sugar
While your chocolate is firming up, take a few minutes to make some lemon sugar.
It is so fun and so easy to make colored and flavored sugars. Once you try it, you will be hooked. You might even start coloring and flavoring sugar for other recipes.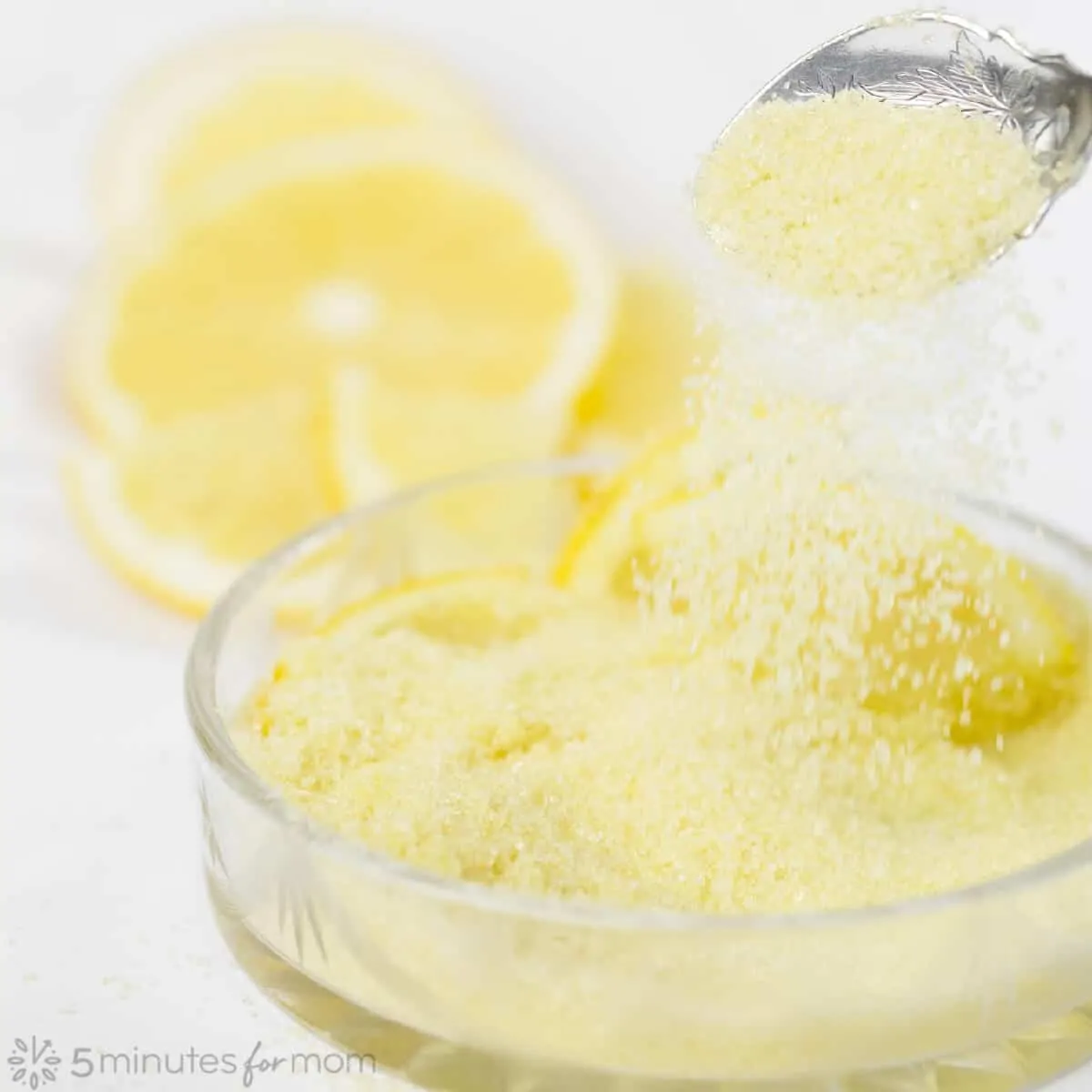 All you need is your favorite granulated sugar, lemon essential oil or extract, and yellow food coloring.
If you are concerned about food dyes, you can purchase natural food coloring.
For my Lemon Sugar pictured here I used Wholesome Sweeteners Organic Sugar, doTERRA lemon essential oil, and some yellow food coloring.
I put about a cup of sugar in a small jar, added two drops of lemon oil and two or three drops of yellow food coloring, and shook vigorously until all of the oil and color had dispersed evenly.
How to Make White Chocolate Truffles
It is time to make our White Chocolate Ganache Truffles.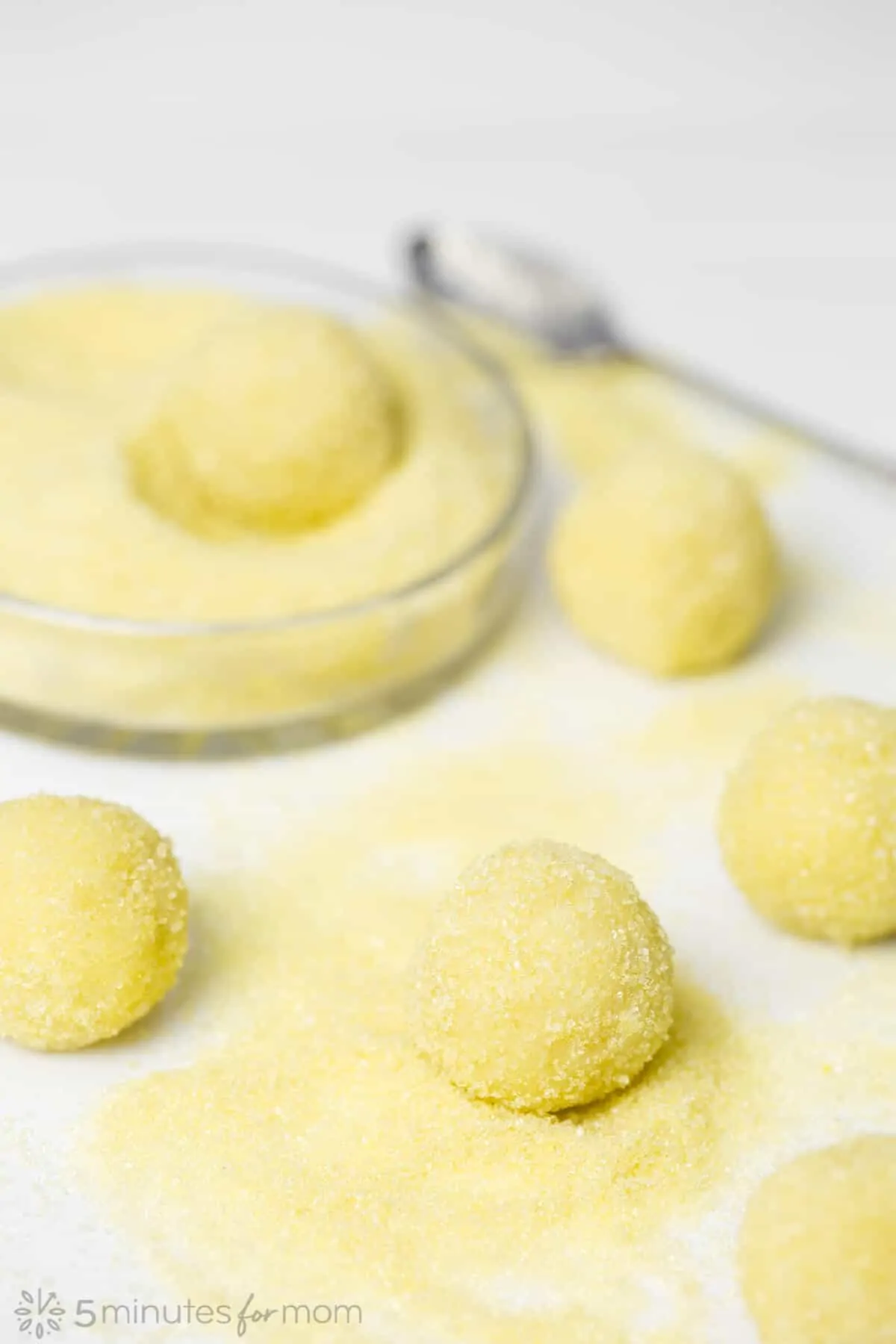 There are a couple different methods I have seen online used to make white chocolate truffles. With one method, the bloggers have melted their white chocolate first and then added warm cream and soft butter to the chocolate and mixed to form the ganache base for the truffle.
The other method, which I have used here, is more similar to the traditional way of making a chocolate ganache.
In this method, you heat the cream until it is just about to boil and then pour it on the chocolate.
After several minutes of gently stirring, the chocolate mixture forms a smooth, creamy ganache.
Since white chocolate is trickier to melt than dark chocolate, you may need some additional heat to melt the chocolate. So you may want to use a double boiler or a bowl on top of a pot of hot water to help ease the melting and mixing process.
Be very careful to not over heat your chocolate and cream.
If you go above 110* F your chocolate will separate. If you do overheat it and it starts to separate, add some cold cream and gently stir.
I find it is best to just have hot water in the double boiler and have the heat turned off the stove. You can read these posts on Crafty Baking for excellent information on Ganache and chocolate Problems and Solutions.
Also, since it can be difficult to melt the white chocolate evenly, it is helpful to first finely chop your white chocolate to make melting quicker and easier.
I did not chop my white chocolate in this batch that I photographed and it so it was more difficult to melt the white chocolate evenly.
You might notice from the photo that I also used some butter in my recipe to increase the creaminess of my ganache.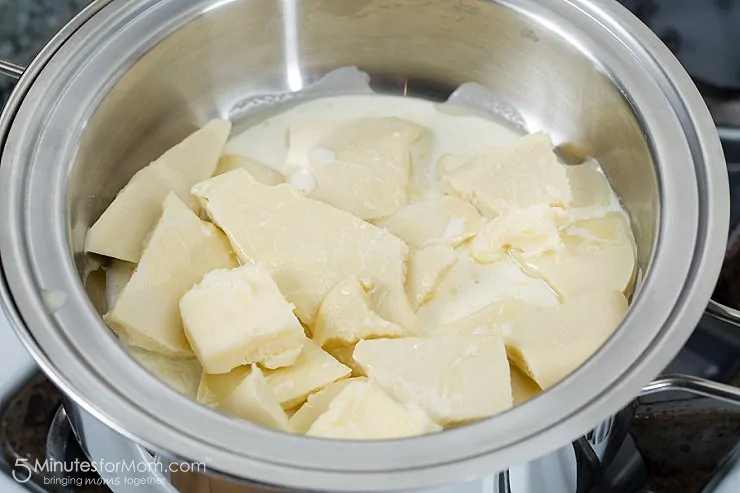 COOKING TIP: When you are mixing your ganache, it is very important not to over mix and not to add air as you stir. Stir evenly and slowly and if you use a blender, use an immersion blender so that the blender head can stay under the surface.
To add to the lemon flavor of my sugar, I also added some freshly squeezed lemon juice to my white chocolate ganache. I am in love with lemon.
Once the ganache was mixed, I allowed it to cool a bit at room temperature and then I gently blended it with my immersion blender to add a bit more lightness and fluffiness to the ganache truffles.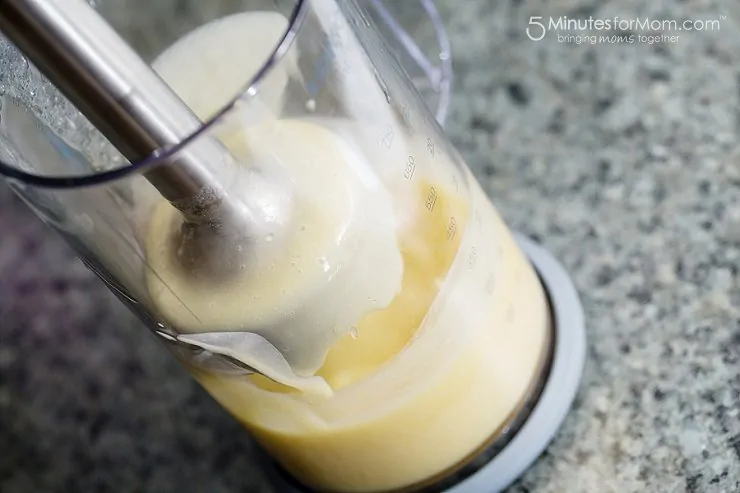 Then I poured into a dish to allow it to cool and firm up in the fridge.
When the ganache was firm, I scooped out small scoops about two teaspoons in size.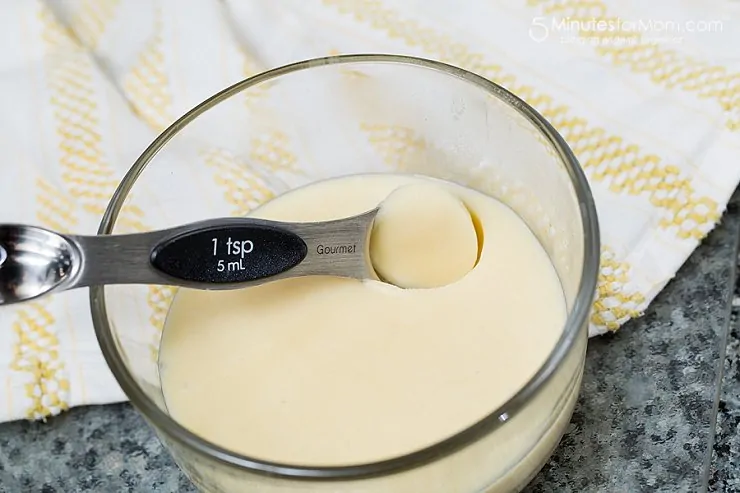 I rolled them in my hands to form balls. This is a bit of a messy task and dropping the balls into some sugar can help out the process.
When the truffle balls are smooth and round, roll gently in the lemon sugar.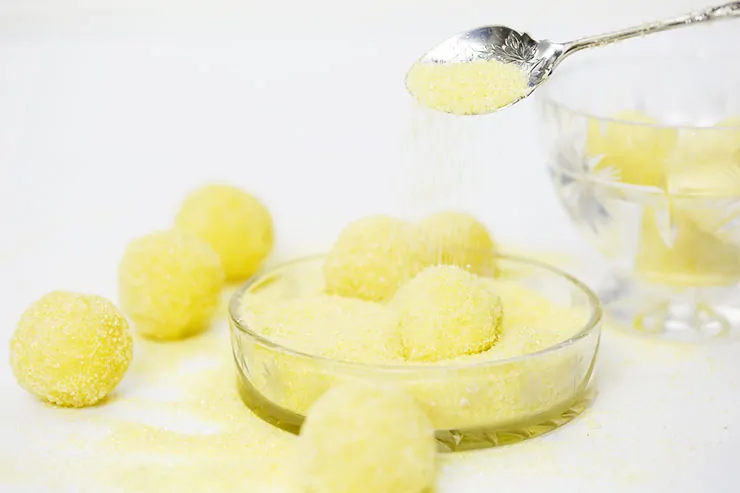 Return to the fridge to firm up again.
Before serving, let your truffles warm up at room temperature for about twenty minutes.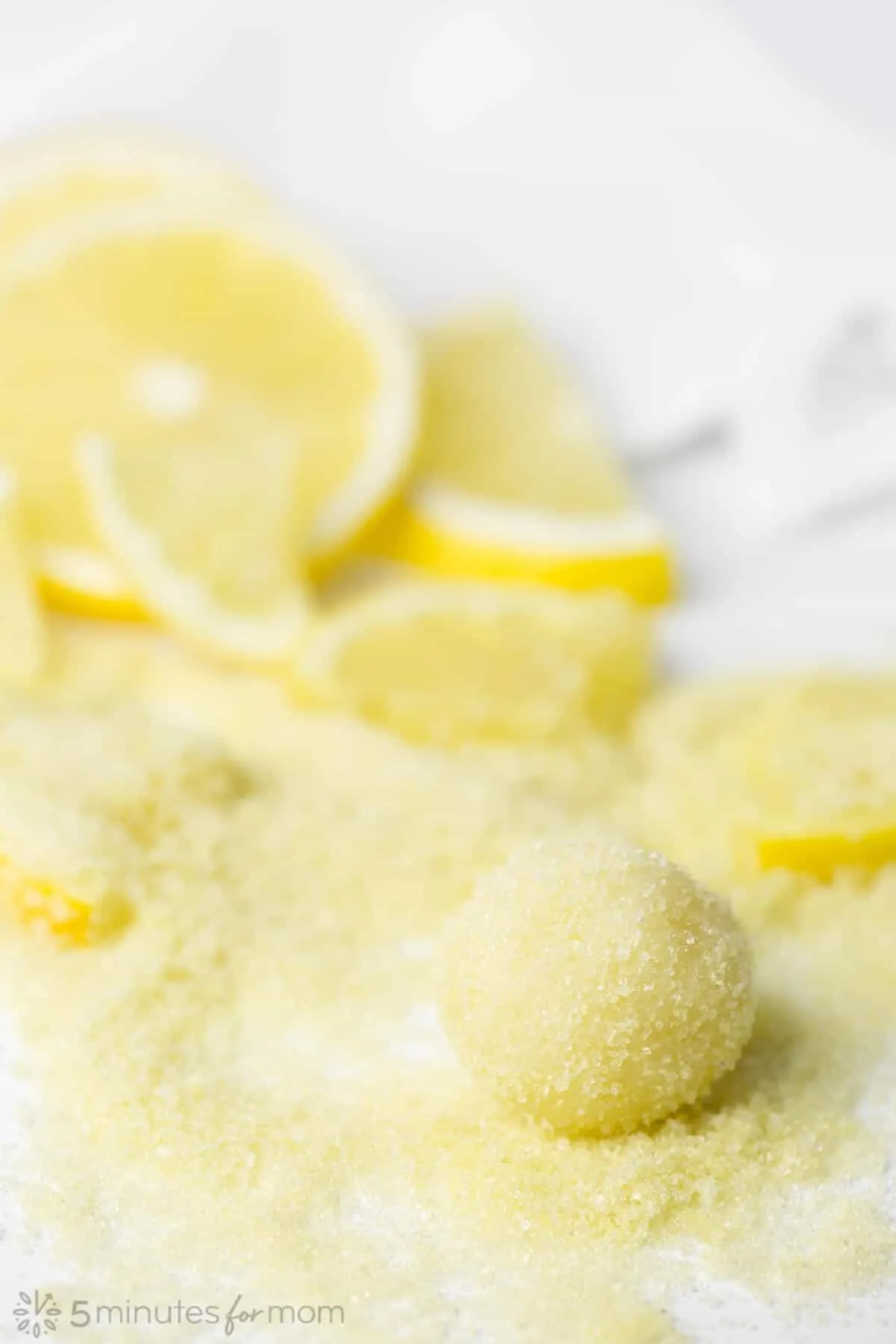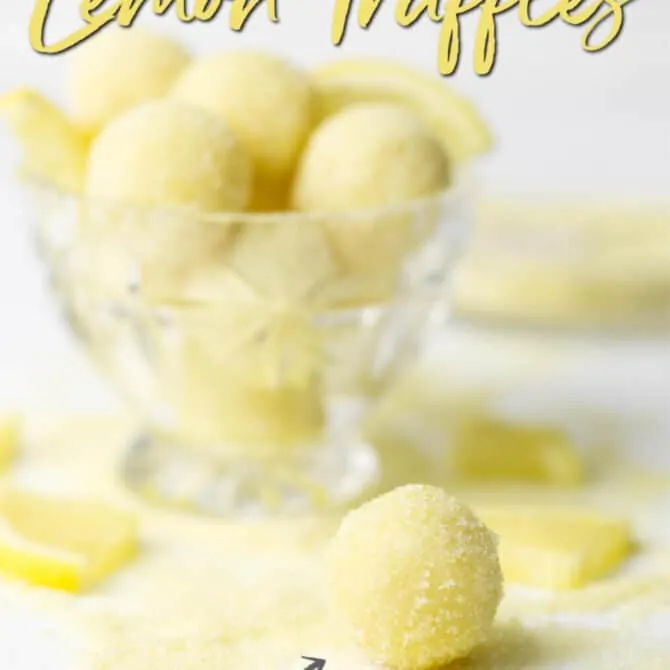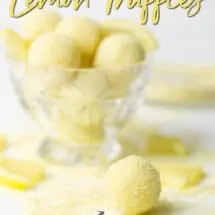 White Chocolate Truffles with Lemon Sugar
White Chocolate Truffles are a perfect treat for any day of the year you want to add some sweetness. This recipe includes how to make your white chocolate from scratch and use it to make your truffles. Or you can skip that step and use ready made white chocolate for your truffles. And, to add some extra sparkle, this recipe includes homemade lemon sugar to roll your truffles in.
Print
Pin
Rate
Ingredients
For Homemade White Chocolate
6 ounces cocoa butter
3/4 cup powdered sugar we use Organic Powdered Sugar from Wholesome Sweeteners
1 1/2 tsp powdered milk
1/4 tsp of salt
1/4 tsp vanilla extract
For Topping
1/2 cup granulated sugar we use Organic Sugar from Wholesome Sweeteners
2 drops of lemon essential oil or extract
2-3 drops of yellow food coloring
For Ganache Truffles
8 ounces of finely chopped white chocolate as prepared using above ingredients or ready made
1 Tbsp butter room temperature
1/3 cup heavy whipping cream
2 tsp fresh lemon juice
Instructions
To Make White Chocolate
Melt cocoa butter

Add powdered sugar, powdered milk, salt, and vanilla extract

Whisk until smooth

Pour into molds or dish

Refrigerate until firm, about 40 min-1hr
To Make Topping
Put sugar, lemon oil, and food coloring in a jar with a lid

Shake vigorously until well combined
To Make Ganache Truffles
Heat cream until just about to boil

Finely chop chocolate and place along with butter in double boiler or heat safe bowl over hot, but not boiling, water

Pour warm cream onto chocolate and allow to sit for a few moments

Begin to slowly and evenly stir, taking care to not over heat mixture as chocolate melts

When smooth, add lemon juice and stir to combine, do not over mix

Allow to cool slightly and thicken then blend with an immersion blender (optional step)

Pour into a bowl or shallow dish and refrigerate to cool

When firm, scoop out in 2 tsp size scoops and form into balls by rolling in hands, using sugar to help form balls if necessary

Once balls are smooth and round, roll in lemon sugar topping
Pin it for Later
Written and photographed by Janice Croze, co-founder of 5 Minutes for Mom.
Please Note: I received product from Wholesome Sweeteners to review and test out in my kitchen, along with compensation for my time to create and publish these original recipes. All opinions are entirely my own. We first published this post on February 5, 2015. It's been a fan favorite, so we've updated the post to share with you again.