This post may contain affiliate links. Read my disclosure policy here.
Family road trips can be such a fantastic way to spend time together as a family and create memories full of adventures. We're sharing these family road trip hacks to help you make the most of your family vacation.
Thanks to OK Tire for sponsoring this post which helps us continue to bring you tips and resources for your family.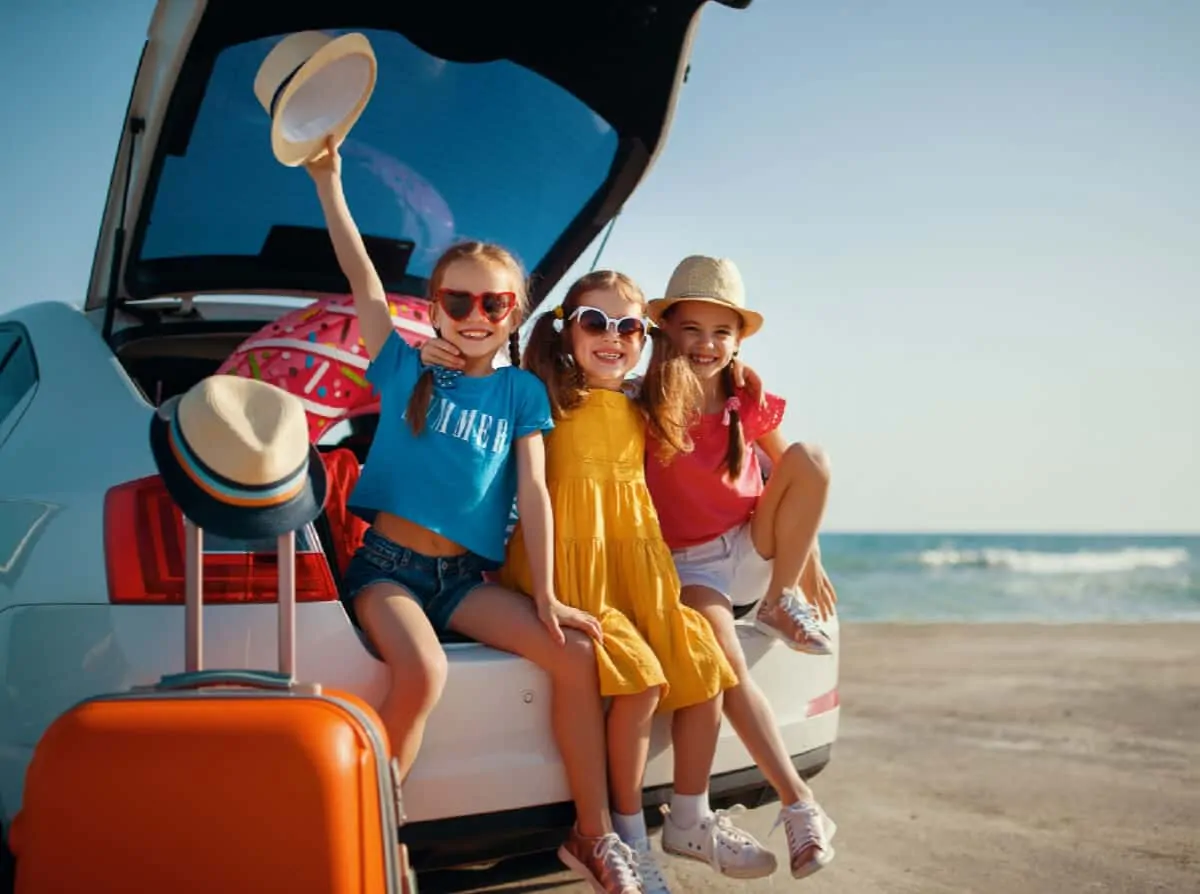 Getting ready for your family road trip means more than planning your route. To maximize fun and reduce stress for your family road trip, you need to take some simple steps before you hit the road.
Follow these road trip hacks for a smooth ride…
1. Get Your Vehicle Serviced
While you may be caught up in the fun of planning your vacation, you can't forget this important detail… getting your car serviced. Preventative maintenance for your vehicle will make sure it is in top condition for a safe drive.
I'm fortunate that my super-organized mother drilled into my head the importance of taking my car in for servicing BEFORE I go on any road trip. (My mom is awesome that way… she also reminds me to get my snow tires put on well before the snow falls each winter.)
Here are some of the basic vehicle maintenance steps you should take before your family road trip:
get fluids checked
change oil
replace old windshield wipers
consider getting snow tires if traveling in the winter
get chains if you will be in severe winter weather
test battery, lights, and indicators
check alignment and brakes
test tire pressure and suspension
If your bank account is bruised from the more exciting parts of your vacation planning, you may want to use OK Tire's financing program. Ask at your local shop about financing your vehicle maintenance. They have over 300 locations, each independently owned and operated.

2. Plan For Fun But Prepare For Bumps
A little bit of planning can go a long way for adding lots of fun into your family road trip and it can also help smooth out any bumps along the way.
How you prepare will depend on the ages of your kids.
If you have a baby on board, make sure you have everything you need for fast diaper changes, including a change of clothes. If you have a toddler or preschooler, you may even want to take a little potty along with toilet paper, baggies, and wet wipes.
Think ahead and plan some games and download a few printables and games for younger kids. Bring along pencils, pens, crayons and paper too. Our kids love drawing and making up games together. Get your kids to also pick out a few stuffed animals, toys, and maybe a little bag of kinetic sand to play with in the car. Have each of them put all of their toys and papers in a little bag or zipper binder they can keep near them.
Use your smartphone map to plan your route and make note of potential bathroom stops, historic landmarks, or fun family activity spots where you might want to stop. Schedule snack breaks or plan where you might want to stop for dinner at a restaurant.
An especially fun idea is to get an old-style paper map and mark out your trip for your kids to see the entire road trip route. Show them what life was like before Google Maps.
And of course, be sure to pack an emergency kit!
Your emergency road kit should include:
extra washer fluid
jack and tool kit
jumper cables
non-perishable food and bottled water
candles and matches
first-aid supplies
flashlight
spare tire
If you're prepared with these emergency supplies, you can avoid a small problem turning into a dangerous situation.
3. Clean Your Car Before The Family Road Trip
Start your trip off right… with a nice clean car.
Do a deep clean in the car interior including vacuuming seats and wiping down surfaces to get rid of dust and germs.
Clean air vents to remove particles that could get into the air.
Take care of the exterior with a good wash and wax to remove dust and dirt that could scratch the surface on the long drive.
Check your cabin air filter in case it needs to be replaced.
To be honest, I like to take my car in for a professional cleaning before a big road trip. I have so much to do to get ready, that handing my car off for a deep clean makes me feel fantastic.
You can also point out to your kids how nice the car looks after it's big cleaning and remind them to try to keep it as clean as possible. Give them each their own little garbage bag to toss in their snack packages as soon as they are done eating.
To minimize drink spills in your clean car, pack sippy cups for little kids and pack straws for bigger kids. We always make sure each family member also has their own water bottle for the drive. If everyone is drinking water, spills are no big deal.

4. Stock up on Snacks, Music, and Audiobooks
A family road trip means lots and lots of snacks!
Follow these top tips for snacking success:
Bring a small cooler with water bottles and juice boxes as well as pre-cut fruit and vegetables. You may want to make sandwiches before you leave and add those to your cooler too. Pack another reusable grocery bag with granola bars, popcorn, chips and other tasty treats to keep everyone happily snacking. You'll save money and time by not having to stop for food multiple times during the drive.

(But if you are crossing the US/Canada border, be sure not to have any fruit, vegetables, meat, or nuts in your snacks when you're going from one country into the other.)

Save money by buying large family size bags of snacks and divide them ahead of time into personal size snack bags for each of your kids. Then they won't be fighting over who is holding the bag of chips. You could even pack each child their own lunch box with an ice pack and all their own snacks. Then they can help themselves throughout the drive and nobody will be fighting over who has eaten more cookies.

Keep wet wipes, tissues, paper towels and a few small garbage bags in your car so everyone has them within reach.
Don't forget to plan your music before the road trip. You can use a pre-made, curated playlist so you aren't distracted on the road. Or you can make your own family road trip playlist. Have everyone suggest songs and put together your playlist before the trip.
The trickiest scenario is when you have a wide age range of kids. If your older kids like different types of music and you can't get them to agree, let them each use headphones and make their own playlists.
If you have small children in car seats who are likely to nap, you may need to ensure you can keep your older kids quiet for at least certain parts of the road trip. So that is when headphones for your older kids will be important. They can listen to their music without keeping your young kids awake.
We also love listening to audio books while we drive. Whether or not you can pick a book that everyone will enjoy will depend on the age ranges of your kids. I'd recommend downloading a few audiobook options from the library and get everyone's input ahead of time. There are lots of fantastic audiobooks that tweens, teens, and adults will all enjoy.
And when the kids are all busy listening to their headphones, you can have a turn listening to your audiobook.
But remember, you don't need a book to listen to a story. You are in a car full of storytellers! Your kids will love hearing stories from your own childhood and stories from when they were little. After listening to you tell some stories, they will likely get excited and start making up their own stories. Encourage them to use their imagination. We love playing games where we each say a sentence and together build a story.
5. Get Organized Before You Start The Car
Most of the headaches on family road trips come from siblings fighting with each other. If you have a plan ahead to avoid disagreements, everyone will be happier. Plan where kids are sitting to avoid fights. If kids want to take turns sitting in different spots in the car, decide ahead when they will change seats.
Here are a few more ways to get everyone organized before the road trip starts:
If your kids will be using smartphones or tablets, make sure they have portable chargers, and that you have a charger for your phone too.
Be sure small children in car seats are not wearing heavy coats. Not only is it not safe for them to wear bulky coats in their car seats, you also don't want them to get too hot during the drive. If you're driving a long way, consider having you kids bring along a pillow and blanket to stay cozy while napping.
Wearing layers is key to keeping everyone at the right temperature in the car.
A small tip that can save lots of time on bathroom stops is to have kids wear shoes they can easily slip on and off in the car.
You may want to consider taking along an extra set of car keys, just in case you lose yours.
Another not so exciting, but critical tip is to make sure you also have all your important documents, including drivers license, passports, and health insurance numbers for your family as well as your vehicle's manual and registration paperwork, easily accessible in case of emergency. Hopefully you won't have any car trouble during your drive, but if it happens, OK Tire's 12 months/20,000-kilometre North American warranty program covers most auto services and repairs done at any store across Canada and when you are on road trips in the United States.

If you have unexpected car trouble, simply call the helpline to find the closest authorized repair shop anywhere in North America.
We hope these family road trip hacks help you and your kids have a fabulously fun vacation!
About OK Tire
As one of the largest independent tire and auto service retailers in Canada, OK Tire experts have the experience and knowledge to help you make the right decisions for your vehicle, no matter what the year, make or model.
Part of the Canadian landscape since 1953, with over 300 locations coast to coast, each location is independently owned and operated.
Customers can count on national support as well as the personal service of a local owner who lives in, shops in, and supports their community. OK Tire is proud to offer retail financing options to get you back on the road today, and delay your payments to a later date. Find out more at www.oktire.com.
Pin it for Later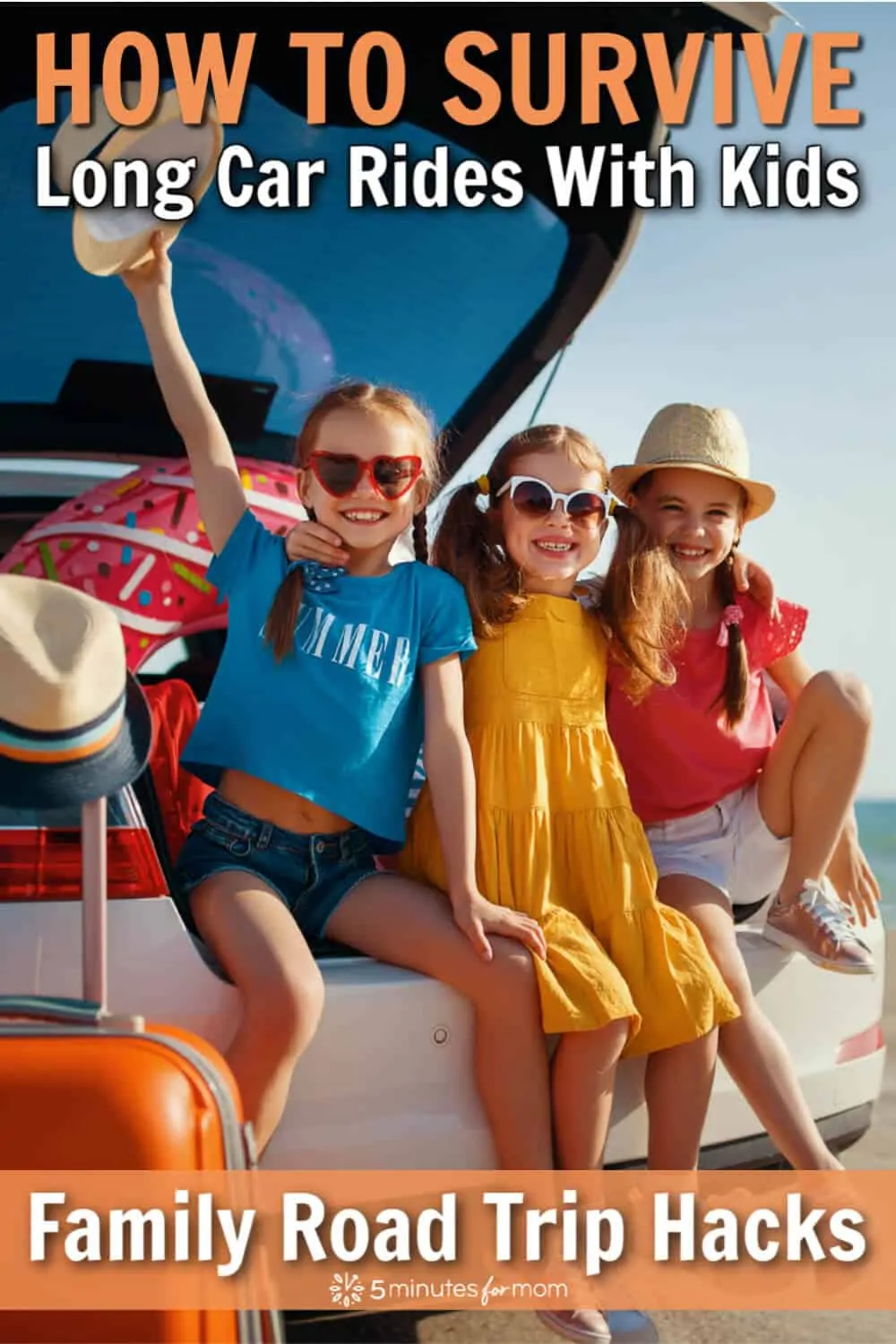 Disclosure: This post is sponsored, so extra thanks for reading and sharing.
Written by Susan Carraretto, co-founder of 5 Minutes for Mom
Talk with me: @5minutesformom and Facebook.com/5minutesformom
Pin with me at pinterest.com/5minutesformom