This post may contain affiliate links. Read my disclosure policy here.
Are you a chocolate lover? You'll love this incredibly delicious, coconut oil chocolate that you can make yourself. Simply follow our step by step recipe to learn how to make dark chocolate.
You'll discover that it's super easy to make dark chocolate and you probably already have all the ingredients in your cupboards right now. To make our dark chocolate a little healthier, we are using coconut oil.
Thanks to Wholesome Sweeteners for sponsoring this melt-in-your-mouth recipe and post.
I love dark chocolate.
But I haven't always. No, I used to be a milk chocolate or white chocolate girl.
However, since dark chocolate wins in the "healthier" department, a few years ago I started training my taste buds to choose the darkest of dark chocolate.
It worked. I now love the sweet bitterness of dark chocolate and I use its health benefits as an excuse to indulge.
How To Make Dark Chocolate Even Healthier
In an effort to come up with more reasons to regularly consume dark chocolate, I created this homemade dark chocolate recipe that uses coconut oil, cocoa powder, and Organic Powdered Sugar from Wholesome Sweeteners.
(And since Wholesome Sweeteners sugars are all organic and ethically grown, we have even more reasons to feel great about eating this homemade dark chocolate.)
I can't decide which is better news — that this heavenly treat takes dark chocolate to an almost guilt free level or that it is so light and creamy it melts the instant it touches your tongue.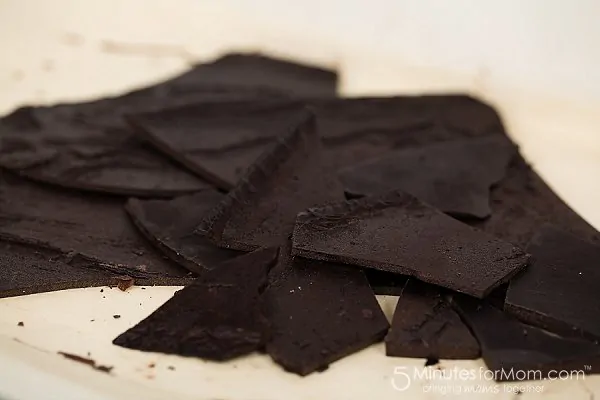 Indeed, I have consumed far more of this chocolate than I can ever reconcile. It is so hard to resist. The coconut oil makes the chocolate so smooth it tastes almost as if it were a ganache.
So, if you are looking for a healthier way to get your chocolate fix, here is how to make coconut oil dark chocolate at home…
How to Make Chocolate
I used to think it would be complicated to make chocolate. But making chocolate from cocoa powder is actually quite simple. It is just a handful of ingredients and a bit of stirring…
Homemade Salted Peppermint Dark Chocolate Recipe
Since I wanted to make my chocolate with as many healthy qualities as possible, I decided to make my chocolate with coconut oil. Coconut oil produces a lovely, smooth, melts-in-your-mouth-and-in-your-fingers, chocolate.
Since coconut oil melts at 76*F, you need to store coconut oil chocolate and candies in the fridge or freezer. I call my coconut oil creations, "Freezer Candy."
To make chocolate, you need a fat, (such as coconut oil, cocoa butter, vegetable shortening, butter, etc.,) cocoa powder, and a sweetener, such as Organic Powdered Sugar by Wholesome Sweeteners.
I also used vanilla extract and some sea salt in my chocolate.
Here are the simple steps for how to make chocolate with coconut oil…
Put the coconut oil in the top of a double boiler. (I actually didn't even use a real double boiler. I couldn't find my double boiler, so I simply fit a pot on top of another.) You may ask, how does someone lose a double boiler? I honestly have no idea.
Melt the coconut oil. It takes very little heat to melt coconut oil, and you do not want to overheat your chocolate, so keep a close eye on your temperature and, if possible, use a good chocolate or candy thermometer.
Once the oil is melted, stir in your sifted, powdered sugar and whisk until dissolved.
Then add cocoa powder and whisk until smooth and shiny.
Add vanilla and a dash of salt, if desired.
How To Temper Chocolate
Tempering chocolate makes chocolate smoother, shinier, and gives it that "snap" when you break it.
Here are the simple steps to temper chocolate…
Heat chocolate until 118*F and then remove from heat.
To cool, you can use a "seed" portion of cooled, hard chocolate and stir into the heated chocolate to bring down the temperature.
Since I was tempering my melted chocolate, I didn't have a seed. Instead, I placed my pot of chocolate in a pan of cold water, and stirred to cool it, making sure not to get ANY water in my chocolate mixture. A drop of water can ruin your chocolate, so be extra careful.
Stir the cooling chocolate until it is 82*F.
Then, to use the chocolate for molding, dipping, etc., reheat it until the chocolate is 90*F.
Mold Chocolate
If you want to form your chocolates with molds, pour your chocolate into a Pyrex measuring cup, or another heat-safe container with a spout for pouring.
Then simply pour the chocolate into molds or onto a parchment lined baking dish or sheet.
You can also use tempered chocolate at 90*F for dipping or coating candies, truffles, etc.
After pouring into molds or on to baking sheets, cool in the refrigerator or freezer until chocolate is solid. If you want to add toppings such as ground sea salt or crushed peppermint, allow chocolate to firm slightly before adding so that the topping doesn't sink into chocolate.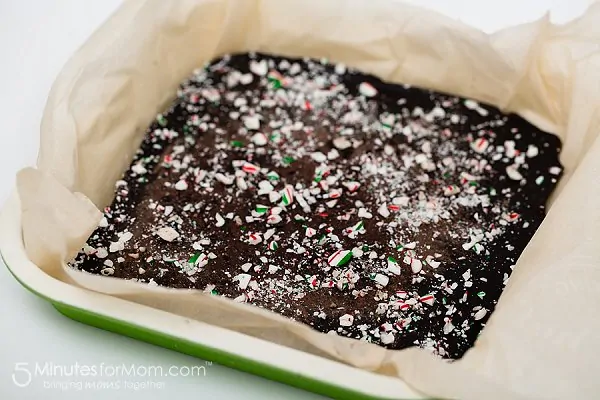 Once the chocolate has hardened, it is ready for eating. If you made a sheet of chocolate, you can break it into pieces and serve.
If you give your chocolate as a gift, make sure your let your gift recipient know that they should store their coconut oil chocolate in the fridge or freezer.
For my peppermint chocolate, I topped with both sea salt and crushed peppermint. It made a wonderful sweet and salty combination.
I cannot even admit to you how many pieces of this chocolate I have eaten while preparing this post.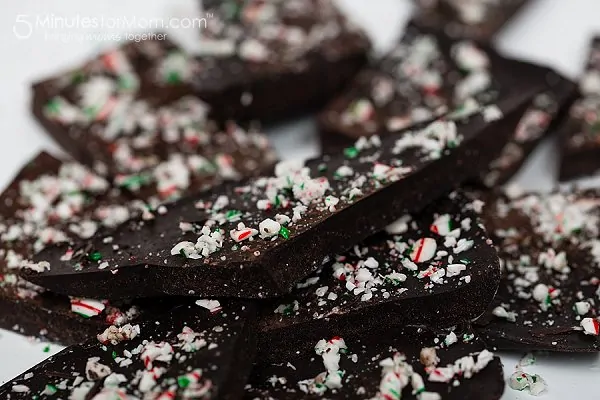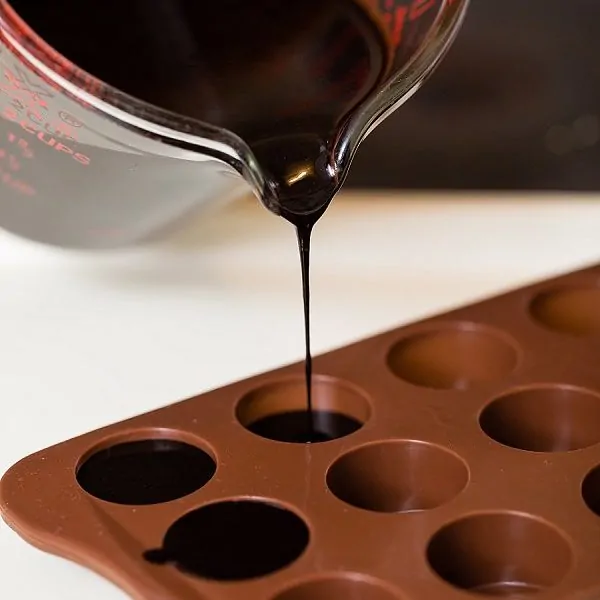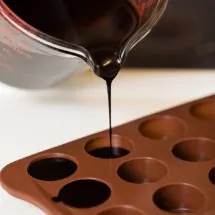 Coconut Oil Dark Chocolate
Learn how to make chocolate at home. Coconut oil makes this easy to make homemade dark chocolate smooth and delicious.
Print
Pin
Rate
Servings: 16 pieces
Calories: 46kcal
Ingredients
1 cup coconut oil
1 cup organic cocoa powder sifted
1/2 cup organic powdered sugar sifted
1 tsp vanilla extract
1/2 tsp ground sea salt – and extra for sprinking
2 peppermint candy canes or 3 to 5 mini candy canes, crushed, for sprinkling
Instructions
Melt coconut butter on low heat/double boiler – do not over heat

Remove from heat

Stir in sifted powdered sugar until dissolved

Add cocoa and whisk until smooth

Add vanilla extract and salt

Temper chocolate

Heat chocolate to 118*F

Remove and cool chocolate by resting pot in a shallow pan of ice water

Stir and cool to 82*F, taking care to not get any water into chocolate mixture

Once cooled, return to heat and heat to 90*F

Use chocolate for dipping, molding, pouring, etc.

Once chocolate is poured into molds, or on parchment or waxed paper lined baking sheets, cool in fridge or freezer

If topping with salt and/or peppermint, allow chocolate to firm slightly before topping

Allow to cool and harden completely before breaking into pieces or serving

Store in air tight bags or containers in fridge or freezer
Nutrition
Calories: 46kcal | Carbohydrates: 8g | Protein: 1g | Fat: 2g | Saturated Fat: 1g | Sodium: 73mg | Potassium: 81mg | Fiber: 1g | Sugar: 5g | Calcium: 7mg | Iron: 0.7mg
I hope you have a fun and delicious time making chocolate. Let me know how your chocolate adventures go — leave a link in the comments if you post about making your own chocolates. I would love to see your creations.
Written and photographed by Janice Croze, co-founder of 5 Minutes for Mom.
Please Note: I received product from Wholesome Sweeteners to review and test out in my kitchen, along with compensation for my time to create and publish these original recipes. All opinions are entirely my own.