This post may contain affiliate links. Read my disclosure policy here.
If you thought making truffles was only for chocolatiers, I have some earth shattering news — you can make your own truffles, right now, at home…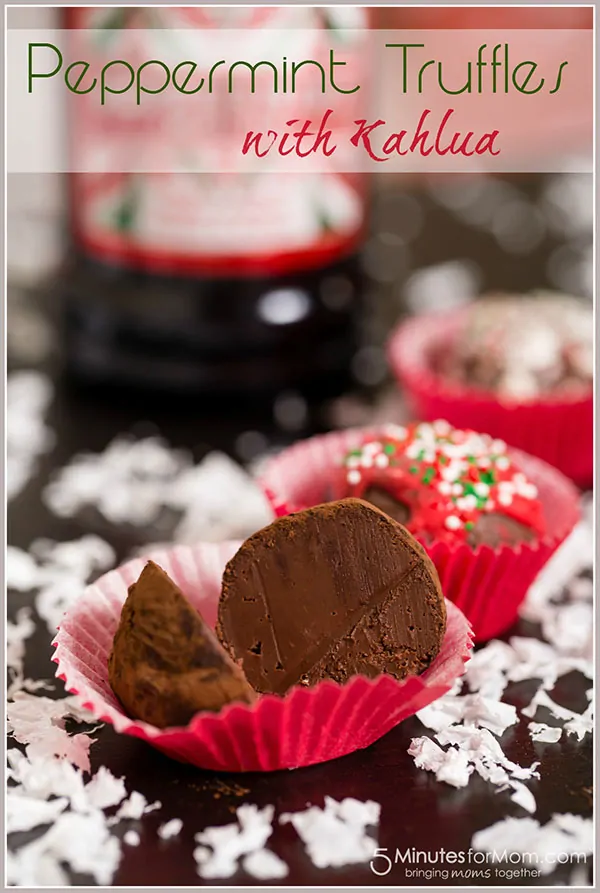 I still remember the first time I tasted a truffle. It was like nothing I had tasted before, the rich, ganache center melting in my mouth as I bit into the cocoa covered creation. Why had it taken so many years for me to discover these perfect chocolate delicacies?
Considering how incredible truffles taste, I assumed I could never make them myself. I thought I could only purchase true truffles in tiny boxes from professional chocolatiers.
But one day I was channel hopping and happened to see an interview with a chocolatier making truffles. I was inspired to try to create my own truffles and I knew just the flavor I wanted to make: Peppermint Kahlua.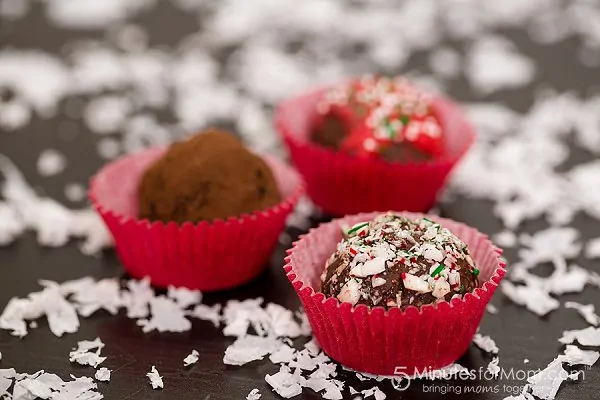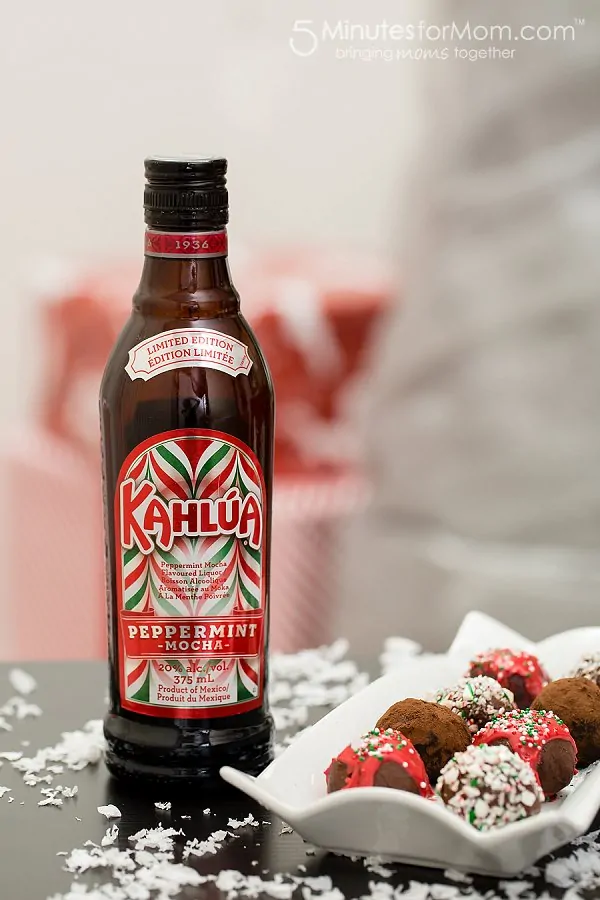 Before I broke out the chocolate, I did some serious research. I hit Pinterest, I watched YouTube videos, I read blog posts. And I learned that truffles are truly something any one can make, and there are a million versions and varieties.
Pinterest is full of tons of other kinds of truffles — peanut butter truffles, Oreo truffles, cake batter truffles, brownie truffles, and countless more.
For these Peppermint Kahlua Truffles, I went for a traditional dark chocolate ganache truffle.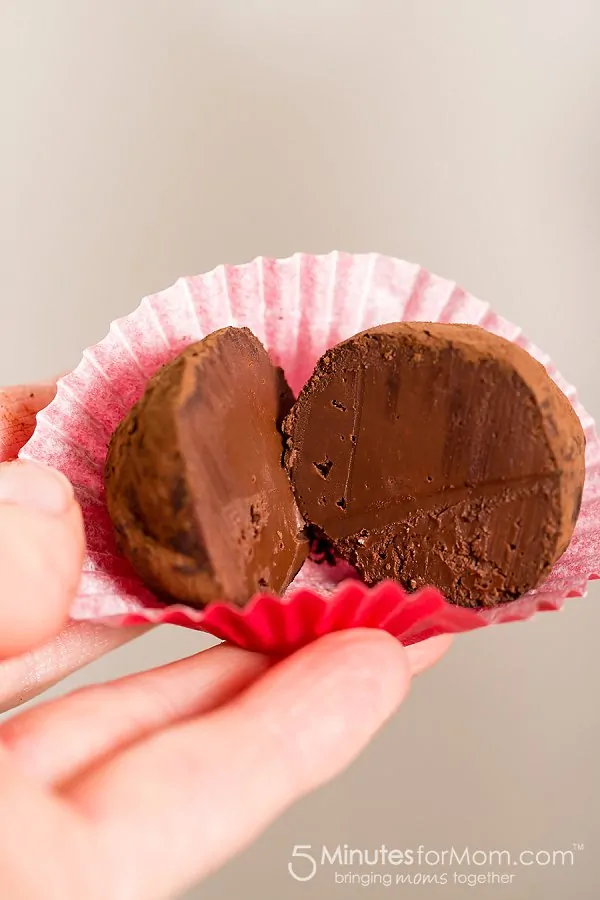 I love the silky texture of a ganache center and ganache is actually incredibly simple to make.
I will be publishing a detailed post in the next couple weeks on how to make a fabulous ganache, but in the meantime, I snapped a few photos the other day while I was making a ganache with some coconut oil chocolate I had made.

Peppermint Truffles with Kahlua Recipe
First, you chop up or break up your chocolate. The finer quality chocolate you buy, (or make yourself,) will result in a higher quality ganache.
Avoid using chocolate chips as they are actually designed to resist melting.
I like to use a fine dark chocolate and for these truffles I used a Lindt 82% cacao chocolate.
You can also add some butter to your chocolate if you wish to add richness. But butter is optional.
Next, you heat cream until it just comes to a boil. Then, simply pour the hot cream onto the chocolate pieces and let stand for 5-10 minutes to allow the cream to melt some of the chocolate.
Then whisk chocolate and cream mixture until smooth and shiny.
For the peppermint flavor, I used Peppermint Kahlua. But if you don't have any Peppermint Kahlua or you want to make your truffles non-alcoholic, you can use some peppermint extract or peppermint oil.
Once your ganache is flavored and smooth, cover with plastic wrap and allow it to cool in the refrigerator or on the counter until firm.
When ganache is cooled and firm, scoop or spoon out small portions that are approximately two teaspoons each to form your truffle balls.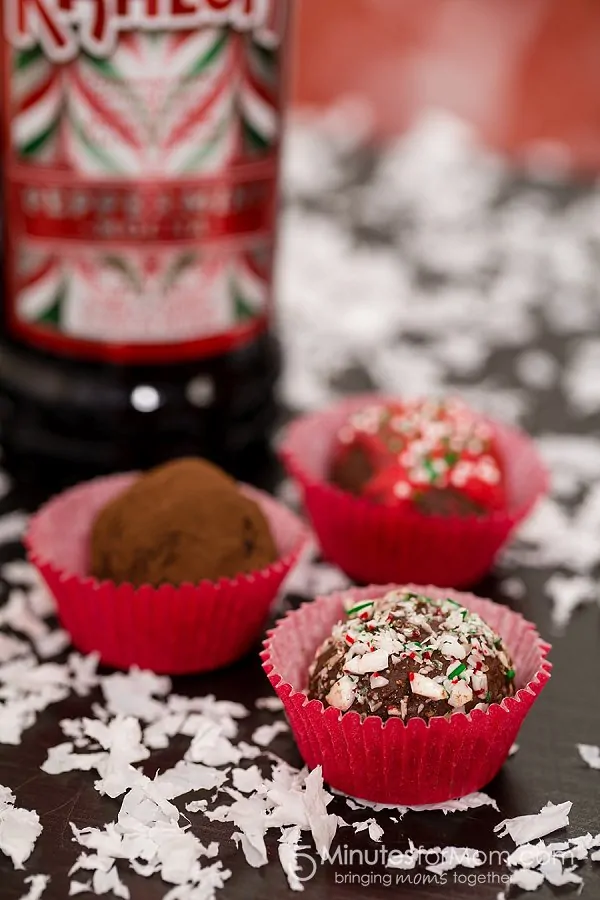 Next, I rolled some of my truffle balls in cacao and some in crushed peppermint. I also topped some with melted red chocolate and sprinkles.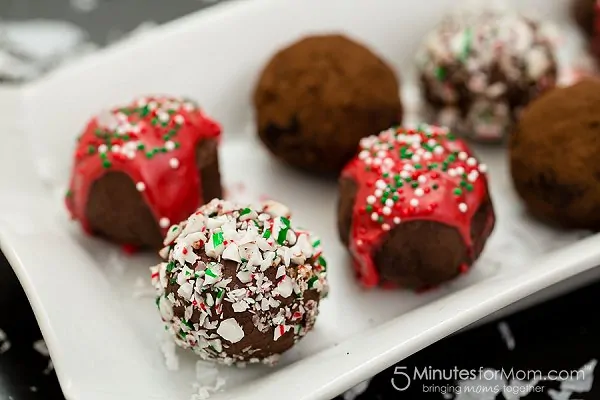 For more information on making ganache, check out the informative posts on Craftsy and CraftyBaking.
And for a fun comparison posts on different kinds of chocolate truffles, check out this truffle post on Relish.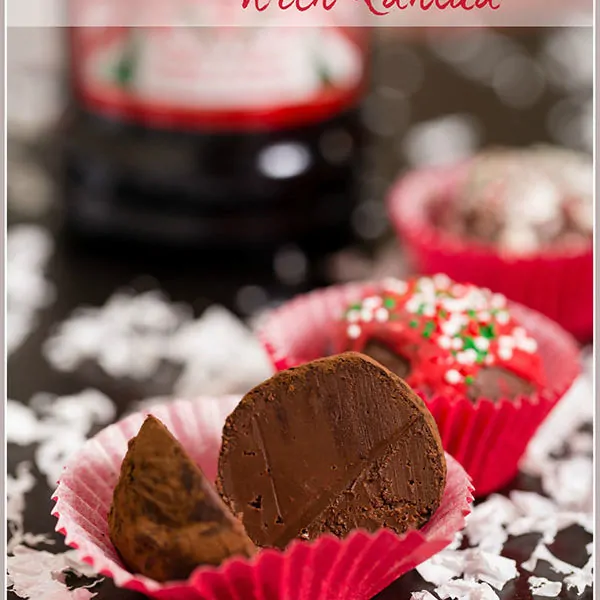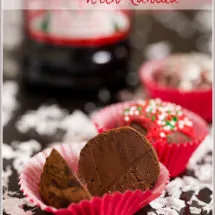 Peppermint Kahlua Truffles
These decadent Peppermint Kahlua Truffles are as simple to make as they are delicious to eat.
Print
Pin
Rate
Ingredients
8 ounces Dark chocolate
½ cup Heavy cream
2 Tbsp Butter optional
Peppermint Kahlua for flavoring
Cocoa powder for rolling
Peppermint candies crushed, for rolling
Instructions
Chop or break up chocolate and place in heat safe bowl

If using butter as well, add to the bowl with the chocolate and set aside

Put cream in a saucepan or a double boiler and bring just to a boil

Remove from heat and pour over chocolate

Allow to sit for 5 minutes

Whisk together cream and chocolate until smooth and shiny

Add in optional flavoring and mix until well incorporated

Cover and allow to cool and firm in refrigerator for about one hour

Using a small scoop or a spoon, scoop out small portions of ganache and form into balls

Roll formed balls in cocoa powder, crushed peppermint, or coat with melted chocolate and/or sprinkles

Store in air tight container in the refrigerator for two to three days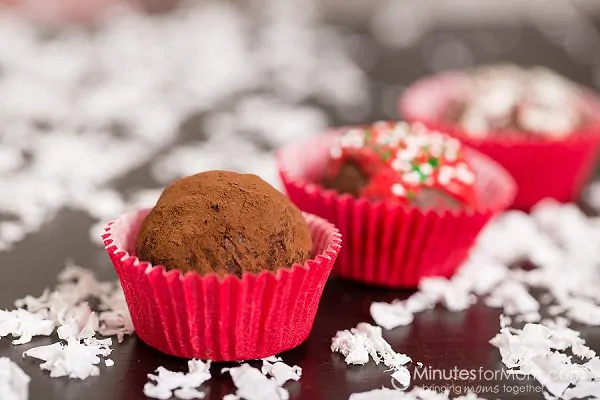 Written and photographed by Janice Croze, co-founder of 5 Minutes for Mom