This post may contain affiliate links. Read my disclosure policy here.
If you love coffee, you'll want to know how to use a moka pot. With this brilliant and tiny type of Italian coffee maker, you'll impress your friends and family by making coffee on the stove just like the Italians make in Italy.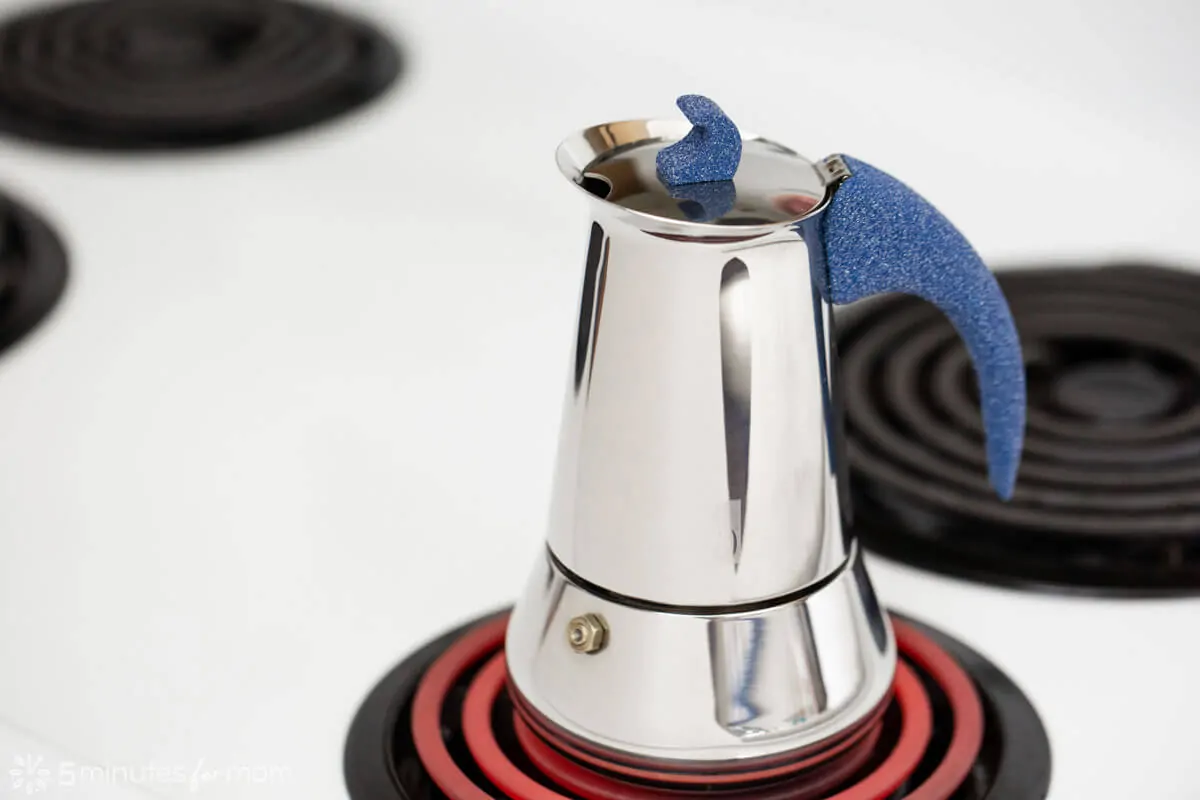 If you live in Italy, there is a 90% chance that a moka pot is sitting on your kitchen stove.
But if you live in the US or Canada, you may have no idea that you can brew a strong, almost-espresso, cup of coffee on your stovetop with a simple, affordable stovetop coffee maker.
Since Susan and I weren't coffee drinkers until our late thirties, when Susan first saw a moka pot decades ago in Italy on her inlaws' kitchen stove, she didn't pay too much attention to the little pot.
But several years ago, my Austrian boyfriend, Andreas, introduced me to stovetop espresso with his two favourite Italian stovetop espresso makers. I had never seen a stovetop espresso maker before and I was hooked.
Italian Coffee Maker
Last week, when Andreas was brewing me a "caffè" in his stovetop espresso maker, I decided to write about this stovetop method of brewing coffee that is so popular in Europe and Italy.
When I told Susan I was writing this post and photographing Andreas' Italian coffee makers, or "caffettiere" in Italian, she offered to lend me some of her espresso cups from Italy. While she was looking for them in her china cabinet, she rediscovered this gorgeous stainless steel moka pot that her husband's Italian relatives had sent as a wedding gift.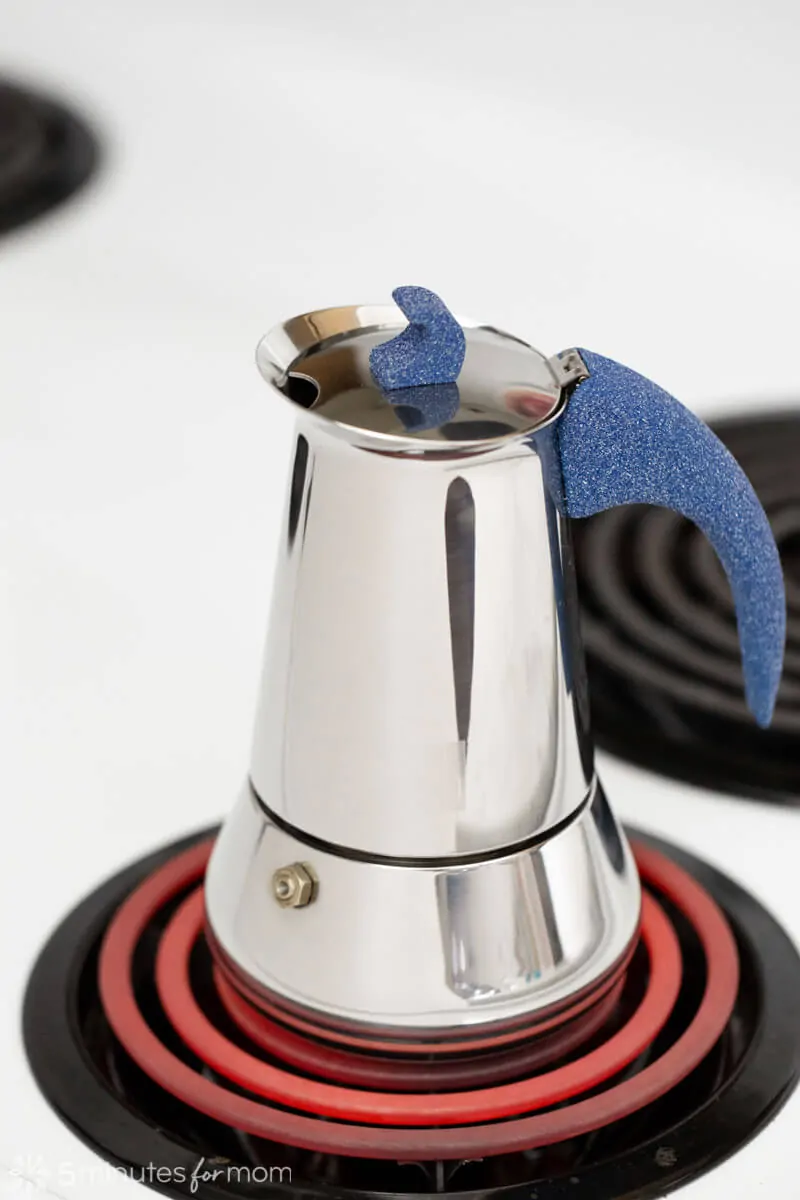 I squealed with delight and begged to borrow it, admitting I probably wouldn't want to ever give it back.
This exquisite Guido Bergna moka pot was made in Italy and is made of 18/10 stainless steel. Isn't it just the most beautiful coffee pot you have ever seen? I am totally in love with it — and it brews incredible, rich coffee.
(Note: This exact Guido Bergna moka pot is no longer in production as the Bialetti Group acquired Gb-Guido Bergna in 2001. But the Guido Bergan team designed the Bialetti Venus moka pot which is also stainless steel and very similar in design.)

Moka Pot History
First, you may be wondering, exactly what is a moka pot?
The moka pot is a pressure-driven stovetop coffee maker invented in 1933 by Italian inventors Luigi di Ponti and Alfonso Bialetti.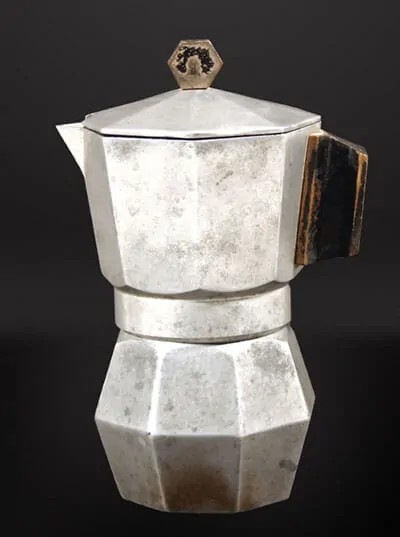 In 1918, Alfonso Bialetti returned from France where he worked in the aluminum industry and opened his own shop manufacturing aluminum houseware appliances.
Reportedly, Alfonso Bialetti was inspired by watching his wife doing the laundry with an appliance called a "Lessiveuse." The Lessiveuse uses a metal bucket as a boiler and a hollow metal tube as a funnel to push water up and through its perforated top and back over the laundry.
This pressure-driven boiler and funnel became the foundation for his stovetop coffee maker, the Moka Express, which uses boiling water that is pressurized by steam to move hot water upwards, through coffee grounds, and up out of a tube.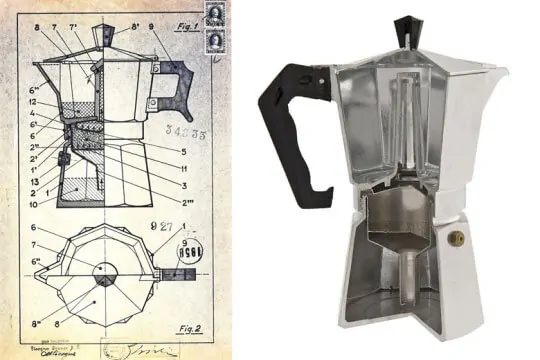 When Bialetti began producing the Moka Express in the 1930s, Italy was in an economic recession and the affordable, aluminum coffee pot allowed Italians to brew their own strong, delicious coffee at home.
While the Moka Pot was successfully launched locally in Italy in the 1930s, production was quite limited. It wasn't until Alfonso's son, Renato Bialetti, began marketing his father's invention in 1946 that the Moka Express' popularity and production exploded.
Renato was a talented entrepreneur who effectively used television advertisements to help fuel the growth of the Bialetti brand and soon the Moka Pot was being used in Europe, Latin America, and even Australia.
Today, the Bialetti Moka Express is a staple in Italian and European kitchens.
The Bialetti Moka Express has sold over 200 million units and it is the number one coffee maker in the world.
How to Use a Moka Pot – Step by Step Guide
While there are various styles and designs of moka pots, the basic method of how to make espresso at home using all kinds of moka pots or stovetop espresso makers is the same. Using a moka pot is quick and easy, but it may take you a few brews to season your stovetop coffee pot and get used to how it works.
In this post, we are demonstrating using a traditional style of moka pot, based on the original Bialetti Moka Express, that has three chambers.
The first chamber holds the water, the second holds the coffee grounds, and the third holds the finished brew.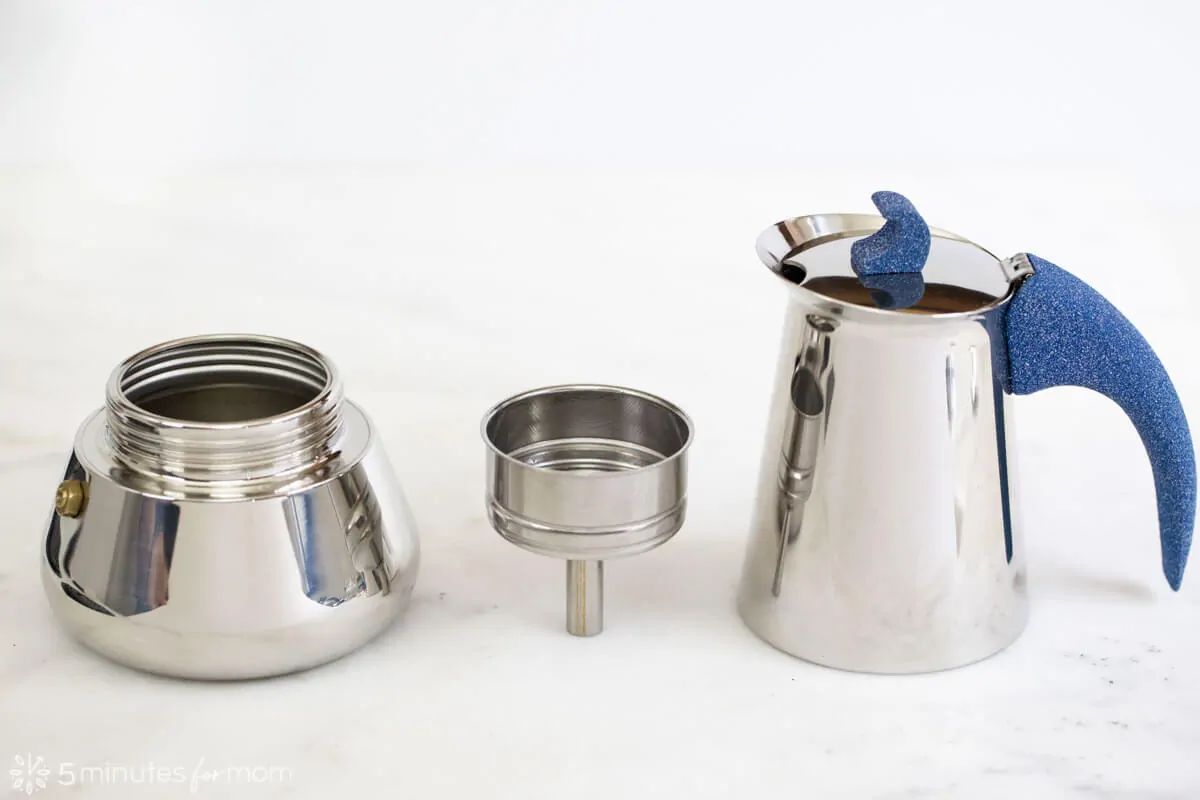 (For a step by step guide using a two-chamber stovetop espresso maker, read our post about how to make espresso at home using a stovetop espresso maker.)
Before you use a new moka pot, wash it well with warm, soapy water, and then make a few brews and discard to season the pot. If you use a new moka pot without conditioning the coffee pot with 3-5 brews, your coffee may have a burnt or metallic taste.
How to use a moka pot:
Step One — Fill the bottom chamber with water.

For the best-tasting coffee, you may wish to use filtered water. I prefer to use filtered water and while some people suggest pre-boiling the water before filling the pot to avoid over-extracting the coffee, I do not pre-boil my water.

It is critical that you do NOT overfill the chamber — do not fill past the safety pressure valve.




Step Two – Fill the filter basket with coffee grounds and place on top of the lower chamber.

To make moka, you need to use medium to fine coffee grounds (not as fine as espresso grounds).

You can fill the basket first and then place on the pot or place it on the pot and then fill it. Either way works.

With a moka pot, do not tamp the grounds as you would with a regular espresso machine, but you can level the coffee grounds with a knife or your finger.

In order for the gasket to seal tight, it is important that there are no coffee grounds around the rim of the pot.

Step Three – firmly screw the top of the espresso maker to the bottom chamber.




Step Four – place moka pot on the stovetop on medium heat.

Please note that aluminum moka pots, such as the original Bialetti Moka Express work on gas and electric, but do not work on induction stovetops. If you have an inductions stovetop, you will want to buy a stainless steel moka pot or stovetop espresso maker.


Step Five – once the coffee is bubbling and brewing, reduce the heat to low on the stove.

If the coffee is sputtering and spitting too much, remove from heat to finish brewing.


Step Six – when you hear the telltale gurgle and sputter of the last of the coffee coming up the funnel, your coffee is done.

Stir coffee to blend layers before pouring and serve immediately.
Aluminum vs Stainless Steel Moka Pots
One of the first things you will notice when you begin shopping for a moka pot or a stove top coffee maker is that some of the models are made with aluminum and some with stainless steel.
When Alfonso Bialetti designed and patented the original Moka Express in 1933, he used aluminum.
At the time, using aluminum in kitchenware was new and it was an innovation for Bialetti to use aluminum for his coffeemakers. But the aluminum industry in Italy was booming in the 1930s as the fascist regime saw aluminum as the material of the 20th century and the future of Italy's economy.
Aluminum was inexpensive, readily available, lightweight, malleable, and an excellent conductor of heat and therefore the perfect material for Bialetti's coffee-making invention.
Ultimately, Bialetti's 1933 aluminum Moka Express would transform the social fabric of Italian society, allowing Italian men and women to drink quality, affordable coffee at home, and eventually became the world's most popular coffee maker.
To this day, the Bialetti Moka Express is still made with aluminum and the original design aluminum Moka Express is the only model of the Bialetti stovetop espresso makers that is still made in Italy.
Bialetti's other coffee makers, including their stainless steel stovetop espresso makers, are made abroad, including in India and China.
Despite the popularity and affordability of the aluminum Moka Express, eventually, manufacturers, including Bialetti, started making stove top coffee makers with stainless steel, which is durable, non-porous, and easy to clean.
Bialetti has a few stainless steel moka pots, including the Bialetti Musa, the Bialetti Venus, or the Bialetti Kitty.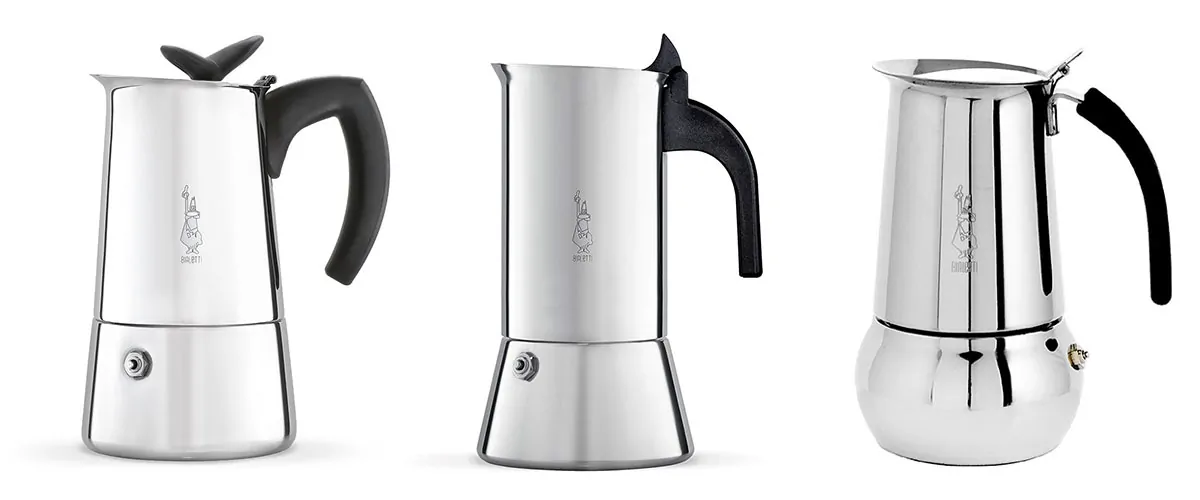 All three of Bialetti's stainless steel stovetop espresso makers – Musa, Venus, and Kitty – are made with 18/10 stainless steel and are all safe on all types of stovetops, including induction.
Stainless steel stove top coffee makers are more expensive than aluminum moka pots but they promise to deliver a cleaner taste, as well as extra shine and sparkle.
What is the difference between an aluminum moka pot or a stainless steel moka pot?
Aluminum and steel construction offer different pros and cons. If you are trying to decide between purchasing an aluminum moka pot or a stainless steel moka pot, here are some points to consider.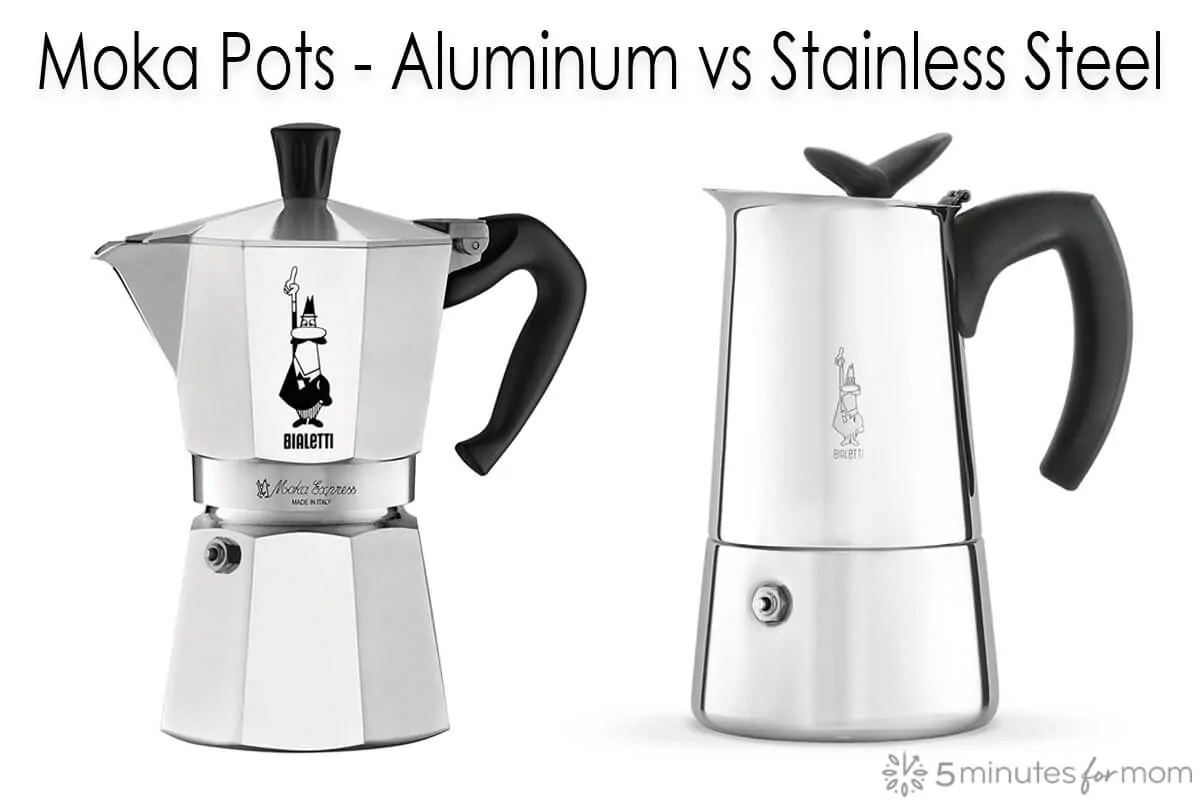 Affordability – Aluminum WINS

Aluminum is less expensive than stainless steel and so aluminum moka pots are more affordable than stainless steel moka pots.


Weight – Aluminum WINS

Aluminum is lightweight and so if you are traveling or camping with your stove top coffee maker, you may appreciate the lighter weight of an aluminum version.


Heat Transfer – Aluminum WINS

Aluminum is a better conductor of heat than stainless steel which means aluminum moka pots brew faster and more evenly than stainless steel moka pots.

Because steel is not as effective at transferring heat as aluminum, the heat may not distribute evenly around a stainless steel pot, impacting the taste and quality of your brewed coffee. As well, if one side of the steel pot heats more intensely, one side of your gasket may burn while the other side does not.


Durablity – Stainless Steel WINS

Stainless steel is more durable than aluminum and therefore a stainless steel pot may stand up better over time. An aluminum pot may dent more easily, for example. However, the Bialetti aluminum Moka Express is reported to be very sturdy and durable and can last for generations.


Resistance to Corrosion – Stainless Steel WINS

Stainless steel is non-porous and resistant to corrosion. Because coffee is acidic, it corrodes aluminum much faster and this oxidization can cause rust.


Taste – Stainless Steel WINS

Aluminum can leak trace amounts of metals into your coffee which may affect the taste of your coffee, producing a slight metallic taste if the pot is not well seasoned.


Stove Top Compatability – Stainless Steel WINS

The aluminum moka pots work on gas and electric stoves but not on induction. Stainless steel pots can be used on all stovetops.
Are aluminum coffee pots safe?
Moka pots are not the only kinds of coffee makers made with aluminum.
Many other kinds of coffee makers, including coffee pod coffee makers such as Nespresso, are also made with aluminum, and the Nespresso coffee is sealed in aluminum capsules.
Of course, no one wants to endanger their health by consuming dangerous amounts of metals, so does using an aluminum coffee maker present any valid health concerns?
I am not a medical professional nor a scientist and I am not in the position to comprehensively argue the case for or against aluminum coffee pots.
However, according to the Agency for Toxic Substances and Disease Registry, we are constantly exposed to aluminum in our environment and the most significant ways we consume aluminum is through medications such as buffered aspirin and antacids, and personal care products such as antiperspirants, not through aluminum cookware.
Exposure to the levels of aluminum that are naturally present in food and water and the forms of aluminum that are present in dirt and aluminum pots and pans are not considered to be harmful.

Eating large amounts of processed food containing aluminum additives or frequently cooking acidic foods in aluminum pots may expose a person to higher levels of aluminum than a person who generally consumes unprocessed foods and uses pots made of other materials (e.g., stainless steel or glass). However, aluminum levels found in processed foods and foods cooked in aluminum pots are generally considered to be safe.
Agency for Toxic Substances and Disease Registry
According to a study by the National Center for Biotechnology Information, aluminum migration occurs from aluminum moka pots into coffee and the amount of aluminum present in the coffee is more after the first use and after the moka pot is washed in the dishwasher, which the company advises against.
(If using an aluminum moka pot, it is considered the safest practice to rinse out the pot with only water and not scrub with soap or put in the dishwasher. The natural oils from the coffee help protect the lining of the pot from corrosion.)
While the NCBI study concluded that aluminum migration does occur from the aluminum moka pot into the coffee, the amount is still negligible.
Additional human inner aluminum exposure through the proper use of aluminum moka pots is negligible. Even under the worst-case scenario of washing the moka pots in a dishwasher, the uptake amounts to only 4% of TWI. The manufacturers expressly warn not to clean the aluminum moka pots in the dishwasher. National Center for Biotechnology Information
So, should you buy an aluminum moka pot or a stainless steel stovetop espresso maker?
That is up to you and your personal concerns. If you are more comfortable using a stainless steel coffee maker, and you will worry about your coffee if you are using an aluminum coffee maker, then, by all means, go with a stainless steel moka pot.
Your coffee time needs to be peaceful — so go with your gut on what pot is right for you.
What is the Best Moka Pot?
Moka pots brew wonderful, rich coffee and they are affordable. So if you don't have a moka pot yet, here is our list of the best moka pots to help you choose which is the best Italian coffee maker for you.
Let's raise our coffee cups in celebration of Alfonso Bialetti for inventing the Moka Express… "Saluti!"
Have you ever used a moka pot? What is your favorite Italian coffee maker? Do you prefer an aluminum or a stainless steel moka pot?
You can FIND OUT MORE about different kinds of stovetop espresso makers and which are the best stovetop coffee makers in our post Stovetop Espresso – How To Make Espresso At Home
If you are looking for some coffee recipe inspiration, check out these Iced Coffee Recipes.
Please note this post includes affiliate links. When you shop through our links, we receive a small commission which helps keep our blog running. Thank you!
Written by Janice Croze, co-founder of 5 Minutes for Mom
Talk with me: @5minutesformom and Facebook.com/5minutesformom
Pin with me at pinterest.com/5minutesformom
Pin it for Later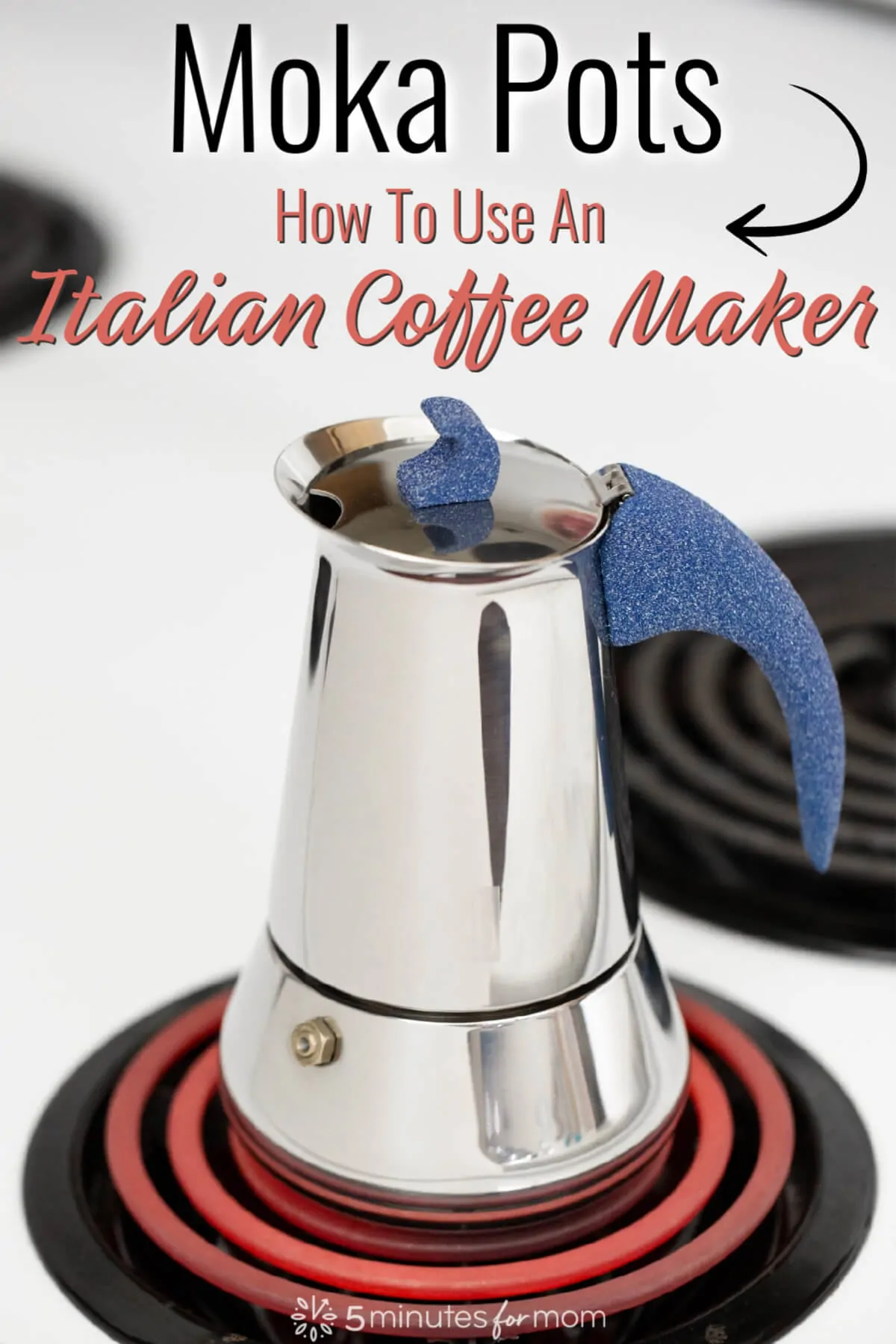 Sources: