This post may contain affiliate links. Read my disclosure policy here.
Fun snacks make everyone in the family happy! Whether you're on the go between school and sports practice or you've got the munchies on movie night, tasty treats that don't require prep time are always a win.
This post is sponsored by Variety Fun.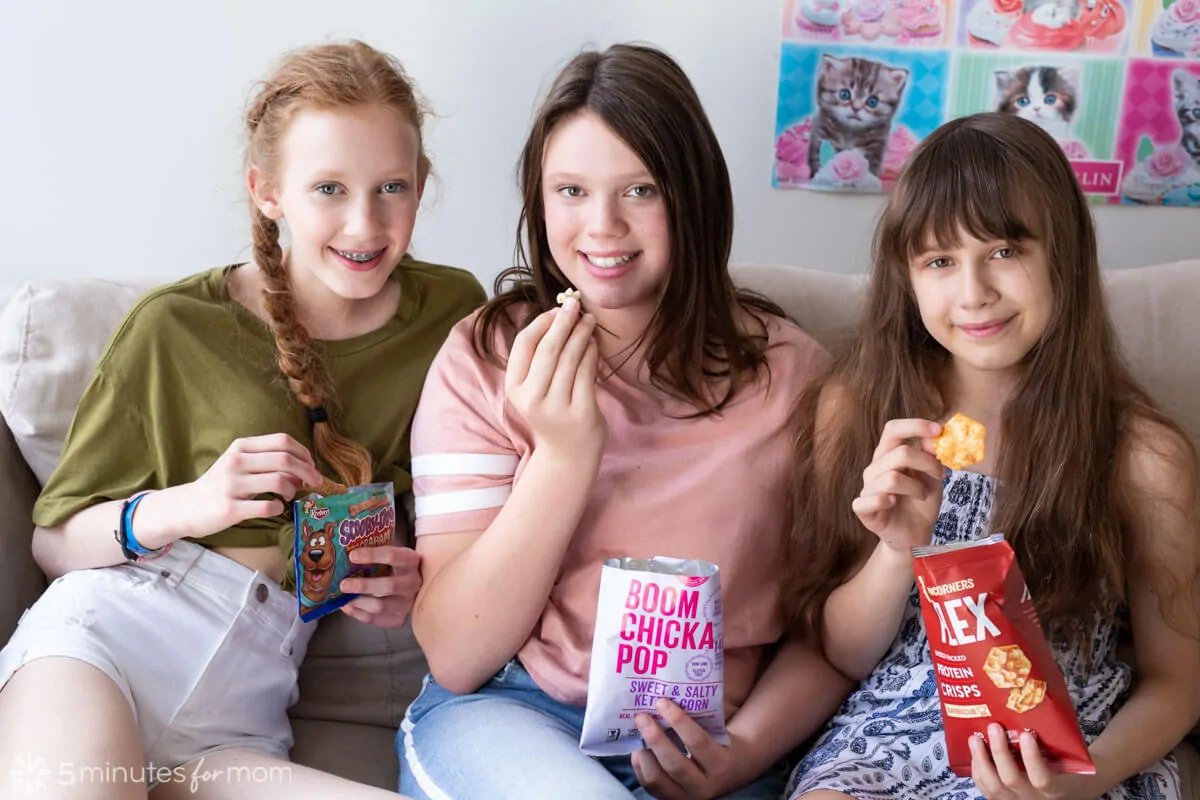 If you're a mom, you know the never-ending chore of feeding kids can be exhausting.
Even when you feed your kids three balanced meals every day, they seem to be always looking for snacks to keep them going throughout the day.
While the ideal healthy snack might be fresh fruit and veggies, there are many times when you want other ready-to-go snacks that you can toss into a backpack or kids can grab themselves.
So you might as well turn the snacking challenge into a fun treat that puts a smile on everyone's face… with a Variety Fun snack box.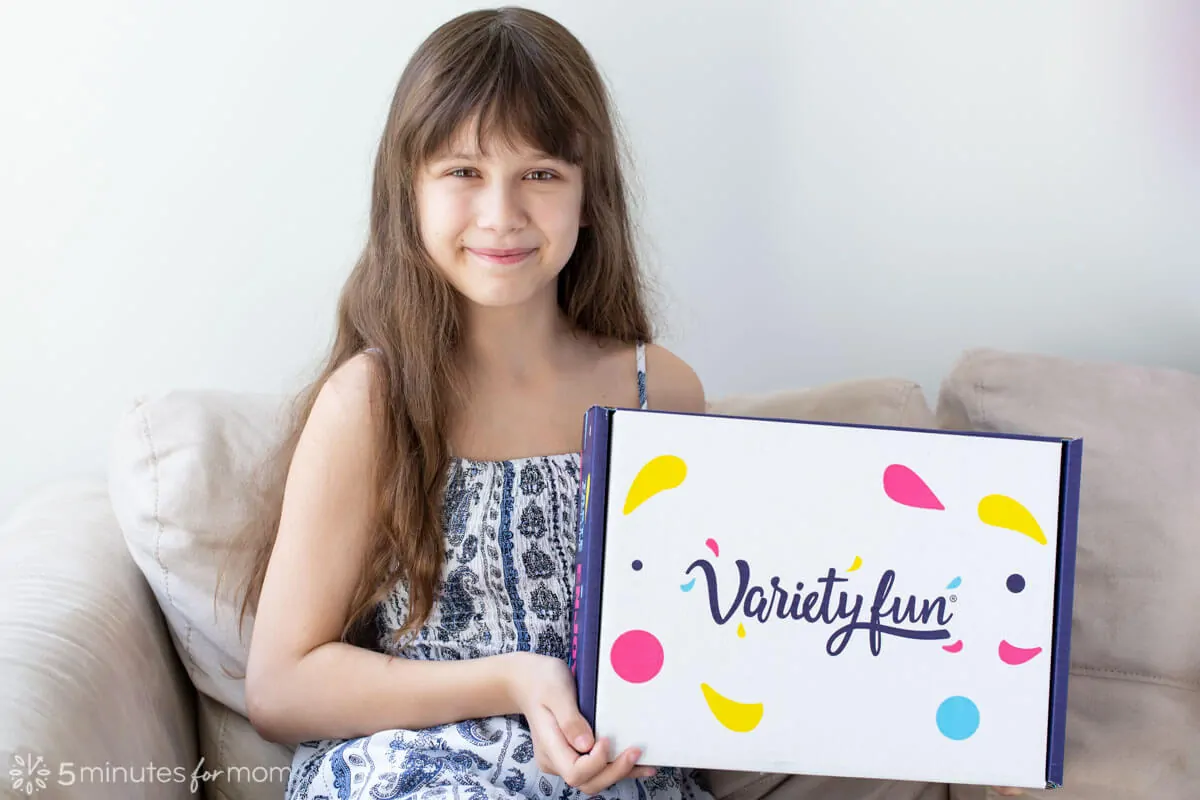 The Variety Fun snack subscription box first became a huge hit with businesses who found these snack boxes lifted employee morale in their offices. By setting out a box with a huge variety of tasty snacks for employees to pick out their favorite treat during a coffee break, employers realized how these simple snacks made everyone happier.
But Variety Fun isn't just for offices… you can bring their special mix of happiness into your family with a snack subscription box delivered to your home once a month or twice a month.
The key to Variety Fun is the VARIETY… they offer over 500 varieties of snacks.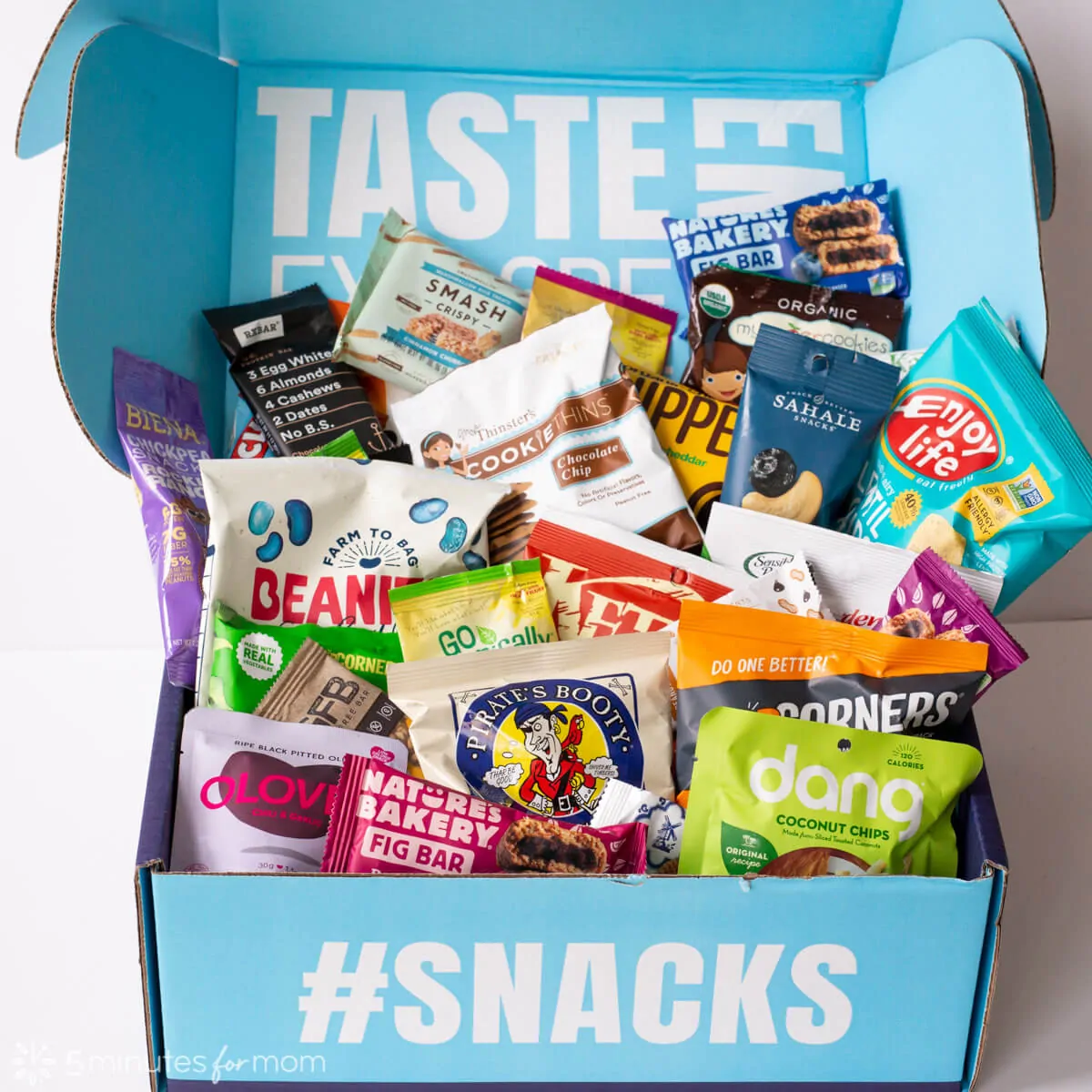 They have two different types of snack boxes containing individually wrapped single serve snacks:
Fun Box (40 Classic Snacks)

Includes a variety of classic treats including Lay's, Cheez It, m&m Cookies, Sour Patch & More! ($0.62 per snack)

$24.99/box

Fit Box (30 Healthy Snacks)

Includes a variety of premium healthy options including Kettle Chips, Think Jerky, Skinny Pop, Lara Bars, RX Bars and more! ($1.33 per snack)

$39.99/box
Use coupon code FUN20 to get 20% off your first month.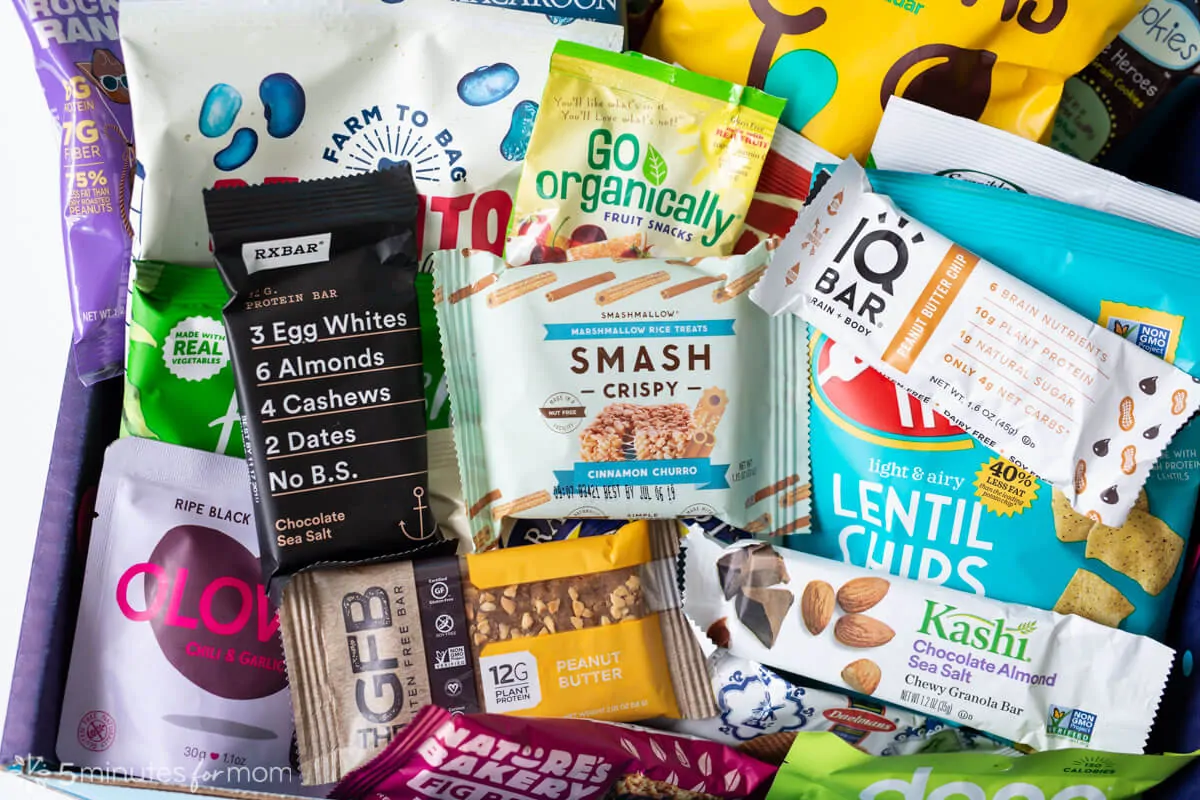 Variety Fun ships FREE within the continental US. Unfortunately, they do not currently ship outside the continental US at this time.
We recently sampled both types of Variety Fun boxes and we loved them.
(We live 10 minutes from the US border, so we often shop for US products and pick them up at our US mailbox. If you're Canadian and you live close to the border, you can get your Variety Fun snack fix that way.)

10 Reasons Your Family Will Love A Variety Fun Snack Subscription Box
You can say goodbye to the same old boring snacks.

You're probably used to buying the same types of cookies, crackers, and chips over and over again. You know your family is likely tired of the same flavors, but you don't want to waste your money buying a big box from a brand that your kids might not like.

With a Variety Fun snack subscription box, you don't have to worry that everyone in the family will like one type of snack. Everyone gets to pick the ones they like the most.

We especially love how the Fit Box snacks option gets everyone sampling so many different types of food. This way you don't have to test out buying a big bag of a "healthier" snack option at the grocery store only to discover your family won't eat it.


Kids can get their own snacks.

Moms need a break. It may seem like a small deal, but when your child doesn't feel the need to ask you to make them a snack, it's pretty awesome!

When there's a big box of snacks ready and waiting, kids can cruise into the kitchen and grab a bag themselves.

This works so well because the snacks are individual portion sizes. We've made the mistake of letting our kids help themselves to chips from a family size bag… and they've eaten the entire bag at once.

Since the bags of chips, crackers, cookies, and other snacks are pre-packaged in small portions, it helps kids learn what is an appropriate amount to eat at a time.


It's easy to pack for road trips.

Packing up food to go on a road trip can be a huge hassle. But if you have a Variety Fun Box, you just toss it in the car and hit the highway.

We took a Variety Fun box on our weekend road trip and it was fantastic.

Everyone loved picking out different snacks and sharing during the car ride and it saved us lots of money since we weren't stopping to buy food on the way.


You can easily send the perfect care packages to your college kids.

If you have kids away at college or boarding school, sign them up for a Variety Fun subscription and they will be bragging that they have the coolest parents around.

I can't even imagine how fabulous it would be to have one of these boxes arrive every month at your dorm.




You don't have to stress about your turn hosting Book Club or Bible Study.

If you, your spouse, or your kids have a group meeting at your house, you don't have to worry about making or shopping for snacks. Just set out a Variety Fun Box and you'll be celebrated as the favorite host.


Family movie nights are more fun.

Do you have family movie nights? You can easily take it up a notch with Variety Fun. Family time gets better when you add fun snacks!

Whether you have regularly scheduled weekly movie nights with your kids or you tend to be more spontaneous, start adding these fun snacks and your movie night will feel even more special.


Kids get excited to make their own lunches.

Do you want your kids to happily pack their own school lunches? Simply let them know if they pack their own lunch, they can add a snack from the Variety Fun Box.

As moms ourselves, we know how tedious it can be to pack school lunches every day, year after year. If there's a way to get kids wanting to help, we're all for it.


You always have the perfect hostess gift.

Whenever someone in your family is attending a party, they can bring a Variety Fun Box as a hostess gift.

Instead of worrying about what to bring when you're invited to a party, you've got a prepackaged solution that the host will love.


Mom can have her very own snack stash.

Maybe you want to keep your own stash of snacks for after the kids have gone to bed.

Go ahead and grab some snacks and turn on your favorite TV show.


You can offer sweet snacks as rewards for your kids.

Sometimes it's hard to come up with ideas to use as rewards for your kids. If you order the Fun Box instead of the Fit Box, many of the sweet snacks are tasty enough to be considered a real treat… and perfect for a "reward".

You could set up a routine where if your kids do certain chores or get their homework done early, they can pick out a treat from the box.



How A Variety Fun Snack Subscription Works
When you start your snack subscription, you can choose whether you want 1 box or 2 boxes each month.
Shipping times can vary, but generally, you can expect to receive your box on the 1st or 15th of every month, depending on your starting date and the plan you choose.
Your snack box is typically shipped:
On the 8th of each month for expected delivery on the 15th.
On the 22nd of each month for expected delivery on the 1st.
They will send you an email with tracking information once your box is shipped.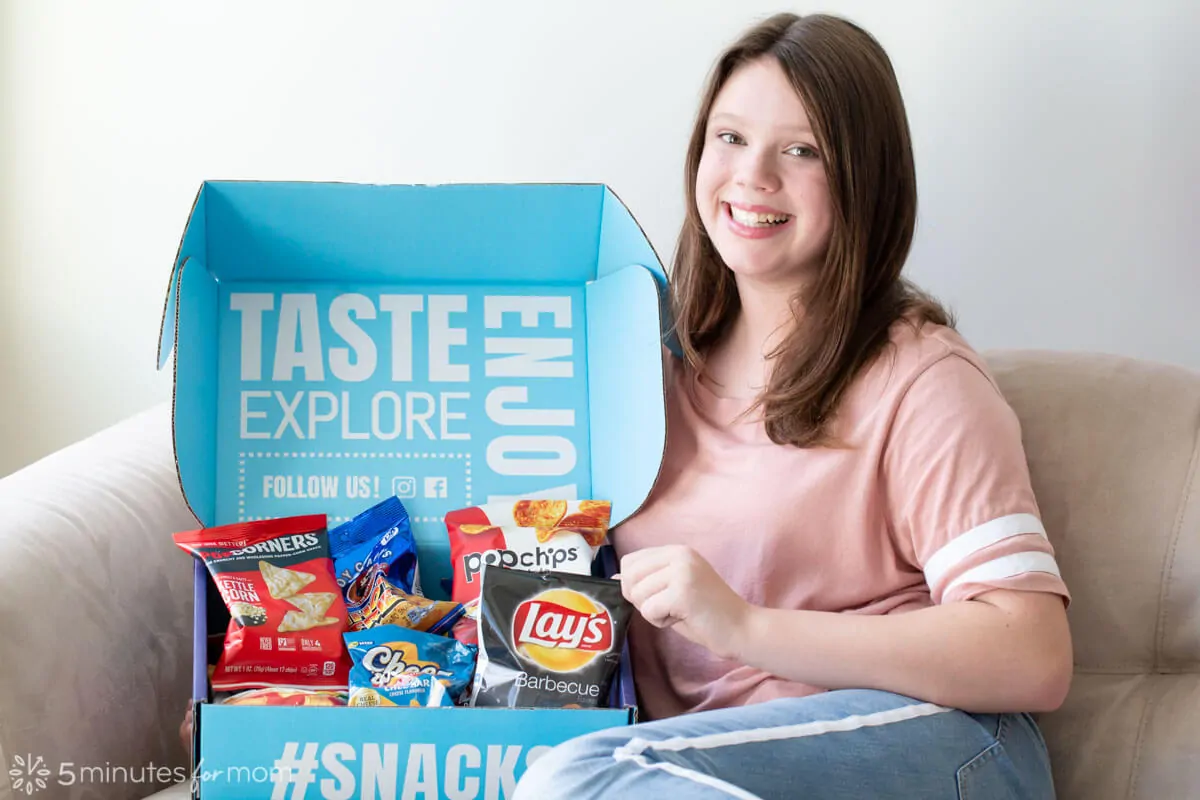 You can even have multiple shipping addresses if you want to send additional boxes to friends and family.
If you want to send boxes to your kids at different colleges, just create a new plan for each location all within your one login account.

Some Of Our Favorite Snacks
There were so many different items in the two boxes, it's impossible to list all our favorites. But here are our top 5 snacks we loved the most that we had never tried before…
Nature's Bakery Fig Bar

These fig bars are so delicious and filling. They taste even better than a regular fig cookie and they have NO preservatives, NO artificial flavors or colors, and NO processed sugar/high fructose corn syrup.




Sahale Snacks Berry Macaroon Almond Trail Mix

This is not your typical trail mix. The flavors are phenomenal and make a truly satisfying snack.




Pirate's Booty Aged White Cheddar

Kids will love Pirate's Booty and so will you. It's made from puffed rice and corn, blended with real aged white cheddar. Since it doesn't have corn kernels like popcorn, it's great for kids who have braces on their teeth.




PopCorners

PopCorners come in seven different flavors, so you'll get to try various types with your subscription boxes. These are a healthier alternative to regular chips. They are drizzled in sunflower oil with a pinch of sea salt and made with non-GMO corn and are never fried.




RxBar

Now THIS is a protein bar! RxBar nut butters and protein bars are made with clean ingredients to give you the nutrition you want from a healthy snack bar. They are high-fiber and high-protein which helps curb your appetite and prevent spikes in blood sugar. We had never tried RxBars before, so we were thrilled to find one in our Variety Fun box.



Should You Order a Fun Box or a Fit Box?
Are you wondering which type of box you should order?
For some families, it might be hard to decide which type of box to order. Personally, I LOVE the Fit Box because it gives your family the chance to try so many healthy snacks they may not otherwise ever buy.
The Fit Box would be fantastic to send to your college kid who may be surviving on pizza and soda.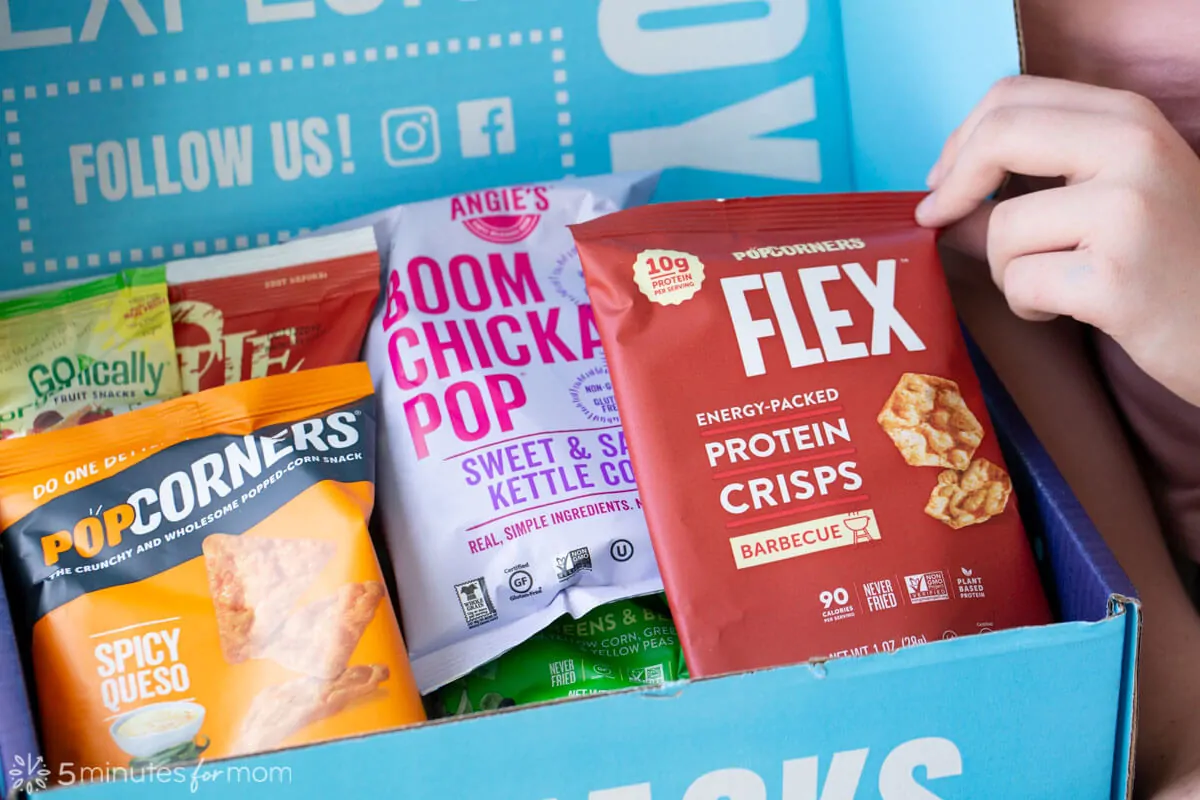 If you're using your snack subscription for reward treats for your kids, you'll want to order the Fun Box.
And if you're planning to use your subscription to bring to Book Club or give as hostess gifts, I'd lean towards the Fit Box because the snacks are so unique and will get people talking and enjoying new treats.
But you can always change your subscription from one type of box to the other if you want to switch it up later.
Your whole family is going to love Variety Fun.
Get started now with coupon code FUN20 for 20% off your first month.

[Tweet "Top 10 Times To Break Open A Variety Fun Snack Subscription Box"]
Pin it for Later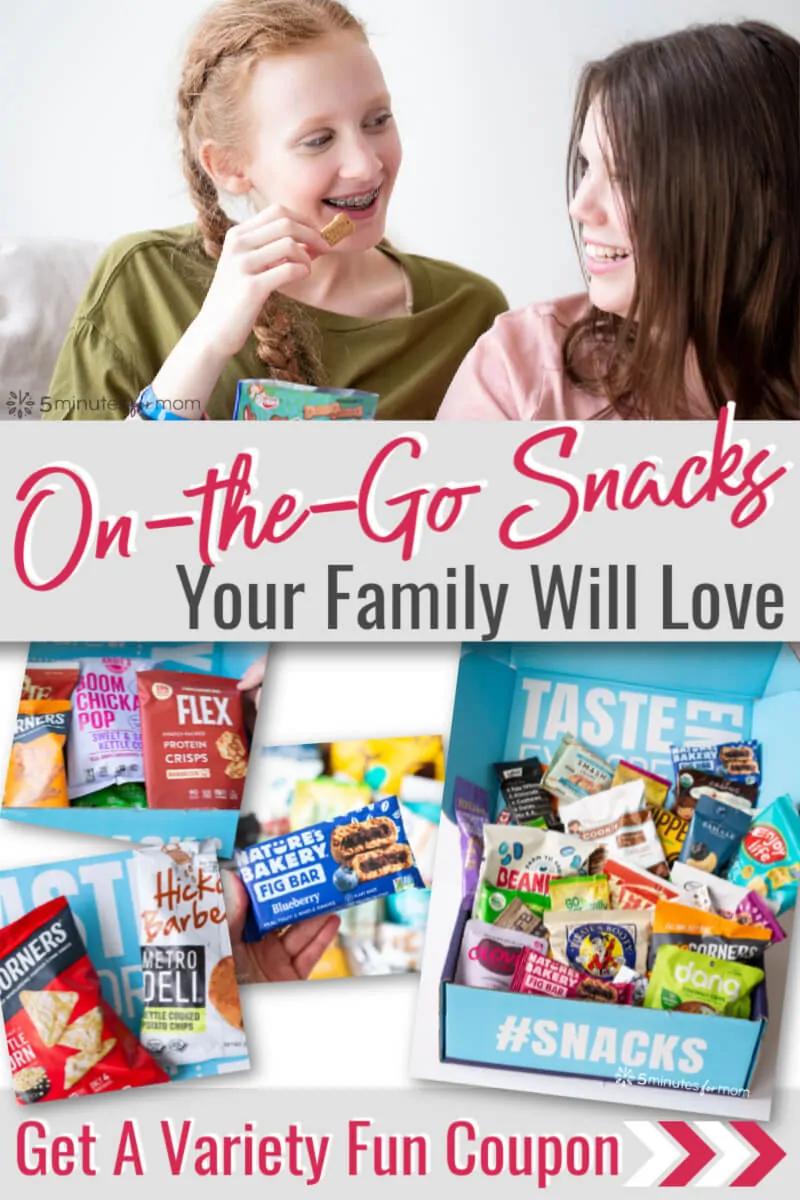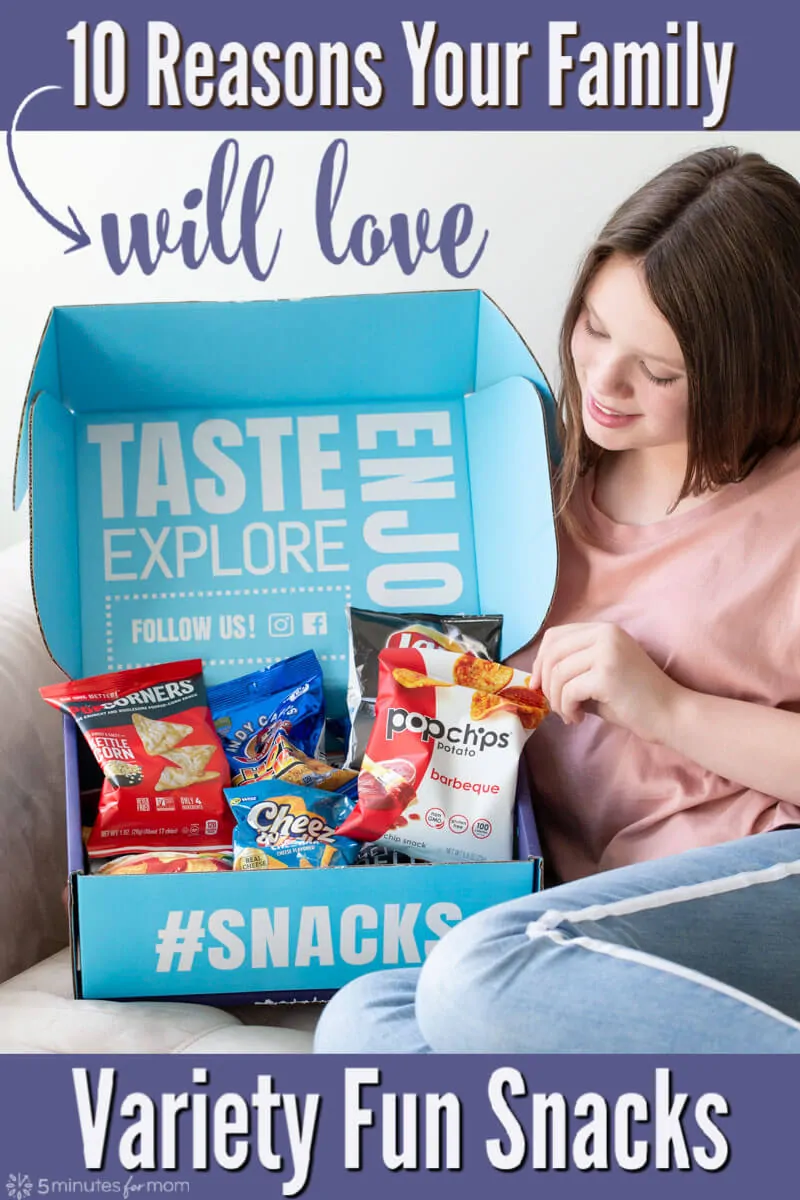 Disclosure: This post is sponsored, so extra thanks for reading and sharing.
Written by Susan Carraretto, co-founder of 5 Minutes for Mom
Talk with me: @5minutesformom and Facebook.com/5minutesformom
Pin with me at pinterest.com/5minutesformom