This post may contain affiliate links. Read my disclosure policy here.
Whether you are preparing a dish for a party or making your family dinner extra special, appetizer skewers with delicious Olives from Spain are easy tapas that will take dinner to the next level. This post is sponsored by Olives from Spain.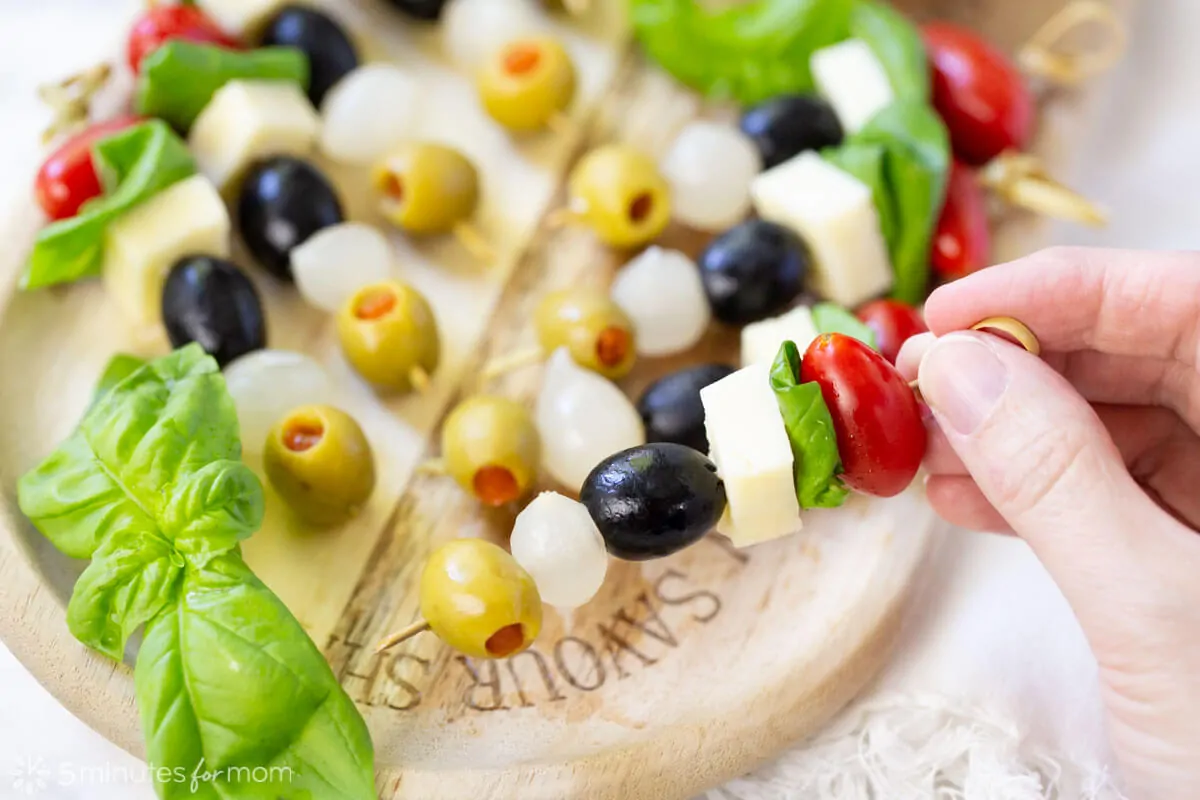 Isn't it so fabulous when something tastes incredible AND is good for you?!?
Olives from Spain are both delicious and healthy! They are packed with an ideal mix of vitamins, minerals, amino acids, fiber, oleic acid, and antioxidants – which can help regulate cholesterol, improve cardiovascular health, slow down cellular aging and enhance digestion.
And, did I mention, there are only 150 calories in 100 grams. So load up those skewers!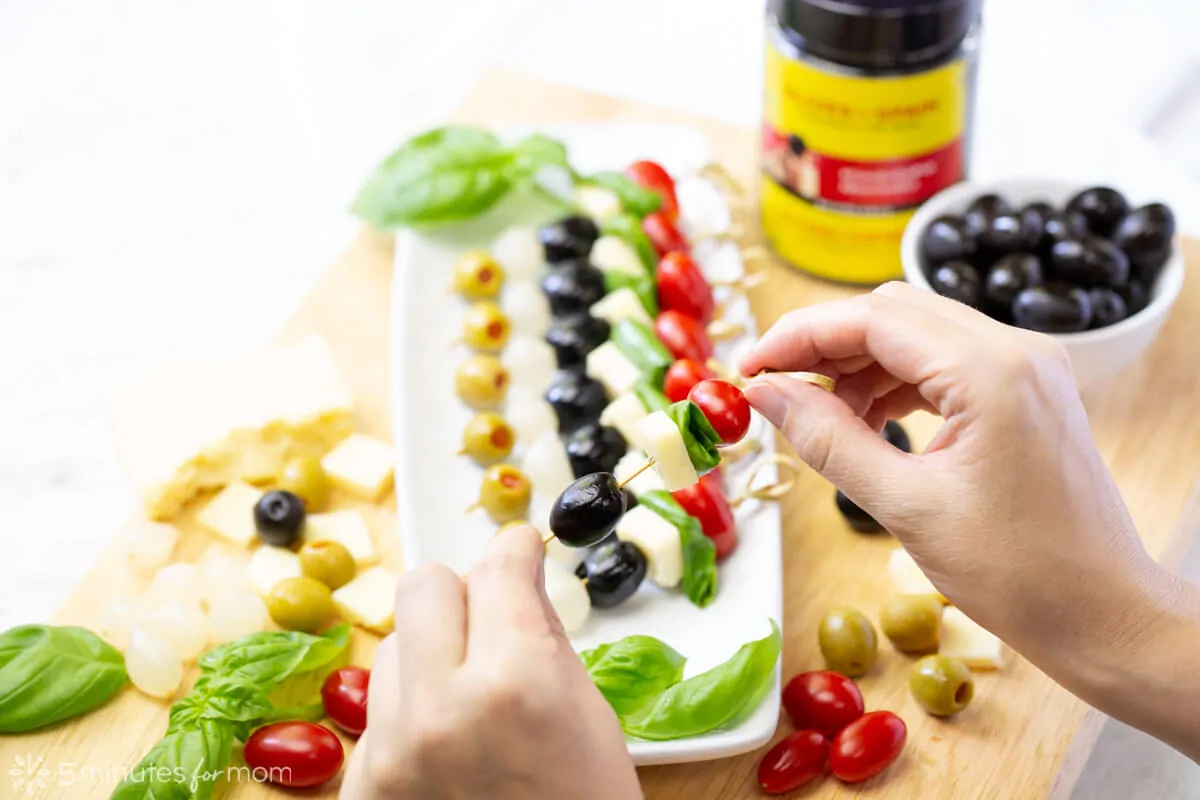 Olives from Spain are a guilt-free, scrumptious addition to your family meal or your party menu.
Olives from Spain Tapas
For our Spanish tapas, we used different combinations of three varieties of Olives from Spain.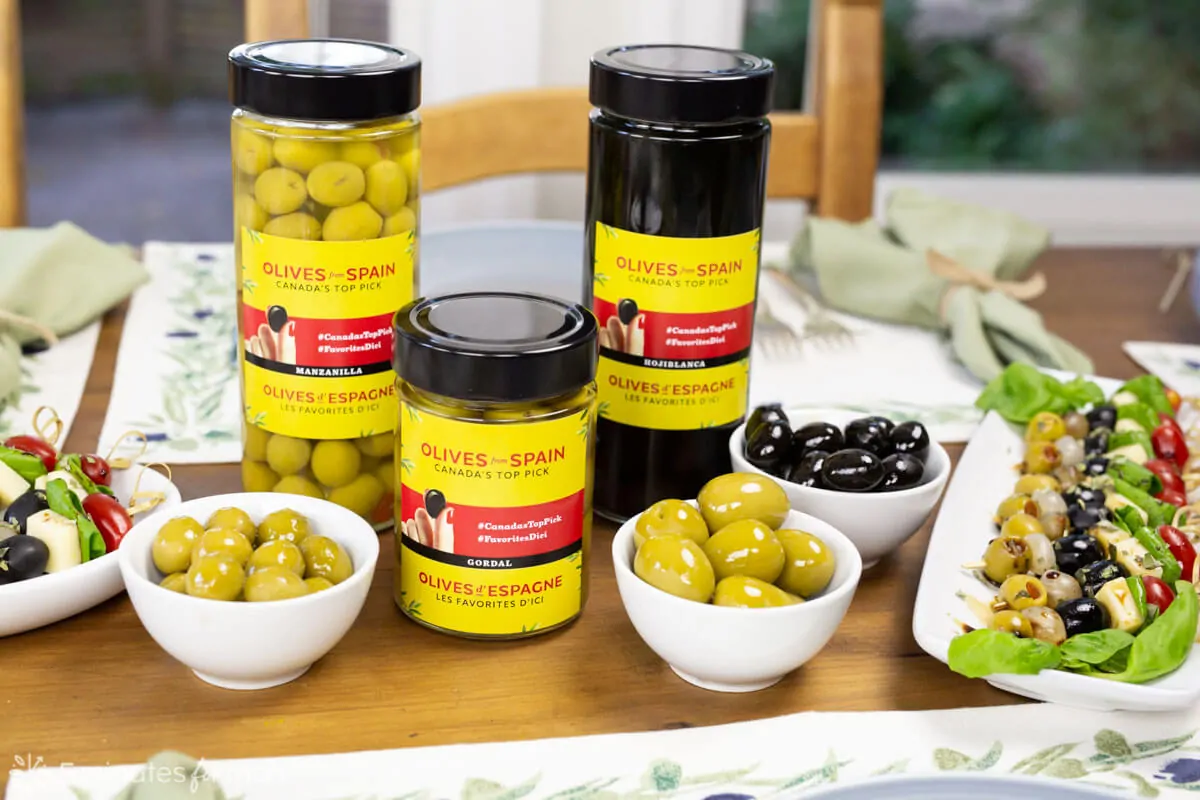 The dark, ripe Hojiblanca Olives from Spain are flavourful and have a pleasant almond-like aftertaste with just a hint of bitterness. Hojiblanca Olives from Spain are great in recipes such as marinades, stews, or even desserts, but they also are perfect served on a skewer.
Manzanilla Olives from Spain have a smooth texture and are not bitter. This popular variety easily pairs with almost any ingredient – peppers, anchovies, cheese, etc. And since its pit is easily removed, Manzanilla from Spain are often marinated or stuffed.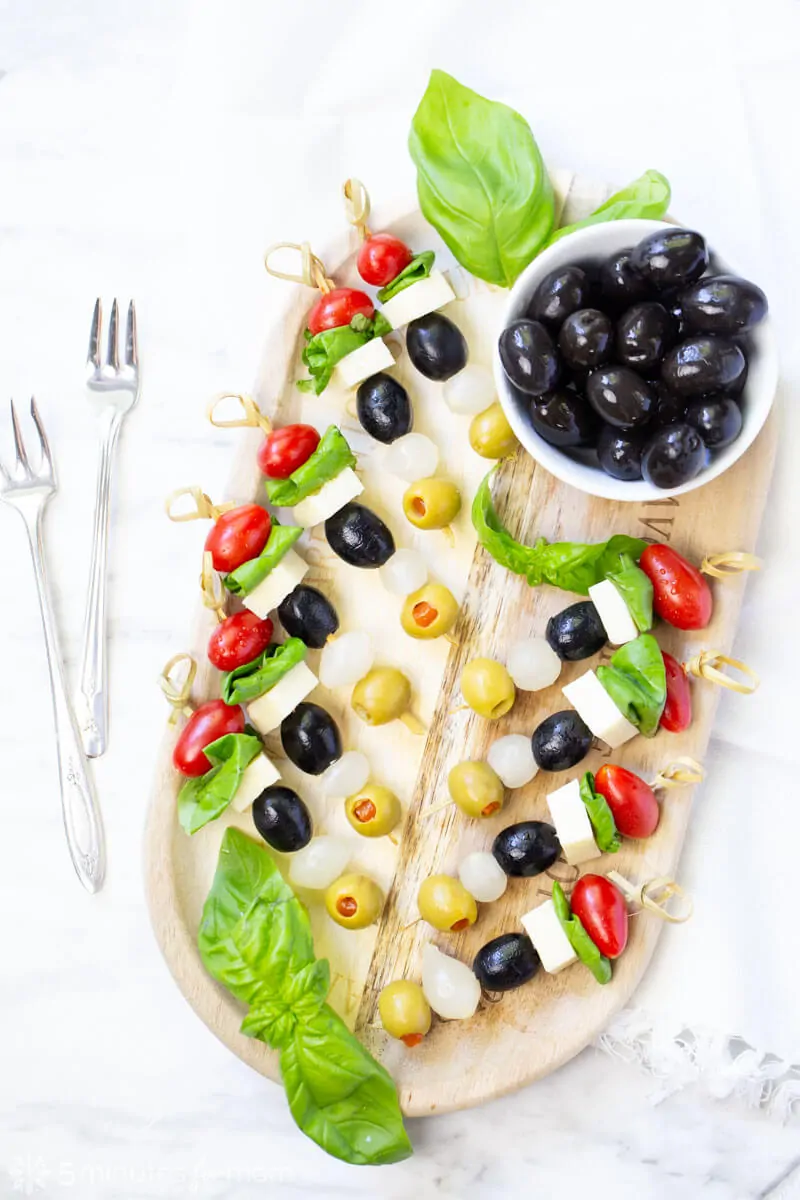 Finally, on our larger skewers, we also used Gordal Olives from Spain. Because the Gordal Olives from Spain variety have an irresistible, delicate flavour, they are often served as a table olive and are perfect for all kinds of tapas and appetizers.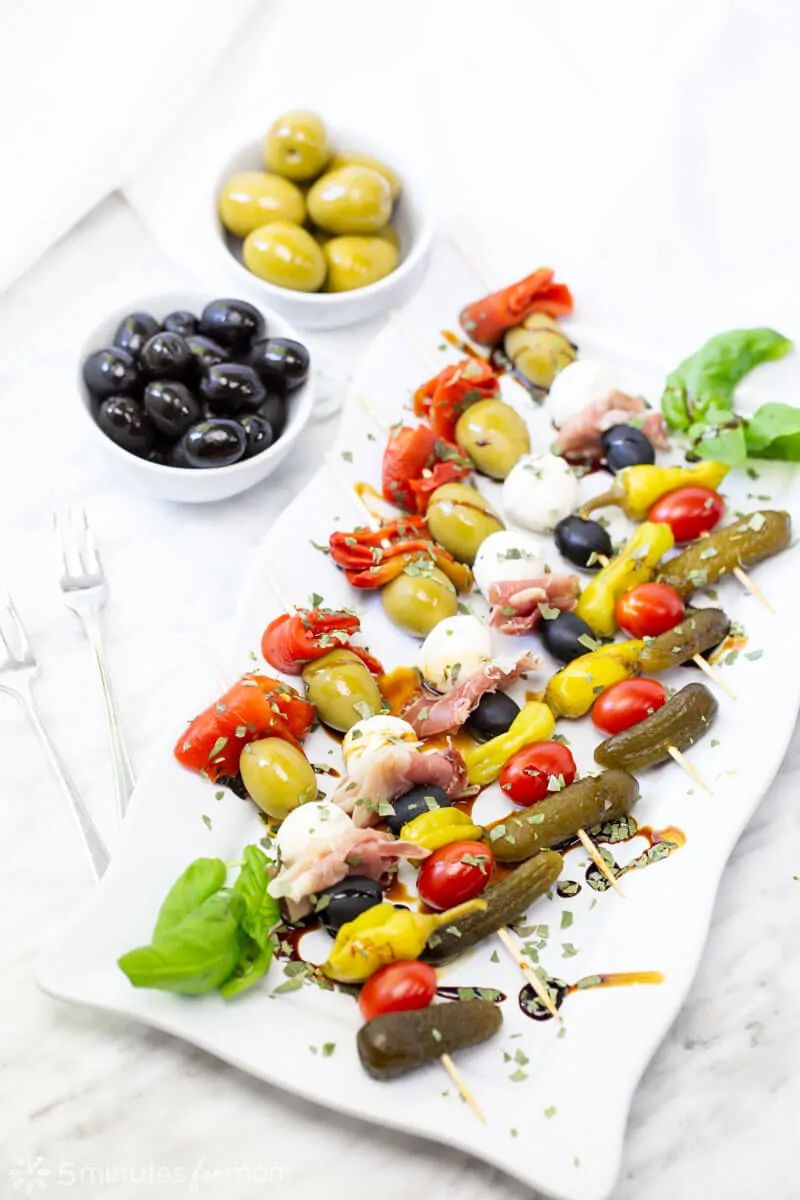 The Spanish Connection
Did you know that one out of every two olives eaten in Canada comes from Spain?
According to a 2016 Statistics Canada report, Spain is the largest producer and exporter of table olives in Canada and in the rest of the world.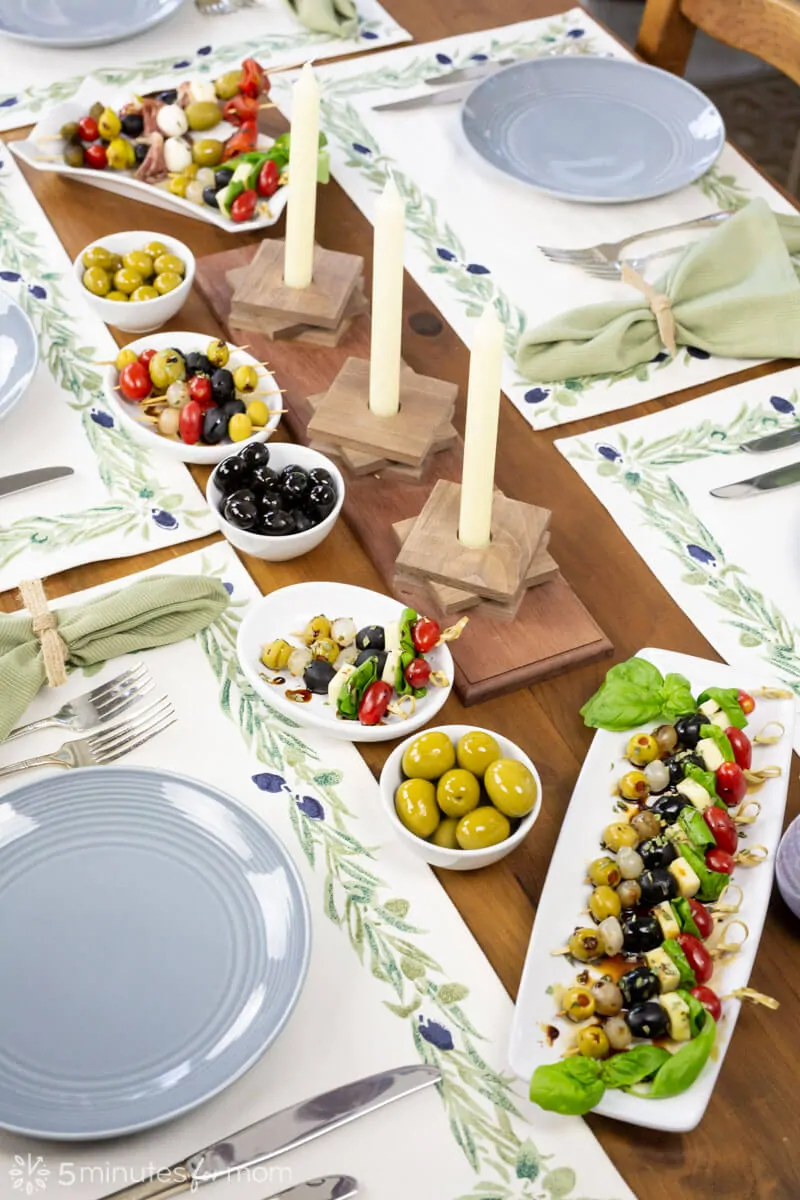 Olives have deep roots in Spanish culture and cuisine. The crop was first brought to the Iberian Peninsula by the Phoenicians 3,000 years ago.
Generations of Spanish farmers have passed on the practices of their ancestors. They have combined their ancient knowledge with modern farming and industrial techniques, including mastering the art of picking the olives by hand, to bring their legendary olives to our tables.
The type of olive is determined by their green or black colouring, which changes according to their degree of ripeness.
Eat, Drink, and Share Olives
The Spanish can teach us a lot about living well — from sharing with us their heart-healthy, delicious olives to inspiring us to cherish our time together.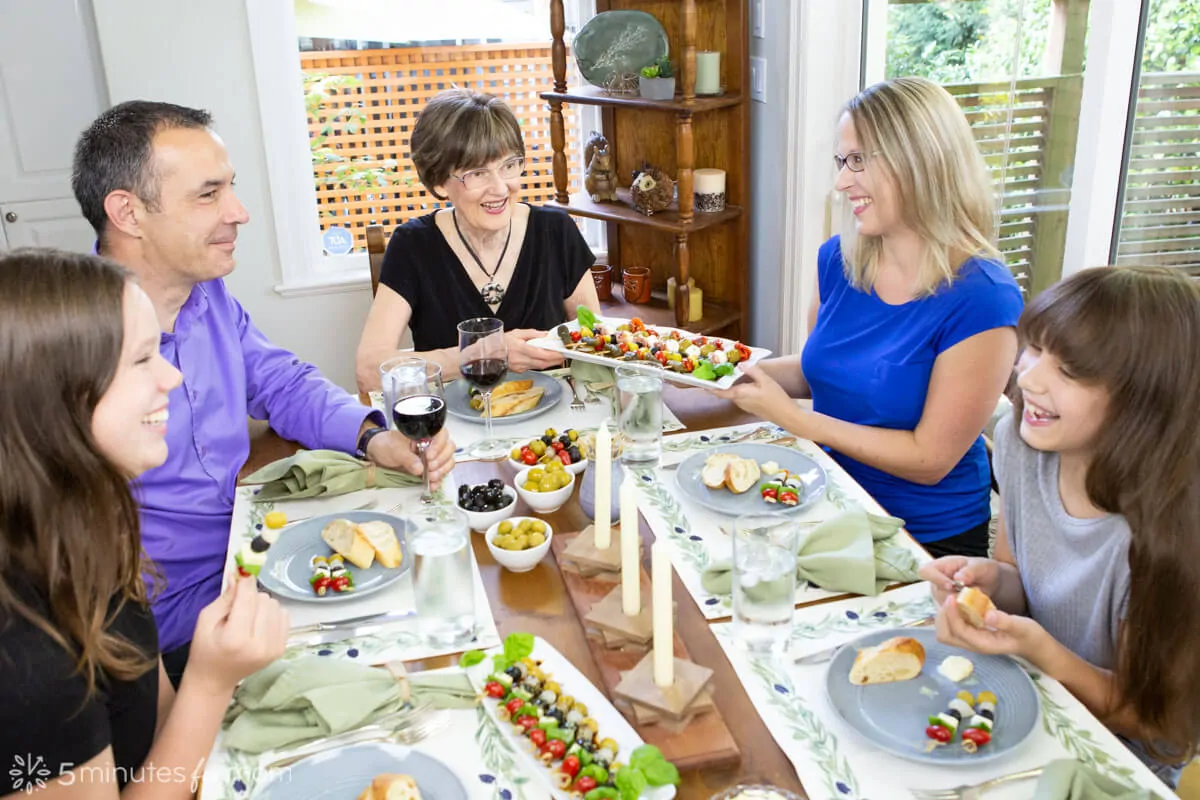 In Spain, you will always find friends and family getting together to relax and celebrate. The Spanish love enjoying food while spending quality time with friends and family.
I hate to admit that in my house we spend far too many evenings eating quickly so we can get back to the next task or activity. It is only on special evenings when we have friends or family over that we take the time to sit around the table for extra hours, laughing, telling stories and truly enjoying one another's company.
I love the idea of serving tapas at a family dinner, such as these Olives from Spain banderillas we made, to encourage us to spend more time over a family meal.
It also really helps that that olives are so affordable and you can buy Spanish olives at every supermarket or grocery store!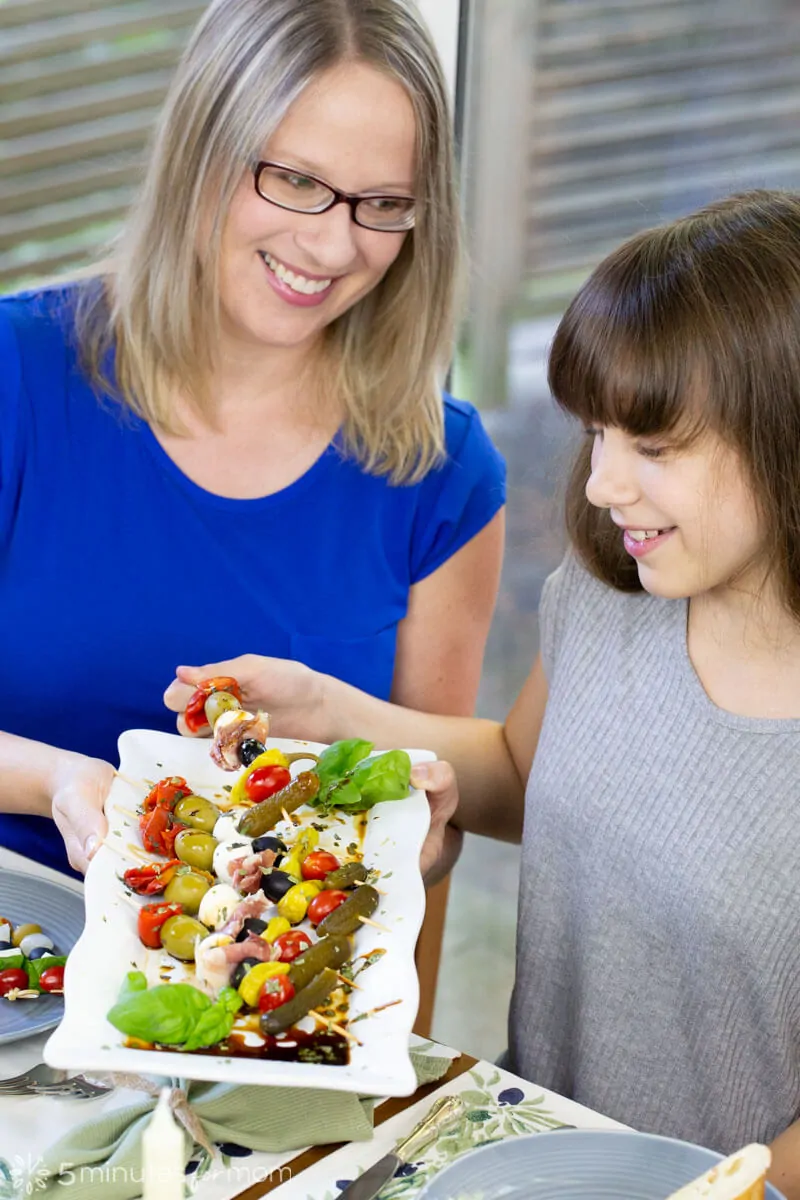 And you don't need to worry about following a recipe or creating an elaborate dish. Making Spanish olive tapas can be as simple as pouring them into a bowl or sliding them onto a skewer.
My favourite way to eat Olives from Spain is on a small skewer with tomatoes, basil, cheese, and pickled onions. I pop the whole thing in my mouth and savour all the flavours together. It tastes so incredible.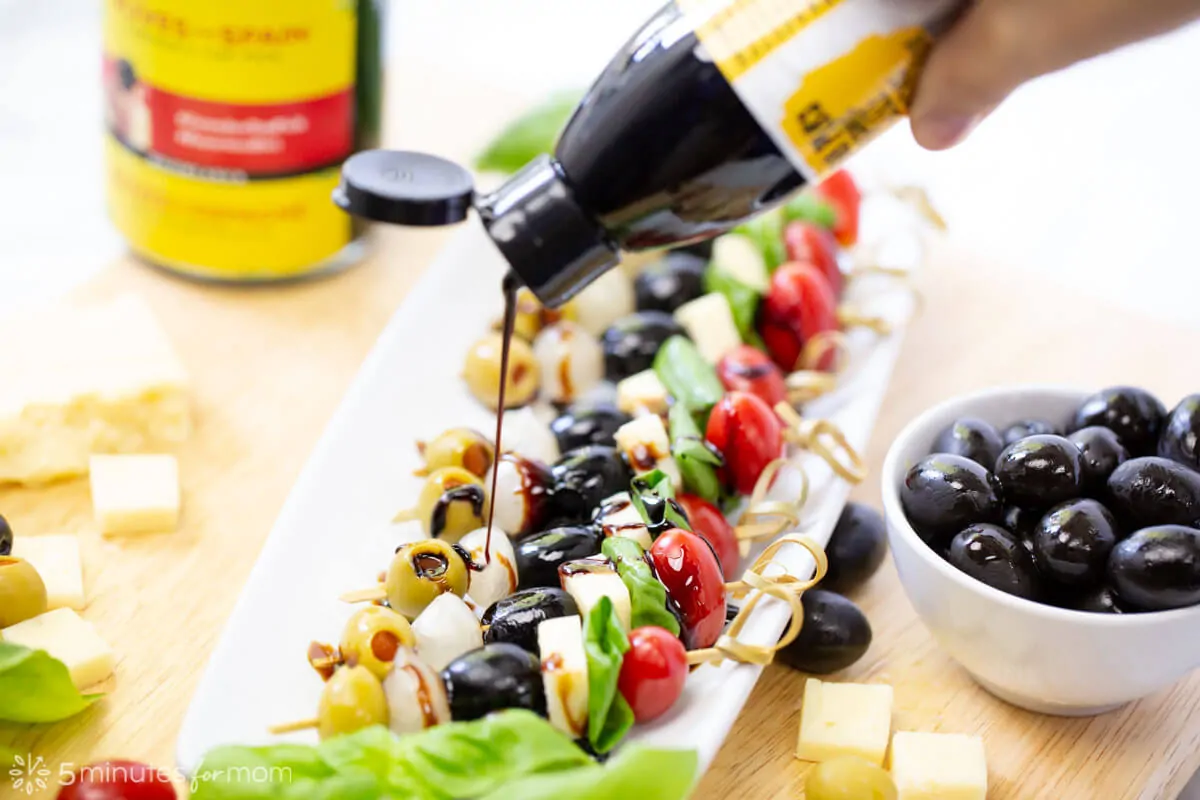 (I think I ate more than a dozen of these Spanish olive banderillas after I finished photographing my family eating them. They were so tasty I just couldn't resist them.)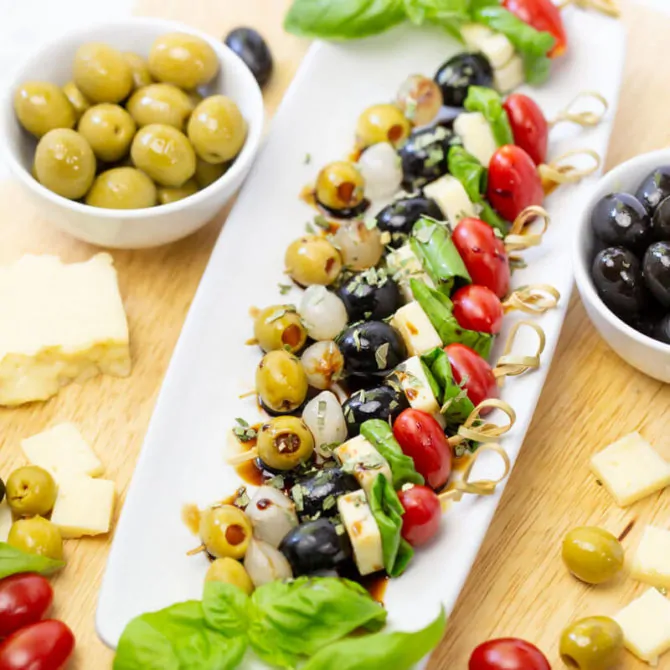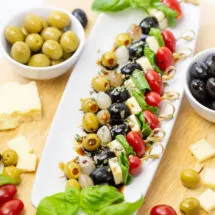 Easy Appetizer Skewers with Olives from Spain Recipe
Whether you are preparing an appetizer dish for a party or making your family dinner extra special, delicious Olives from Spain will take your tapas to the next level. Mix up your skewer ingredients to create your own perfect Spanish tapas.
Print
Pin
Rate
Ingredients
Hojiblanca Olives from Spain
Manzanilla Olives from Spain
Gordal Olives from Spain
Cherry or grape tomatoes
Firm cheese
Fresh basil
Pickled white onions
Spanish ham
Pickled peppers
Gherkin pickles
Olive oil
Balsamic glaze for drizzling - optional
Dried or fresh savoury herbs for sprinkling - optional
Instructions
In small bowls, place Olives from Spain varieties and drizzle with a small amount of olive oil. Stir gently to coat in oil.

Cut ham into small pieces or cubes.

Roll small, thin pieces of ham.

In desired order, assemble ingredients on skewers.

Place on a serving platter.

Drizzle with balsamic glaze and sprinkle with savoury herbs if desired.
Notes
For our small skewers, we used Hojiblanca Olives from Spain and Manzanilla Olives from Spain along with grape tomatoes, firm cheese, fresh basil, and pickled white onions. For our larger skewers, we Gordal Olives from Spain and Hojiblanca Olives from Spain along with grape tomatoes, firm cheese, Spanish ham, pickled peppers, and Gherkin pickles.
Pin it for Later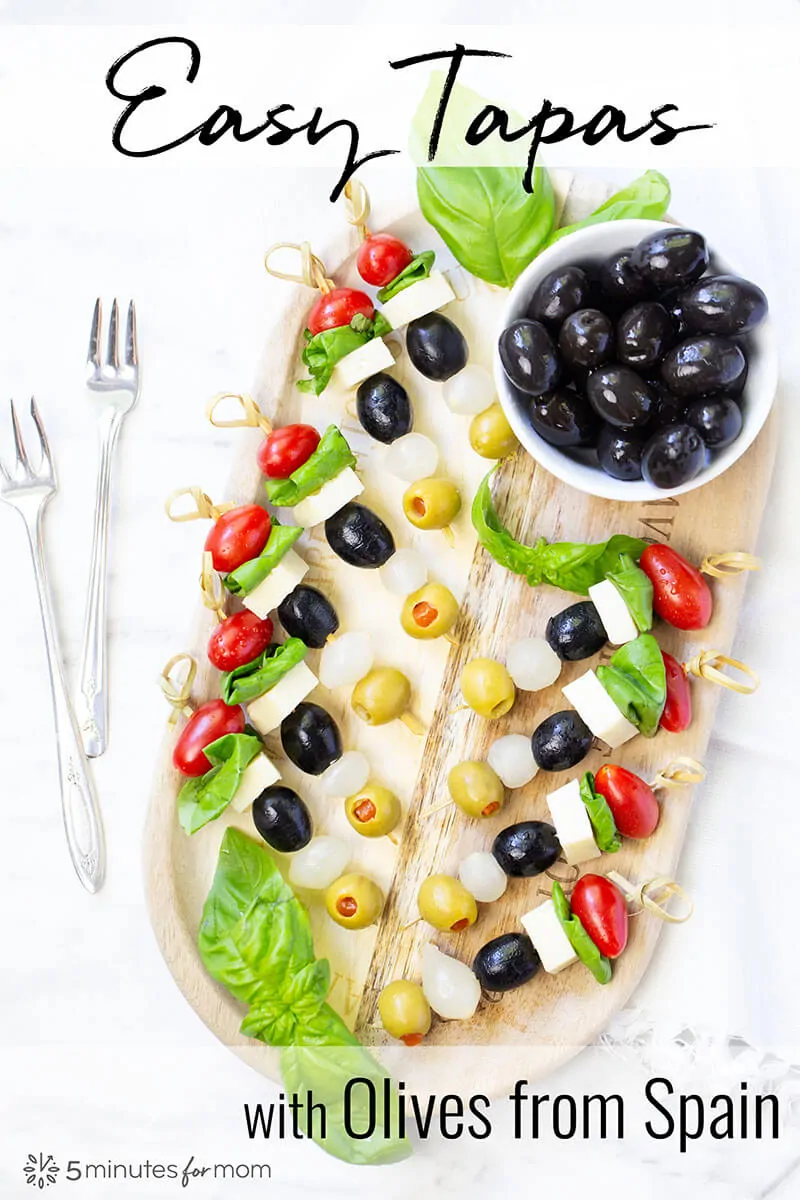 Disclosure: This post is sponsored by Olives from Spain.
Written by Janice Croze, co-founder of 5 Minutes for Mom
Talk with me: @5minutesformom and Facebook.com/5minutesformom
Pin with me at pinterest.com/5minutesformom