This post may contain affiliate links. Read my disclosure policy here.
RV living with kids has become a huge (and surprising) trend among families in the US. The Washington Post reported that 1 million Americans have turned to full time RV living as 'modern nomads.' I regularly watch the social media channels of my blogging friends who have made the switch to full time RV living.
I watched with shock and fascination as one of my long-time blogging friends Jill Krause set off for over a year of RV living with her husband and kids. I loved how honest she was about the joys and challenges of their RV life. Jill Krause and her family are thankful they took their journey, but they've now returned to life in a house.
I know that RV living with kids isn't something I could handle and I'm truly in awe and inspired by families who make RV life with kids work. So when another blogger Jill Greising-Murschel from Let's Travel Family offered to share her family's story of RV living with us here at 5 Minutes for Mom, I was thrilled.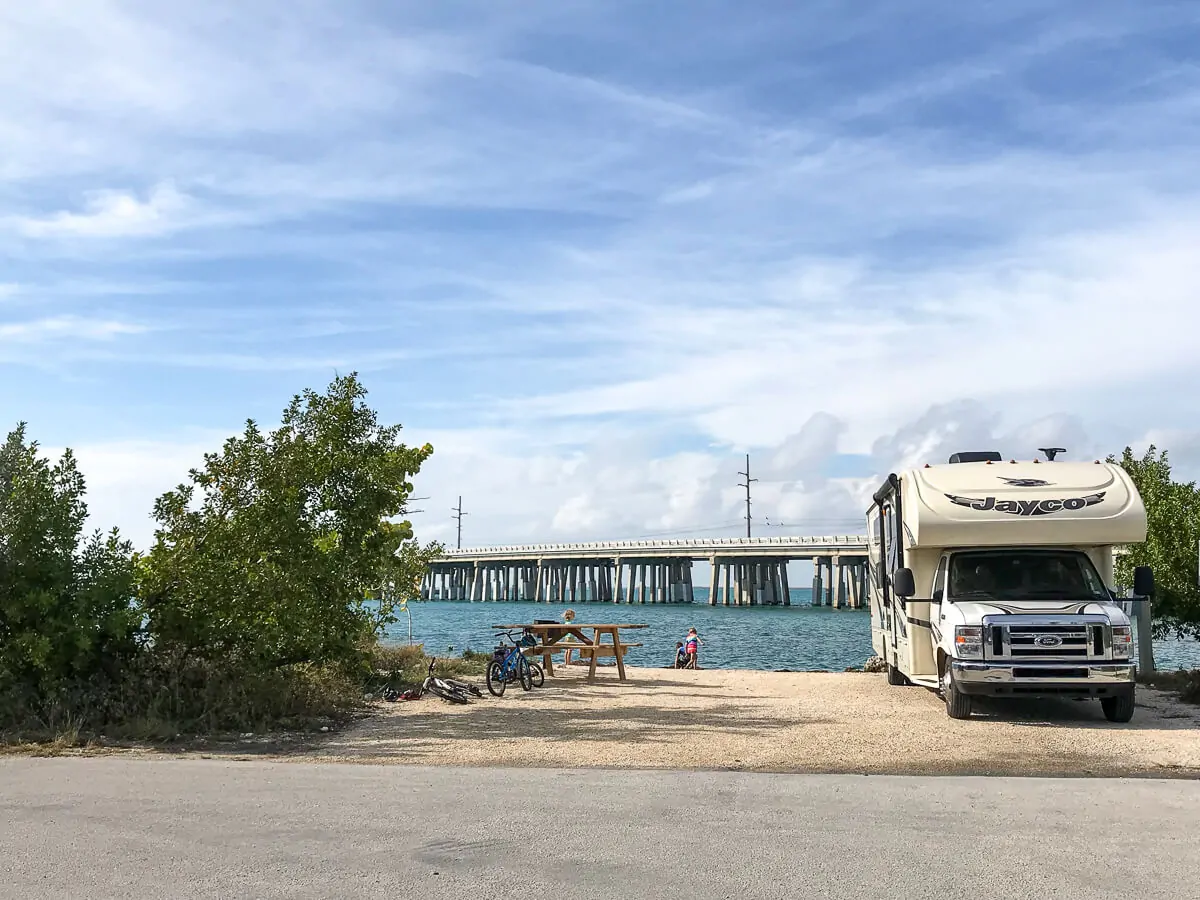 Jill Greising-Murschel and her family of 6 have been happily living full time on the road for over 2 years!
And she's here to share how families can make full-time RV living work…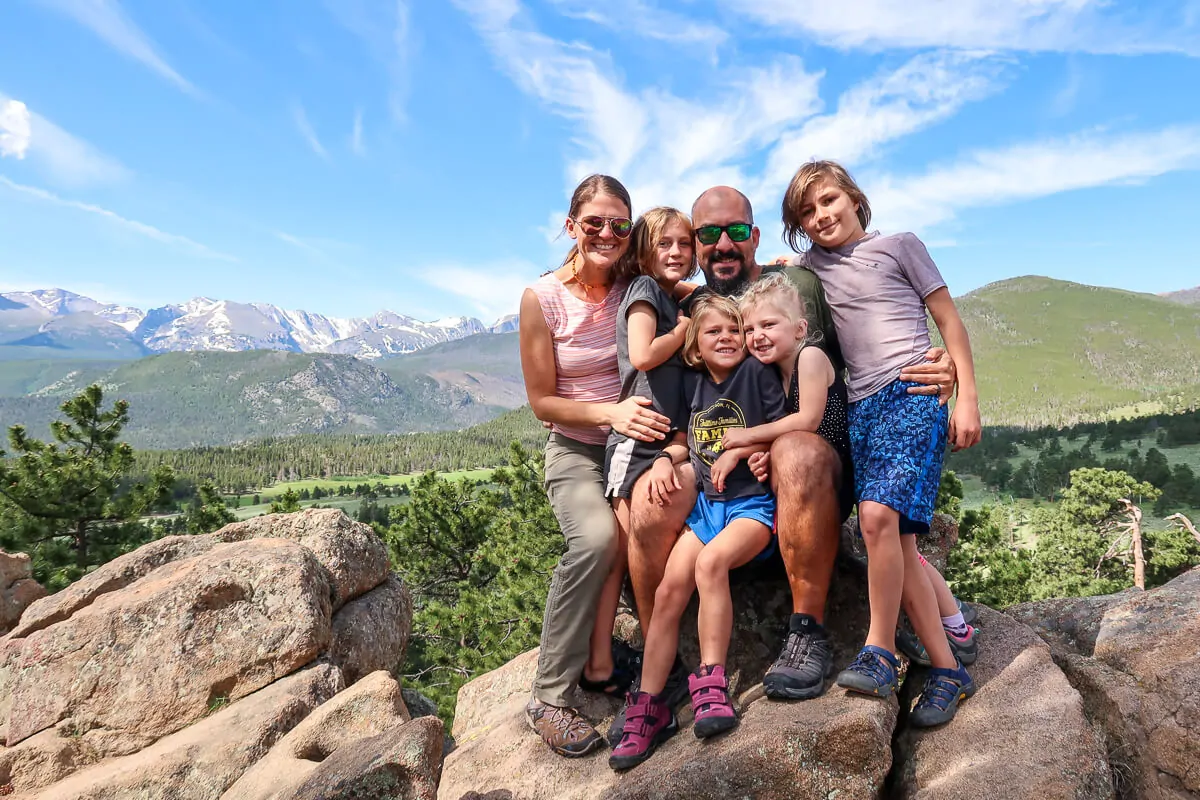 Have you ever thought about making a big change in your life? One that would bring your family closer together? A change that would bring you more flexibility and joy?
That's what my husband Tony and I did in early 2017 when we started on the path of buying an RV to travel the country full-time together with our four kids ages 2, 4, 6 and 8 at the time.
I want to share with you why and how my husband and I came to full time RV living and how it has brought our family more joy in the last 2 years than we ever thought possible.
Launching Into The RV Life
Traveling in an RV around the country was never on our radar. Not even close. You see, we lived in a suburban home in Minnesota surrounded by extended family and friends. Yet, we felt like we never had enough time together as a family.
Tony commuted to work each day while I stayed home with the kids, and we were lucky to have 1 hour of family time each night before putting the kids to bed. We both wanted more. More joy, more time together as a family, and to be completely honest, more time outside year-round.
You see, Minnesota winters were long, cold, and gray. We started looking at more vacations…but that added up in cost. Then we looked into just moving to a warmer destination…yet we had never visited the destinations we were thinking about moving to.
It was at that moment that we decided we could travel around the US for a period of time to search for a state or city we'd like to settle down in. So, rather than stay in hotels we wanted to bring our 'home' with us.
That brings us to buying our Class C Motorhome. Our 33-foot RV has 2 bunk beds in one of the slides, a Queen bed in the back, and a full-size bed over the cab of the motorhome. It fits our family of 6 perfectly!
I started planning out fun destinations to visit while Tony started searching and applying for full-time remote jobs that would help support our family financially while we were living in an RV full-time.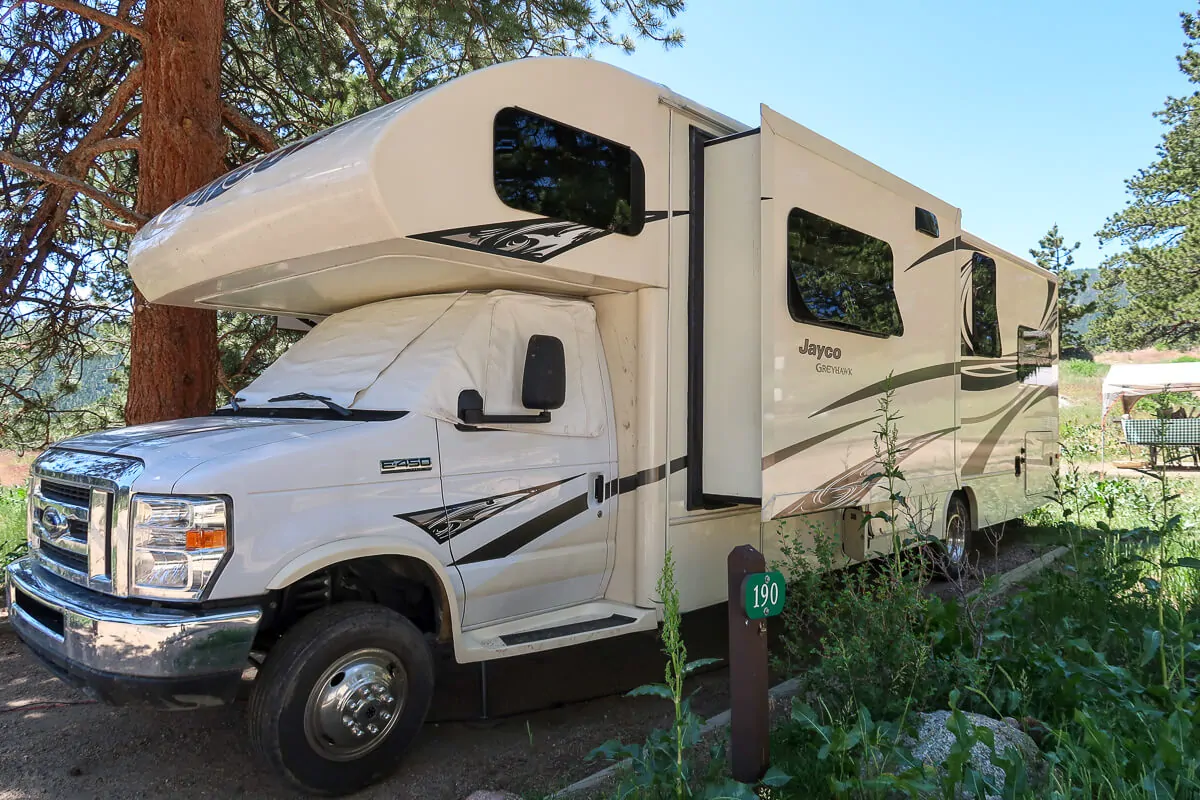 Finding Remote Work
Tony must have applied to over 50 positions online using many job resource websites such as https://remoteok.io/. It was a very exciting day when he interviewed with Platform.sh, a web hosting company. They have a staff of fully remote employees and were excited to not only bring him on full-time but they also offered us medical benefits. You see, we needed health insurance because Tony lives with Type 1 diabetes, and let me tell you, prescriptions can be expensive without insurance!
It was only a few months into full-time travel that I started our blog, Let's Travel Family. My goal from the beginning was to grow it as a business that not only helps other families learn more about RV living, full-time travel, and fun destinations to take their family, but also to provide our family another source of income.
Tiny House – Tiny Spaces
Once we had the RV bought and jobs secure, it was time to start living with 'less'. Meaning, we needed to downsize big time!
This was a challenge that Tony and I were ready for. We felt overwhelmed with so much 'stuff' in our 5-bedroom house back in Minnesota. I was so excited to fit our 'must haves' in our tiny RV kitchen and have only a drawer full of a few outfits to choose from each day.
Now, 2 years later, I can honestly say living in a tiny house has helped us to have MORE time together as a family and more time outside exploring our new destinations. We have a home for everything in the RV, and if we work hard at it we can have the entire RV cleaned in 30 minutes or less, top to bottom!
Do we ever feel like the small spaces overwhelm the six people living in them? On rainy days, yes. But that's when I'll often find a children's museum in a local city to take the kids to, or Tony will find a coffee shop or library to go work in for the day. This gives the kids and I more space to spread out and bake coffee cake, play Legos, or create an art project.
The idea, plan, and goal has always been to use our RV as a place to eat and sleep while we spend the other parts of our days outside. So, I'd have to say that overall no, we don't really feel like the space is too small for us at all. We have the entire outdoors year-round!
Travel Planning and Our Favorite Destinations
Part of the excitement of RVing is picking out our next destinations. Now, if we're not careful we can get overwhelmed by all of the travel planning that can go into this lifestyle.
I've learned that if we travel plan in batches, we do so much better. We may take a few days to sit and research where we want to go, where to camp, what to see and do, and begin adding it to our Google Calendar. Then, we may go two months before we do anymore travel planning again.
In our first two years of traveling the USA our family visited 43 states and even Canada. Well, we walked across the Rainbow Bridge in Niagara Falls into Canada, so our RV never did cross over, but we did visit the country!
One of our family's favorite destinations has been the Florida Keys. I think we have two reasons for this particular area of the country. First, we were thrilled to take our home with us to tropical islands with sea-green water in our backyard and explore some of the best beaches in the Florida Keys. A second reason was that we made some of the best family memories together there. From snorkeling and parasailing to visiting a sea turtle hospital and eating at fun restaurants with pools outside!
We've also loved exploring New York City, eating lobster in Bar Harbor, and hiking among the red and orange rocks in Zion National Park. I can honestly say that with every new destination, our kids have learned something new.
Homeschooling Our Kids Along The Way
Homeschooling itself presents a big enough challenge when trying to educate your kids at home that we were nervous about trying to teach them while in an RV. How can you do a chemistry experiment in an RV? What about art classes?
That's where nature comes in handy! Being outside the majority of the time has afforded us ample space to do all these things. If we want to do a baking soda volcano, great! We'll take it outside!
Painting in an RV? A little nerve-wracking, but again, we take it outside. Leaving little painted rocks for the next travelers is something our kids like doing. Along with many other things that involve play, specifically, free play.
Free play is something missing from the modern education system, free time to just be kids and make up games and imaginary stories. It helps the development of a child's brain so immensely. Since we've been living the full-time travel lifestyle Tony and I have noticed how much our kids use their imagination. Even our 10-year-old son still runs out into the woods to pretend among the trees.
As we explore new destinations we all EXPERIENCE life, this is our biggest form of education. Not only for our children but for us adults too. Seeing a pod of dolphins work together to stir up fish and then feast on them is something I had seen once on a documentary, but never imagined seeing it in the wild for myself like we did off the coast of California.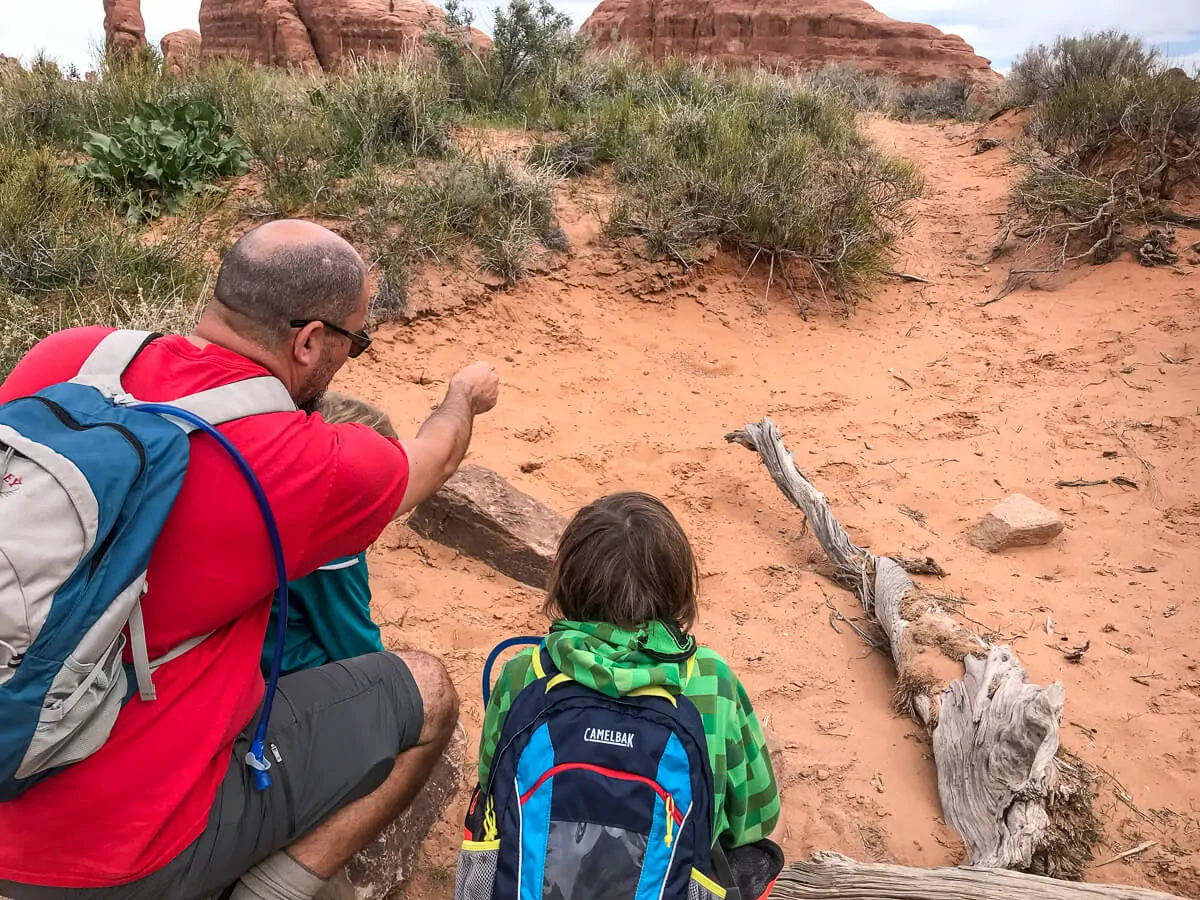 What about reading, writing and math?
Each of our children has their own iPad where they often listen to audiobooks, music, check out digital books online, play Kahn Academy Kids and math games. We also read the history book series The Story of The World out loud to our children before bed every night as they each work on writing in their journals. Oh, and our son Riley has his own Kindle Paperwhite taking care of his huge reading obsession. I think he reads about 4-6 hours a day!
The Best Part of RV living with Kids
Everyone wants to be with their parents and siblings for 24-hours a day, right? It may sound corny, but we do!
When working full-time jobs and having a million-and-one obligations we started to become disconnected. We looked elsewhere for friendship and community. Being a family of six this was not our intention, but it was starting to happen before we launched full time RV living.
Not being with your family 24/7 is normal though, right? I guess it can be, but to us, it's not why we created this family unit. We didn't have 4 kids so close together in age to just send them off to public schools and friend's houses. We wanted them to be each other's best friends and grow together as a whole. Not to say it's always easy, but the kids' best friends are all each other now.
When they get around other kids we actually see a stronger bond between them, and they want to bring other kids into the mix as well. Playing tag at a random playground, hanging out a library, the kids are always finding new friends to play with too. They understand that with these other kids they meet and play with, it might only be for that one 30-minute period, so they play freely and openly.
So the best part of our RV life is the family time and community.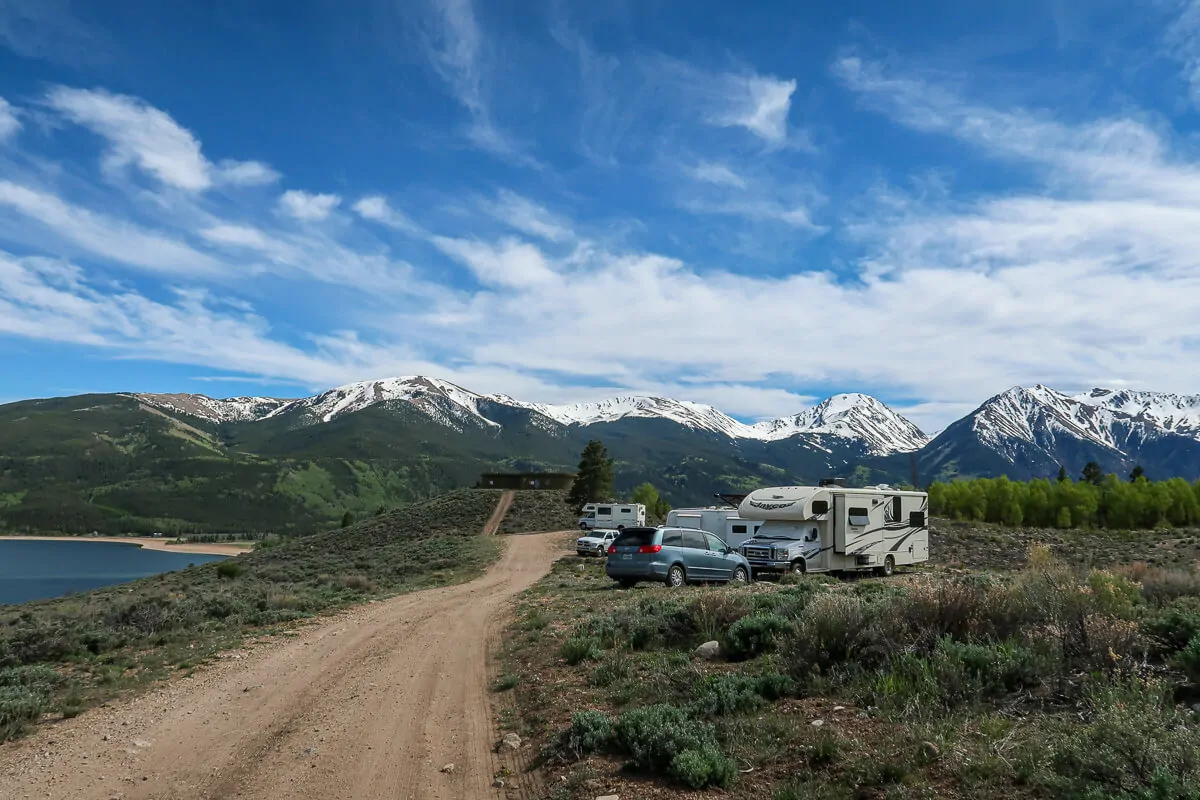 Permanent Full-Time Travel?
To us, RV living with our kids is something we see ourselves doing with no end in sight. When we first started there was a thought it was more for city-shopping and where to find a new home-base.
Now, over 2-years into full-timing, we find that we love every city we find ourselves in, for that short period. After spending a few days or a few weeks in an area we are ready to move on and find a new city or area to explore.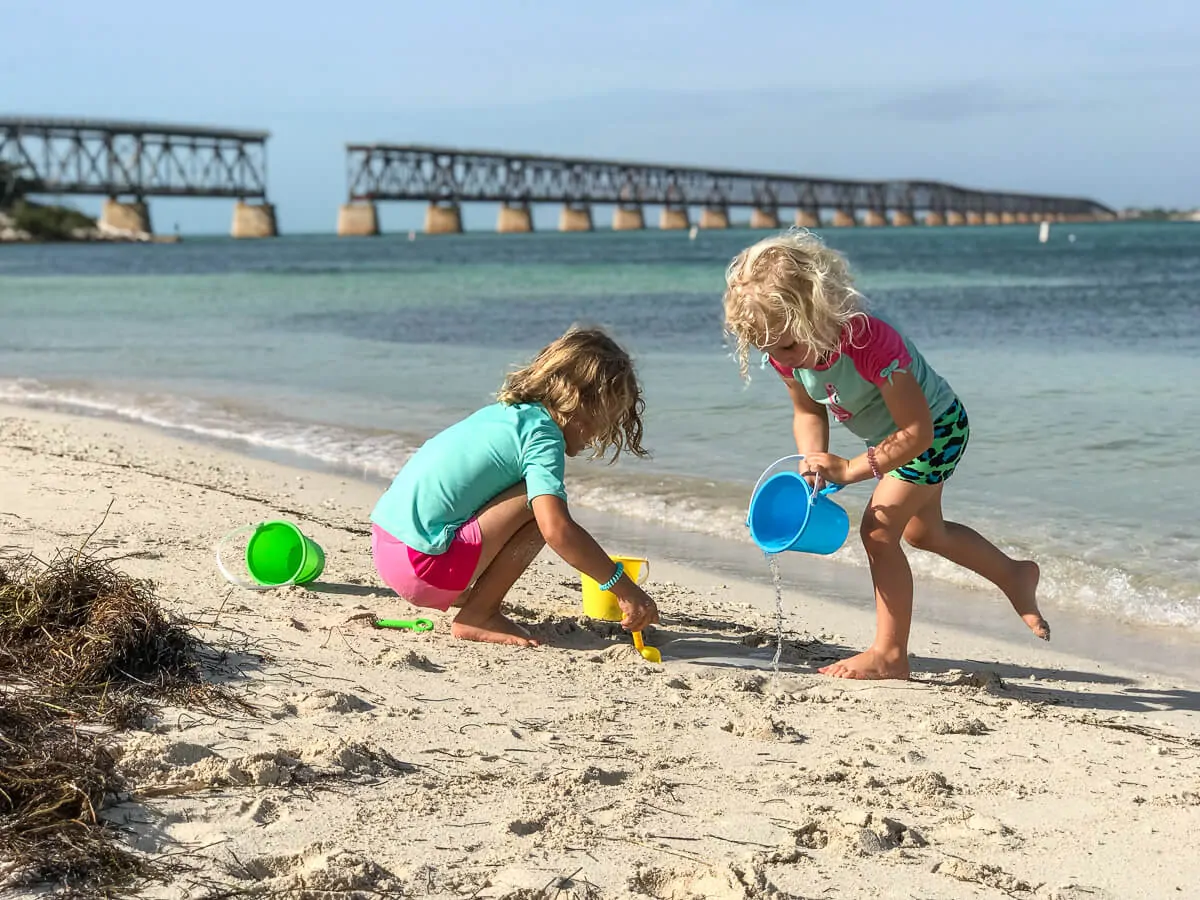 Do we see ourselves settling down somewhere in the future? Possibly, we never rule anything out anymore. Travel, sickness, family emergencies, injuries, these things all can still happen and may require us to stop full time RV living. But it keeps us going and finding new ways to enjoy traveling now, knowing that at any time our freedom on the road may come to an end.
Living each day like it's our last, finding joy in the small things, these are things we try to focus on. It may sound cliché, but we strive for that cliché if it means we are healthier, happier and able to find joy in experiencing this life, together.
Pin "RV Living with Kids" for Later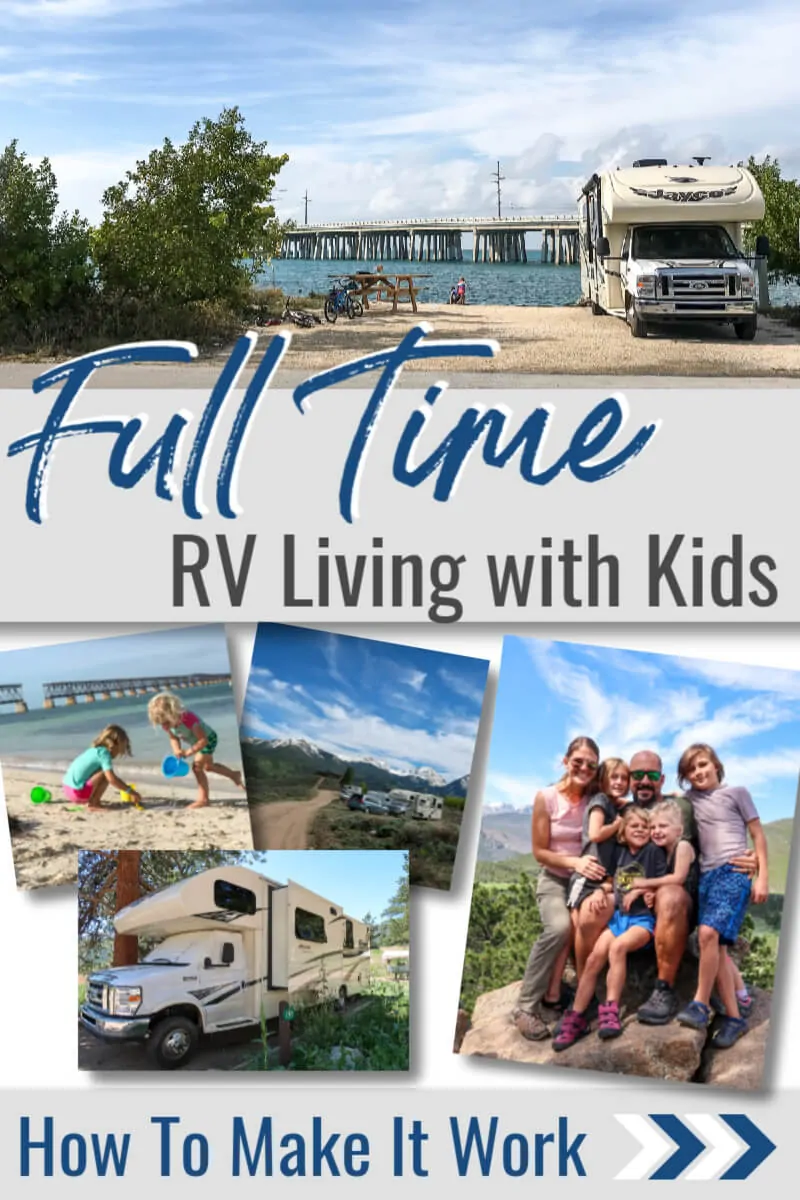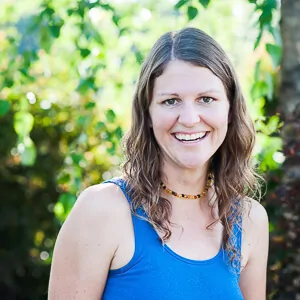 Written by Jill Greising-Murschel. Jill is a full-time traveling mother to 4 children and a wife to a digital nomad. Along with her husband Tony, Jill started
Let's Travel Family
to help inspire families to get out and live their lives right now, not waiting for someday down the road. They provide tips on RV living, traveling with kids, full-time travel, and fun destinations to visit with families on both their blog and
YouTube channel
. You can also find Jill on
Instagram
and
Facebook
.