This post may contain affiliate links. Read my disclosure policy here.
Are you a blogger? Do you want more traffic to your blog? Of course you do! So keep reading to find out how you can use Mix to get more blog traffic.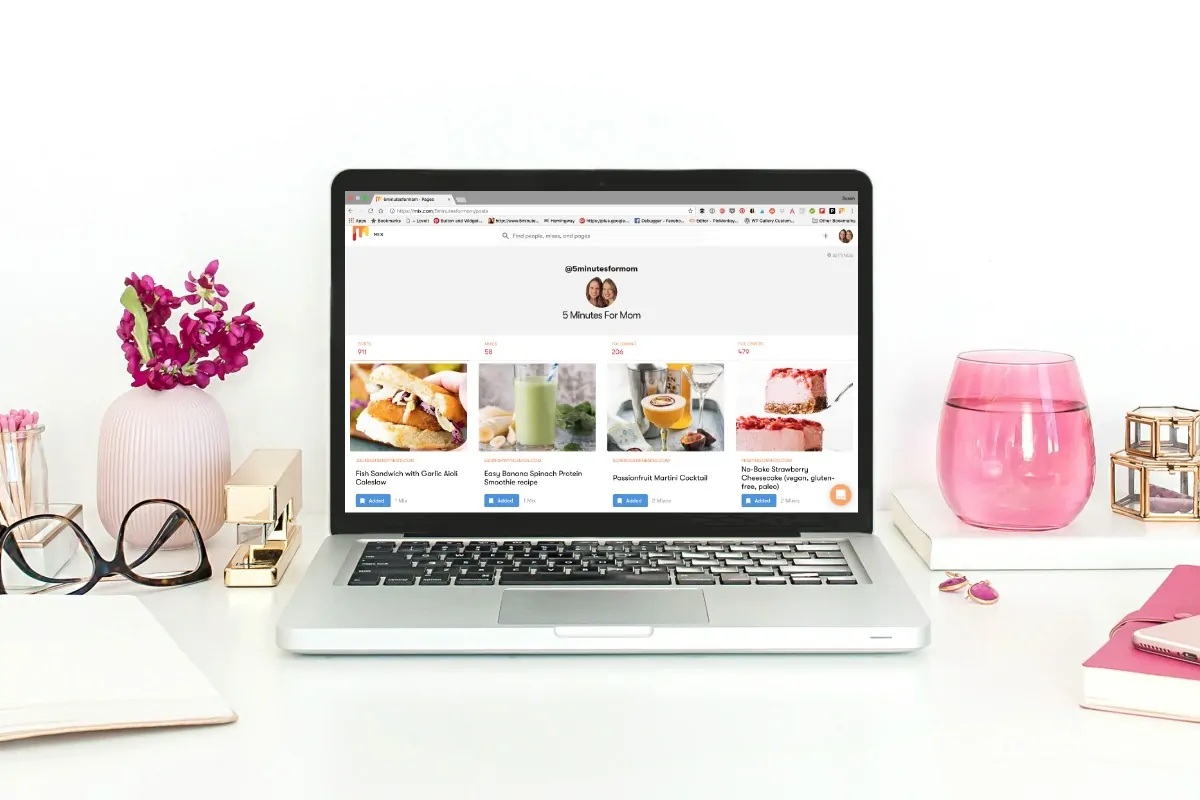 Last year I introduced you to the new site called Mix from the makers of StumbleUpon. If you missed that post about Mix, read it at… Mix – A New Way To Discover, Collect, and Share Awesome Content.
As bloggers we all want more traffic to our blogs. Everyday it seems competition for pageviews gets tougher as people spend more and more time scrolling through Facebook and Instagram.
But we believe the best of the Internet is actually out there on blogs.
That's why our favorite social traffic source isn't even a social networking site… It is Pinterest and it is a content discovery platform. They actually call it a visual discovery platform.
Pinterest helps people find awesome content and sends traffic to those websites and blogs that published the post or article.
So we're excited because the new site called Mix, that launched last year from the creators of StumbleUpon, has the same goal of helping people find and share great content.
As bloggers, we are content creators.
If you're a blogger, you invest your time creating fantastic content and you want people to discover and read your work.
So while Facebook keeps making it harder for our friends and followers to see our links, we need to find new platforms that help people discover content.
Mix can be that new platform. And bloggers are going to make it happen.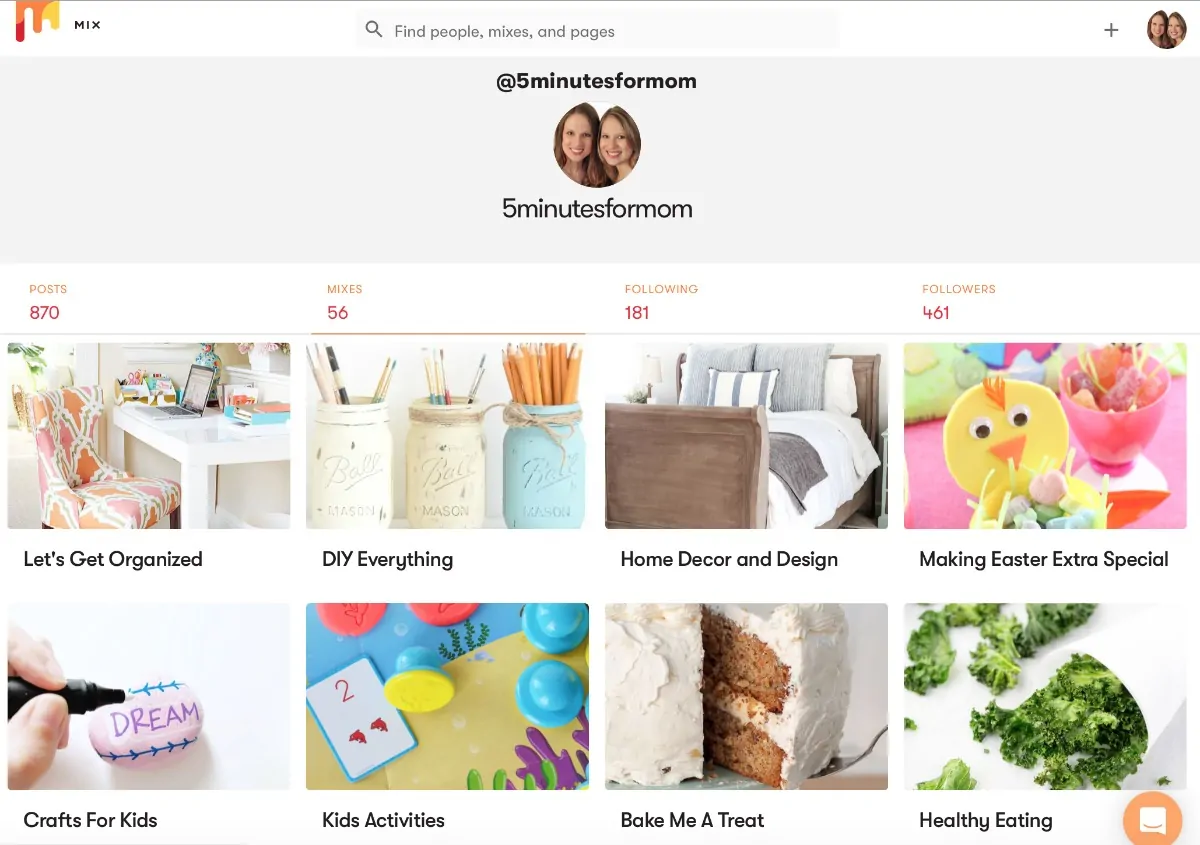 Do you remember when Pinterest was born and it was mainly craft and food bloggers that got on board right away?
Sadly many of us dragged our feet as we were already overwhelmed with building our audiences on Facebook and Twitter. We didn't want to have to make a new following on a new site.
Hindsight is a painful view.
If only we'd started there sooner.
But we have another chance to get started early with Mix.
I believe Mix will be a huge success, but bloggers will be key to seeding it with high quality content that people actually want to read.
As bloggers, we want to fill the Mix database with delicious recipes, clever DIYs, fun family activities, creative crafts, stunning outfit ideas, helpful parenting tips, and other types of top-notch content.
How Bloggers Can Get The Most From Mix
Don't Add All Your Content All At Once

When you first sign up with Mix, it can be tempting to add a whole bunch of your blog posts all at once to a Mix.

But you should slowly add your content to various Mixes on your profile over time.

Add a couple of your own posts, and then add a variety of other blog posts from your blogging friends and other sites. I would suggest that you want to keep a ratio of about 20% your own content to 80% other sources.


Use Catchy Mix Names and Add Mix Descriptions

At first I just named my mixes simple one or two word topics… often that were suggested by the app when I created a new Mix.

But later I decided it would be better to have more catchy names for my mixes.

Also, when you quickly create a new Mix using the toolbar button as you're adding a new url, you may not realize that you can add a description to your Mix.

I suggest you go through your Mixes and make the Mix names a little more creative – but still try to keep the main keyword in the name. For example, I changed my Appetizers Mix to be Appetizers To Impress Your Guests.

And then I added the description, "Appetizer recipes for your next dinner party or casual get-together."

Also, you can change the cover images of your Mixes. Pick one of the most eye-catching photos that you have in the Mix and set that to be the cover.


Use The Mix Toolbar and App

You absolutely want to use the Chrome Mix Toolbar to quickly and easily add posts to Mixes.

I actually love adding posts to Mix because it's faster than sharing on any other social platform. It pulls in most of the information directly from the url, so you just select the Mix, and you're done.

Whenever I press publish on a new blog post on my site, I always add the url to Mix using the Chrome toolbar button.

During the day, when I'm using other sites and I come across good content from other bloggers, I again use the toolbar on my desktop to add to Mix.

On my phone, I love using the Mix app. Each day I spend a few minutes in the morning and evening browsing through Mix and adding posts to my Mixes. I also click through from other apps like StumbleUpon, Pinterest, Twitter and Facebook to good blog posts and then use the Mix extension in my Safari app to add the post to Mix.

Add A Variety Of Content From Different Sources

My priority is adding high quality blog posts from my community of blogging friends, but I also add posts from all types of other sites.

While I prefer to send traffic to a recipe or articles on a blog, I'll also Mix urls from larger websites.

Variety always creates the best flavor.


Follow Your Friends From Your Community

You've spent years building community on your blog and other social channels, so continue those relationships on Mix.

Tell your friends about Mix and give them your profile link.

Your link uses your profile name just as you'd expect…

Clearly, it's important that you grab your profile name as soon as possible. Use the same handle you use on Twitter, Instagram, etc.

One trick to find your friends and followers who are already on Mix is to click on your followers and find faces your recognize. Then click on each of those profiles and click on the list of people they are following. Chances are high you will recognize some faces there.

You want to grow your Mix community organically with real people who you really want to follow. When you get email notifications from people following you, don't feel that you must follow every single person. If you don't recognize their name, click through to their Mix account and see if they are sharing content you like.

Add A Recognizable Profile Photo

It's so important to use a photo your friends and followers from other sites will recognize.

I suggest using the same profile photo on Mix that you use on Twitter, Pinterest, or Facebook.

While it's usually best to use a photo that shows your face and that you're a real person, the most important aspect of the Mix profile photo is that it is consistent to what you use on other channels so that your current contacts can find you easily.


Click Through And Read Articles

Before I re-mix an article that I see on Mix, I usually click through and read it to make sure it's a post that I want to share.

And of course, we want to support each other's blogs, so we want to actually visit blogs, not just spend all our time in the Mix app.


Cross Promote Posts And Mixes On Other Social Channels

A great way to use Mix is to find great articles that you can share with your audience on your other channels.

For instance, I often look on Mix to find interesting posts to click through and then share on Twitter, Pinterest, etc.

You also want to share links directly to your Mixes. That's a great way to introduce people to Mix and to get the to follow you.


Use Mixes To Save Articles You Want To Read Later

Mix is a perfect way to bookmark posts you want to save to refer to later.

Create a Mix for recipes or crafts you want to try.

If you're researching for an article, use Mix to save the links you discover.


Follow Topics and Boards As Well As People

To ensure you see the types of articles you want to read when you go on Mix, follow topics you're interested. But also, follow individual boards that catch your attention.

And of course, the best way to use Mix is to follow people who Mix the types of posts you want to read.

We'd be honored if you'd follow us… mix.com/5minutesformom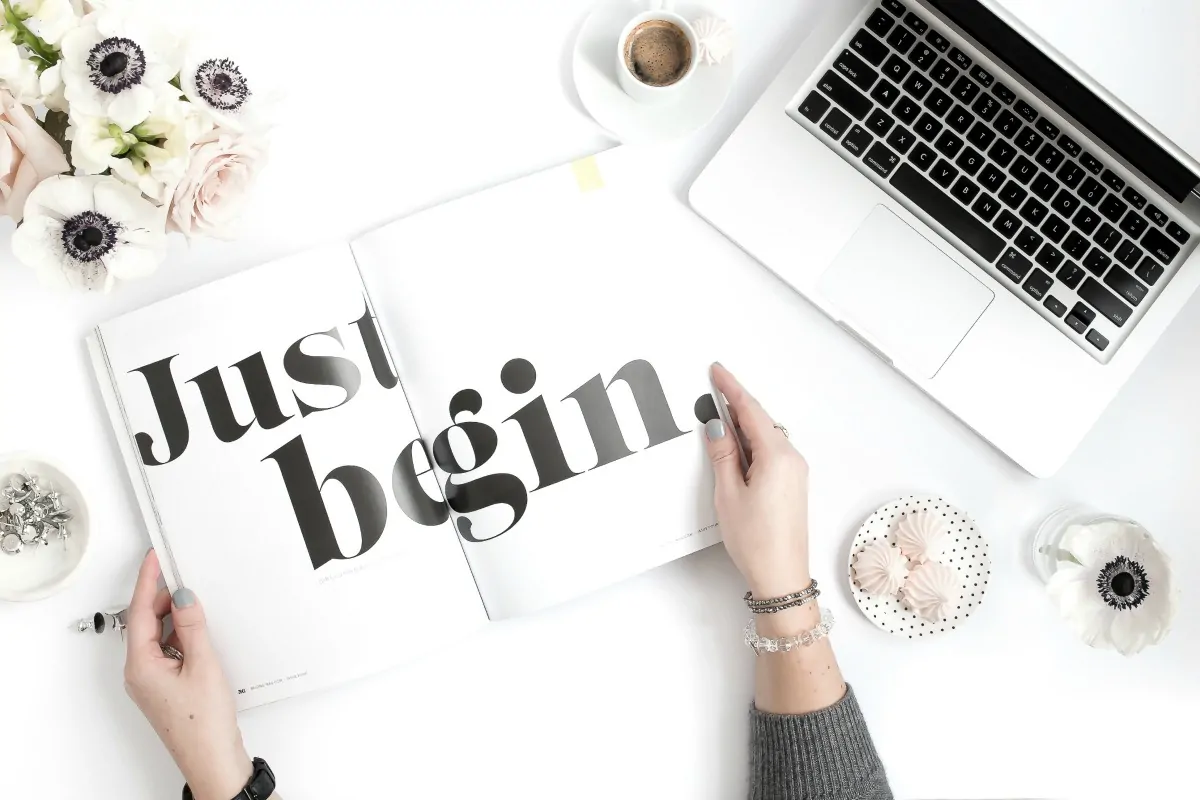 We Want To Follow You On Mix
We definitely want to follow you on Mix. So once you sign up for an account (it's free of course), leave us a comment with your Mix profile name.
You can follow us at mix.com/5minutesformom.
Pin it for Later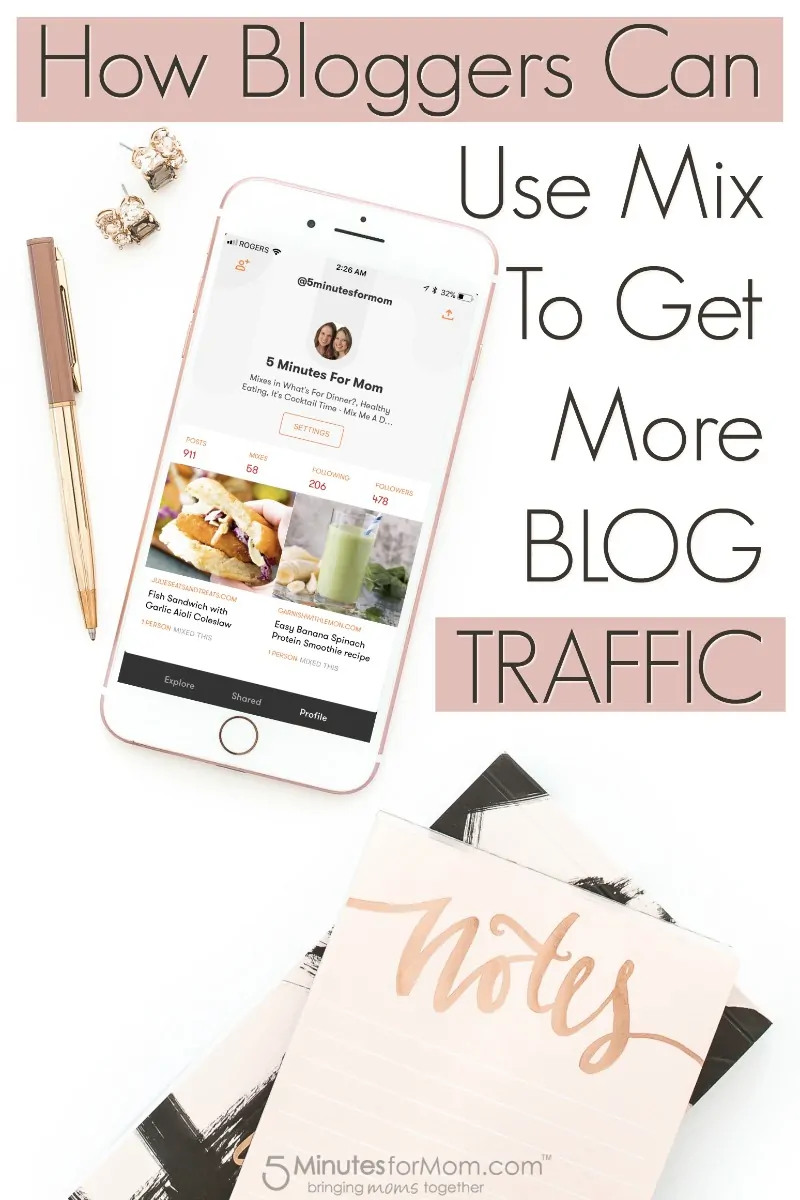 Reader Interactions