This post may contain affiliate links. Read my disclosure policy here.
Would you like to see how to paint Christmas ornaments to decorate your tree and give as gifts this holiday season? You and your kids will love this latest painted ornaments craft that's part of our ongoing sponsored partnership with Testors.com.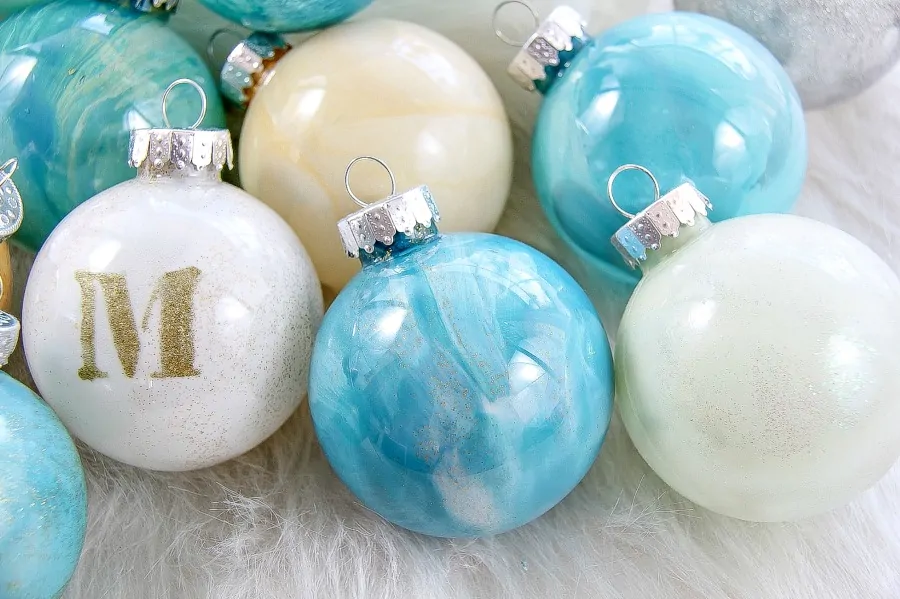 Are you ready for another Testors Crafternoons project to make with your kids? This is Tonya, and I'm going to show you how to paint ornaments that will impress your friends and family.
Be sure to check out our recent Testors Crafternoons project Driftwood Christmas Tree Craft and our How To Paint Christmas Rocks as well as our new DIY Photo Ornaments.
I'm going to show you a few different ways you can paint clear holiday ornaments, from simply pouring acrylic paint inside, to marbling, and adding glitter and stencils to personalize ornaments. These will look perfect on your tree this year, but they also make great gifts too, as well as being a great project to do with the whole family.
How To Paint Christmas Ornaments
Supplies you need to paint ornaments:
One of my top tips for how to paint Christmas ornaments is that less is more. The more paint you use, the thicker it is, the longer it takes to dry, and the more chance of the paint just running out of the ornament and colors bleeding together.
The first thing you will need to do is make sure your ornaments are completely clean, so pour a little rubbing alcohol into each, swish it around the inside, and then leave the ornaments upside down to dry overnight.
Now you can begin painting.
I found it easiest to use the squeeze bottle, not only to mix the marbling medium and acrylic paints together but also to get just small quantities at a time inside the ornaments.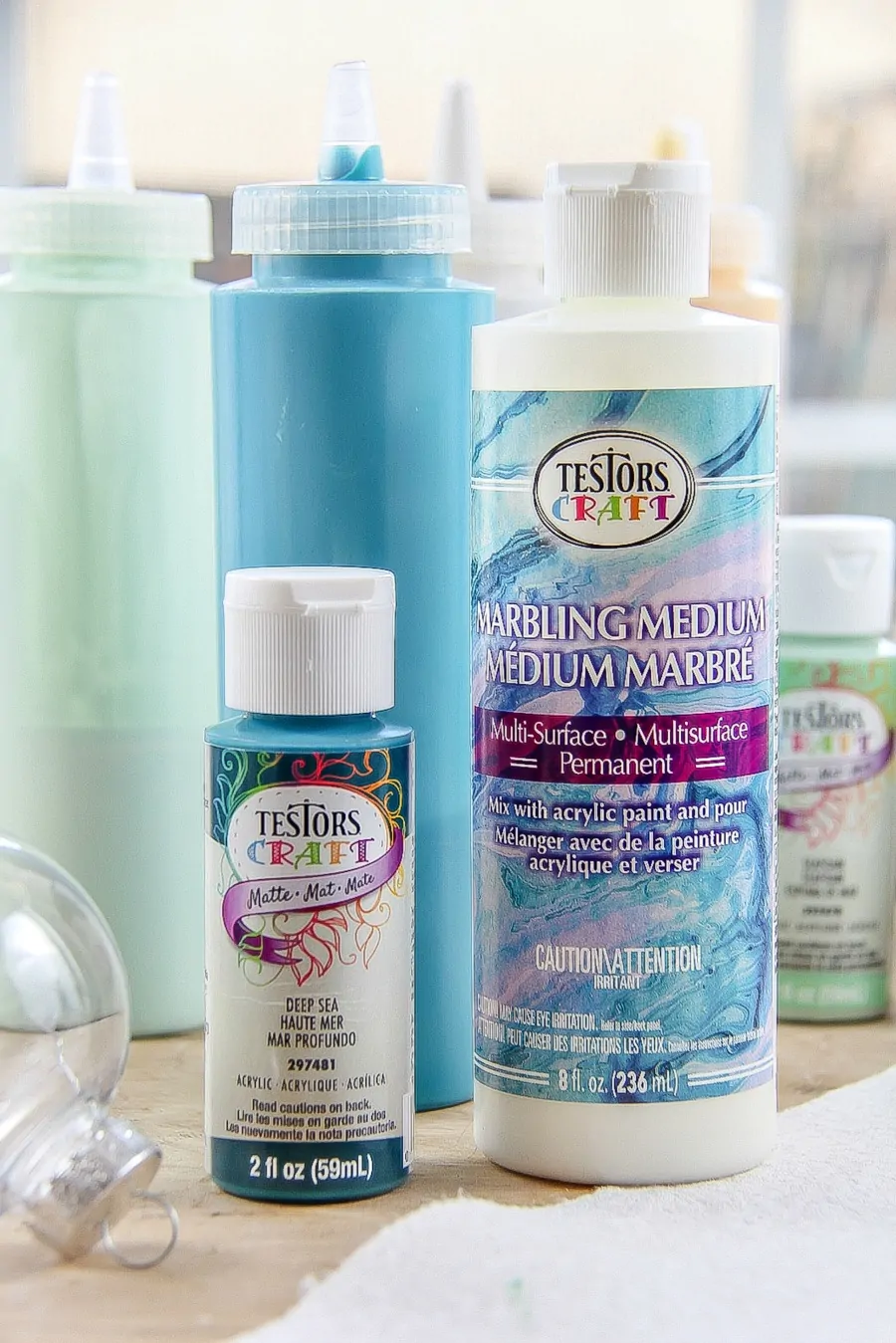 When mixing the marbling medium with acrylic paint it is a 1 to 1 ratio. Once mixed, leave to sit for a little while so there are no air bubbles.
Now, gently squeeze just a little inside your ornament, turn your ornament a little and squeeze a little more. Let the paint run around the inside of the ornament before adding more paint. As I mentioned above the less you use, the better.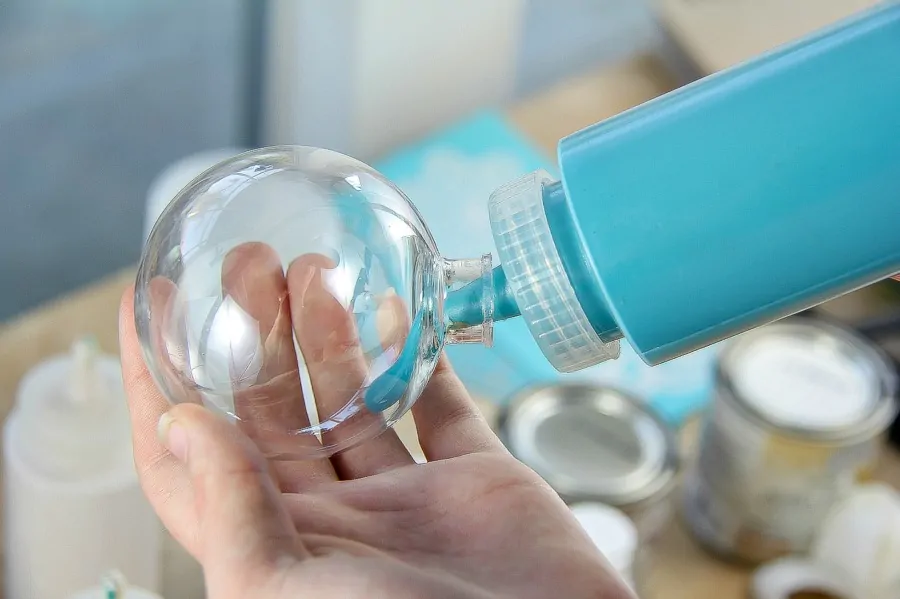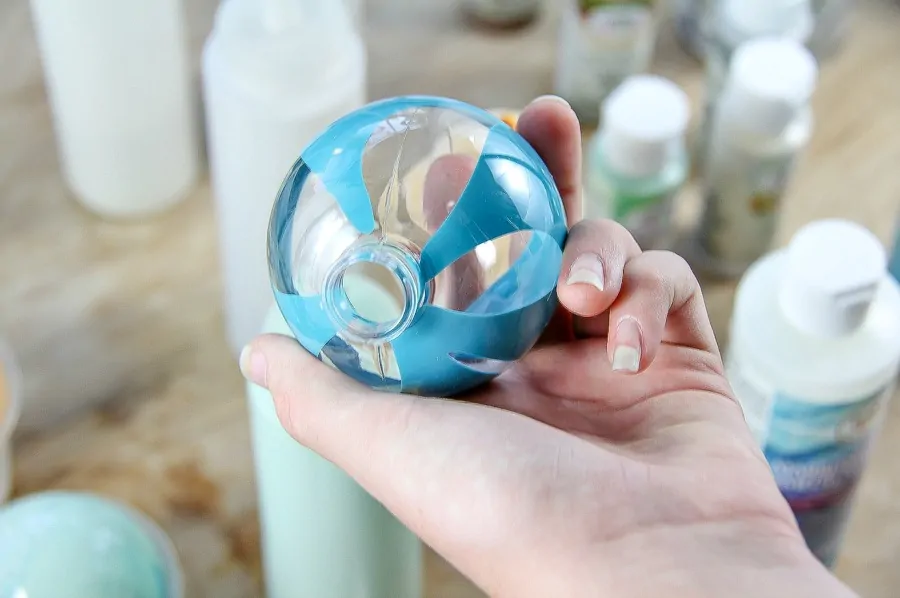 If you want to add more colors, do so before all the gaps have filled up.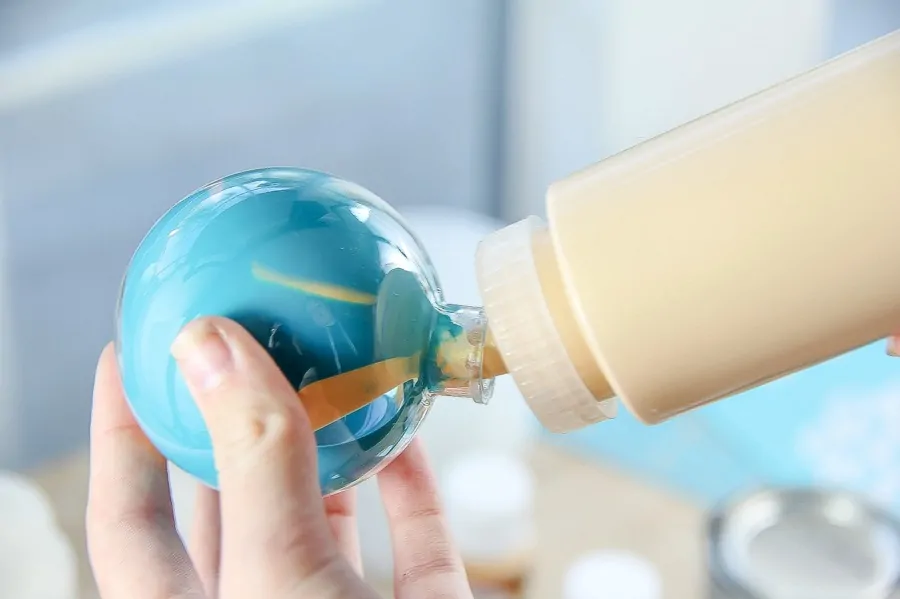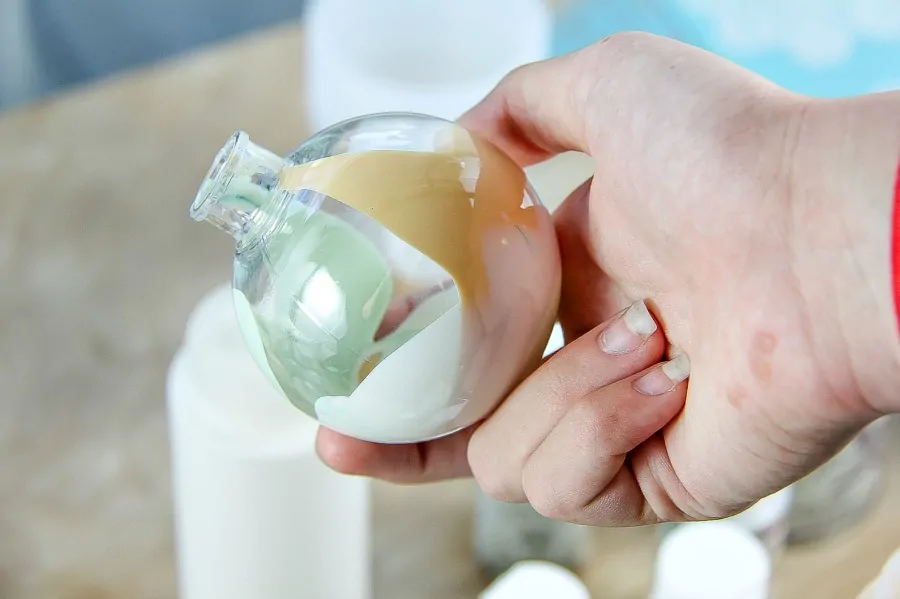 You can use as many different colors as you like and you can also mix between matte, metallic, and glitter paints.
Once all the gaps are filled, place your ornament upside down in a cup to let any excess paint drain out, and then set your ornaments aside to dry. I recommend drying for at least 48 hours before you replace the top to your ornament.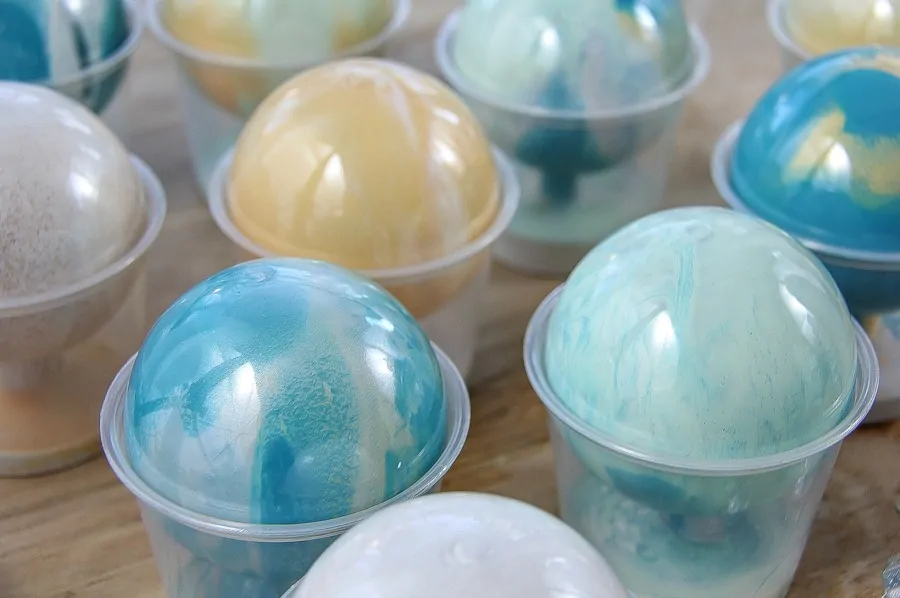 If you want to add just one color, or mix say the teal to make a few different shades of it, then that will create a lovely watercolor effect inside the ornament.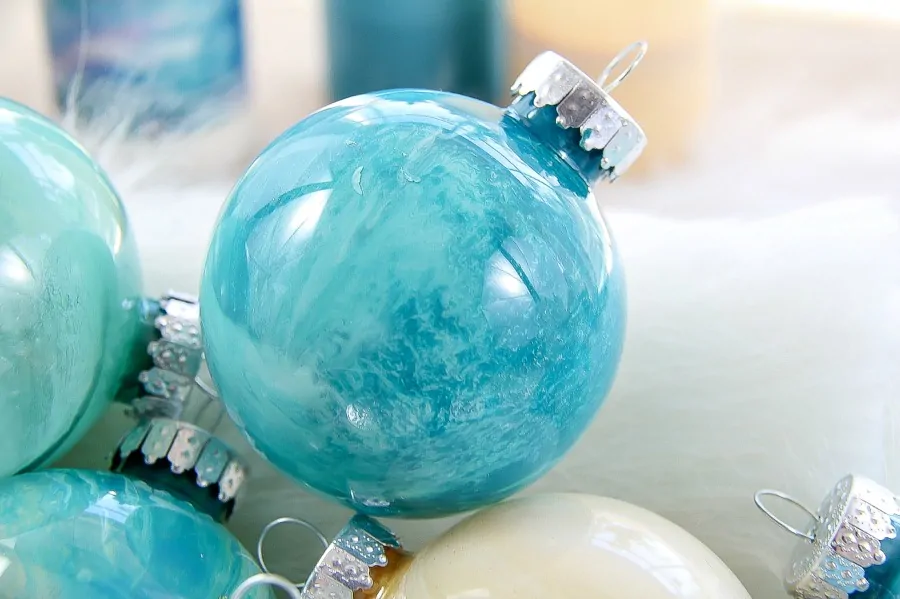 Or maybe, you want to just mix a little white, gold, and gold glitter to make a simple ornament like this one.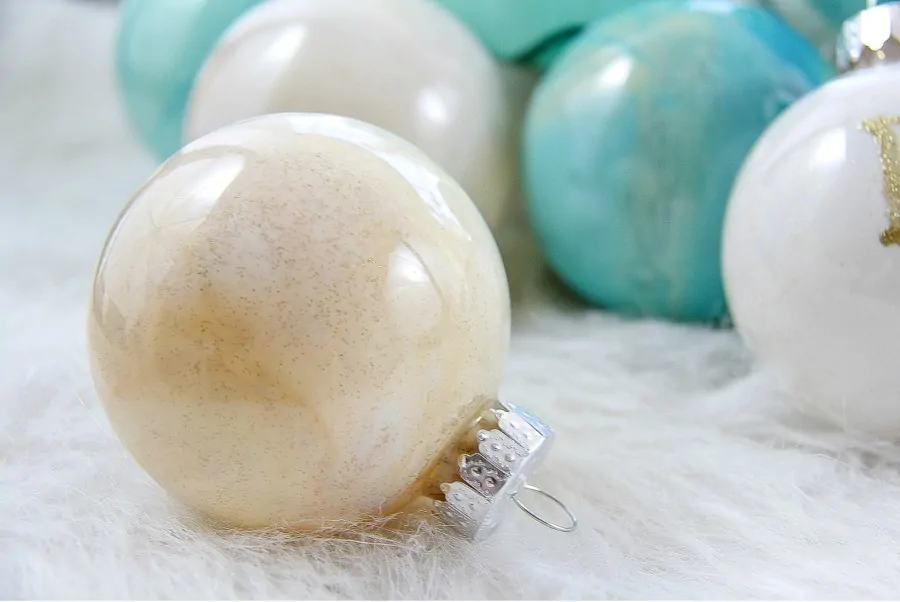 But then, you can also add some glitter to the outside too. The Testors Craft Intense Glitter paint works best for this. You can simply apply a thin layer to the outside of an ornament you've poured paint into like this …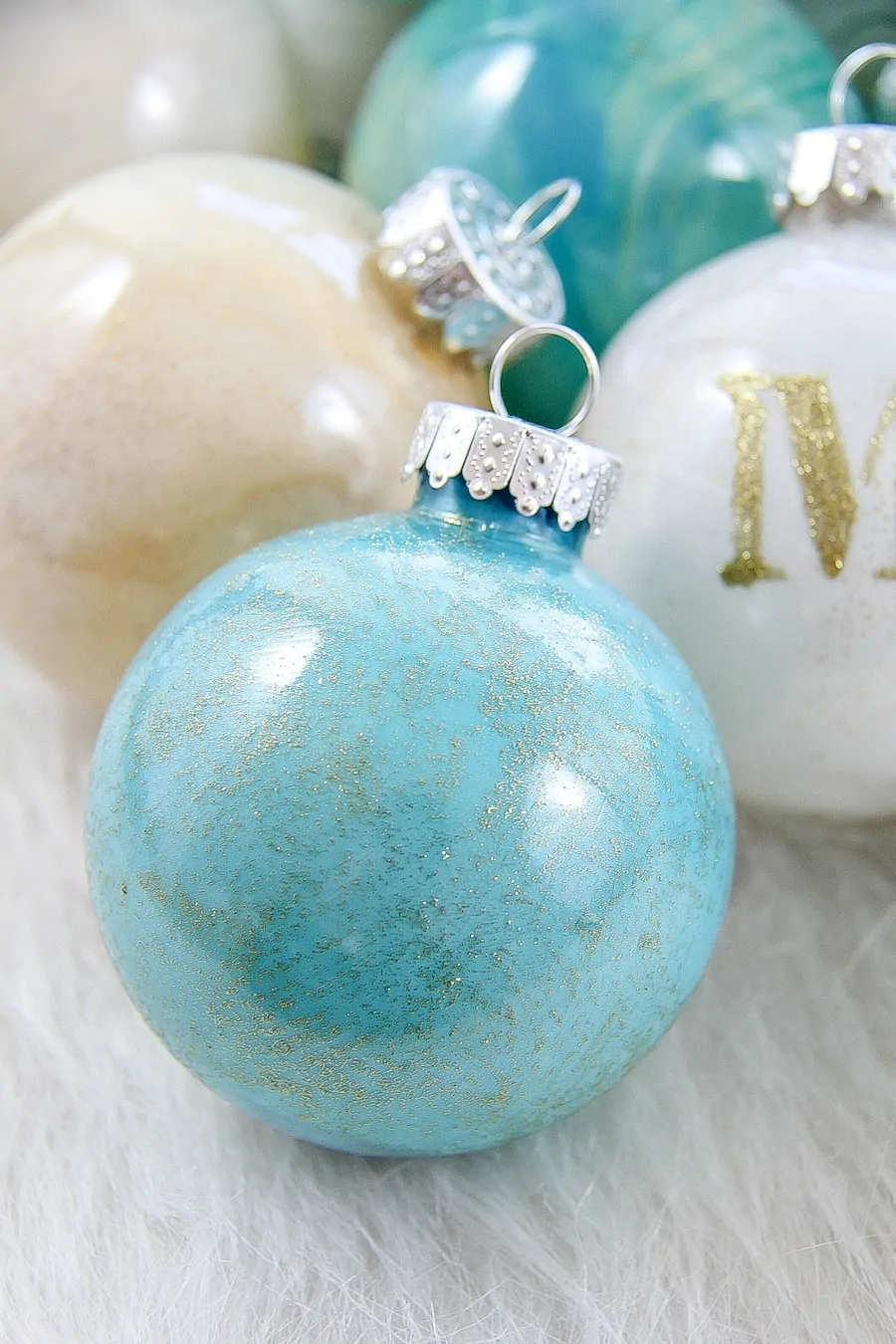 Or, you can use stencils to add an initial, date, or name to the ornament, like this …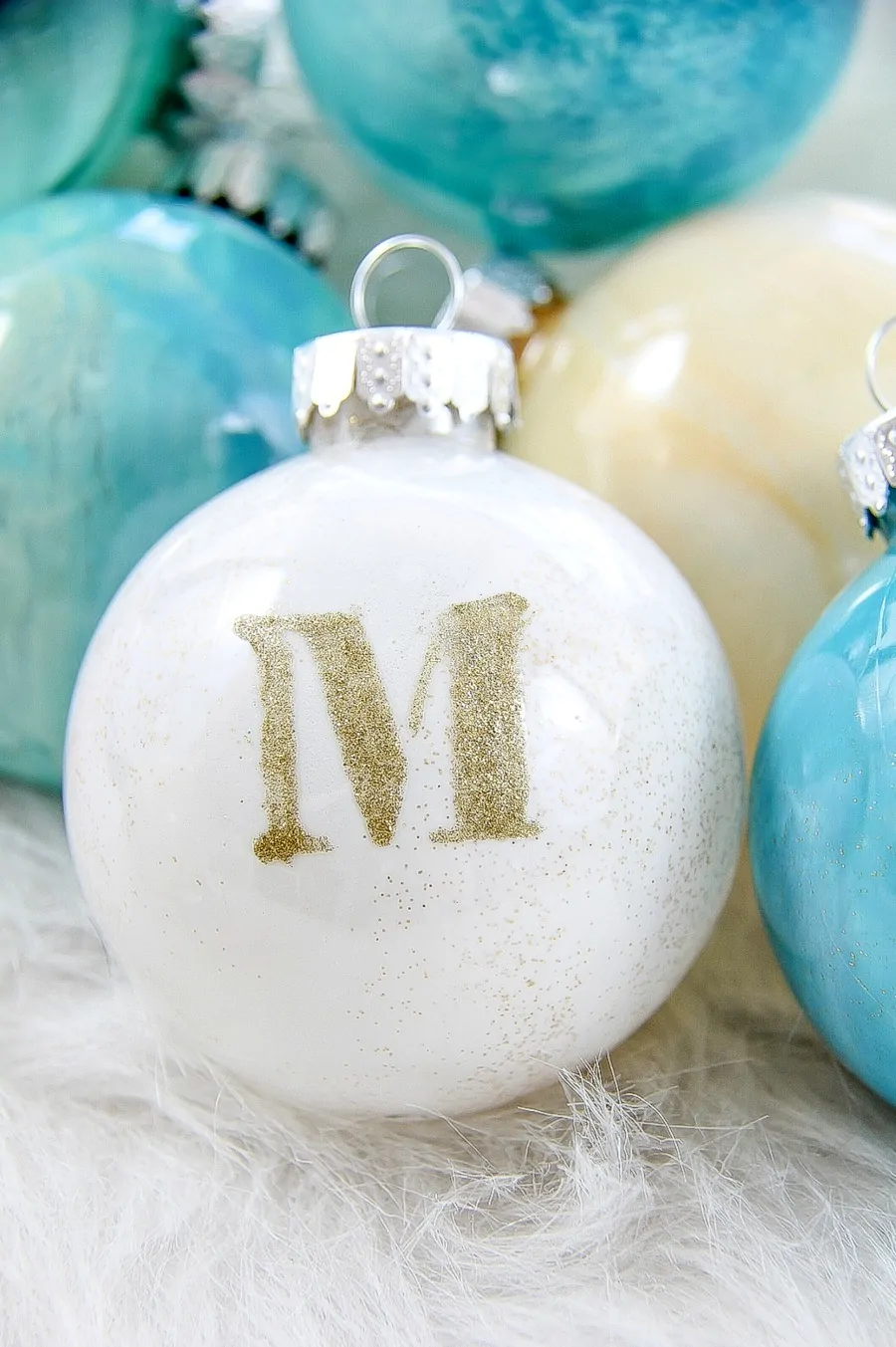 Let's break down a few of these different ornaments and I'll show you exactly what I used to create them.
How To Paint Marbled Christmas Ornaments
This marbled ornament for example used the Testors Marbling Medium, along with the Testors Craft paint in Gold Metallic, Seafoam Matte, and Deep Sea Matte.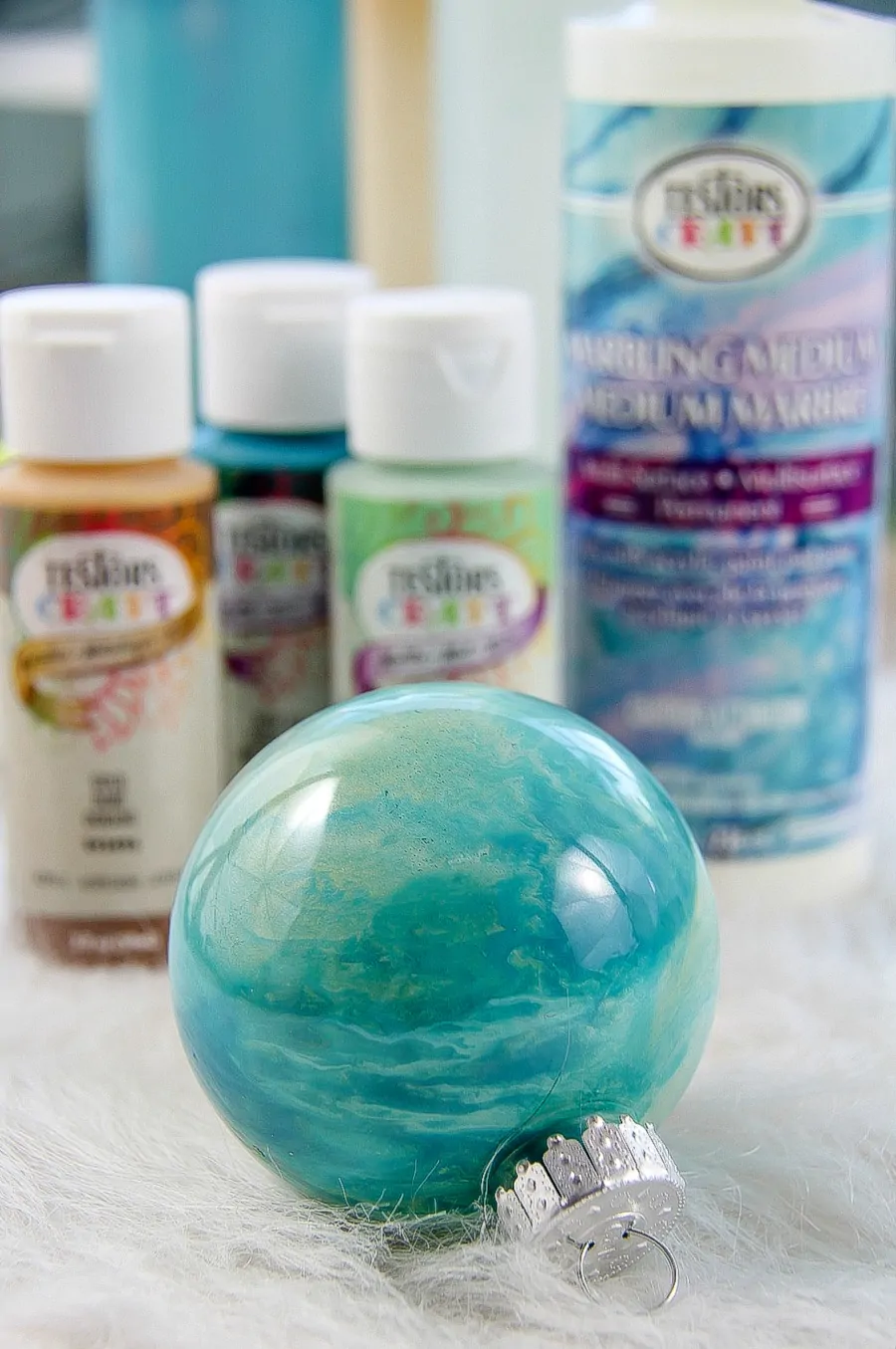 How To Paint Christmas Ornaments With Glitter
This glitter ornament used a combination of the Testors Craft paint in Seafoam and Deep Sea matter blended together inside, and then the Intense Glitter paint in gold on the outside.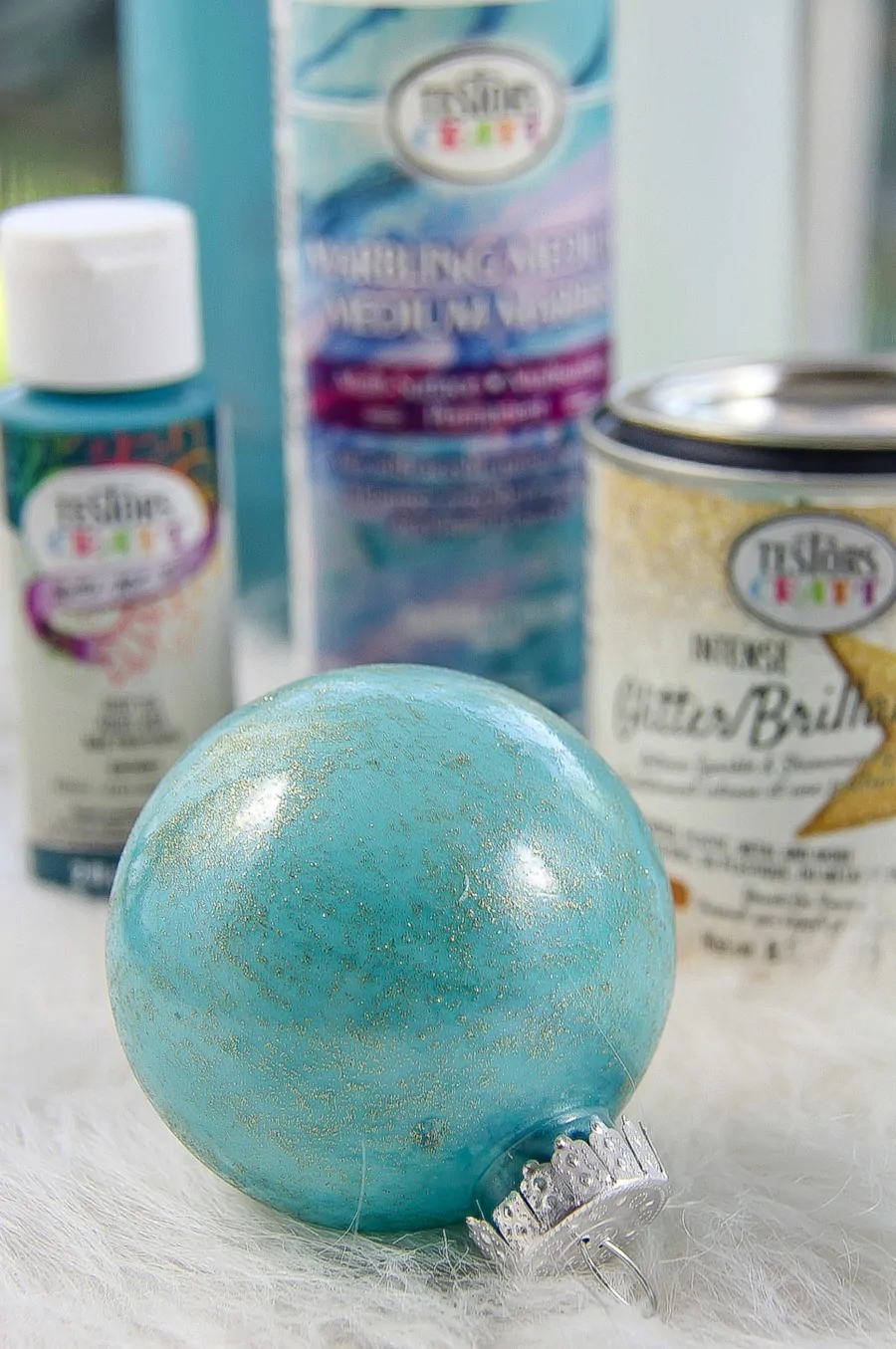 How To Paint Stenciled Christmas Ornaments
I made this stenciled ornament using the Testors Marbling Medium, with the Testors Craft paint in Snow White Metallic and Gold Rush Glitter Burst. I made the stenciled letter with the Testors Intense Glitter paint.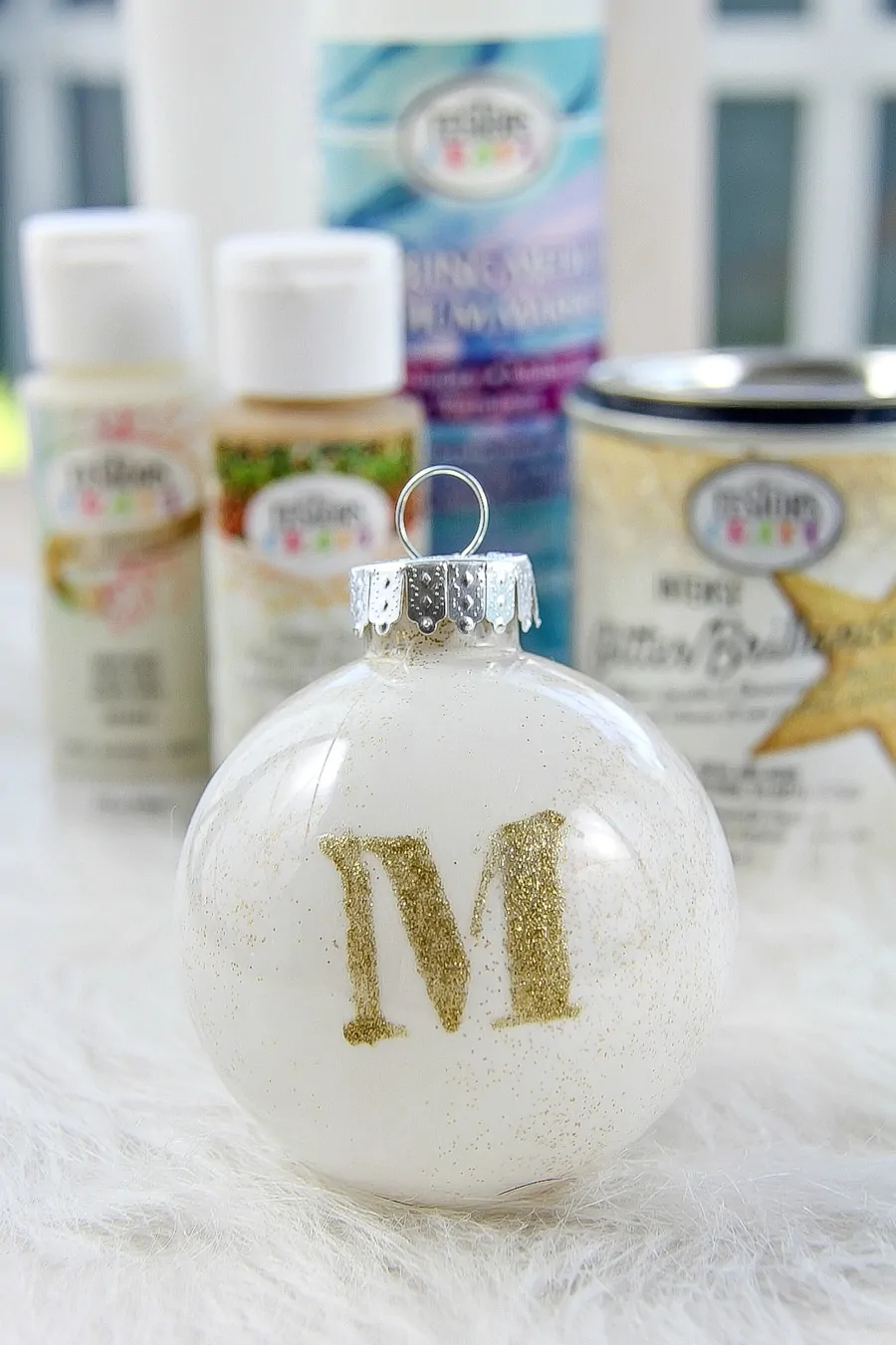 What fun ideas do you have for painting your own ornaments this holiday season? Do you have a color scheme in mind?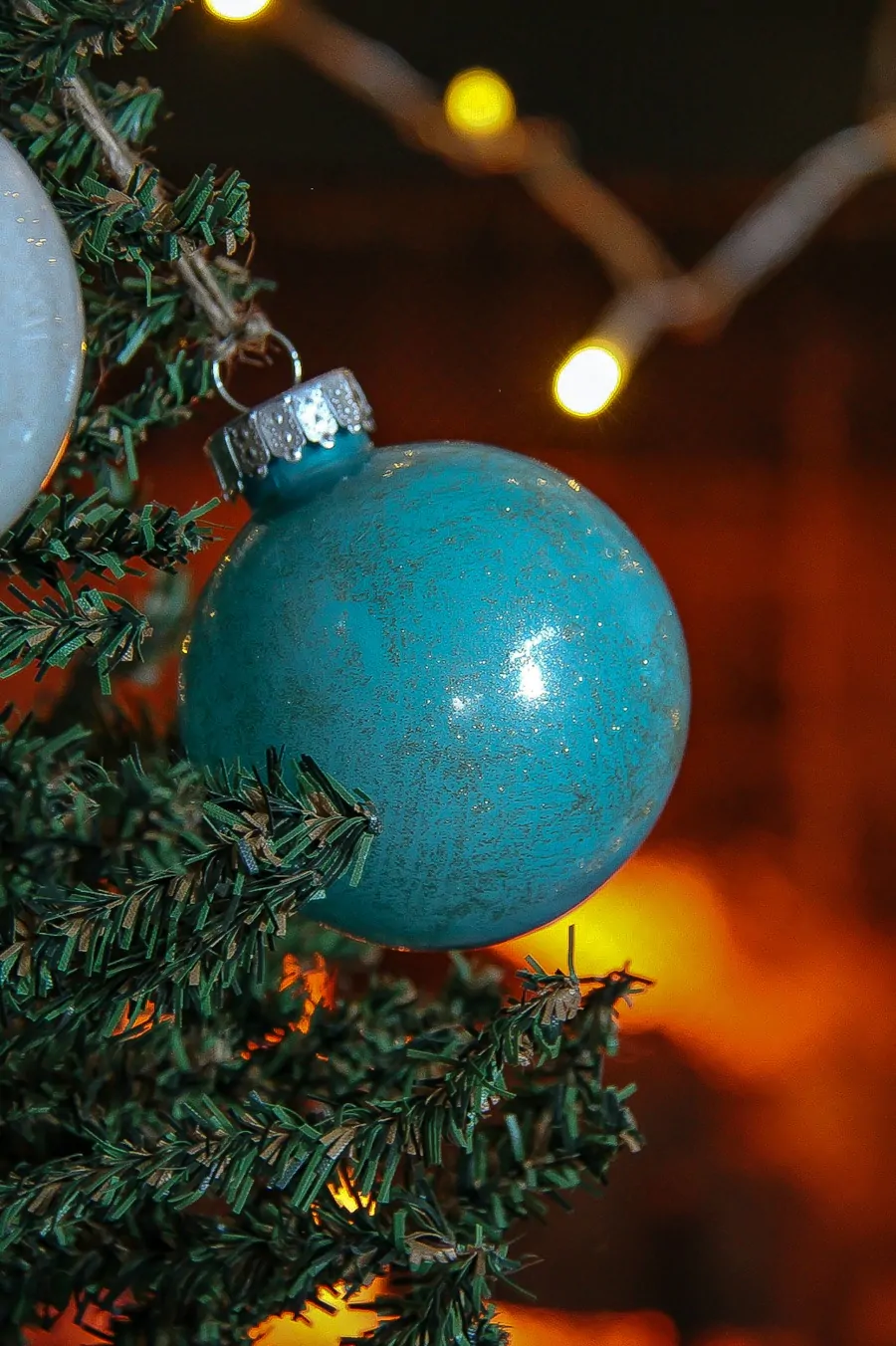 Testors paints are the perfect addition to your holiday crafting. The Testors Craft Acrylic Paint comes in metallic, glitter, matte, and regular 2oz bottles and can be used on so many surfaces including glass, fabric, wood, clay, metal, plaster, and more.
Take a look at my other Testors creations that are perfect for the holidays too:
More Christmas Fun…
Be sure to check out our Christmas Gift Guide… you'll especially want to get ideas in our most popular guide… Christmas Gift Ideas for Her.