This post may contain affiliate links. Read my disclosure policy here.
A DIY photo ornament is the perfect Christmas craft! You can turn your favorite family photos into precious Christmas ornaments that you and your family will treasure for years to come.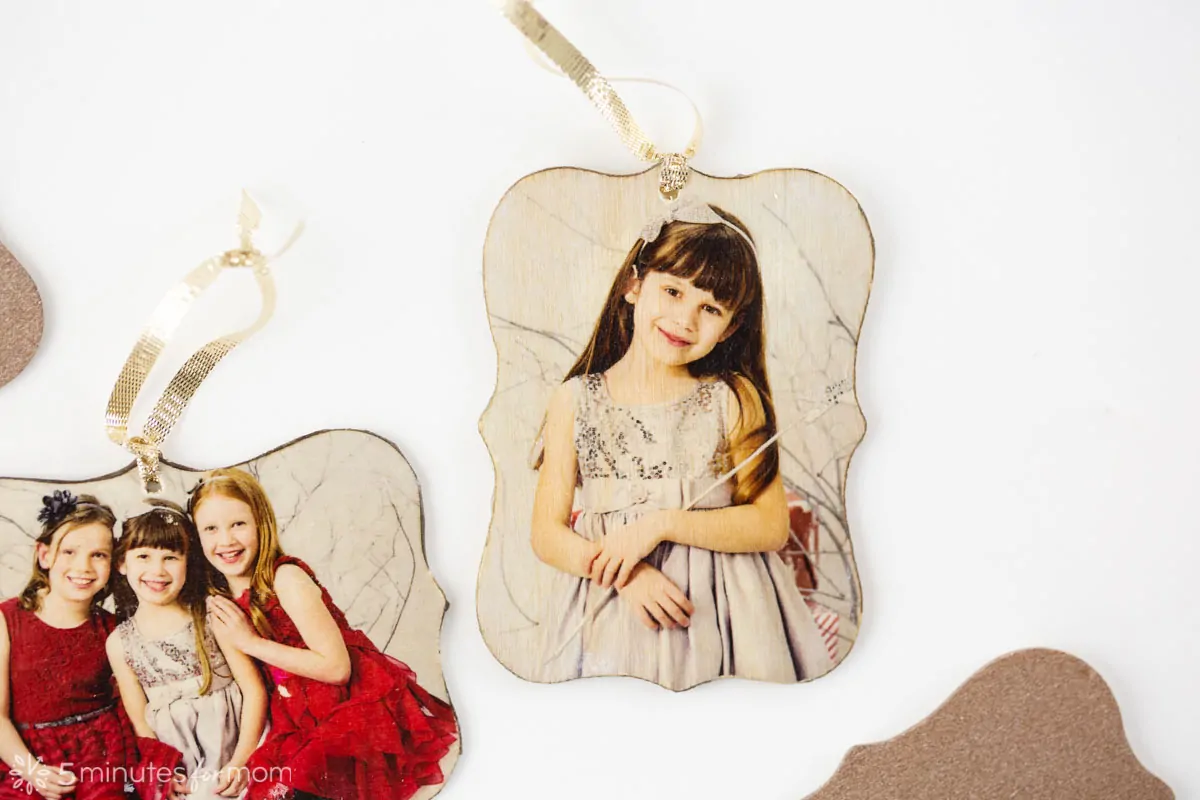 You and your kids will love this latest craft in our ongoing sponsored partnership with Testors.com.
We absolutely love making all different types of Christmas ornaments. In fact, last year for one of our Testors Crafternoons, we had our contributor Tonya demonstrate how to paint Christmas ornaments. And today we are thrilled to host another Testors Crafternoon to show you how to make stunning photo ornaments to hang on your Christmas tree.
Also check out our DIY pillow covers and Christmas tree painting tutorials.
DIY Photo Ornament
Photo ornaments are such a special type of Christmas decoration that helps keep your family memories alive. Every year as you take each ornament out and hang it on your tree, you will be able to relive those memories and recall your time spent crafting together as a family.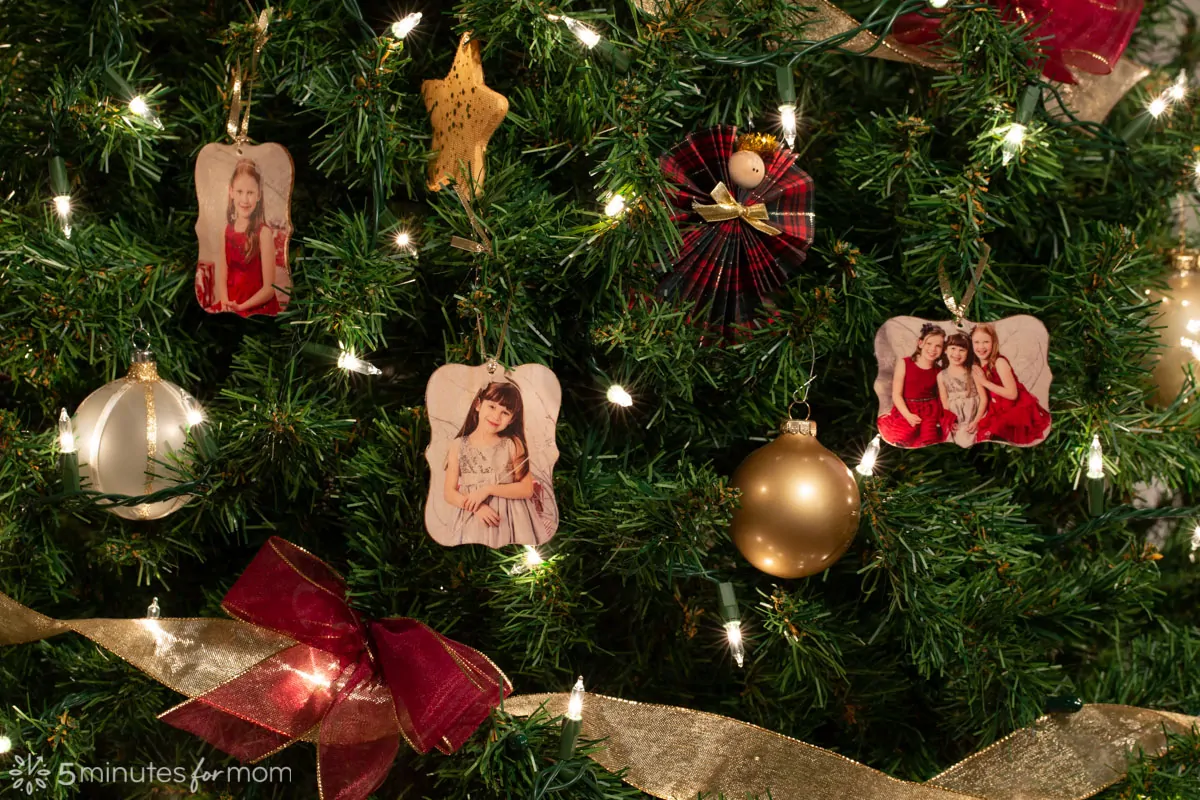 These photo transfer ornaments are so gorgeous and incredibly easy to make. I think they are my favorite Christmas craft that I have ever made.
Olivia, Julia, and Sophia love them as much as I do and they want to make a ton more to give as gifts.
I have printed a bunch of photos for the girls to choose from and then I will set them loose making their own. The end result is so fabulous, you would never guess they are so simple to make.
How To Transfer Images To Christmas Ornaments
To make these photo ornaments we used Rustoleum Photo Transfer.
When you use a photo transfer solution, you are NOT gluing down a photo and then covering it with more glue, decoupage-style.
Instead, with a photo transfer, you are TRANSFERRING the photo ink to the other object and then REMOVING the paper that the photo was printed on.
The result is a mirror image that looks as if it were printed on the object. It looks fantastic!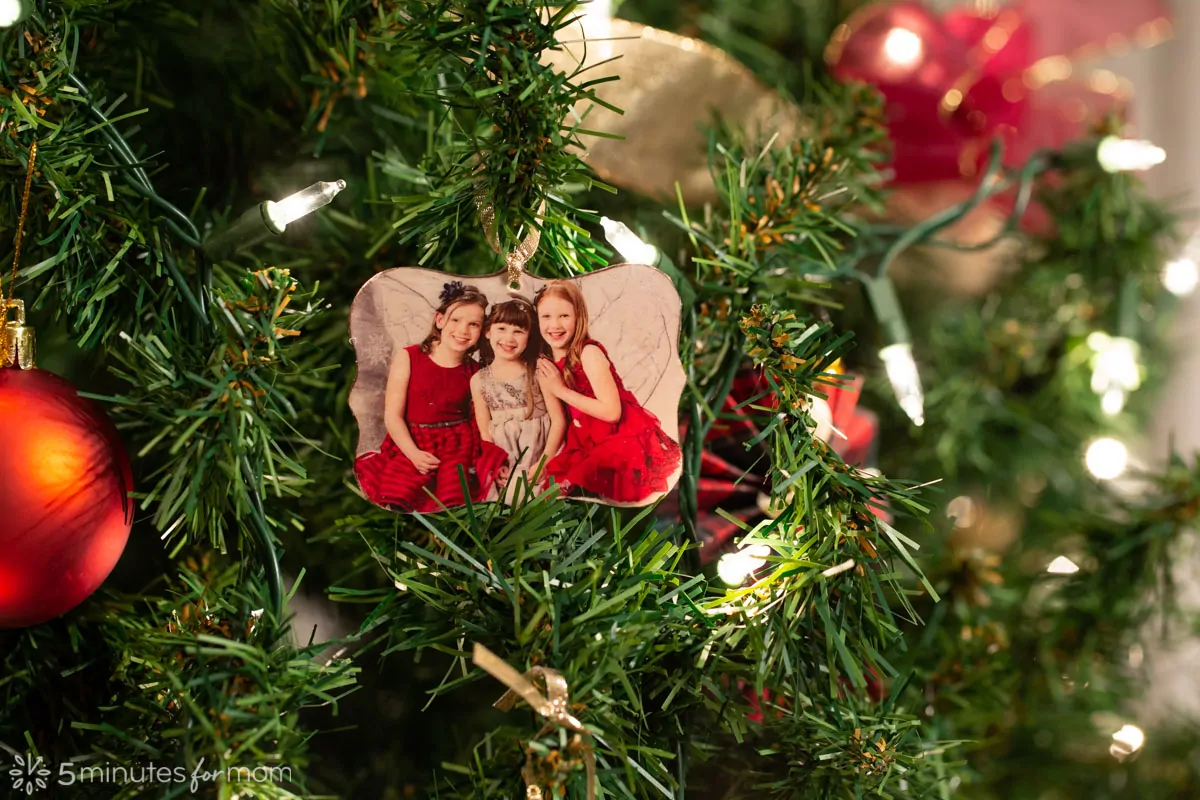 I love having my photos printed on a variety of surfaces. Over the past several years, I have ordered many wood, metal, and canvas prints from photography labs for myself and my photography clients.
But I have never had the chance to make my OWN wood, metal, and canvas prints.
So, I am simply giddy that now I can use Rustoleum Photo Transfer and make my own photo transfer creations.
These DIY photo transfer ornaments have an antique look to them as the wood grain shows through the transferred photo.
I spray painted the back of my ornaments with various colors of Testors Crafts 3 oz. Aerosols, including metallic paints in as Antique Copper, Gold, and Silver, and some muted shades of paint such as Linen White, Smokey Beige, and White Wedding.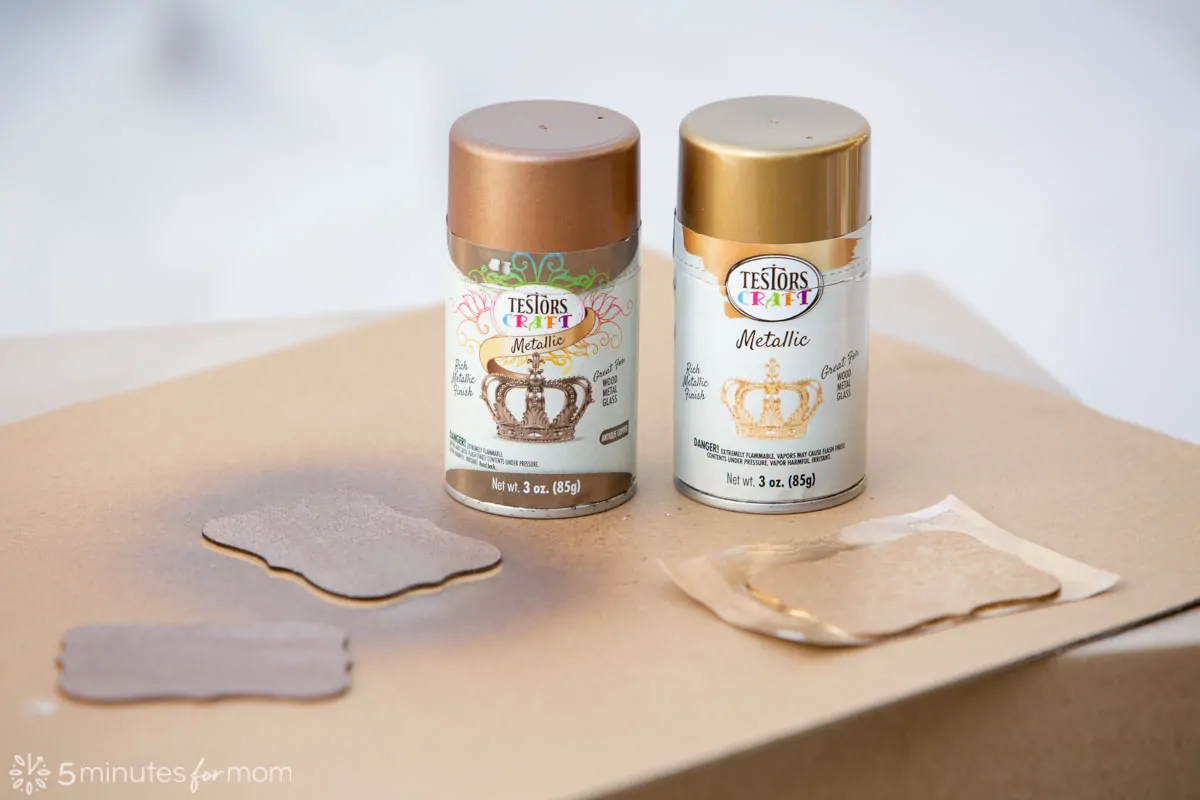 The paint I liked the best for my photo transfer ornaments is the Testors Crafts Aerosol in Metallic Antique Copper as it pairs so well with the vintage look of the photo transferred on wood.
Then, to finish off each ornament, I pierced a hole in the top and threaded with gold ribbon to create a loop to hang it on the tree.
Supplies:
Testors Crafts 3 oz. Aerosols in Metallic Antique Copper or your favorite choice of colors, OR Testors Crafts Acrylic 2 oz. Craft Paints in your favorite choice of colors
Photos printed on a LASER printer (Since I don't have a color laser printer, I printed my photos at the local Staples.)
Paint brush or foam brush
Rag
Ruler
Craft Knife
Large Embroidery Needle
Thin Ribbon
How to Make Photo Ornaments:
STEP 1 – Print Photos on Laser Printer
For the photos transfer to work, you need to print photos on a LASER printer on standard printer paper.
But no worries if you don't have a laser printer!
I don't have a color laser printer, so I printed my photos on the self-serve laser printers at Staples. The print quality was great and it only cost a few dollars to print everything.
Please note that if you are using the self-service printers at your local print shop and you want to print several images on one piece of paper, you will probably need to have your images sized down and formatted to print multiple images on a sheet.
I didn't have my images formatted ahead of time, but the kind woman at Staples helped me out and formatted mine for me on my USB. Then I was able to use the self-serve printers.
For the wood shapes I was using, I printed my photos 2.75″x 4.75″.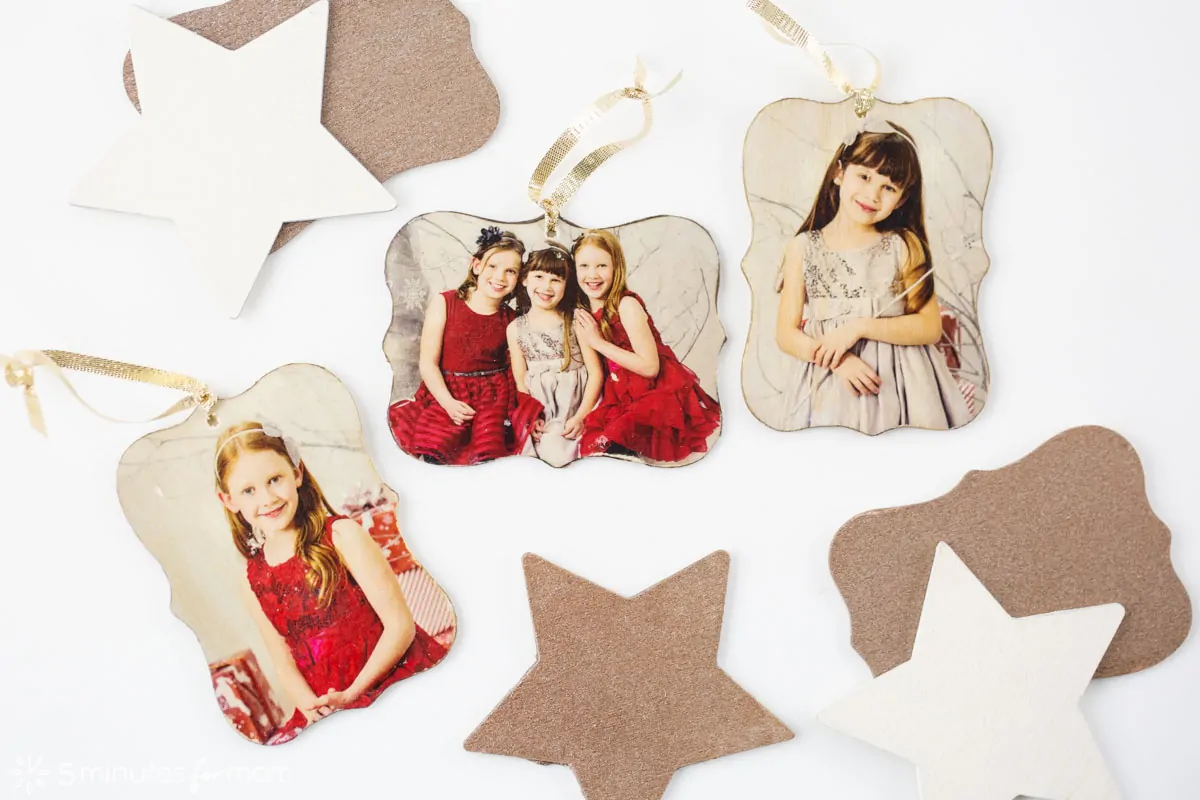 Measure your ornaments and print your photos accordingly. You will want your image to completely cover your ornament. But if your photo doesn't cover to the edges of your ornament, you can sand and distress to blend the area.
IMPORTANT — transferred photos will be MIRRORED images. Therefore, if your image contains words or you don't want the image to be flipped, then you need to flip your image horizontally BEFORE you print. I didn't mind my images being mirrored, so I just printed them normally.
STEP 2 – Prep and Paint Ornament
You can prep and paint your ornament before applying your picture, or you can paint the reverse side of your ornament after you have transferred your photo. It is up to you.
I tested out different ways of painting my diy photo ornaments.
TIP: If you are crafting with children, you can use Testors Crafts Acrylic 2 oz. Craft Paints to paint your ornaments instead of aerosols. I chose to spray paint simply because I love the incredible coverage and colors of Testors Crafts Aerosols and because they are so fast to use. But I also love the Testors Acrylic Craft Paints. So feel free to use whichever works best for you.
To try out a base coat before transferring my images, I spray painted some of my wood ornaments with Testors Crafts Aerosols in muted colors such as Smokey Beige and Linen White before applying my photo transfer. I also prepped some of my wood ornaments with Testors Foam Primer.
Painting the wood ahead of time allowed my images to have different hues and hints of warmth, allowing the photos to show through more clearly than with a stronger wood grain.
However, I also loved the result when I transferred the photo directly to the wood, with no paint or primer.
The wood grain subtly showed through and the result was a lovely vintage look diy photo ornament.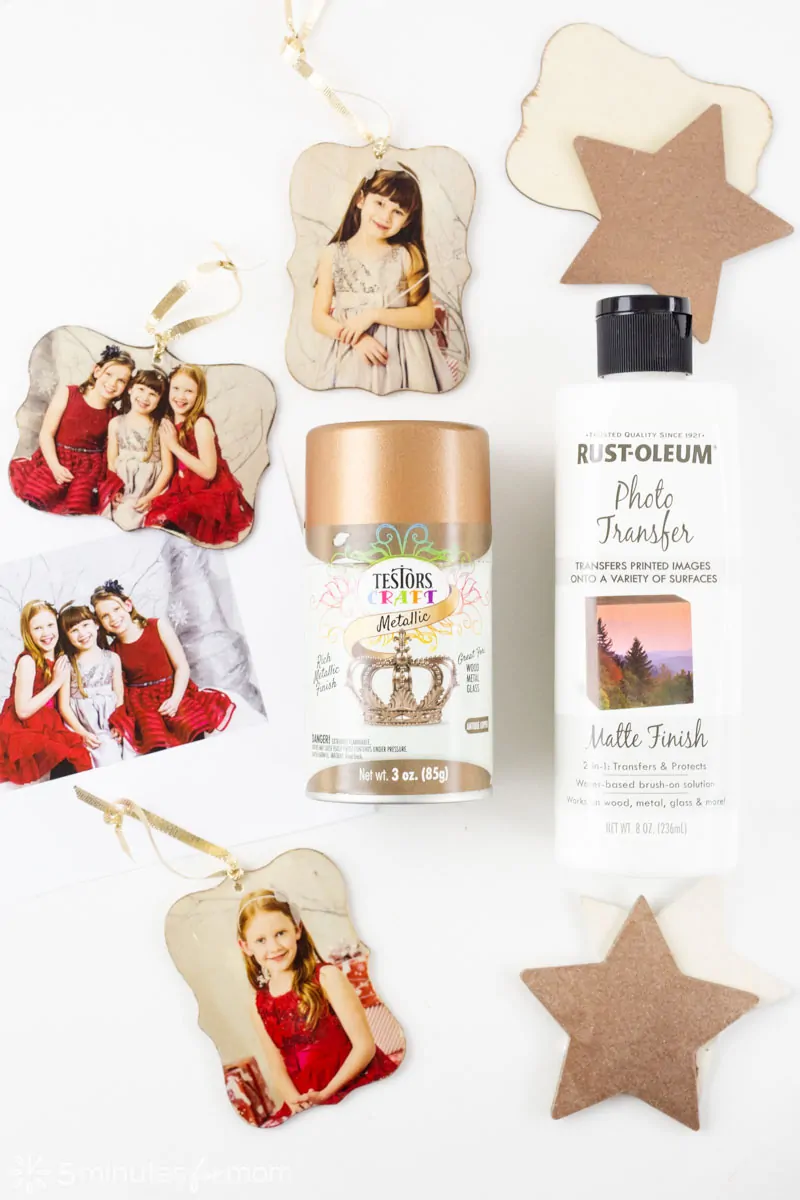 I also found that the ink soaked in better to the wood and did not rub off as easily as it did to the painted or primed surface.
But if your wood is quite dark and you want your image to show through more, you can whitewash your wood by applying paint or primer and then rubbing the paint into the wood grain with a rag.
This way, you will lighten your wood but still allow the photo ink to somewhat soak into the wood grain.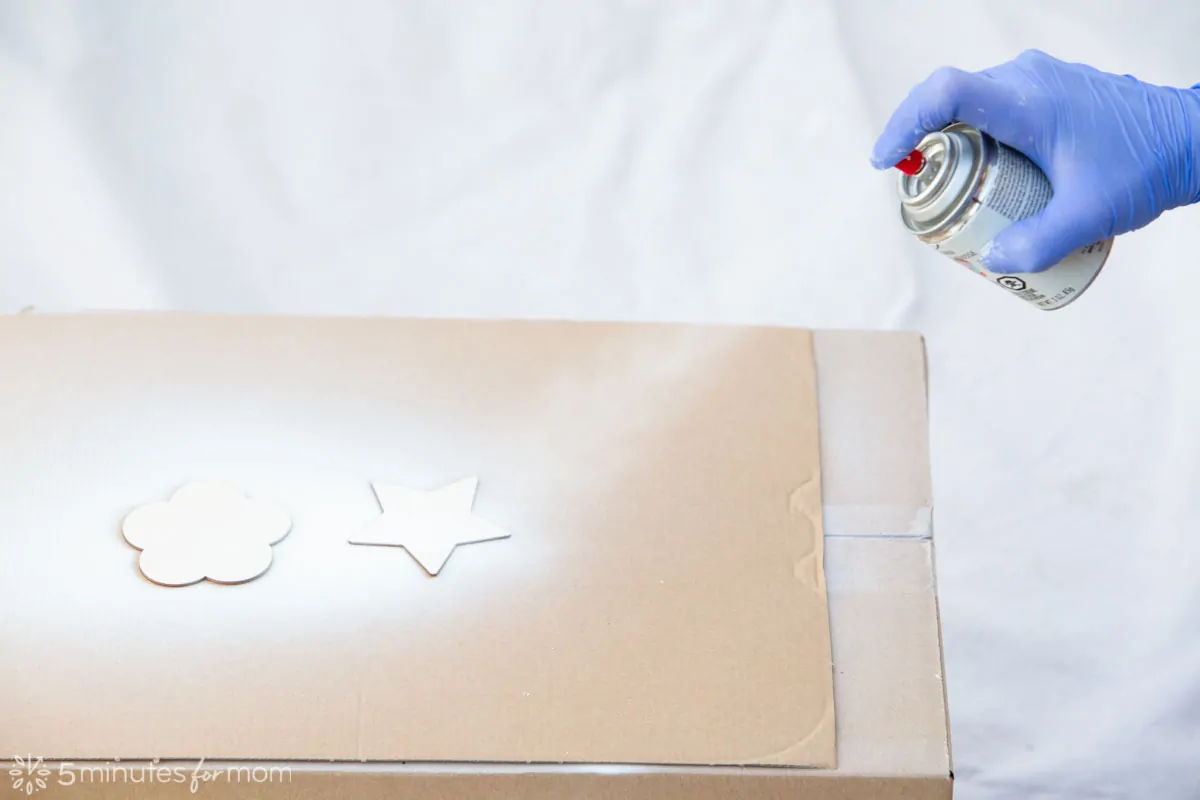 When it came to painting the backside of the ornament, I found that it worked best to spray paint the back BEFORE I applied the image.
Once again I tested which method worked best. I tried it three ways: I spray painted the backside of the ornaments before I applied the photo transfer; I spray painted it while the photo paper dried; I spray painted it after the photo was transferred.
It definitely worked best to spray paint the back of the ornament before transferring the photo.
When I spray painted the back after applying the image, sometimes the ornament slipped or moved and the paint soaked through to the front edges.
When I painted the back while the paper was drying, the paper edges got thicker and harder to remove.
So, I suggest you first spray paint the backside of the ornament in the color of your choice – I highly recommend Testors Crafts Aerosols in Metallic Antique Copper.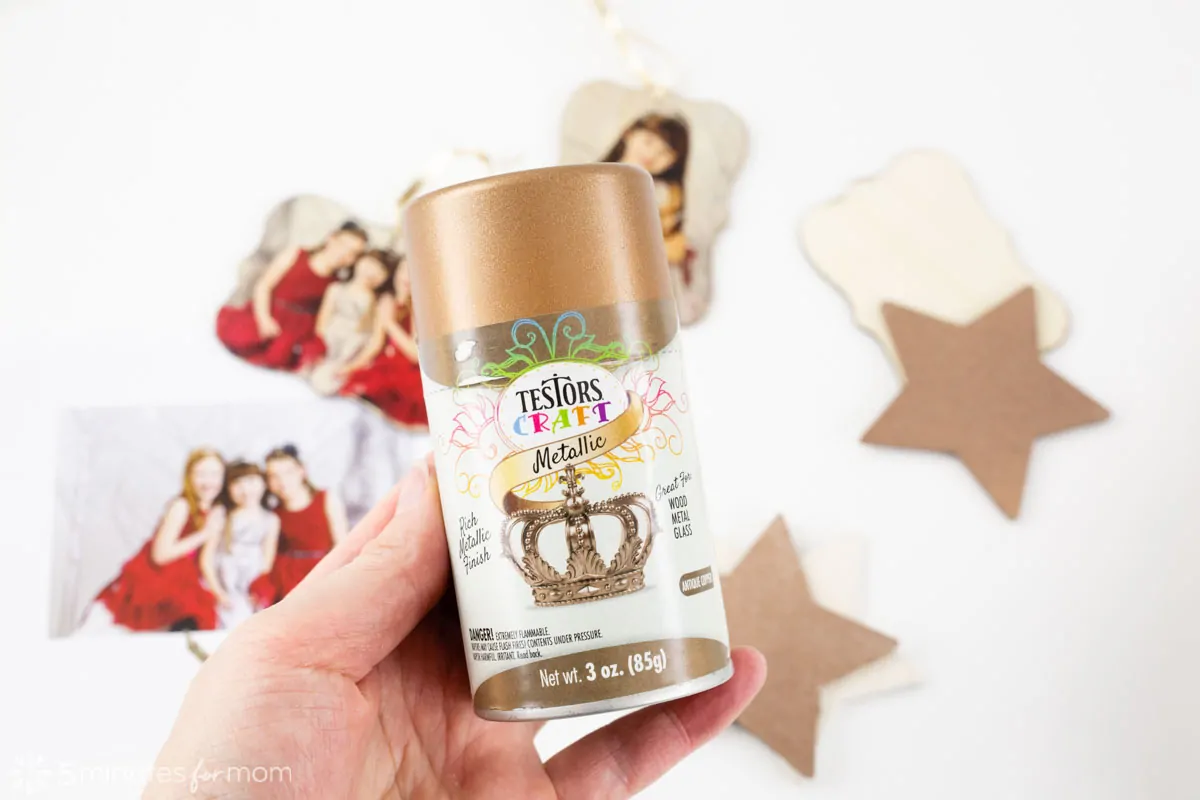 If your wood is light, you may want to leave the front of your wood ornament unpainted and apply photo transfer directly to the untreated wood. (Or if your wood is too dark, you may want to whitewash the wood to lighten it.)
TIP: If you are painting with children and you want to keep the front of your ornament free from paint, apply painter's tape or masking tape to the front of the image while your child paints the back. Then you can remove the masking tape and have a clean surface on which to apply your photo transfer.
STEP 3 – Apply Photo Transfer to Printed Picture
Now that your photos are printed and the backside of your wood ornaments are painted, you are ready to transfer your photos!
If your photos are printed on a page with multiple images, cut out each photo.
With a foam brush or paintbrush, apply a generous amount of Rustoleum Photo Transfer to the printed side of the printer paper with your photo.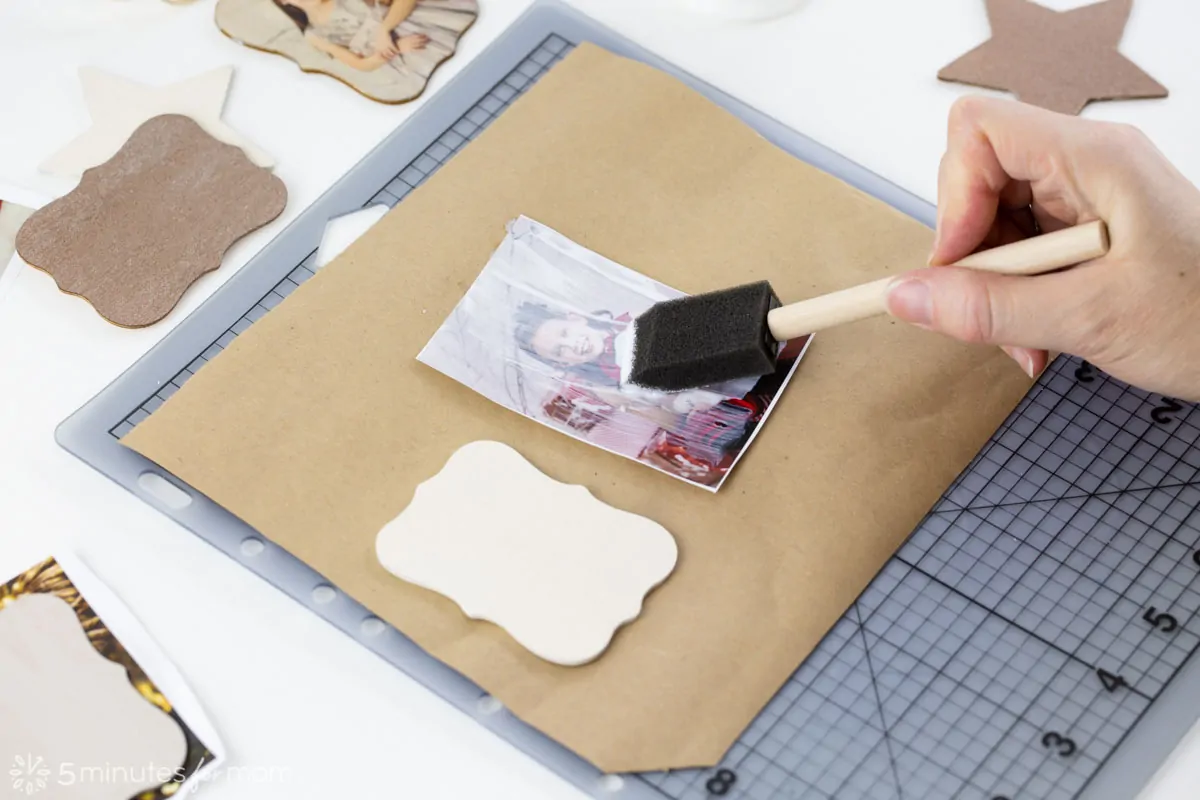 STEP 4 – Place Printed Paper on Ornament Surface
Once the printer paper is well coated with the photo transfer solution, place paper image-side down on the ornament surface.
Press down firmly and gently smooth the paper, removing any air bubbles with a ruler.
STEP 5 – Allow to Dry
Wait 12 hours until your ornament is completely dry. OR, if you are in a rush, you can use a hairdryer to speed up the process.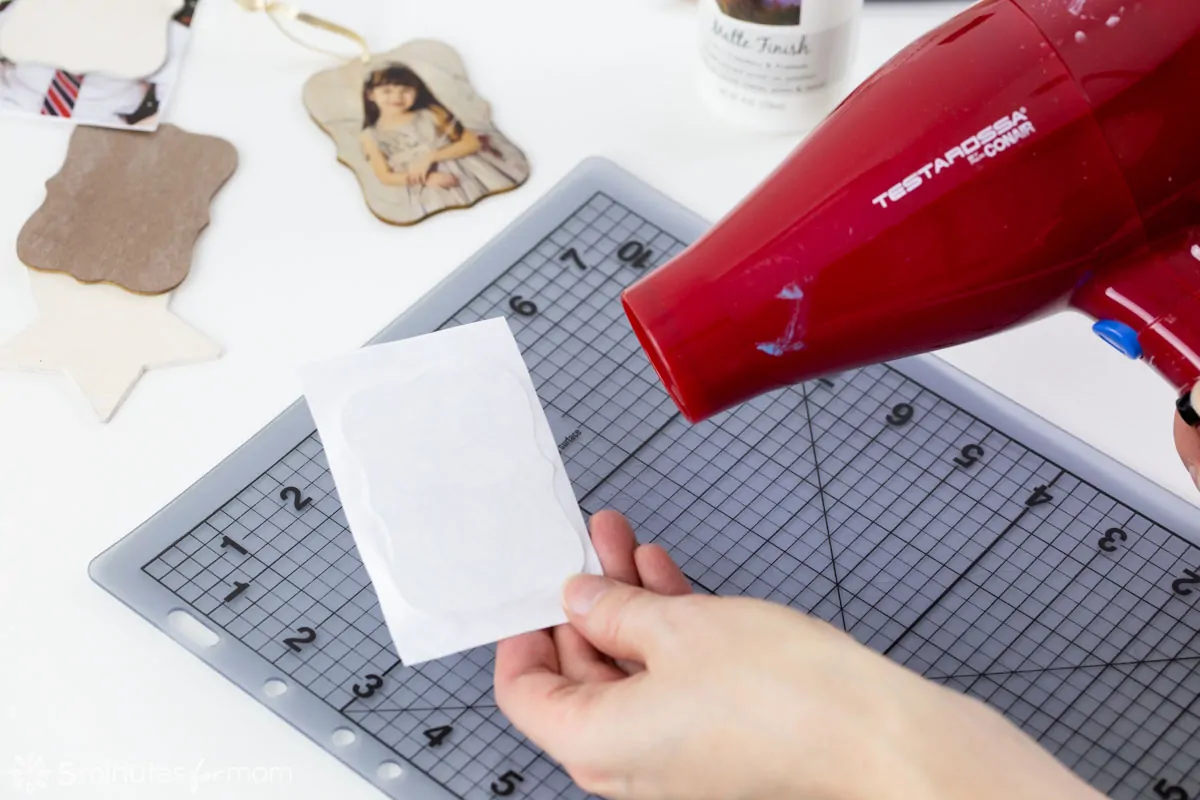 I tried both methods and both worked well.
STEP 6 – Remove Paper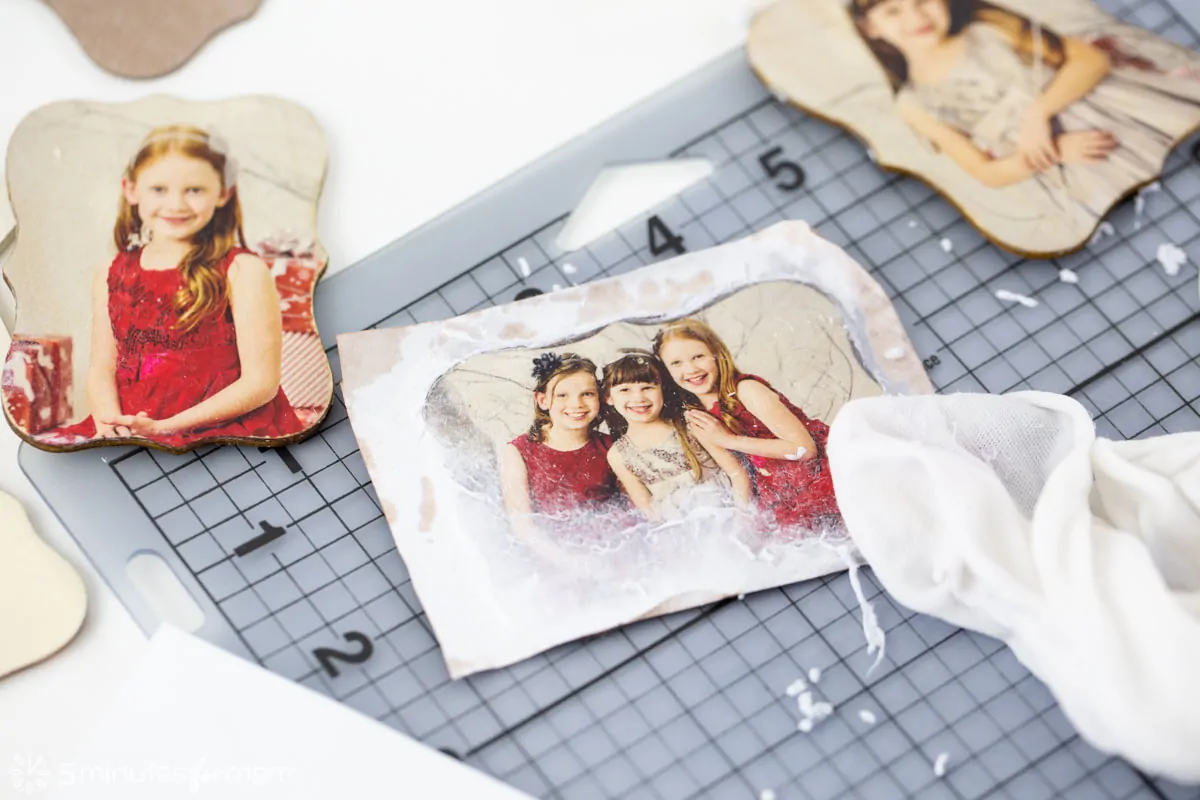 Once your ornament is dry, use a damp rag to wet the paper, dabbing until well moistened.
When the paper is moist, remove the paper backing by GENTLY rubbing in a circular motion, one section at a time, repeating as necessary.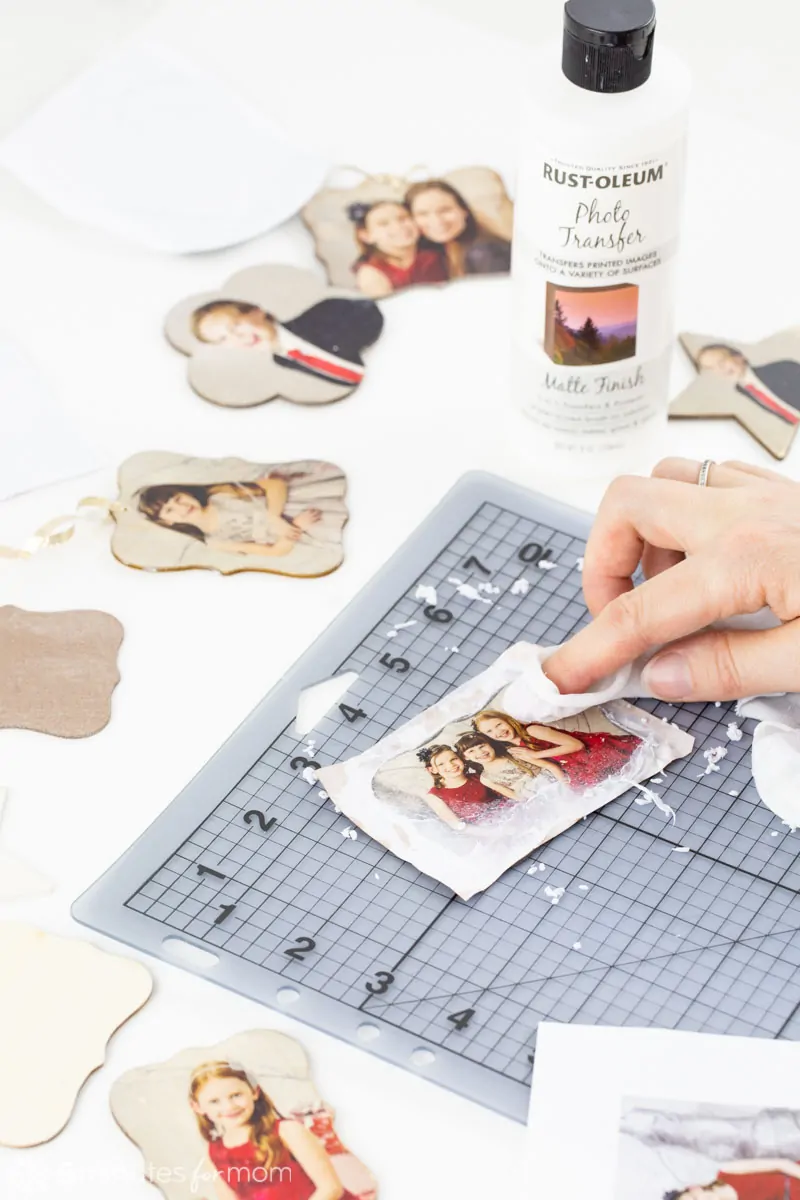 If a white, papery layer reappears on your image, use your damp cloth to remoisten and rub again until the image is clear.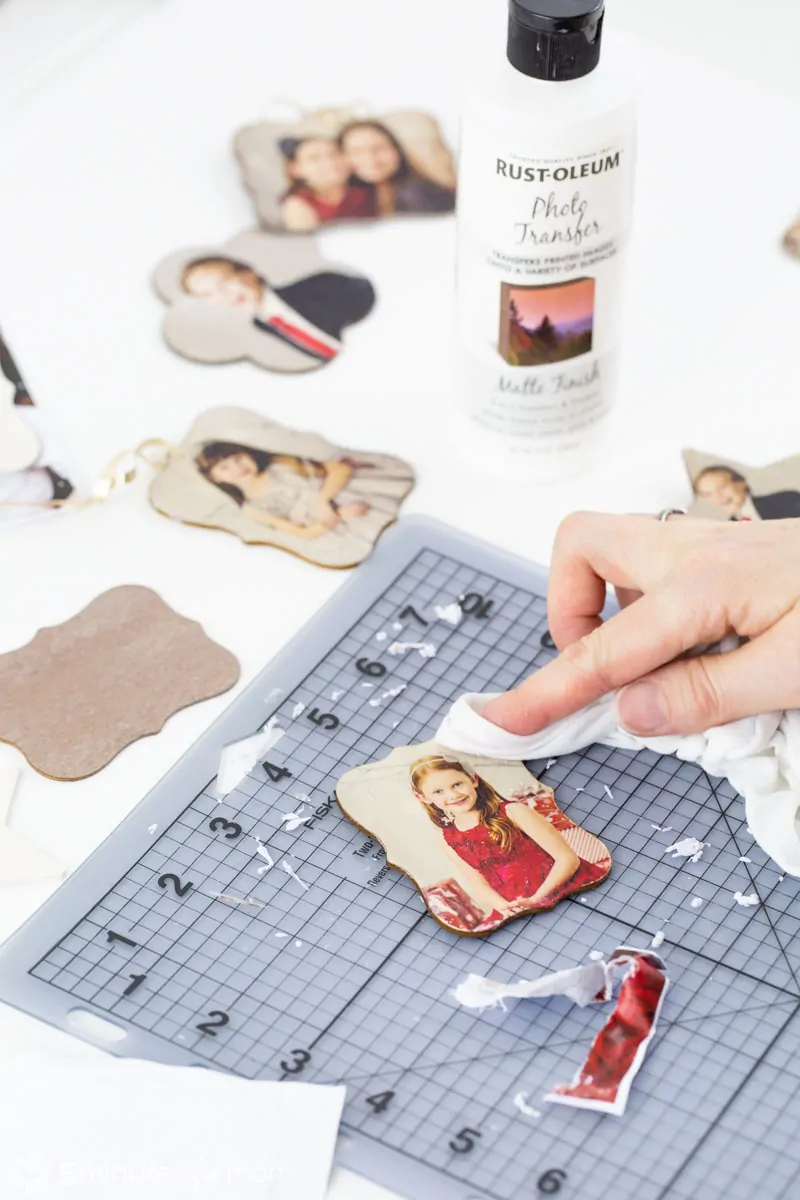 IMPORTANT – If you rub too hard or too long, you may remove some of the ink as well as the paper, resulting in some missing pieces of your image. So be gentle and careful.
But no worries if you have some small flaws here and there. It simply adds to the "antique" look of your ornament.
STEP 7 – Apply a Top Coat of Rustoleum Photo Transfer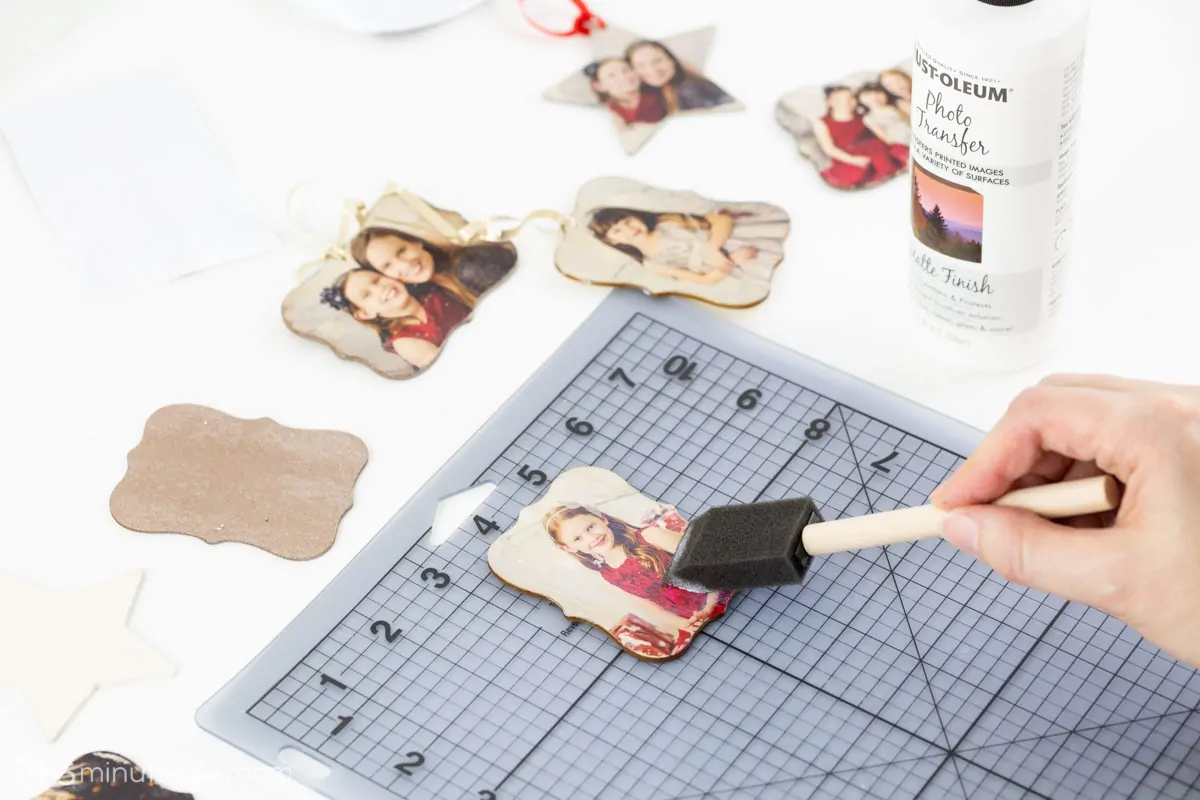 Once you have removed all of the white, papery residue from your image, seal and protect your ornament with a light topcoat of the Rustoleum Photo Transfer solution.
STEP 8 – Pierce a Hole and Thread with Ribbon
When your topcoat is dry, use the tip of a craft knife to pierce a hole at the top of your ornament. Twist knife to create a large enough hole.
Thread a large embroidery needle with ribbon and thread through the hole.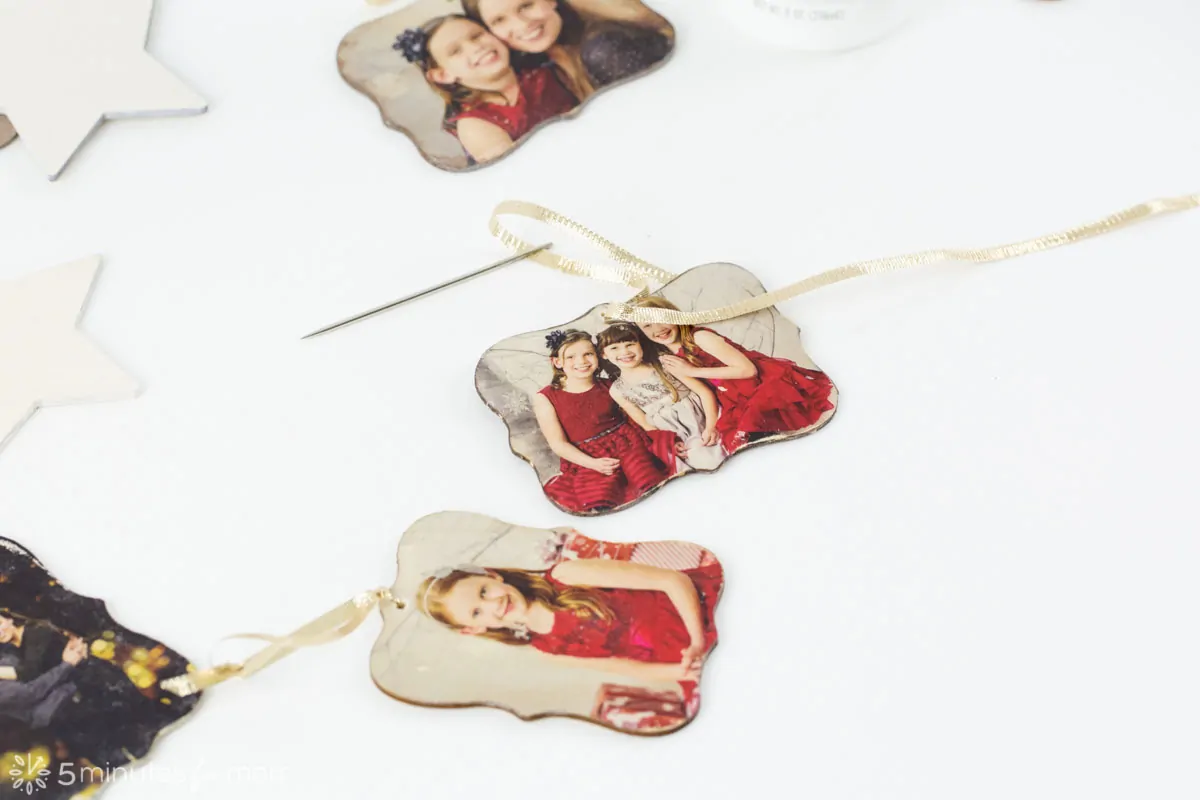 Tie a knot at the top of the ornament and then tie a second knot, creating a loop about an inch or two long. These two knots will allow your ornaments to hang straight on your tree.
More Holiday Crafts
Take a look at our other Testors Crafternoon projects that are perfect for the holidays too:
Pin It For Later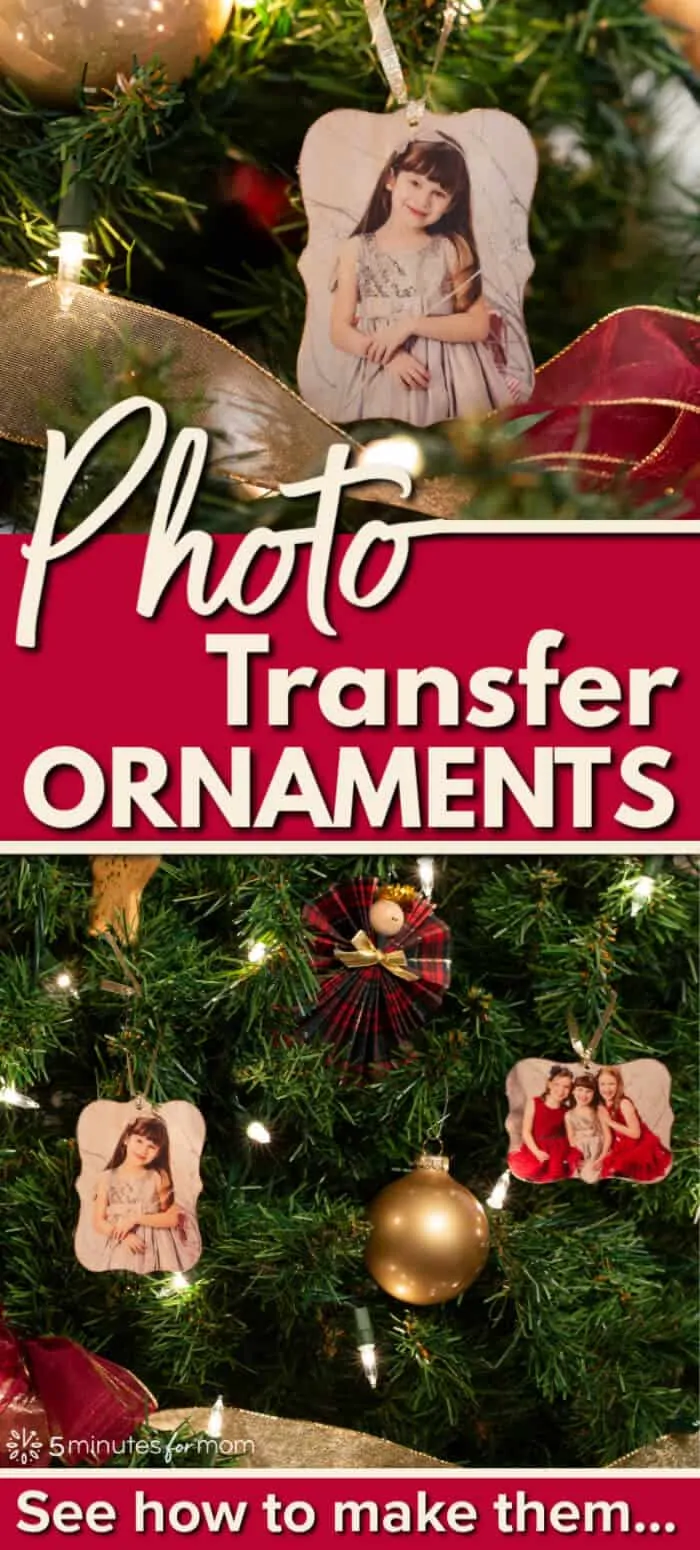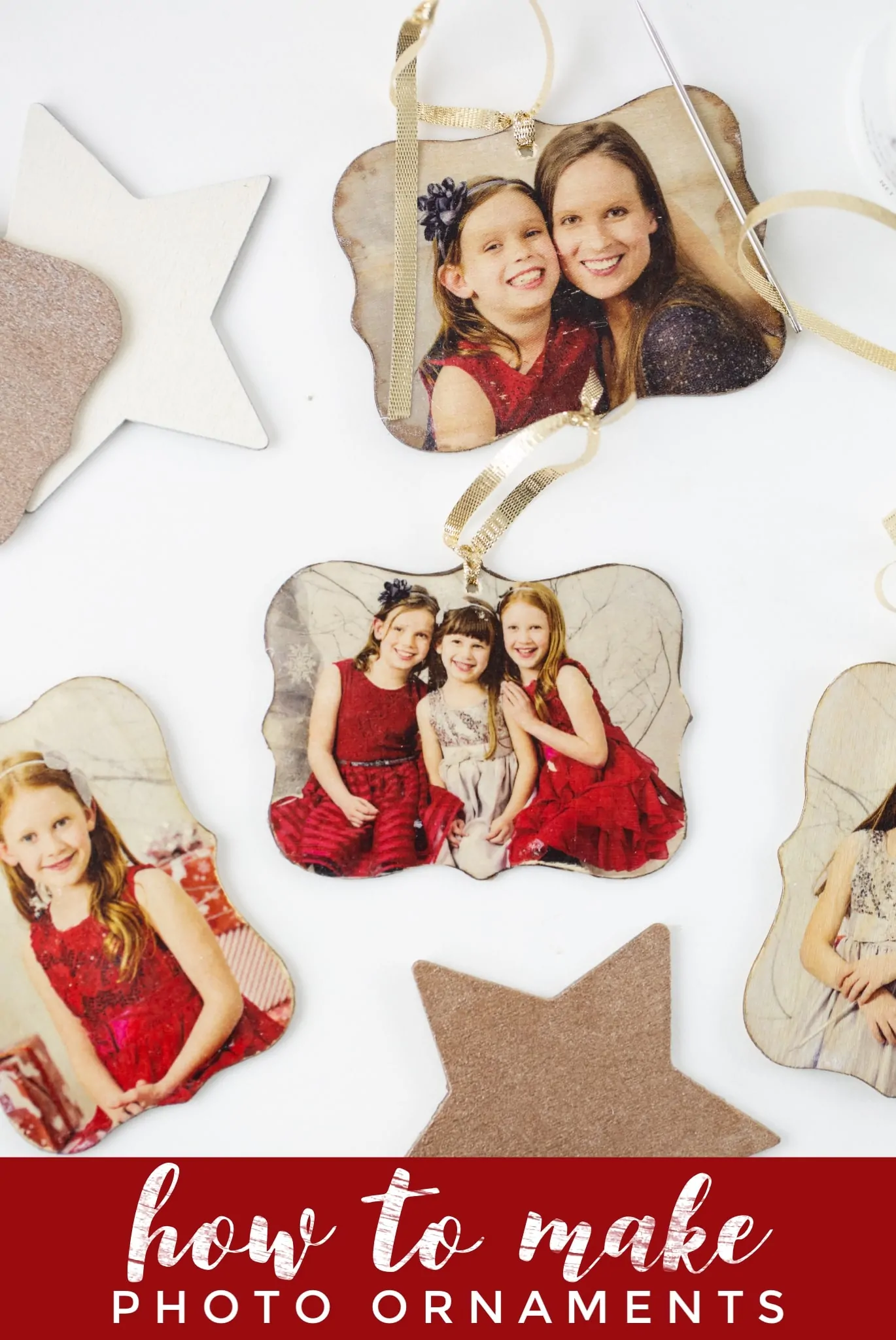 Disclosure: This post is sponsored, so extra thanks for reading and sharing.
Written and photographed by Janice Croze, co-founder of 5 Minutes for Mom
Talk with me: @5minutesformom and Facebook.com/5minutesformom
Pin with me at pinterest.com/5minutesformom