This post may contain affiliate links. Read my disclosure policy here.
You can make stunning DIY Thanksgiving centerpieces using crackle spray paint. See how to use crackle spray paint to make Thanksgiving decorations and learn our secrets for the best crackle paint results. This post is part of our ongoing sponsored partnership with Testors.
We're excited to share another Testors Crafternoons activity with you. In this Thanksgiving DIY tutorial and video, you'll see how to use a Testors Crackle Kit to transform old trays, bowls, and vases into unique fall decor pieces with the look of crackled, weathered paint.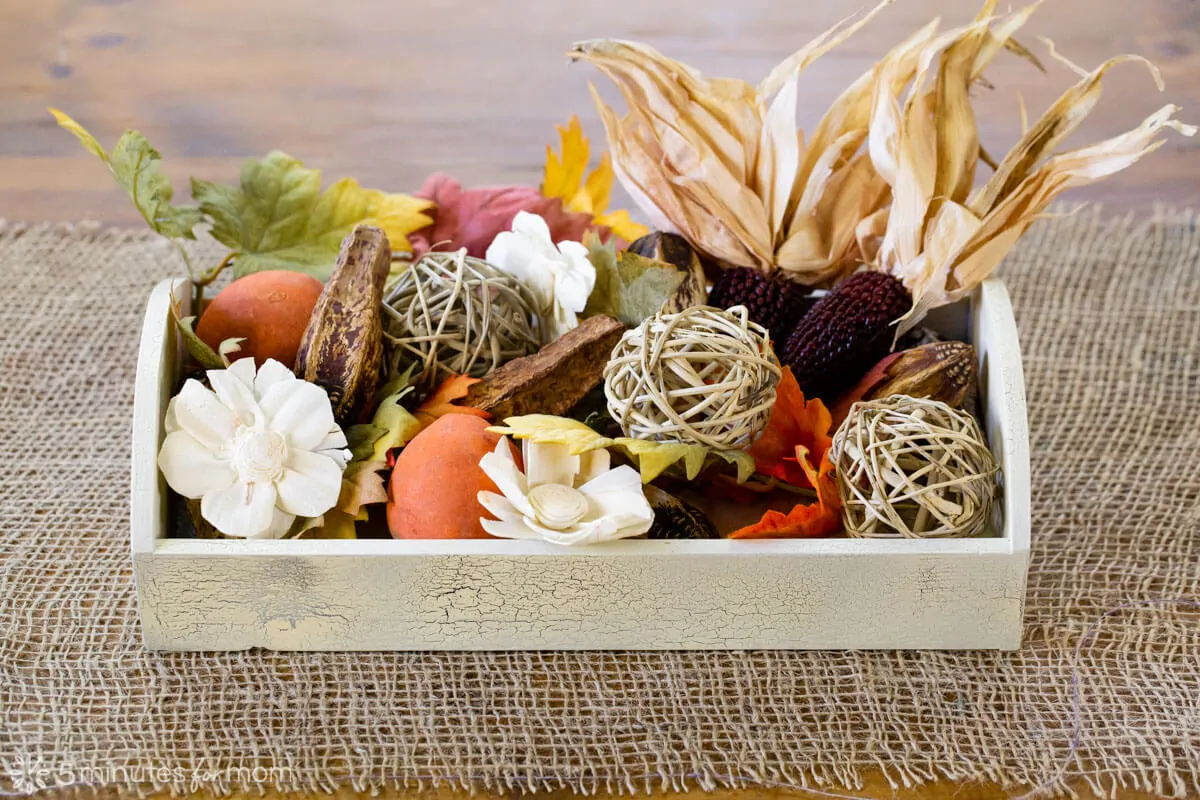 It always strikes me as a little funny when I "make old items new" or make "new items newer" by making them look old.
But that is the irony in creating weathered and distressed projects — we transform unremarkable objects into unique, beautiful pieces by mimicking the aging process. It may seem a little backward, but it is so fun and rewarding to create one of a kind "vintage" pieces.
When it comes to crackling paint, there are several ways to create the look of crackled paint. For these DIY Thanksgiving centerpieces, we used Testors Crackle Kit which comes in a handy kit that includes the Base Coat and the Top Coat spray.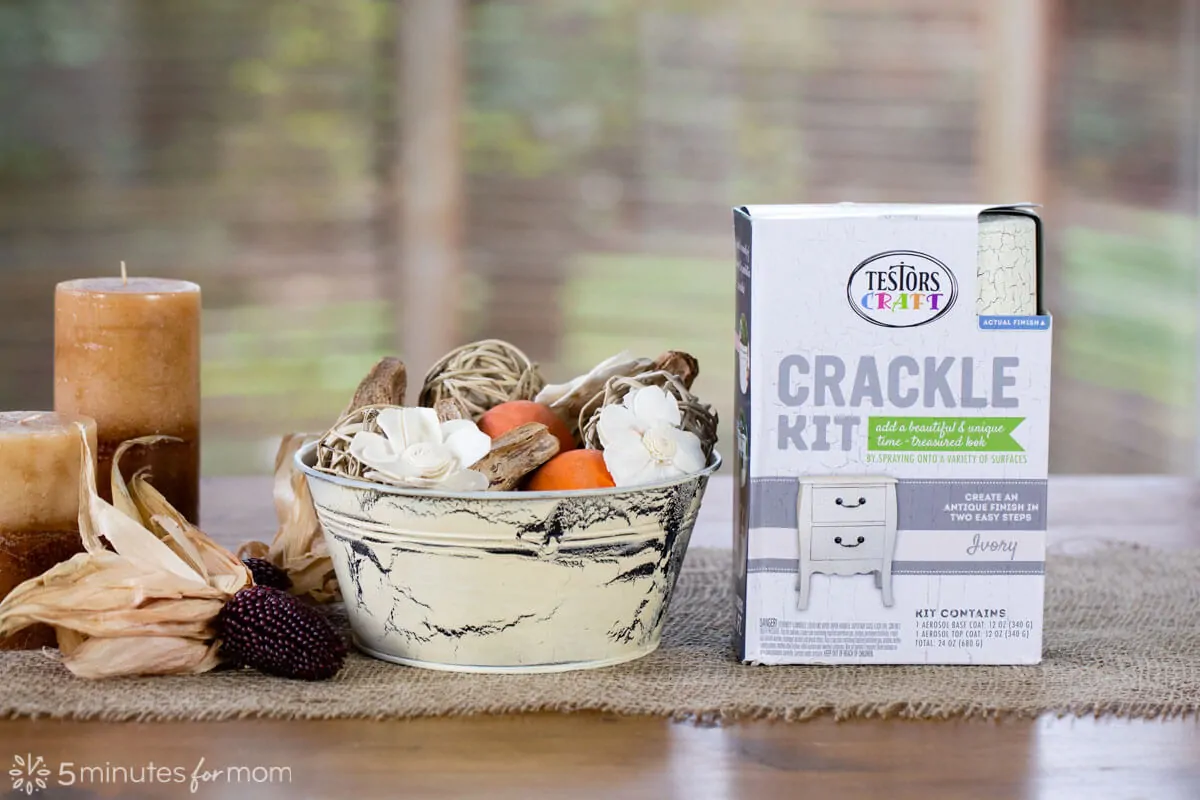 If you haven't used crackle spray paint before, or if you have tried crackle spray paint and had some mixed results, you definitely want to read on.
We have used the Testors Crackle Kit on all kinds of items and surfaces and in this post and video we walk you through what to do and what NOT to do to achieve the best crackle effects with crackle spray paint.
DIY Thanksgiving centerpieces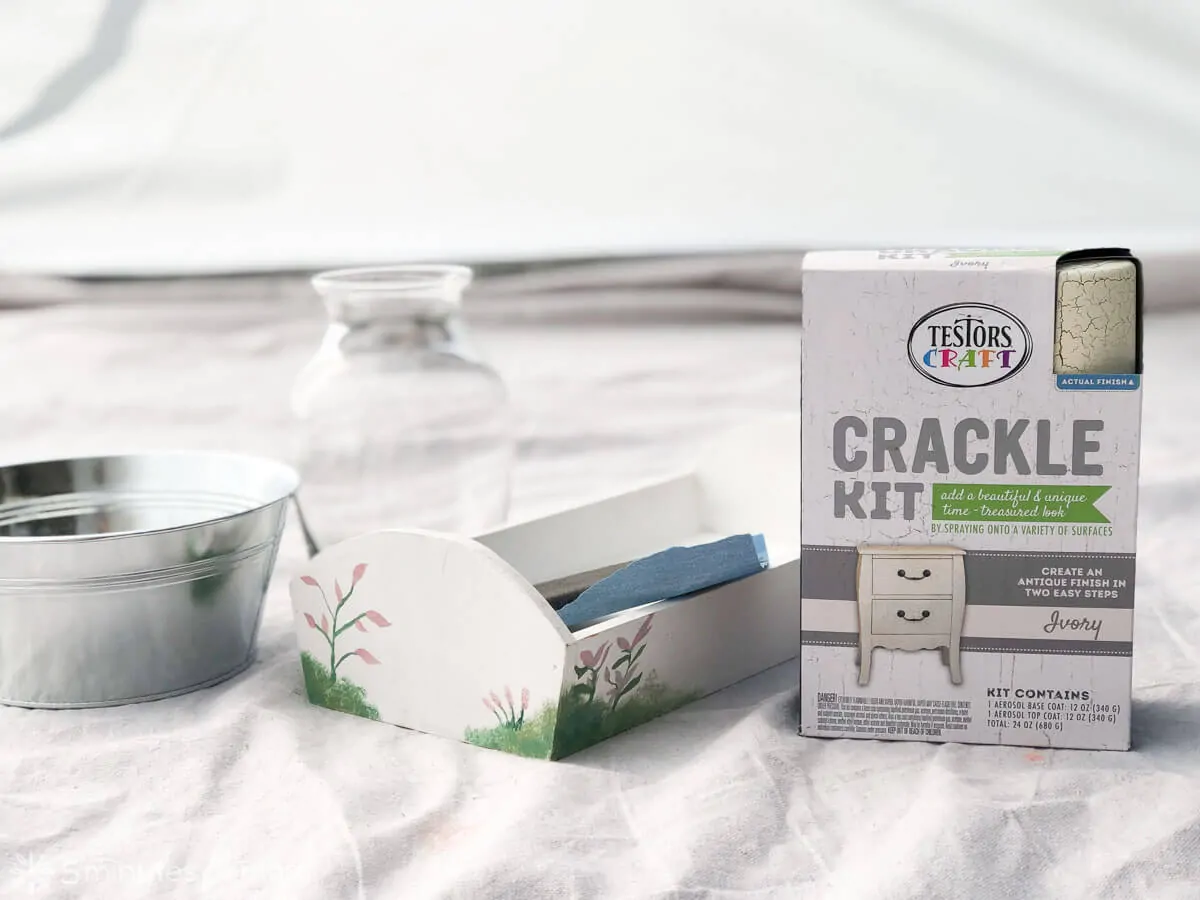 For this post, we set out to make three Thanksgiving Centerpieces. But we had so much fun crackling items and testing different surfaces, we ended up making several fall decor pieces with the Testors Crackle Spray Paint.
Once you start crackling, we bet you won't be able to stop either. Here are our three favorite fall centerpieces we made:
1. Wooden Tray Repurposed with Crackle Paint
First up, we repurposed an old painted wooden tray that we bought for a couple of dollars from a second-hand store.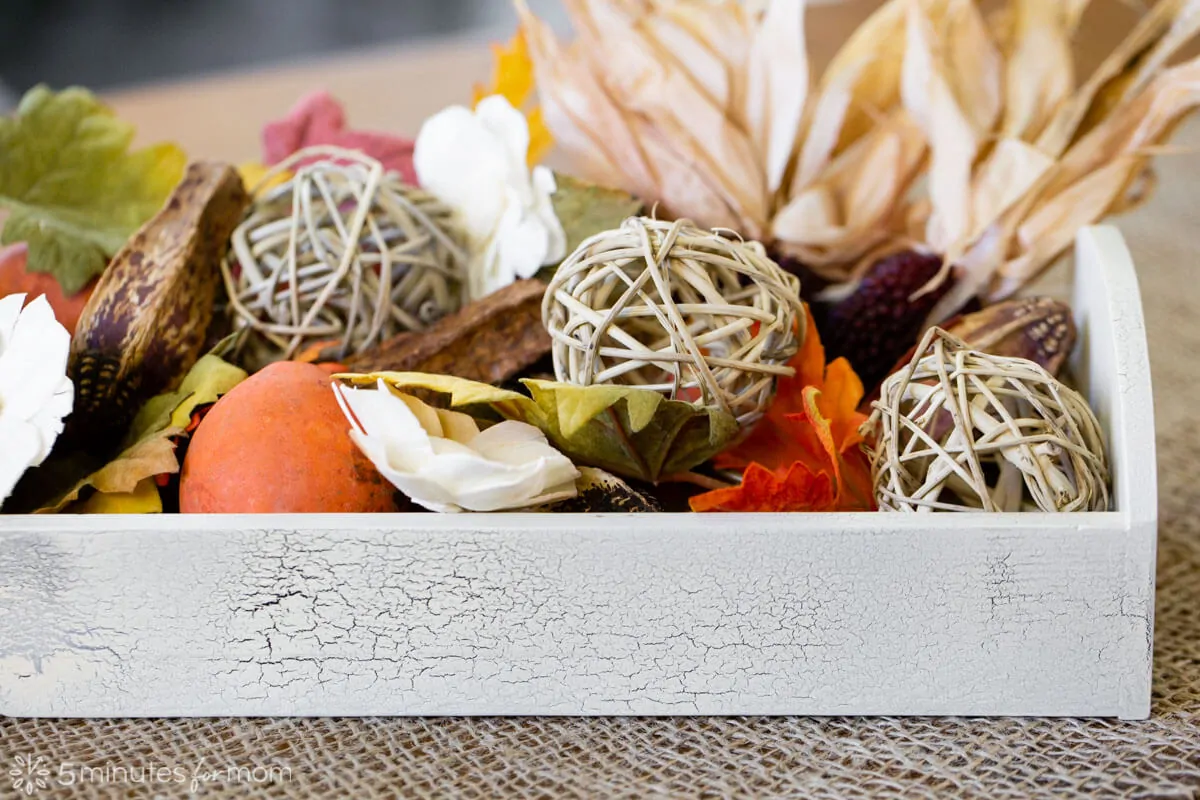 Refinishing this wood tray using the Testors Crackle Kit was the easiest project and we think it turned out the best.
2. Glass Vase Painted with Crackle Paint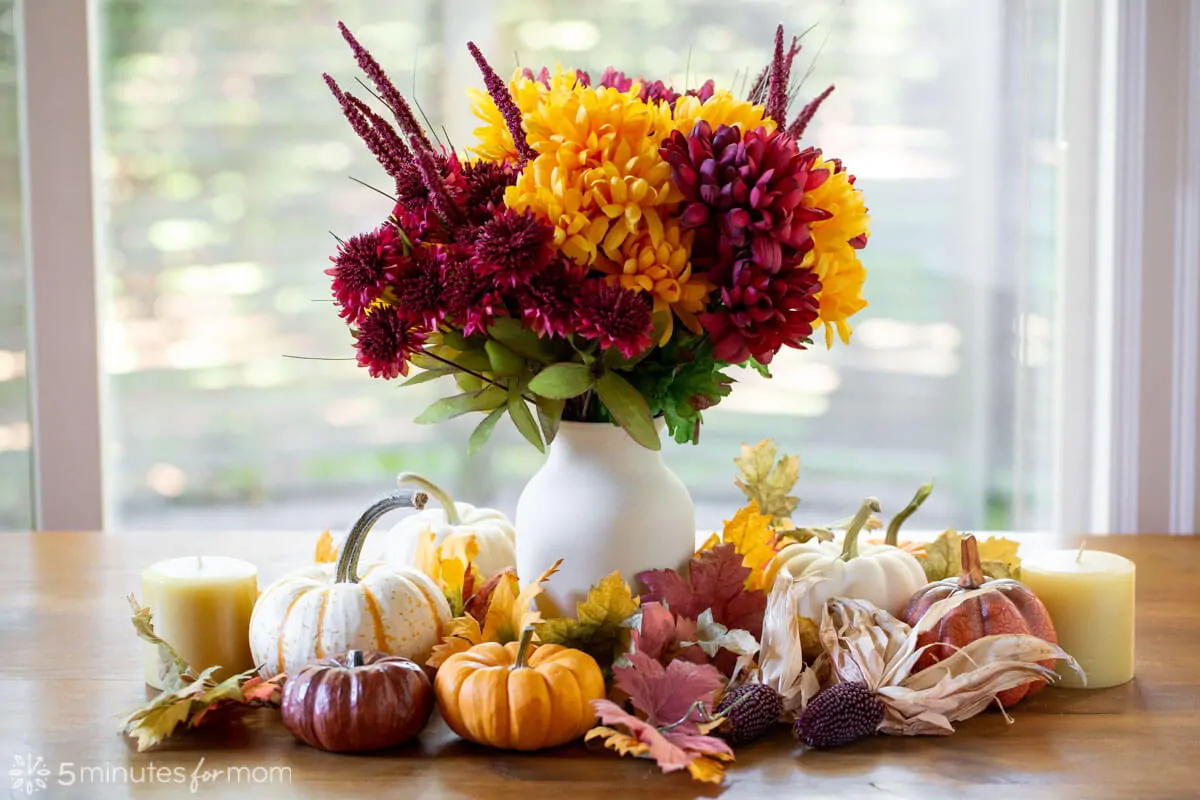 Our second project is a simple glass vase crackled with Testors Crackle Kit and filled with artificial fall flowers.
The smooth glass on this vase makes the crackling effect very fine and subtle.
3. Metal Bowl Crackled and Filled with Fall Decor
Our third crackle centerpiece is a metal bucket/bowl we bought from a dollar store. This metal item created the most intense crackling.
The Top Coat on the sides of the bowl dripped and slid down creating intricate designs.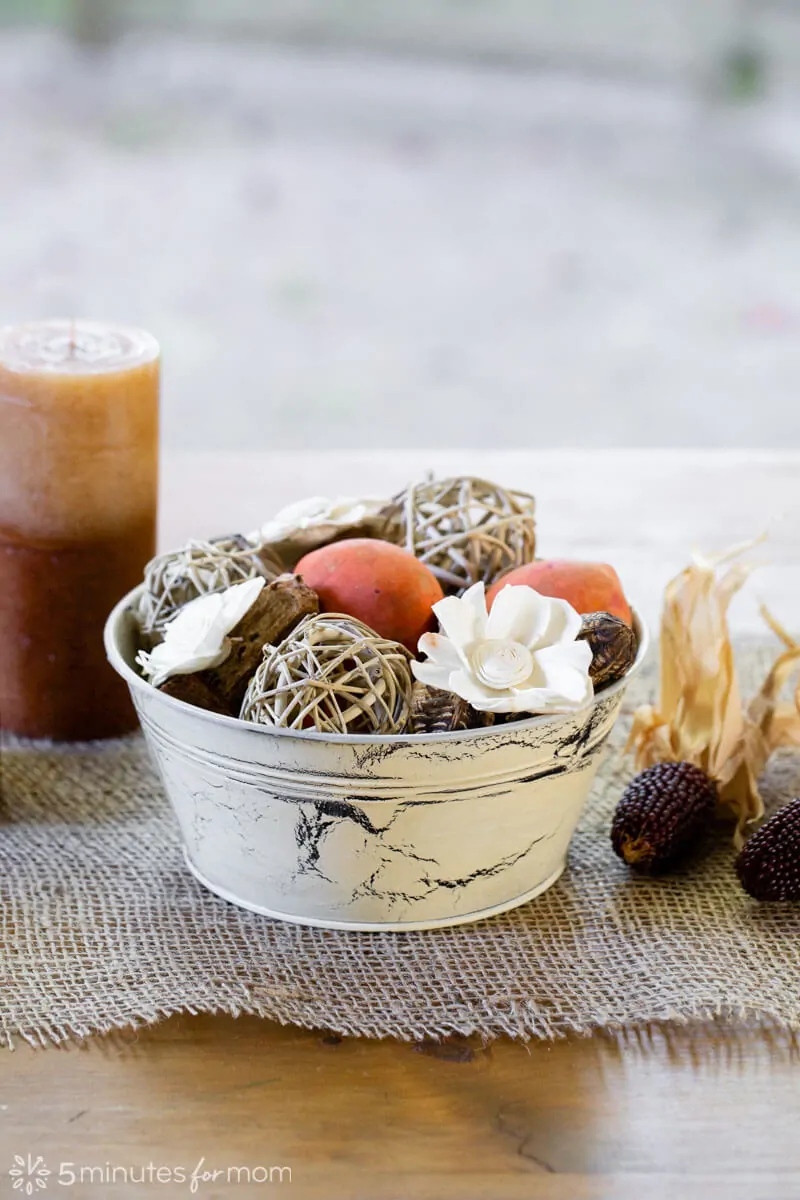 At first, when the Top Coat started dripping and sliding down the sides, we were concerned. But then we decided we liked the look — it created a pattern that almost looks like a picture.
How to Make DIY Thanksgiving Centerpieces with a Testors Crackle Kit
For our DIY Thanksgiving Centerpieces, we used Testors Crackle Kits to create the look of weathered, crackled paint on various trays, vases, and bowls.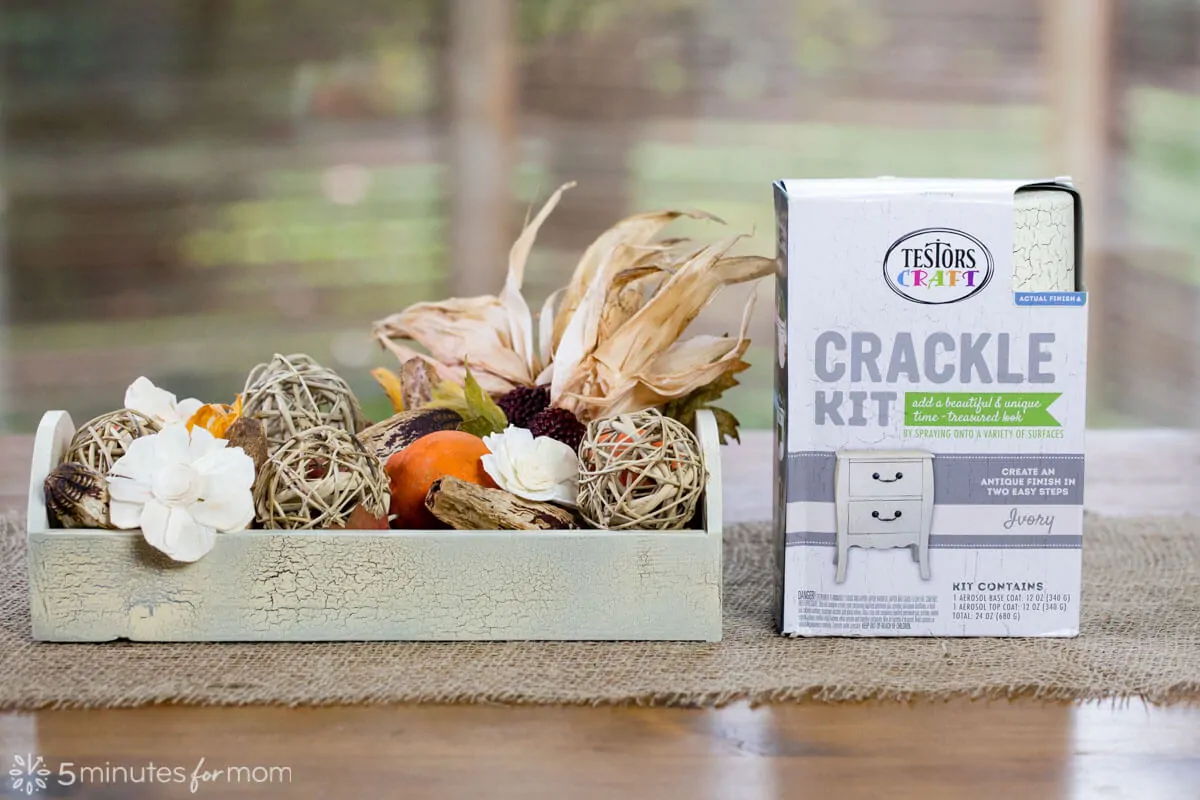 If you want a simple, quick method of crackling paint, Testors Crackle Kit is a great choice. The kit comes with a black Base Coat and the crackle Top Coat to easily create crackled paint.
Supplies:
Crackle Spray Paint Instructions:
Step 1 – Find an item such as an old wooden tray, vase, bowl to repurpose. Clean and lightly sand.

Step 2 – In a very well-ventilated area, protected from overspray, spray paint item with Testors Crackle Kit Base Coat.

Before spraying, shake can for 1-2 minutes and shake often while using to avoid drips and splatters.

On porous surfaces, such as unfinished crafting wood, apply two or three layers of Base Coat or apply a primer before Base Coat.

To enhance the crackle effect, use a clear Top Coat spray after the Base Coat and before the crackle Top Coat.

Step 3 – When Base Coat is dry, spray Testors Crackle Top Coat thickly and quickly. Do not recoat areas that have begun to crackle.

If you respray sections that have begun to crackle you will cover the crackling effect. If you do accidentally spray over crackled paint, don't give up. Once the paint has dried, start again with a new layer of base coat and then apply a new layer of Top Coat.

Step 4 – When crackle Top Coat is dry, seal and protect the finish with a layer of clear Top Coat. (Clear Top Coat is not included in Testors Crackle Kit.)

Step 5 – Fill the tray, vase, or bowl with fall flowers and decor and place on a burlap table runner.
IMPORTANT Crackle Spray Paint TIPS and TRICKS
We are going to be straight with you — READ this BEFORE you start crackling!
Your normal spray painting techniques will NOT work with crackle spray paint. You need to read the directions AND the extra tips/tricks provided by Testors on the packaging.
When we got our Testors Crackle Kit, we were so excited, we skimmed the instructions and started spraying. And we had some issues.
So, we stepped away from the cans and REREAD the directions AND the Tips/Tricks on the package.
Then, after some more practice, we finally mastered the art of crackling using the Testors Crackle Kit.
What You Need to Know Before Using Testors Crackle Kit:
1. Spray Outside and Protect from Overspray
First, prepare your work area in a very well ventilated area, preferably outside. You do not want to breathe the fumes.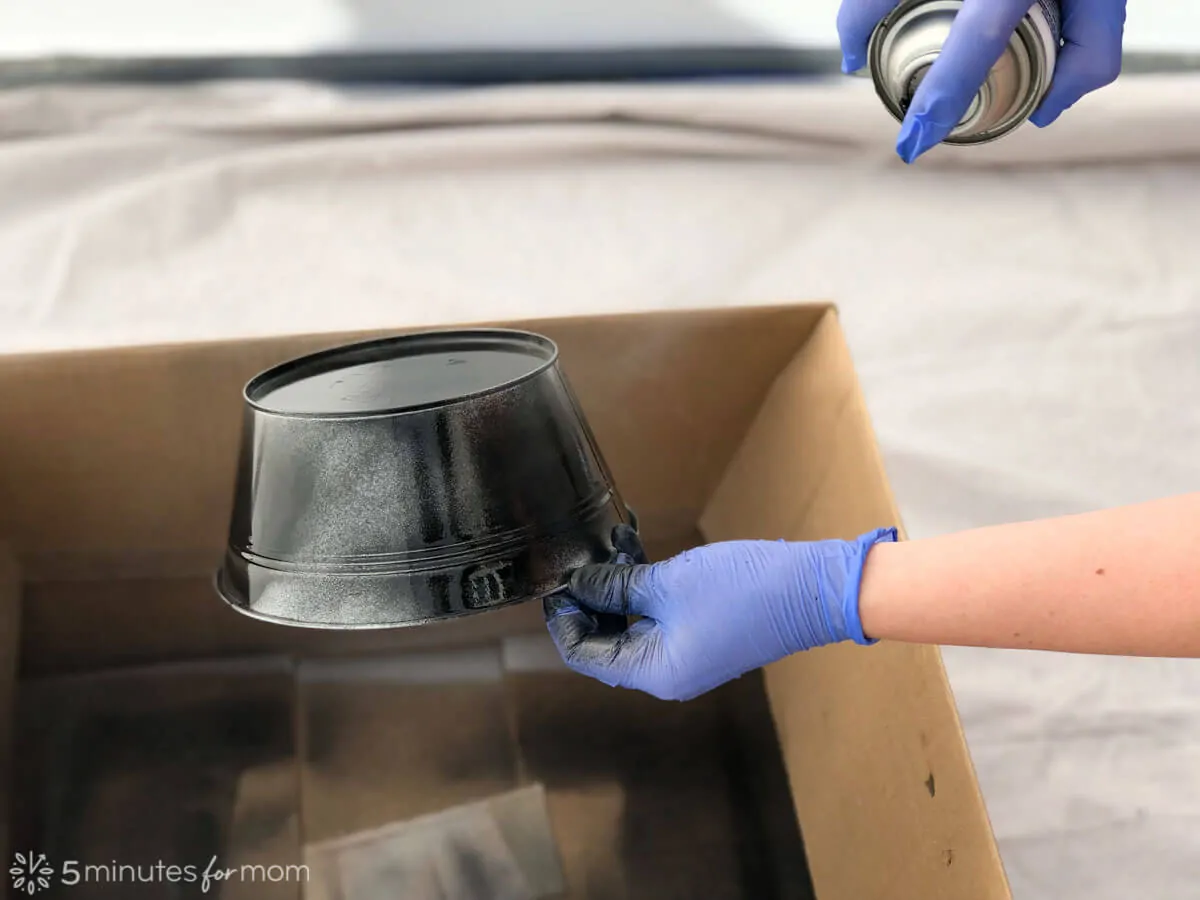 Protect your surroundings from overspray. Spraying into a large cardboard box can be helpful as well.
2. Prime Porous Surfaces
If you have a porous surface, you will want to prime it before applying the Base Coat.
Alternatively, if you don't want to prime or you don't have any primer, make sure you paint two or three coats of the Base Coat.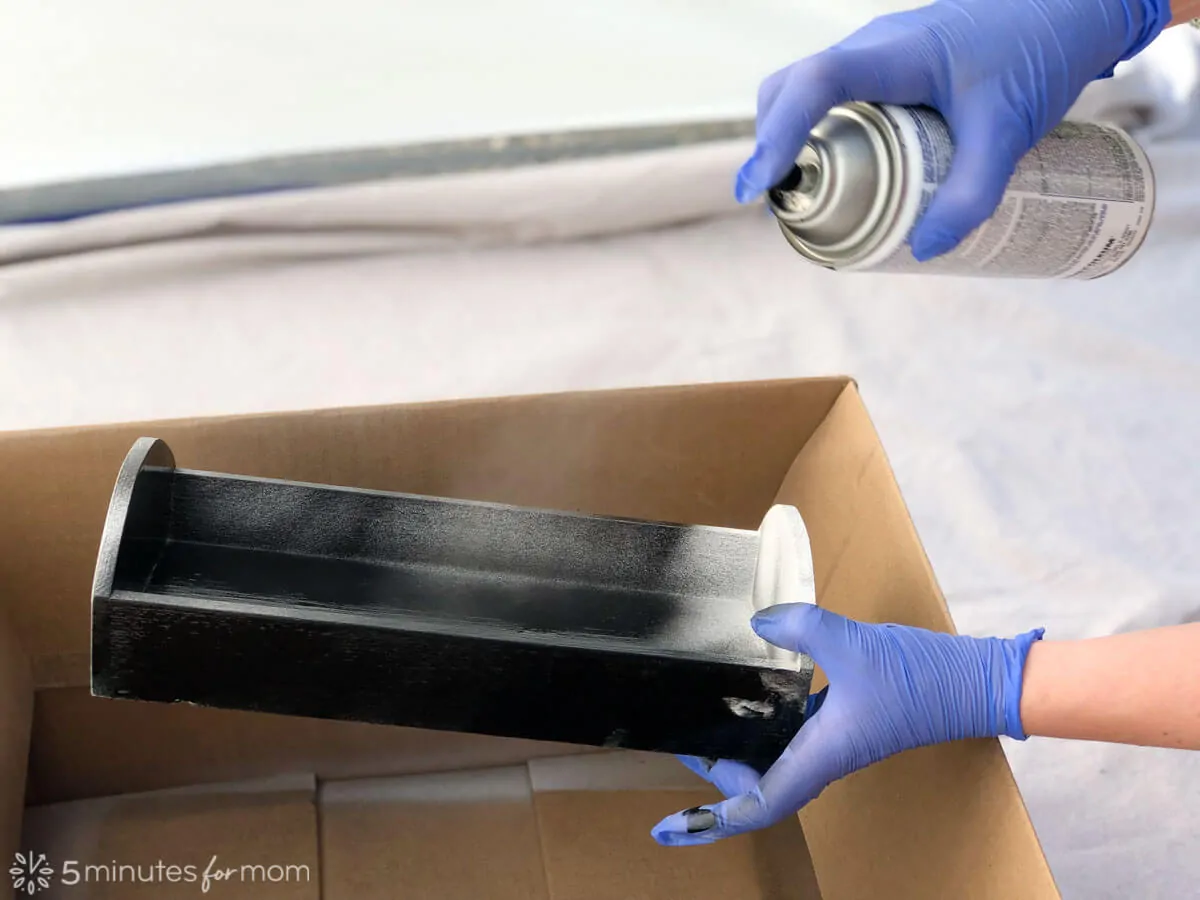 More porous surfaces, such as unfinished crafting wood, will have a finer crackle result.
To enhance the crackle effect on a porous surface, you can also use a clear Top Coat spray after the Base Coat and before the Top Coat.
3. Spray Top Coat LIBERALLY
It is critical that you spray the crackle Top Coat quickly and liberally and that you do not respray over areas once they start to crackle.
Applying the crackle Top Coat can be a bit tricky since you need to apply it differently than you usually spray paint.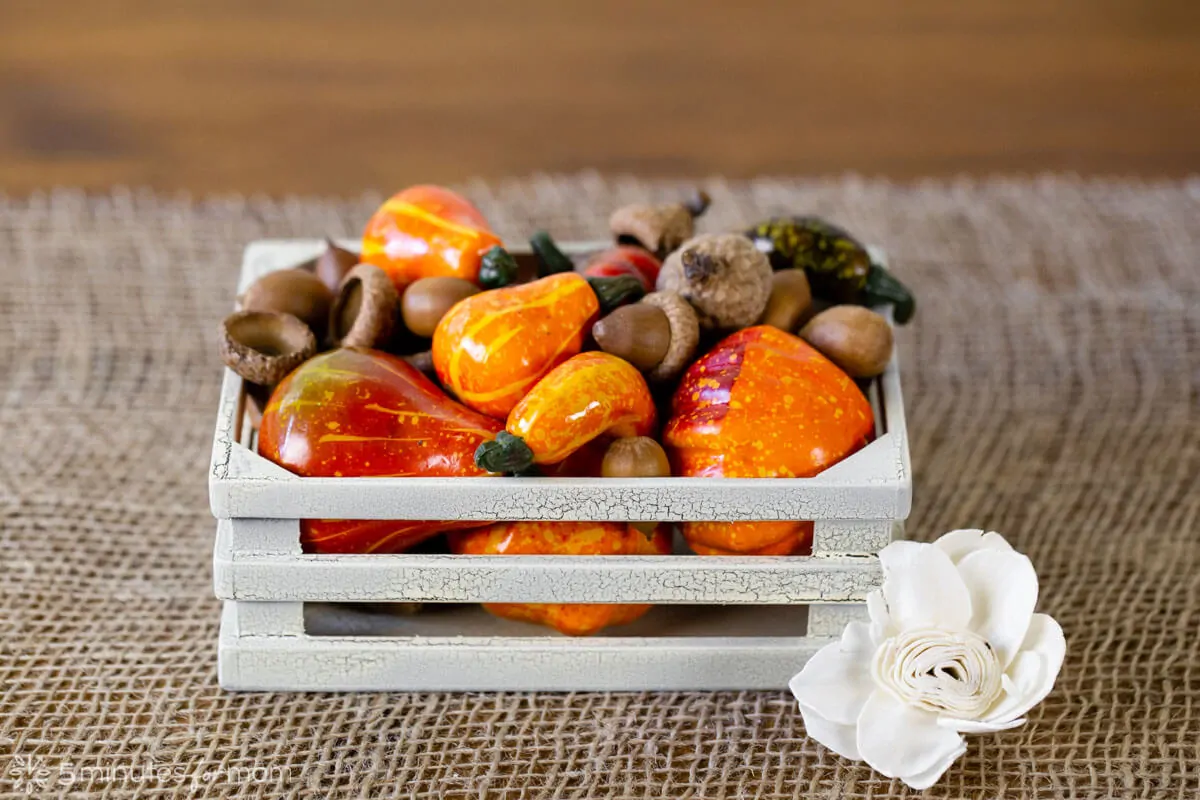 Normally, you avoid heavily spraying, slowly adding fine layers of paint with multiple coats.
But with the crackle Top Coat, you have to SPRAY THICK AND SPRAY QUICK. You need to spray a thick enough layer of paint to cover the Base Coat and to create the crackle effect and you need to spray it quickly so that you are not recoating any areas once they have started to crackle.
Also, the amount of crackle Top Coat you apply will determine the intensity of the crackling effect.
For finer, smaller crackles, spray less crackle Top Coat. For large crackles, you need to apply a thicker crackle Top Coat.
4. Do NOT Recoat Top Coat
We cannot stress this enough — DO NOT RECOAT THE TOP COAT.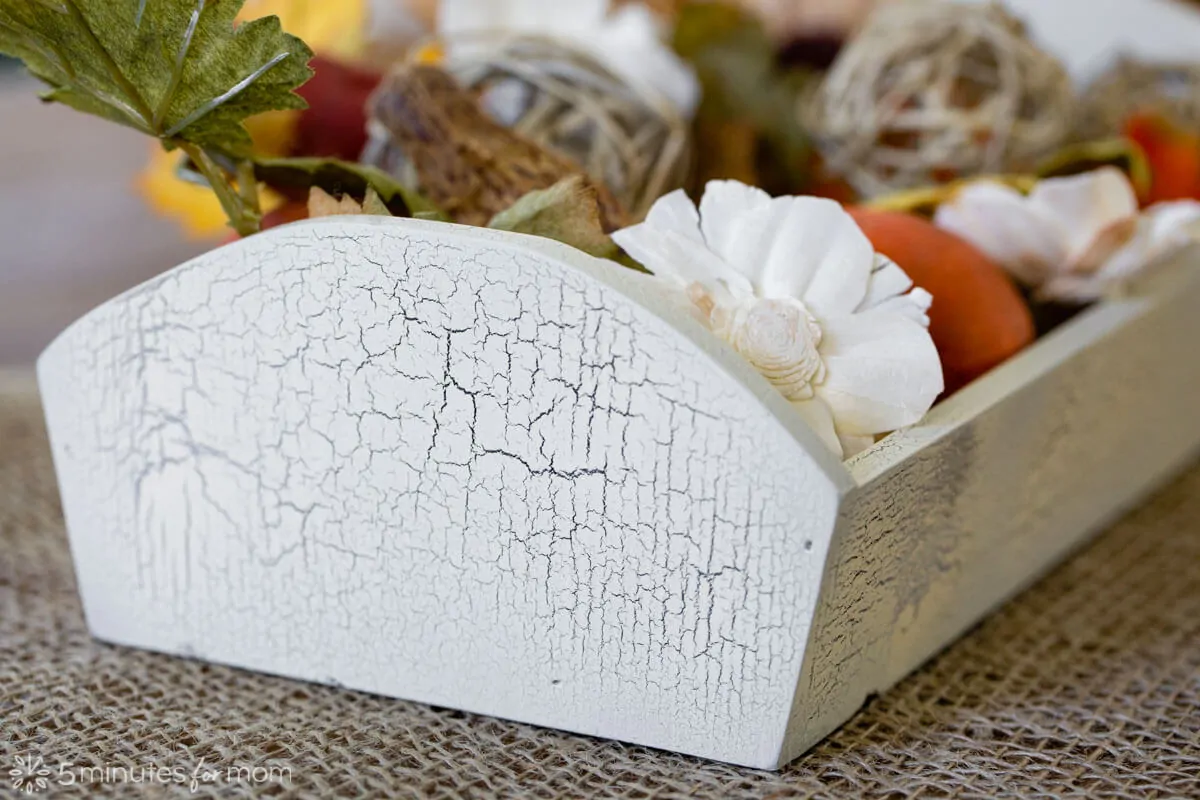 The package directions clearly caution against applying a second coat of crackle Top Coat, but I have to admit I made this mistake on some of my first crackle attempts.
My usual spray paint instincts took over, and I couldn't resist respraying sections that were too light.
But respraying sections COVERS the crackling effect!
Do not despair, however. If you do mess up and cover your crackles, you can always start again.
Just paint over it all with a new layer of Base Coat and redo your crackle Top Coat. Problems fixed.
5. Use a Clear Top Coat Spray for Deeper Crackles
If you are having trouble getting your crackle Top Coat thick enough and your Base Coat is showing through and your crackles are too faint, you can apply a layer of clear Top Coat over the Base Coat, before you apply the crackle Top Coat.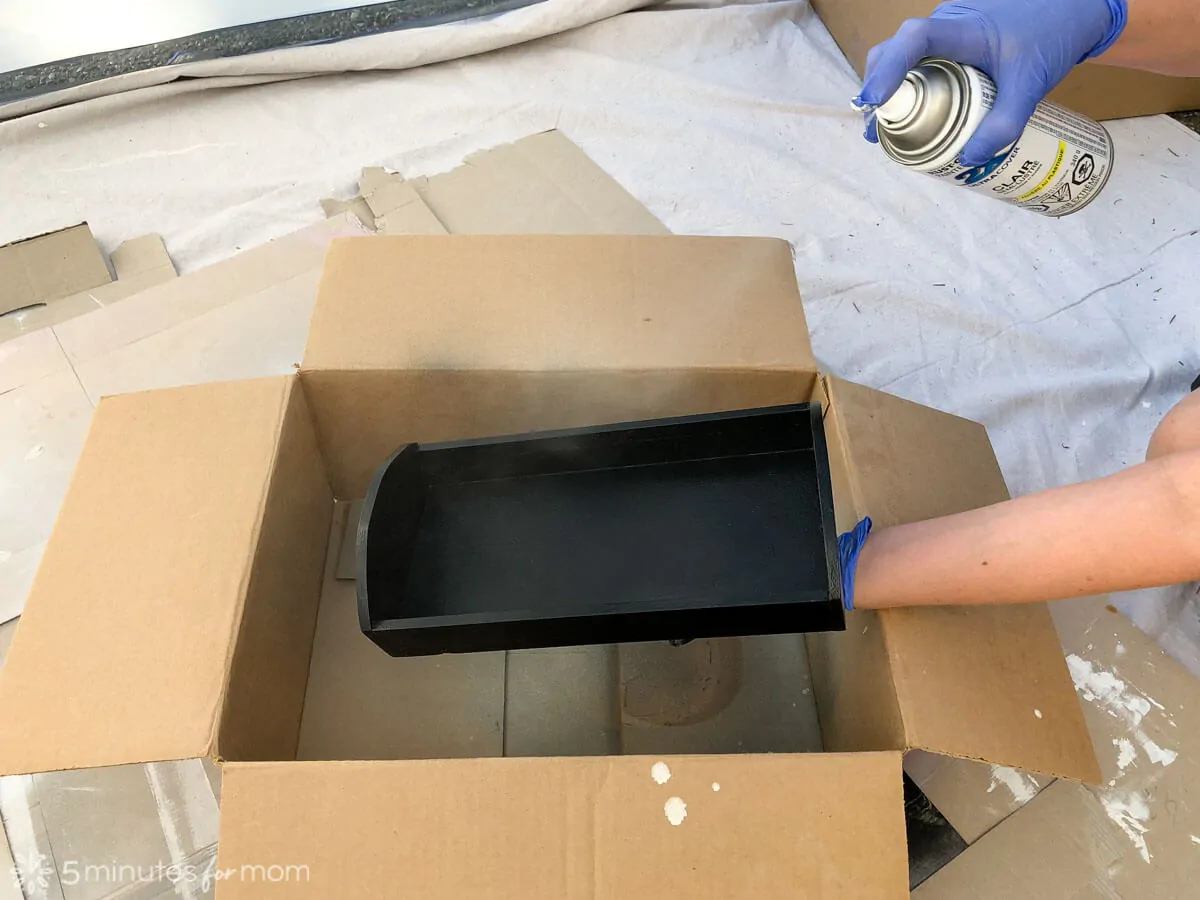 This layer of clear Top Coat helps hide the Base Coat and allows the black crackle effect to show through. The clear Top Coat especially helps when you are covering a porous surface that soaks up the Base Coat and the Top Coat.
Since it is ideal to seal and protect your finished piece with a clear Top Coat, you can use the same clear Top Coat for both the layer between the Base Coat and the Top Coat and for your finishing clear Top Coat once your crackled paint has dried. We used Rustoleum Semi-Gloss Clear Top Coat.
6. Different Surfaces Crackle Differently
After testing all kinds of surfaces and objects, we learned that different surfaces create different effects. If you are painting a cherished or irreplaceable item, you may wish to test a similar surface/material to help predict your results.
Wood created the best crackling effects. Our favorite is the crackling on the wood tray.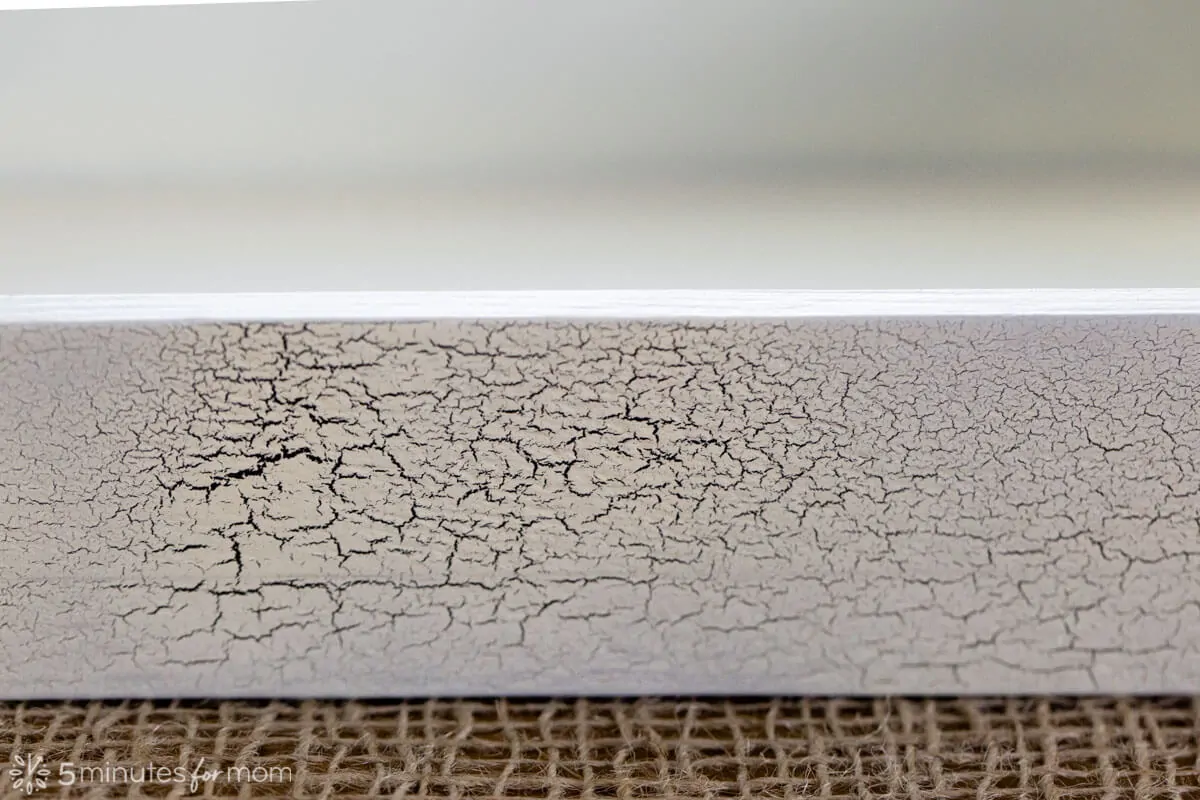 However, porous crafting wood such as items we got from the dollar store, provided a finer, smaller crackle effect. Here are the very subtle crackles on a wood planter box we got at the dollar store.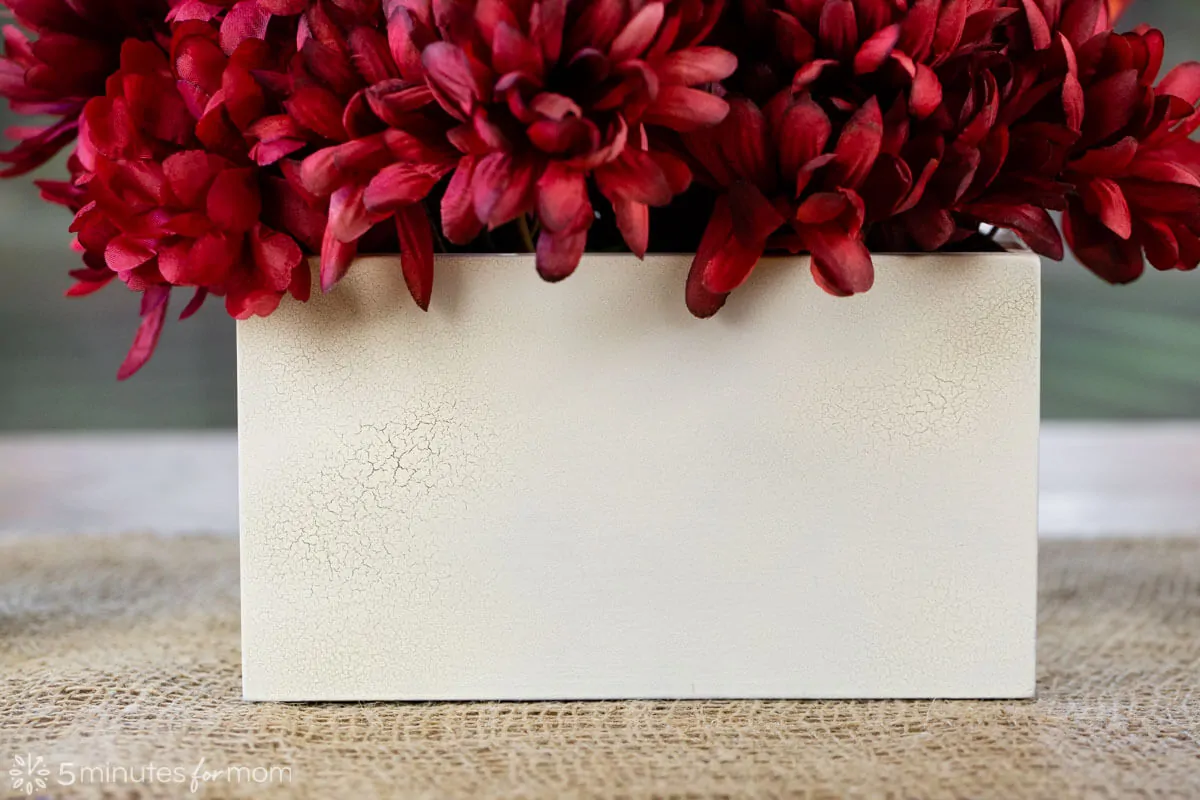 Metal created the largest crackles and made very interesting designs.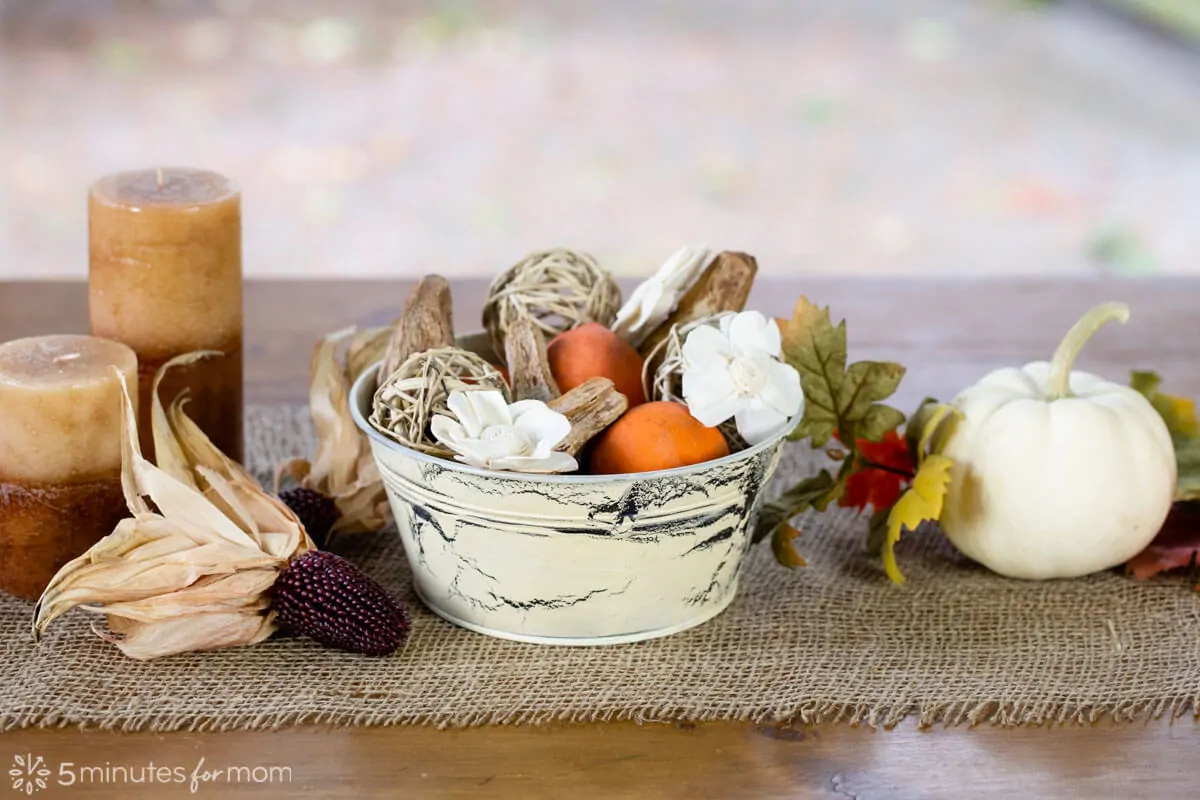 Because it is not as porous, the paint pools and crackles intensely.
Glass is the trickiest surface to crackle paint.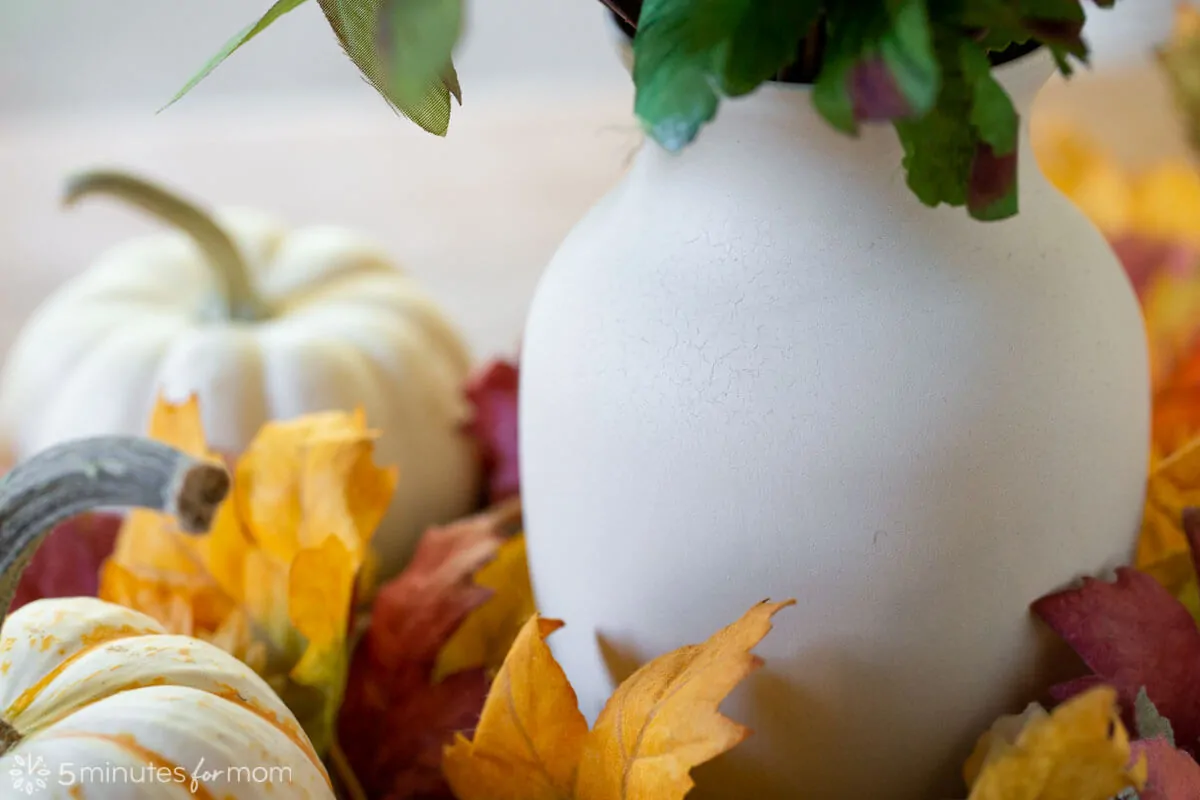 On smooth glass vases, we found the paint drips easily and the crackle effect is very fine. On the other hand, the bumpier surface of glass mason jars crackled more intensely.
7. Drips Can Happen – Plan Accordingly
Since you have to apply a heavy Top Coat in order to create the crackling effect, you may experience some drips or deep, long crackles on areas that are vertical.
If you are concerned about drips and you are painting objects that have vertical areas prone to dripping, you may need to make some adjustments.
If you are painting furniture, you may want to lay the piece down and paint one side at a time, so that the wet area can dry without dripping. If you do paint your piece using this method, make sure that you cover or tape off the crackled areas so that overspray does not ruin your previous work.
For glass vases, we used the clear Top Coat method to help cover the Base Coat while enhancing the crackling so that we didn't have to apply the Top Coat too thickly.
On one glass vase, we used the Rustoleum Metallic Spray Paint in Rose Gold as a Base Coat so that we didn't have the intensity of the black base to cover and so that we had the rose gold color coming through in the crackles.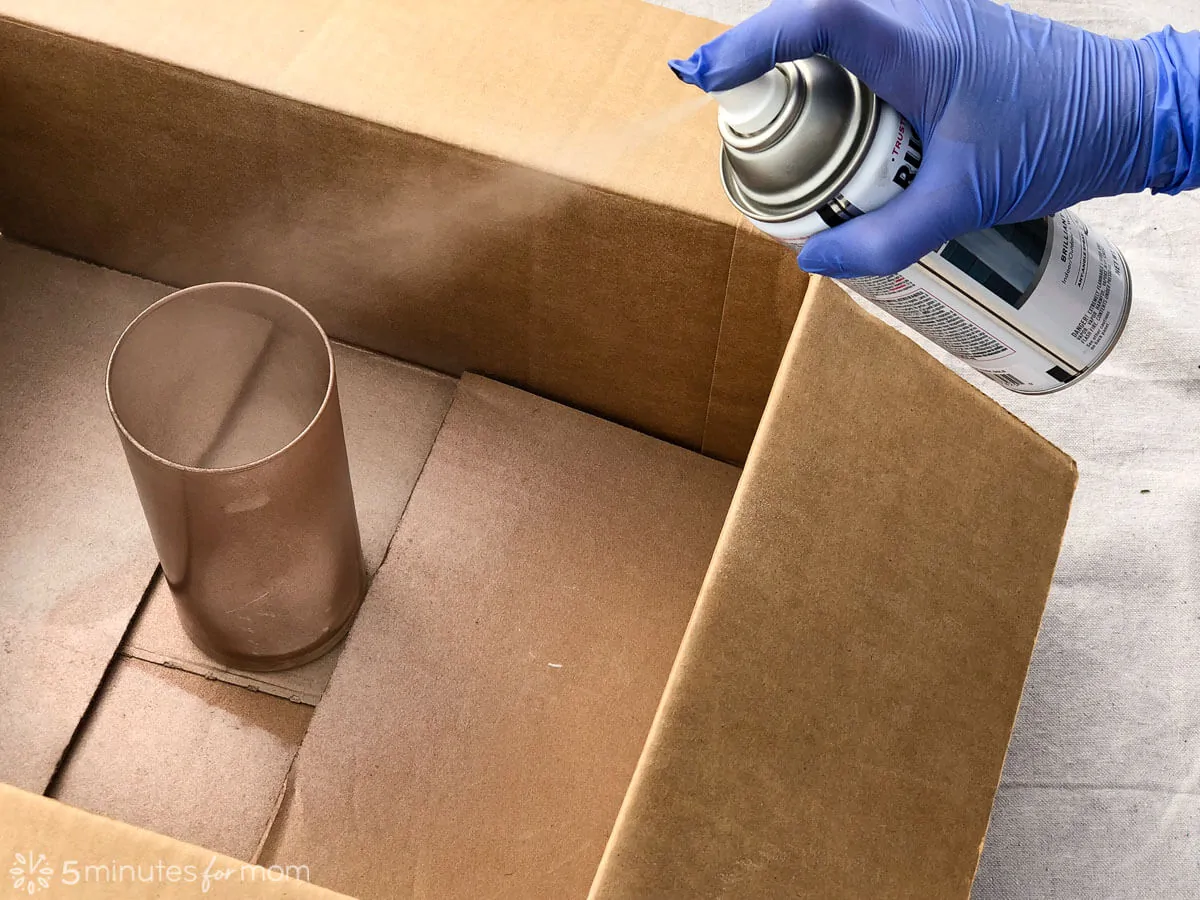 It created a much more subtle crackle which was a fabulous look as well.
8. Protect with a Clear Top Coat
If your project will be exposed to moisture or if you want to protect and seal your piece with a longer-lasting finish, you can apply a clear Top Coat.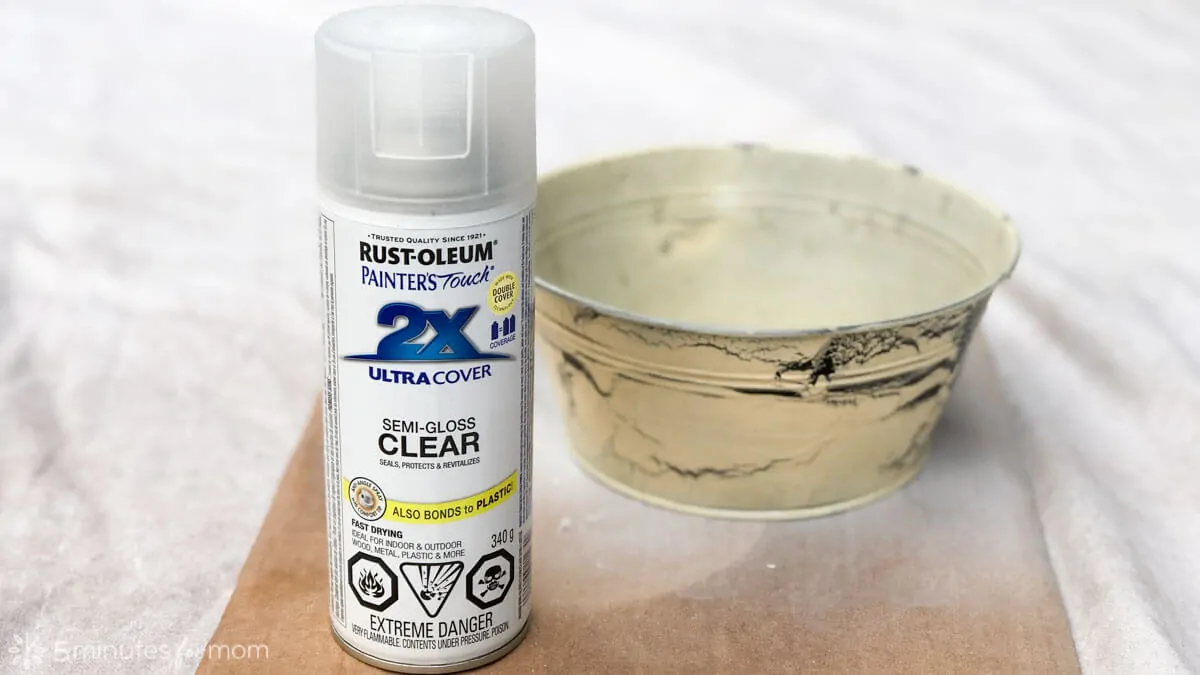 If you have used a clear Top Coat as a mid-step between your Base Coat and your Top Coat, then you already have the clear Top Coat. You can use the same clear Top Coat for both purposes.
Get Crackle Painting!
If you want to create something different this fall, grab a Testors Crackling Kit and get crackling! Visit your local second-hand store or drag out some pieces from the back of your cupboard and turn them into unique fall decor and gorgeous DIY Thanksgiving centerpieces.
Giveaway
Would you like to win a Testors Craft prize pack worth an approximate retail value of $50?
Leave us a comment telling us if you ever make Thanksgiving centerpieces or other Thanksgiving decor. And we'd love to hear if you have ever crackle painted before. Then complete your entry using the form below.
Please note that by entering this giveaway you are allowing Testors to receive your email address to possibly follow up with product information.
Products in the prize pack will be an assortment of Testors Craft products including a Crackle Paint Kit. Sorry to our Canadian friends, this giveaway is open to the US only.
More Of Our Testors Crafternoon Activities
Here are some more crafting and DIY tutorials for your crafternoons…
Pin It For Later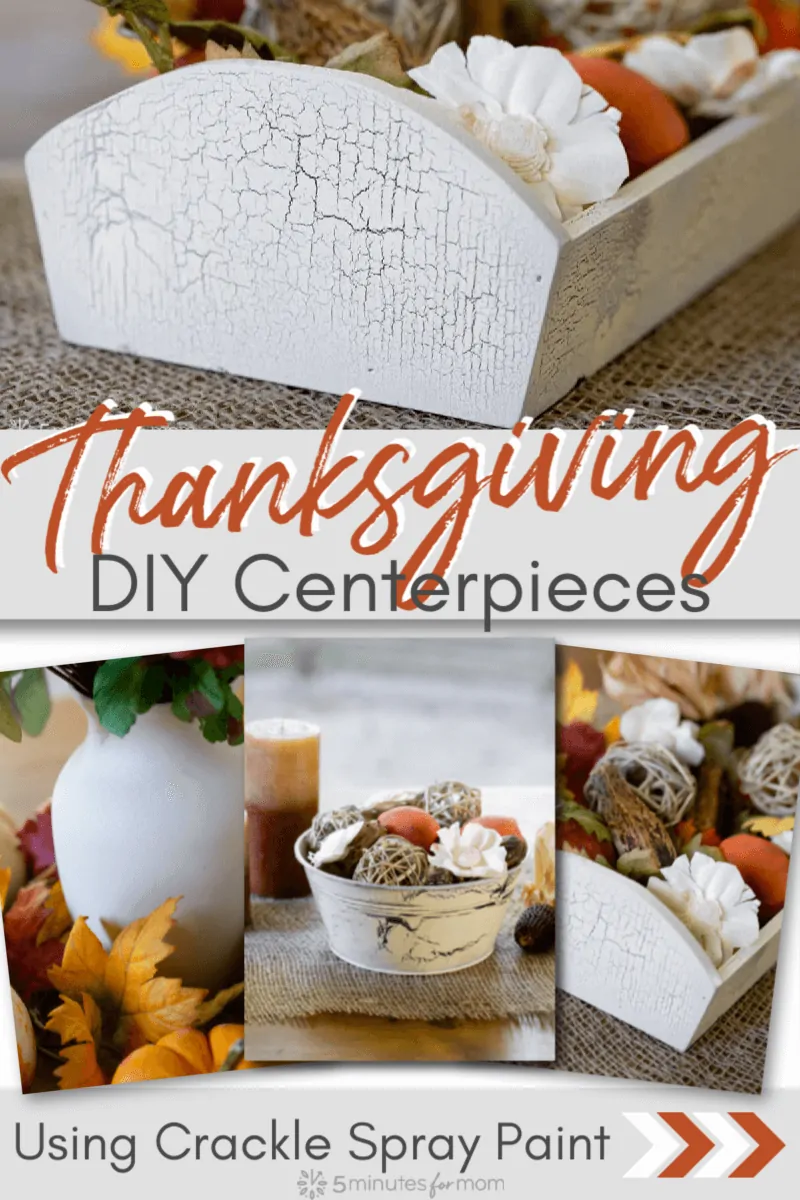 Disclosure: This post is sponsored, so extra thanks for reading and sharing.
Written and photographed by Janice Croze, co-founder of 5 Minutes for Mom
Talk with me: @5minutesformom and Facebook.com/5minutesformom
Pin with me at pinterest.com/5minutesformom
Your Kids Will Love This Thanksgiving Craft Idea
While you're decorating your home for Thanksgiving, make these turkey ornaments with your kids.