This post may contain affiliate links. Read my disclosure policy here.
This gorgeous Driftwood Christmas Tree Craft is a wonderful Christmas DIY project to make with your family or a group of friends. You can make beachy driftwood trees to enjoy year-round or create glittery driftwood Christmas tree decorations.
This post is part of our ongoing sponsored partnership with Testors.com.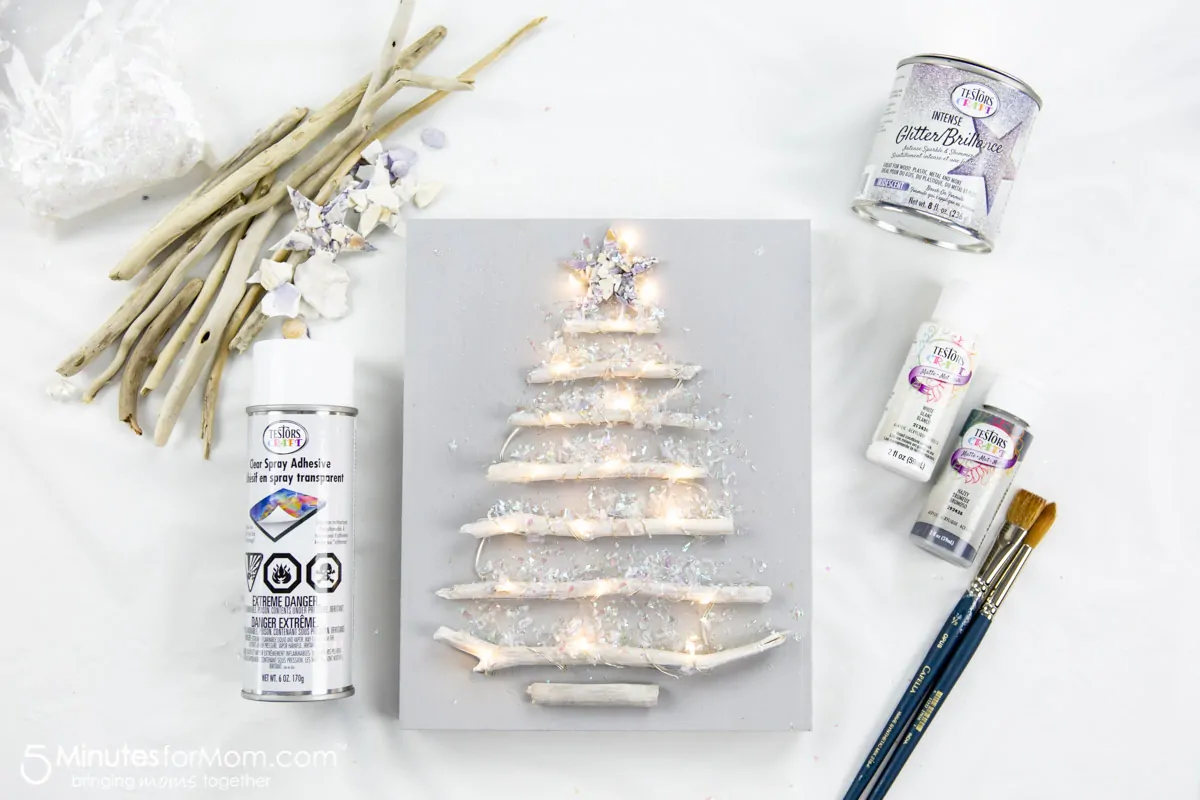 Welcome to our third week hosting Testors Crafternoons. Today, we have another Christmas craft to get you and your family in the holiday mood.
(If you missed our first two weeks, check out our posts on How To Paint Rocks For The Holidays and How To Paint Christmas Ornaments. And our final Testors Crafternoons Christmas craft is now live at DIY New Year's Eve Photo Booth Props.)
We love to craft and any projects that involve painting earn extra points with our kids. So spending an afternoon with Testors' paints is always popular in our house.
We have had some beautiful sunny fall days in the past couple of weeks and so I decided to get our girls to come with me down to the beach to collect driftwood to create some driftwood Christmas tree crafts.
Once we collected lots of driftwood and seashells, I washed and dried them all.
Then I made a couple of samples to work out all the details and resolve any kinks in my idea before sitting down with my daughter and my niece for our crafternoon.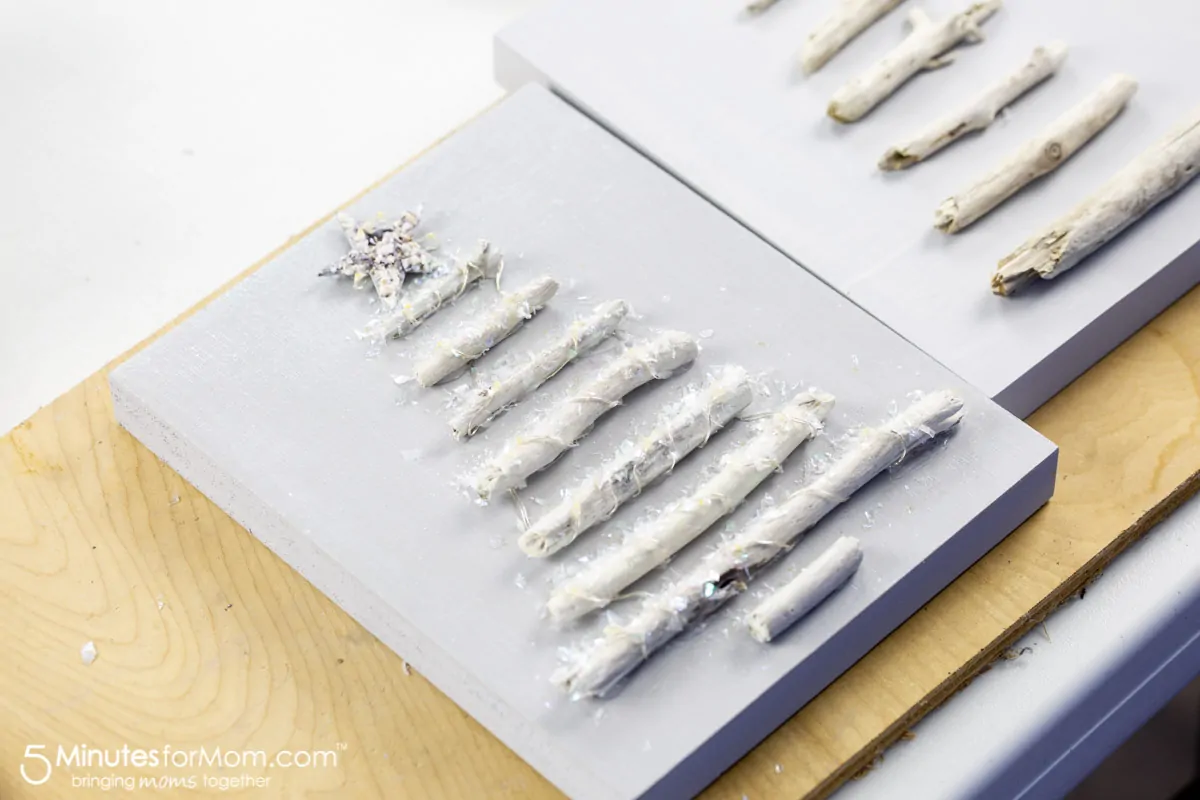 The girls loved painting their projects and decorating their trees.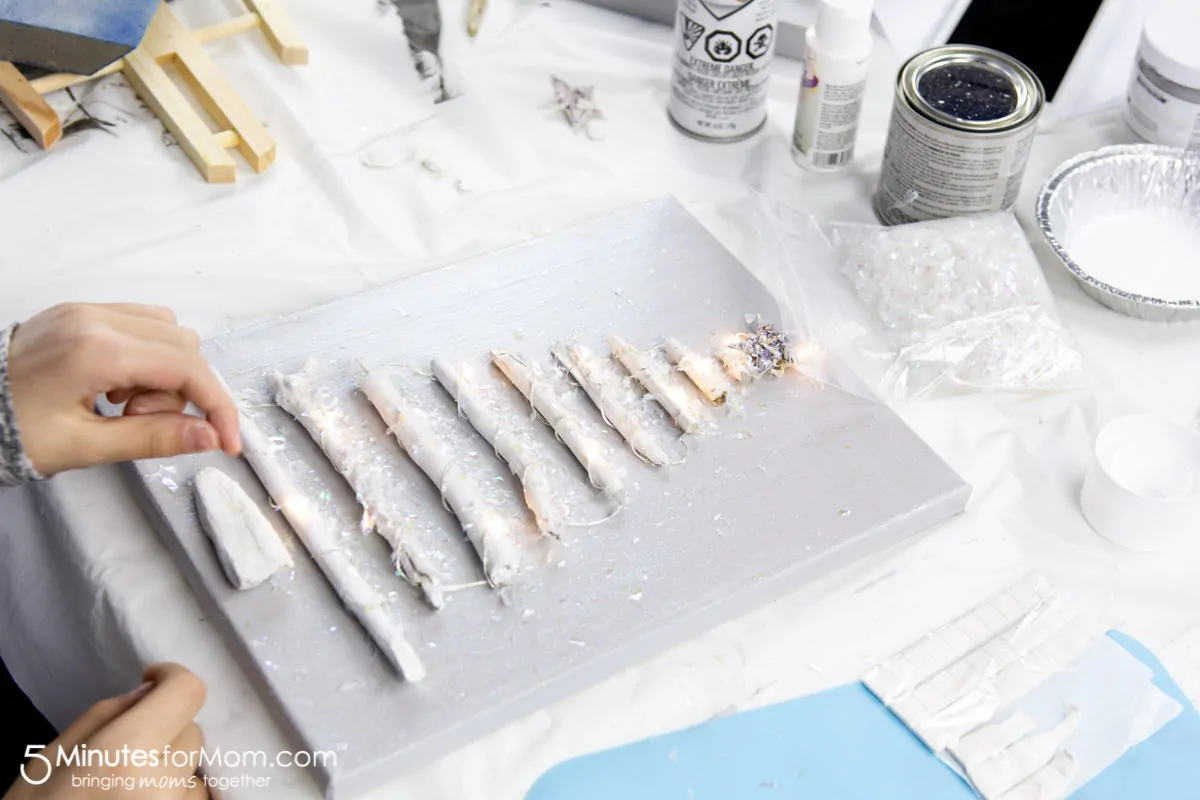 We are all just thrilled with how well they turned out. The girls are now making some little tiny Christmas Tree canvases too!
These driftwood Christmas trees are so fabulous and you can customize them in tons of different ways.
We used driftwood we collected from the beach. But if you don't have a beach nearby you can use whatever sticks you have available.
Or you can even make driftwood! I am actually working on an upcoming tutorial on how to make your own driftwood in case you don't live near a beach.
You can attach your driftwood Christmas trees to a canvas or wood background as we did. Or you string your tree together and hang it directly on your wall.
You can make your tree sparkle with Testors Intense Glitter and fairy lights…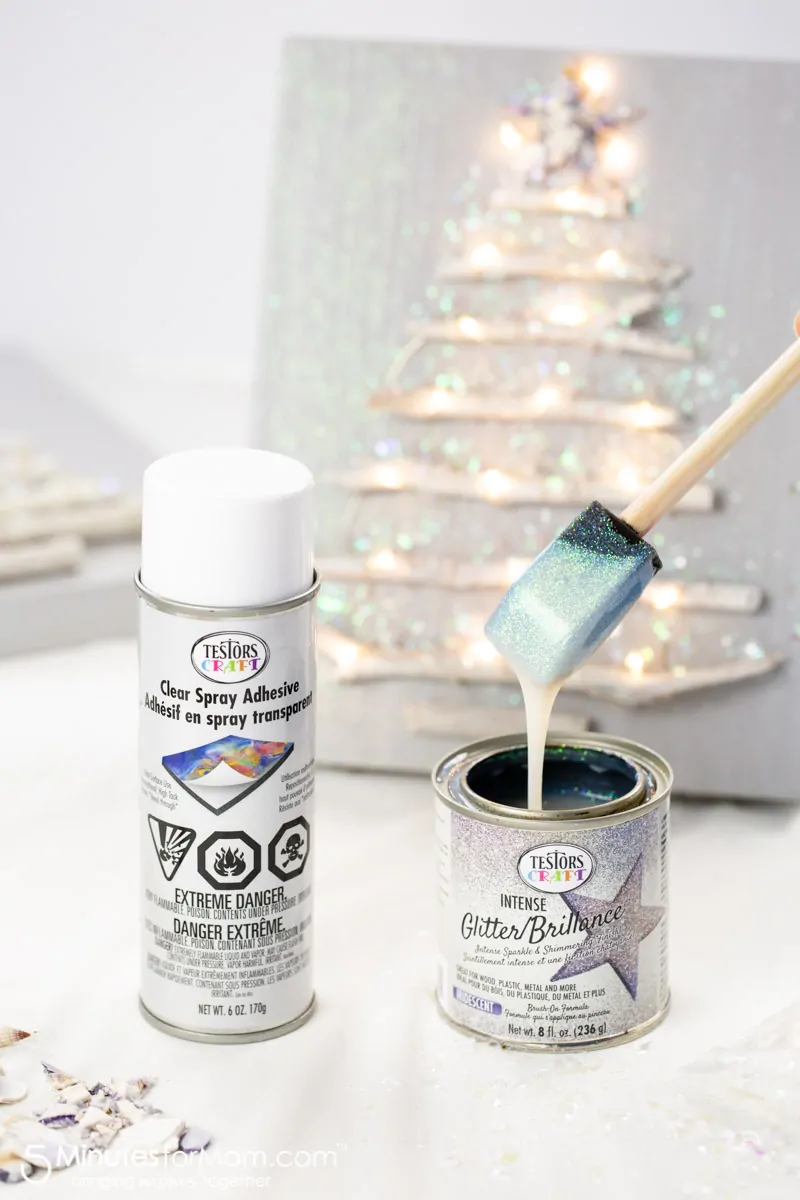 Or keep them natural and have a distressed chalk paint background as I did with my beach themed driftwood tree design…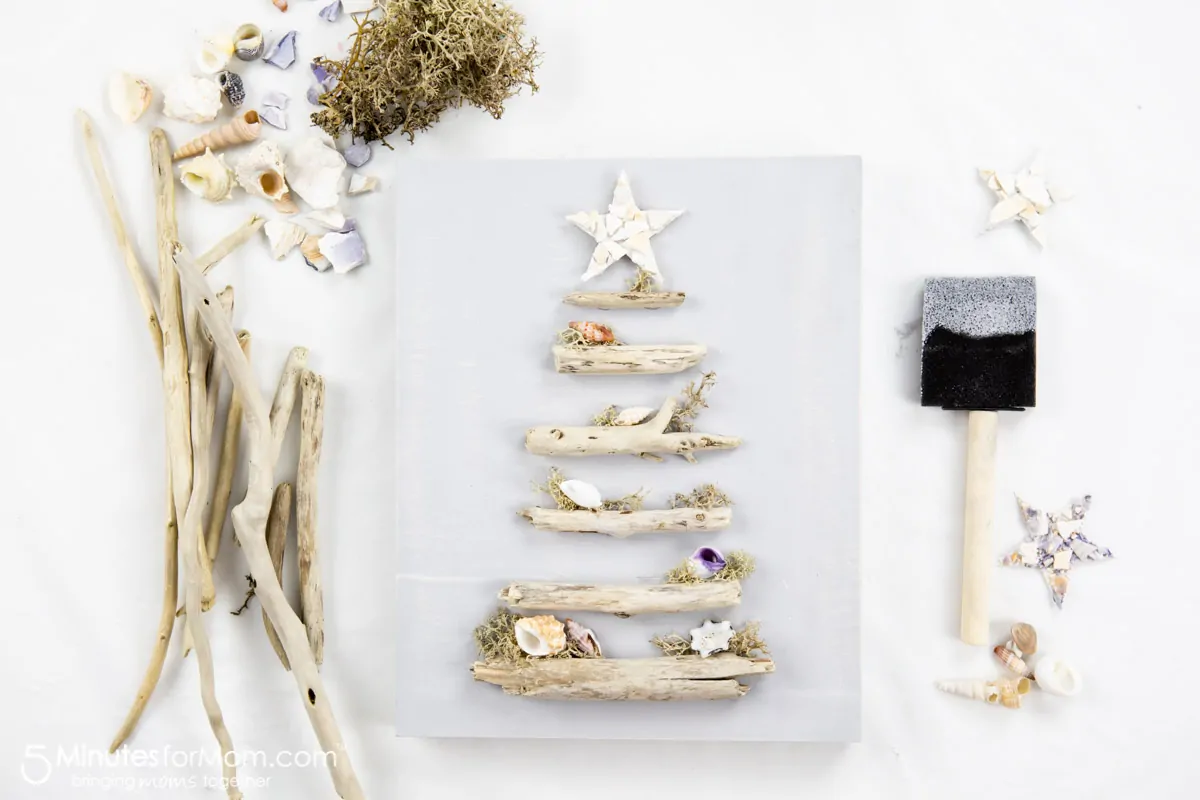 The best part of this craft is you and your family and friends can decorate your Christmas trees however you want.
We used iridescent artificial snow, moss, shells, and even stars made with shells! (I also have an upcoming tutorial on making seashell mosaic star ornaments. I couldn't fit it all in one post.)
You can make your Christmas tree art big or small, hang it on your wall, or display it on an easel. Anything goes for this art project — so let your creative ideas flow.
Driftwood Christmas Tree Craft
For our DIY Driftwood Christmas Trees we used:
Testors Craft Intense Glitter in Iridescent
Testors Craft Acrylic Paint in White, Black, and Hazy
Rust-oleum Chalked Paint in Aged Gray
Driftwood
Canvases and wood plaques
Decorations for our trees – shells, mosaic star ornaments that we made, moss, iridescent artificial snow, etc.
Fairy Lights (7′ strands with warm white lights)
Glue gun
White glue
Small drill/Dremel (only for the wood version – if you are using canvases, you do not need a drill)
Sandpaper
Paint brushes, foam brushes, craft sticks
Reusable adhesive tac
Foil dishes, cardboard, clean rag/cloth, paper towels, etc for our workspace
Step 1 — Wash and Dry Driftwood
After collecting your driftwood or sticks, you will probably want to give them a good cleaning.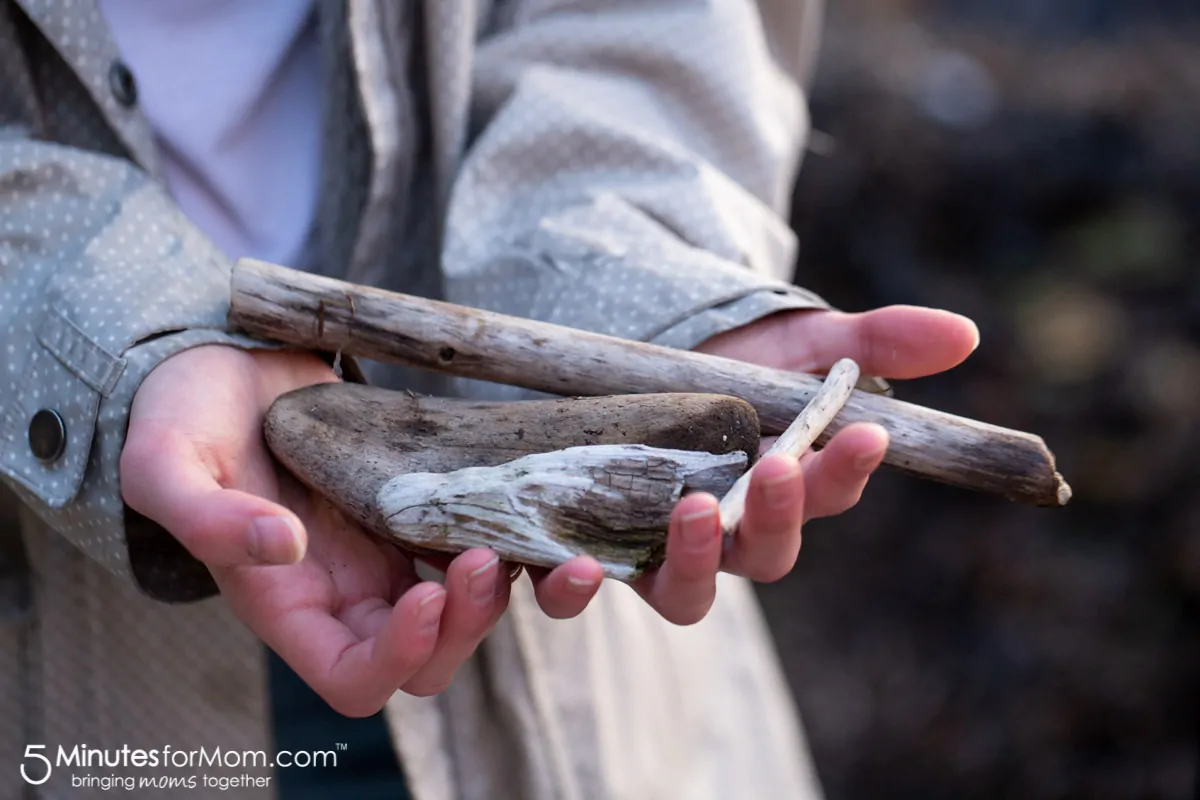 To clean your driftwood, soak and scrub them in a bleach and water solution. You can soak them overnight, but I just soaked and scrubbed ours until I had removed the dirt and any remaining bark.
If you don't want to use bleach, you can soak your driftwood or sticks in water with washing soda. Or, for a less caustic option, you can soak and scrub in saltwater or water with vinegar or lemon juice.
We allowed our driftwood to air dry for a few days with a fan blowing on them. If you are in a hurry, you can dry in a low-temperature oven (200*F) for a few hours. But, of course, please be careful that your sticks do not catch on fire.
Once your sticks are washed and dry, you can begin designing your Christmas Tree!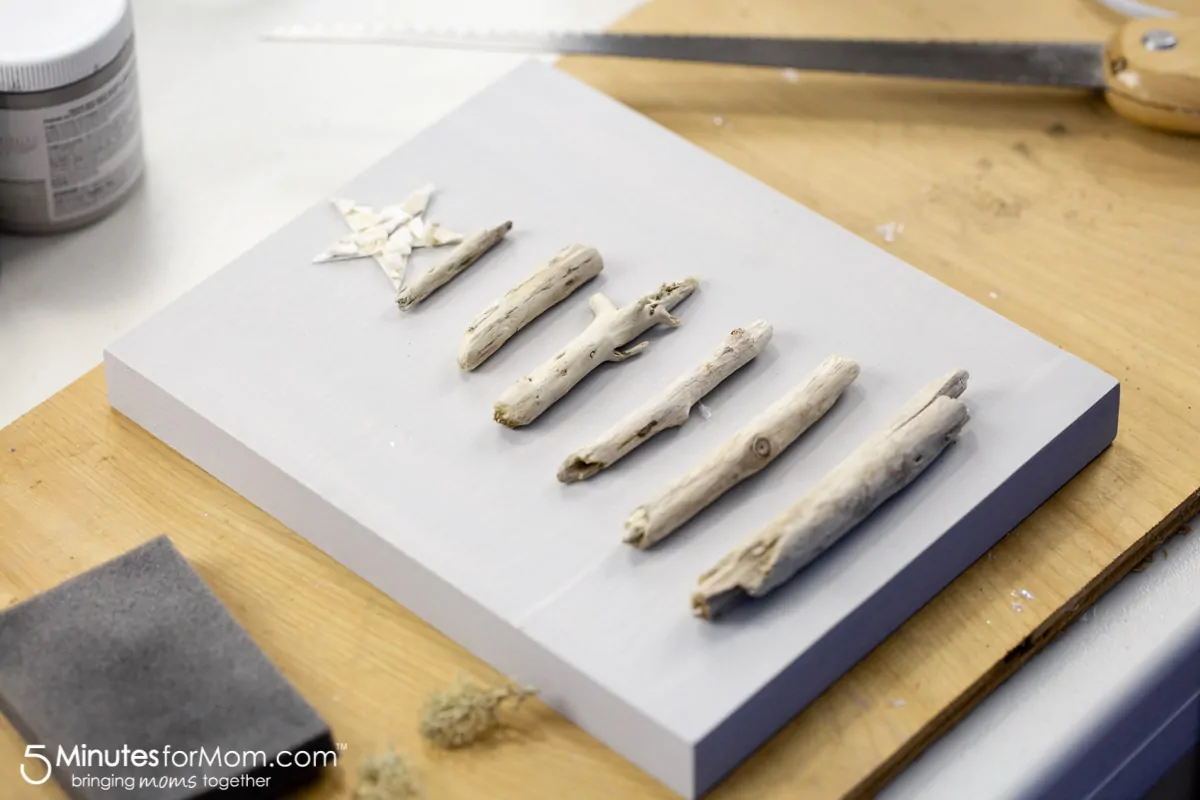 First, choose sticks that are the right size and shape to form a tree-shaped stick silhouette.
If you don't have all the perfect lengths that you want, you may want to cut or break some sticks. I used a small saw to cut a couple of our thicker sticks.
You may also want to use some sandpaper to smooth any rough or jagged places on your driftwood or sticks.
Step 2 — Paint Background
Paint your canvas and/or wood panel. You will probably want to make at least two coats.
You can use Testors Craft Acrylic Paint in the color of your choice.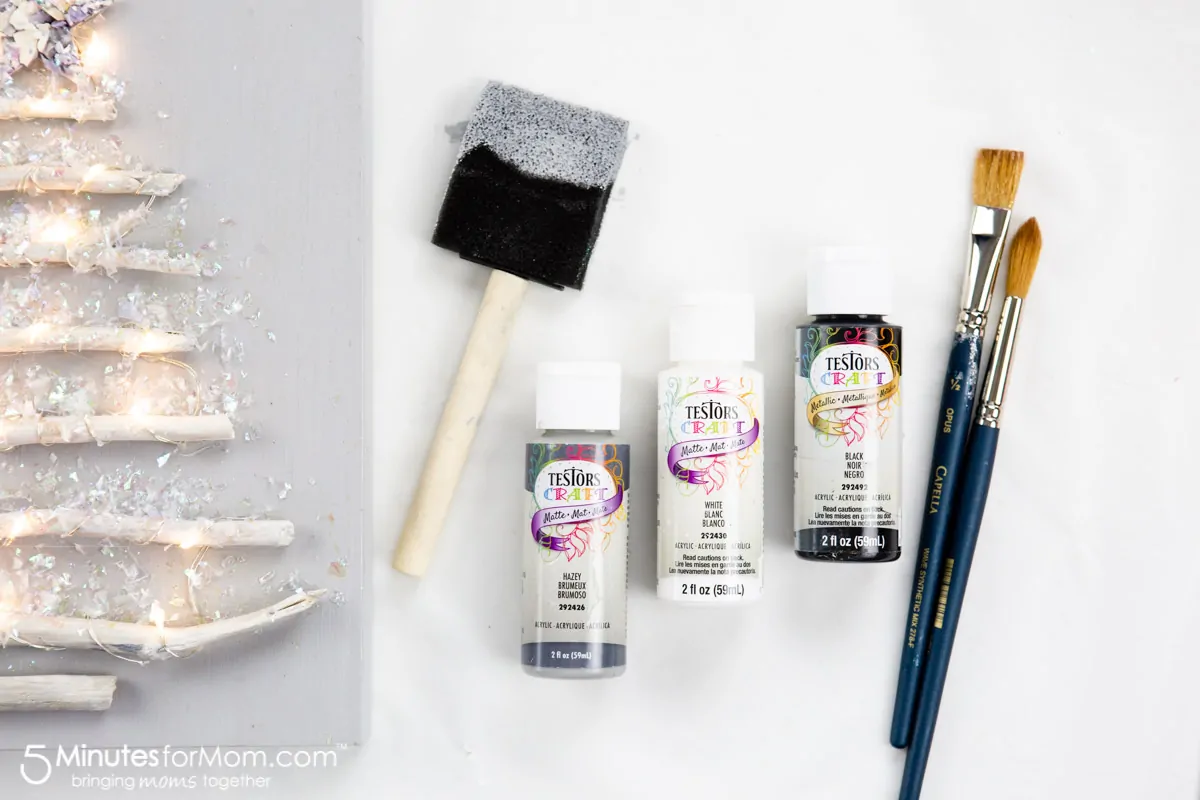 Or if you want a more matte look, you can use Testors Aerosol Chalk Paint or Rust-oleum's Chalked paint. I used Aged Gray.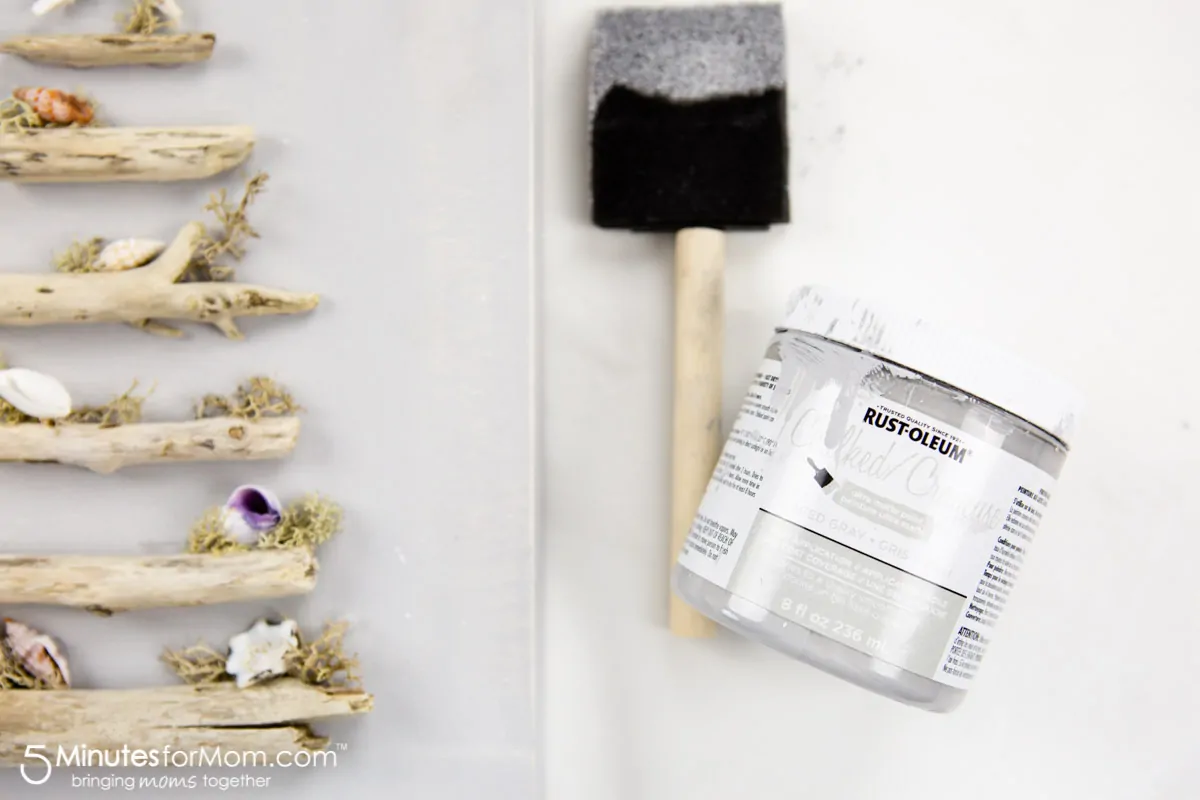 To speed up the drying process, a hairdryer is a lifesaver.
If you want to create a distressed look, as I did for my beach-themed driftwood tree, gently sandpaper the surface of your paint once it is dry.
If you want a glittery look, apply one or two coats of Testors Craft Intense Glitter. We used Iridescent because our girls are obsessed with all things holographic. But the silver and gold are gorgeous too.
You can string your wood pieces together to form a tree and hang your design on a wall without an attached background. (I have made a large DIY Christmas Tree out of sticks for a Christmas photoshoot background.)
But for this Christmas Tree Craft, we choose to attach our driftwood trees to canvases and pieces of wood.
We used canvases and wood panel/plaques we bought at the dollar store.
The great thing about using canvases and/or wood panels is that they have a wood frame in the back where you can hide the battery pack from the fairy lights.
Step 3 — Paint Sticks
While your background is drying, paint your sticks.
If you want to keep the "driftwood" feel to your tree or enhance the faded driftwood effect, you can paint your sticks with a white-wash made with white paint and a bit of water.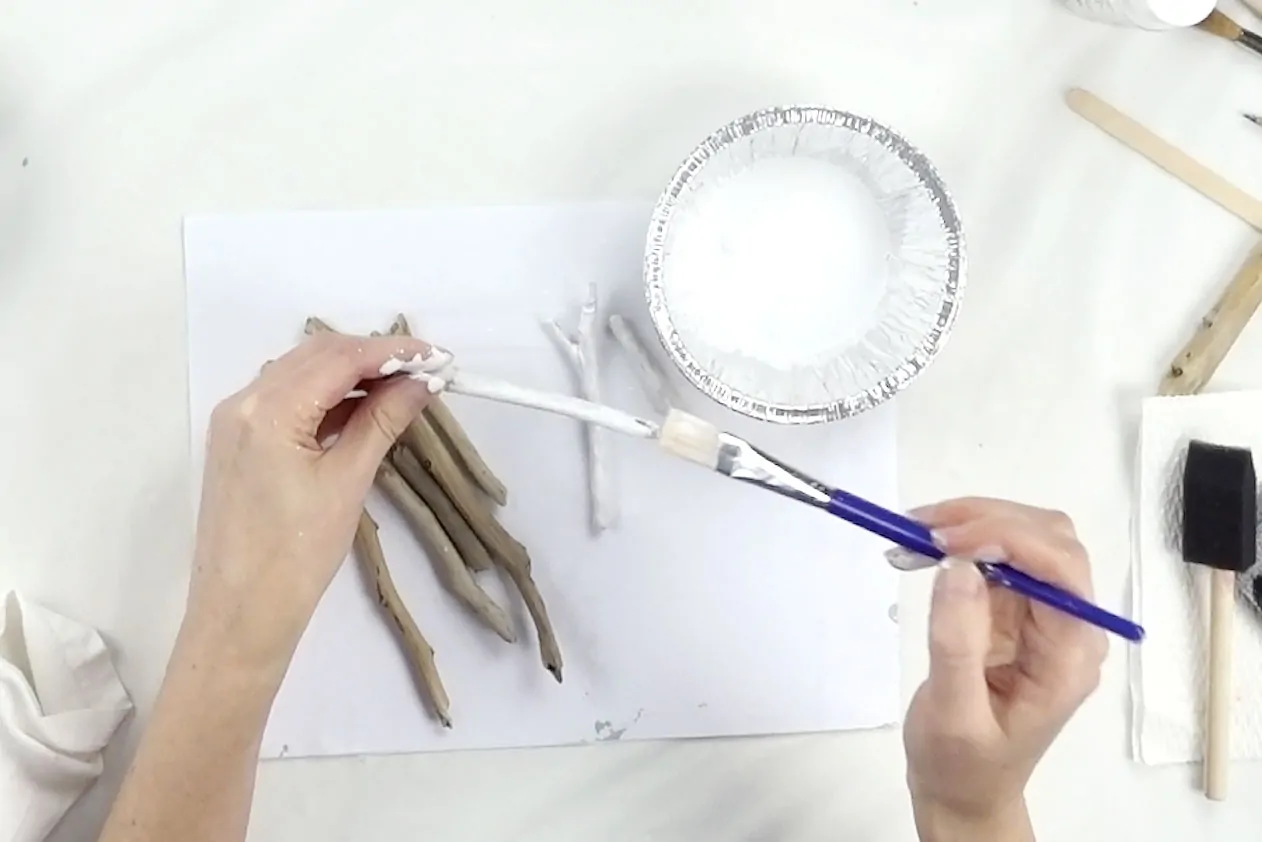 If you have sticks that are different colors or types of wood, whitewashing or painting your sticks can also help to create a more uniformed look.
To add extra shine and shimmer to your Christmas tree, you can also apply a coat or two of Testors Intense Glitter to your sticks. We liked the effect of the Intense Glitter best when we applied it to sticks that we had whitewashed or painted first.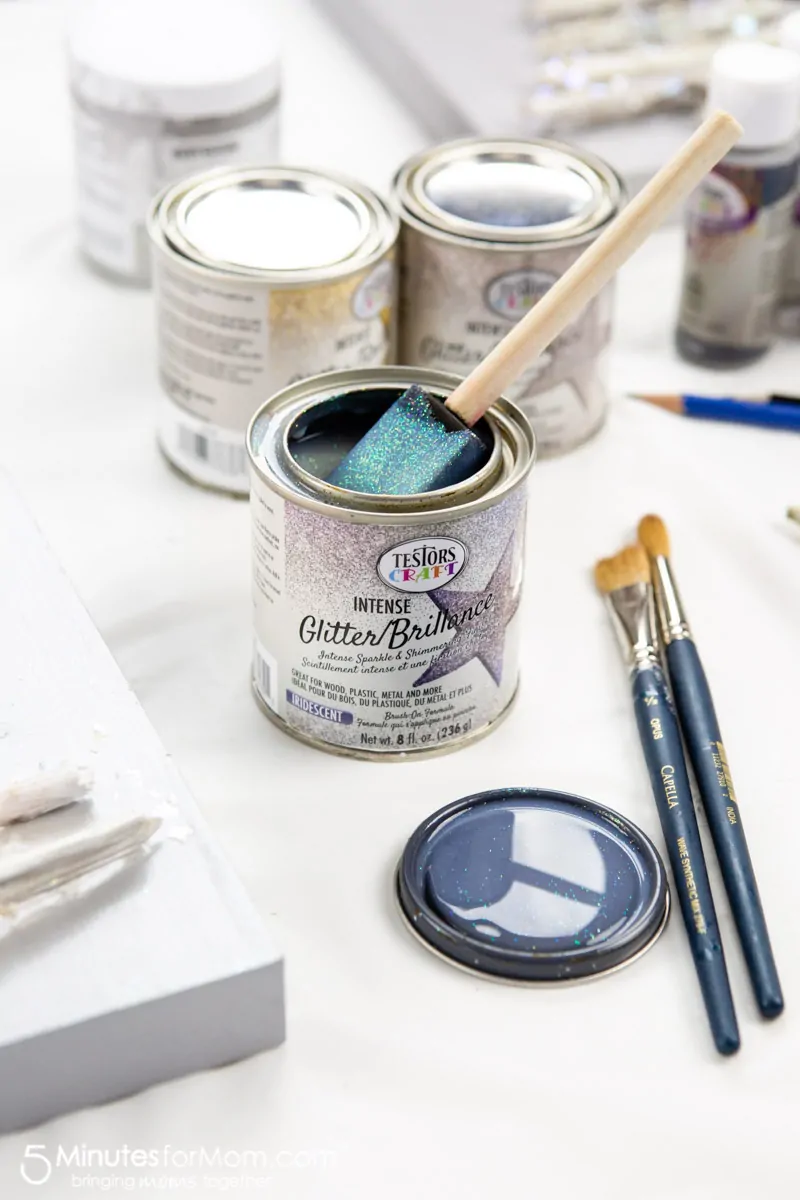 Of course, you don't need to paint your sticks. You can leave them as is. If you have washed or soaked them in a bleach solution, they will have a nice faded look to them already.
For my beach-themed distressed driftwood tree panel, I did not paint my driftwood. I left it natural.
Step 4 — Tac Sticks to Background
Once everything is dry, arrange your sticks on your background. When you have a silhouette that you like, tac them in place with repositionable adhesive tac.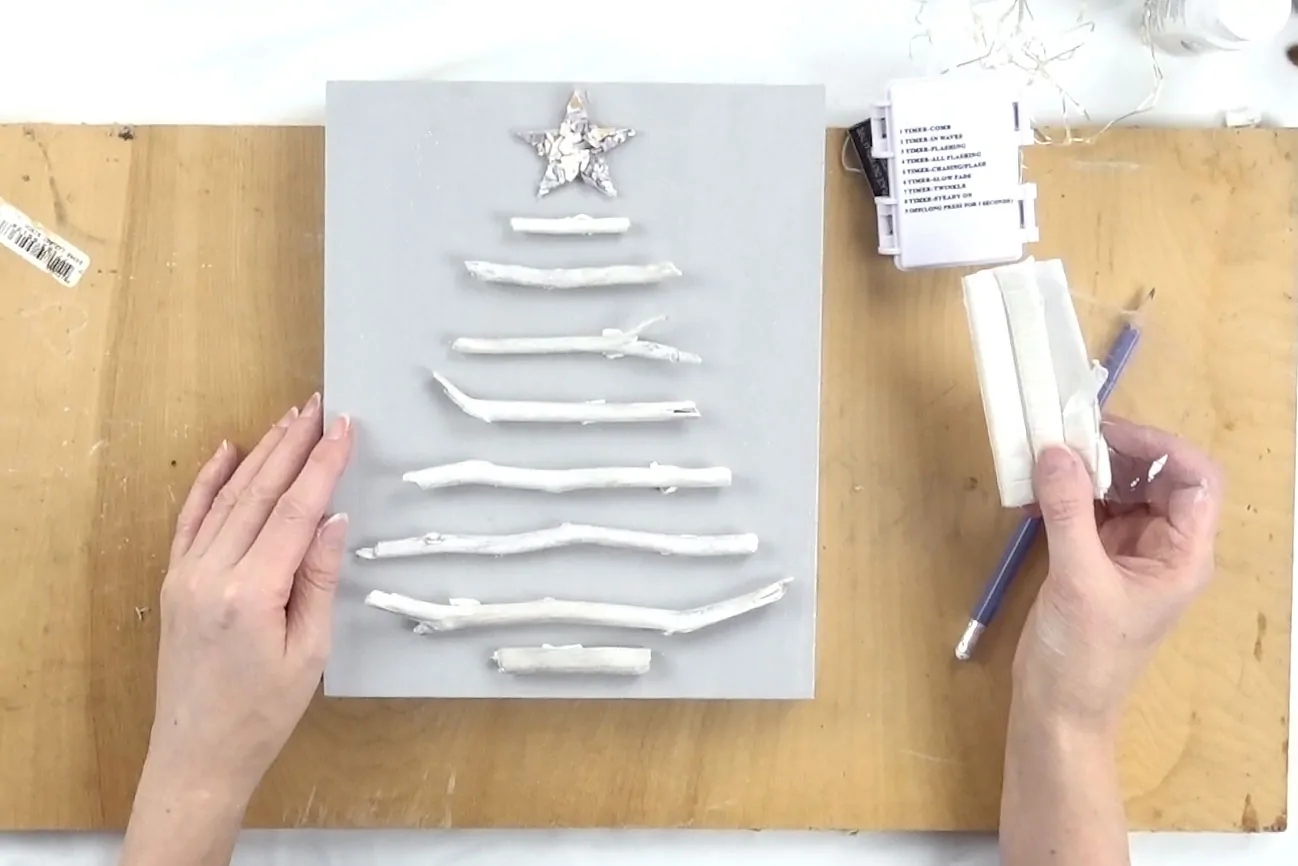 While you can skip this step if you don't have any tac, it is very helpful to have your sticks tacked down in place while you arrange your fairy lights and begin to hot glue your sticks in place.
Step 5 — Make a Hole in Background
If you are adding fairy lights to your Christmas Tree, make a hole behind the stick on the bottom row of your tree.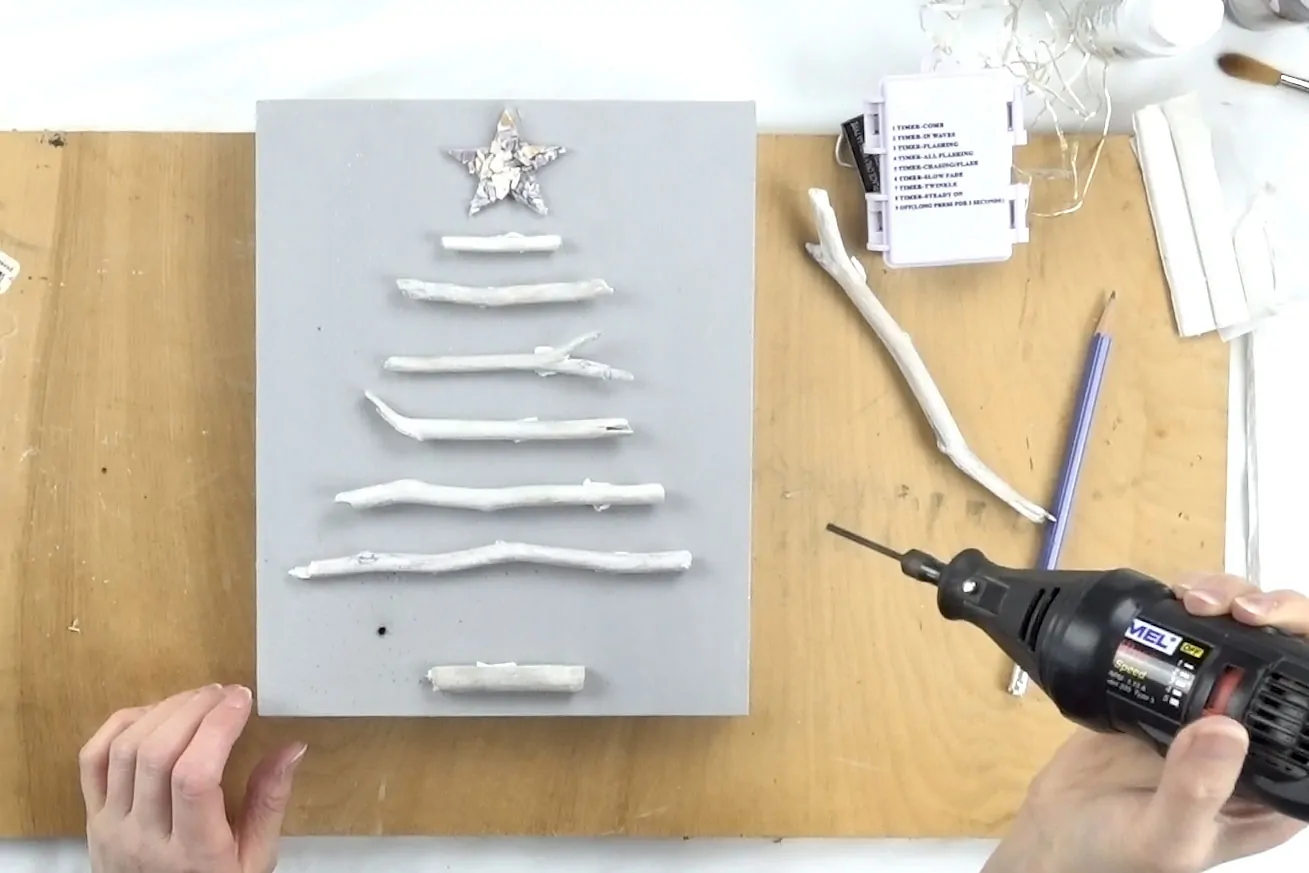 On a canvas, you can simply poke a hole with a pencil. On a piece of wood, you will need a bit more force such as a small drill. I used a Dremel to create the holes in our wood panels.
Step 6 — Add Fairy Lights
While you can string your fairy lights on to your driftwood or sticks as you hot glue them in place, I prefer to string my fairy lights loosely around my driftwood first, holding the strings and the sticks in place with tac as I go.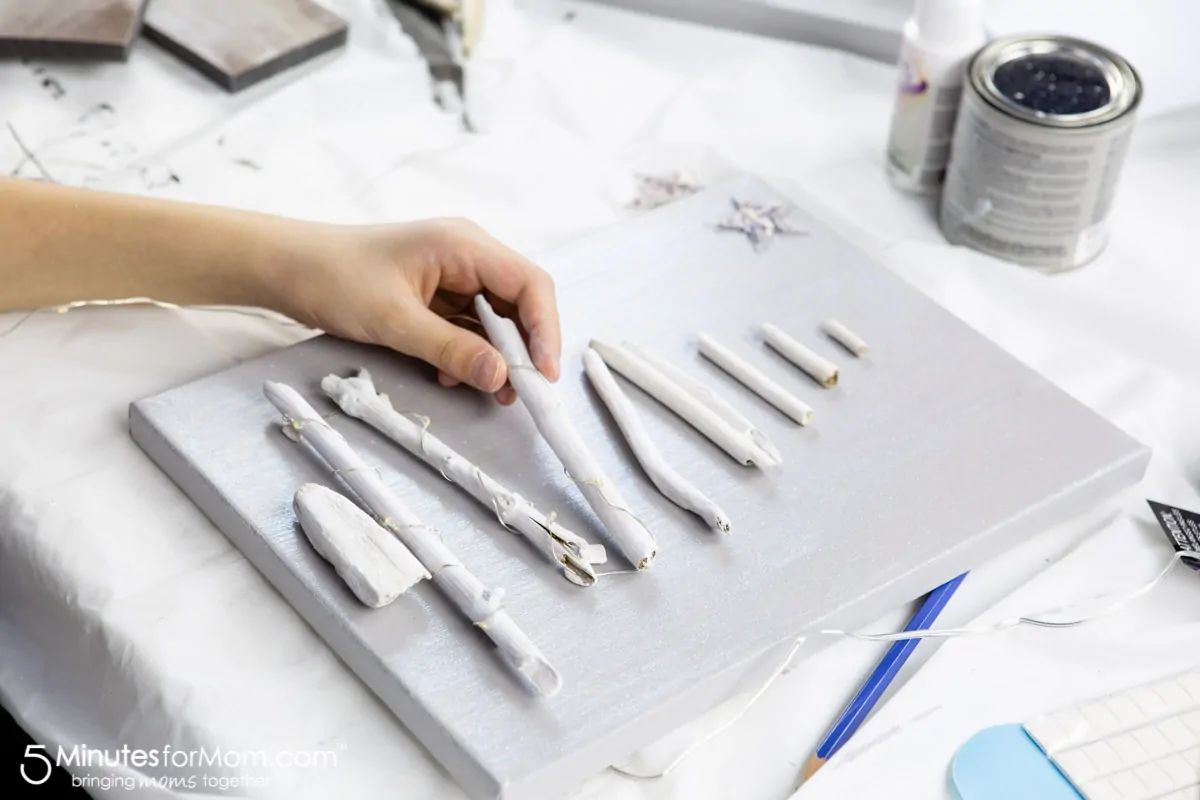 This way, I can ensure that I have spaced out my lights well and that I have enough lights to make it to the top of the tree.
I used the last few lights on the string of fairy lights to light up my star. I made a tangled little pile of wires behind the star, positioning the lights to show off the star.
If your string of lights is too long and you have more lights than you can use on your tree, you can simply make another hole behind the star and thread the excess through to the back.
Step 7 — Glue Sticks in Place
Once you are happy with your layout of sticks and lights, you can fire up your glue gun and start hot gluing them in place.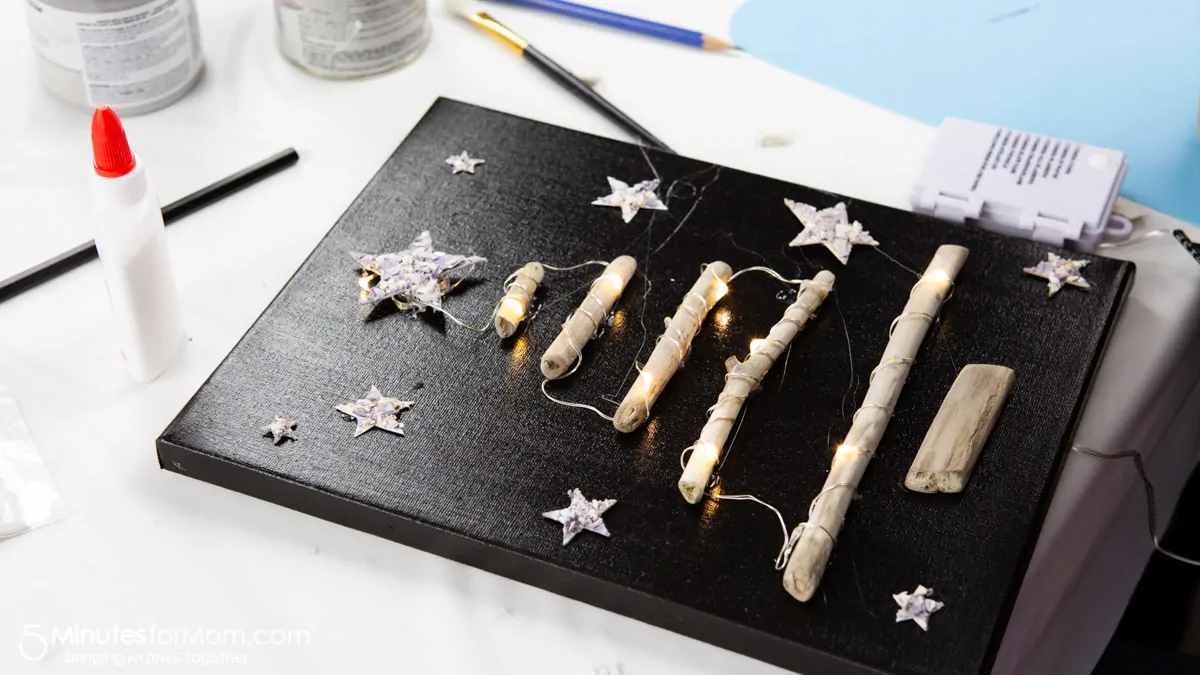 If you used tac to keep everything in place while you worked, remove the tac as you hot glue.
Step 8 — Decorate Your Tree
Yay — you have built your tree! Now comes the fun of decorating it.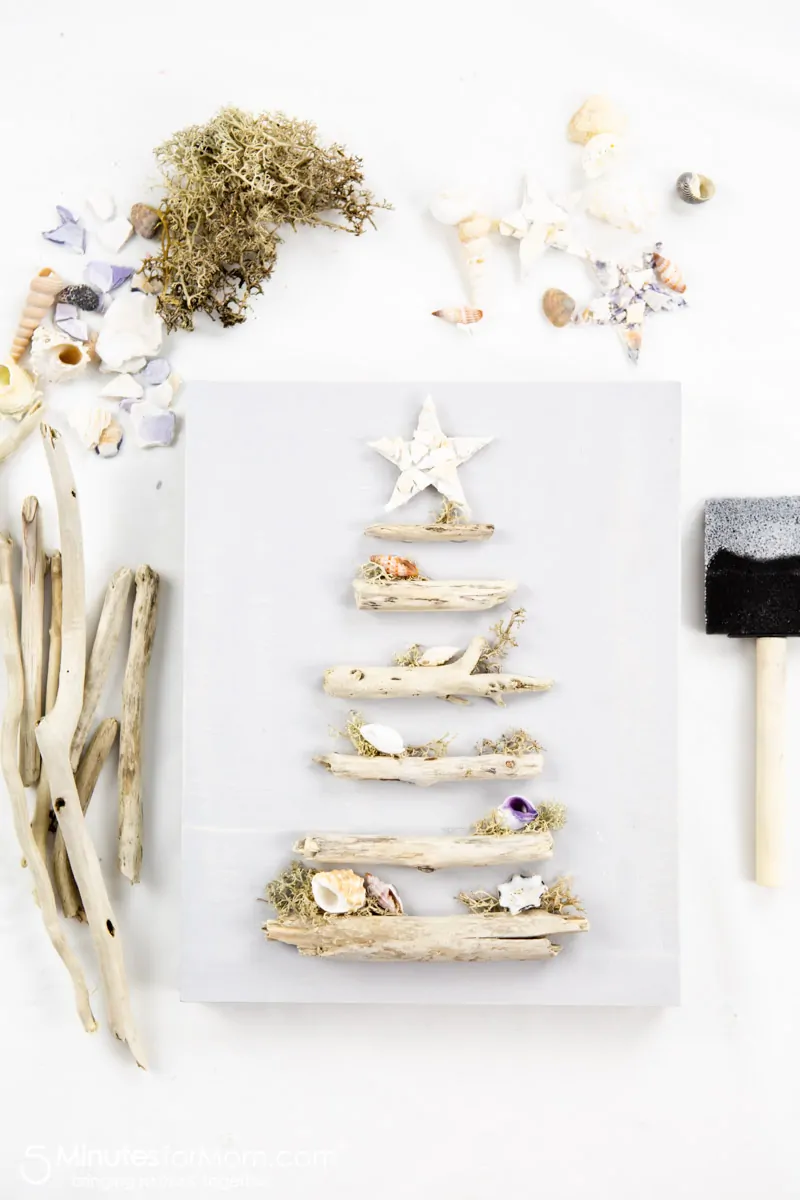 You can get as creative as you want with your tree decorations.
We used iridescent artificial snow, moss, shells, and even stars made with shells! (Check out our upcoming tutorial on making seashell mosaic star ornaments.)
To apply the artificial snow, we used Testors Craft Spray Adhesive. It worked perfectly!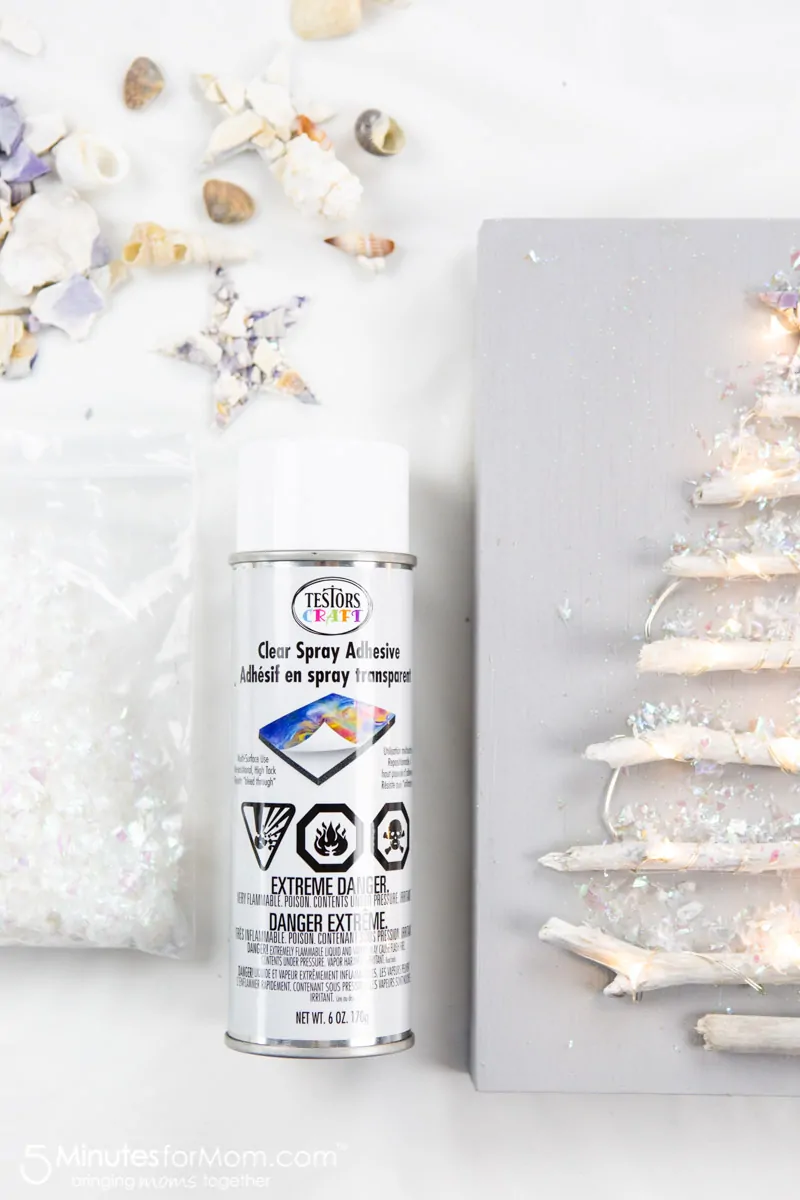 We sprayed our tree branches and then let it snow down on them with the iridescent snow we bought at the dollar store.
Please note that you will want to spray the adhesive in a well-ventilated area such as an open garage or even outside.
There you go! Your beautiful trees are complete!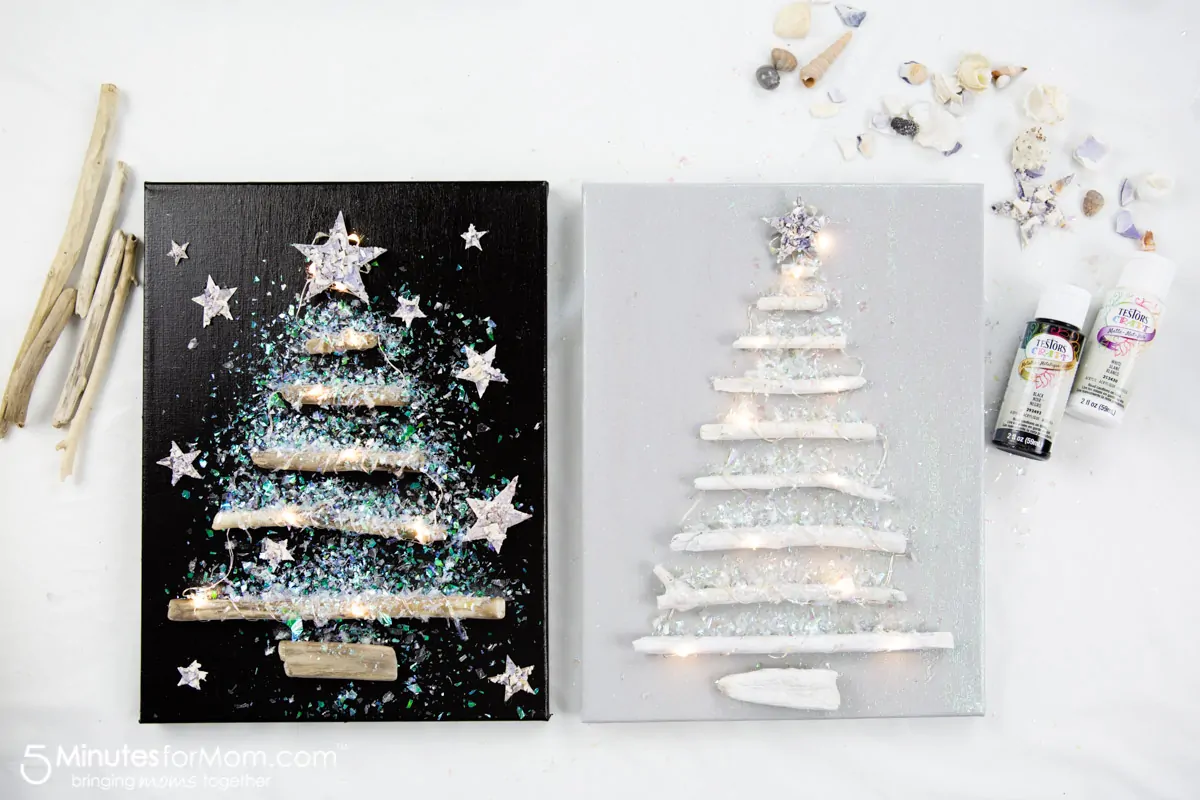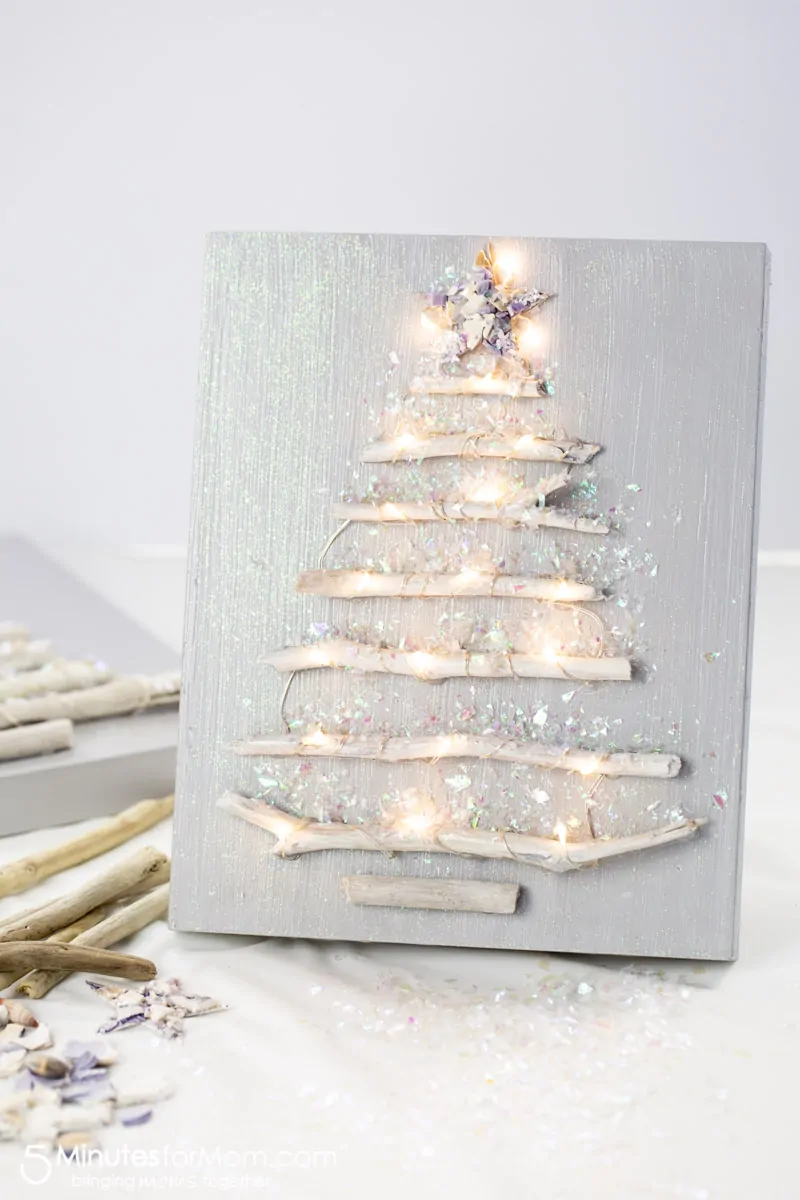 You can display them on easels, hang them on the wall, add them to your Christmas decor on a mantel or shelf.
And if like us, you have so much fun making these Christmas Tree crafts that you can't stop making them, these driftwood trees are perfect to give as holiday gifts to teachers, coaches, friends or family.
If you are looking for more fun Christmas craft ideas, check out some of our favorite Testors projects…
Pin it for Later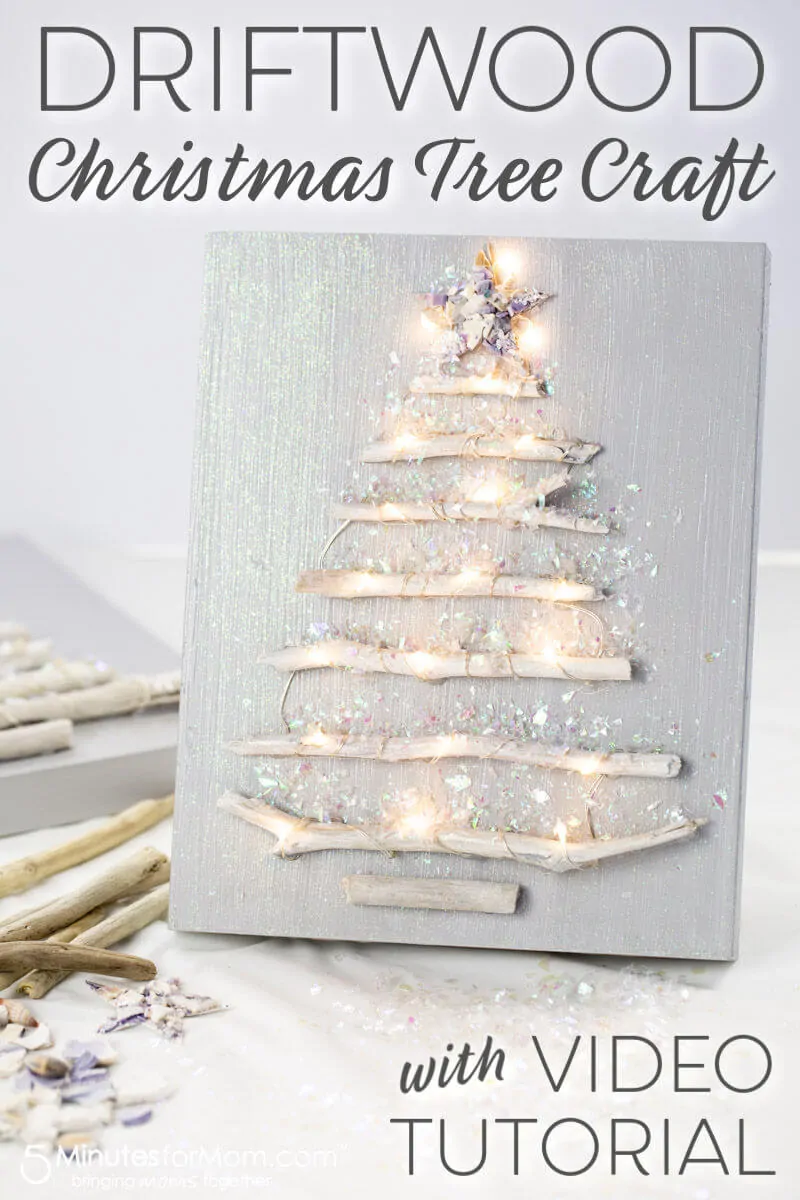 Disclosure: This post is sponsored by Testors. Thanks for reading and sharing.
Written by Janice Croze, co-founder of 5 Minutes for Mom
Talk with me: @5minutesformom and Facebook.com/5minutesformom
Pin with me at pinterest.com/5minutesformom
More Christmas Crafts
How To Paint Christmas Ornaments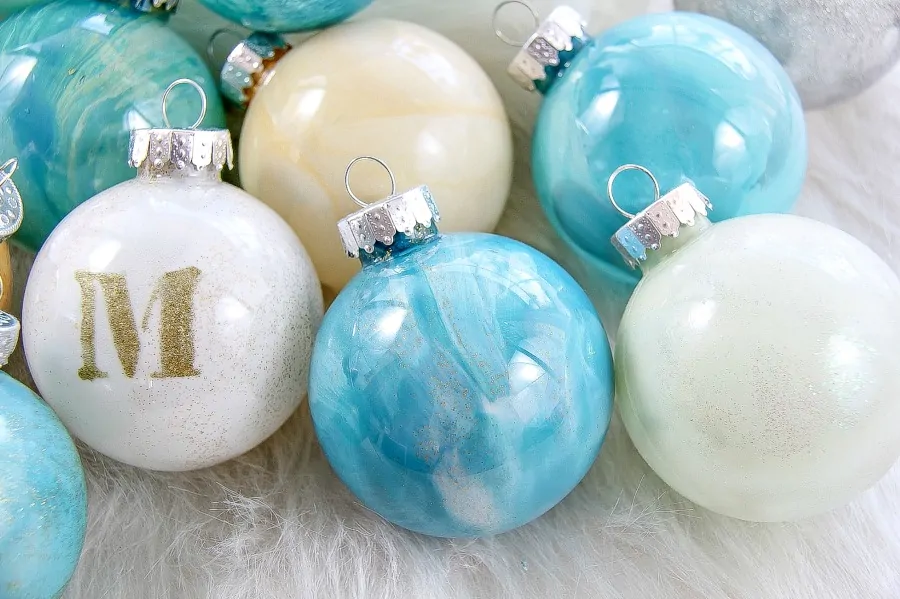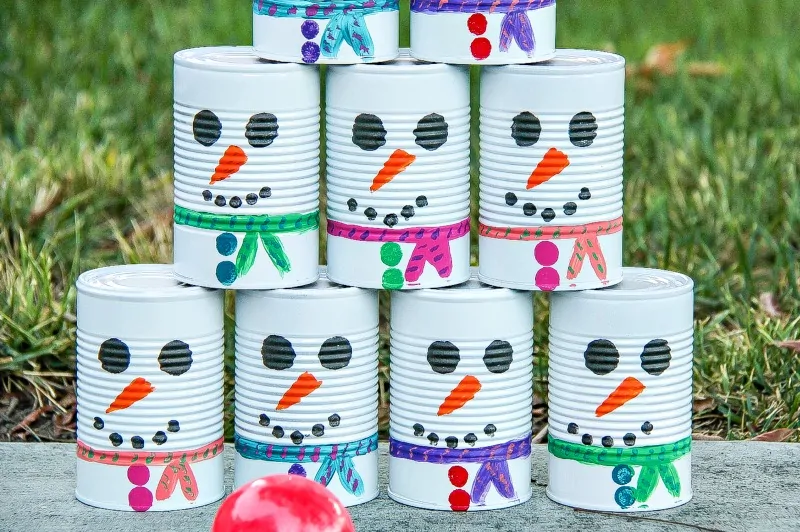 DIY New Year's Eve Photo Booth Props