This post may contain affiliate links. Read my disclosure policy here.
Are you wondering how to spray paint your Christmas tree? You're in the right place! We're going to show you how to spray paint an elegant rose gold Christmas tree as well as how to make a DIY white Christmas tree with silver accents. You'll see how to create the look of a flocked Christmas tree using white spray paint.
We hope you love this Crafternoon activity in our ongoing sponsored partnership with Testors.com.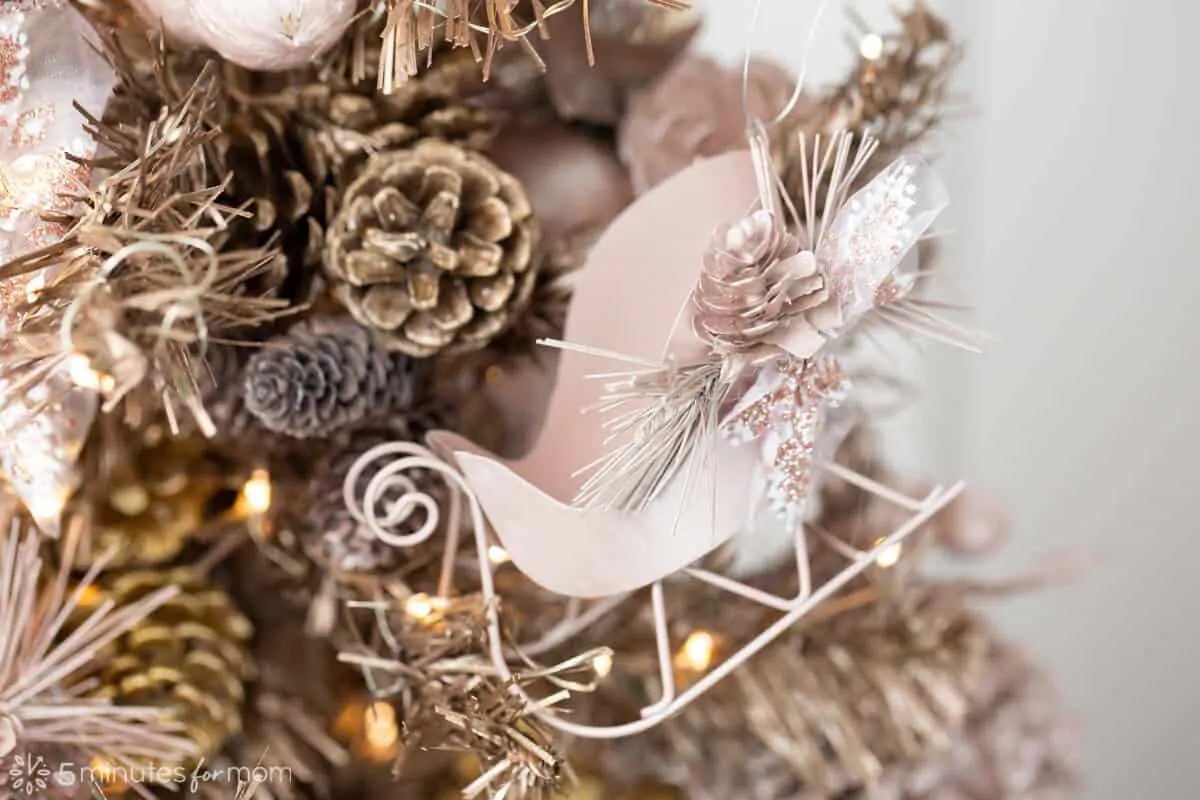 Last year, we created this Testors Christmas Crafternoons activity to show you how to spray paint a Christmas tree. It's been such a hit that we are sharing it again.
Be sure to also check out our other Christmas Crafternoons projects… DIY Photo Ornaments and Fabric Spray Painted DIY Pillows.
How To Spray Paint A Christmas Tree
Decorating Christmas trees can be expensive! Most artificial trees cost a bundle and if you purchase fancy ornaments, you'll really be spending a lot of money.
But we're here to help you save your money and still create the look of an expensive, professionally-decorated Christmas tree.
Watch our step-by-step christmas tree painting tutorial below or see it on YouTube.
We started with two $20 artificial trees from IKEA and various old ornaments and dollar store Christmas decorations. Then we went to work with Testors Craft Spray Paint to create two unique Christmas tree themes.
First, we made a rose gold Christmas tree complete with our own DIY rose gold Christmas decorations.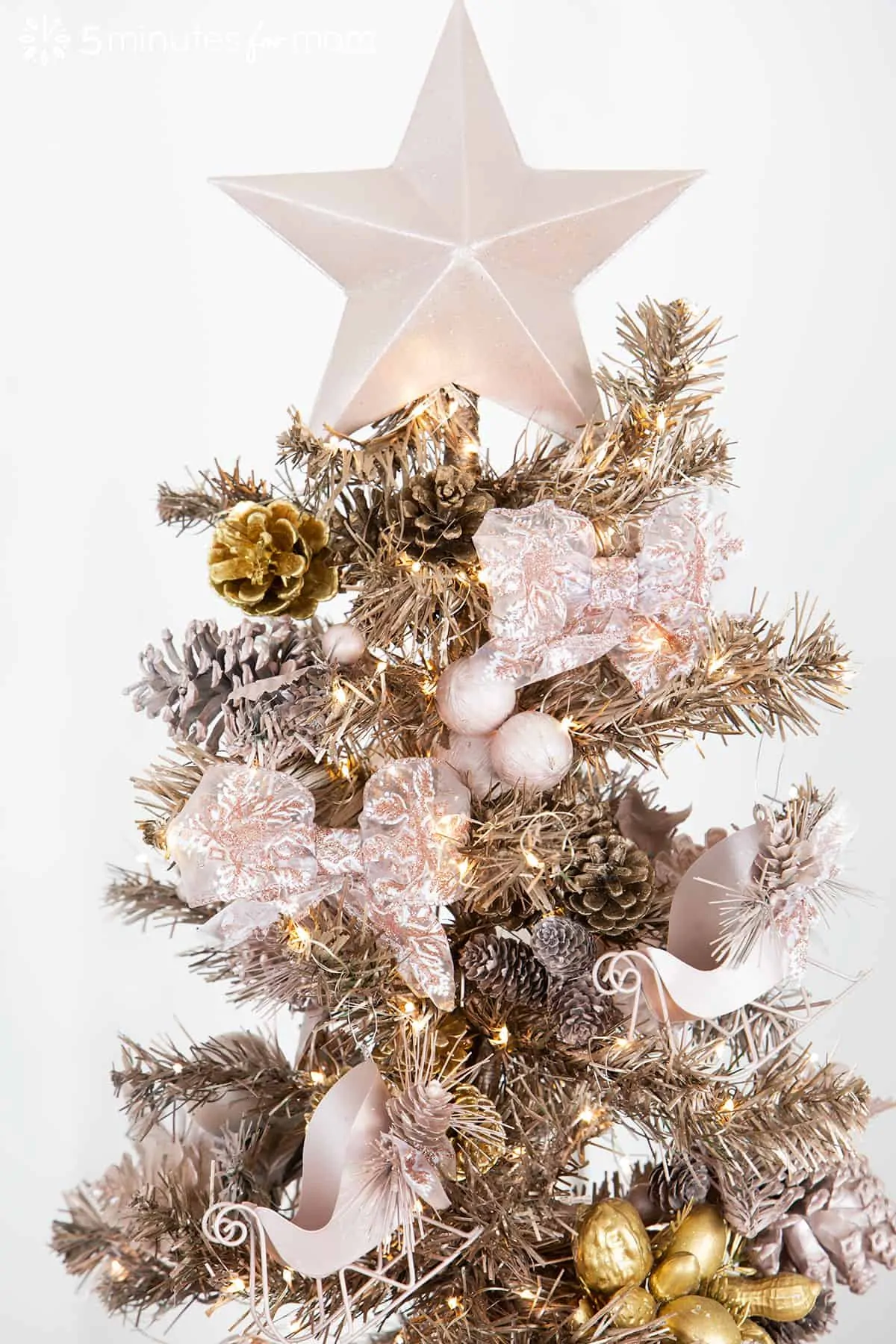 Second, we spray painted a white Christmas tree with silver accents. By using white spray paint we created the look of a flocked Christmas tree.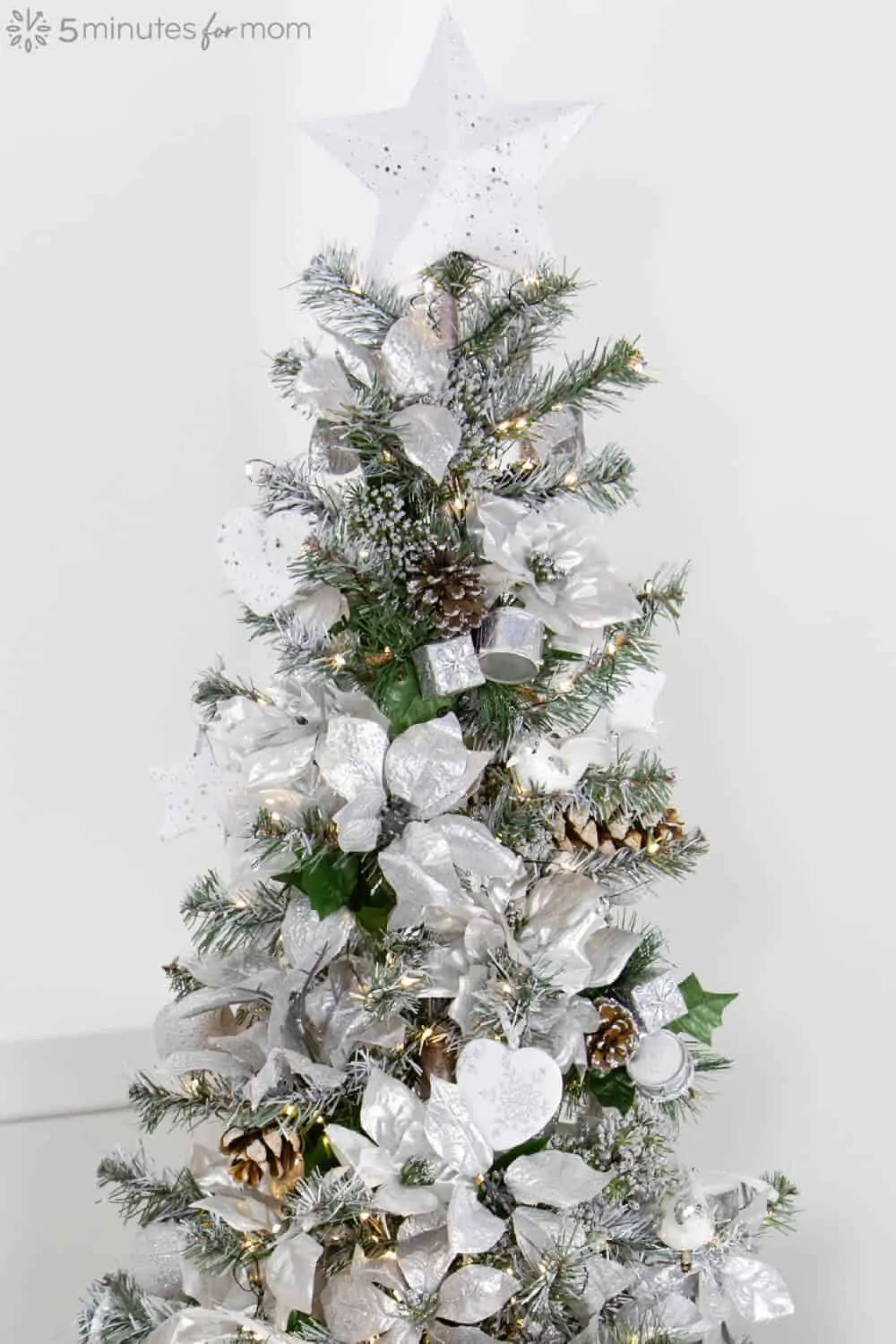 We're going to show you exactly how you can make your own rose gold Christmas tree and how you can make a DIY flocked Christmas tree using white spray paint instead of the trickier and messier real flock.
Supplies
Inexpensive Artificial Christmas Tree

Any type or size of artificial tree will work. We purchased two of these $20 trees from IKEA. (This post is not affiliated with IKEA.)

Inexpensive or old Christmas Tree Ornaments

This is a great opportunity to upcycle any old ornaments that you have. If you have old Christmas tree bulbs or other mismatched ornaments of various colors, you can spray paint them to match your new Christmas tree theme. Otherwise, buy some inexpensive ornaments at a dollar store or a thrift shop.

Testors Craft Spray Paints

We used these Testors Craft and Rust-Oleum products to paint our Christmas trees and ornaments:
Instructions
Step 1
Find an inexpensive artificial Christmas tree.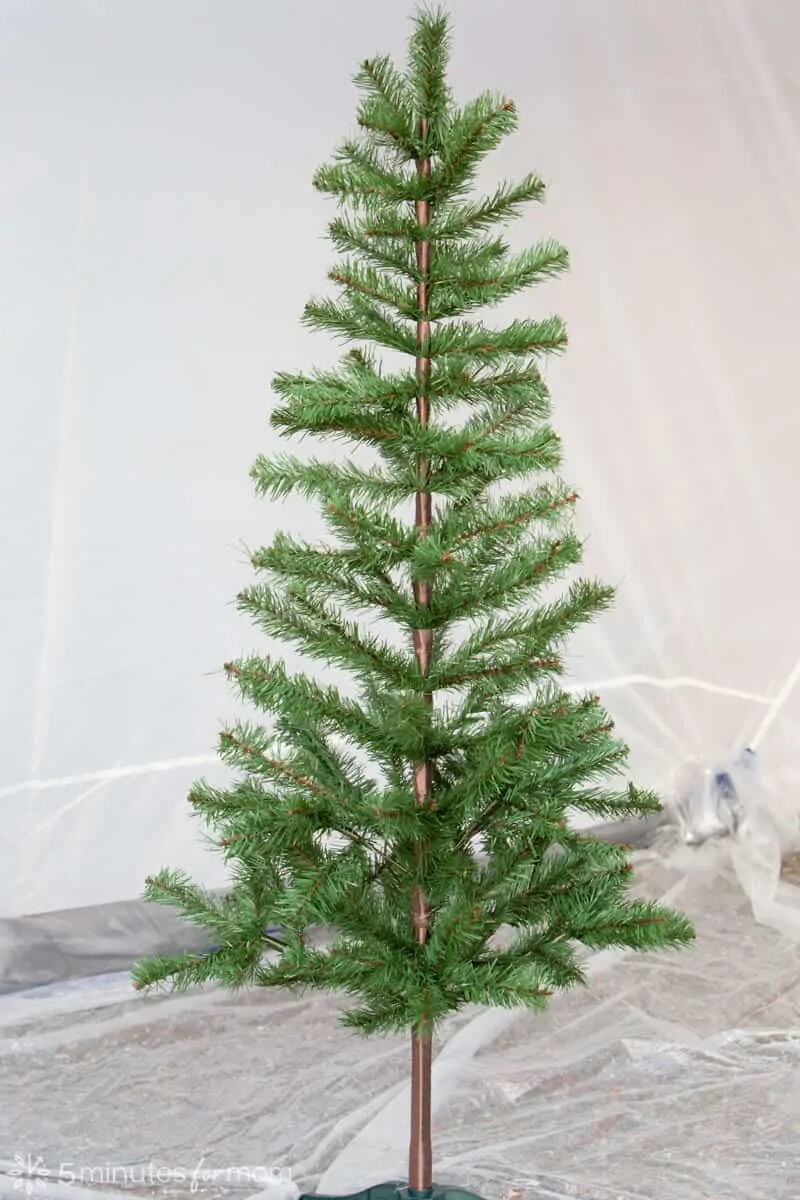 We purchased artificial trees that only cost $20 each. You will notice the tree is sparse and looks very bare and rather unimpressive when we start.
But the key is to find the most affordable tree that is the size you want. Since you're spray painting the Christmas tree and adding lots of spray painted decorations, it won't matter if the tree is spindly with big gaps between the branches. You'll fill it up with your painted ornaments.
Step 2
Choose a color scheme for your tree and decorations.
My daughter's bedroom has a rose gold theme, so we decided to make a rose gold Christmas tree for her. And for my office, I decided to make a white Christmas tree with silver accents.
You should decide ahead how you want your painted tree to look. If you want to completely change the color of the tree the way we did with our rose gold tree, it will take more spray paint.
If you want the look of a flocked white tree, you won't have to completely cover the branches with paint. And you can add as much or as little accent color as you want.
Step 3
Spray paint the tree with white spray paint and then, if you choose, spray paint an accent color such as rose gold or silver.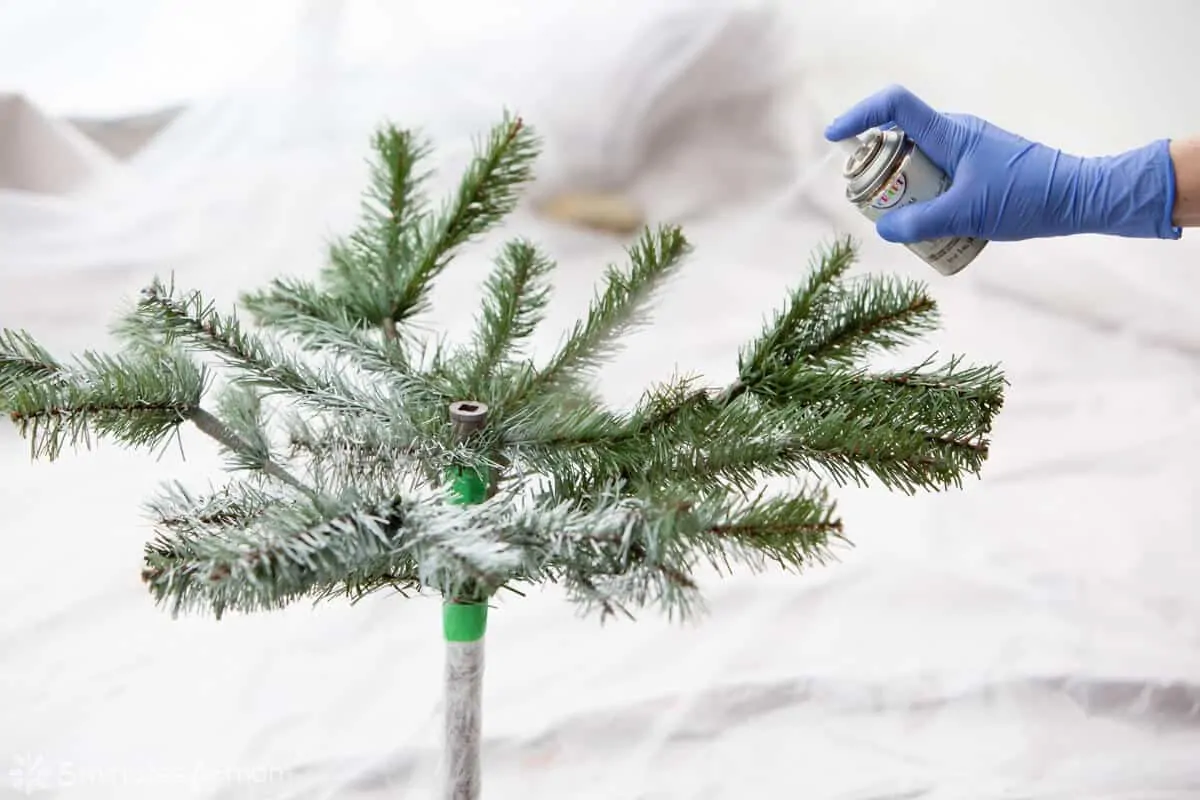 Work in a well ventilated area when you are spray painting and put something on the ground to protect the area from over-spray. I use a tent designed for these purposes.
We used Rust-Oleum 2X Ultra Cover Primer Spray to paint the tree white and mimic "flocking". Then we used Rose Gold spray paint on our first tree and Silver spray paint on our second tree.
Before you start spray painting, cover and tape off the tree trunk or any parts of the tree that you do not want painted. If your tree is pre-lit, cover the light bulbs as well.
You can spray paint the Christmas tree in parts before you assemble it.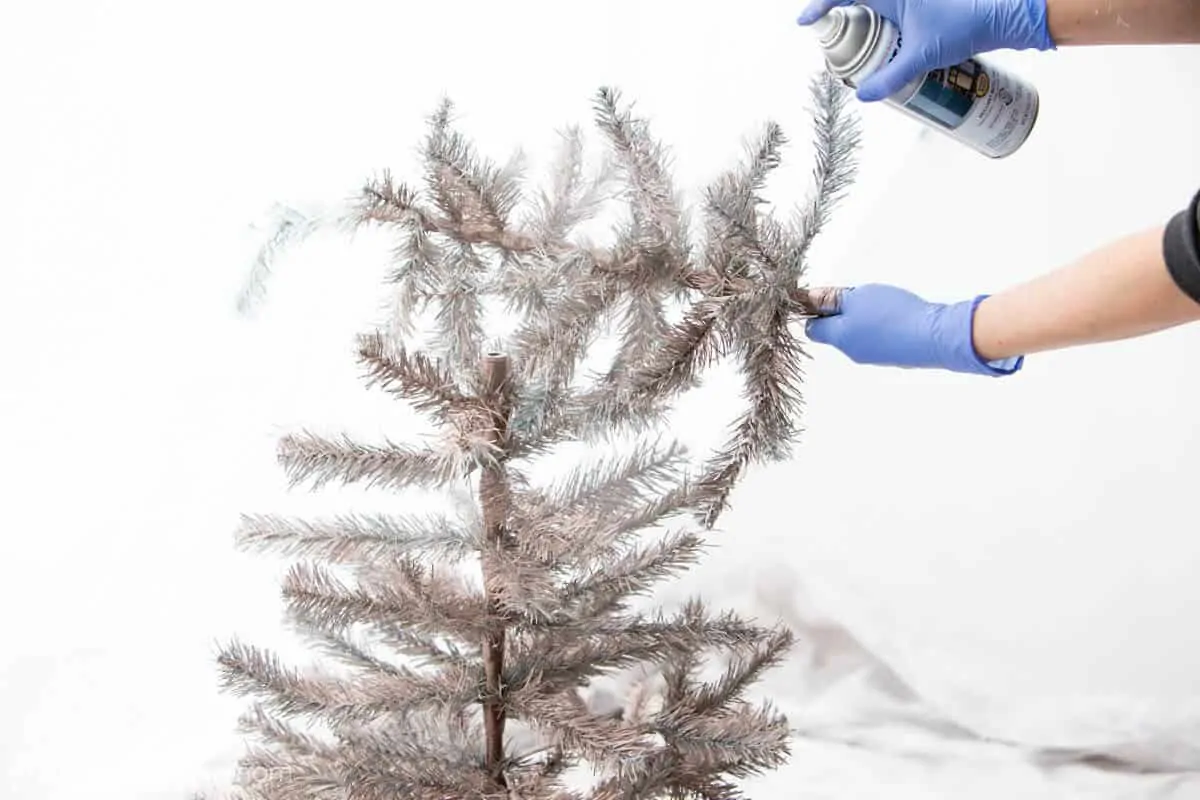 Wait until the white paint has dried before you spray paint your accent color.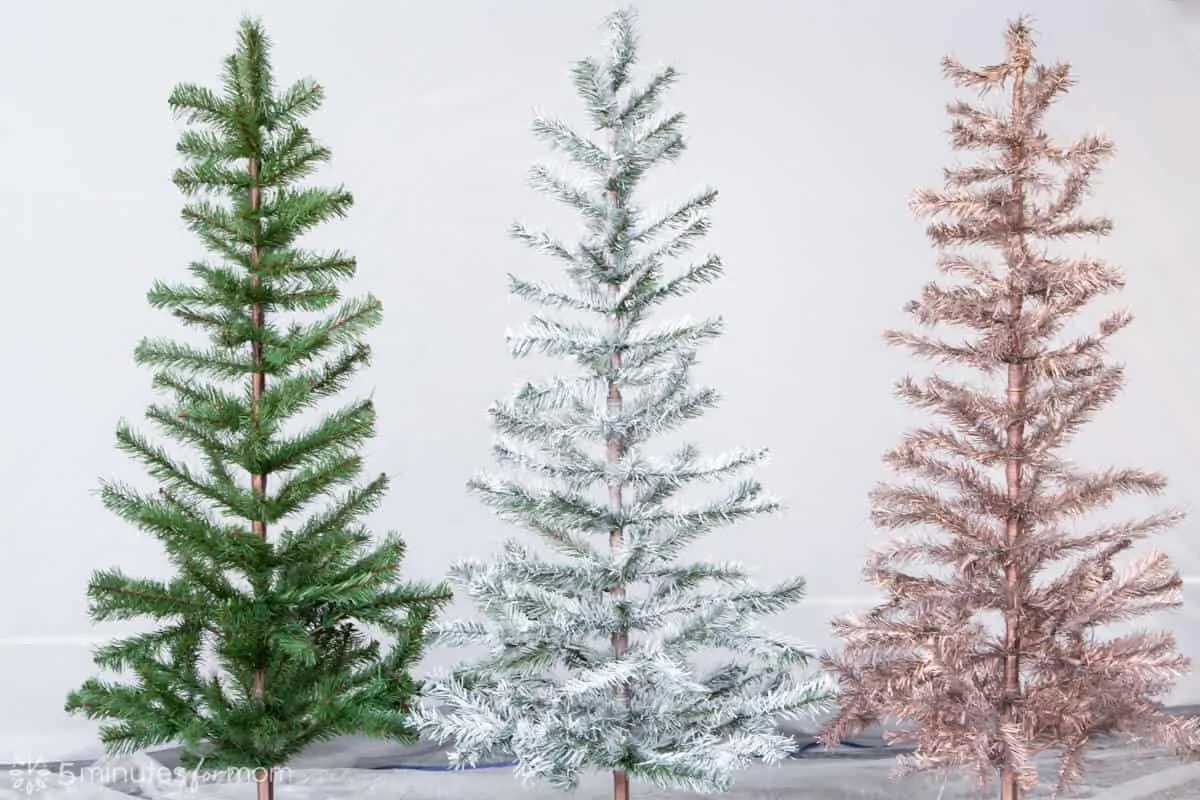 Step 4
Spray paint ornaments to match your tree color theme.
You can make your ornament colors consistent with your theme and upcycle old ornaments by spray painting them. If you don't have old ornaments, you can buy inexpensive dollar store ornaments and spray paint them.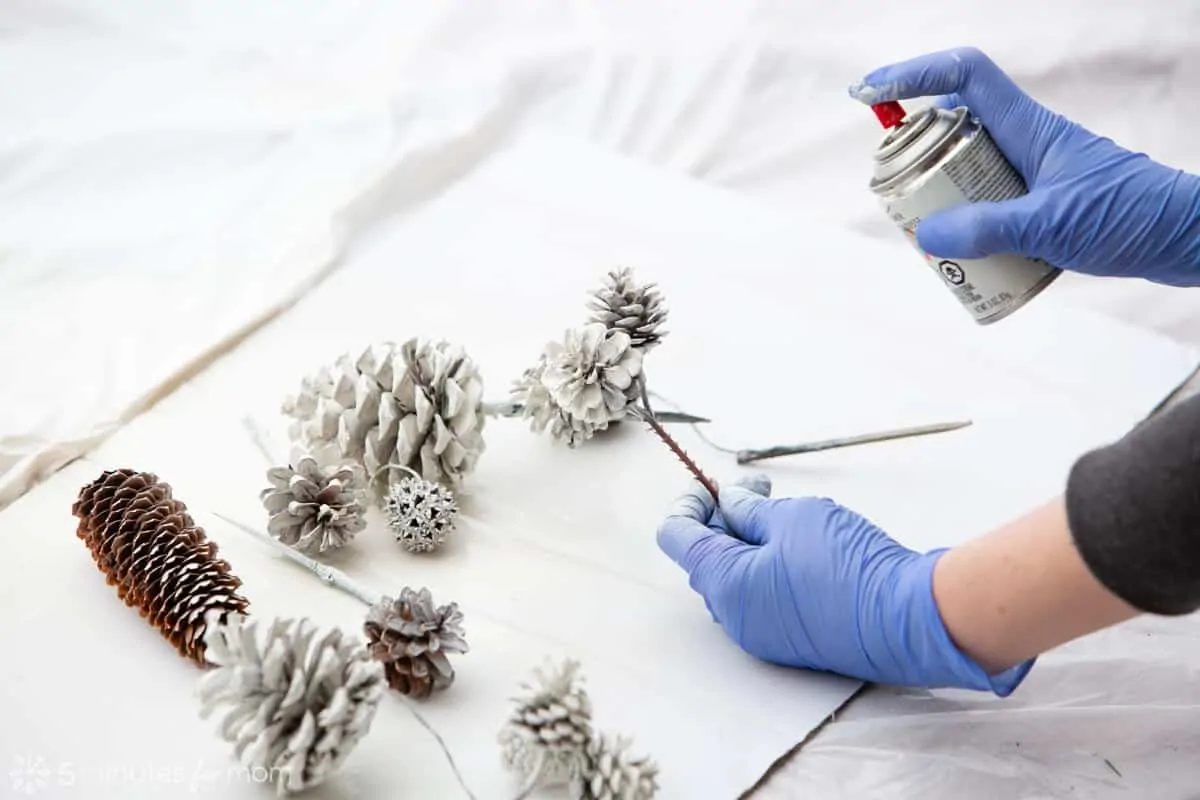 We used Testors Craft White Foam Primer to paint our ornaments. We found it is slightly creamed color, so it's not the best option for painting the tree white.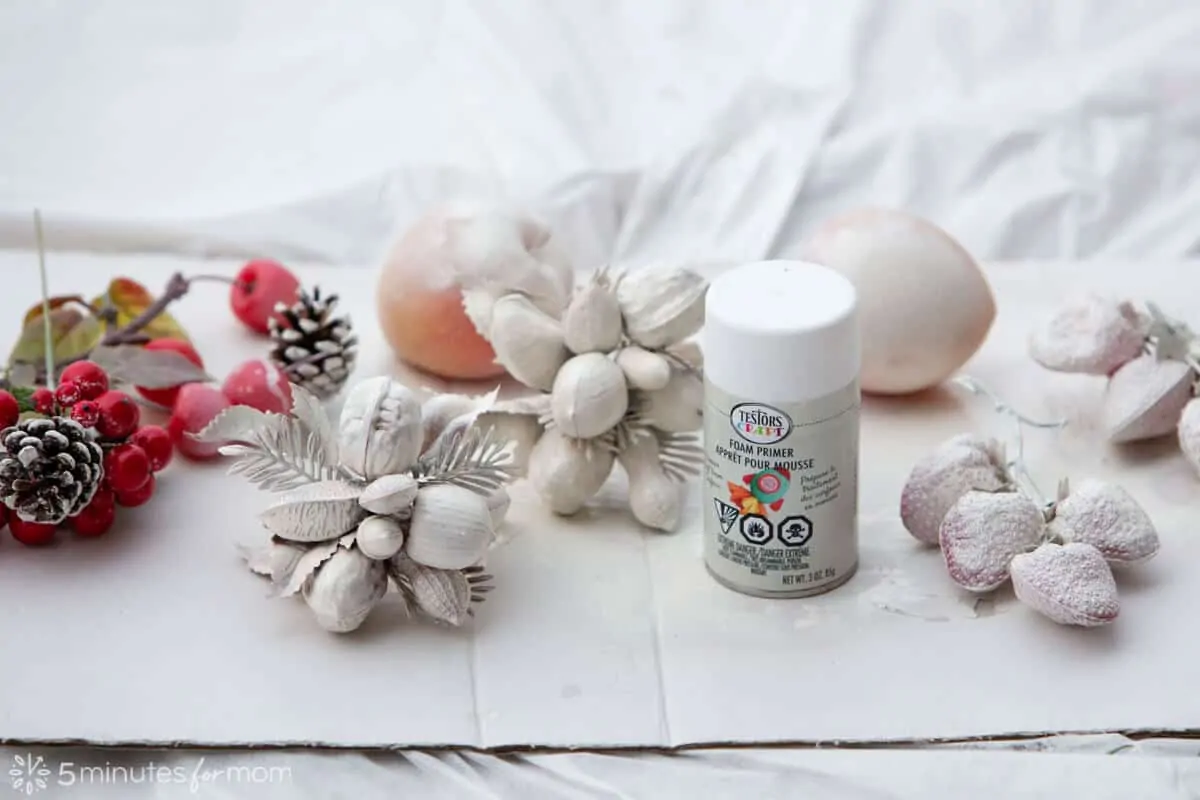 And we painted many of our ornaments and tree decorations with the Testors Craft Metallic Antique Copper. I really love it! I also used it in our DIY photo ornaments.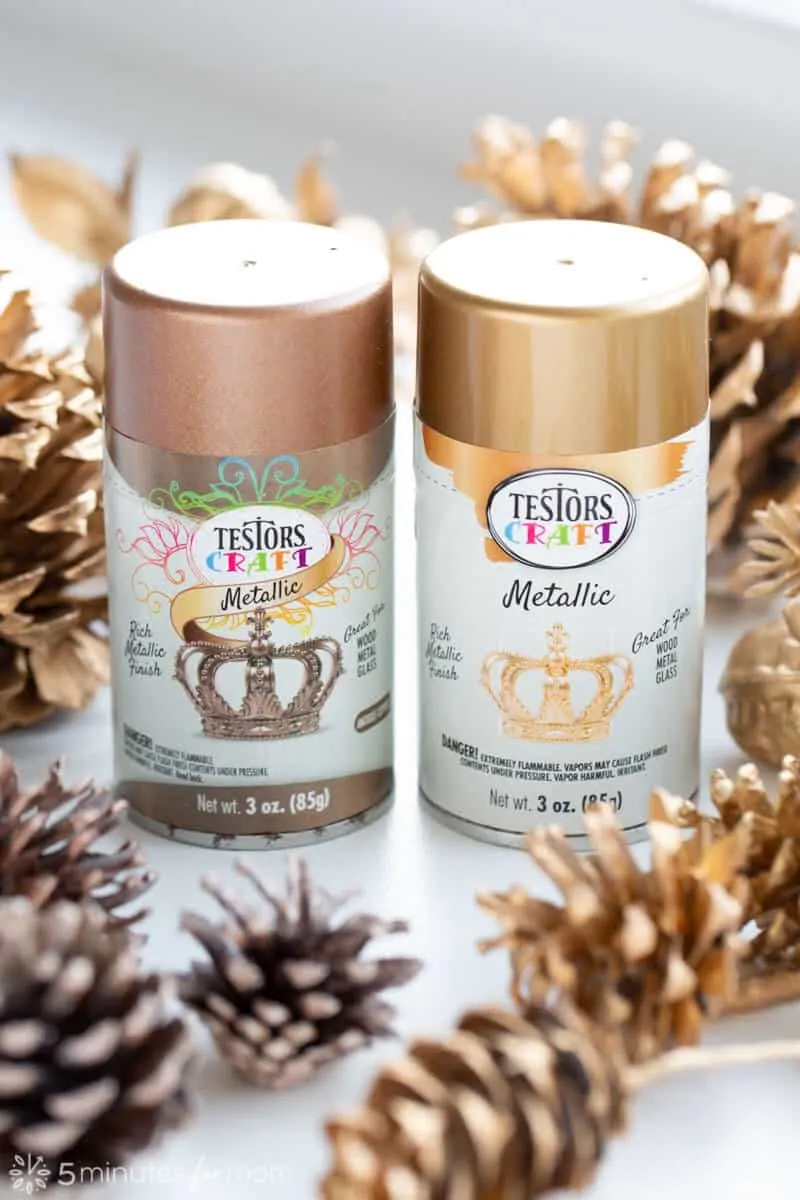 To make our pink ornaments, we used Rust-Oleum Universal Pearl Metallic spray paint in Champagne Pink.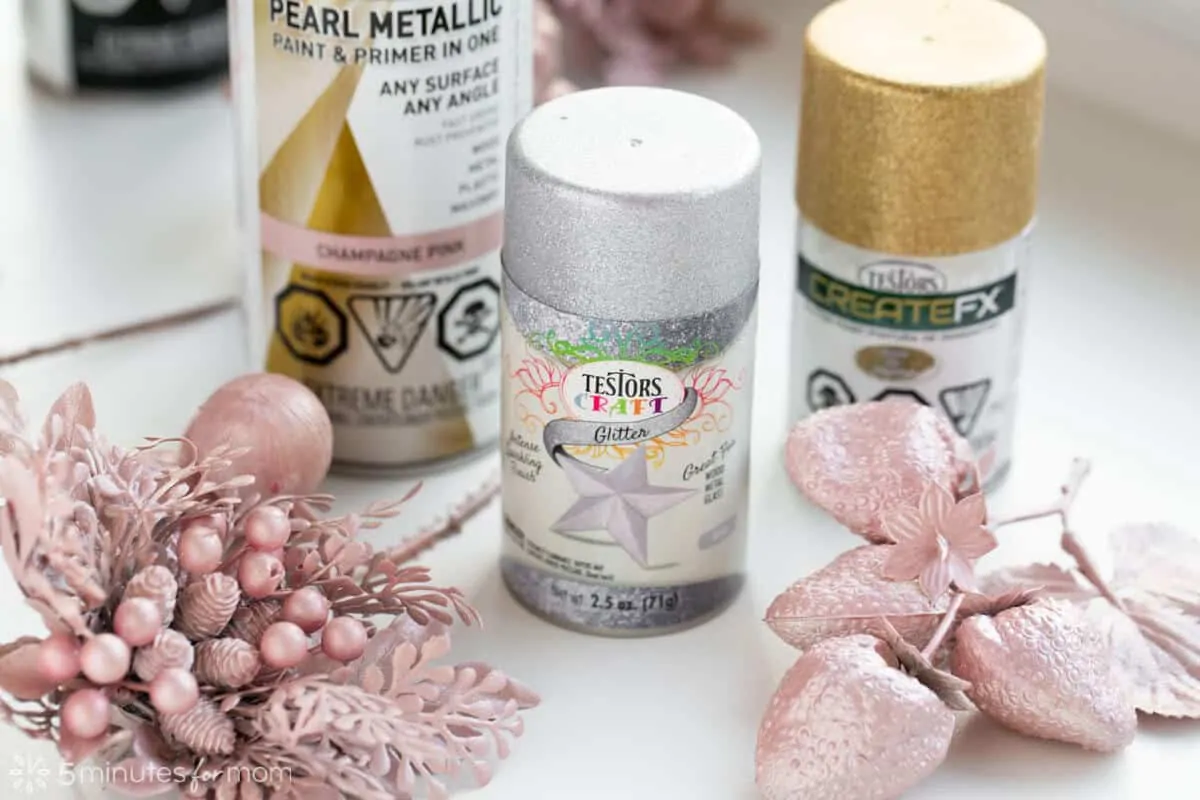 Step 5
Use Testors Craft Glitter Spray Paint to add sparkle to the tree and ornaments.
You can spray the glitter paint on the tree branches before you add the ornaments and then spray paint the glitter on the ornaments separately.
Or you can wait and glitter spray paint the tree and ornaments together as the last step.
We used Testors Craft Aerosols Glitter Spray Paint in Silver and Gold to make our trees sparkle.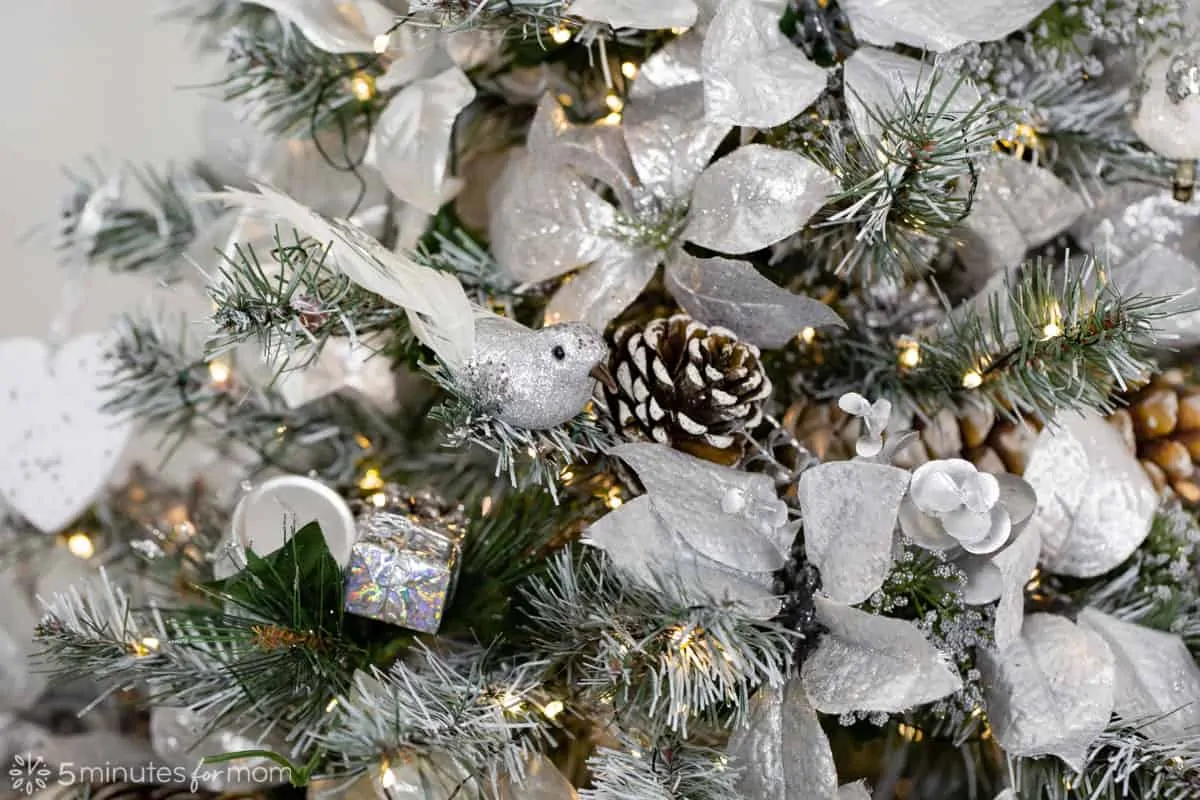 Show Off Your Painted Christmas Tree
The two trees we spray painted are small Christmas trees that I will use as decorative Christmas trees in my office and my daughter's bedroom. Of course, if you want a full size tree, you can follow our Christmas tree painting tutorial to decorate a tree of any size.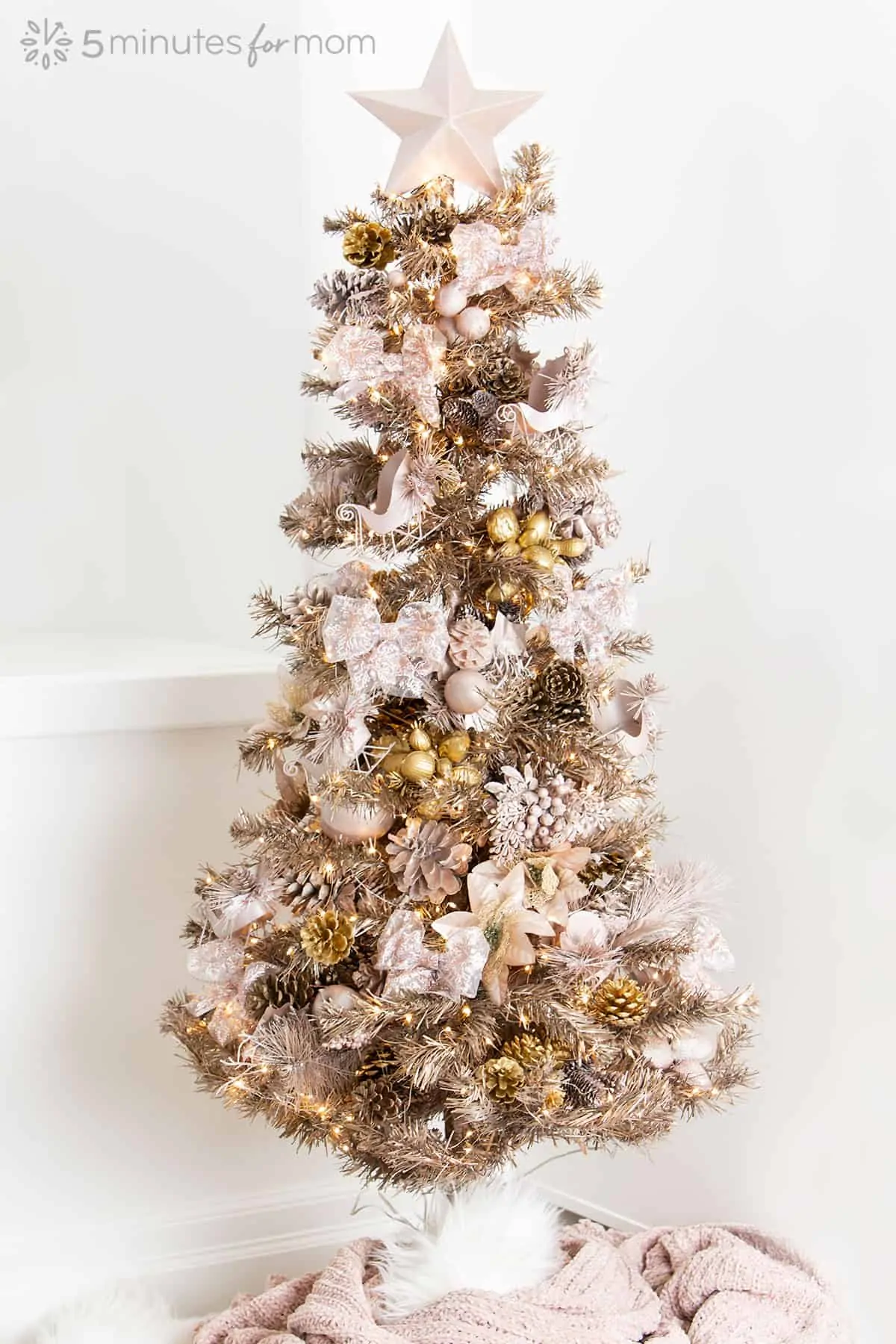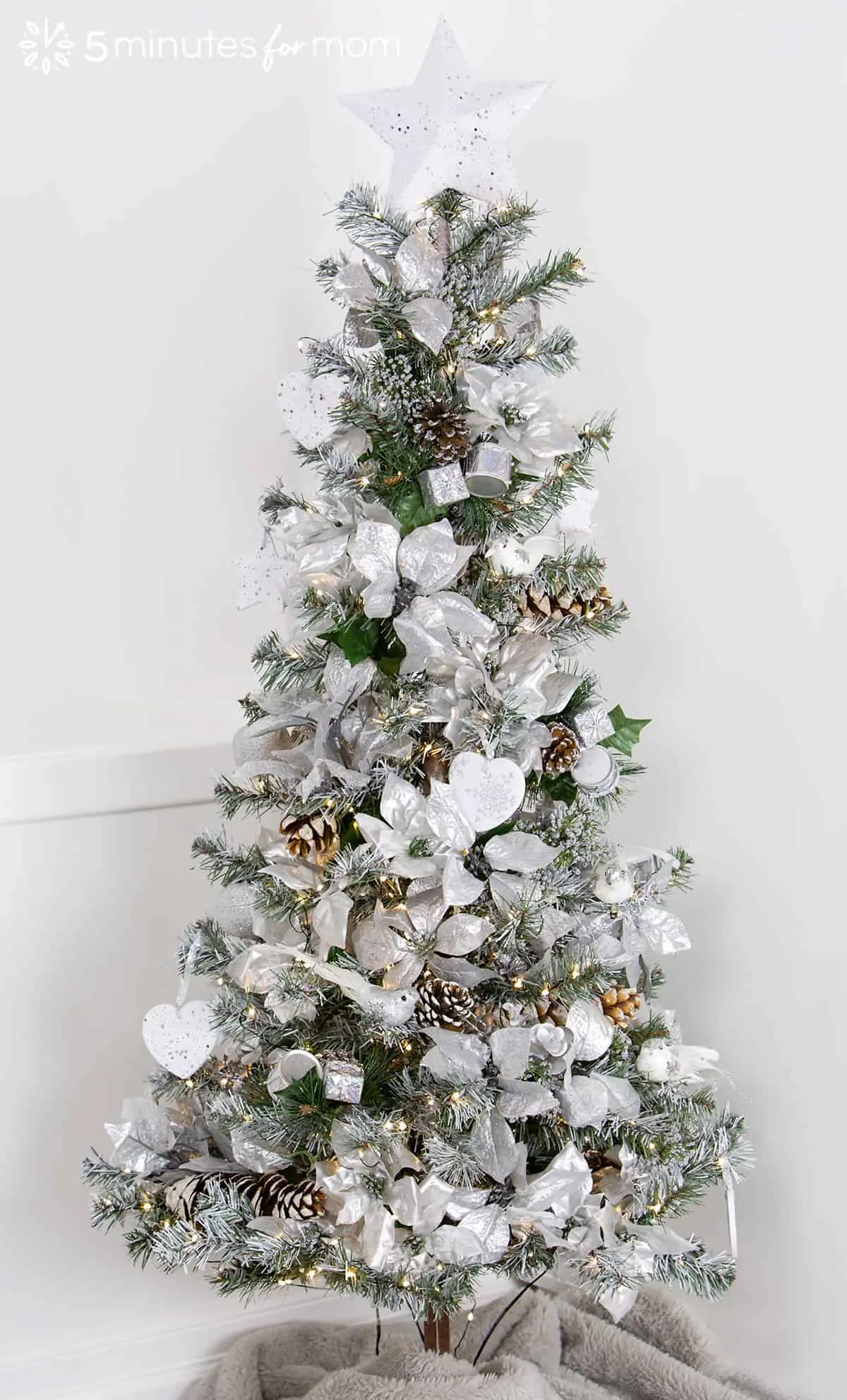 (We actually purchased two more trees, and I'm going to help Susan's daughters decorate their own spray painted Christmas trees for their bedrooms.)
Since these are small Christmas trees, we can store them as they are… completely decorated and ready to use year after year.
How To Store Your Spray Painted Christmas Tree
If your painted tree is small enough to store standing up and still decorated, simply cover it to protect the tree from dust. Then next Christmas, you're all ready to go!
If you don't have room to store your spray painted tree all in one piece, then you'll need to carefully remove and store your decorations and lights as you normally would.
In that case, during the process of taking the tree apart and storing it, some of the paint may chip or rub of the branches. But no worries… next year, you can simply apply a little more spray paint if necessary to do some touch ups.
Try More Christmas Crafts
Here are more of our painting ideas and easy DIY craft projects for the holidays…
Pin It For Later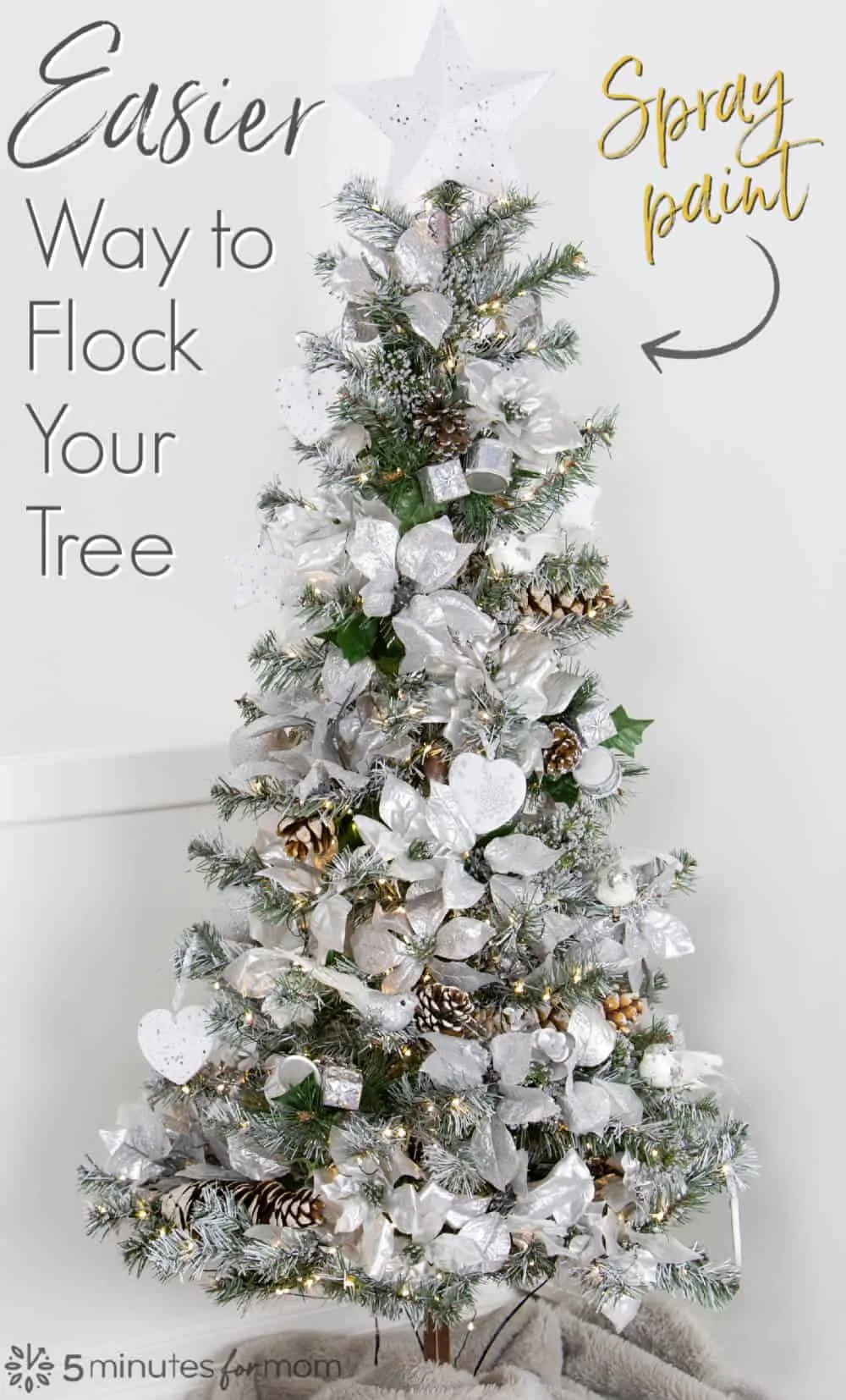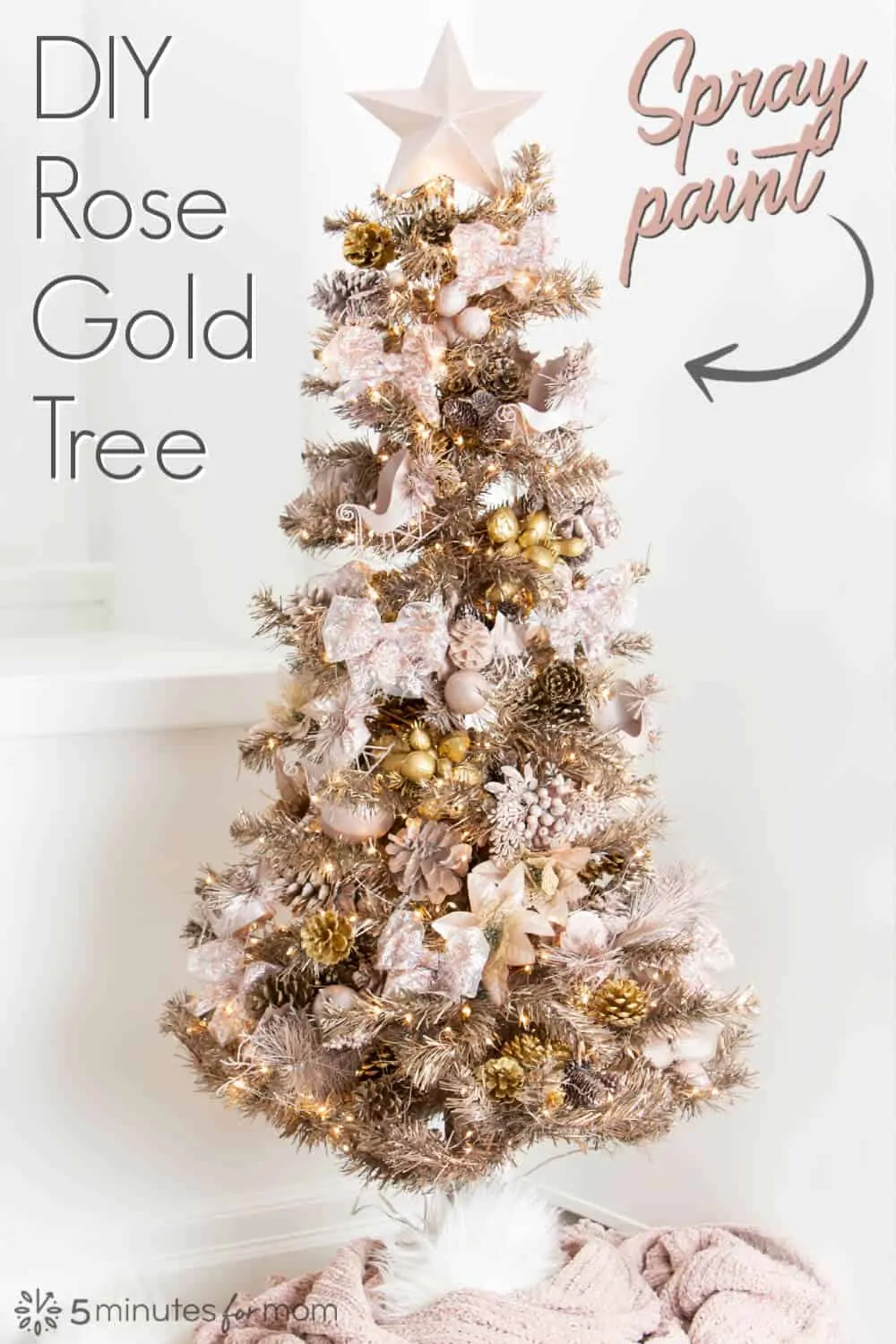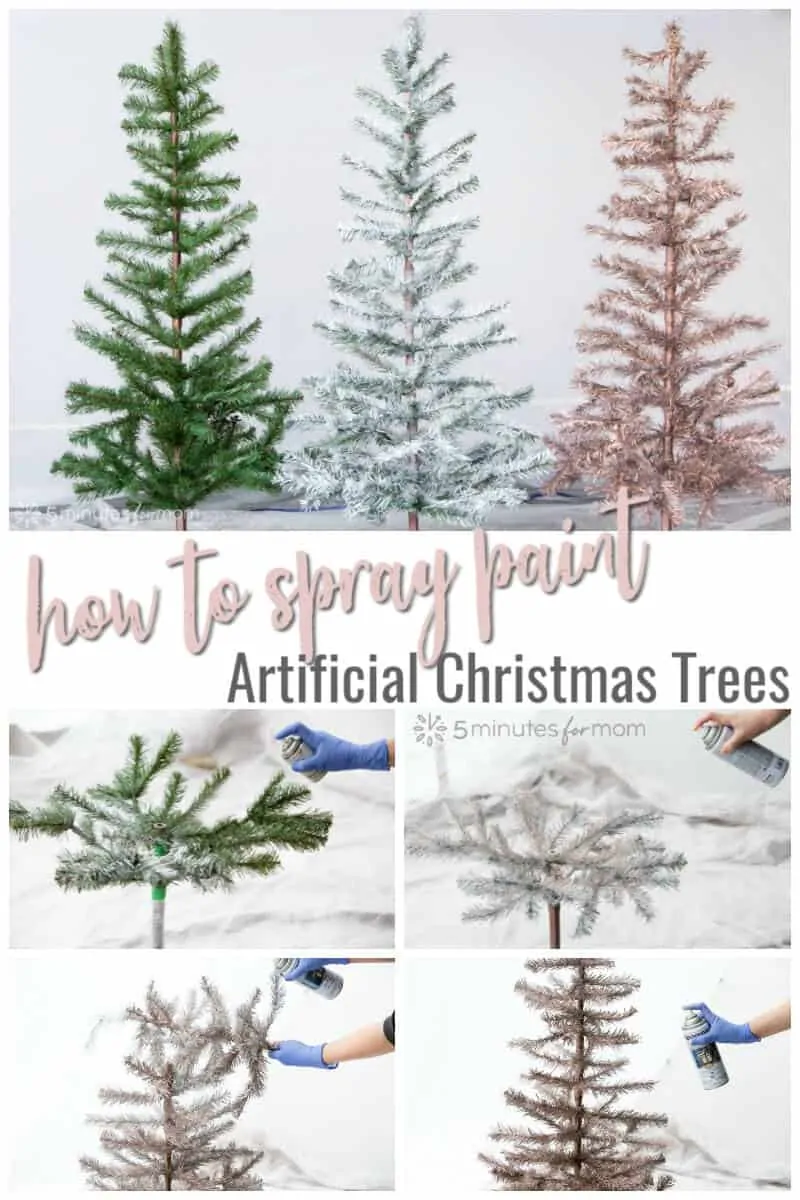 Disclosure: This post is sponsored, so extra thanks for reading and sharing.
Written and photographed by Janice Croze, 5 Minutes for Mom
Talk with me: @5minutesformom and Facebook.com/5minutesformom
Pin with me at pinterest.com/5minutesformom
Don't Miss This…
Be sure to check out our Holiday Gift Guide and enter to win $100 Amazon Gift Card… you'll especially want to get ideas for yourself as well as your mom, sister, best friend etc in our most popular guide… our Holiday Gift Guide for Women – Christmas Gift Ideas for Her.