This post may contain affiliate links. Read my disclosure policy here.
Making a DIY flower crown with artificial flowers is so quick and easy, you can make one in less than twenty minutes. All you need is some wire, artificial flowers, and a glue gun…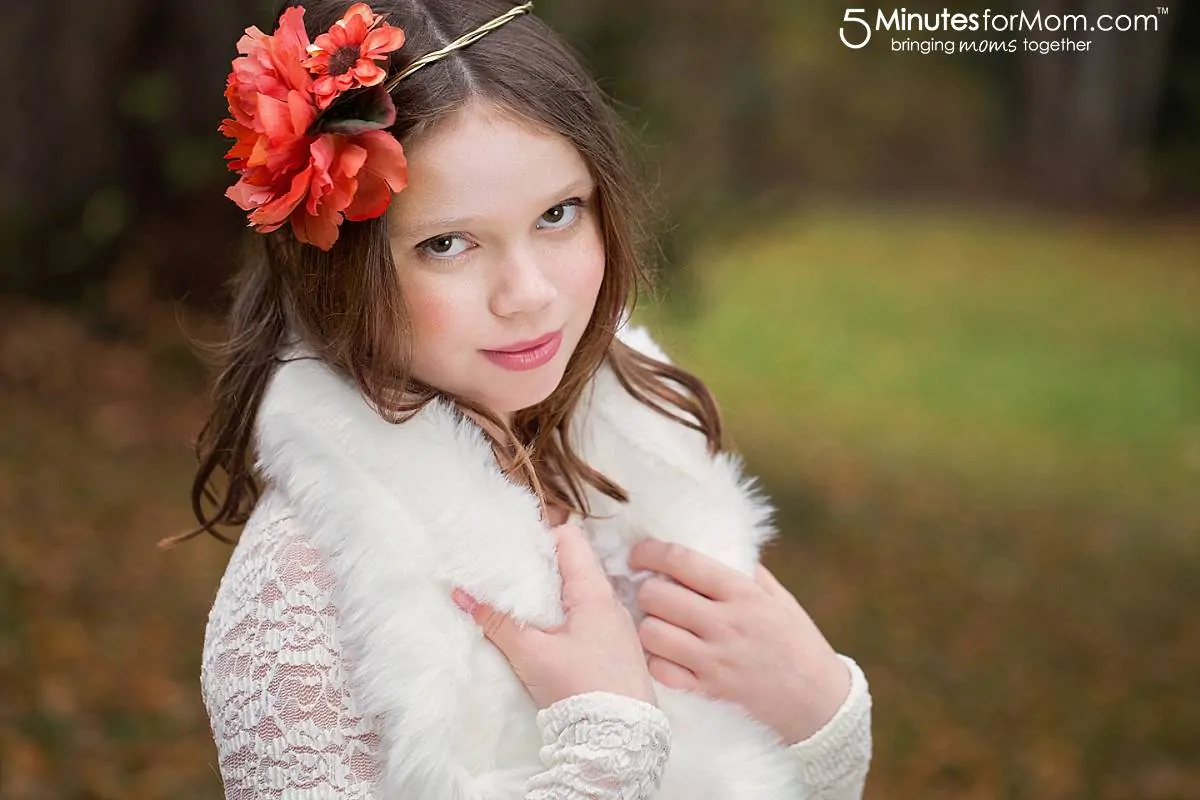 I made this DIY Fall Flower Crown as part of the Fairy Costume I sewed for my daughter Olivia's Halloween costume a couple years ago. While the dress was one of my most ambitious sewing tasks, the DIY flower crown was one of the easiest.
So if you ever wondered how to make a DIY flower crown, or if you need something special to top off a beautiful costume, here is how simple it is to make a gorgeous flower crown.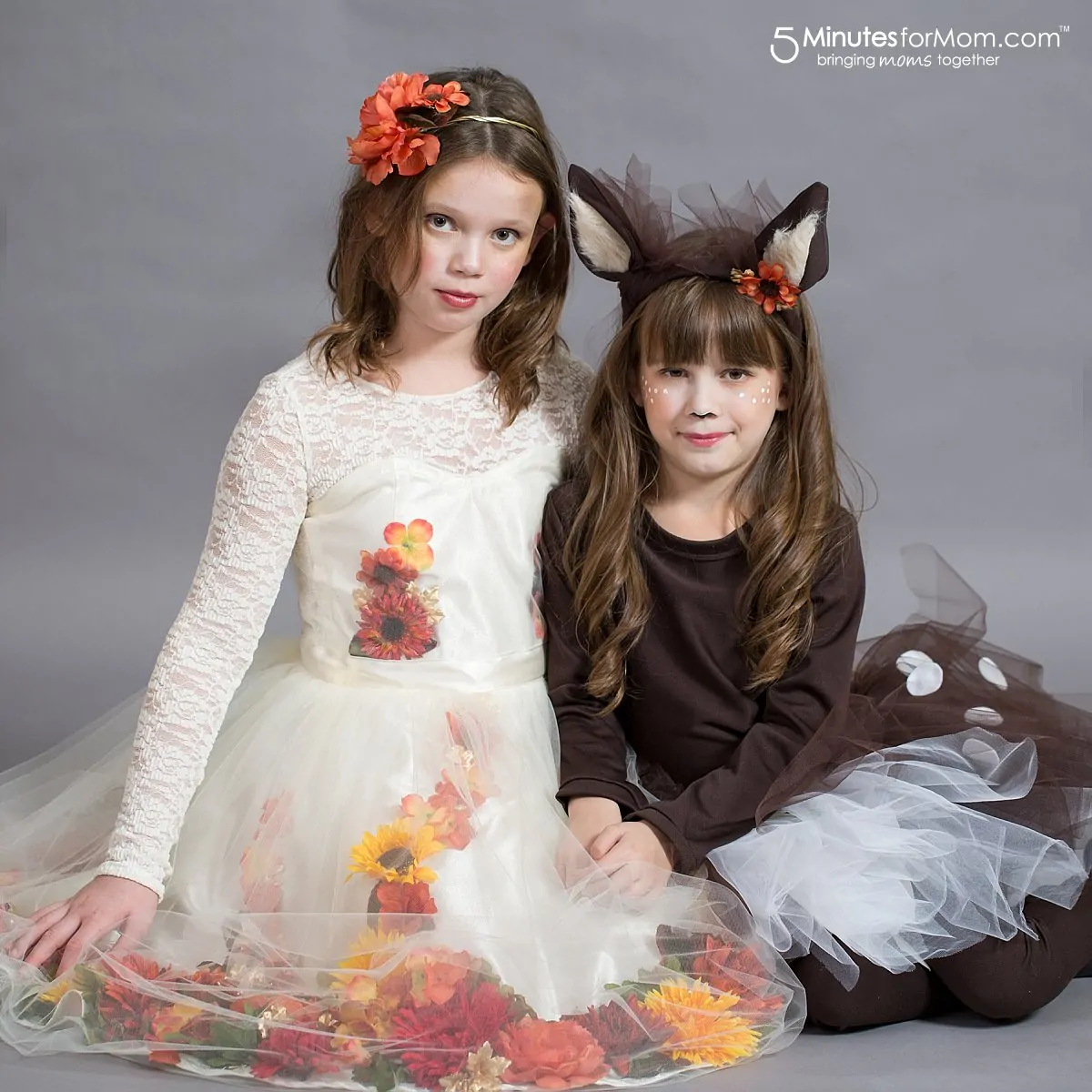 Also, if you are intrigued by the Fall Fairy Dress costume, I encourage you to check out my previous tutorial posts on how to make it. (If you are wondering about that cute little Fawn Costume in the photo, I posted about How to Make a DIY Fawn Costume.)
The fall flower dress is so incredible and is perfect for a Halloween fairy costume, a themed photo shoot, or a flower girl dress.
For an autumn wedding or event, you can use fall flowers or leaves for an autumn palette. If you want to make the dress to use in the spring or summer, substitute the fall flowers for spring flowers or rose petals.
Here are the links to Part 1 and Part 2 of the Fall Fairy Dress Halloween Costume:
Fall Fairy Costume DIY Part 1.
Fall Fairy Costume Part 2 – Designing the Bodice.
How to Make a DIY Flower Crown
Making your own flower crown with artificial flowers is so simple. You can grab your supplies on a quick stop at a dollar store or a craft store and put it together in ten to twenty minutes.
MATERIALS:
Wire (gauge 12 or 14 works well)
Artificial Flowers
Glue Gun
Wire Cutters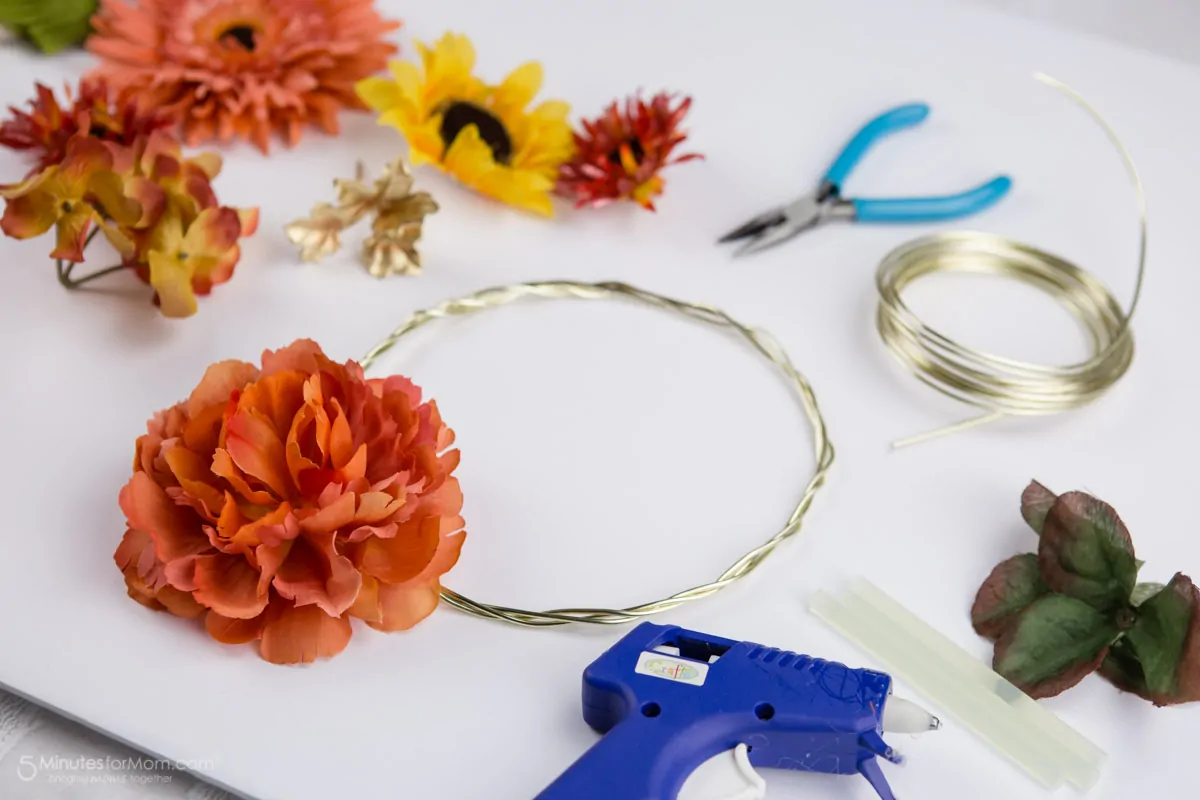 Step 1 – Make A Wire Crown Base
Measure around your head, where you will be placing your crown.
With your wire, begin to make a circle equal to your measurement, but do not cut the wire yet.
You can decide whether you want to make your crown with just one piece of wire or if you would rather add more wire as I did.
I twisted my wire to create a braided wire look. Since I was not covering the entire crown with flowers, I liked the look of the twisted wire.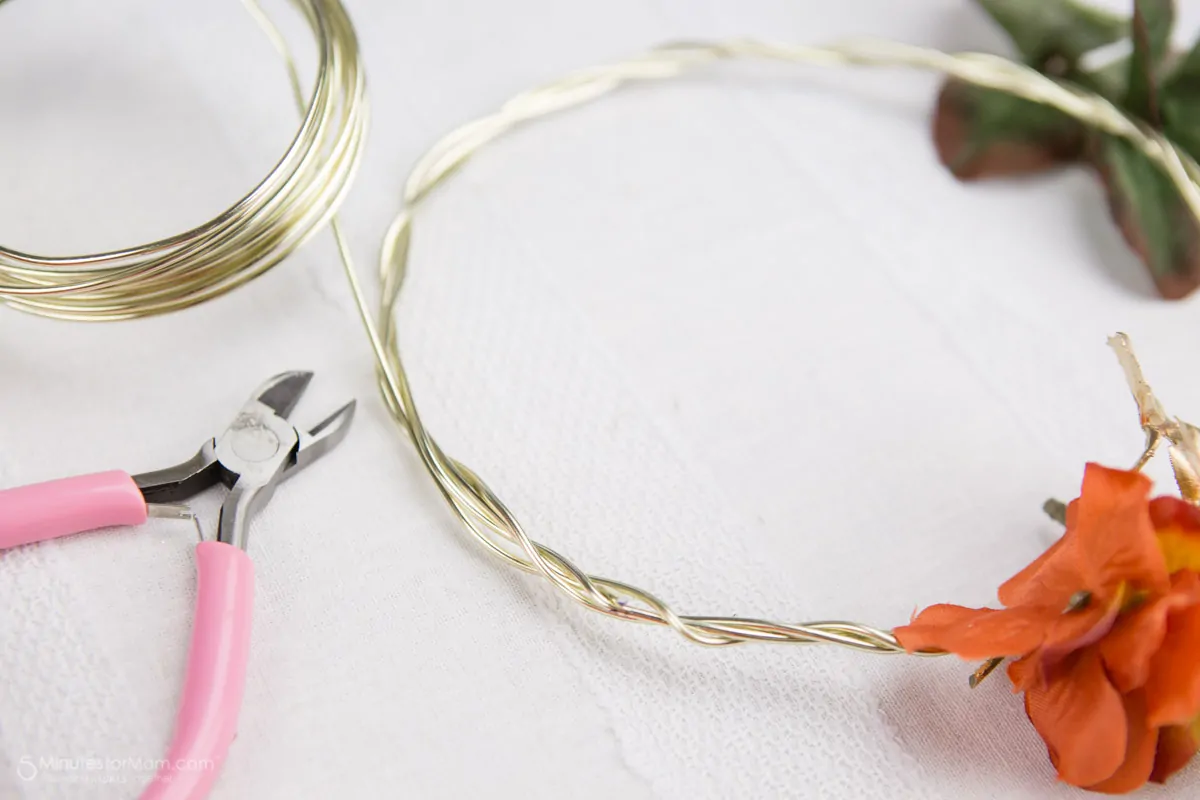 But if you prefer, you can use just one piece of wire, or two, etc. Whatever works for you.
You could also cover it with floral tape if you prefer.
I like the look of the wire — it seems more like a crown to me.
Once you have your decision on your wire design and your crown is the correct size, cut off the end of the wire and carefully bend in towards the middle to ensure that there is not a sharp end of wire exposed.
Step 2 – Lay Out Your Flowers
Now that your wire crown is shaped and sized correctly, assemble your flowers and lay them out to work on your floral design.
You can have your flowers go all the way around your crown, or just have an accent of flowers on one side of your crown as we did.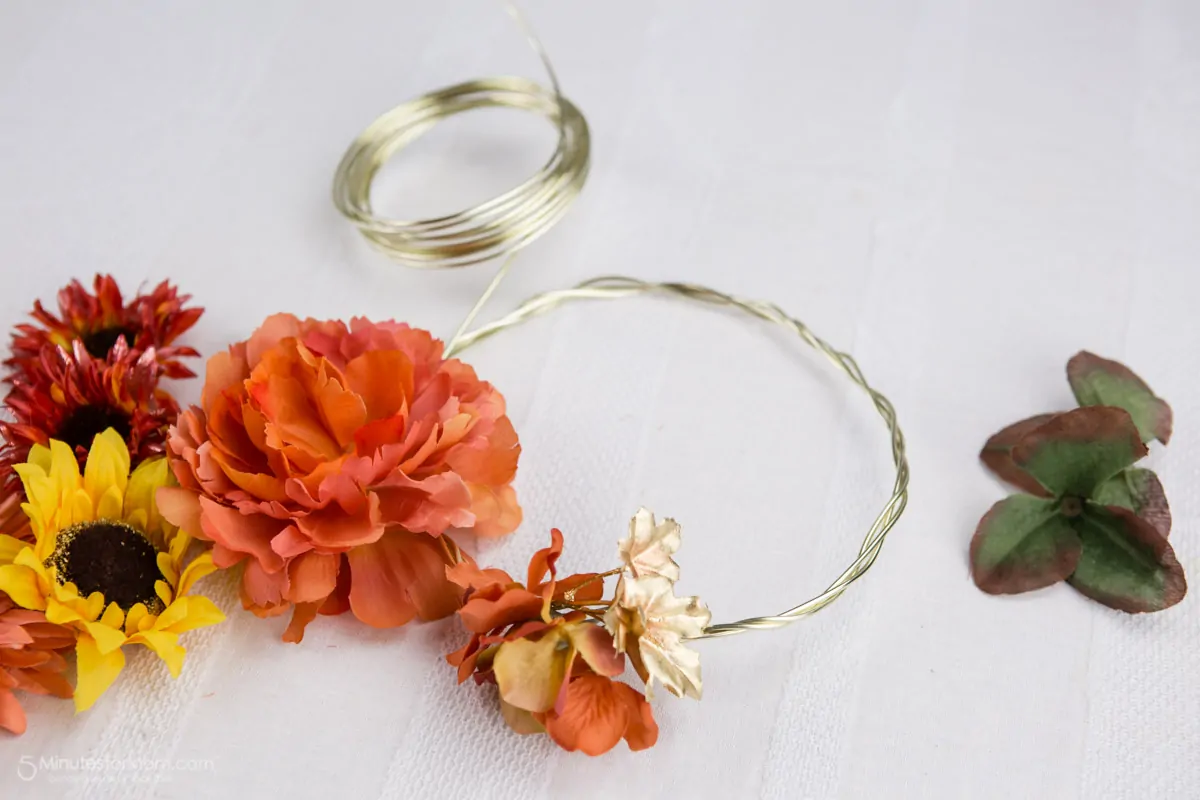 You may want to position your flowers on top of the cut ends of the wire, covering the exposed sharp pieces with glue and flowers.
Step 3 – Attach Flowers to Crown
After you have a good idea of where you want to attach your flowers, begin to hot glue them in place.
Keep in mind that you may want to use smaller flowers, leaves, or even small pieces of fabric such as tulle, to fill in the gaps around the stems.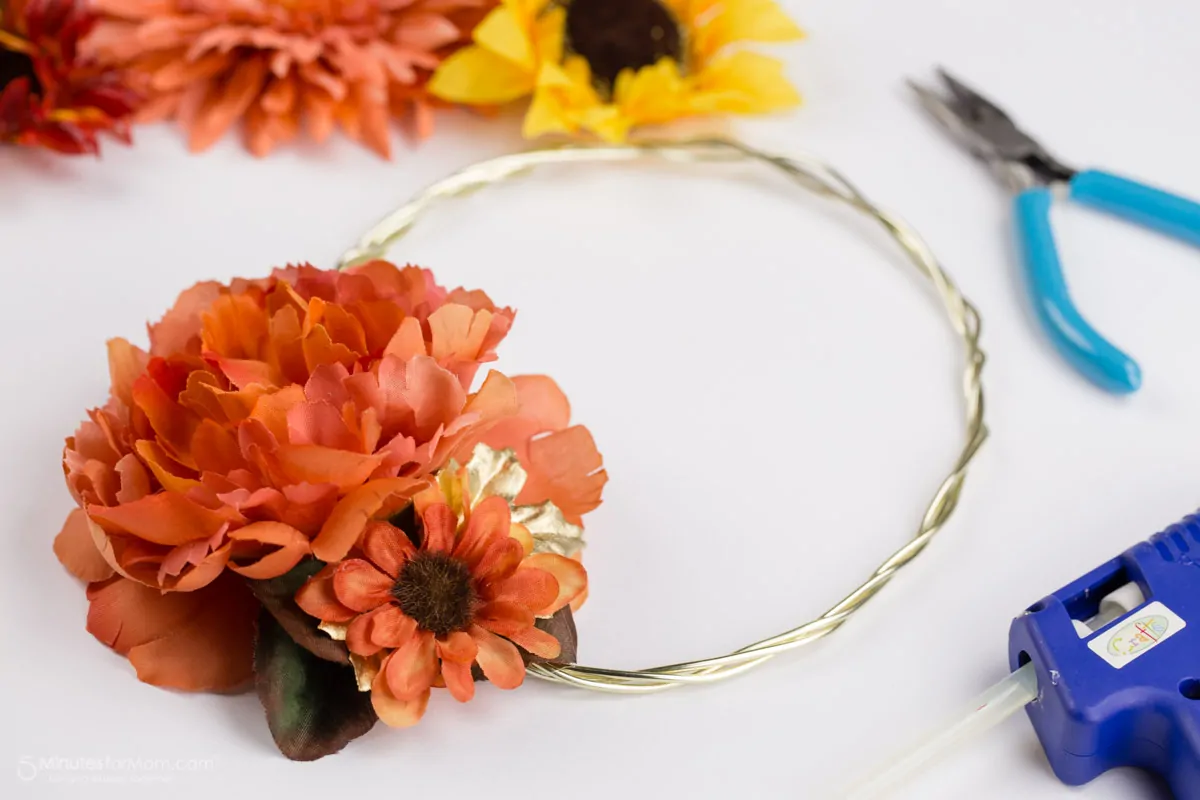 Alternatively, you can use floral tape to cover your flowers' stems and hold your flowers in place on your crown.
If you are using fresh flowers, you definitely need to use floral tape to attach your flowers to the crown.
The floral tape will keep everything snug and in place and smooth out all the uneven stems, leaves, and sticks in your floral design.
There you go! You have a fabulous DIY Flower Crown ready to top off a costume or wear for a special event, photo shoot, or wedding.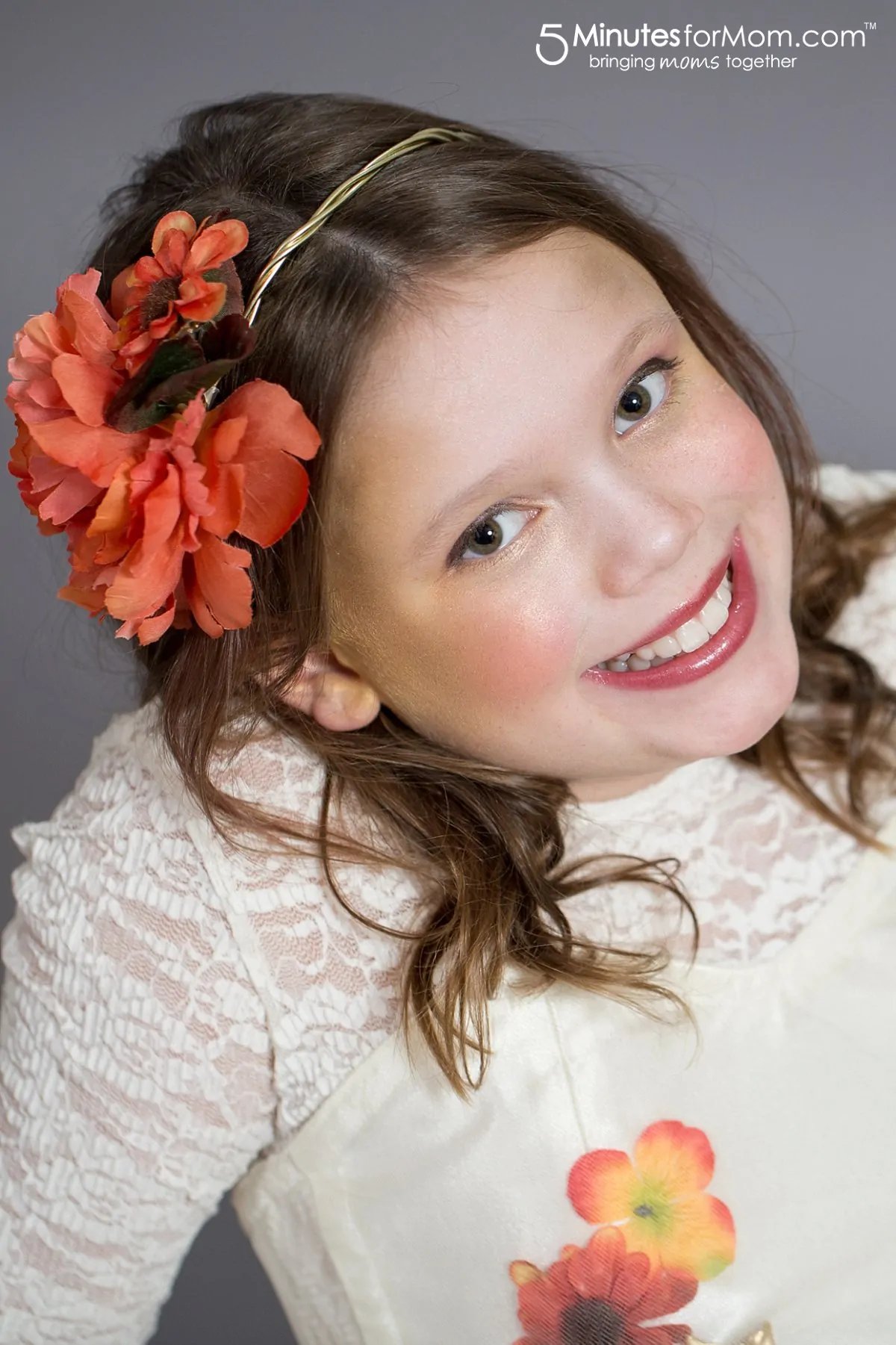 Fall Flower Dress Tutorials
As I mentioned, Olivia wore this flower crown with her Fall Fairy Halloween Costume.
If you want to jump back to Part 1 and Part 2 of the fall flower dress tutorial, click here for our Fall Fairy Costume DIY Part 1 and here for Fall Fairy Costume Part 2 – Designing the Bodice.
More DIY Halloween Costumes for Girls
Our girls spend months planning out their Halloween costumes. But somehow, every year I procrastinate and don't start sewing until mid-October. And then it is a mad dash to the finish line. But we always have a fabulous time.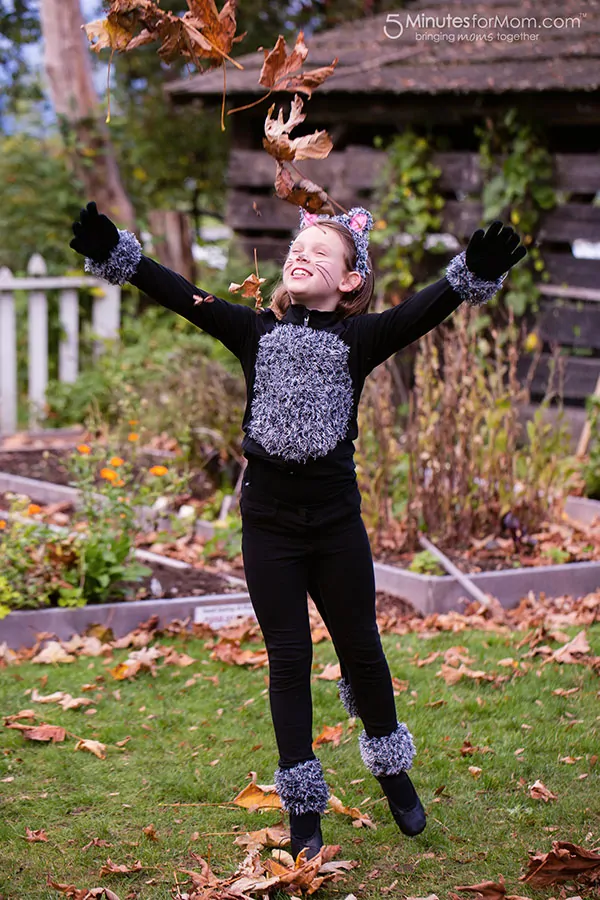 Here are some of our best DIY costumes over the years…
For what event are you creating your flower crown? Is it for a wedding, photo shoot, costume, or another event?

Written and photographed by Janice Croze, co-founder of 5 Minutes for Mom and Janice Croze Photography.
Talk with me: @5minutesformom and Facebook.com/5minutesformom
Pin with me at pinterest.com/5minutesformom