This post may contain affiliate links. Read my disclosure policy here.
Get inspired for costume ideas with these three adorable DIY Halloween costumes for girls, including a pretty unicorn, a fancy fox, and a sweet bunny. All three of these costumes are great for girls of all ages… from little girls to teenagers.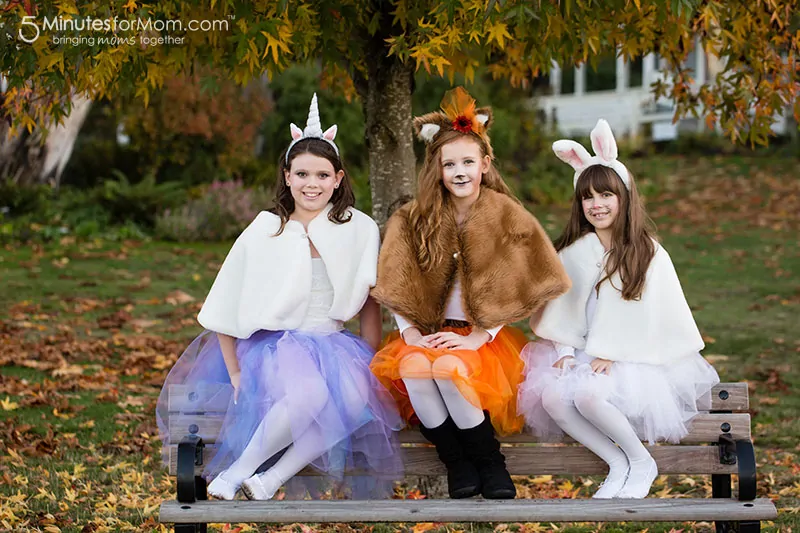 I love to create. Sewing, crafting, writing, photographing — I always need to be making something.
Each year I get so busy with blogging projects and photographing weddings, that I never take enough time to sew or knit. And I miss it so much.
My sewing machine sits untouched, collecting dust and waiting for the one time of year I HAVE to pause everything and sew like a mad woman — Halloween!
Yes, it is true, I LOVE the excuse to design costumes, sew, and share DIY Halloween costumes for girls.
And each year, I get busy making my daughter and my nieces each a handmade Halloween costume. Our photoshoots for their new costumes tend to be pretty close to Halloween night. So while I work on their new costumes, I wanted to again share with you these Halloween costumes I made a couple years ago.
Halloween Costumes For Girls
I had SO much fun making these Halloween costumes!
The girls started planning their costumes in the summer. Olivia knew all year that she wanted to be a unicorn. Sophia struggled for a while before deciding to be a bunny. And Julia couldn't decide for weeks until finally choosing to be a "fancy" fox.
Suddenly, it was well into October and I realized I better get sewing. The girls came with me to the fabric store to choose their fabrics and help me design their looks.
Then I started to cut, sew, and glue…
DIY Bunny Costume
You can never go wrong with a bunny costume! I think a bunny must be one of the most popular DIY Halloween costumes for girls of all time.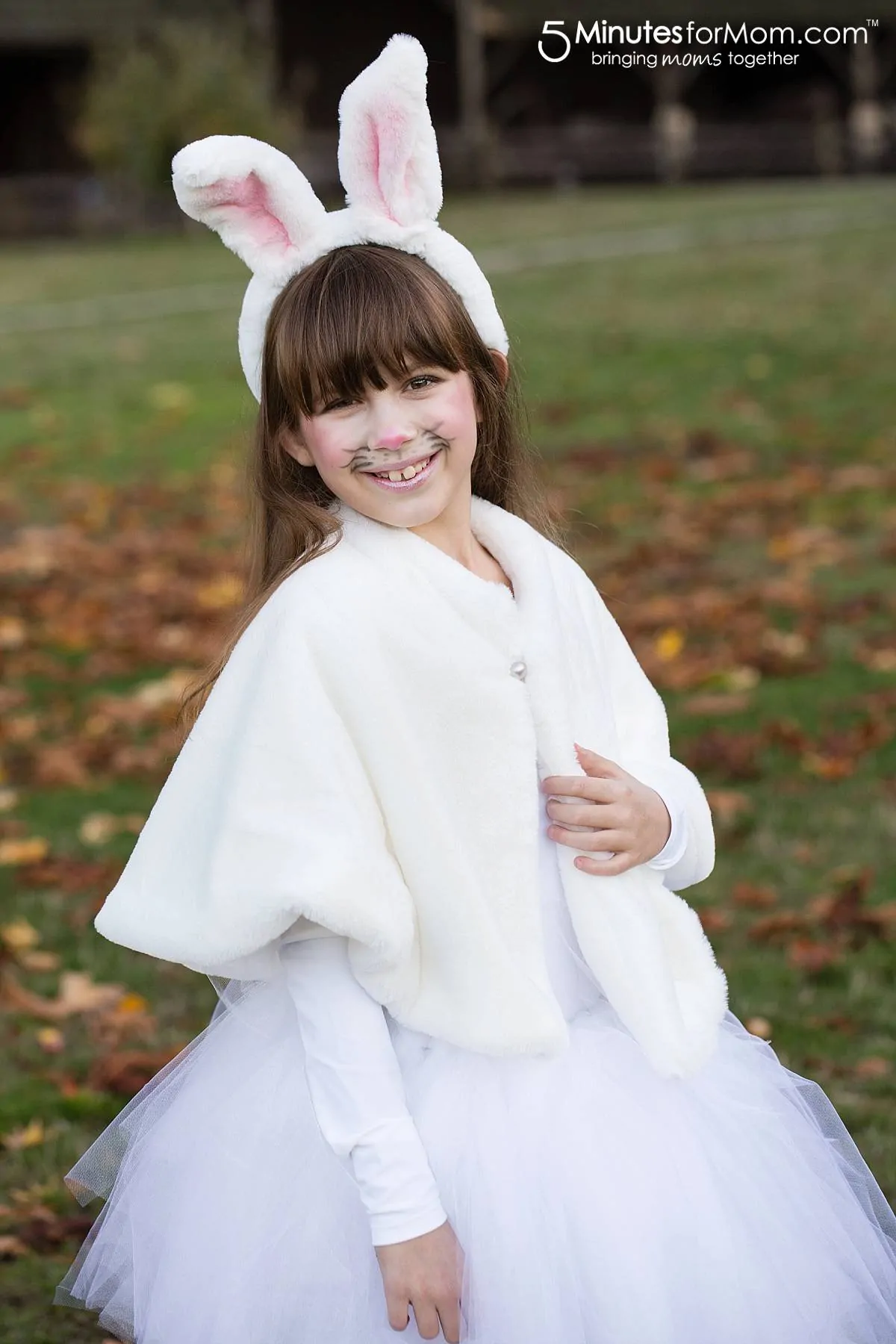 When we were growing up, our mom had sewed incredible costumes that all four of us kids wore at different times in our lives. There was a witch, a clown and a bunny.  That bunny costume was a traditional full plush bunny suit. I wonder what my mom ever did with those costumes. They were fabulous.
As I mentioned, our girls wanted to be in tutus for their costumes.
So a simple and sweet bunny tutu costume is what we made.
We bought a shimmery white bridal tulle that is soft and gorgeous.
And, like Olivia's unicorn tutu and the fawn tutus I made the girls last year, this is just a simple no-sew knotted tutu.
We made this one extra full though – with each knot of tulle made of three strips of tulle that we cut to 8″x32″.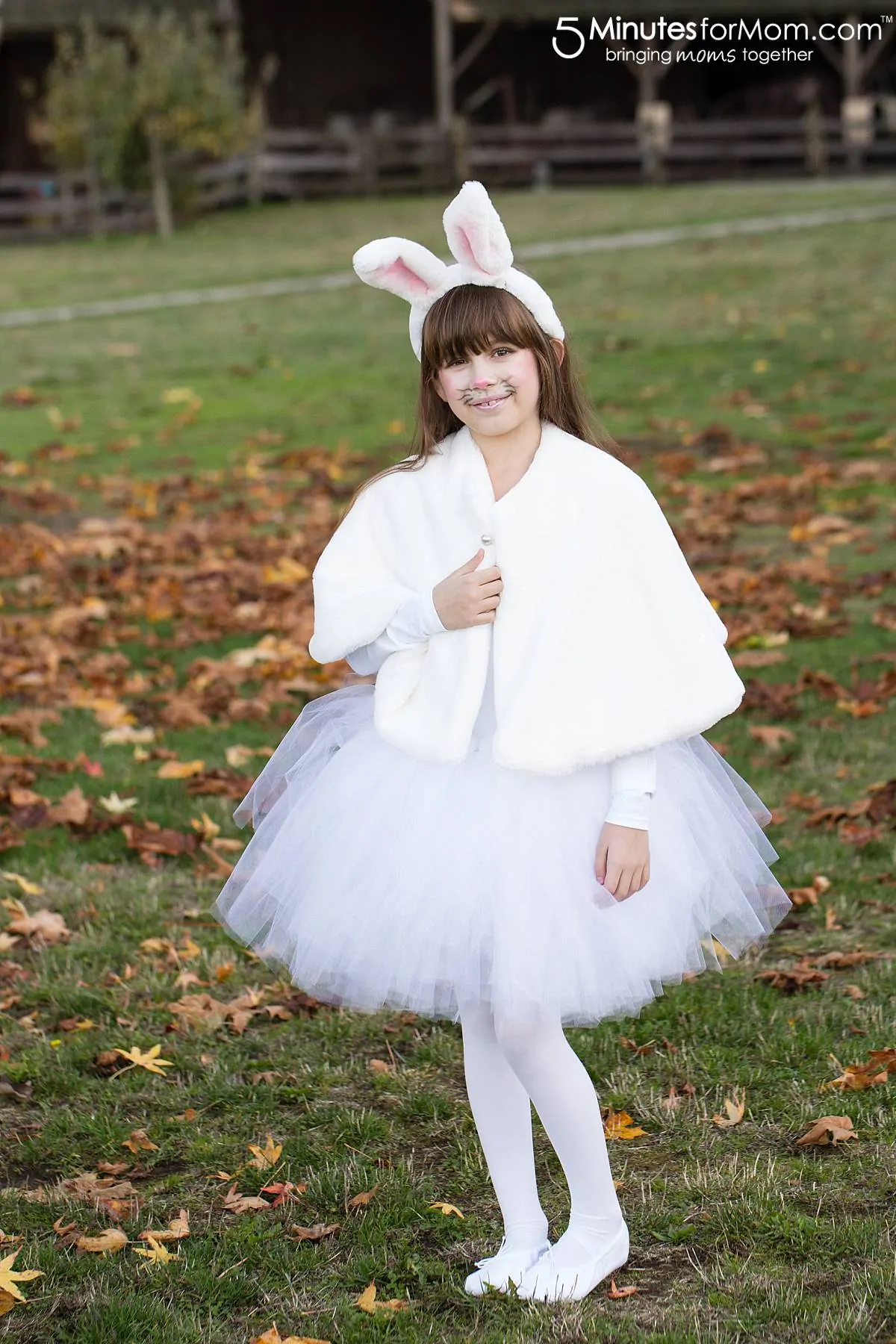 I made the bunny ears and the capelet out of the same faux fur as Olivia's capelet for her unicorn costume.
It is soft and luxurious plush fabric — that was not inexpensive. But I always buy the fur and fabrics for Halloween during a 50% off sale.
I sewed a long tube to cover the headband and used crafting wire to mold ear shapes to insert inside the ears I made.
The pink color on the ears is actually BLUSH that I applied with a makeup brush. I saw that technique online somewhere and it worked perfectly.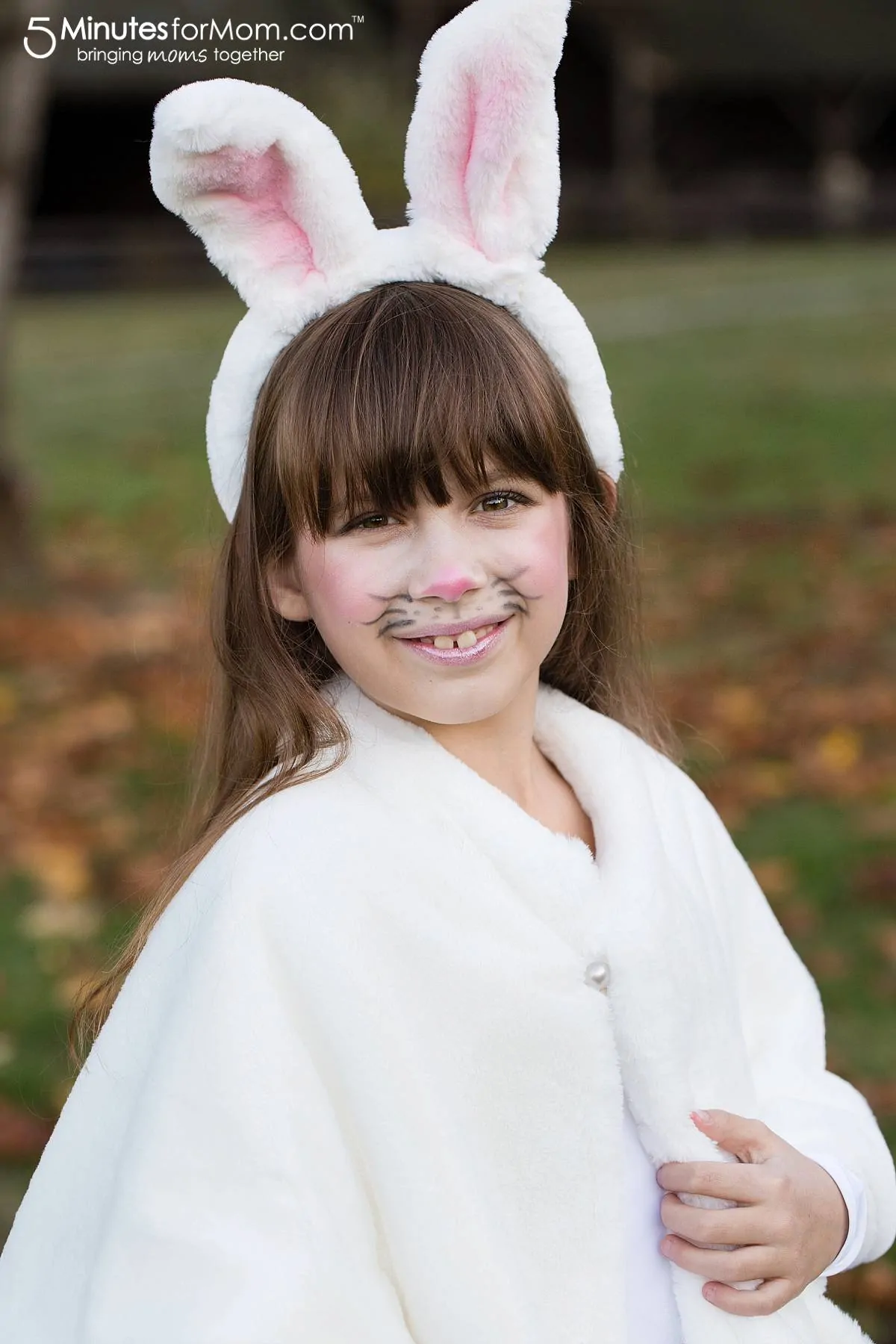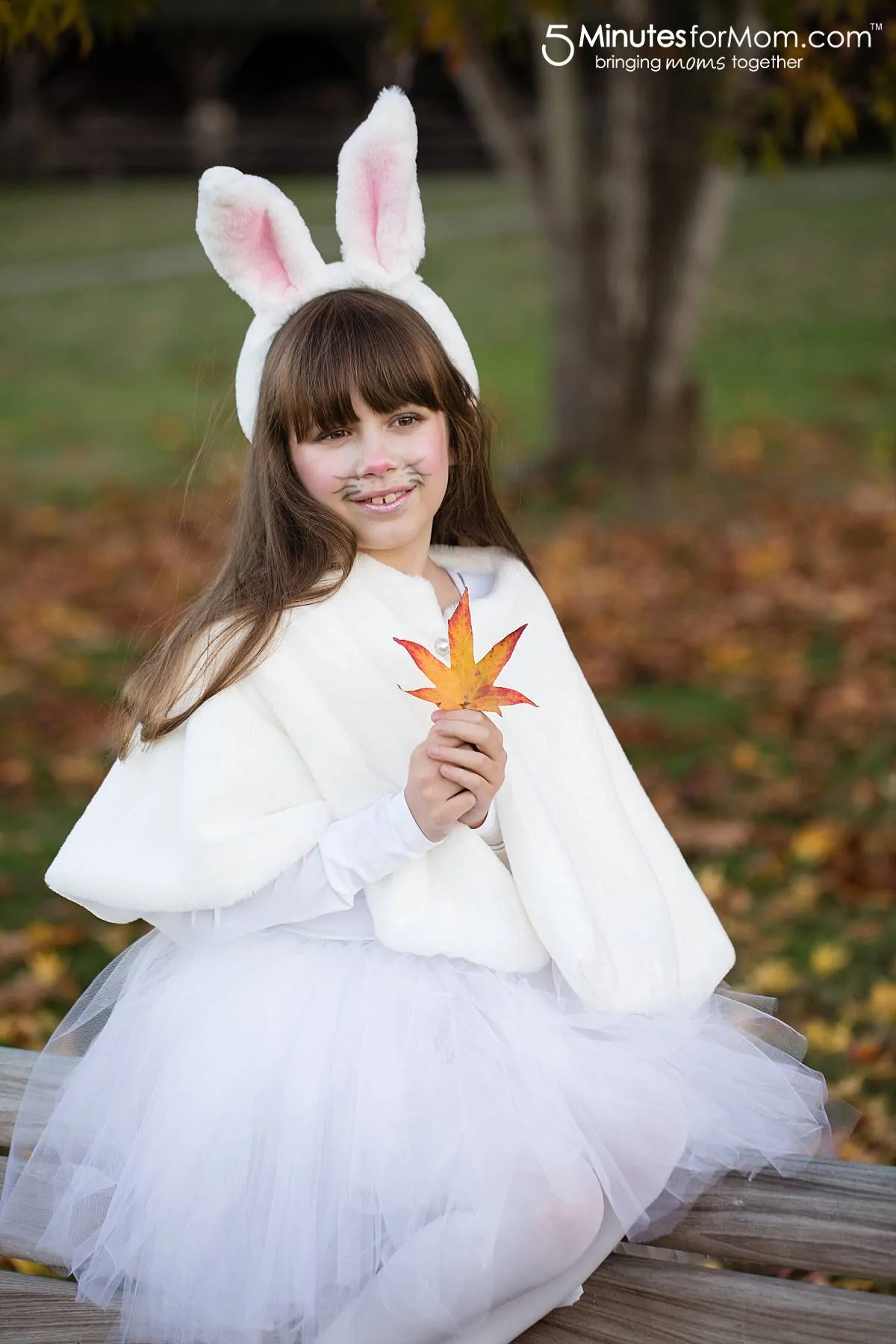 I had planned to make a bunny tail for Sophia's costume out of some white fur I bought for Julia's tail and ears. But I actually found a pre-made pom pom at the fabric store, so I used it instead.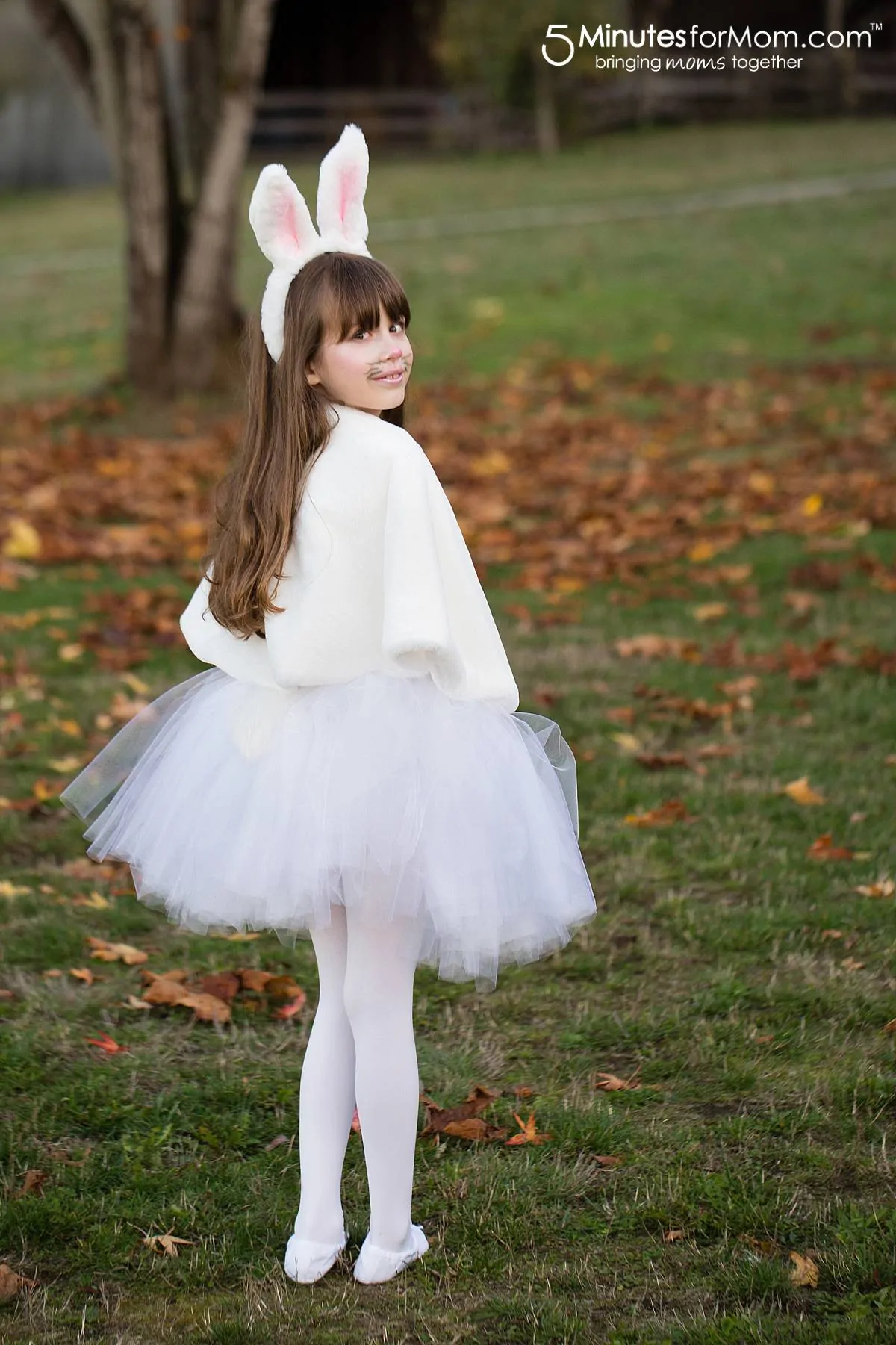 And by the end of the whole project, I was even more tired than this bunny of ours…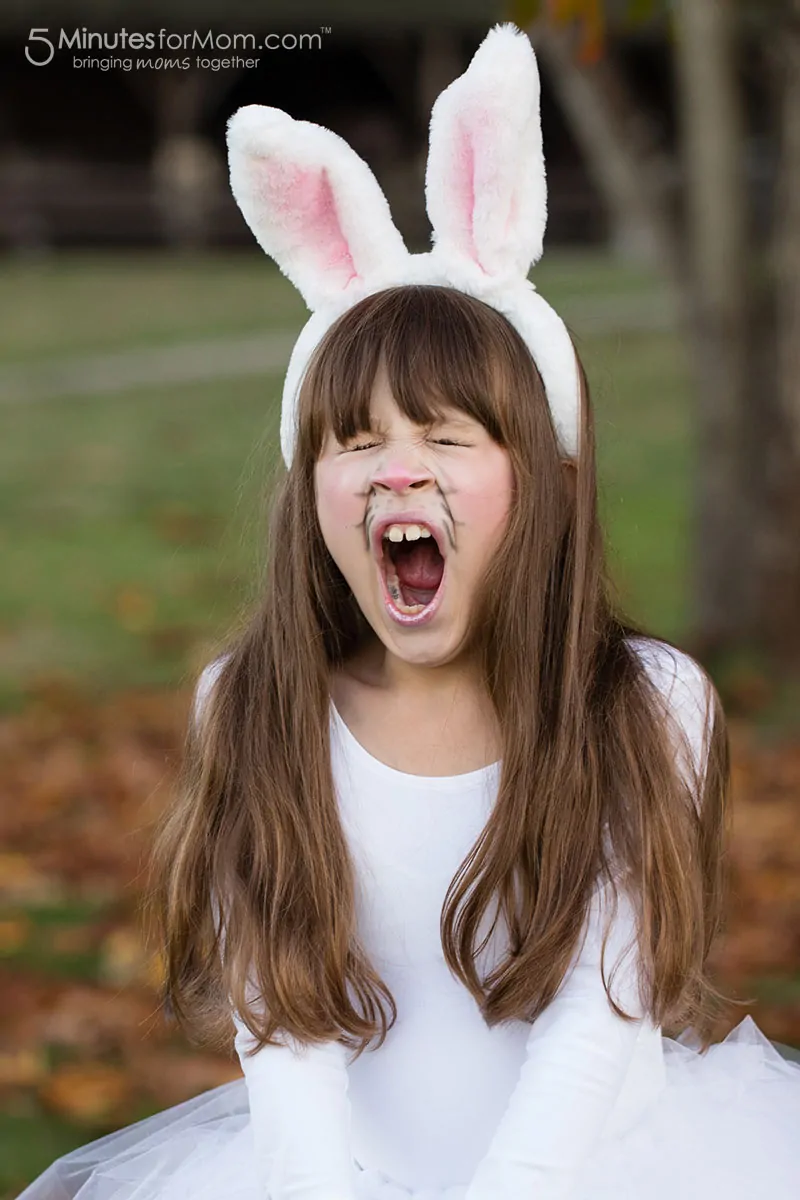 DIY Unicorn Costume
When choosing ideas for DIY Halloween costumes for girls, a unicorn costume is bound to cross your mind. And it is such a fun girl's costume!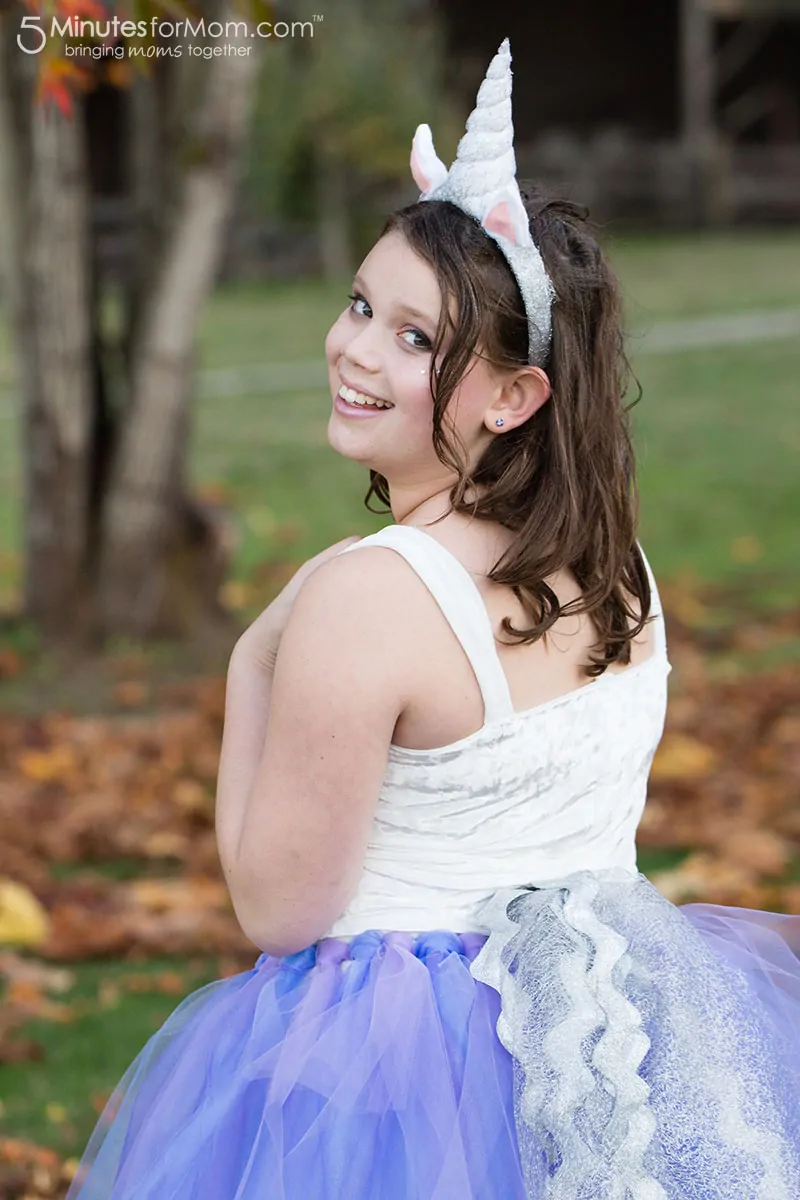 For Olivia's unicorn costume, we found this fabulous multicolored tulle that was perfect for her tutu. (The girls all wanted tutus or skirts in their costumes.)
The skirt is a basic no-sew knotted tutu. I made it longer than I usually make the girls' tutus because Olivia wanted a longer, more flowing look.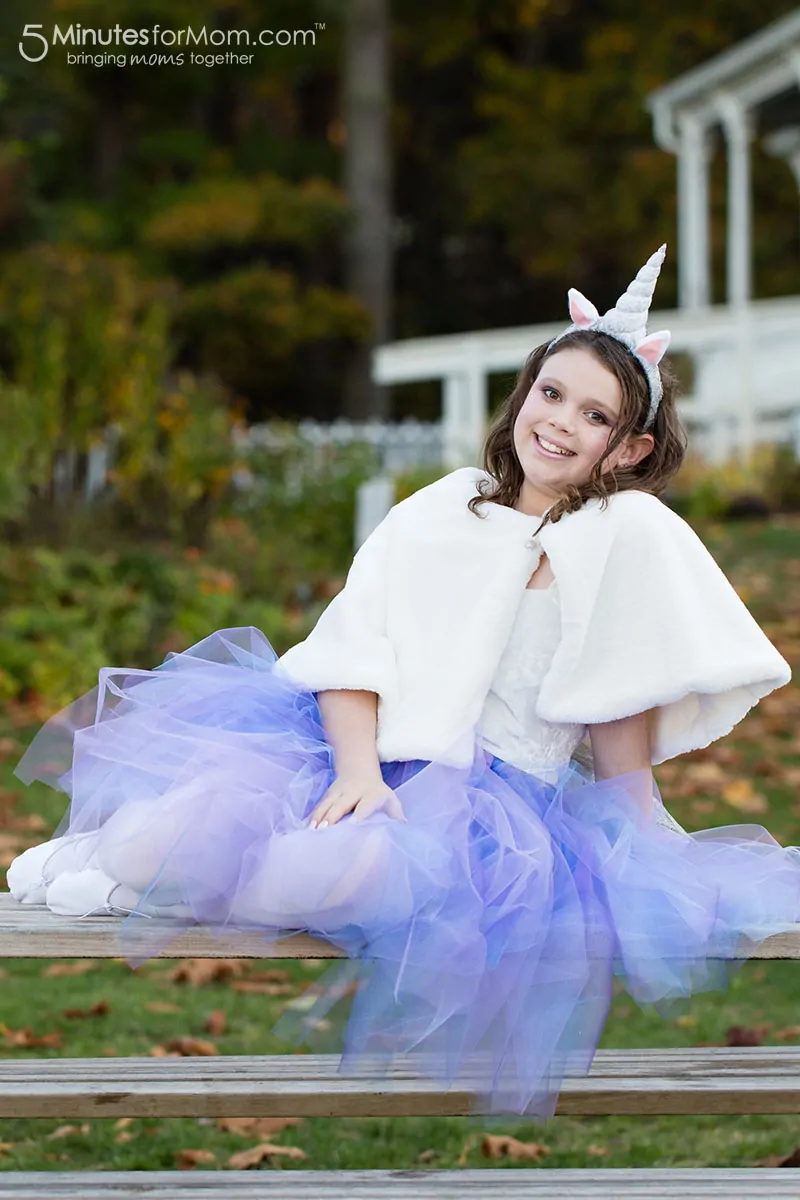 While I purchased leotards/bodysuits for the tops of Julia and Sophia's costumes, Olivia begged me to sew her a top for her costume.
After sewing her a fitted bodice, complete with boning, for her fairy dress last year, I wanted to go with something much simpler that did not require multiple fittings and design challenges.
So Olivia and I decided on a simple tube top design with straps. The crushed stretch velvet fabric was thin and I didn't want it to be see through, so I folded it and sewed it up so the soft cozy fabric was on both the inside and the outside of the top.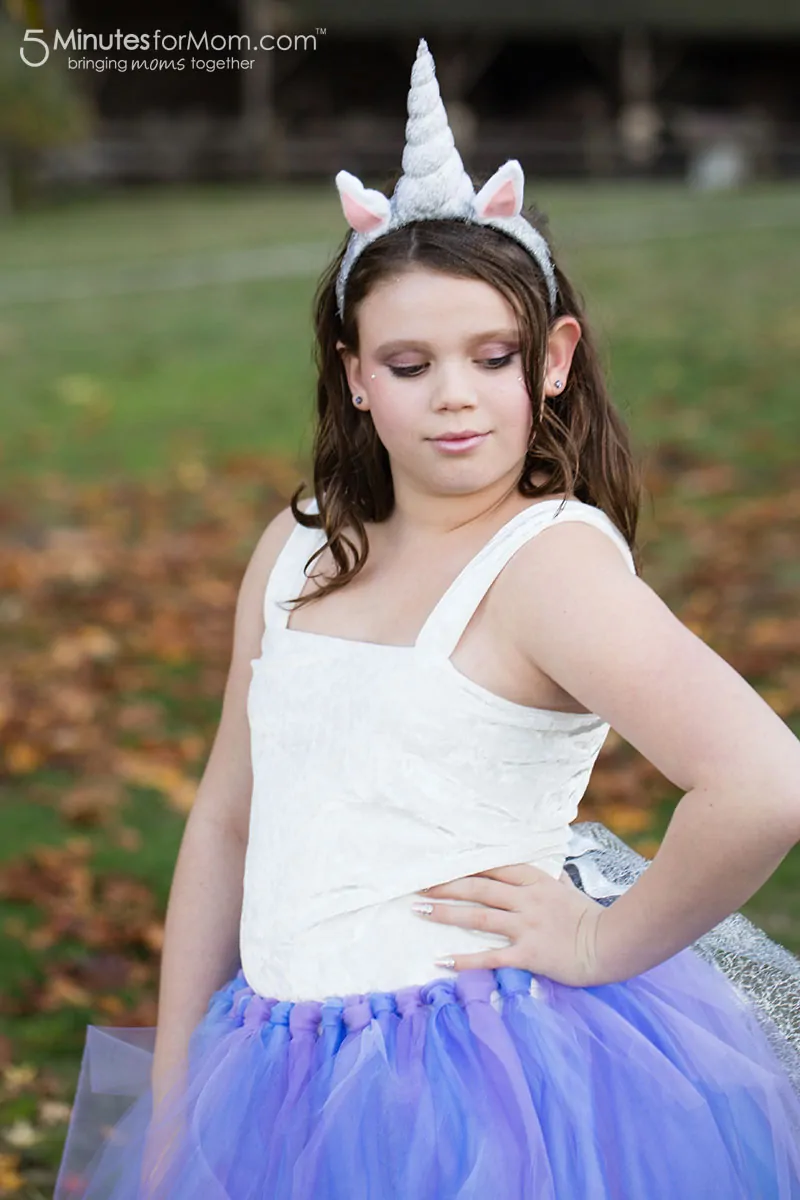 To finish each girl's Halloween costume, I made a headpiece and a faux fur capelet.
Instead of lining the capelets with satin lining, I made both sides with the fur so they would be warm on Halloween night. It worked perfectly — the capelets were so cozy and the girls were toasty warm.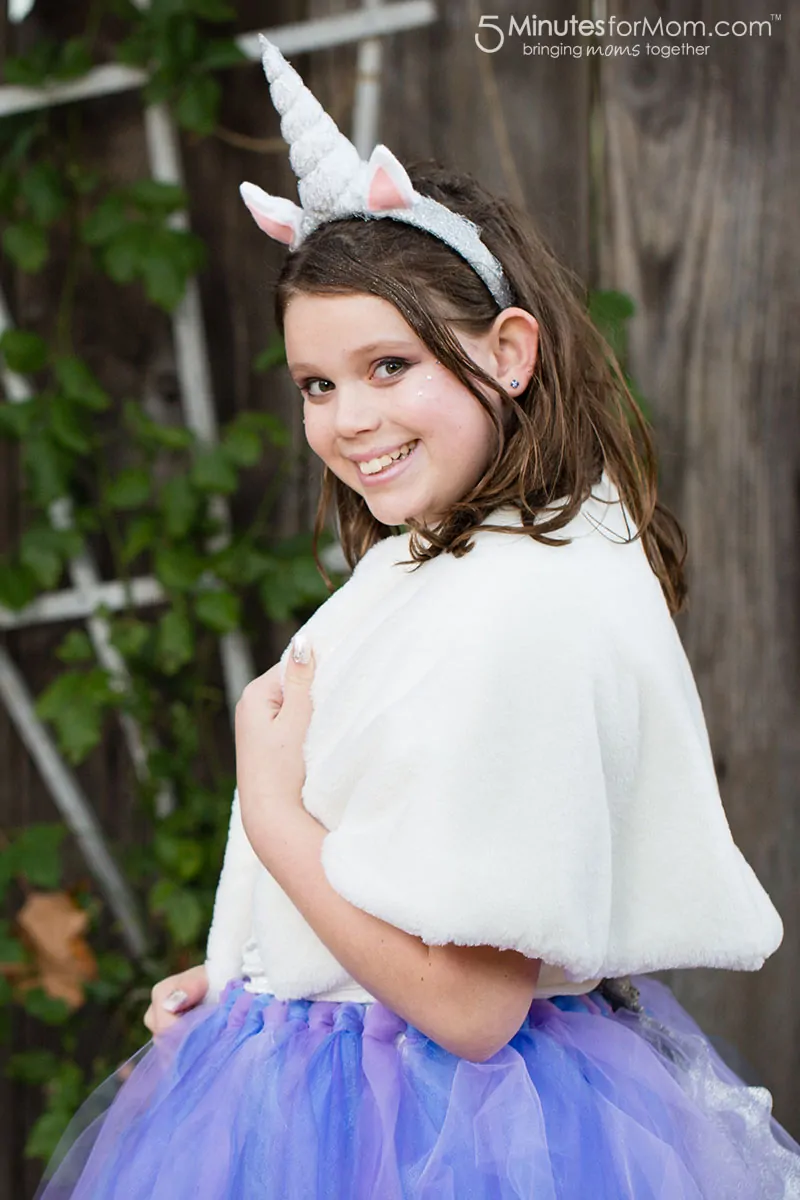 For Olivia's unicorn horn, I used a white flannel fabric to make a cone shape and stuffed it. I then covered it with that fabulous silver metallic fabric that I used for her tail and used silver thread to wrap around the horn to make the indentations.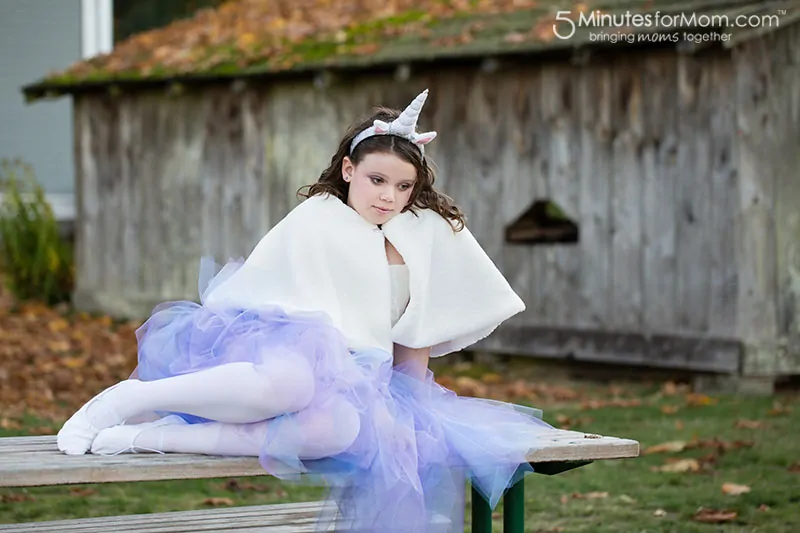 It turned out so well — I love it!
DIY Fox Costume
As I mentioned earlier, Julia could not decide what she wanted to be for Halloween. (Olivia and Sophia had figured out their costumes in August, but Julia was stuck.)
She wanted to be an animal but she wanted to be "pretty."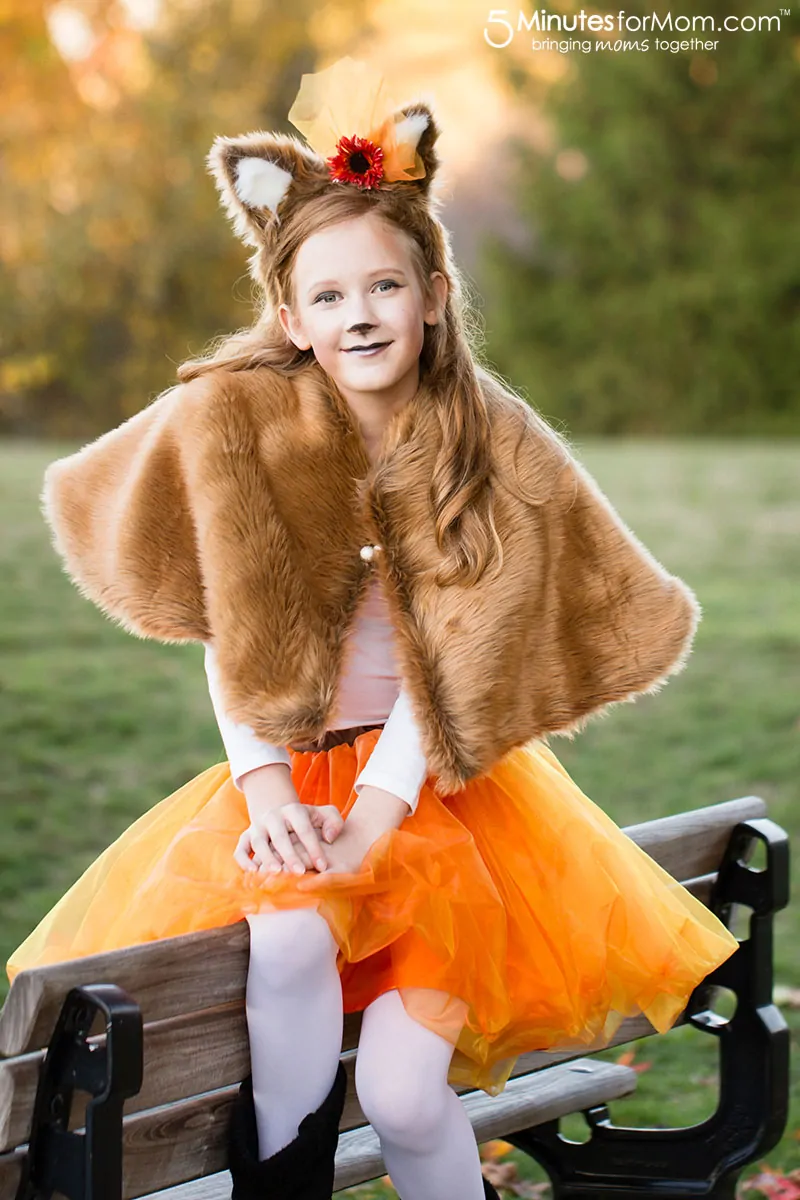 We spent a long time searching for ideas on Pinterest for DIY Halloween costumes for girls. Eventually we decided on a fox. I promised her I would make her look pretty and fancy!
At the fabric store, Julia found this orange shimmery organza and an orange satin to match which I used to make a lined bubble skirt.
To add extra volume, I added little tucks in the organza along the bottom of the bubble hem. It worked perfectly.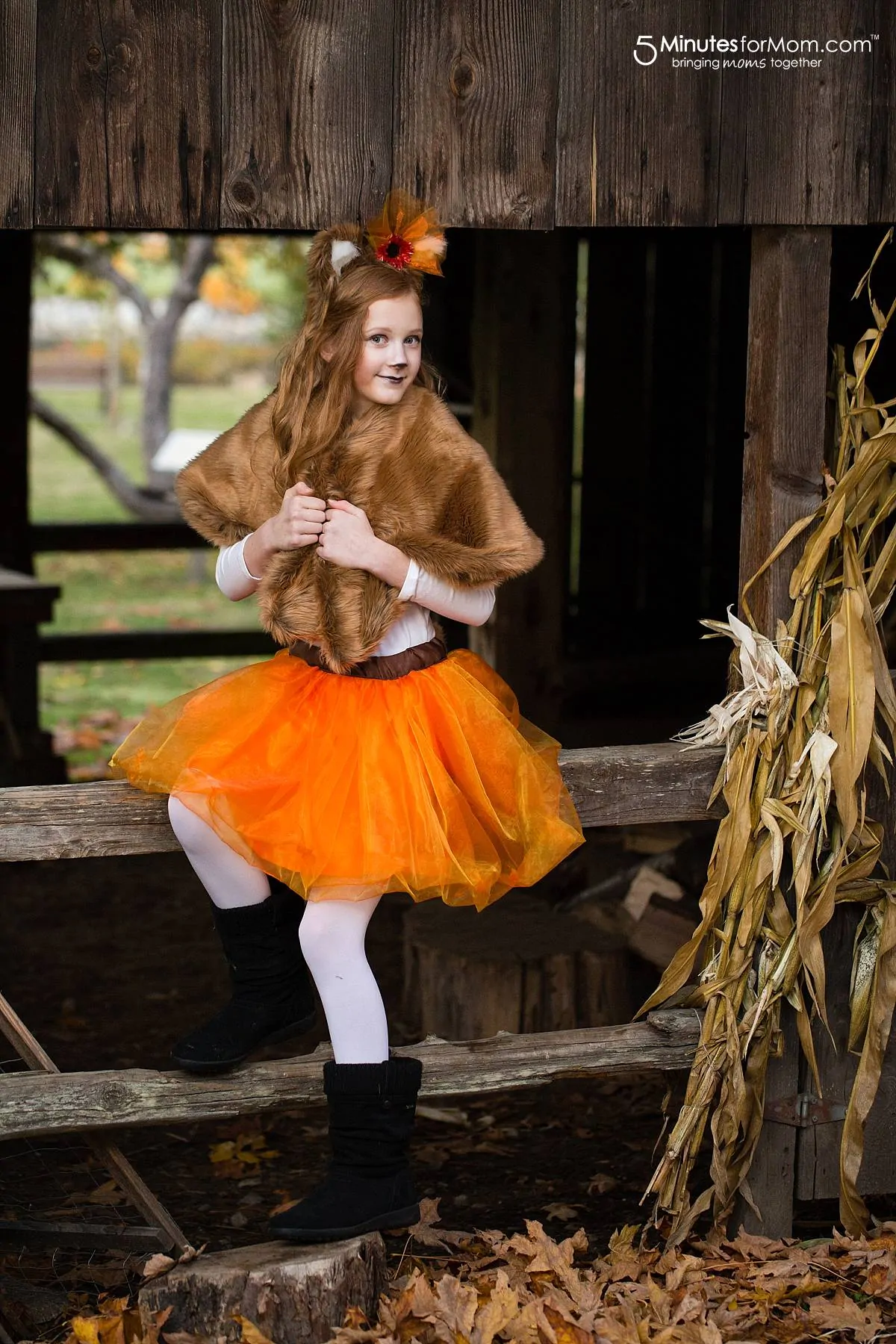 I finished the waist off with with brown blanket ribbon and used an elastic inside the waistband so there was a bit of stretch in the skirt so it fit comfortably and stayed in place.
But because the fabric of the skirt does not stretch, I needed to leave an opening at the back of the waist. With the volume of the organza, I didn't bother to put in a zipper. I just sewed on a hook and eye closure on the back of the waistband.
For the faux fur capelet, Julia found this gorgeous fur with an orange sheen that turned out to be the exact color of Julia's hair!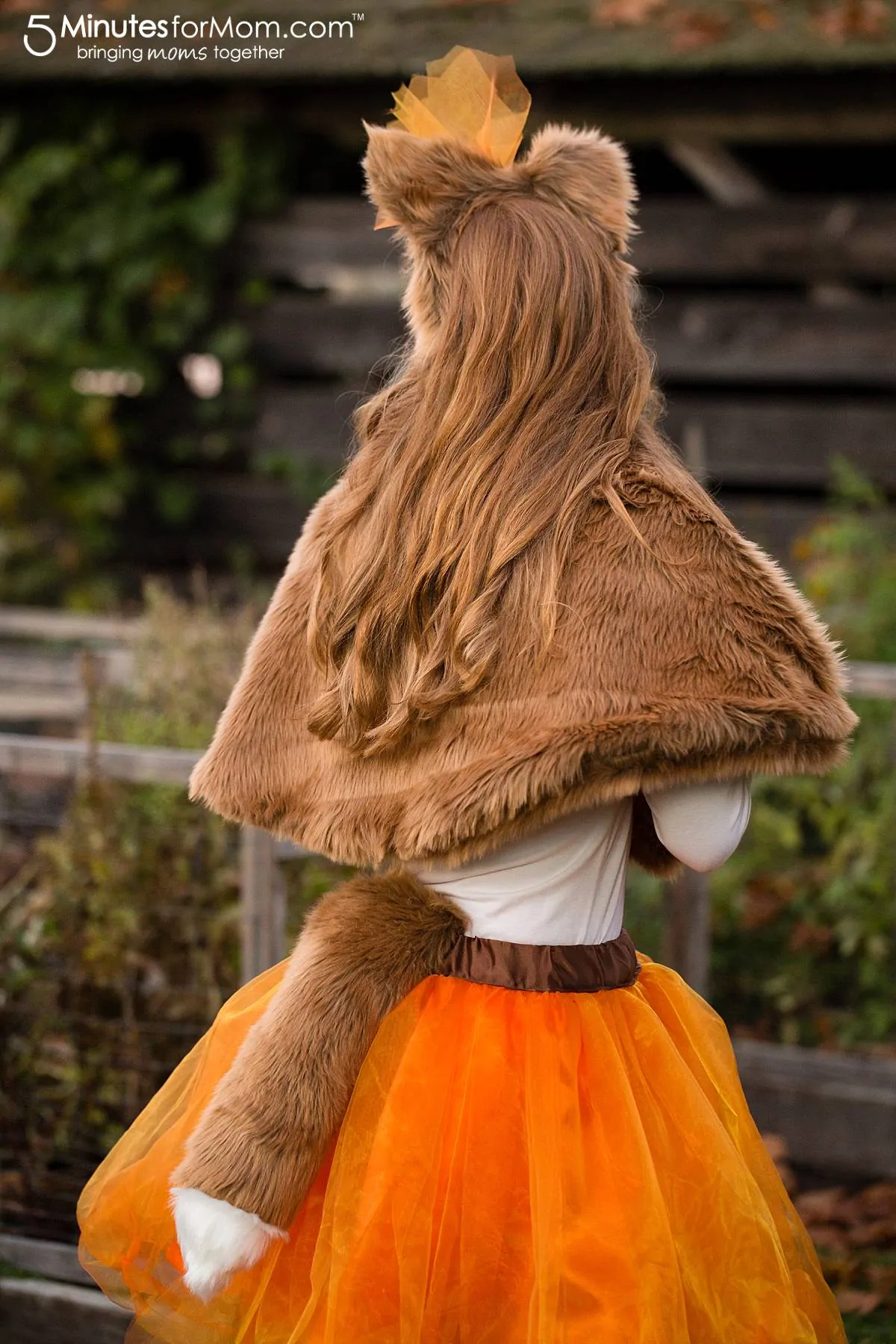 And what about her ears?!? think I love them almost as much as I love her organza bubble skirt.
I made all of the ears in the middle of the night before this photo shoot. So considering I was half asleep, hot gluing them together at 5am, I am very excited they worked so well.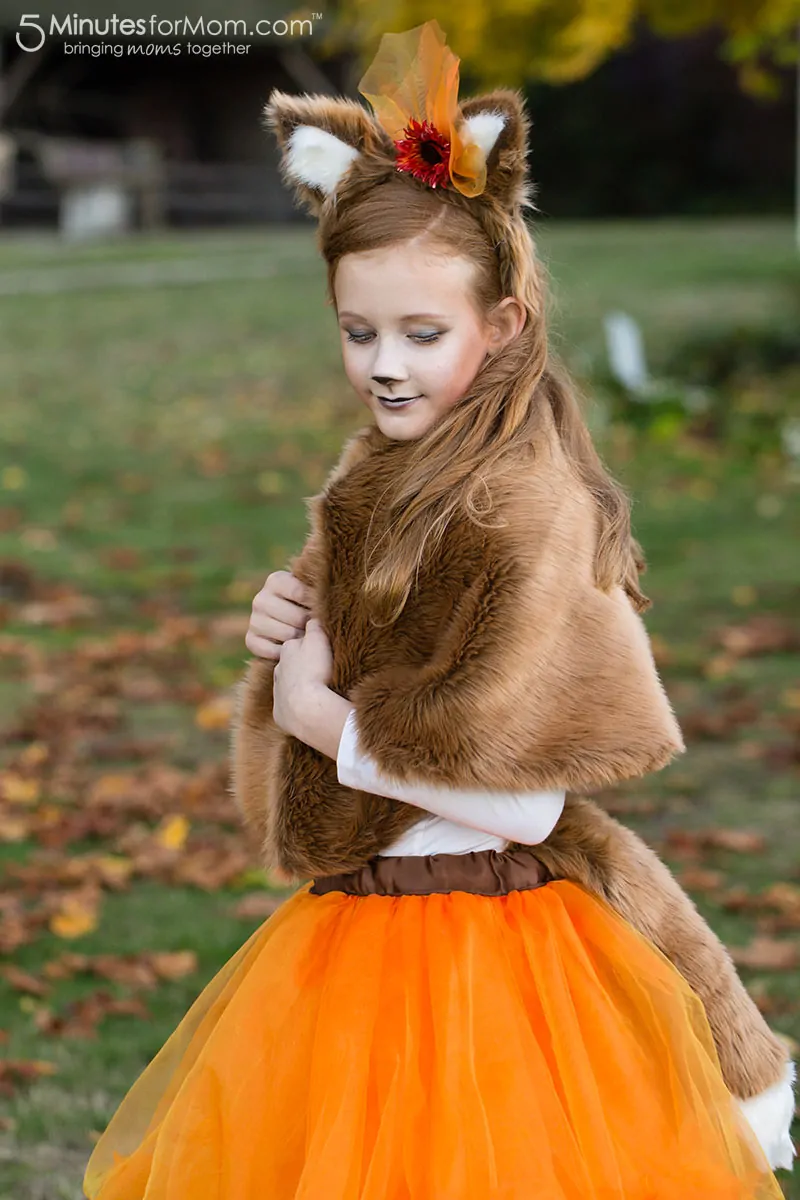 Her tail we made at the very last minute which pushed our shoot back an hour or so.
Julia didn't like the tail I had made for her. It was much larger — but foxes have huge tails!
Alas, she didn't want to have a large tail so I quickly grabbed some of the fabric I had left over and whipped up a smaller one. Phew.
I can't believe how well it all turned out. Julia loves the whole costume and she had so much fun modeling it for me and wearing it for all our her Halloween events.
It was a mad scramble to the finish line. As usual, in August and September, I was busy trying to finish up wedding season and get caught up with my work for 5 Minutes for Mom, and I didn't start making the costumes early enough.
My mom jumped in to help me and we got them all made within a week or so. We did have to stay up all night on the last night to get everything finished before the photoshoot. But it was worth all the work — we all love the costumes and had so much fun with them.
More DIY Halloween Costumes for Girls
We love sharing costume ideas and since we have three girls, many of our Halloween costume ideas happen to be perfect for girls.
Here are some more DIY Halloween Costumes for Girls your kids will love…
If you want an easy way to make ears for a Halloween costume, check out how to make no-sew animal ears in our video tutorial.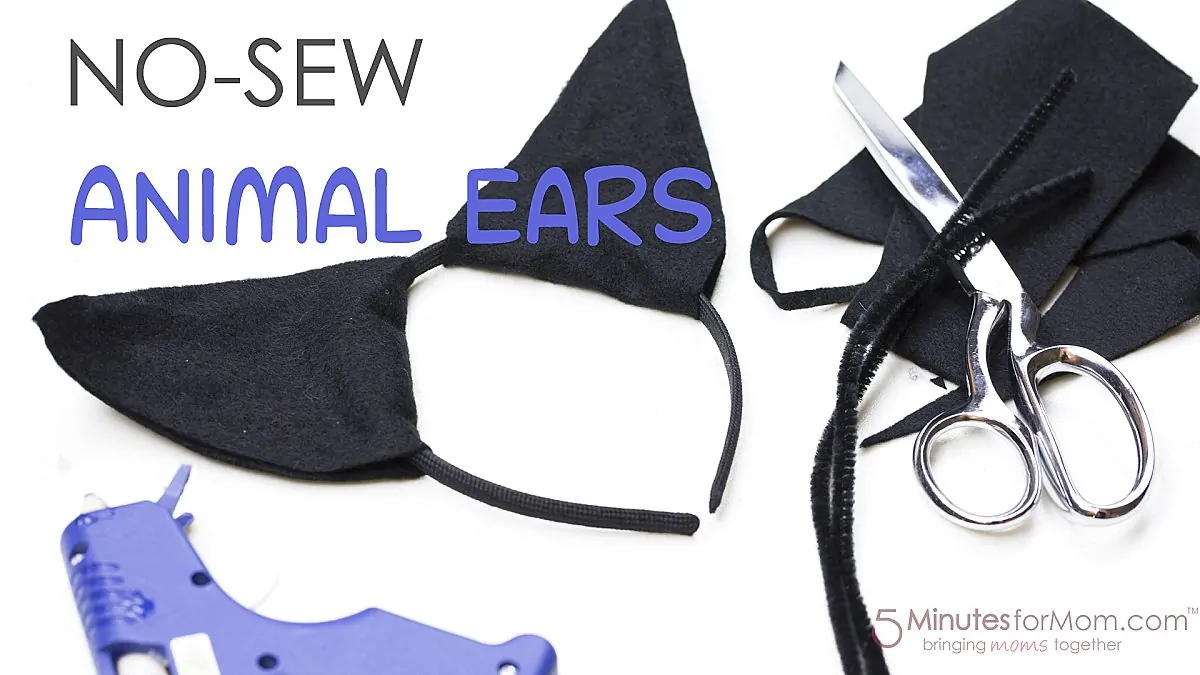 Pin it for Later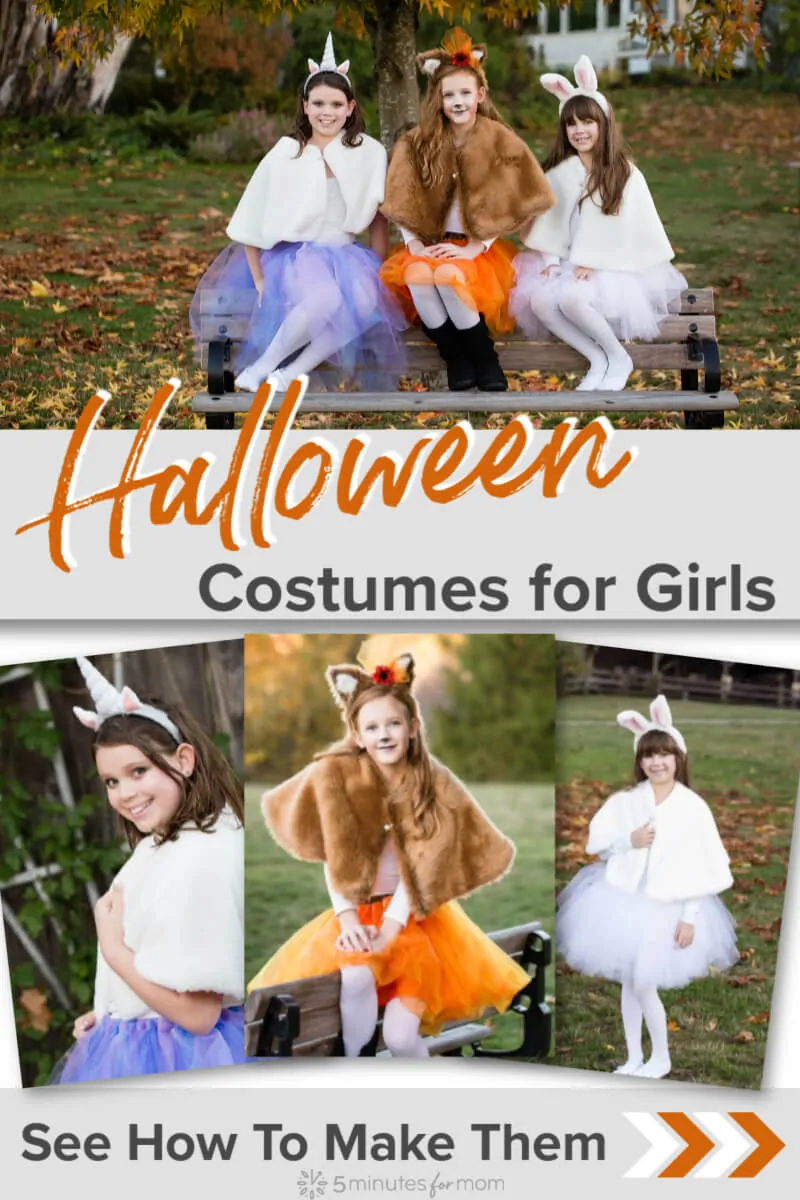 Written and photographed by Janice Croze, co-founder of 5 Minutes for Mom.