This post may contain affiliate links. Read my disclosure policy here.
This DIY Fairy Costume could win any costume contest! See how to make a stunning fall fairy dress that you can wear for a Halloween fall fairy costume, a themed photoshoot, or a flower girl dress. For an autumn wedding or event, you can use fall flowers or leaves for an autumn palette. If you want to make the dress to use in the spring or summer, substitute the fall flowers for spring flowers or rose petals.
This blog post is Part 1 of our tutorial. Click here for Part 2 – Designing the Bodice.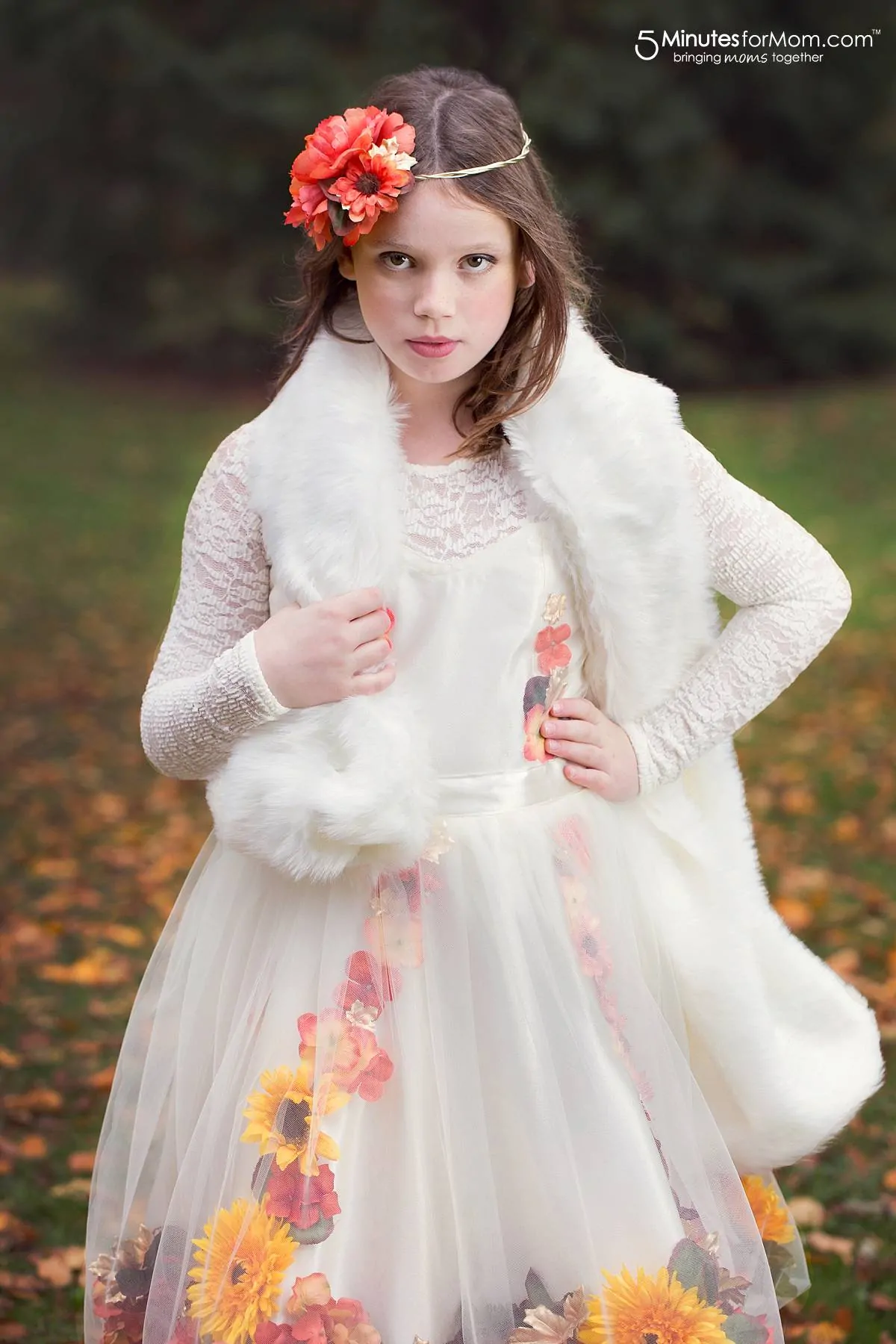 A few years ago, I undertook a sewing task like nothing I had ever attempted before. Inspired by Angela Clayton's Fall Flower Fairy Dress that I saw on Pinterest, I decided to make a girl sized version for my nine-year-old daughter Olivia.
I also made pretty fawn costumes for my nieces. Here is Olivia dressed in her Fall Fairy costume with her cousin Sophia in her fawn costume.
See how to make the baby deer costume.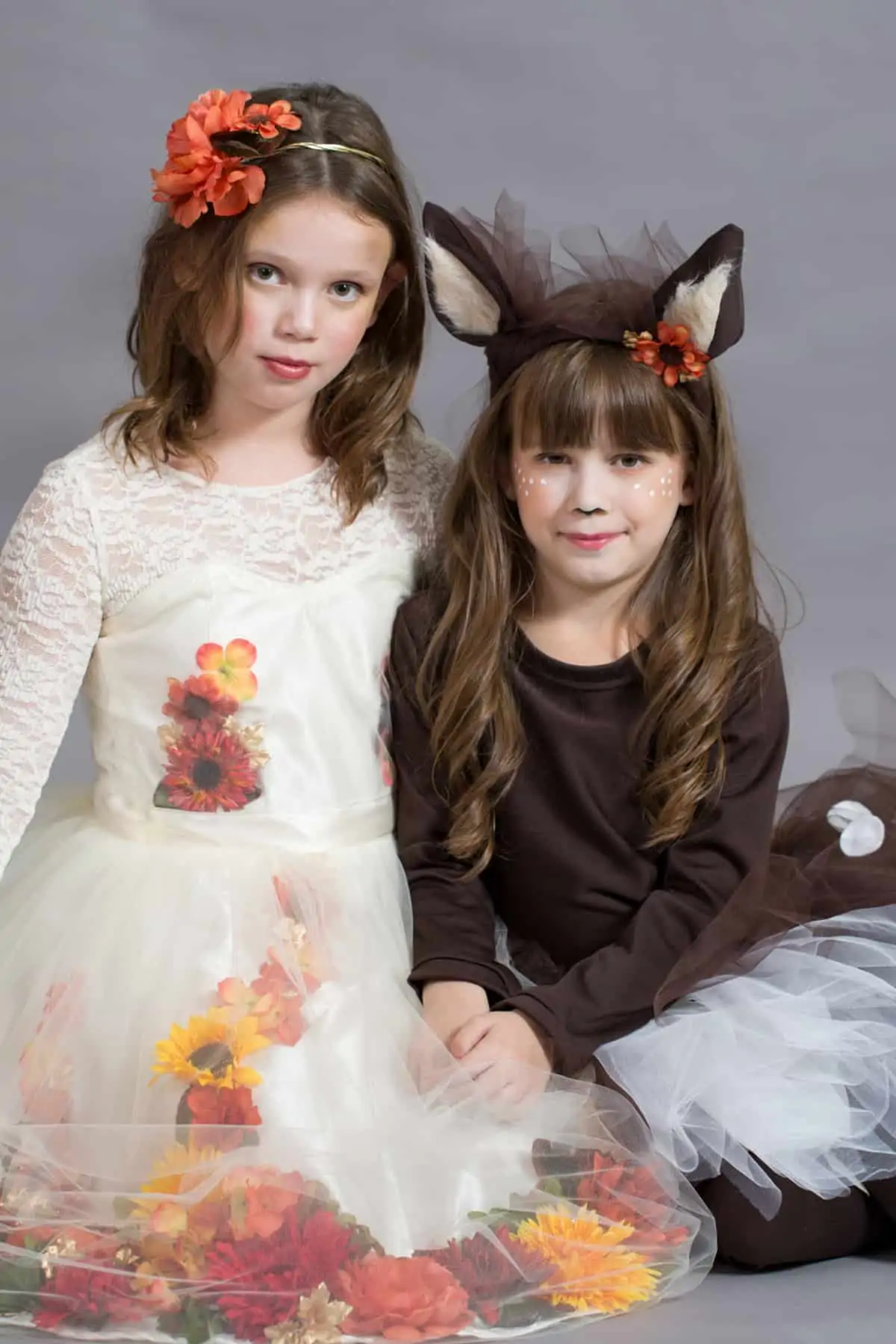 If you want to tackle this DIY Fairy Costume before Halloween, you CAN do it! I will let you in on some time-saving tips and some mistakes to avoid.
It was such a fun project — my mom and I had an incredible time working on it together after the house was all asleep, two mothers with glue guns and sewing machines, bonding as we created the most beautiful costume either of us has ever made.
DIY Fall Fairy Costume Tutorial — Materials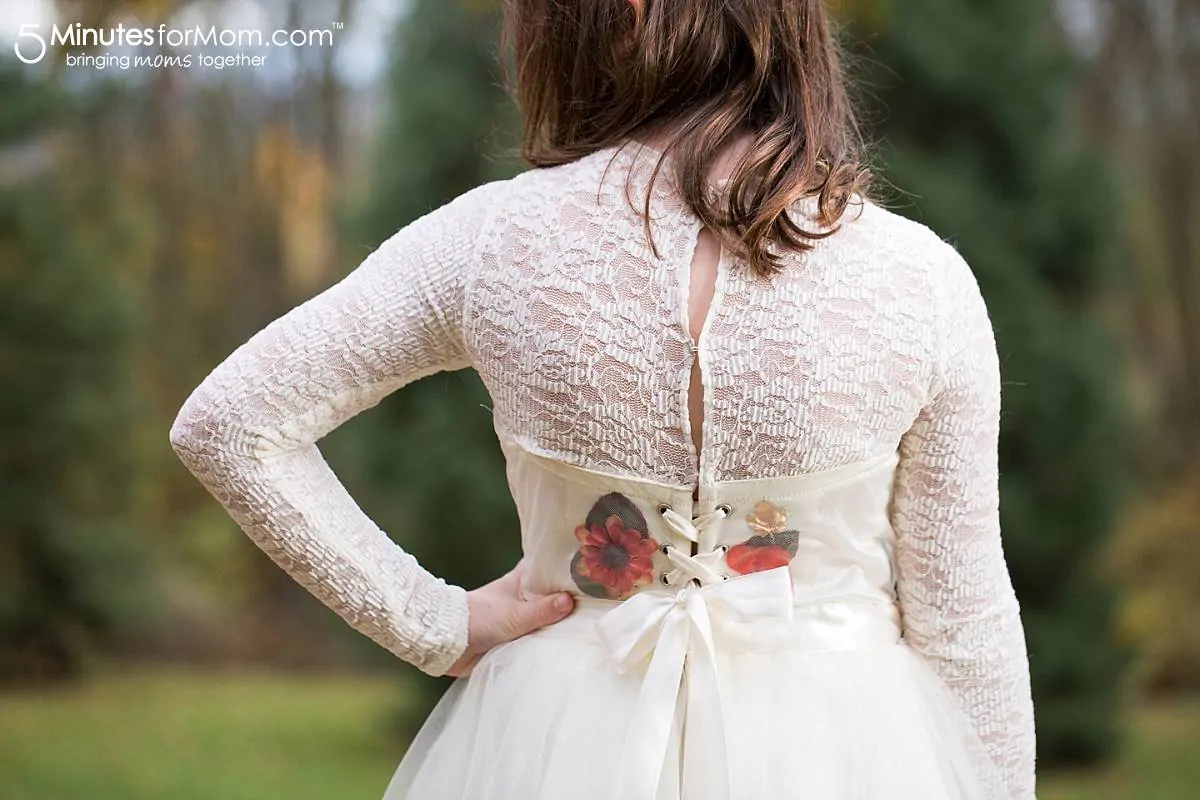 Get ready to shop — this dress requires a number of items, depending on how you plan to customize your version of the dress.
The most important thing you want to consider before you start your design is how are you planning on using your dress and how old is the wearer?
If you decide to go with fall flowers, please take into consideration that if you use as many as we did, the dress is quite heavy.
So if the weight of the dress will be an issue, for instance, a young flower girl wearing the dress all day, plan on using fewer flowers, incorporating lighter leaves and having a simpler layout of flowers.
If you want to have a full flower effect as we have, you will need to buy a lot of flowers, see the pictures below. Fortunately, Michaels has great clearance sales and you can buy them at this time of year for 60-90% off.
If you are in a hurry and do not want to attempt to make a bodice and just want to make a fairy flower skirt, do not add as many flowers as we have in our dress. The skirt will be too heavy and may be hard to keep in place.
To make the skirt lighter, use flower petals and leaves and keep the layout simpler.
Fall Fairy Dress Materials:
Artificial flowers, petals and/or leaves
Fabric for skirt and bodice. I used a polyester charmuese for the skirt and bodice and stretch lace for the sleeves and top.
Tulle for skirt overlay
Ribbon for waistband and lacing
1/2″ Horsehair Braid (for skirt hem)
hook and eye closures
grommets
Artificial fur for shawl (optional)
glue gun
sewing machine (and a serger is helpful if you have one)
Making the Skirt — A 3/4 Circle Skirt Design
I have some good news for you. The skirt on this dress is simply a 3/4 circle skirt design. Nice and basic.
If you haven't made a circle skirt before, or you have never made a 3/4 version, you will need to do a bit of math to get your measurements right.
Craftsy used to have a great overview of how to make a circle skirt on their blog, but they have since taken down their blog. I plan to write a circle skit tutorial of my own soon.
There are some varying of opinions on measuring for circle skirts. Some bloggers say to add an inch or two to your waist measurement/circumference. Others just use the waist measurement as the circumference in the formula.
And some, like the circle skirt calculators, use the waist circumference minus 2 cm.
I first used the +2 inches method and the skirt radius was way too big.
I realized that the bloggers that are adding inches to their waist measurement are doing so for the stretch fabrics that are made with elastic waistbands. The radius needs to be big enough to go over the hips.
With our dress, we needed it to fit snugly on the hips and waist to hold up the weight of the skirt.
So I redid my math, using this Circle Skirt Calculater at www.easycalculation.com. (Note on my pattern I have written the URL incorrectly.)
Whichever waist measurement you choose, PLEASE make sure that you do your math for the correct skirt you want — the formulas will be different for a full, three quarter, or half circle.
When creating your pattern, note that if it is a 3/4 skirt, you can't use the regular method of folding your fabric in fourths and using a 1/4 piece of pattern.
You will need to fold your fabric in half and have a pattern that is three quarters, as below.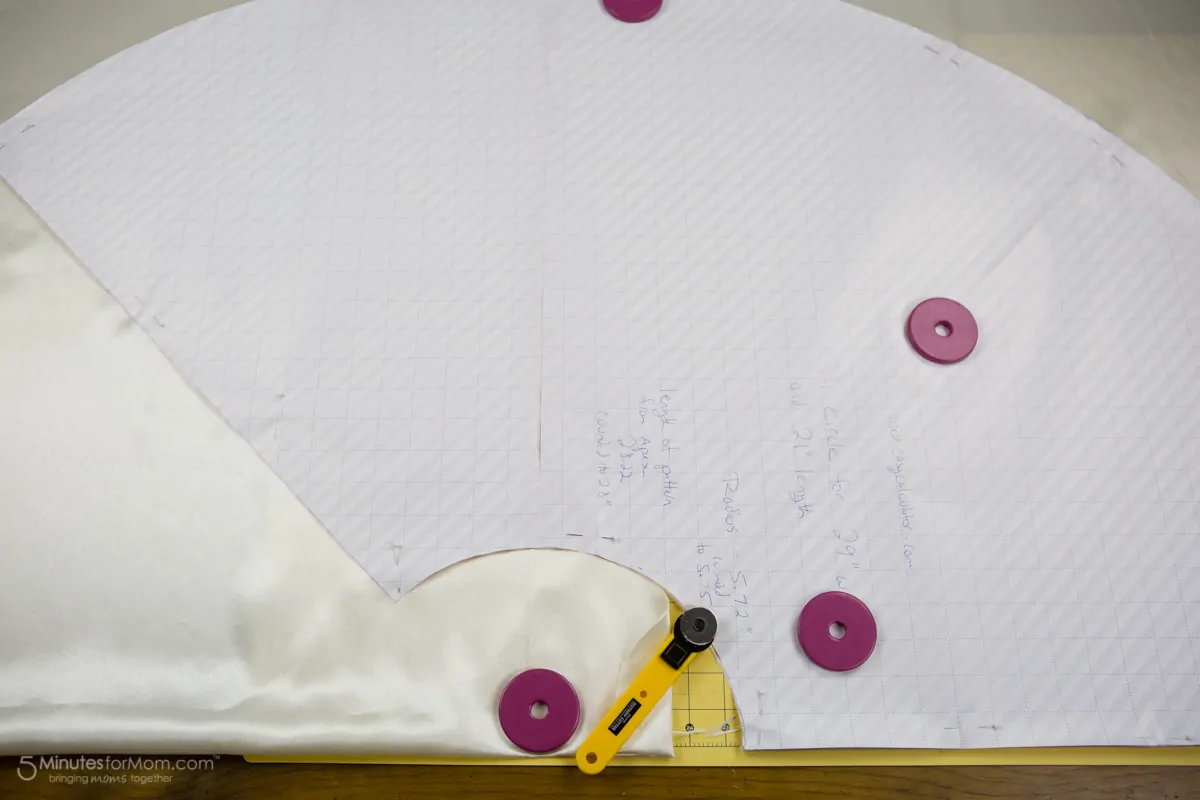 I made my pattern with a large piece of wrapping paper at a 90% angle, (this would be the complete pattern for a full circle skirt if we were cutting it on fabric folded in fourths.)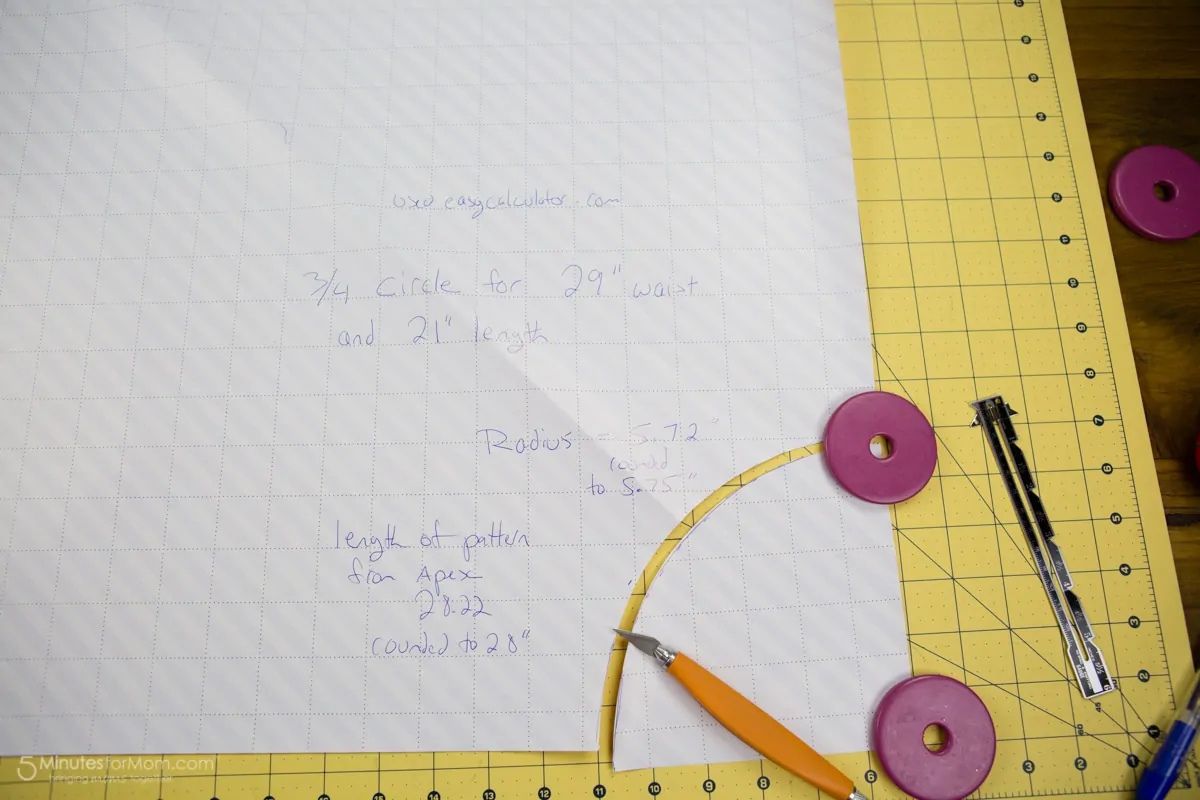 After I made that pattern piece, I folded it in half and cut an additional piece, so that taped together I had a three-quarter pattern.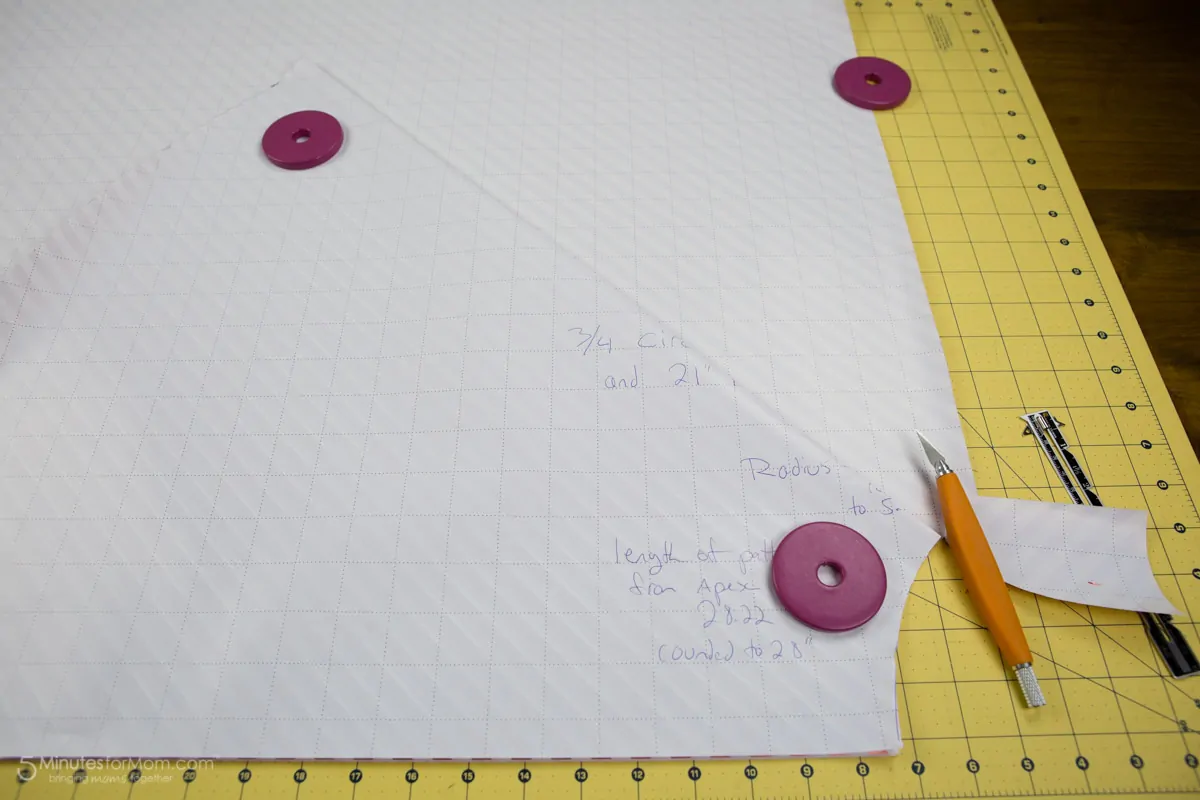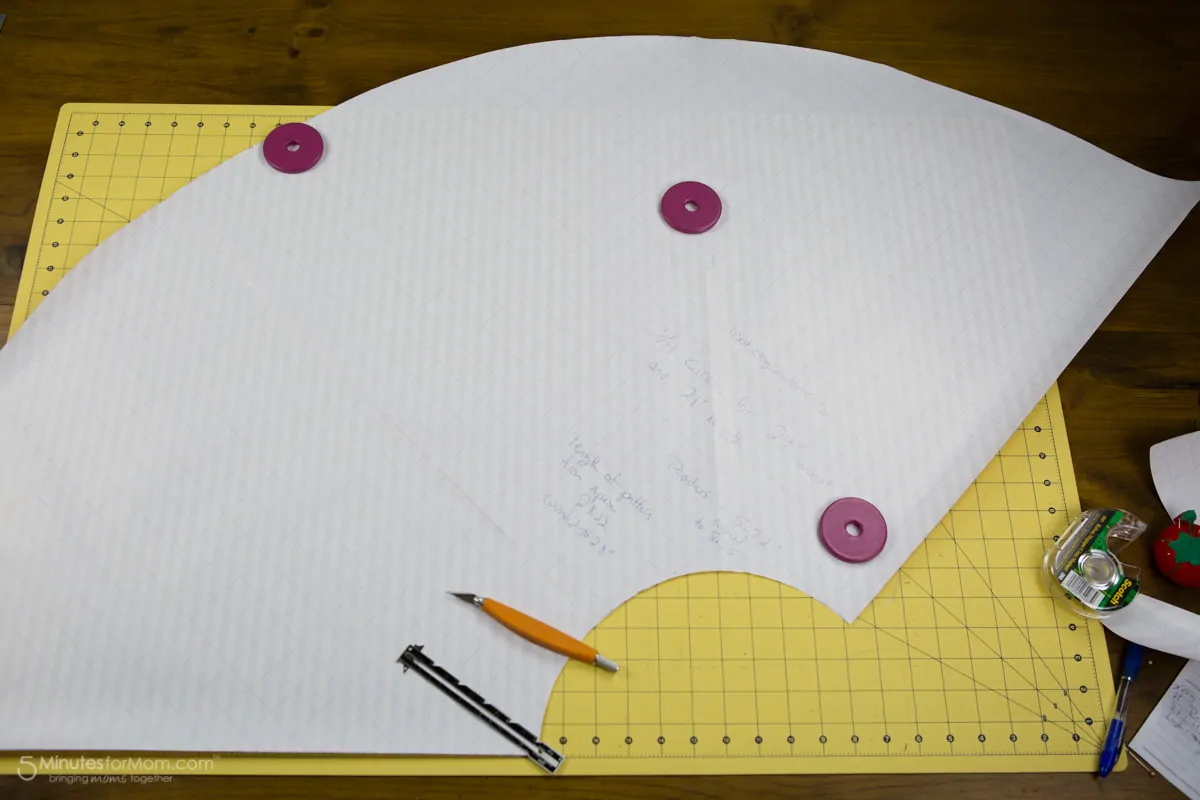 As you can see, it makes a three quarter skirt pattern that you will place on fabric that is folded.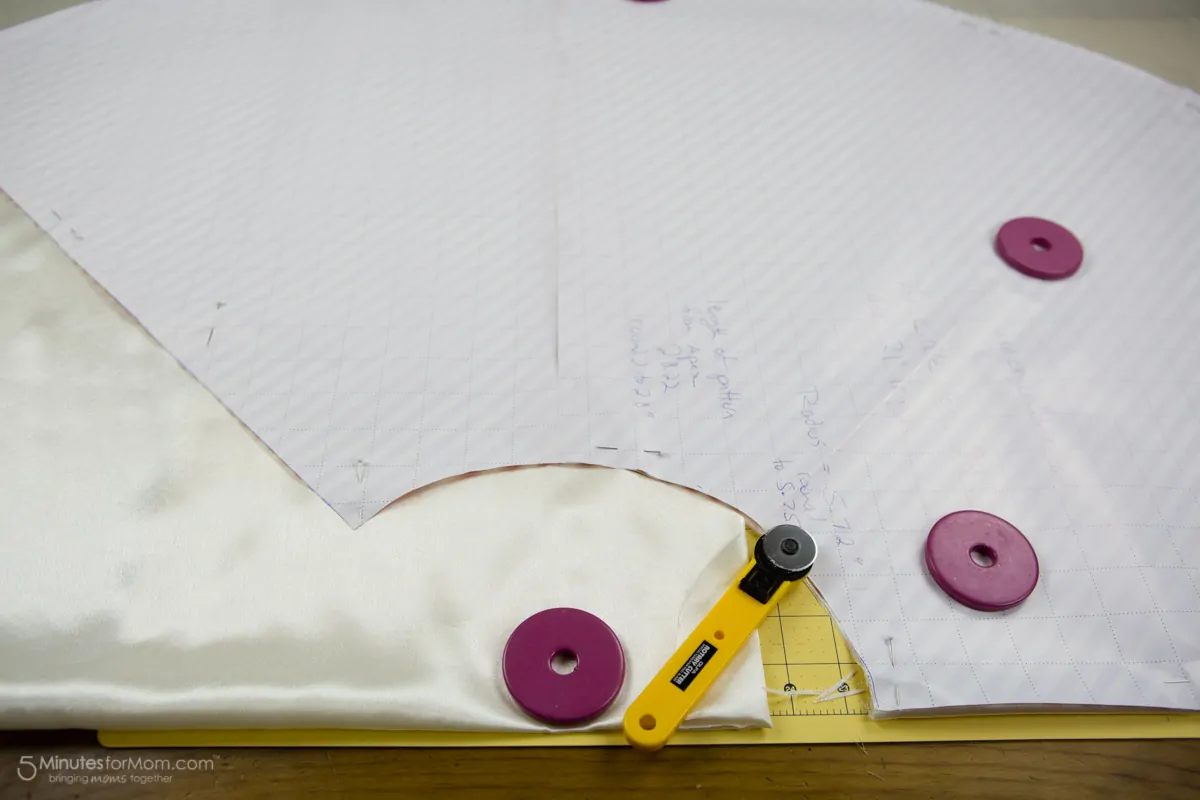 DIY Fairy Costume – Skirt Construction
Once you have cut out your skirt piece, it is time to start sewing.
First, in order to keep your fabric from stretching out of shape, it is ideal to staystitch along the curved edge of the waist and the back edges. You do not staystitch the bottom edge where you will hem.
To staystitch, sew a short stitch 1/2″ from raw edge so that the stitching will be inside the seam allowance. For more on staystitching and how and why to use it, check out this YouTube from Craftsy about staystitching.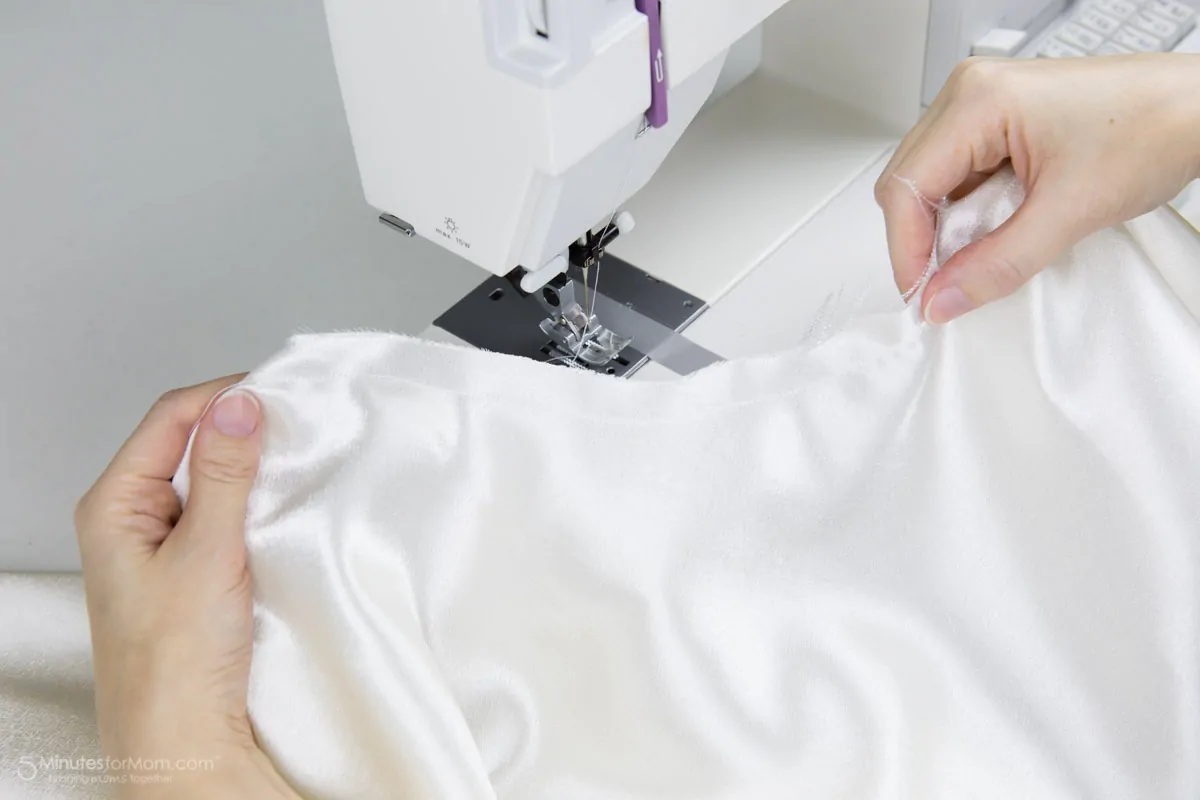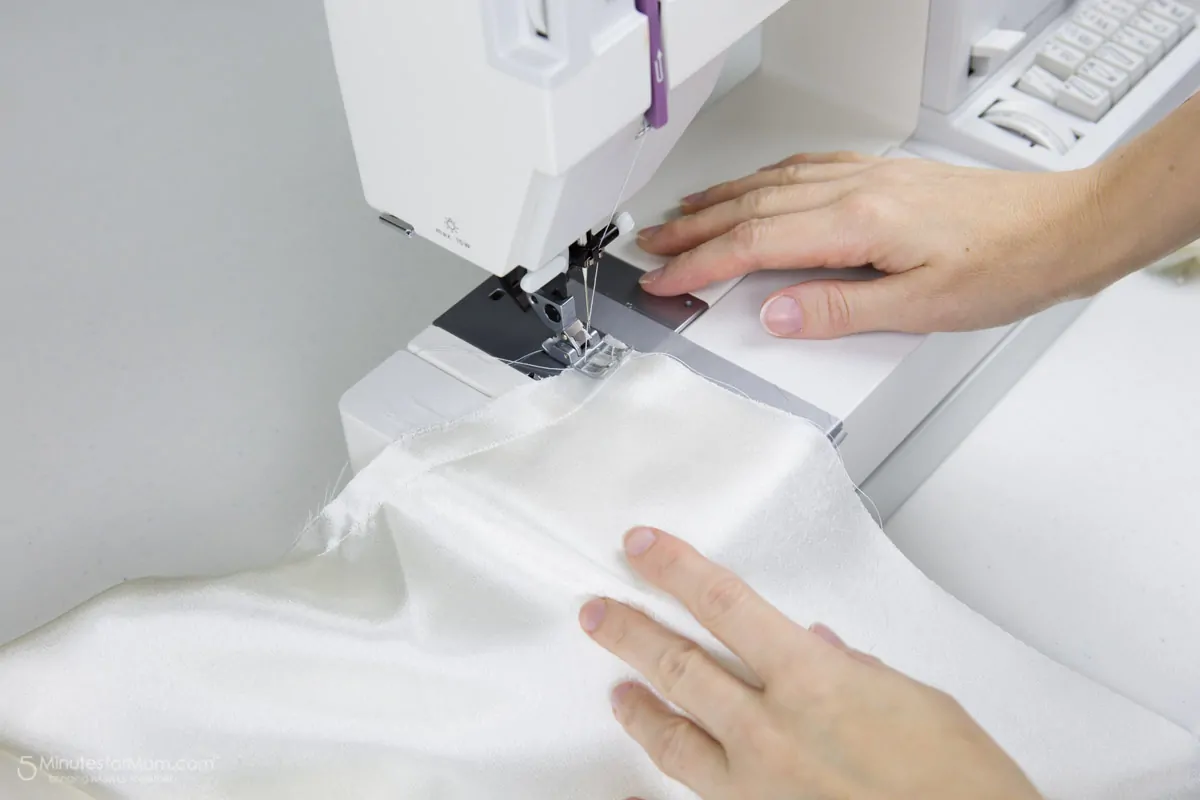 Next, you will hem your skirt, using a 1/2″ horsehair braid to stiffen the hemline which will give the skirt more volume. However, you can skip the horsehair braid if you want, and just hem your fabric however you choose.
If you are wondering what on earth a horsehair braid is — don't worry it is not actually made out of horsehair, at least not nowadays. You buy it at your fabric store and it is easy to use.
First, I pinned the horsehair braid along the raw edge of the bottom of the skirt on the RIGHT side of the fabric. I then stitched it in place, a 1/4″ from the raw edge.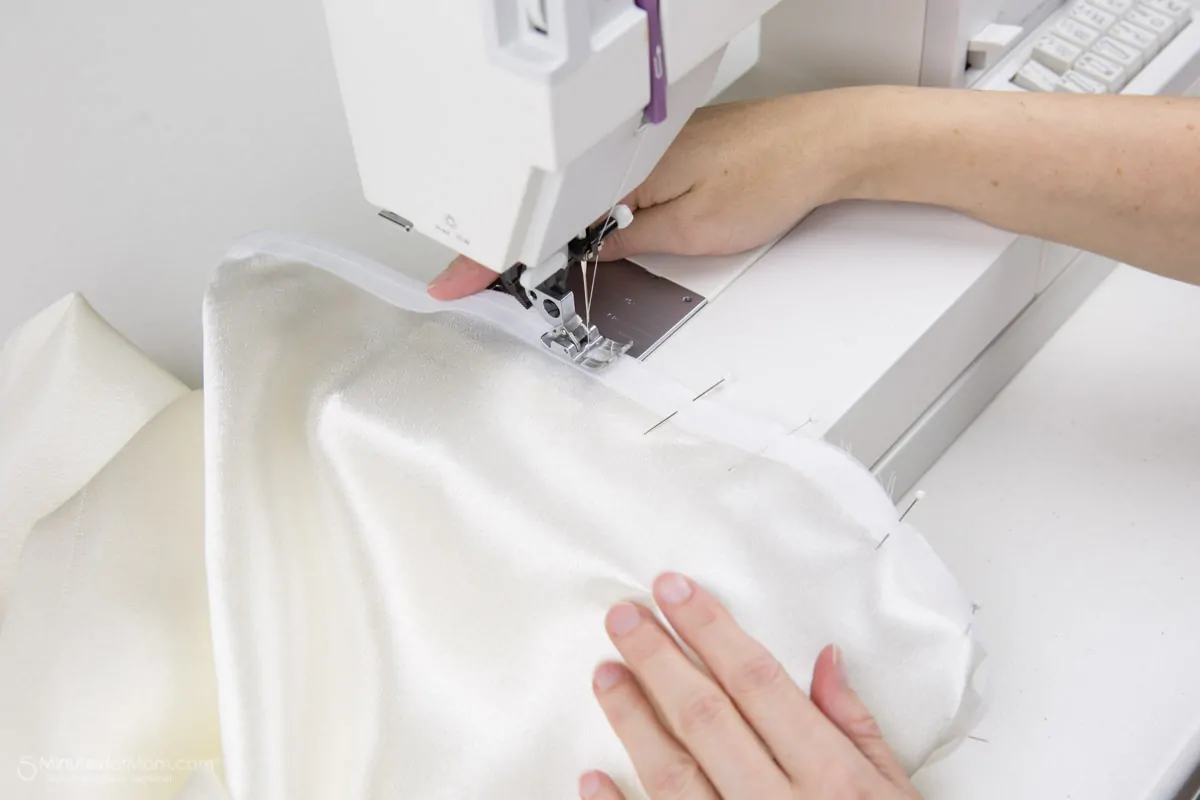 I used a small piece of bias tape to cover the point where the ends of the braid joined.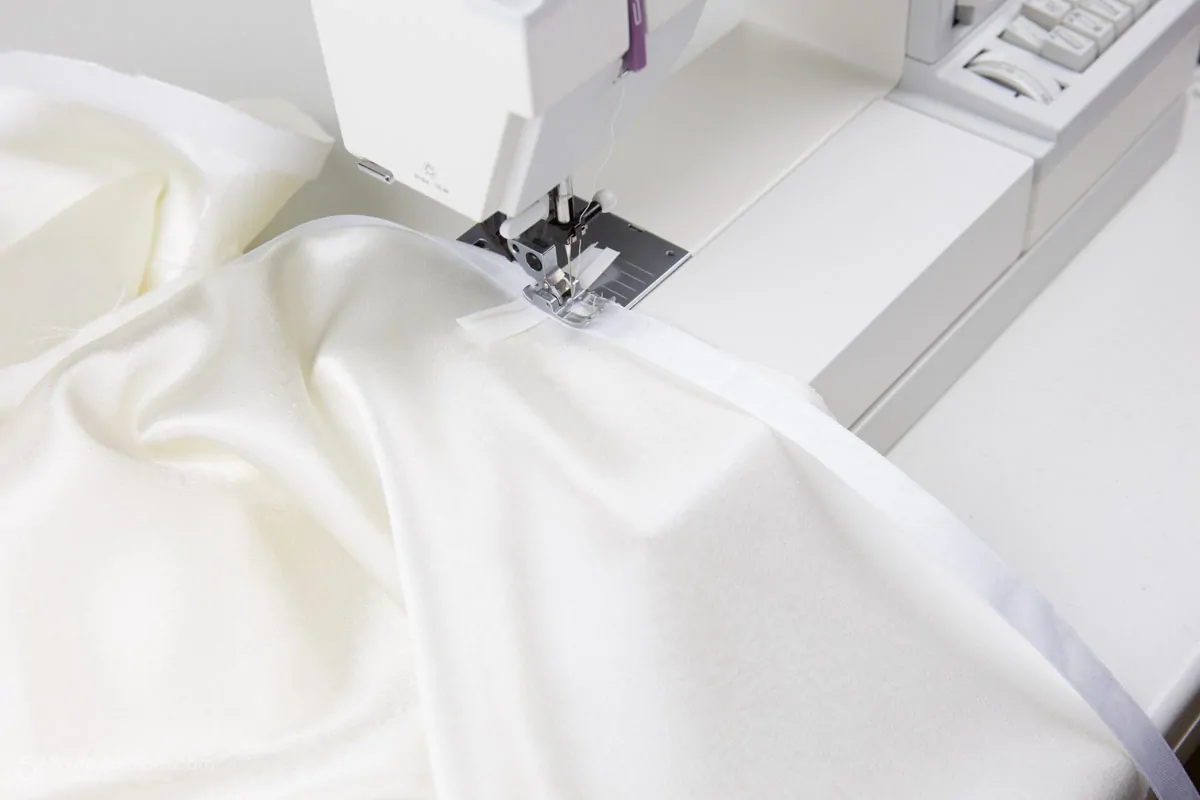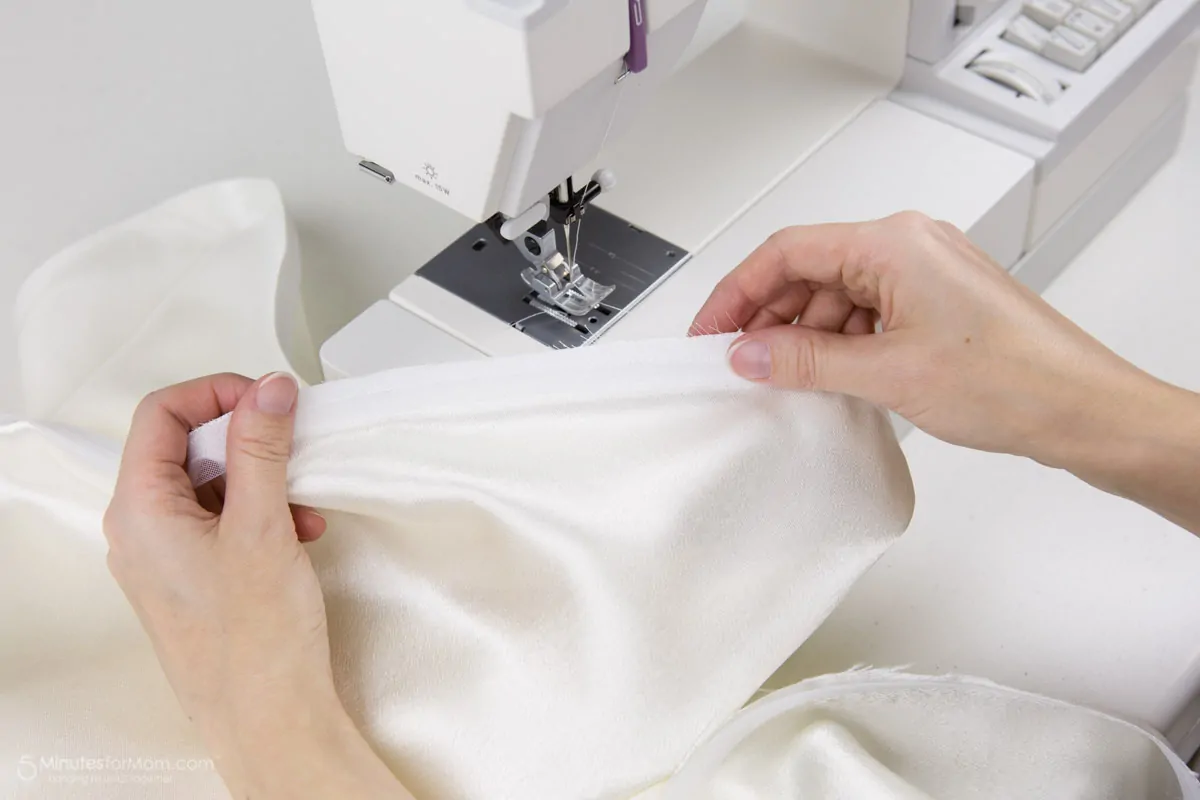 Then I flipped over the fabric so that the horsehair braid is on the wrong side of the fabric, with a clean edge enclosing part of the braid. I pinned, sewed in place and pressed the hem. (For additional help on hemming with a horsehair braid check out this post or this video by Professor Pincushion.)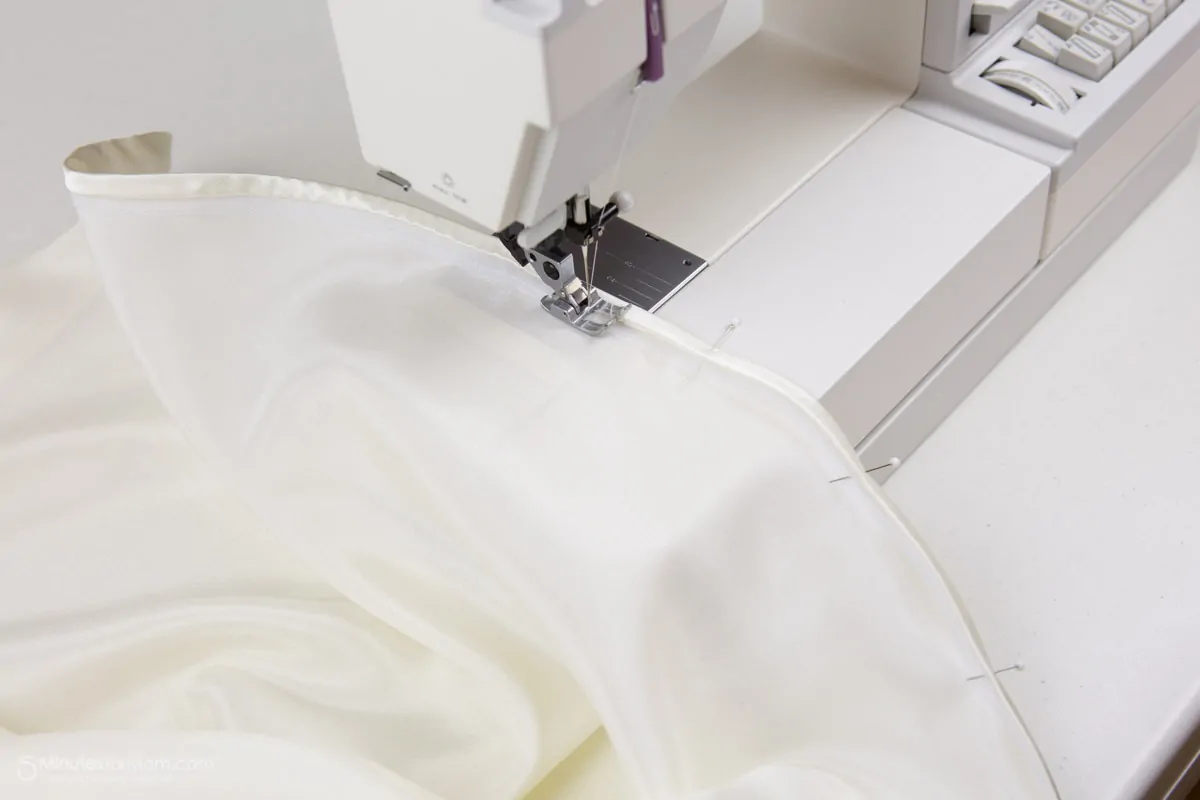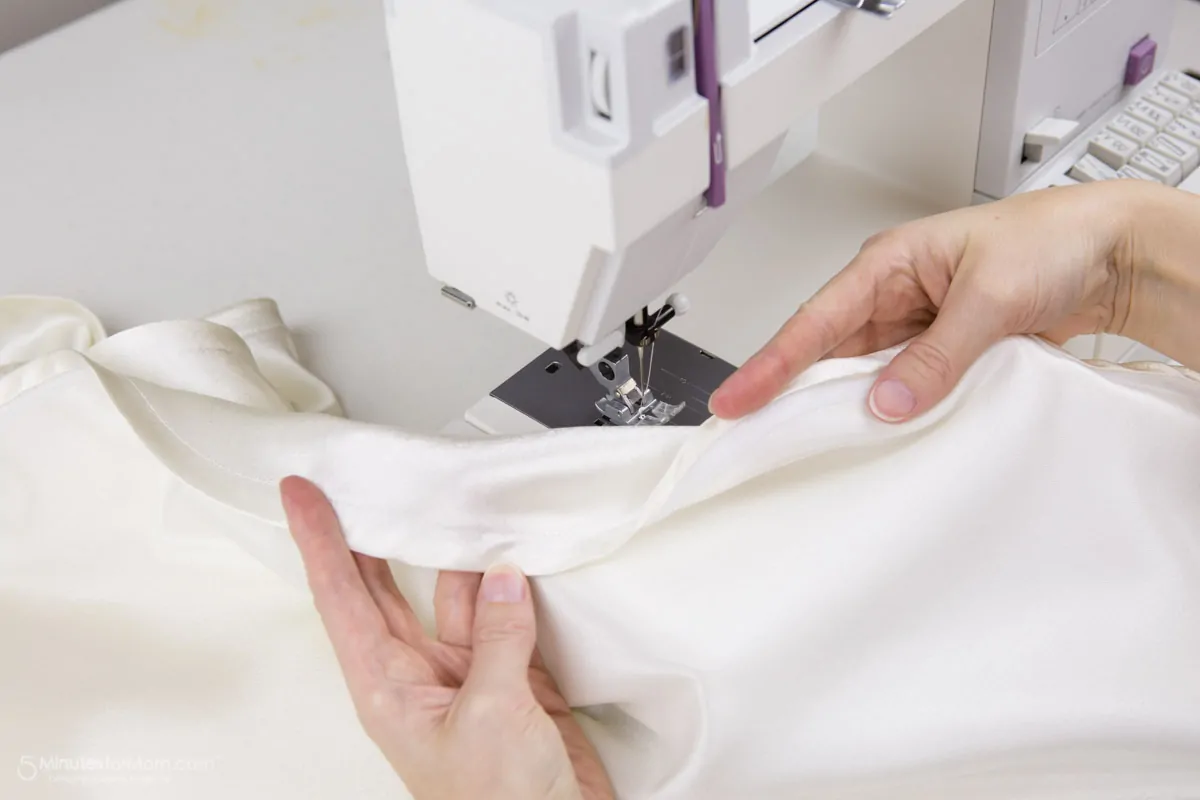 Fall Fairy Flower time!
Get your glue gun on standby — it is almost time…
But first, lay out your flowers and make sure you are happy with your design.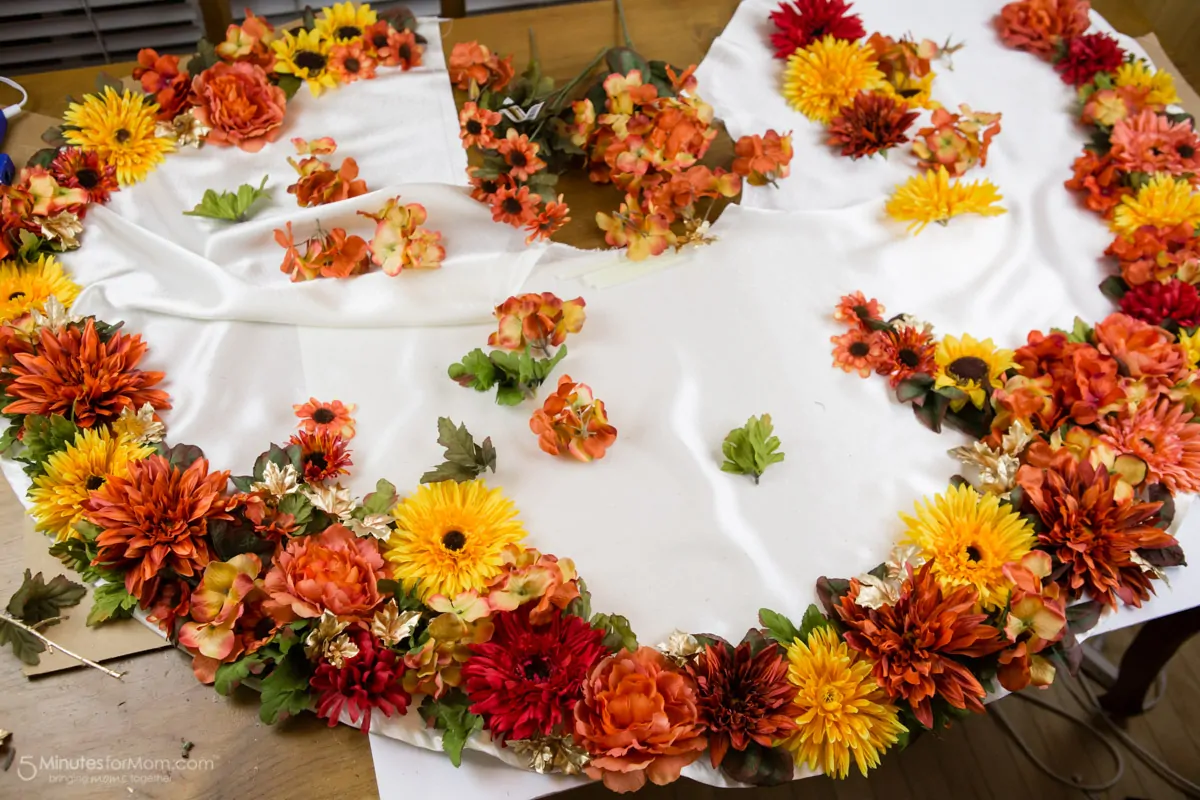 Once you are sure you have everything where you want it, fire up that glue gun and get gluing. This step can take awhile, so get comfy and turn on an audio book, some music or Netflix…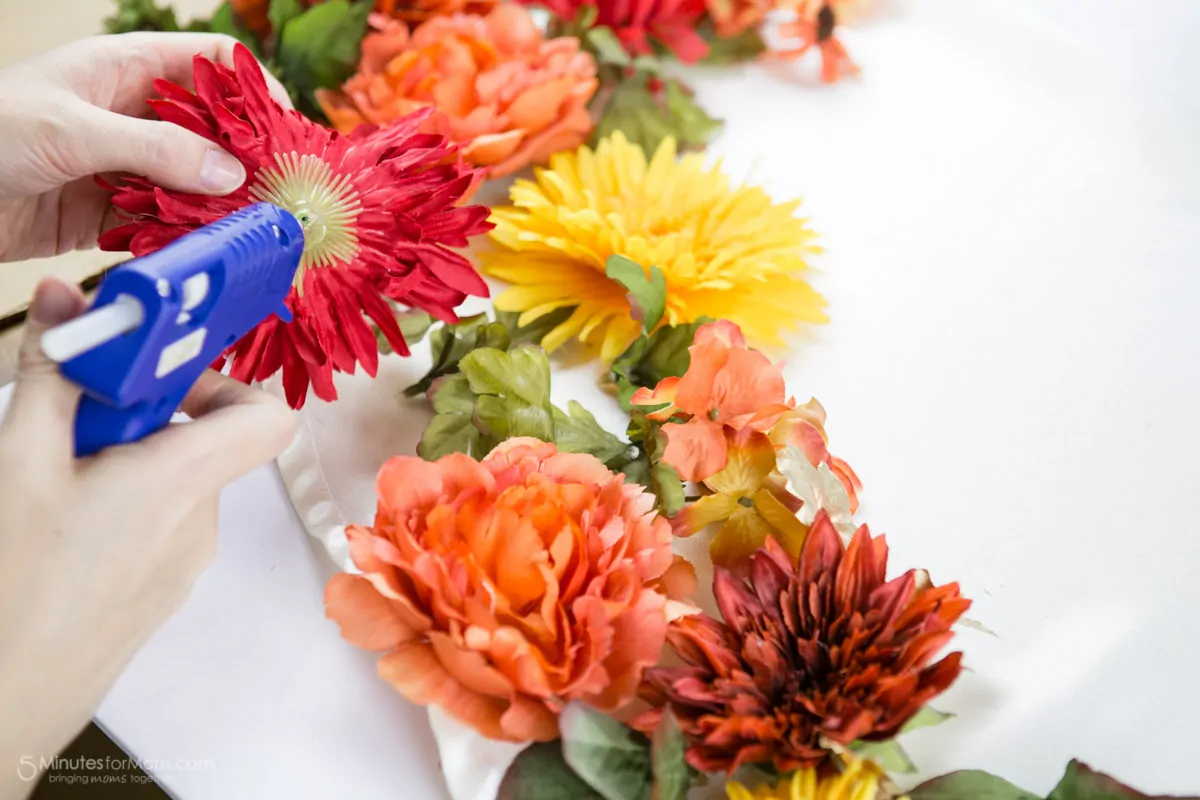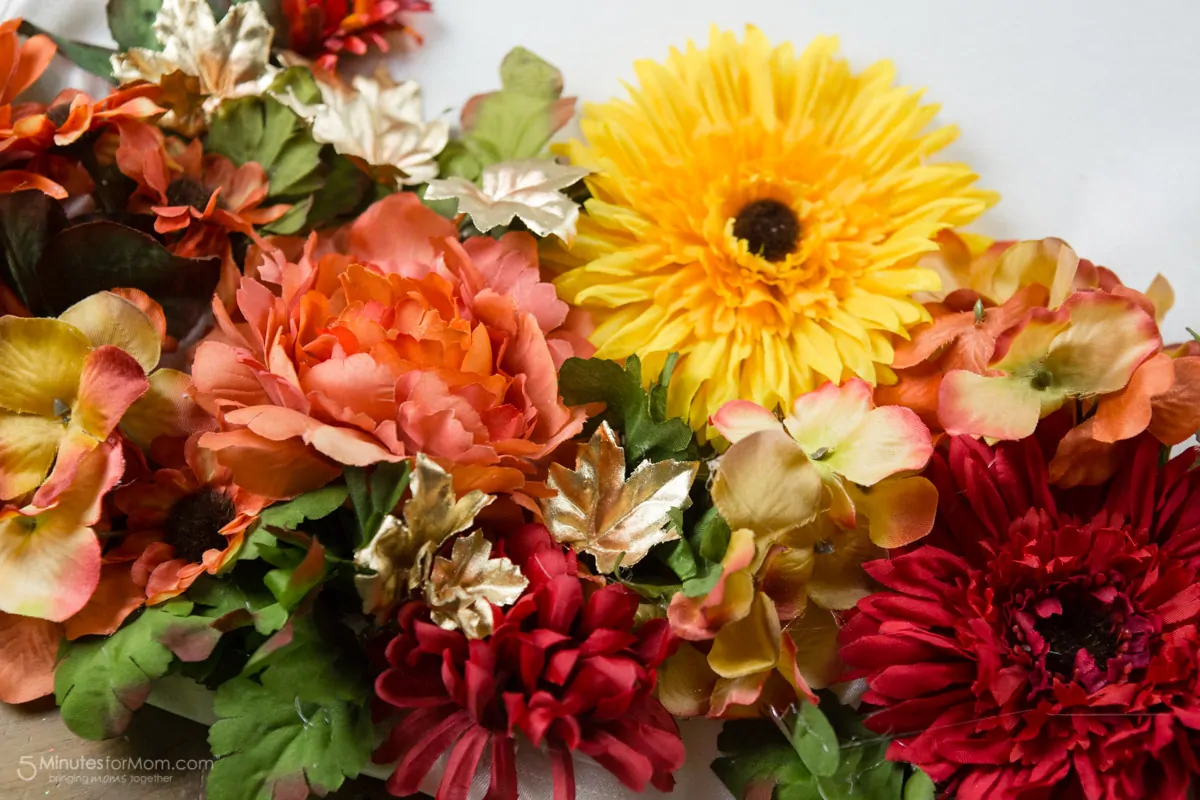 TULLE!
Now your fall fairy dress is really coming together — it is time to add the tulle!
The tulle is a big, long rectangle and, as Angela described in her tutorial, you want your tulle to be a bit longer than your skirt hem (I wanted to make sure I had quite a bit of volume and room in my tulle gathering, so I made sure to add in several inches to the length,) and a little more than twice as wide as the length of your skirt, since you are going to make a bubble hem, enclosing the skirt and flowers inside of the tulle.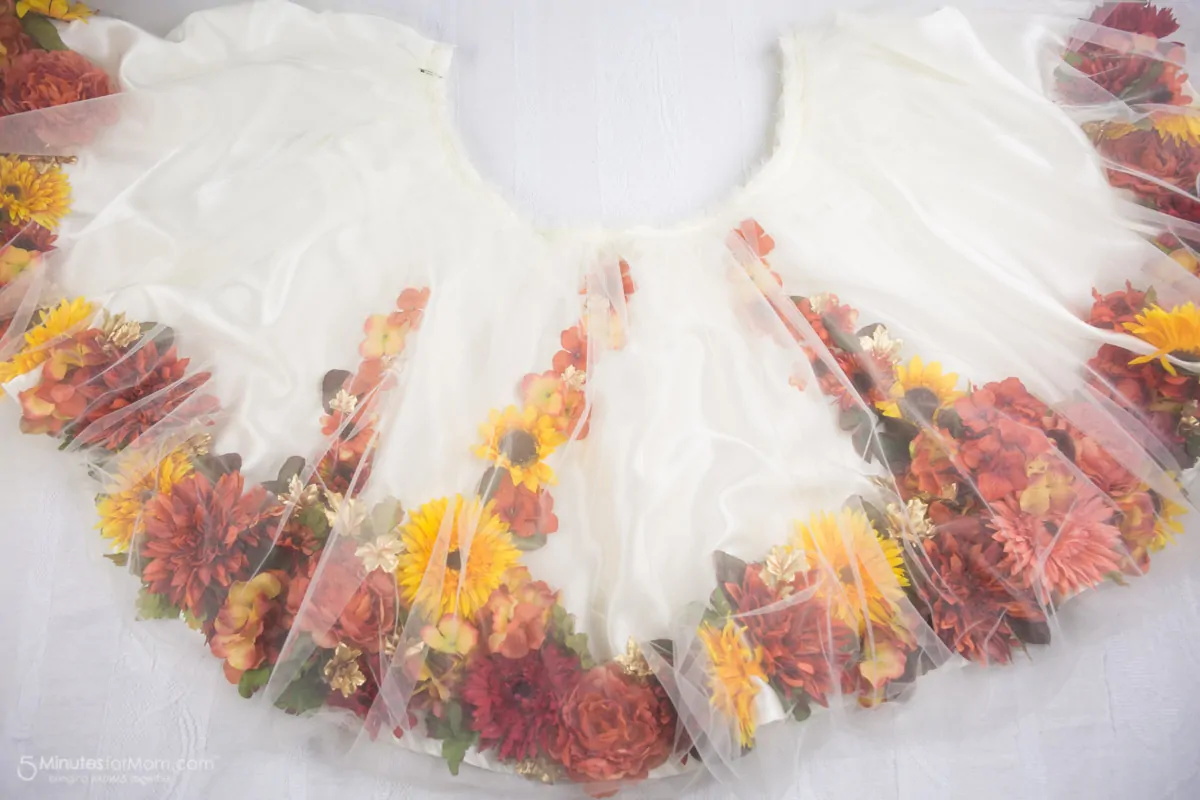 As Angela did, I wanted two layers of tulle to create a more muted look for this fall fairy dress. So, as she suggested, I basted together my two layers of tulle to make it easier to work with. I then gathered one long edge of the tulle and pinned it to the waist of my skirt and sewed it in place.
Next, I gathered the other edge of the tulle, looped it over to the other side, enclosing the flowers and hem of the skirt, and sewed it in place on the other side of the waist.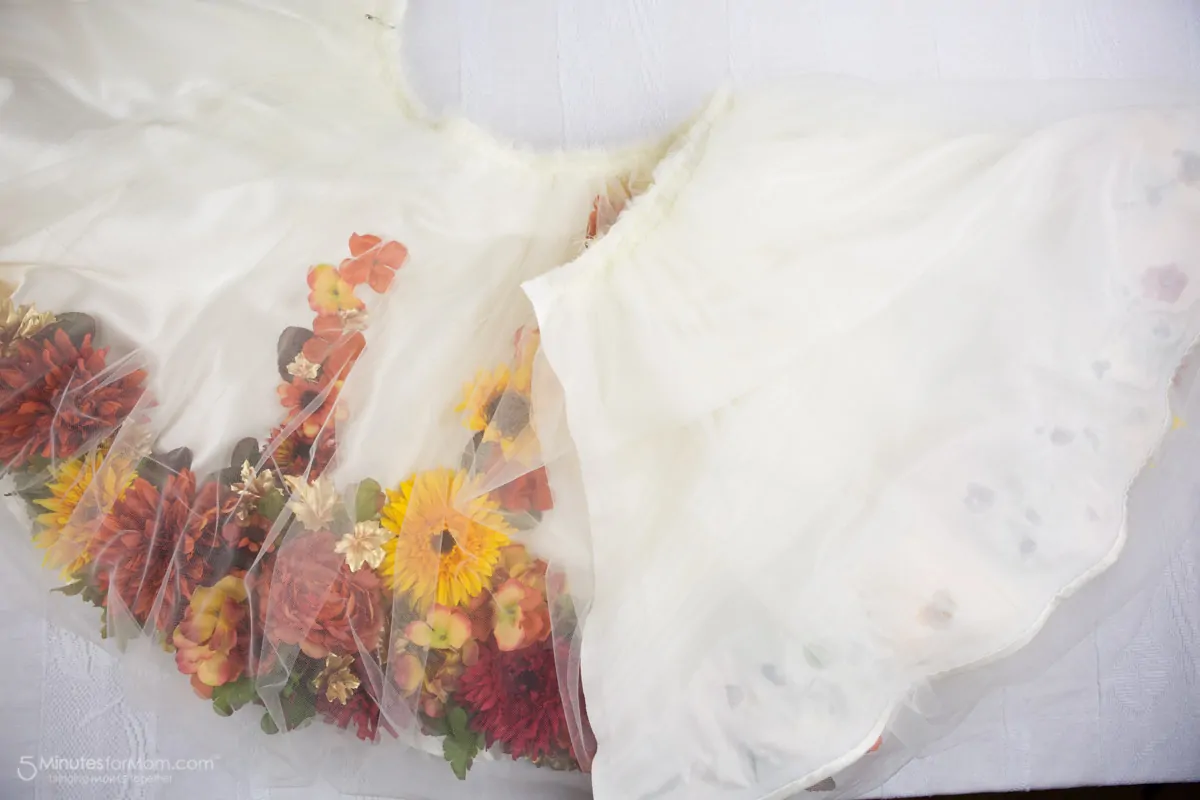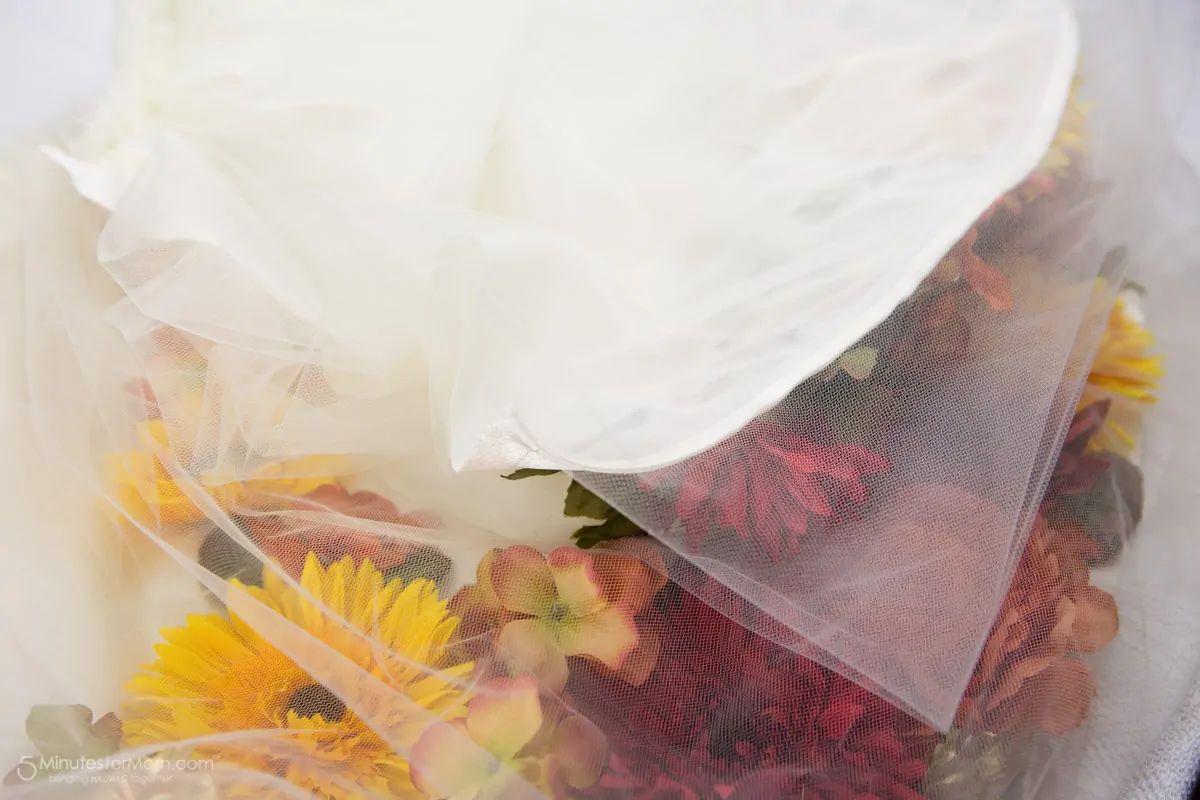 After the tulle was stitched in place, I removed the basting stitches.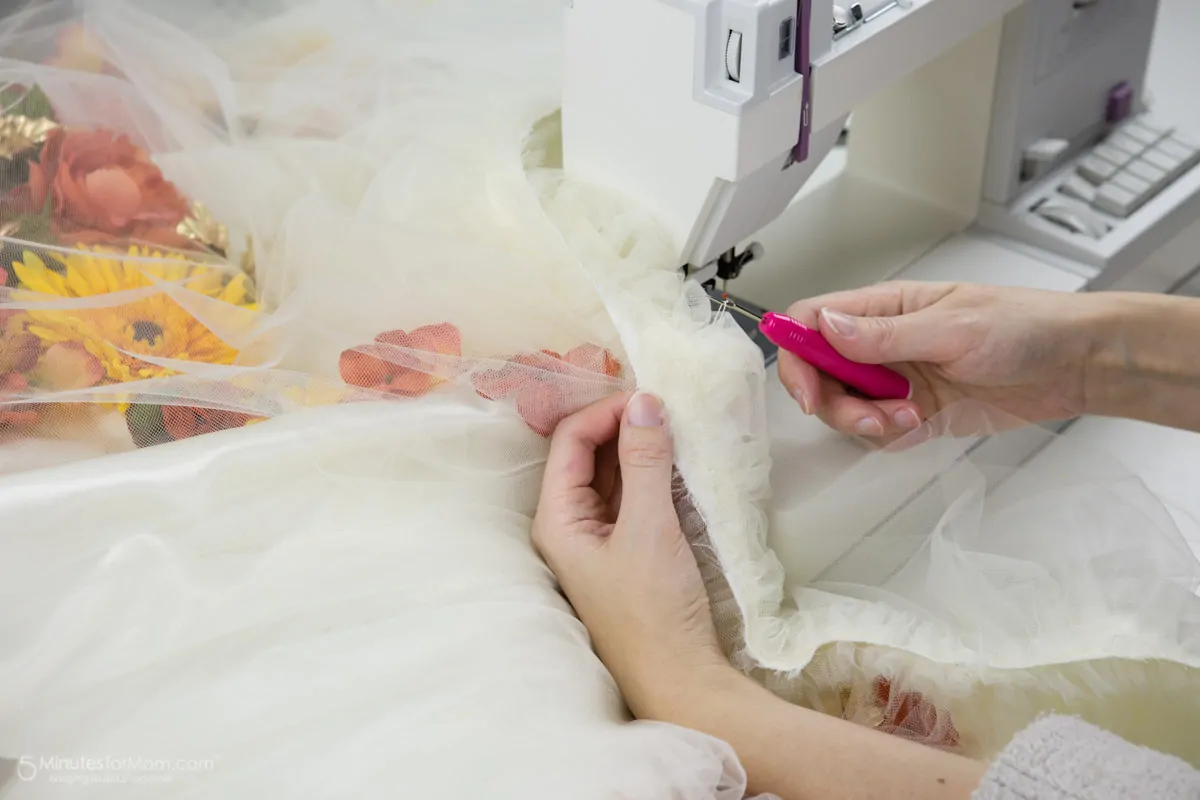 Then to tidy it all up, I serged the along the skirt waist to make a clean edge.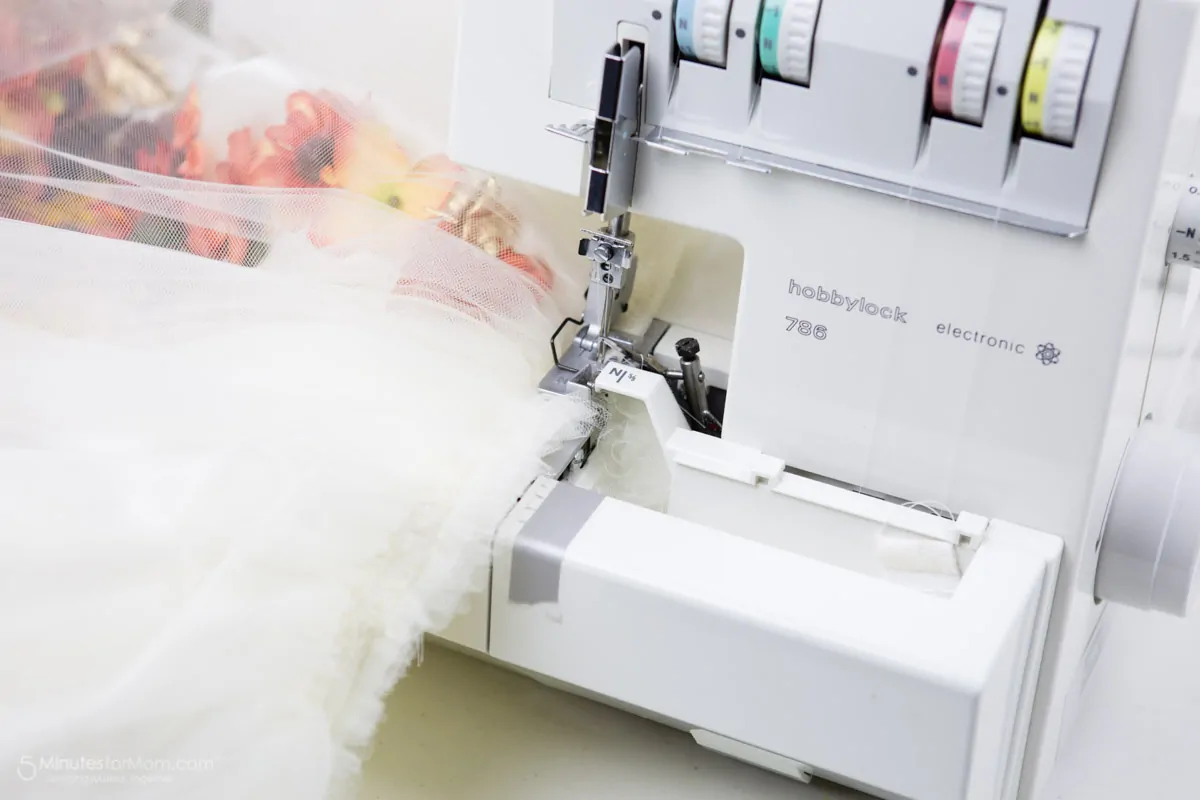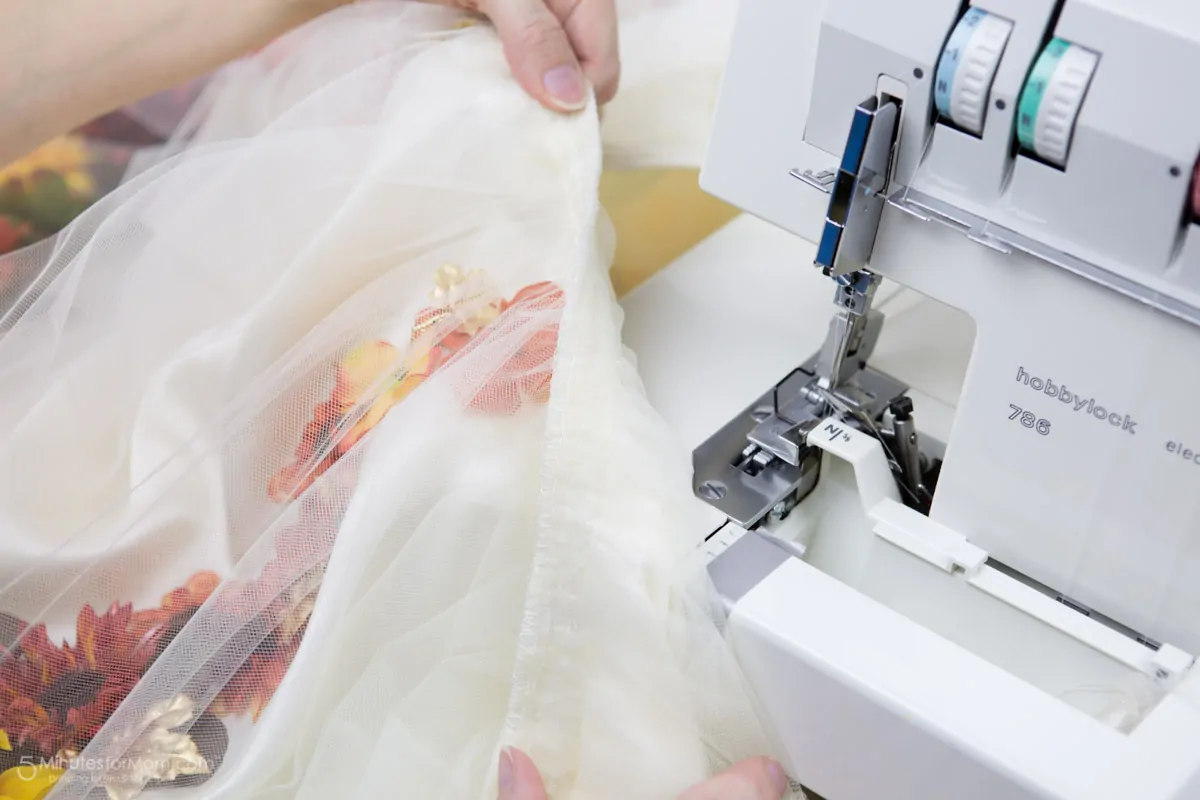 Isn't it just so pretty!!!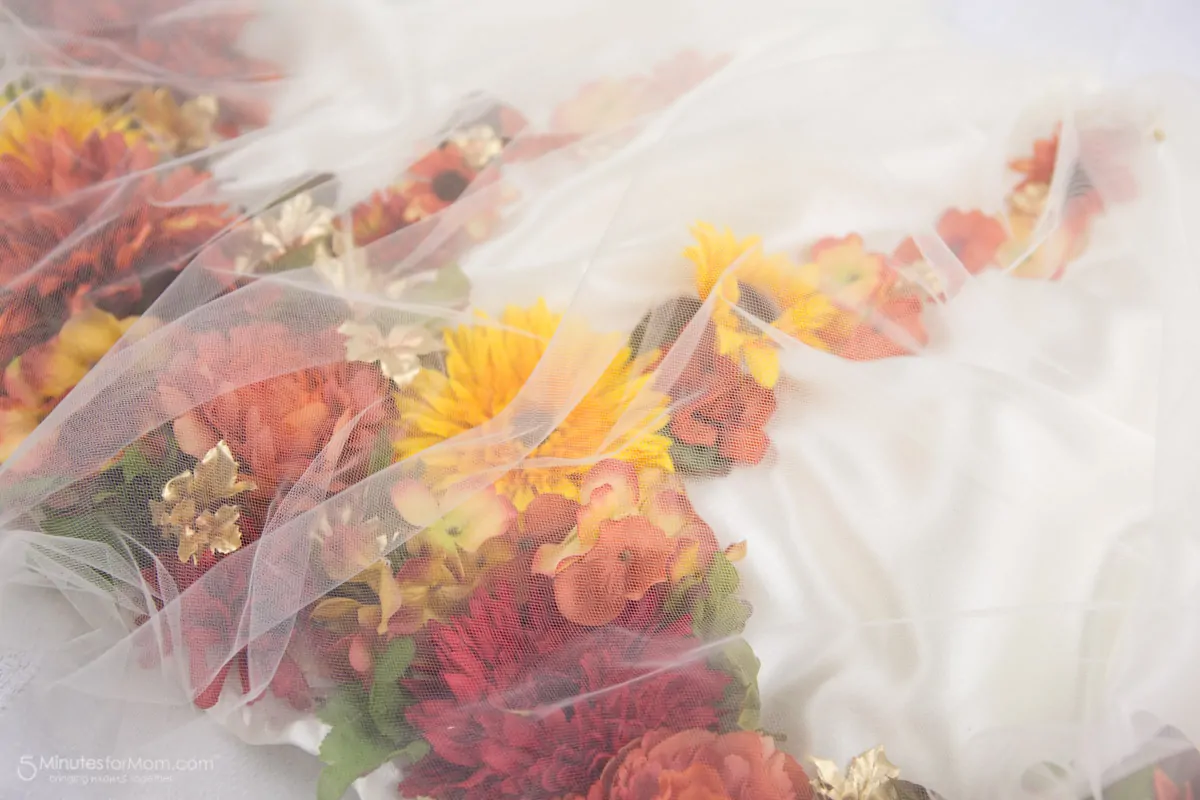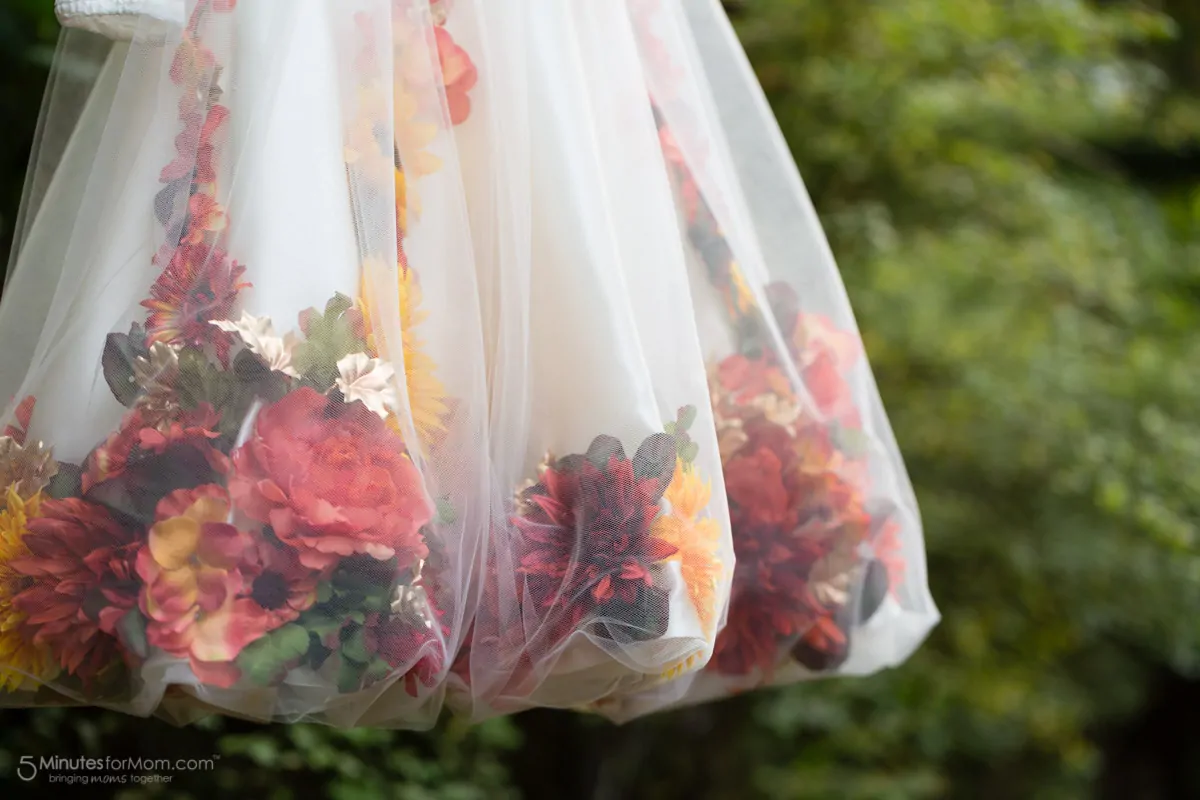 Next Up — Creating the Fall Fairy Dress Bodice
In part 2, I cover how I made the bodice.
Here is a sneak peek of attaching the skirt to the completed bodice…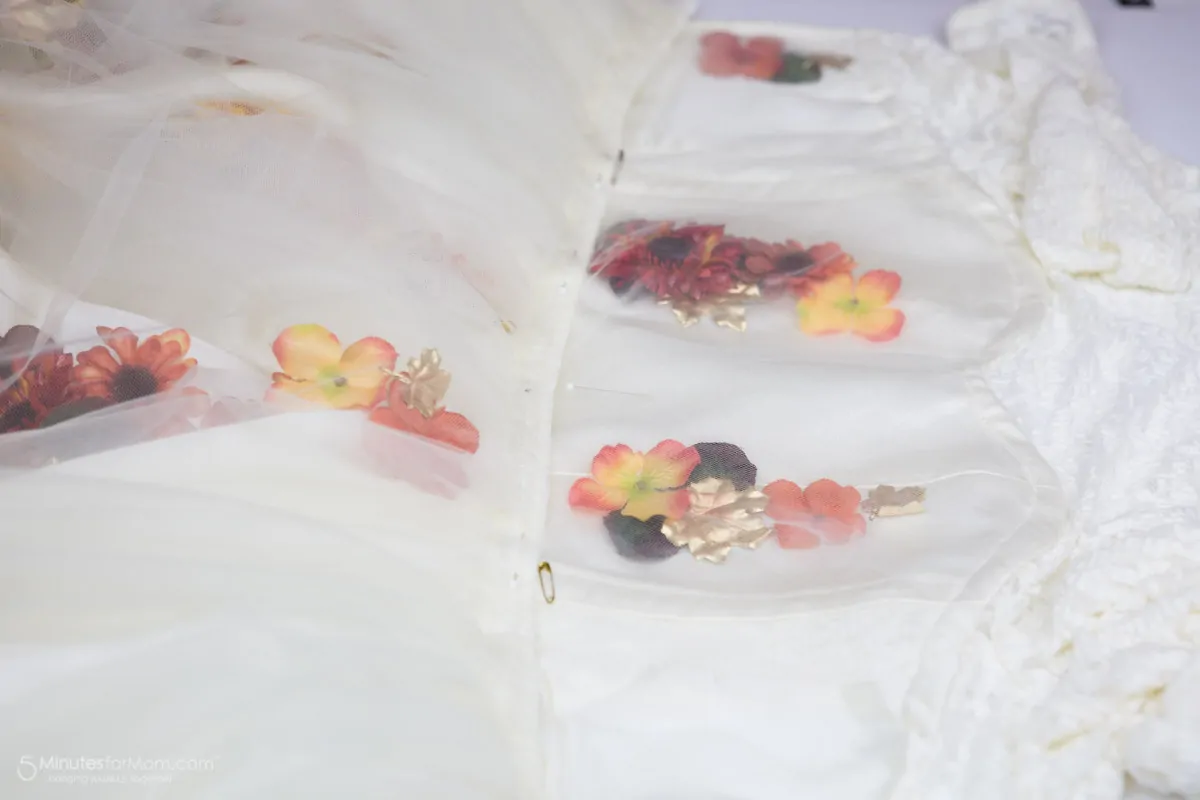 Don't worry, we cover up those raw edges with a ribbon waistband…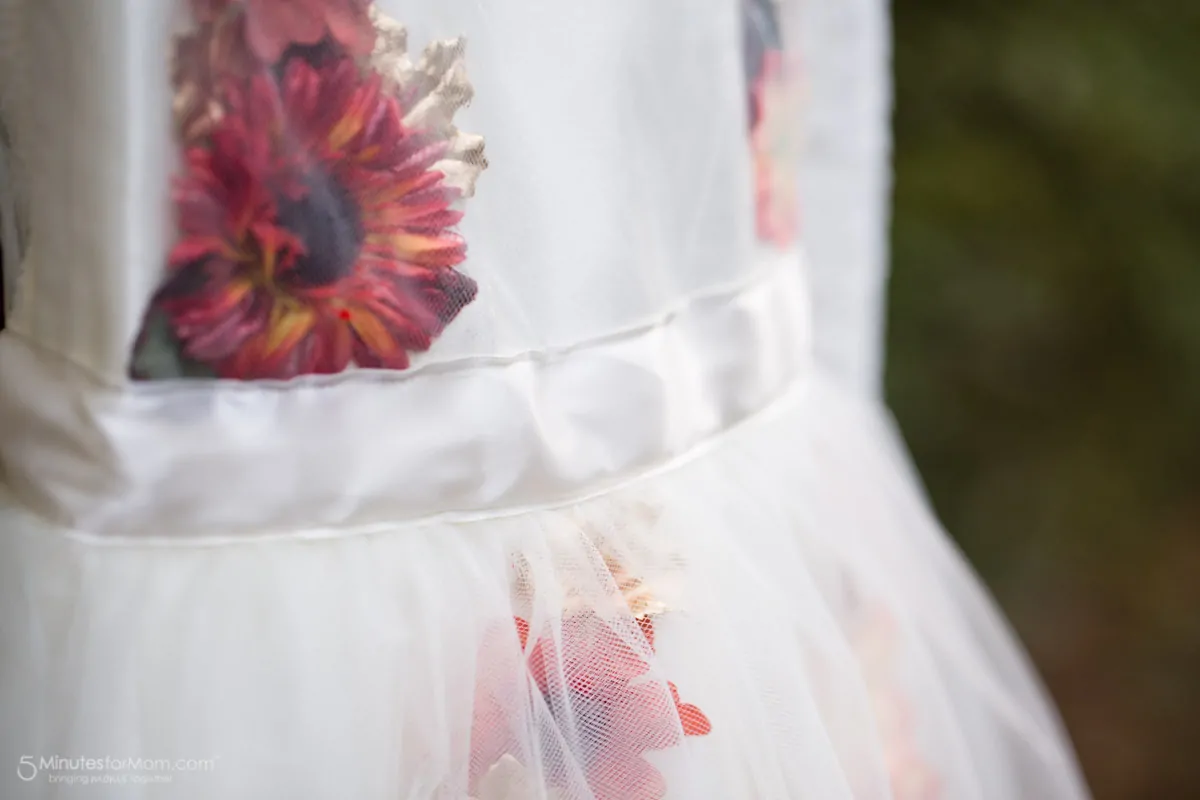 And here is the final dress with my Olivia…
Written and photographed by Janice Croze, co-founder of 5 Minutes for Mom and Janice Croze Photography.
Talk with me: @5minutesformom and Facebook.com/5minutesformom
Pin with me at pinterest.com/5minutesformom