This post may contain affiliate links. Read my disclosure policy here.
If you're looking for a sweet and easy Halloween costume idea, this Deer Costume DIY is perfect. This adorable fawn costume includes a no sew tutu and DIY deer ears headband. Here is how to make a deer costume that could win any contest…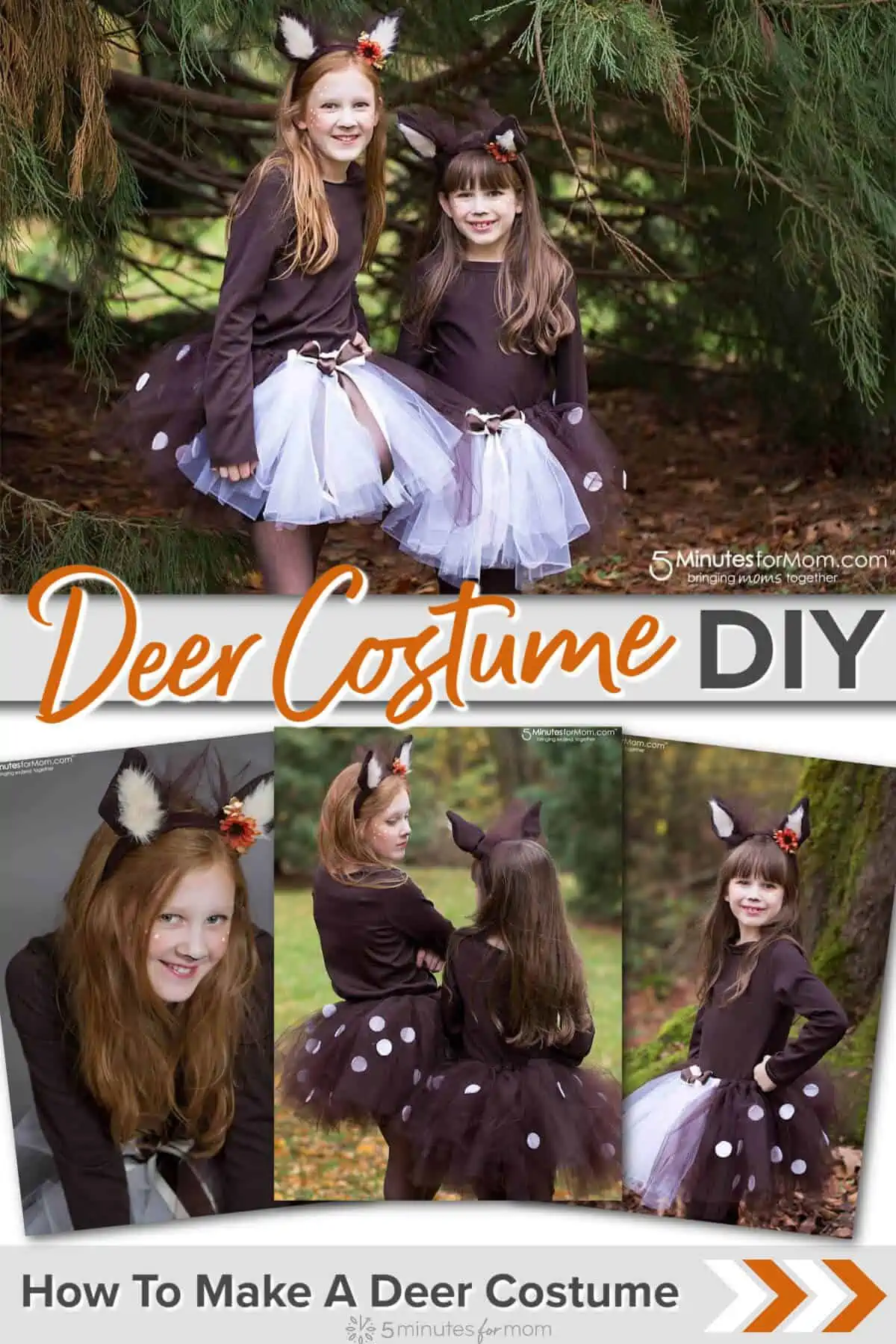 We love making Halloween costumes for our girls. Janice wrote this post sharing how she made each of my girls a DIY deer costume a few years ago. They are so cute we wanted to share them again with you.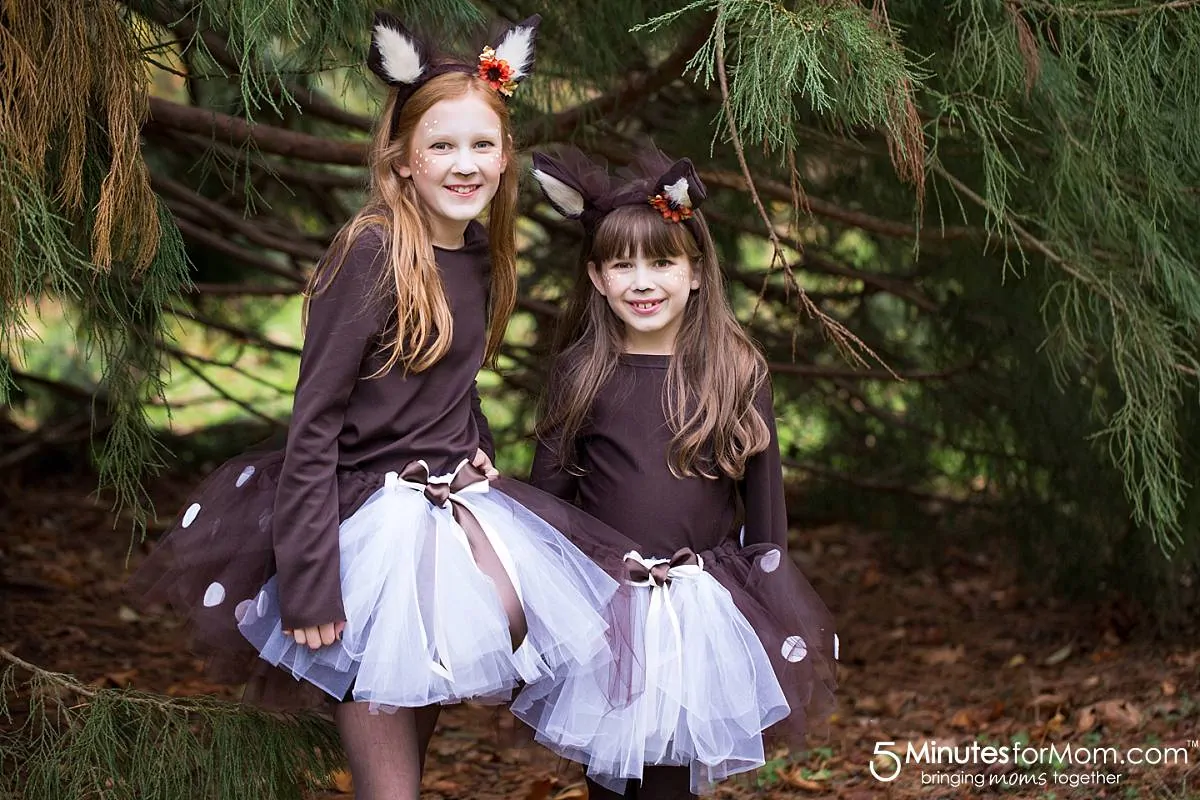 Our girls are obsessed with Halloween costumes. They plan out costume ideas for years ahead.
When Olivia was a Fall Flower Fairy wearing the dress I made her in our Fall Fairy Costume Tutorial, my nieces, Julia and Sophia, were fawns. We all thought the idea of a fall fairy with two baby deer was adorable.
How to Make a DIY Deer Costume…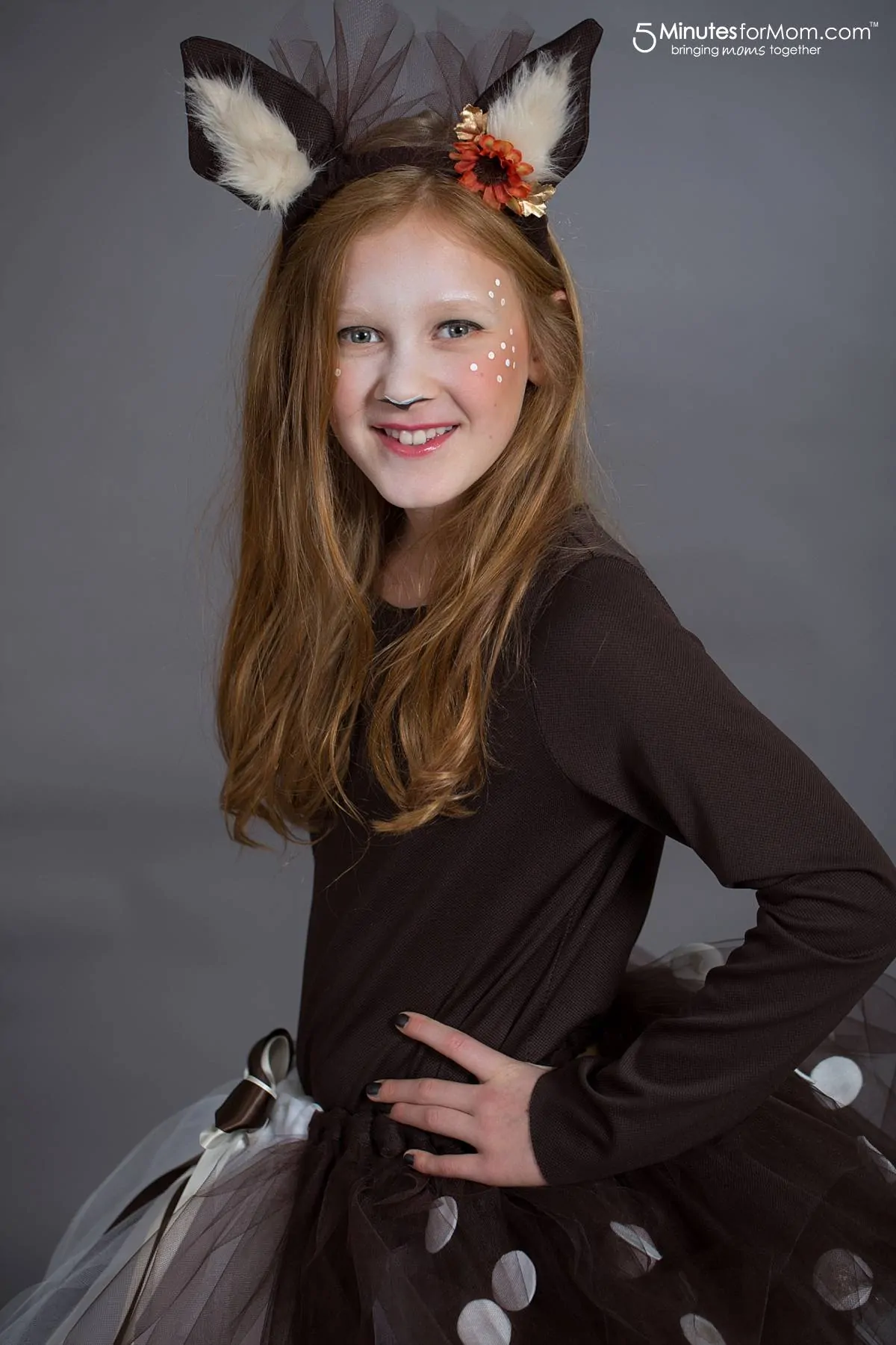 Our baby deer costume is made up of fawn ear headband, brown shirt and leggings/tights (I sewed the shirts and leggings, but Julia chose to wear tights instead of the leggings,) and a no-sew brown and white tutu with white spots and a double ribbon bow.
I think my favorite part of the costume is the fawn ears. I just LOVE how they turned out.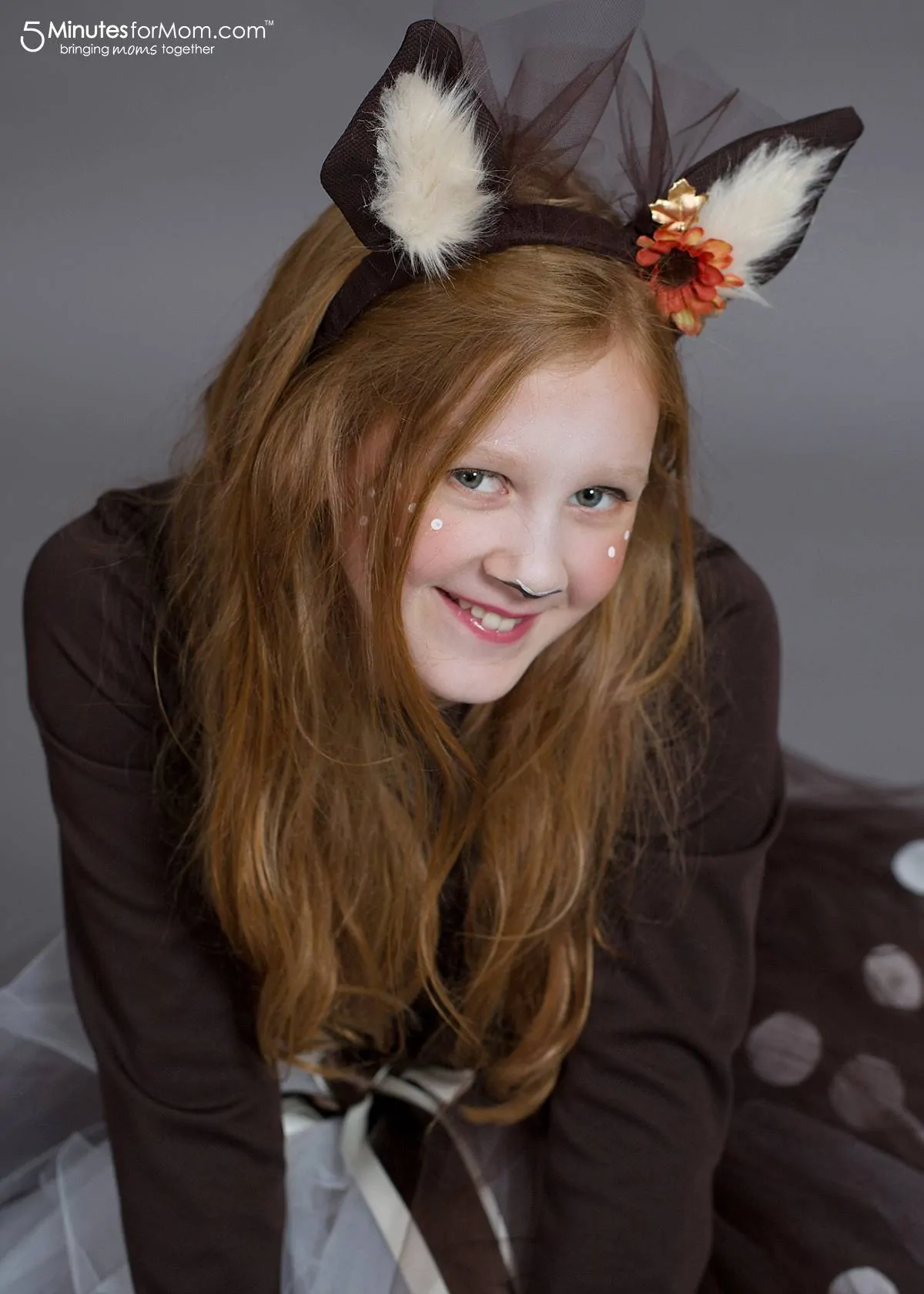 I have made countless pairs of animal ear headbands over the years — but these deer ears top the list.
For tutorials on how I make my animal ear headbands, check out this tutorial post and video for our DIY Cat Costume and this tutorial post and video on how to make simple no-sew animal ears.
With these deer ears, I used some scraps of the brown fabric with which I had made the girls shirts and leggings, some fake fur, leftover brown tulle from the skirts and some extra fall flowers I had from Olivia's Fall Flower Fairy Dress.
I bent crafting wire to make the shape of the ears and glued onto the headband.
I sewed the outer deer ears together and slipped them over the wire ear forms, wrapping and gluing the bottom of the ears to the headband. Then I hot glued the fur for the inner ears to the outer ear.
Next, I wrapped the brown tulle around the headband to cover the headband and the bottom of the ears and hot glued to secure in place.
Finally, I glued on some tufts of tulle, flowers and leaves for decoration.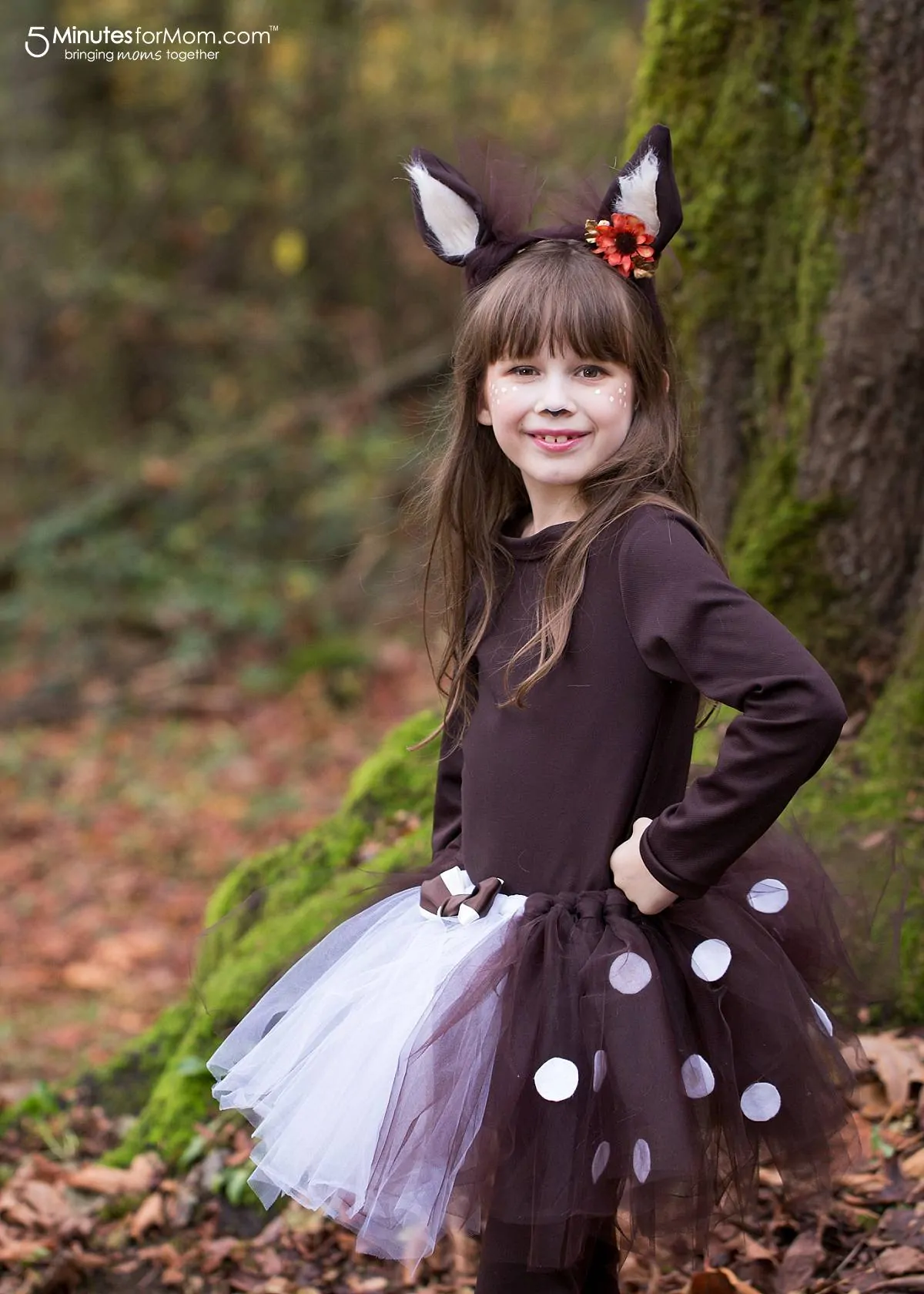 As I mentioned above, I sewed brown shirts and leggings for the girls to wear. I couldn't find any brown long sleeved shirts or leggings, and I wanted the color of the leggings and the shirts to match, so I decided to make them myself.
That decision definitely added to my workload and I complicated matters by buying a fabric that wasn't ideal. Since the fabric was just for a costume, I didn't want to spend a ton on it and I couldn't find any brown stretch fabric that was the color I wanted at a decent price.
So I opted for a somewhat stretchy but kind of strange fabric that I found in the clearance area.
It was the perfect color, but unfortunately it wasn't soft and stretchy enough like a regular jersey or spandex fabric. So I had to remake the girls' leggings because they were too small. Then, Julia still didn't like the feel of hers and opted to wear brown tights instead. Sigh.
If you decide to whip up some brown shirts and leggings for your costume, please do yourself a favor and make sure you buy a soft, comfy fabric with enough stretch.
Hopefully you will get lucky and find brown shirts and leggings or tights to match or you could always buy a white leotard/bodysuit and white tights and dye them.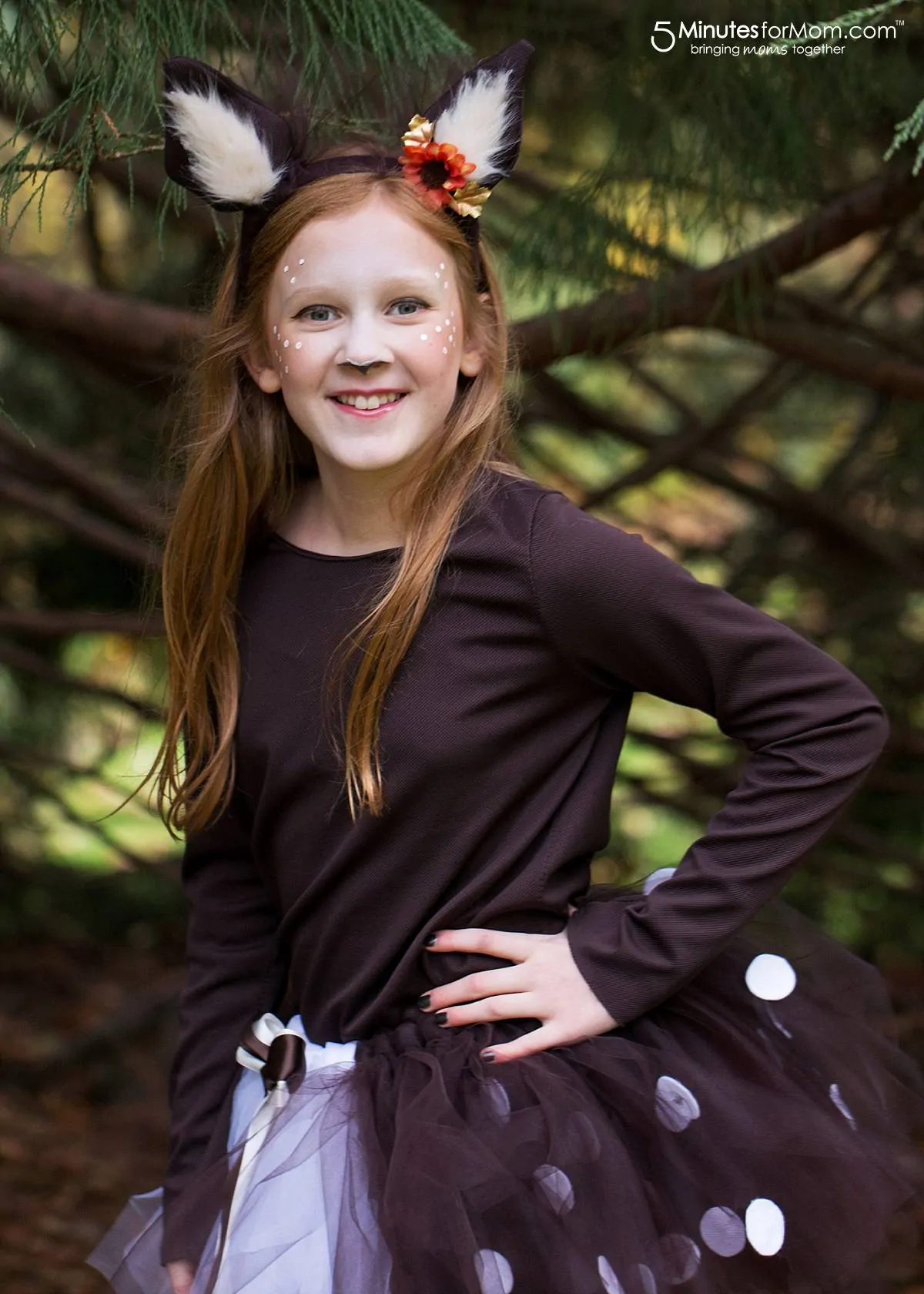 Next up are the tutus. For these tutus, I made simple no-sew knotted tulle tutus.
I will update soon with a full tutorial on how to make a no-sew tutu — but there are a ton of different tutorials online.
When I make tutus, I use bridal tulle because it softer and better quality than craft tulle, such as the tulle that is sold on 6 inch rolls at craft stores. But if you plan on using craft tulle, no worries. It will work fine.
If you can't find the colors you need at your local fabric stores, you can buy bridal tulle and craft tulle online.
For these deer costume tutus, I cut strips of tulle that were 8″ by 30″. I used a ton of tulle — probably about 4-6 yards of brown tulle and 2-3 yards of white tulle.
I measured the girls waist and cut elastic accordingly. I pinned the elastic at their waist measurement, put it on the back of a chair and began tying on the tulle strips, two pieces at a time. (I will update soon with photos of that process.)
Once I was finished tying on strips, I did a final fitting on the girls and sewed the elastic together.
I cut out white felt circles and hot glued them to the back of the tulle skirt.
Then I tied a double bow with brown and white ribbon and pinned on the front of the waist band.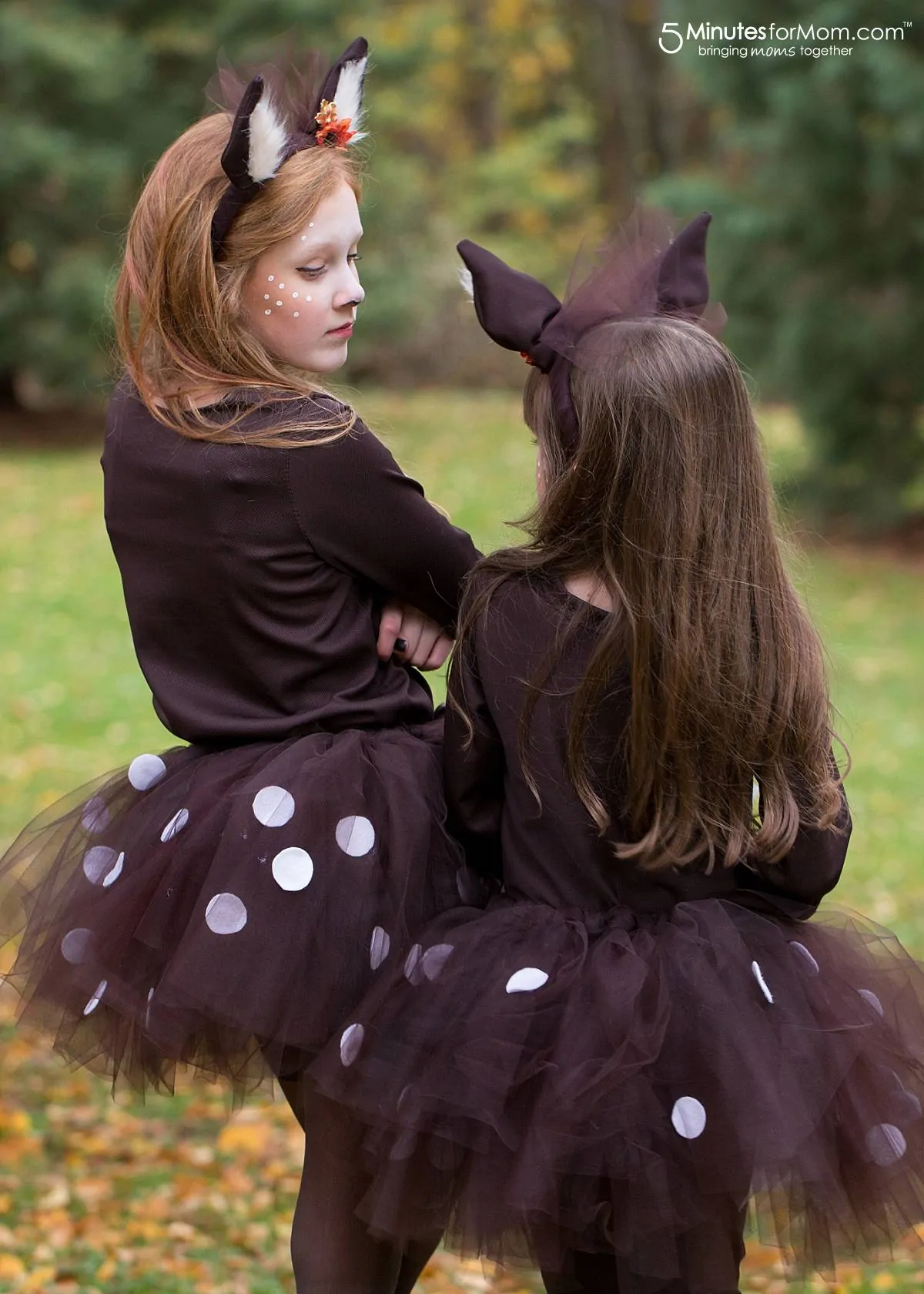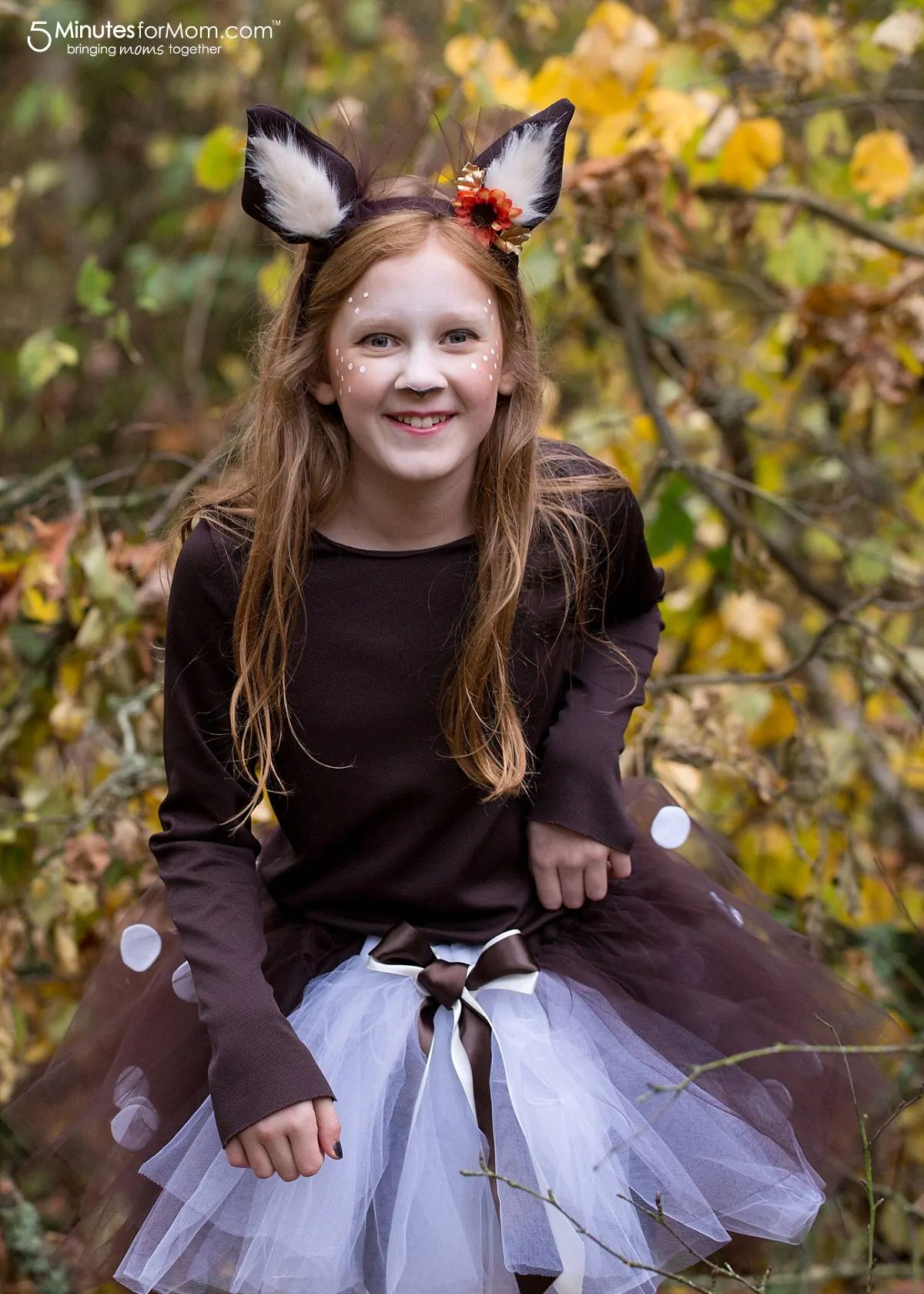 Julia and Sophia had so much fun with these Halloween deer costumes — and I think I loved them even more than they did!
What are your kids' favorite costumes? Do they ever wear them again for play during the year?
Have you ever made a tutu as a part of a costume? Did you make a no-sew tutu or did you use a sewing method to create your tutu?
I would LOVE to hear your experiences creating your costumes.
Pin this Deer Costume DIY For Later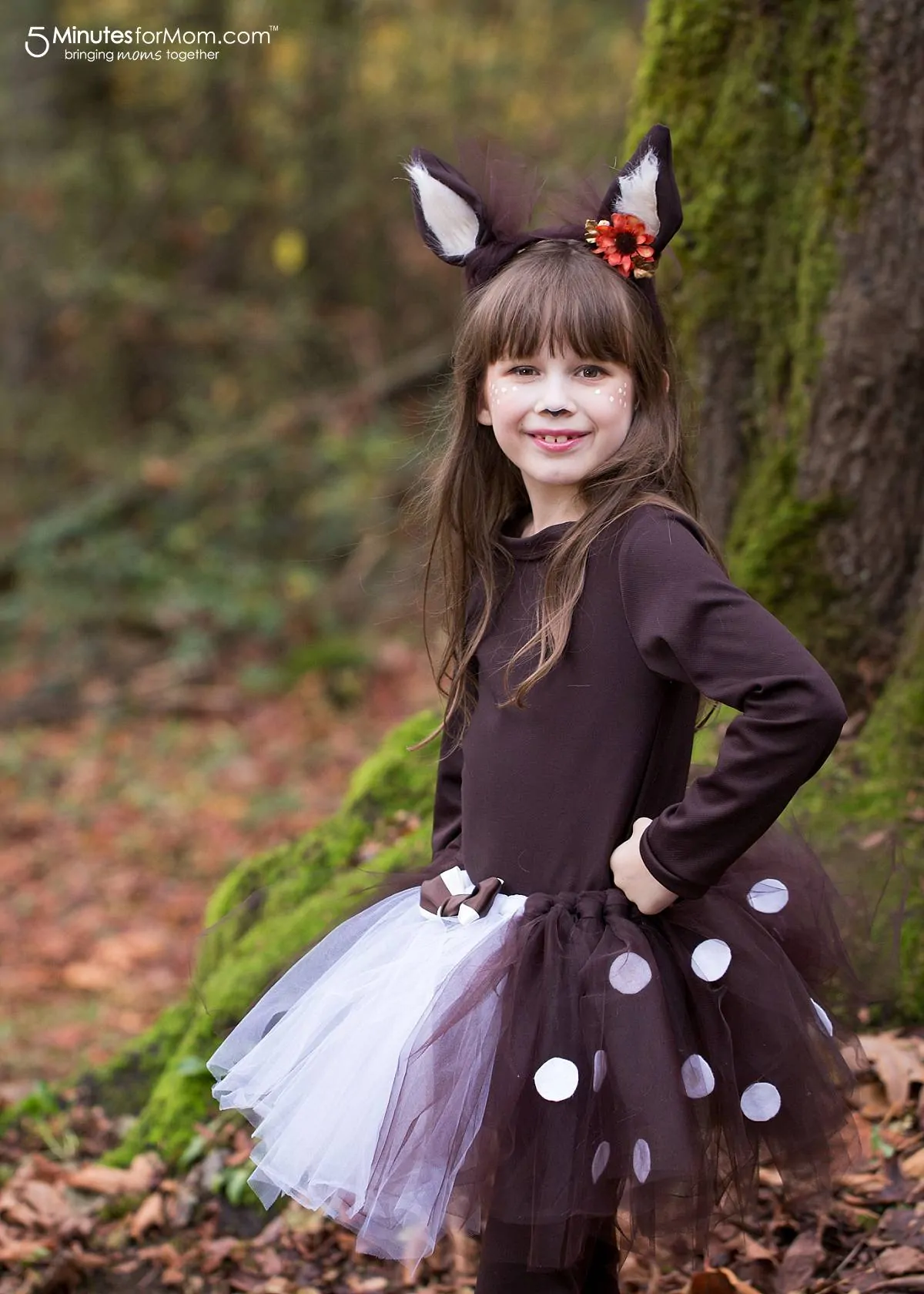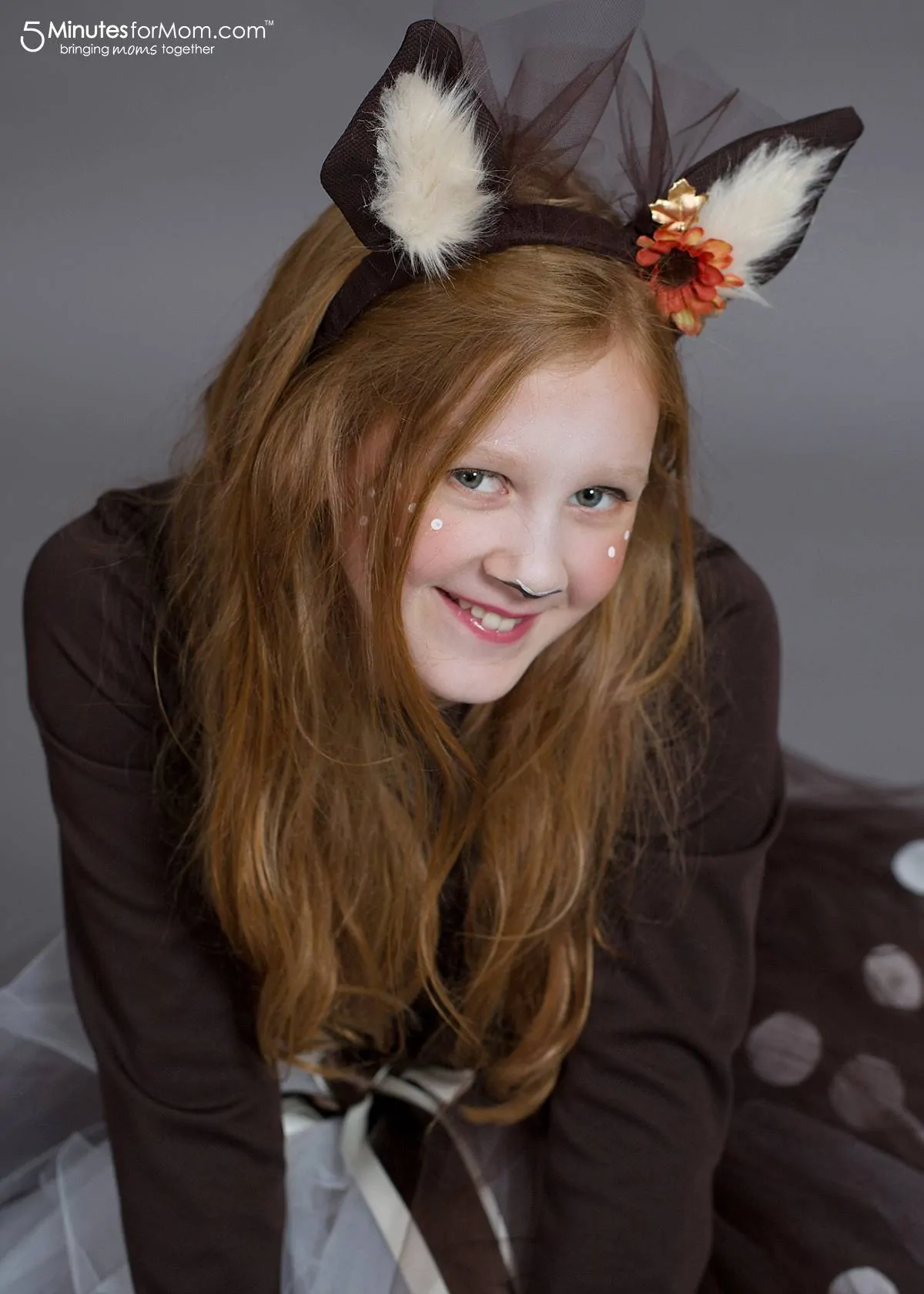 Written and photographed by Janice Croze, co-founder of 5 Minutes for Mom and Janice Croze Photography. We first published this post on October 30, 2017.
Talk with me: @5minutesformom and Facebook.com/5minutesformom
Pin with me at pinterest.com/5minutesformom