This post may contain affiliate links. Read my disclosure policy here.
Among Us costumes are simple and fun DIY Halloween costumes. If you're looking for a pretty Halloween costume idea or you want to dress up for some Among Us cosplay, here is how to put together an easy Among Us costume.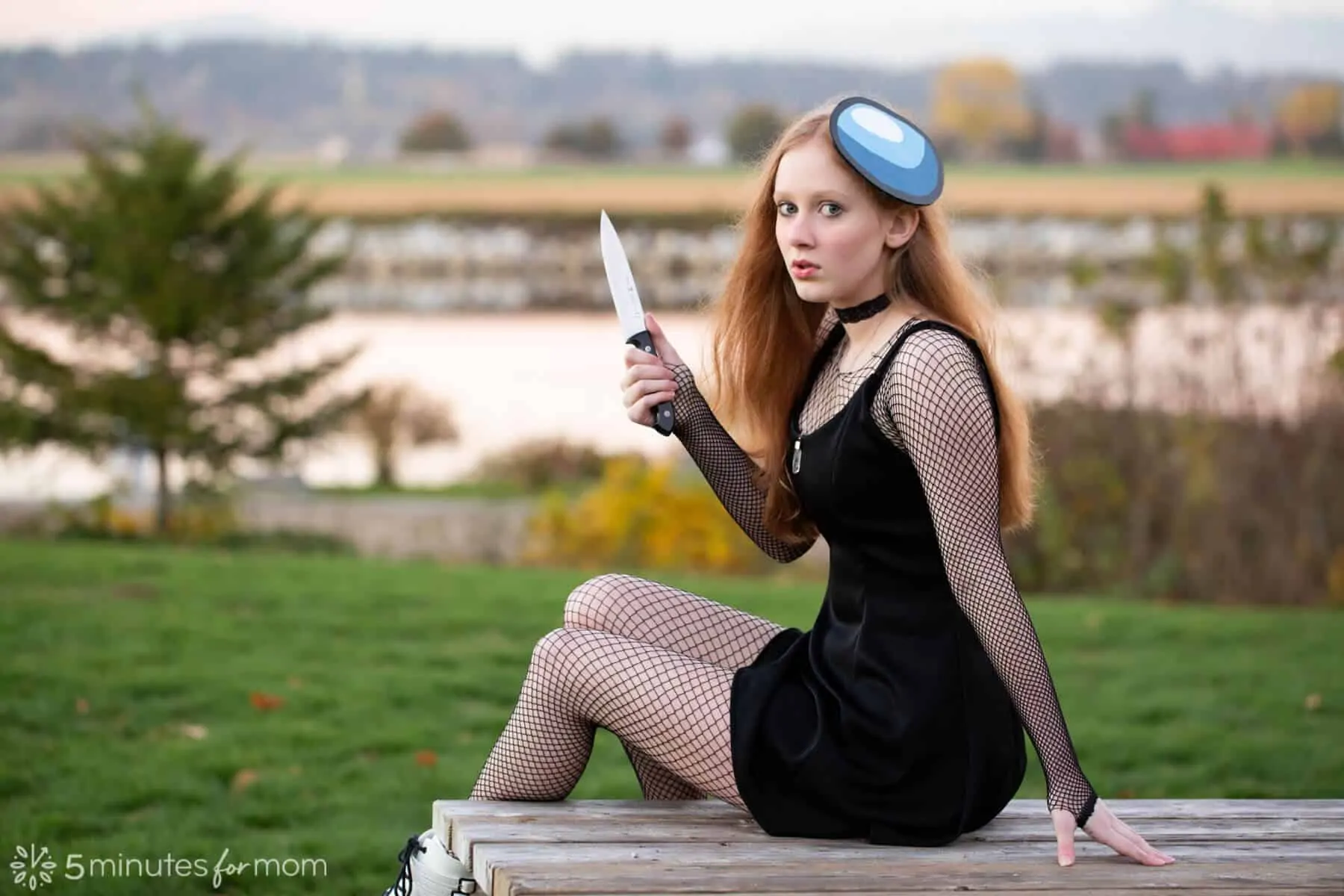 Cosplay is so much fun to design and wear, and these Among Us costumes are easy to make! In fact these pretty cosplay outfits are some of the simplest handmade costumes we've ever made. They're perfect for either a single costume or for a group costume.
I worked with my nieces, Julia and Sophia, to make these fabulous Among Us costumes.
As usual, they wanted their costumes to look pretty. So instead of making spacesuits, they each created an outfit using one of the Among Us character colors and made a small "visor" hairpiece.
Their Among Us cosplay idea was a super easy concept and the only challenging part for me to implement was to design and make their dresses in just a few days. (I always get busy and have to scramble to sew up their costumes at the last minute.)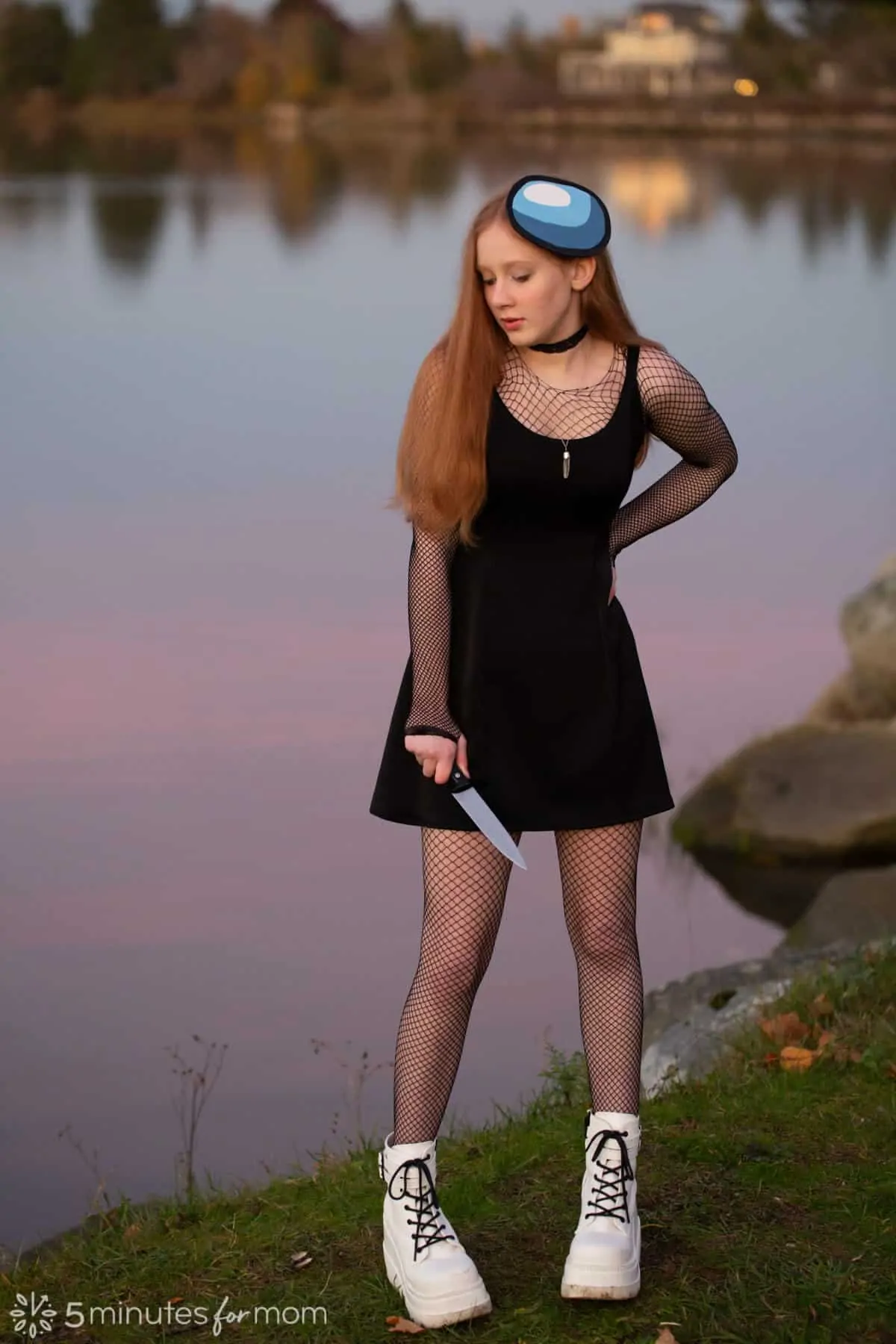 I sewed their dresses, we bought fishnet stockings online, and the girls made their Among Us spacesuit visors.
How to Make an Easy DIY Among Us Costume
Step 1 – Choose Your Among Us Cosplay Color
Since Among Us characters are completely covered in spacesuits, the first thing you need to do for an Among Us costume is to choose your color and figure out how to wear that color from head to toe.
Our girls wanted a simple costume and they wanted to be comfortable and ready for a night of watching movies and eating candy. So they decided to pair fishnet stockings with short dresses and make lace chokers to wear around their necks.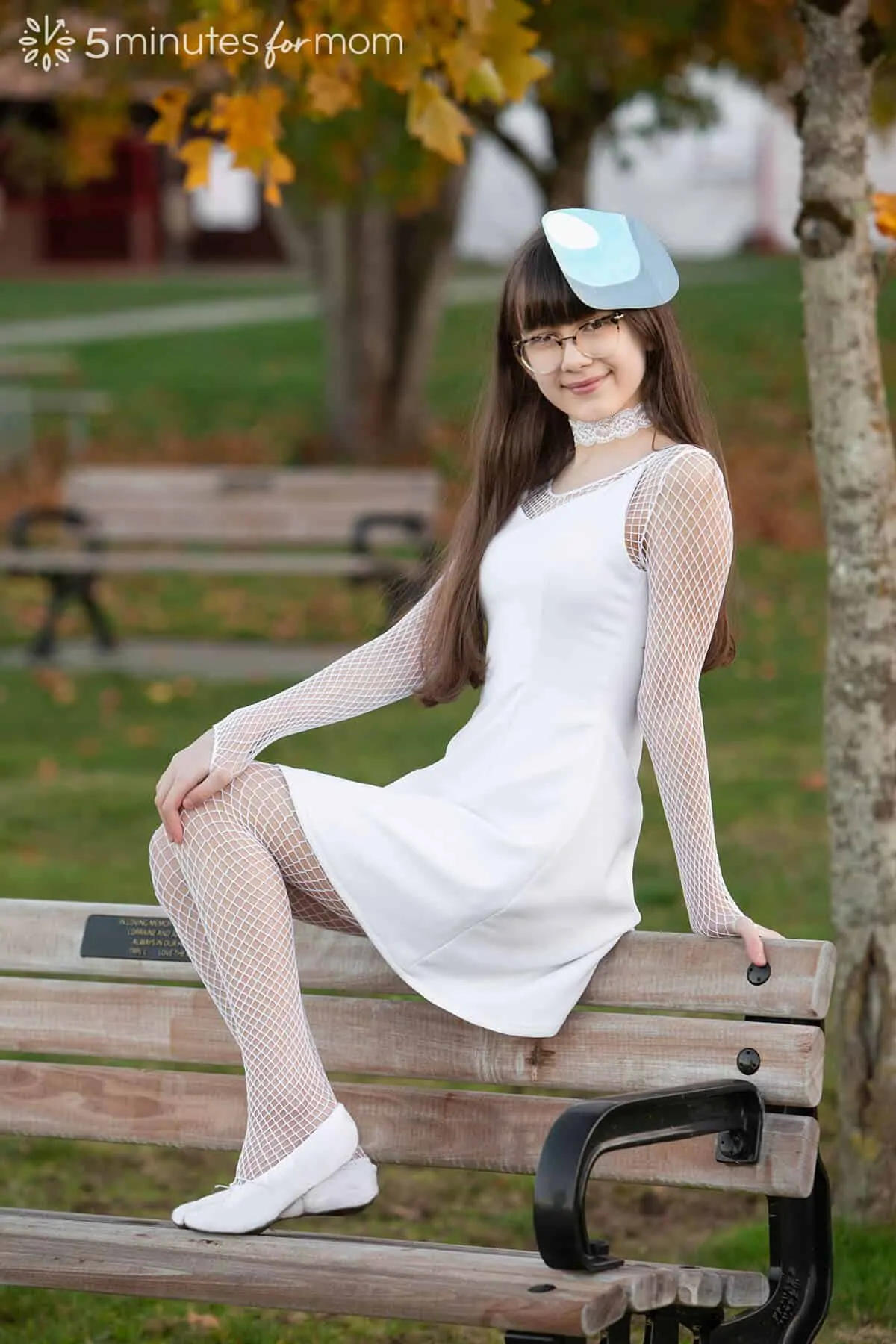 I designed and sewed their dresses.
For Julia's black dress, I used a polyester satin and for Sophia's white dress I used a stretch woven, made with polyester and spandex.
For their fishnet long sleeve tops, Sophia used one we bought on Amazon.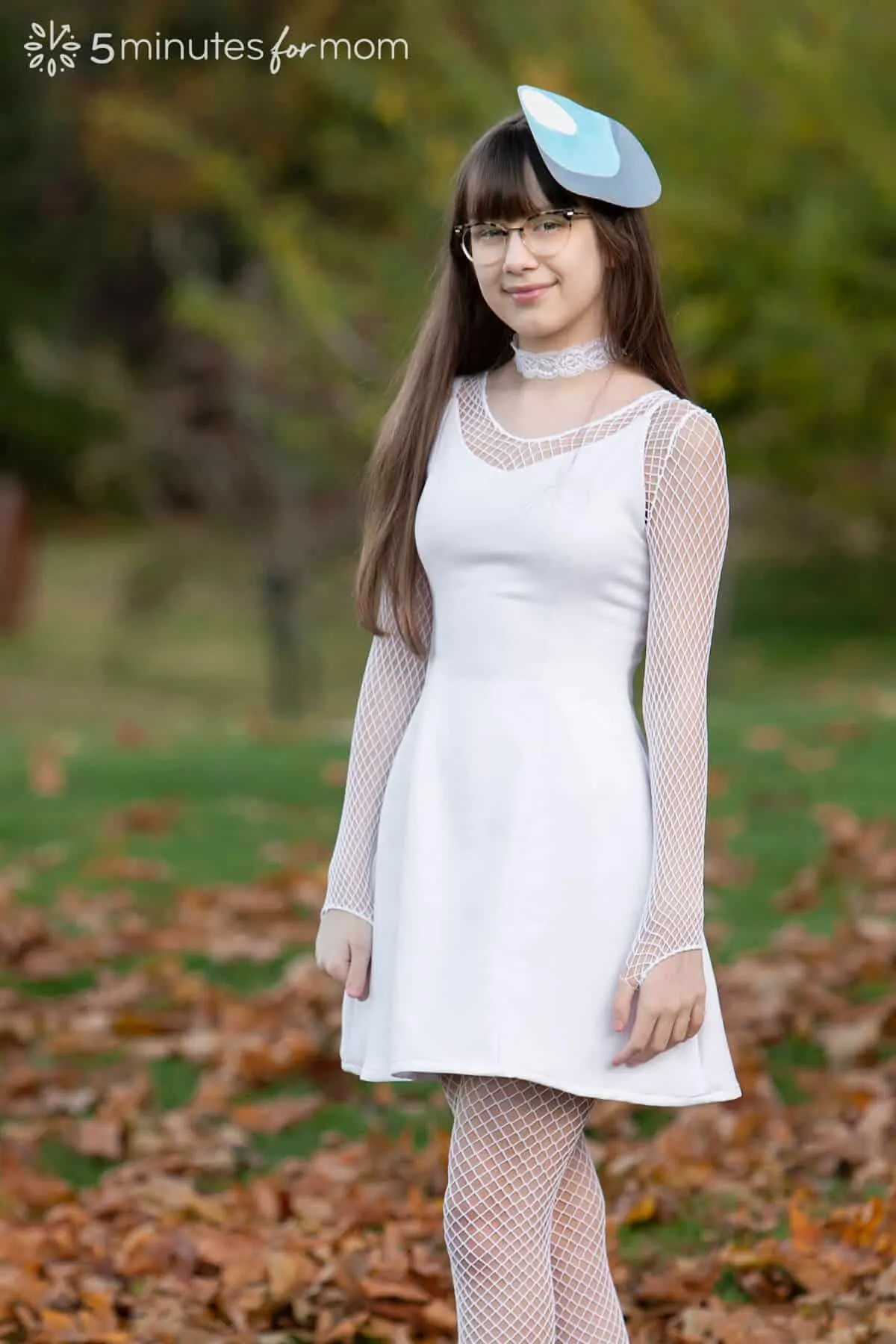 Julia didn't like hers and so she decided to just cut a pair of fishnet stockings for her top.
If you want to make a fishnet long sleeve top from a pair of fishnet stockings, it is so easy.
Just cut a tiny hole in the crotch of the stockings and put over your head. Then cut off the toes of the stockings, and your arms go in the stocking legs.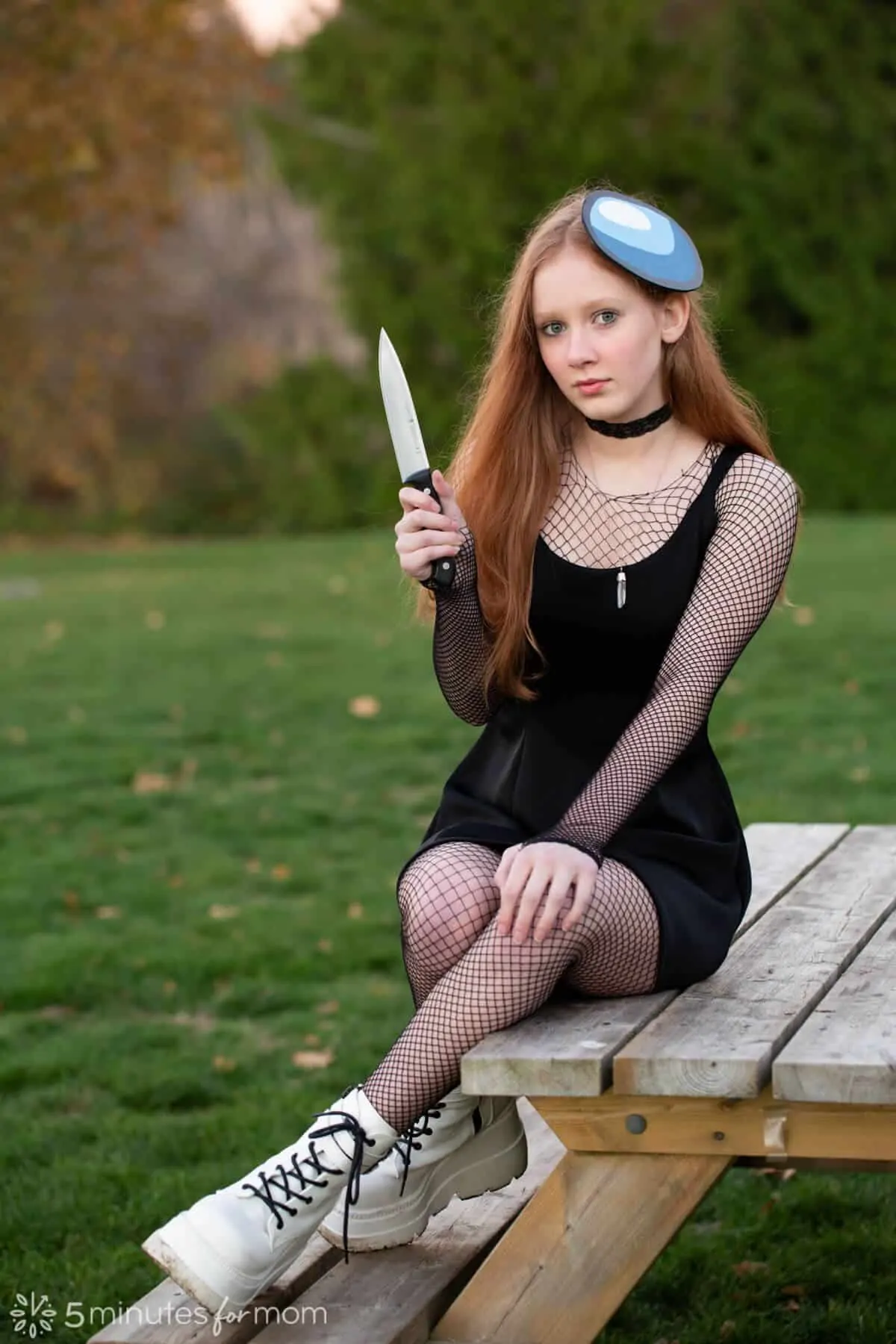 To keep the opening at the neck from unraveling and stretching too much, I sewed a circle a few inches around the opening. I ended up sewing it a bit too small to go over Julia's head, but I just snipped a couple of threads and it fit.
The lace chokers are just pieces of stretch lace we bought at the fabric store and pinned together with small safety pins.
Step 2 – Make Your Visor
The defining piece in this DIY Among Us Costume is the spacesuit visor.
To make an Among Us visor, cut an oval from cardboard or foam core and then paint in shades of blue to white.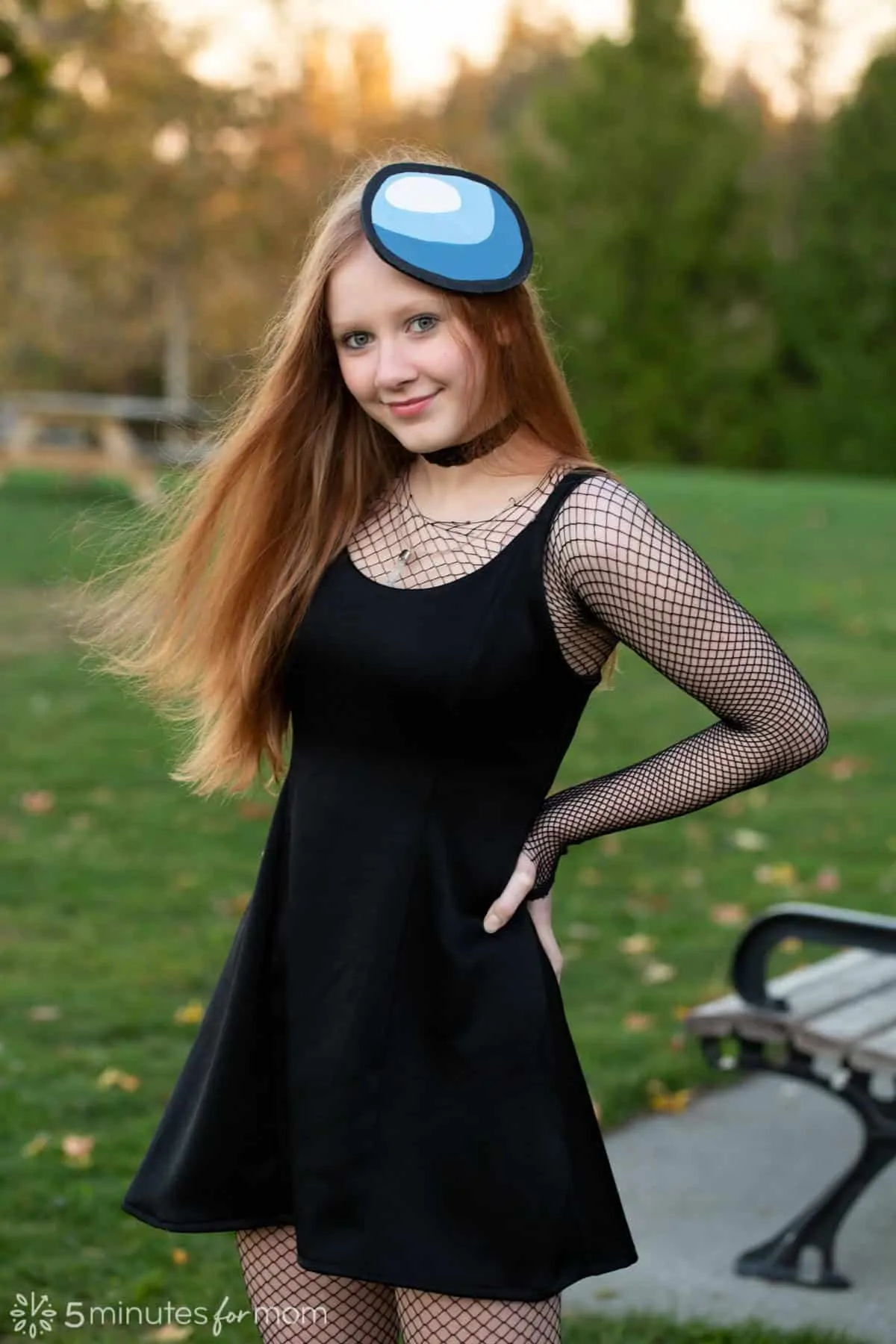 Julia cut her oval from foam core and used fine sandpaper to file down the rough edges before she painted it with acrylic paint.
Sophia used cardboard from a cereal box to make her spacesuit visor. She was considering putting a top coat of Modge Podge to protect it from the rain but didn't bother to since we had a beautiful sunny day forecast.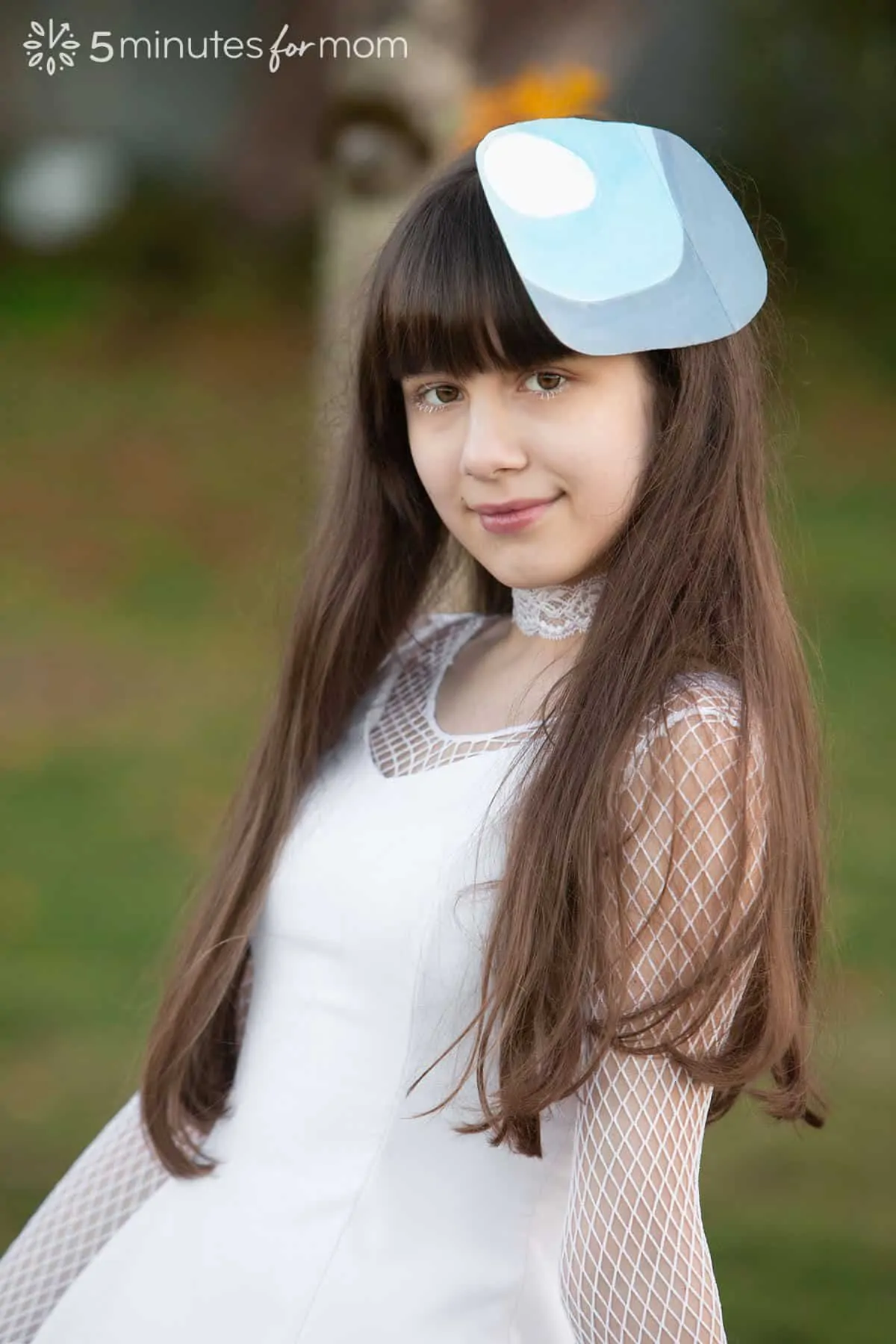 Step 3 – Decide If You Are The Imposter
Especially if you are planning an Among Us group costume, someone needs to be the Imposter. Julia quickly chose the part and decided on a knife as her weapon of choice, bringing a kitchen knife to our photoshoot.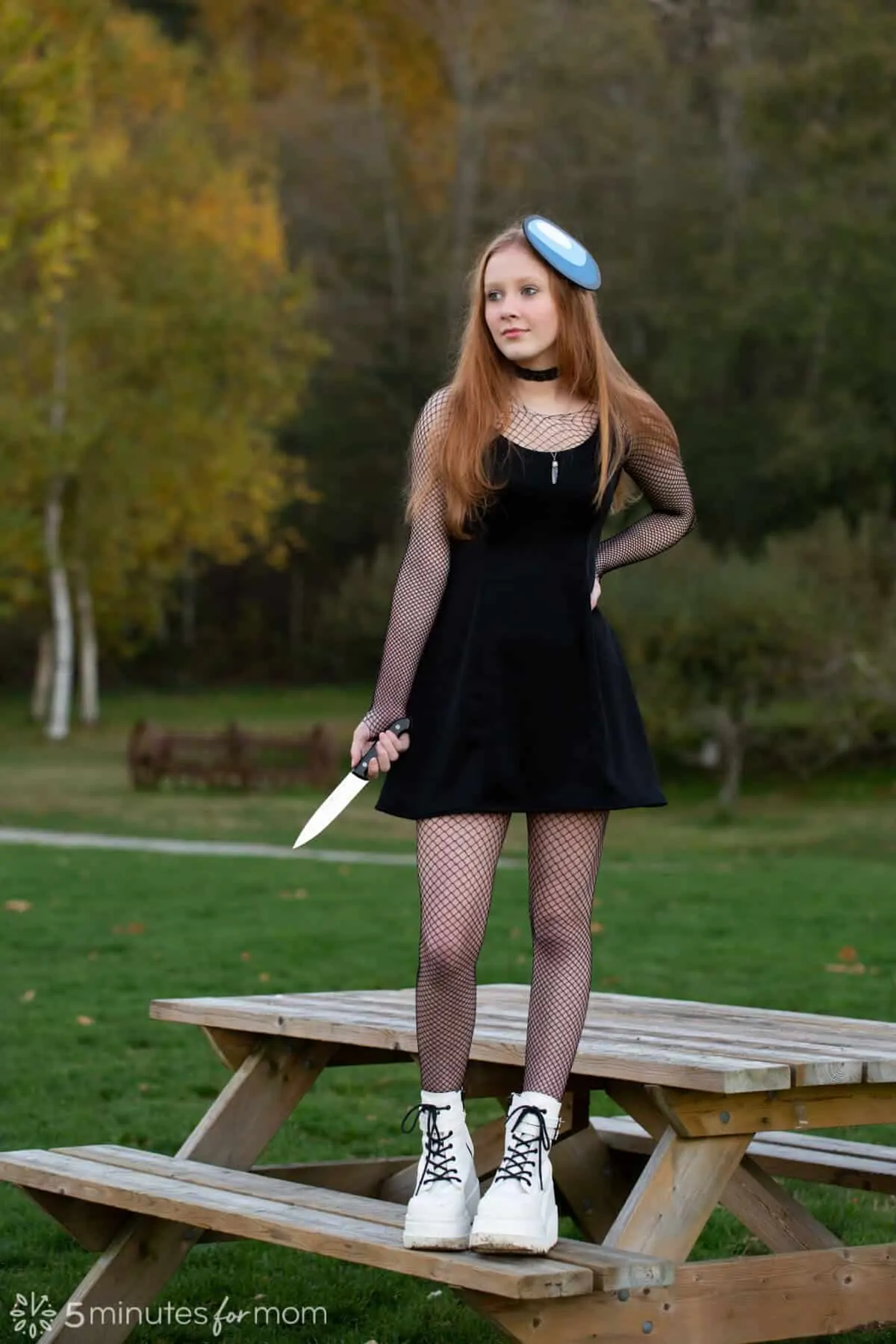 The girls loved their Among Us costumes — and the best part is they can wear the dresses I sewed any time of the year!
More DIY Costume Tutorials
We love making DIY costumes! Here are a few of our favorites…

Written by Janice Croze, co-founder of 5 Minutes for Mom
Talk with me: @5minutesformom and Facebook.com/5minutesformom
Pin with me at pinterest.com/5minutesformom