This post may contain affiliate links. Read my disclosure policy here.
Welcome to our Fall Flower Fairy Dress Tutorial – Part 2. In this post, we cover how to make a bodice for this flower dress. Be sure to also see part 1 of our DIY Fairy Costume. This gorgeous dress is perfect for a Halloween fairy costume, a themed photoshoot, or a flower girl dress. I've made this dress for a fall theme, but you can also use spring flowers or rose petals to make a spring or summer dress.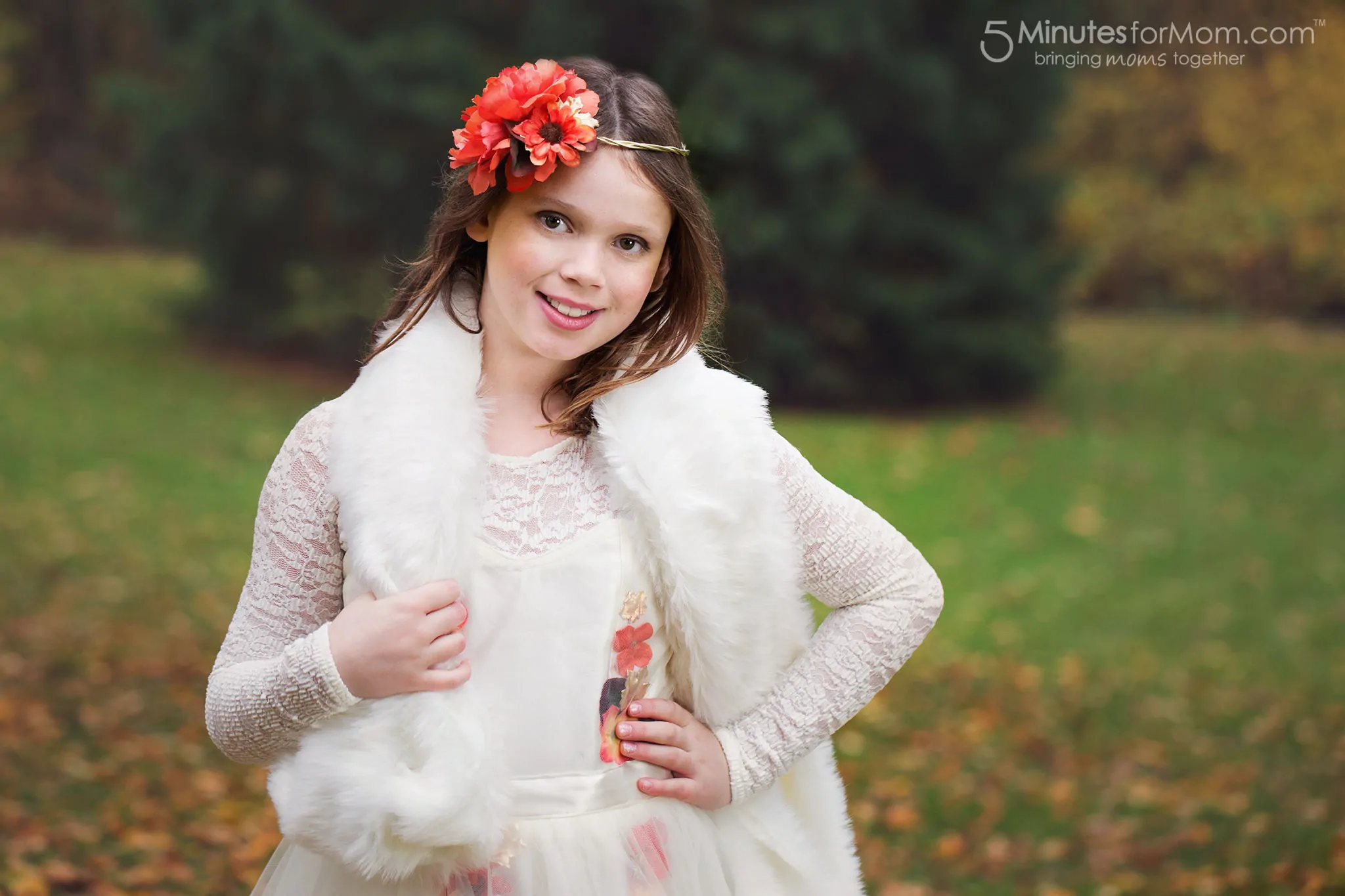 For the skirt design of our dress, I made a girl sized version of Angela Clayton's Fall Flower Fairy Dress that I saw on Pinterest. But, for the bodice, I needed a bit more help.
Angela is a master costume maker and was designing for her own woman's shape. I was making a dress for a nine year old girl who also needed to have covered arms to keep warm for trick or treating.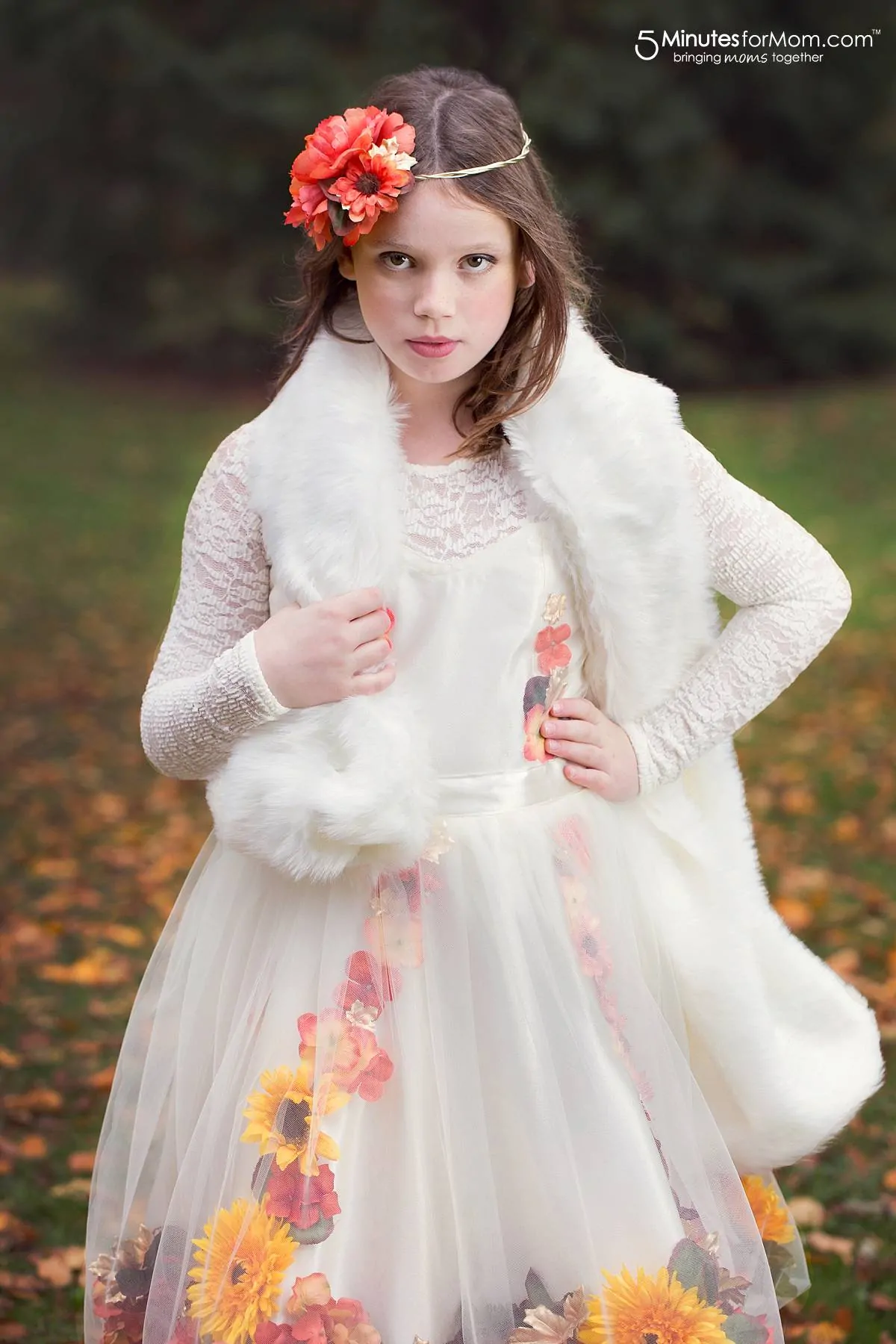 How to Make a Bodice
Because the dress is very heavy with flowers, a normal, loosed fitting sweetheart bodice wouldn't work. I needed this bodice to be form fitting and tight enough to hold up the heavy skirt.
I would have to design a customized bodice for this flower dress.
So I searched for a pattern similar to what I needed to get started. But my daughter is a challenging size.
She is tall and has a large frame for her age. So little girl dress patterns wouldn't work. As well, those dresses are loose fitting and might not hold up the heavy skirt.
Also, Olivia wanted the dress to look like "grown up" with a sweetheart neckline and a boned bodice.
Finally, I found McCall's Pattern M7321. It had lots of different design options, with the sweetheart neckline, yoke, and overlay options we were planning.
I was thrilled.
However, when it actually came to fitting it for my daughter, the customizations began.
The pattern is intended for teenagers and thus made for a body with a bust. Olivia was a younger shape, with no bust.
My mom was helping me make the costumes — she is so kind! —  and together we adjusted the pattern and hoped it would work.
But, due to Olivia's shape, the tight-fitting bodice design, and the weight of the skirt, the bodice did not fit well.
We might have stressed a bit, (a lot!) but, what do we Project Runway junkies do — we make it work!
Customizing the Bodice Pattern
We cut open the sides of the bodice and made stretch lace panels down the sides. This extra stretch allowed the bodice to fit snugly and smoothly and totally rescued the design. Huge relief! We may have down some celebratory dances when we tried it on Olivia and it fit beautifully.
We put boning it the stretch side panel seam, the front one under the sleeve, but we did not put boning in the two center seams of the dress as the pattern does.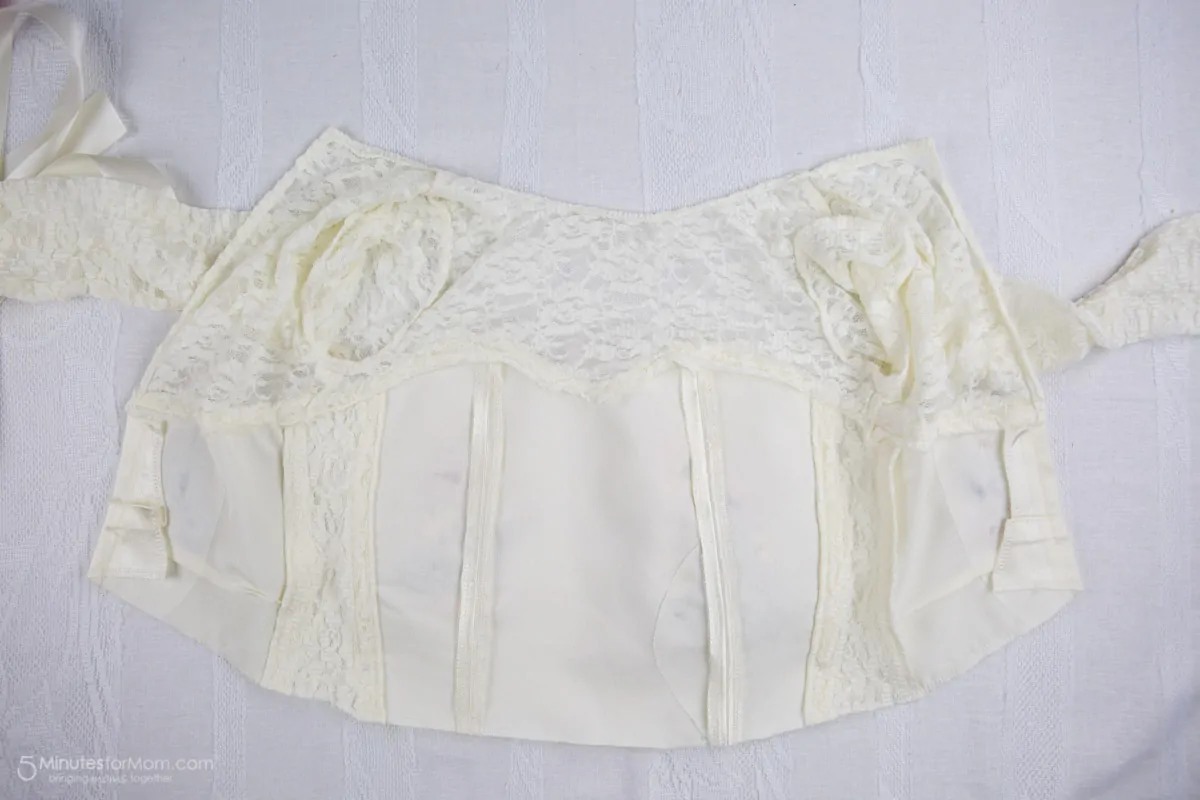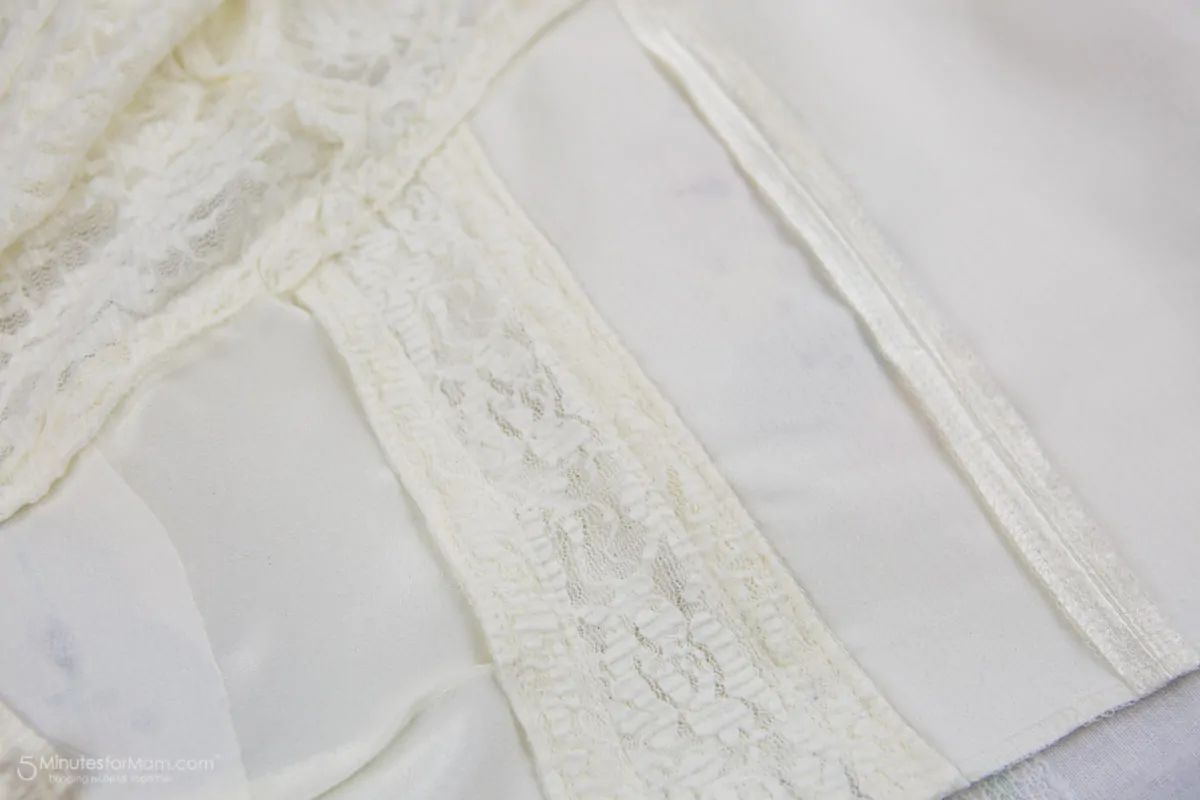 Tips for the Bodice Construction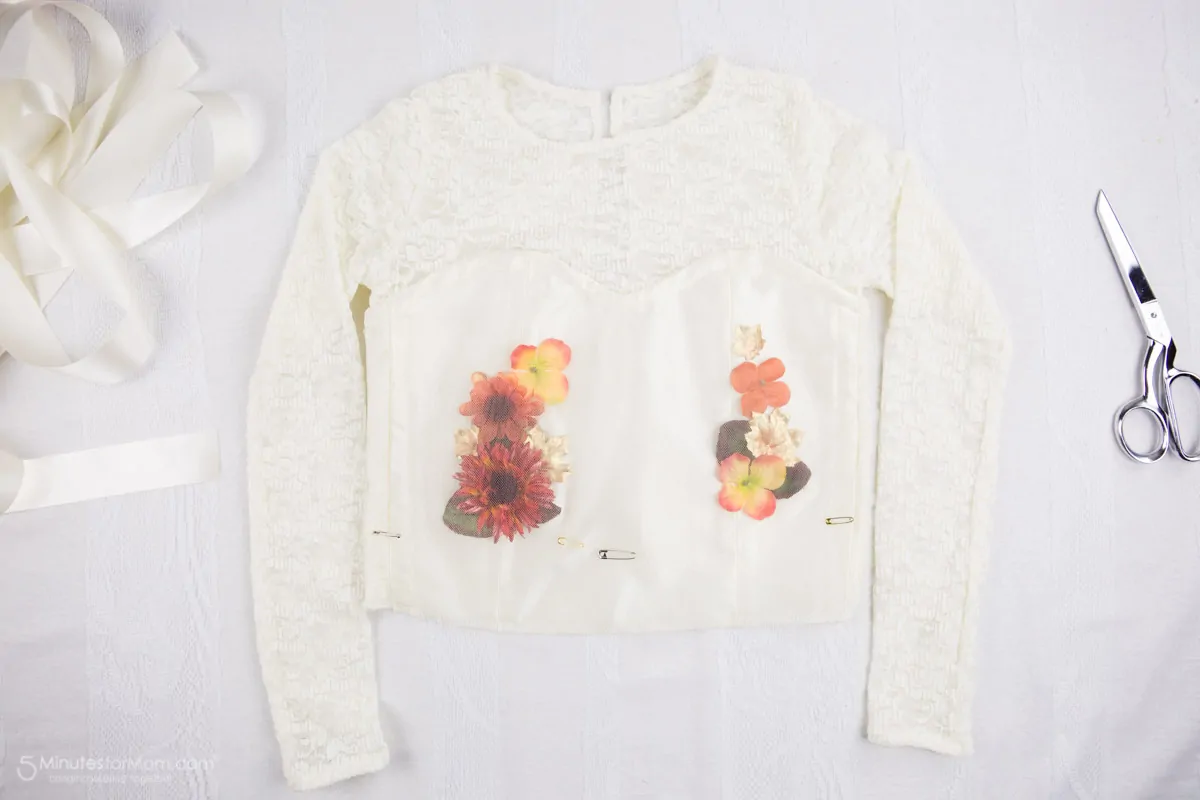 While the McCall's pattern used a lining, we did not line the inside of our bodice.
We did use fusible interfacing on all of the satin bodice piece to give the bodice more stability and form.
Before you start sewing your bodice pieces together, make sure you fuse or sew on your interfacing.
Do NOT sew on your overlay pieces to the individual bodice pieces as they do in the pattern.
You will attach your overlay in one large piece after the bodice is formed.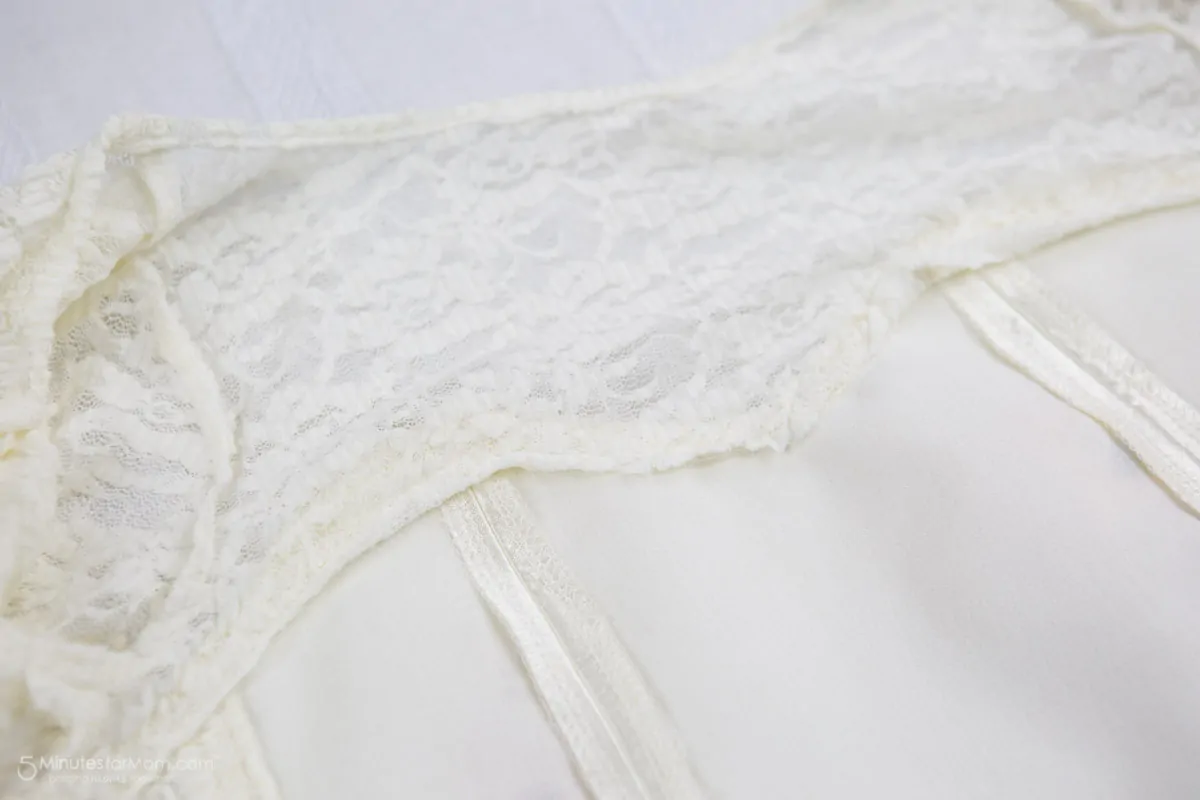 Once we had added our interfacing, sewn our bodice pieces together, and then added our stretch lace side panels to improve the fit, we sewed our overlay tulle on to our bodice.
I don't have a picture of me sewing on my overlay, but here is how you do it.
Cut out an overlay piece slightly large than your bodice — remembering to double your tulle if you have double layers of tulle on your skirt.
With wrong side of overlay (with tulle you don't need to worry about wrong or right side though,) pin to RIGHT side of bodice with the RAW edges together at the TOP.
Stitch along the upper raw edge about 1/4 of an inch in. This stitch line with be hidden in the seam allowance when you attach the yoke.

You will ONLY sew the overlap on along the top of the bodice at this point because once you have the yoke attached, then you will LIFT up the tulle overlay to glue on the flowers, as you can see below.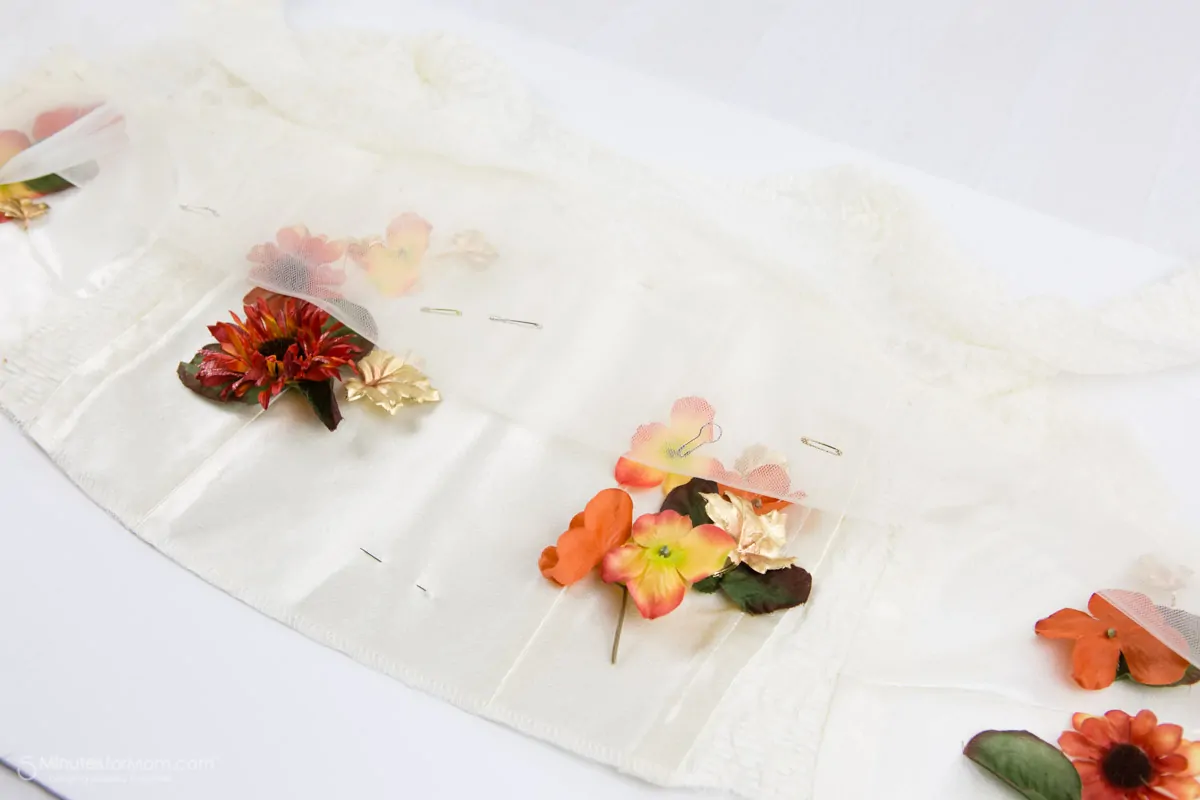 Once you have added your overlay, sew your yoke according to pattern directions.
When your yoke is complete, with right sides together, pin yoke to the top edge of the bodice and baste.
if you are adding a bodice lining, add now according to pattern directions.
If you are adding boning, also add according to pattern directions.
As noted above, we did not add boning to center seams,  we only added boning to the side seam under the sleeves.
Since we did not use lining, we added our boning to the stretch lace seam using a Mock Flat Felled Seam (or Welt Seam) to enclose the boning.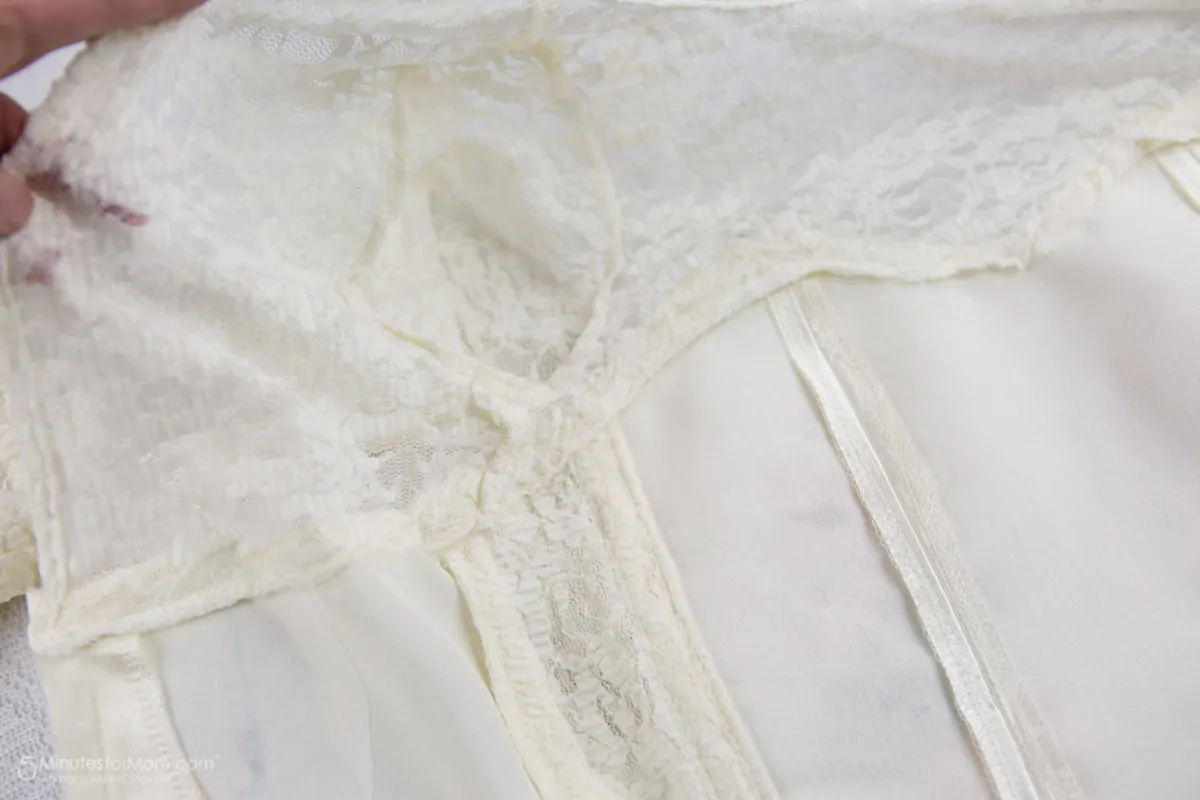 Once we had basted the yoke to the upper edge of the bodice lining, we finished off sewing the yoke to the bodice with a flat felled seam to enclose all the fabric edges and strengthen the seam since the dress is so heavy and the lace is quite delicate.
Please note: these photos show the flowers in place. We had NOT added the flowers until after we had attached the tulle overlay to the top edge of the bodice and sewn the yoke to the bodice as described above.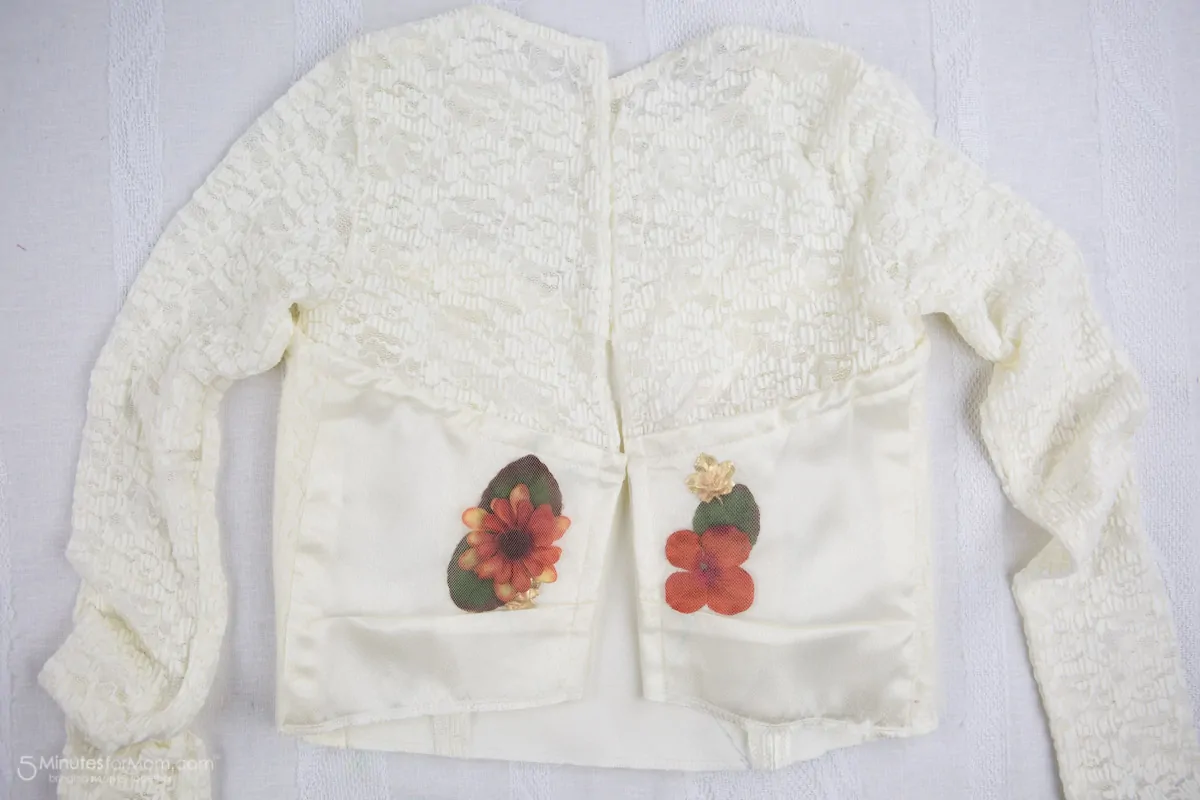 Once we had attached the yoke and added the boning to the side seam, we lifted up the tulle and glued the flowers in place. Then we folded the tulle back down over the flowers and finished the edge with a serger.
Please note: we serged all of our edges with a serger to keep them clean. If you don't have a serger, you can use a zig zag stitch or an overlock stitch on your sewing machine.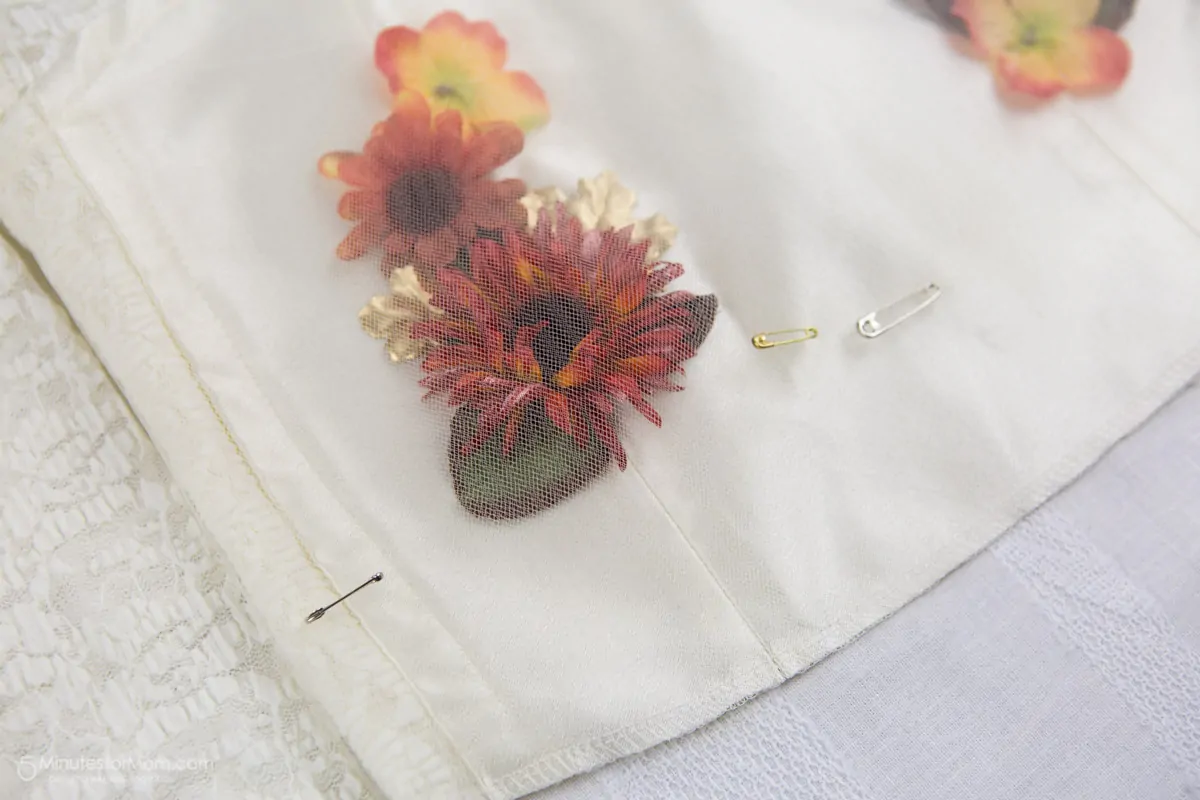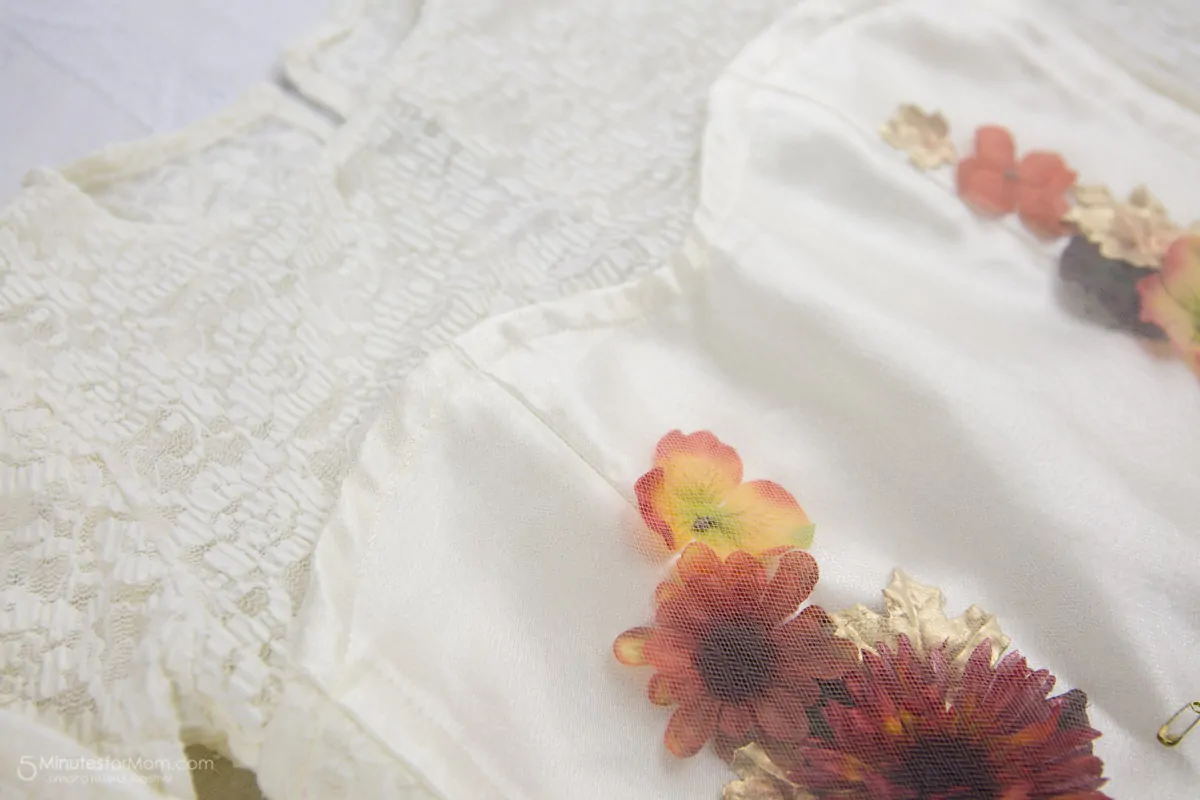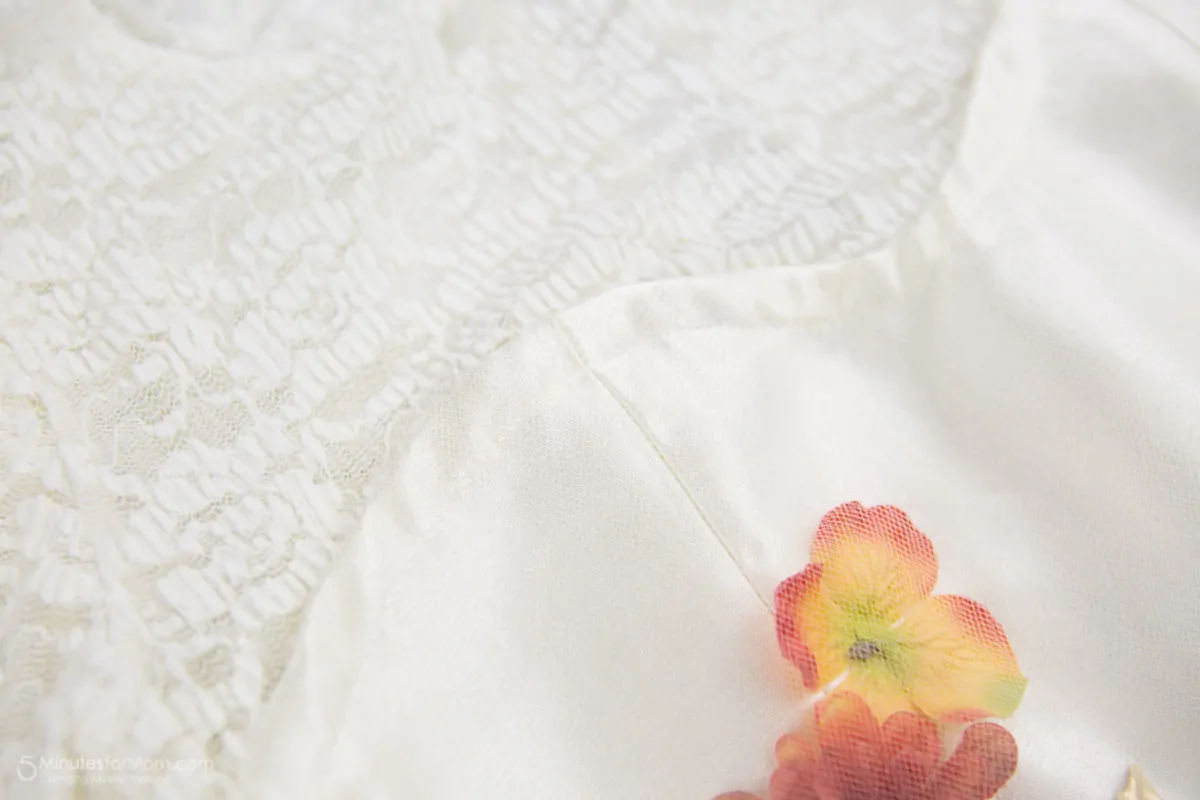 Then, we hemmed the back of the bodice and yolk. To close the dress, we later added hook and eye closures to the yoke and eyelets and ribbon to the bodice.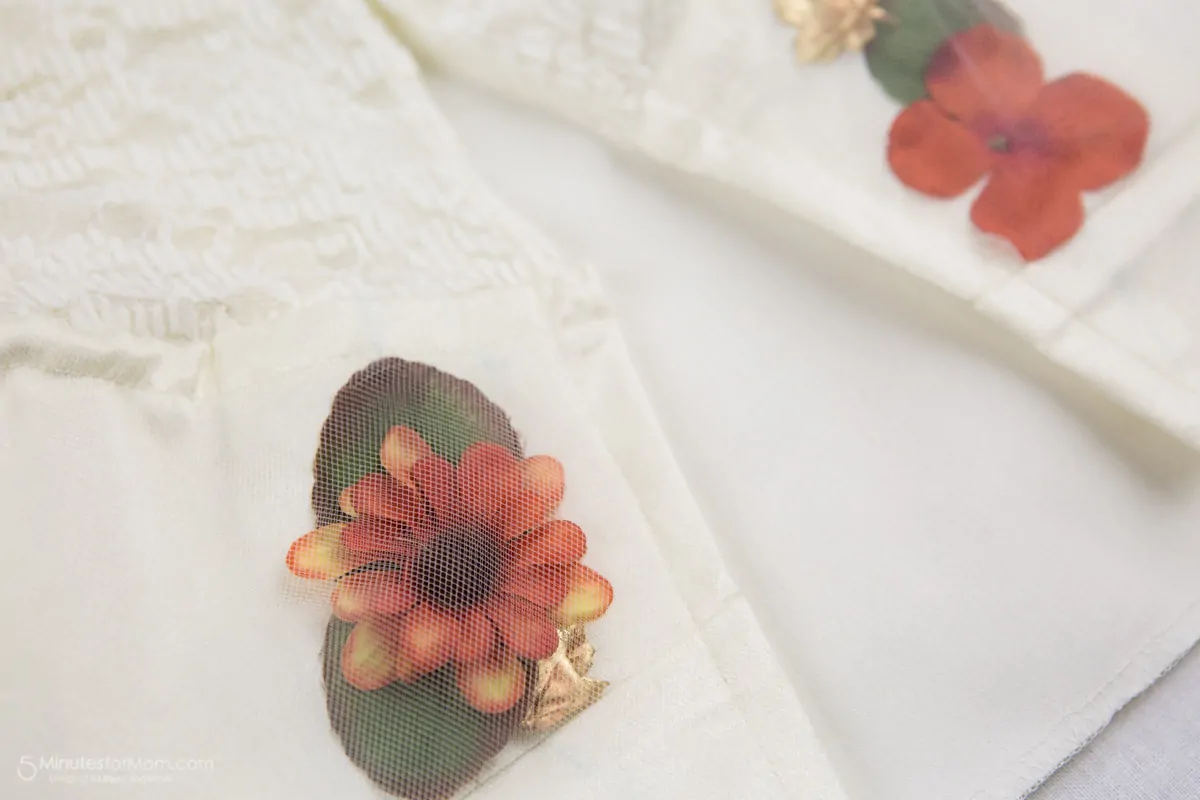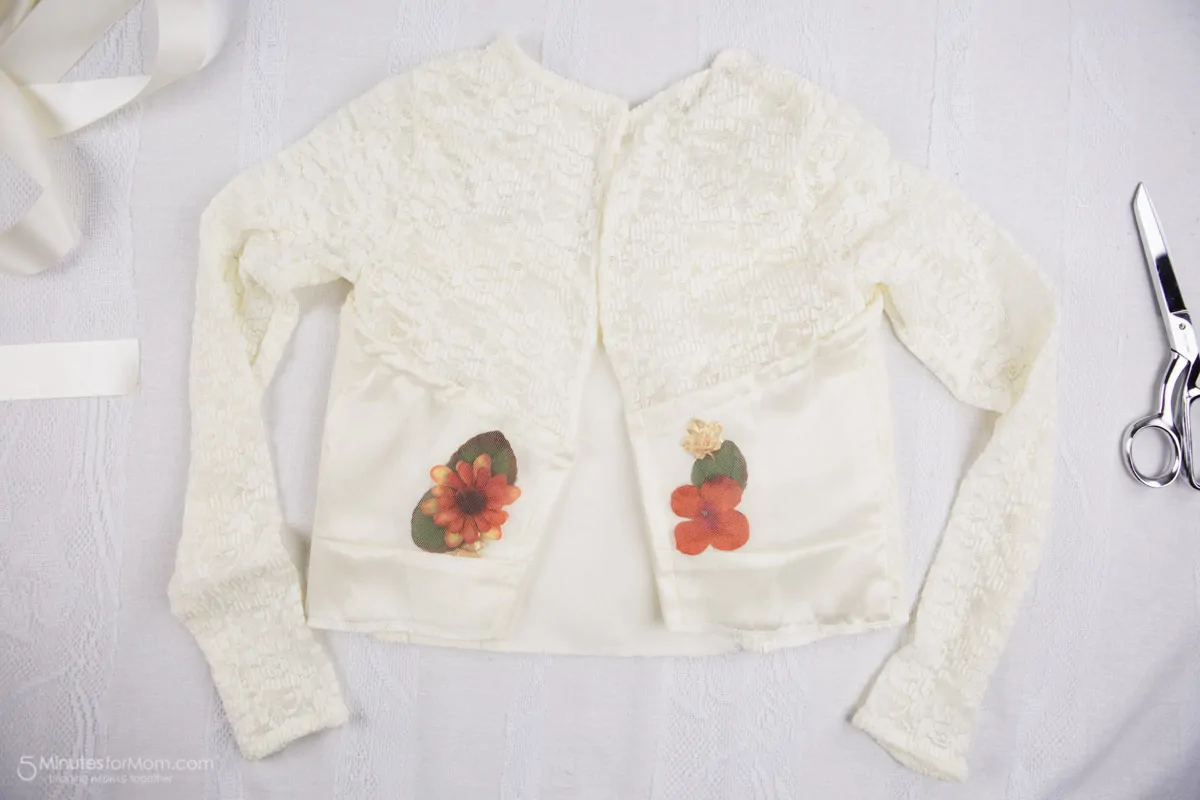 When you have your top and your skirt completed, it is time to put it all together!
We put our bodice on Olivia (of course we did this numerous times during the construction and reconstruction!) and measured where we wanted the bodice to attach to the skirt.
We pinned in place.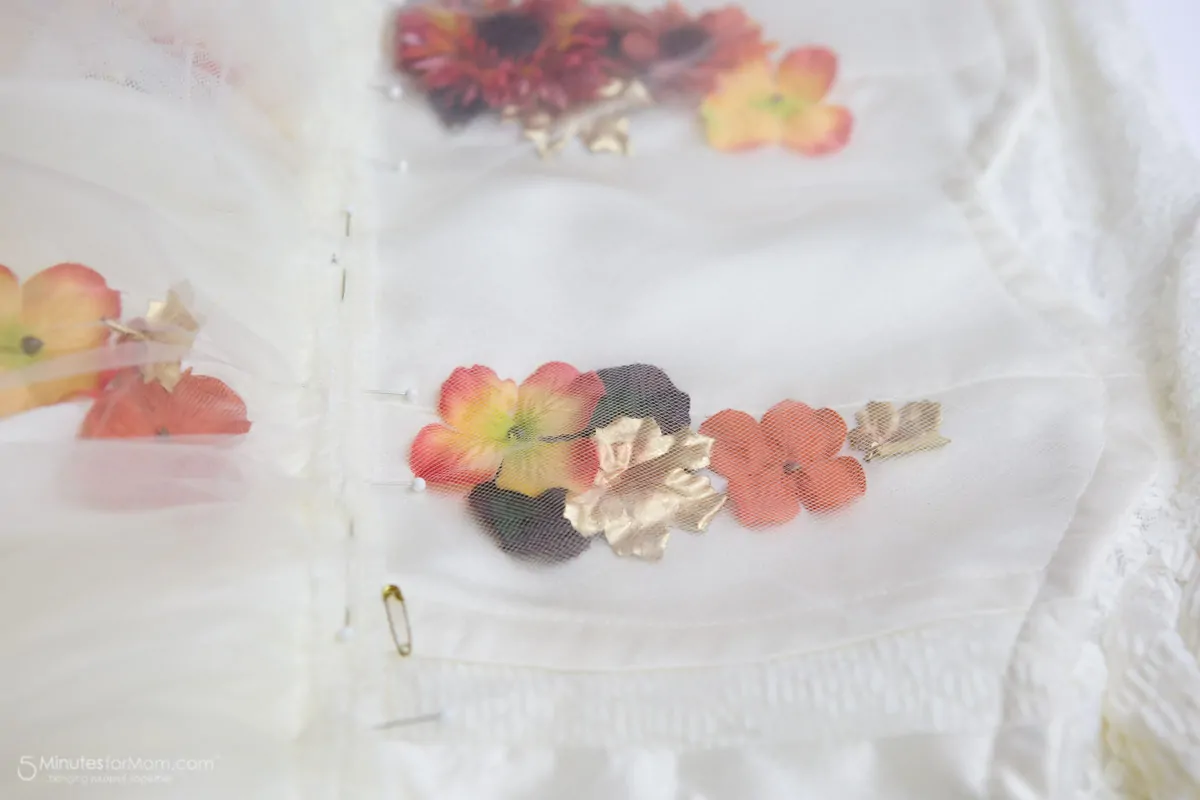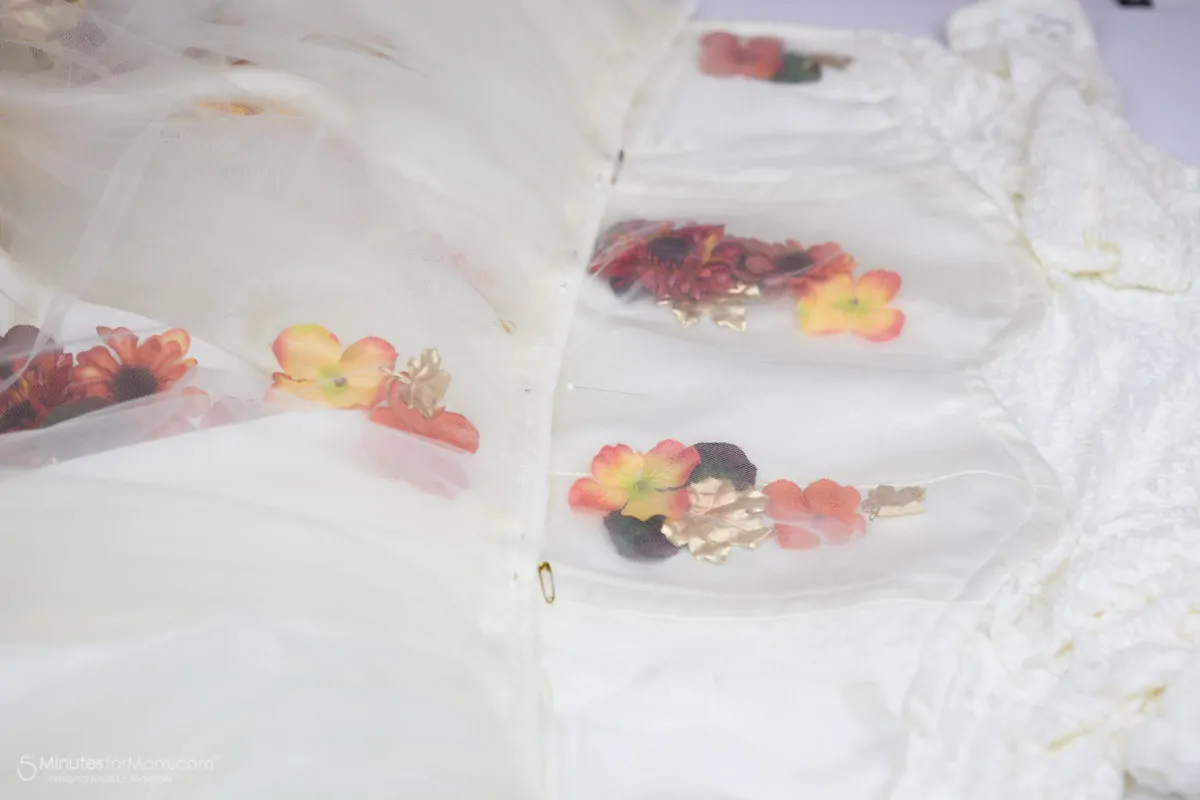 And sewed…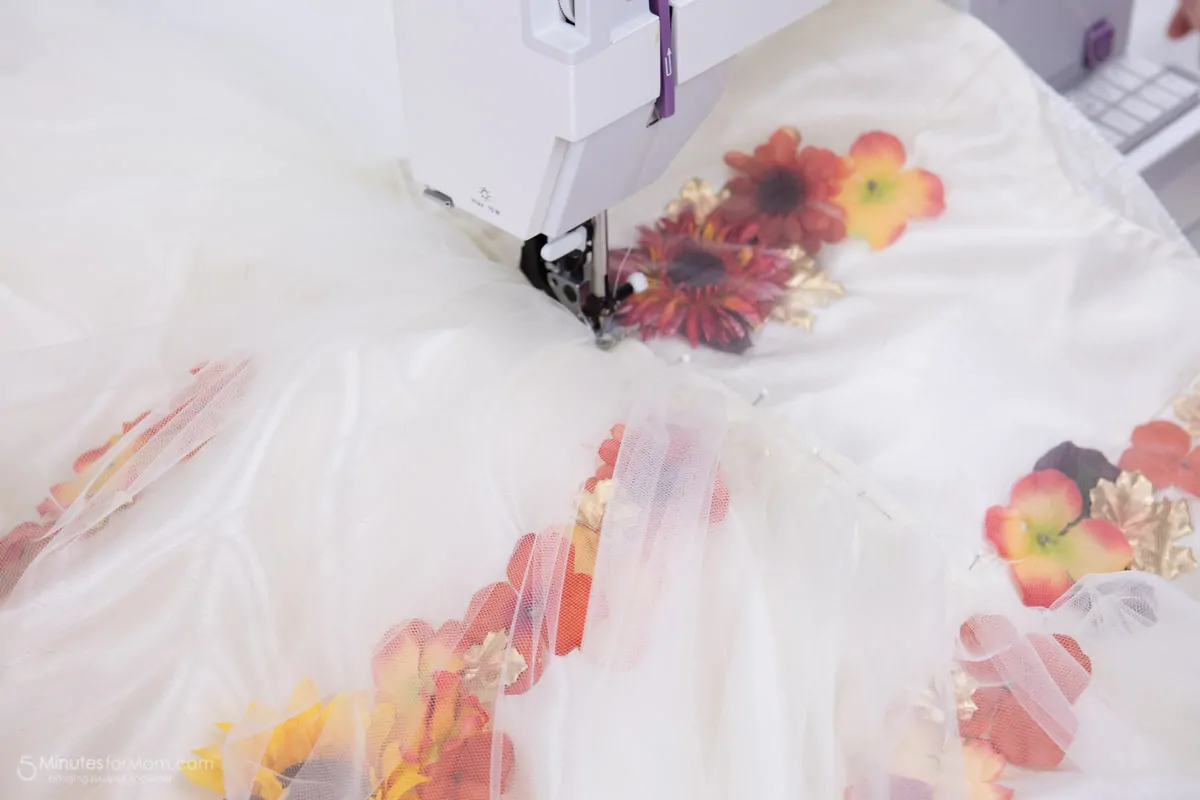 To finish off the waist, we added a ribbon to create a sweet waistband.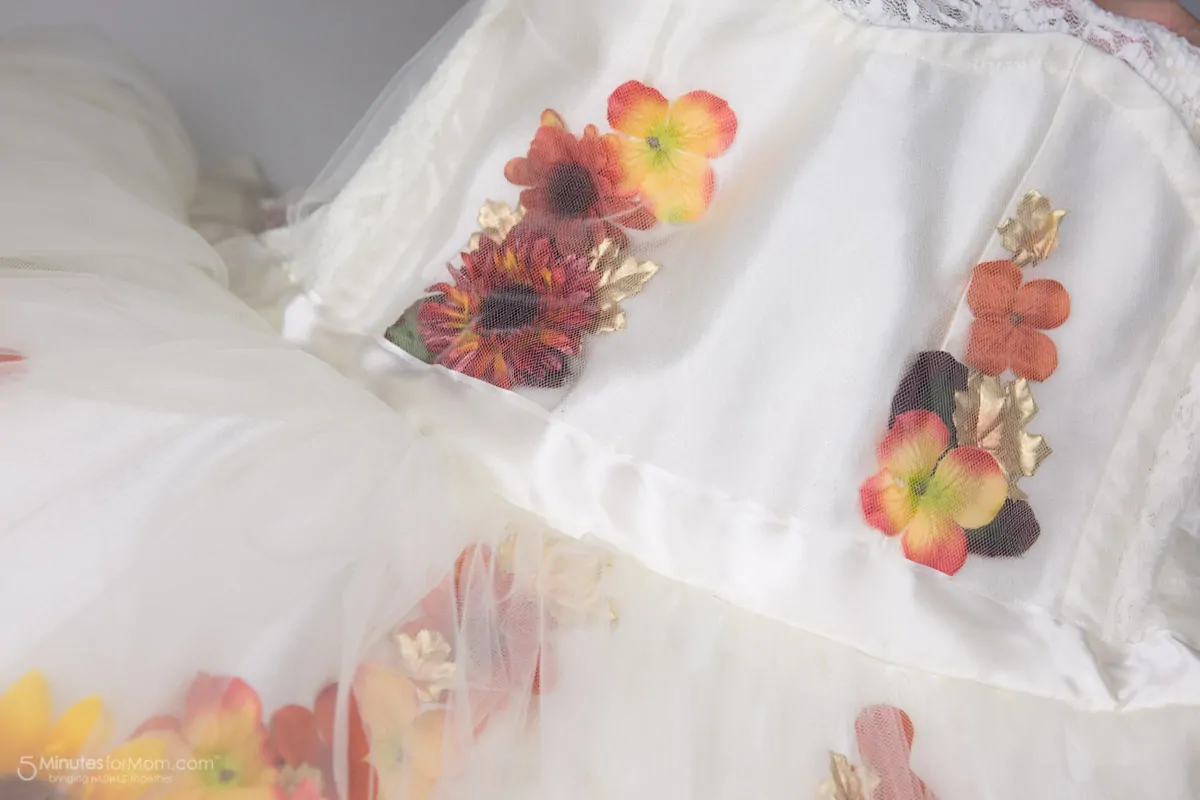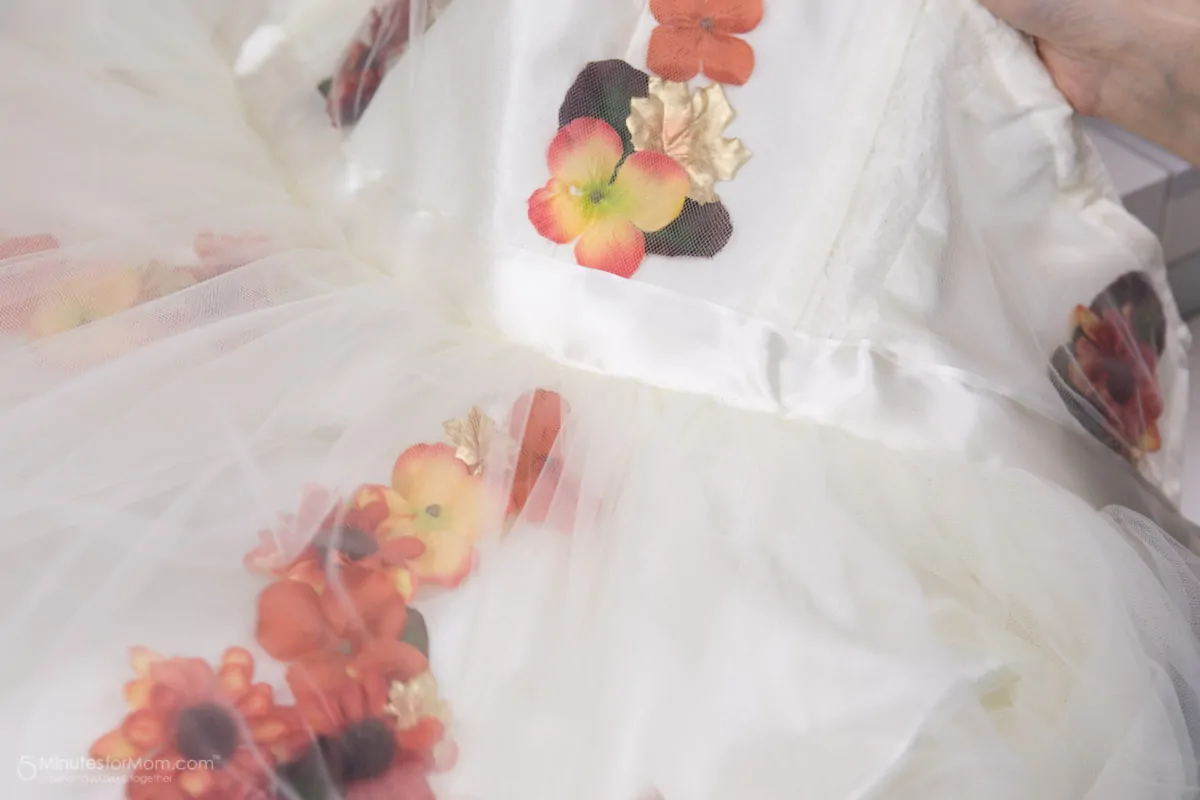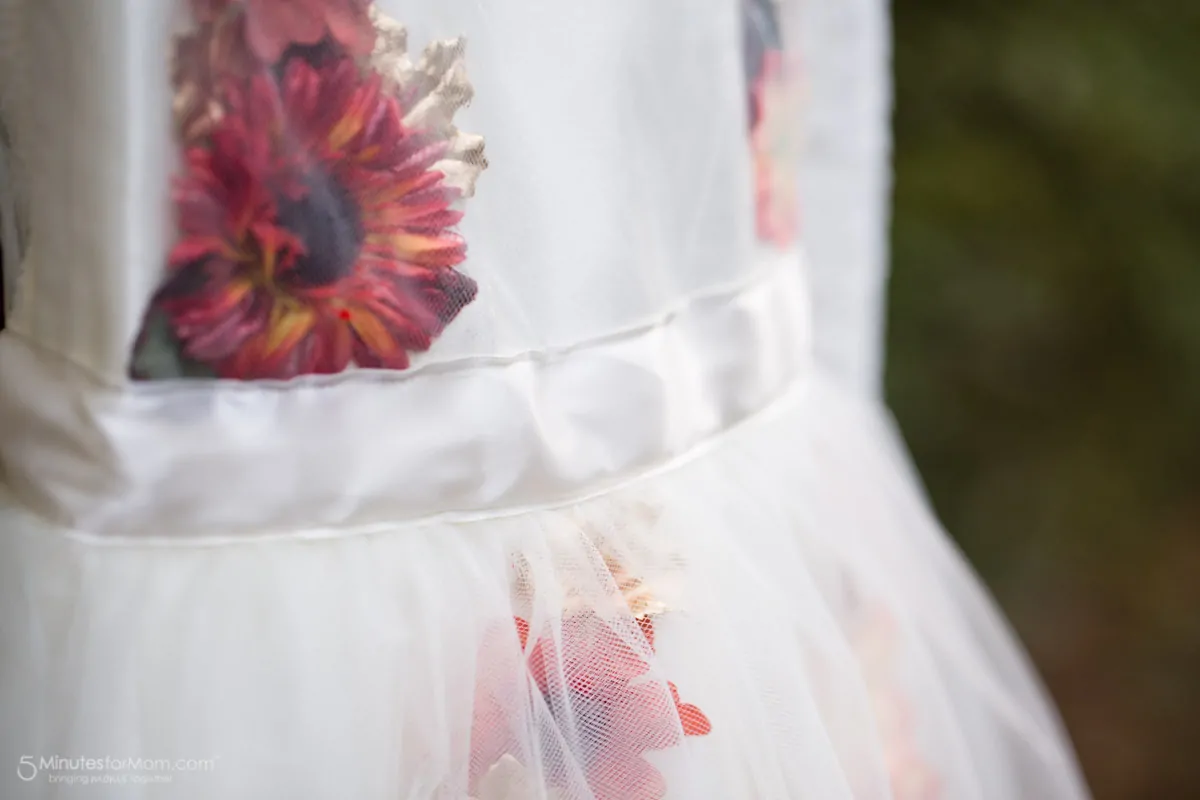 Now you have a dress! But you need to close it up.
(I think it was the middle of the night when I finished our dress and I was too tired and rushed to take photos. So sorry!)
We sewed a back seam from the bottom of the skirt to about six inches below the waist so Olivia could get in and out of the dress. Because the tulle is so fluffy and forgiving, we didn't worry about closing those six inches with a zipper. You can, of course, add a zipper if you wish.
Then we measured and added six eyelets/grommets to the back of the bodice for lacing ribbon and three hook and eye closures for the yoke.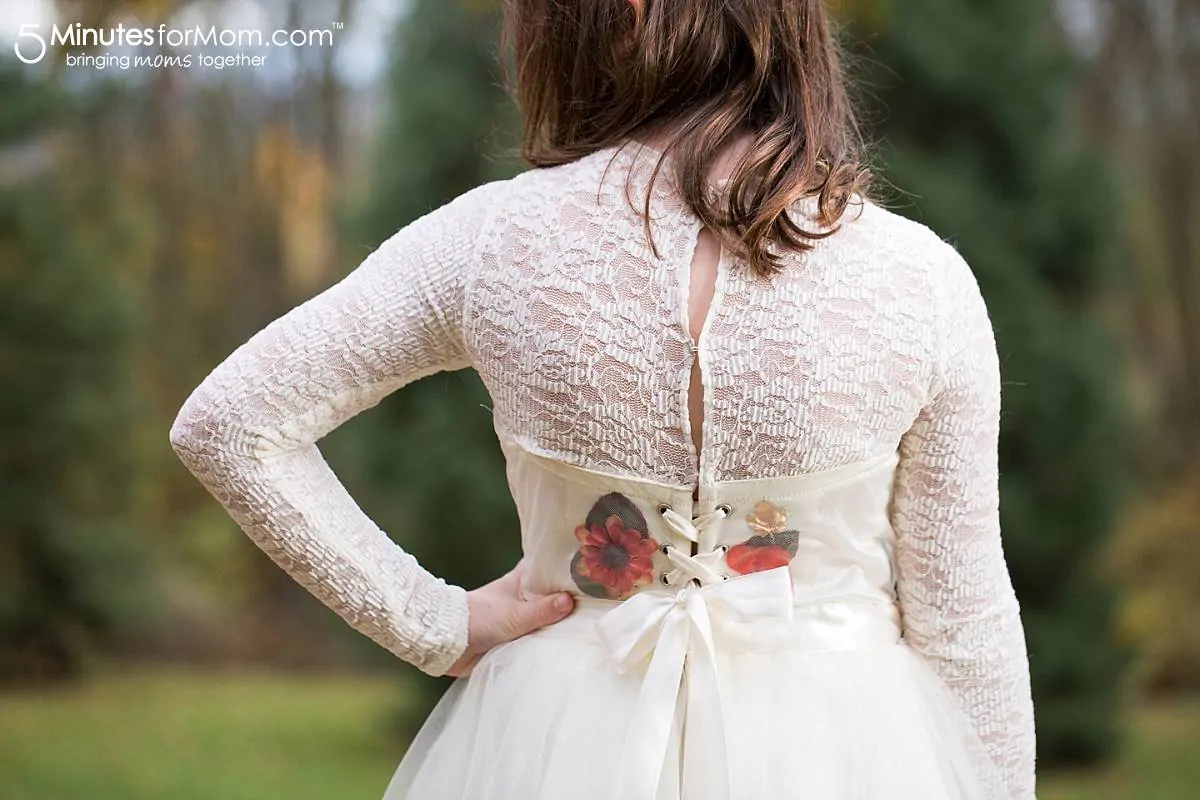 Our dress is complete — and I hope yours worked well too!
PLEASE share below links, pictures, or comments if you are making your own flower dress. I would LOVE to hear about yours!
Here are some more close up shots of seams and details for you to see close up how I finished my edges, seams, etc.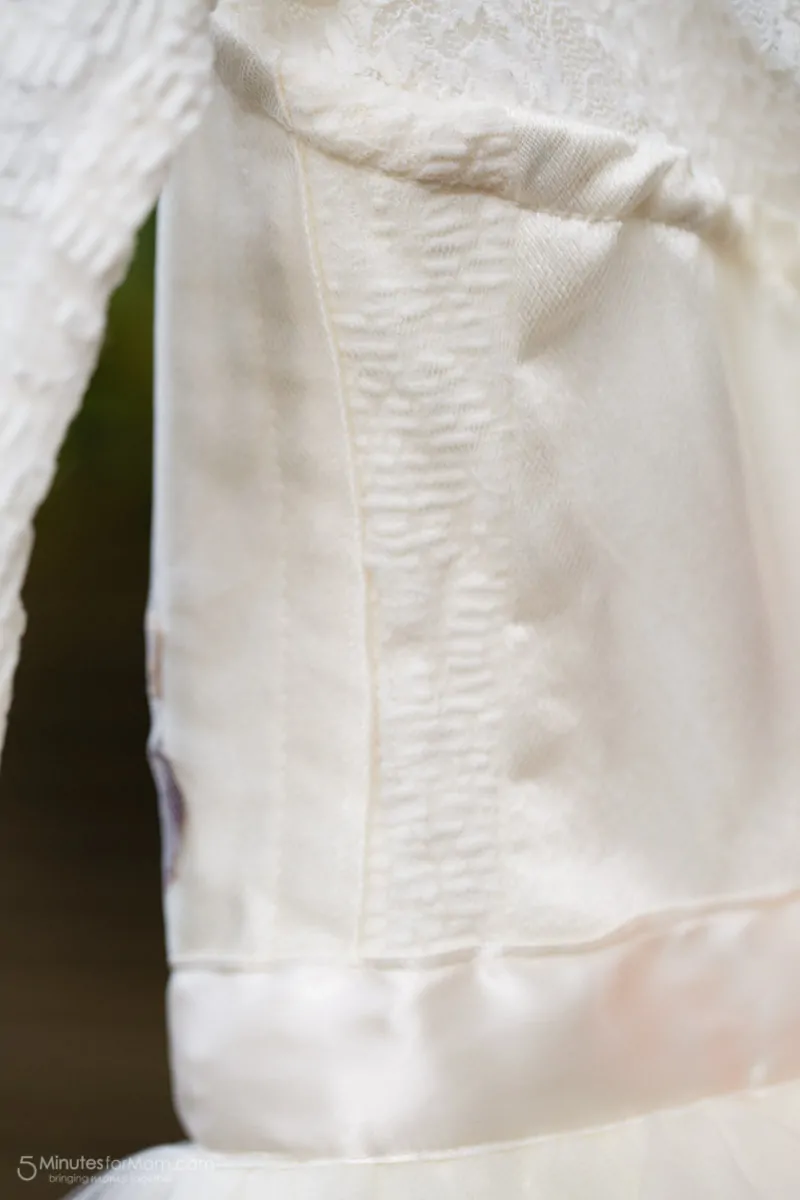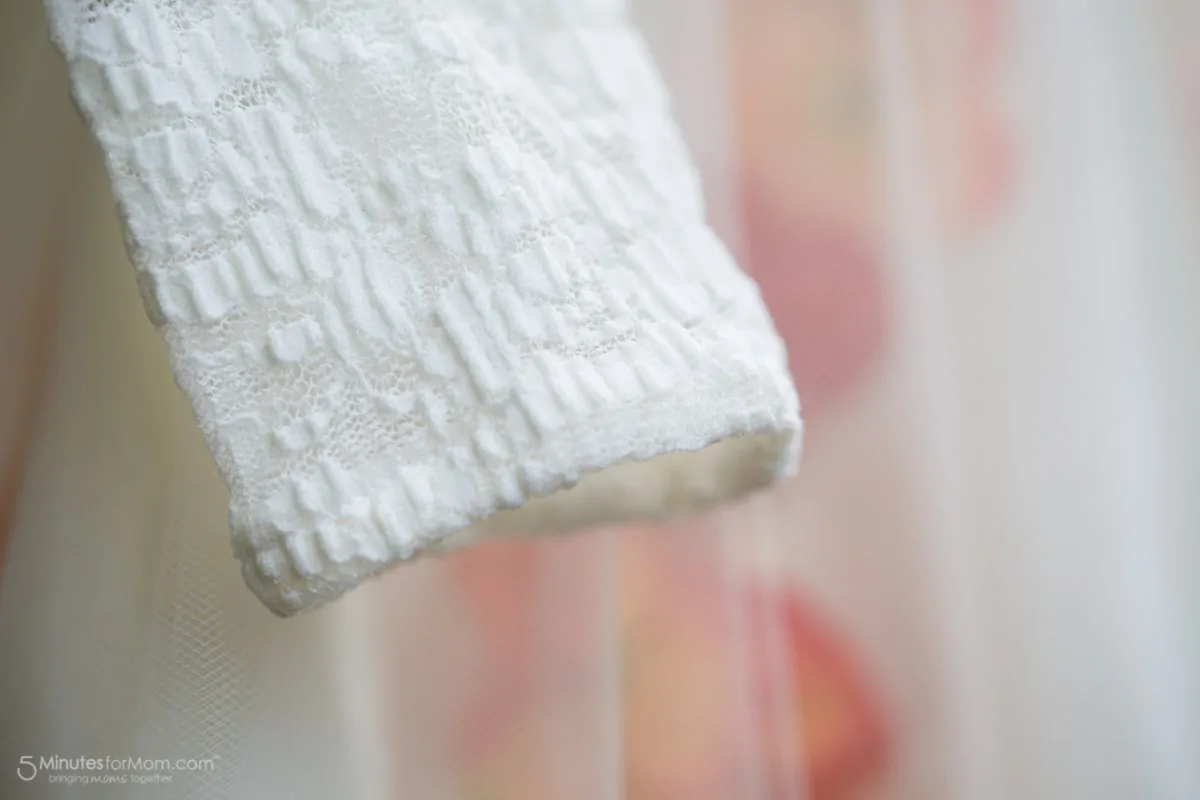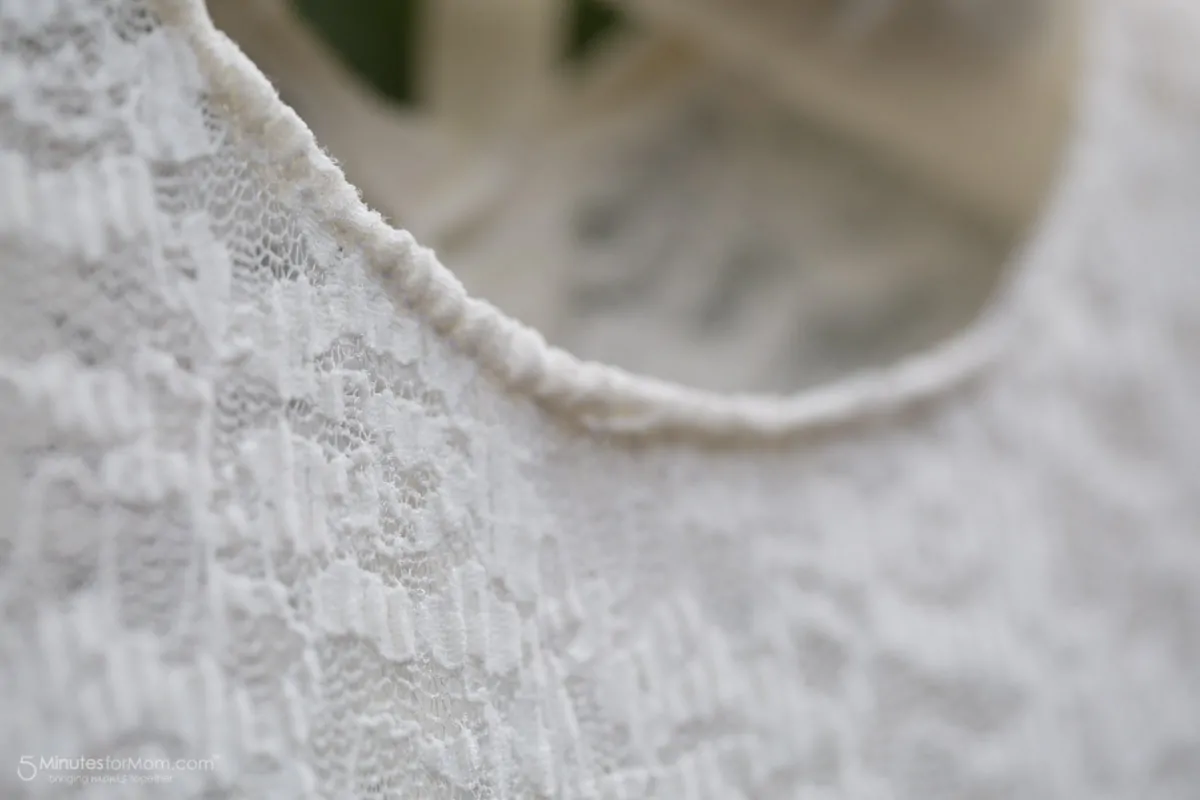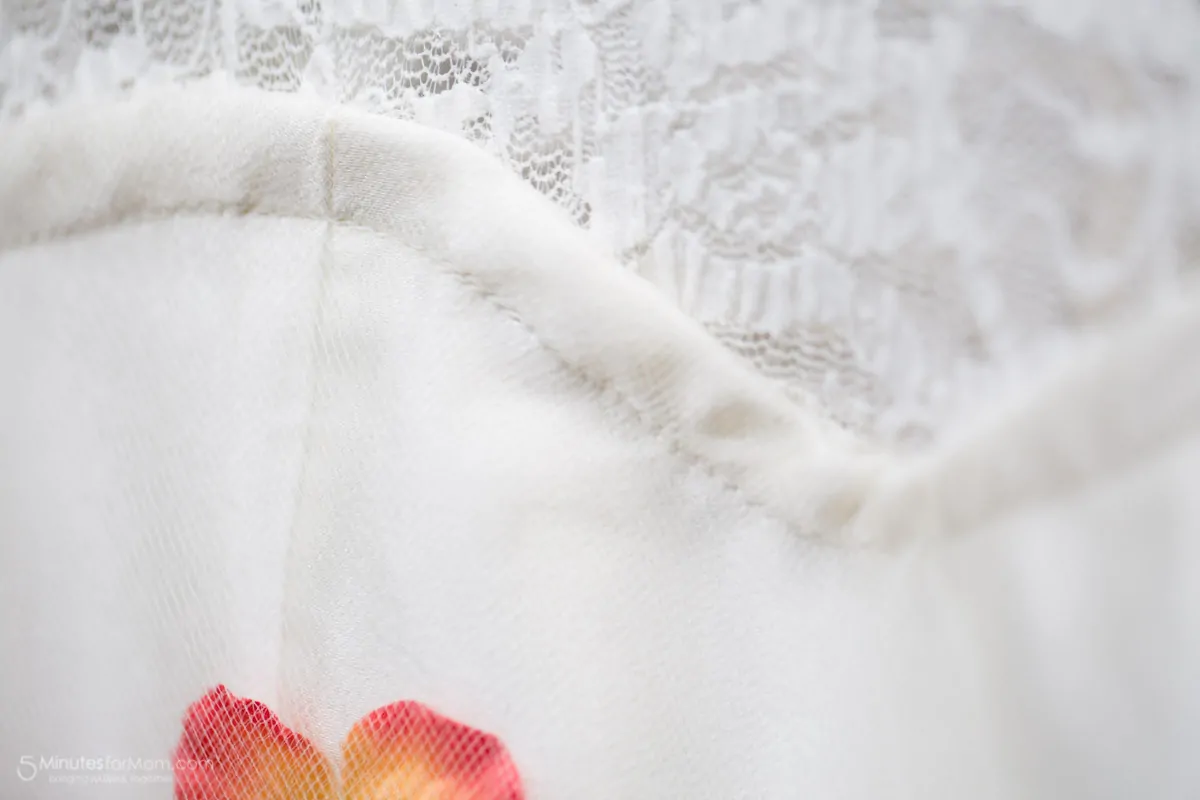 Thank you SO much for reading and please let me know if you have any questions or problems with your dress construction.
If you want to jump back to Part 1 of this tutorial, click here for our Fall Fairy Costume DIY Part 1:
Written and photographed by Janice Croze, co-founder of 5 Minutes for Mom and Janice Croze Photography.
Talk with me: @5minutesformom and Facebook.com/5minutesformom
Pin with me at pinterest.com/5minutesformom