This post may contain affiliate links. Read my disclosure policy here.
Halloween costumes can be an opportunity for inspiration. Try these easy DIY girls' STEM Halloween costumes based on two notable women who made such important advances in science — Marie Curie and Rosalind Franklin. We want to thank Sylvan Learning for inspiring these ideas and sponsoring this post. Our girls had such a fun time dressing up as these famous scientists.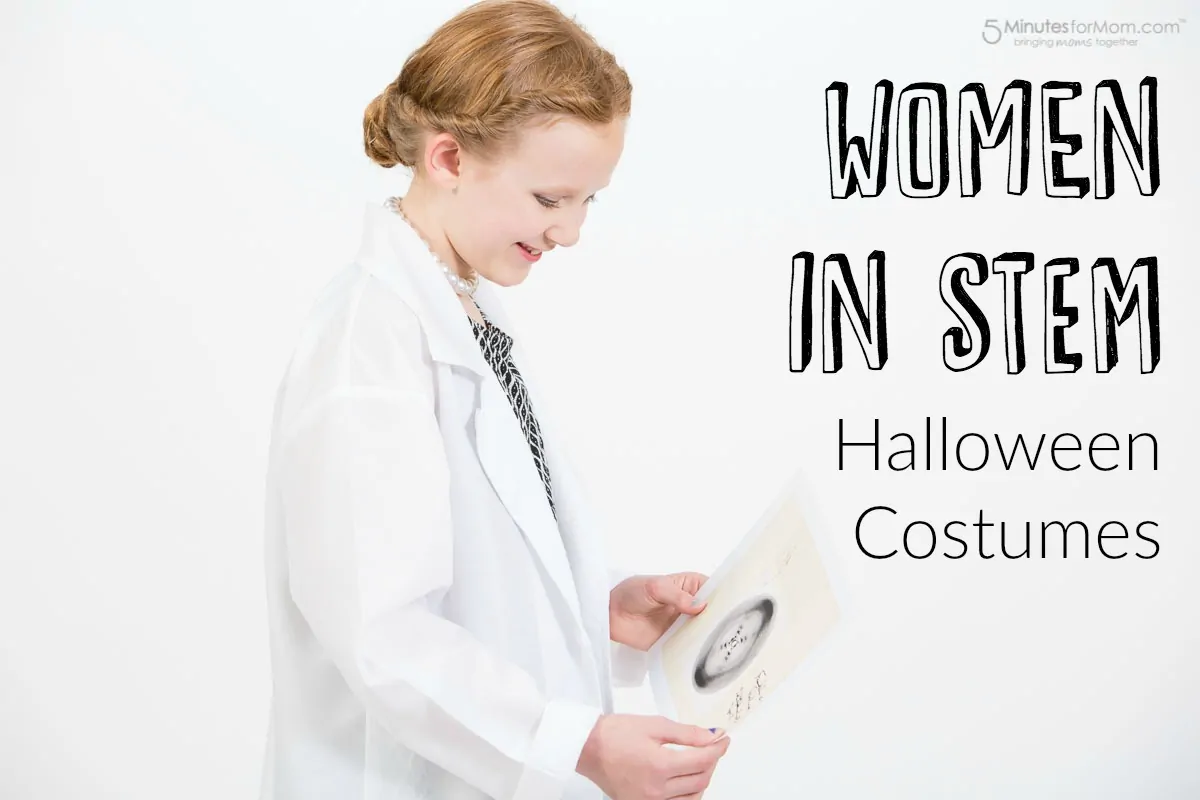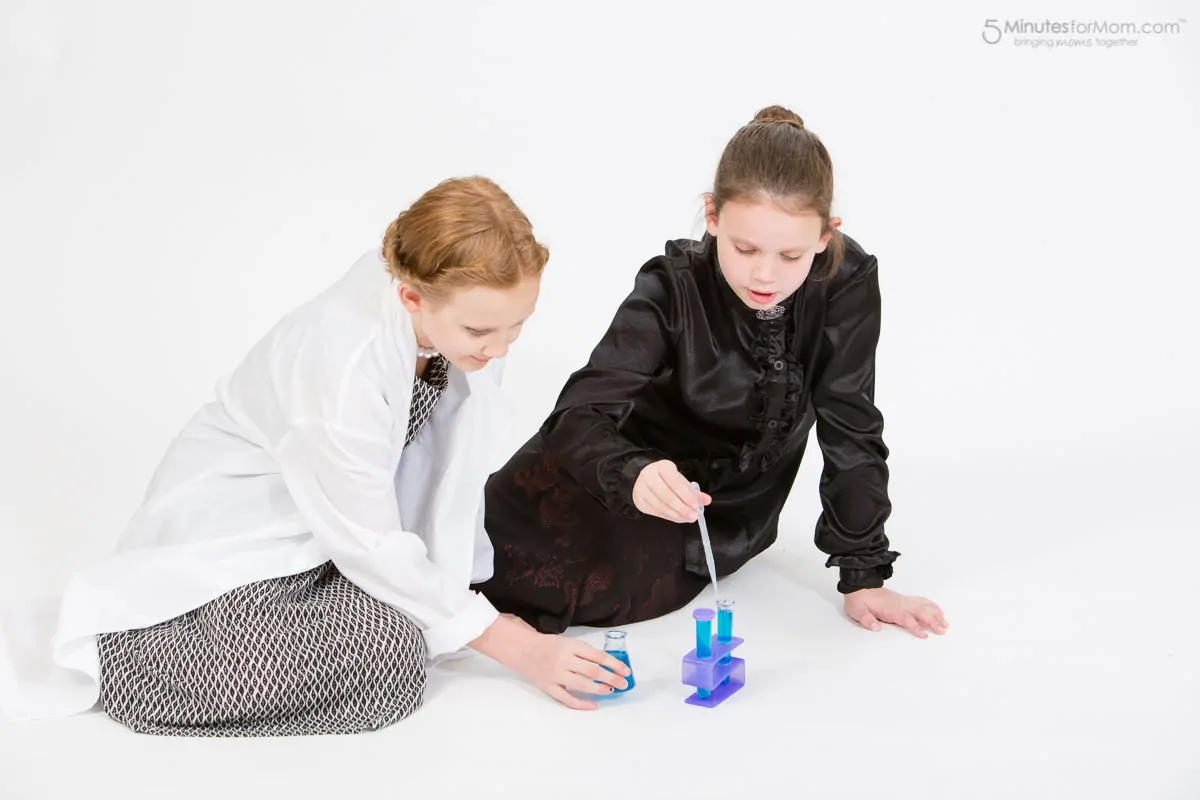 This Halloween, what are your girls dressing up as?
Our girls have been pumpkins, princesses, black cats, witches, bats, and the list goes on. This year, our girls still haven't decided what they want to be. Every few days, they change their minds.
If you want something different than the usual black cats, witches, and princesses, you might also find yourself scanning through Pinterest, trying to come up with unique Halloween costume ideas.
Sylvan Learning reached out to us with a costume idea for girls that we certainly had never thought of ourselves — the women heroes of STEM.
We love the idea of kids dressing up as inspiring characters and historical heroes.

Halloween is a great opportunity to teach girls about the women in history who have been responsible for some of the greatest achievements in science, tech, engineering and math from the completion of the Brooklyn Bridge to writing the first computer code.
Sadly, the gender bias still limits women's accomplishments in the fields of science, technology, engineering and math.
We need to get girls excited about learning STEM at an early age to give them a competitive advantage in one of the more rapidly growing fields like engineering and computer science, where currently girls occupy only a very small percentage of jobs.
Rosalind Franklin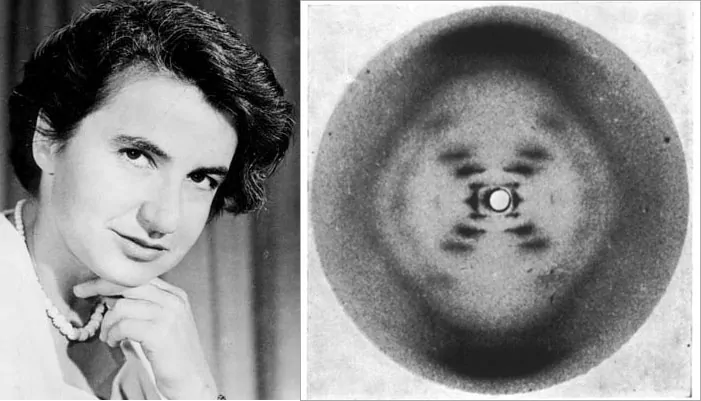 Your kids have probably never heard of Rosalind Franklin. I hadn't.
But Rosalind Franklin is an inspiring scientist we should all know about.
An English chemist and an accomplished X-ray crystallographer, she worked on X-ray diffraction studies, which would eventually facilitate the double helix theory of DNA.
In fact, it was her "Photo 51" — an X-ray diffraction image of the DNA molecule — that led to the discovery of the double helix structure of DNA.
Unfortunately, despite her critical contributions to the discovery, Franklin was never nominated for a Nobel Prize. She died of ovarian cancer in 1958, four years before her colleagues, Francis Crick, James Watson, and Maurice Wilkins, were awarded a Nobel Prize in 1962 for their work on the structure of DNA.
Rosalind Franklin was a fashionable young woman whom friends remember "as always being beautifully turned out, wearing Dior's 'New Look' silhouette and well-chosen accessories." Source: Take Back Halloween
To recreate the look of Rosalind Franklin, we used a fifties style dress, a pearl necklace, a swept back fifties-inspired hairstyle, black heels, a lab coat and a copy of her famous Photo 51.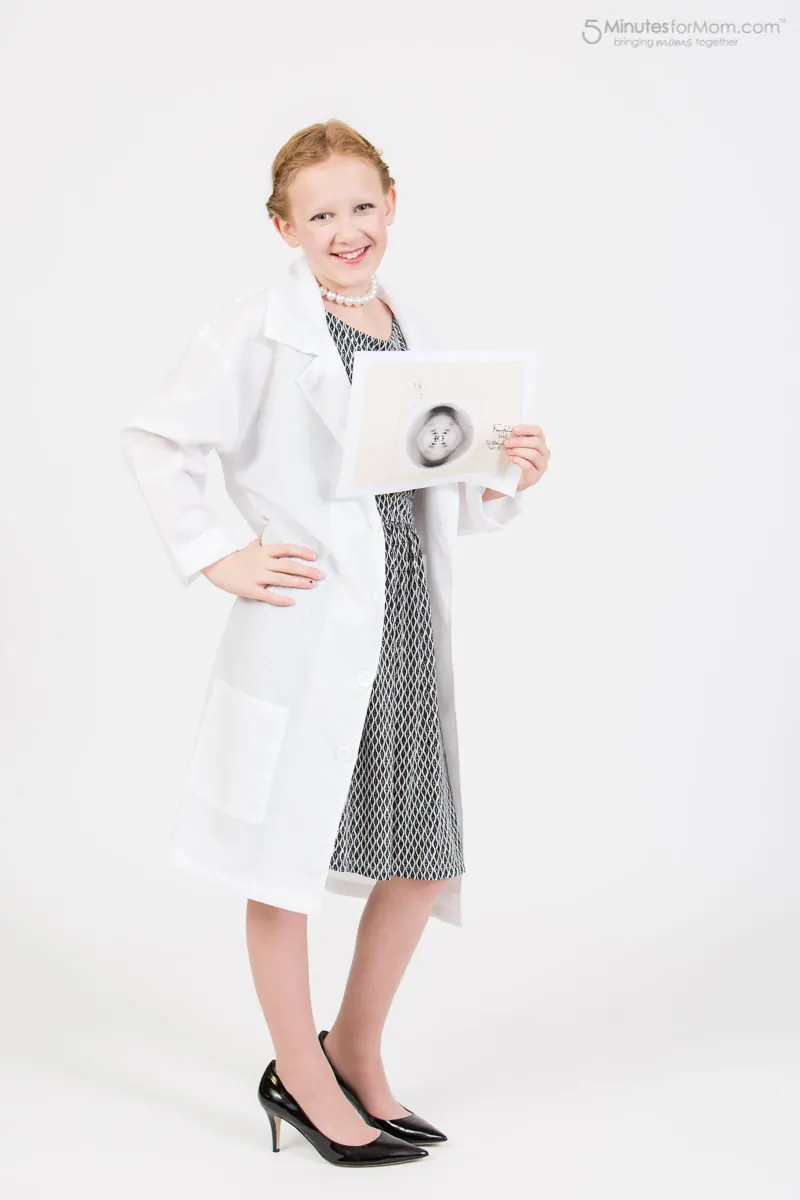 I went to a thrift store and picked up a dress I hoped would look fashionable and could pass as from the fifties. (But for a more authentic fifties look, check out these ideas from Take Back Halloween.)
It was an adult size small, so I just took it in down the sides to make it fit Julia better.
I picked up this pearl choker at the thrift store for six dollars…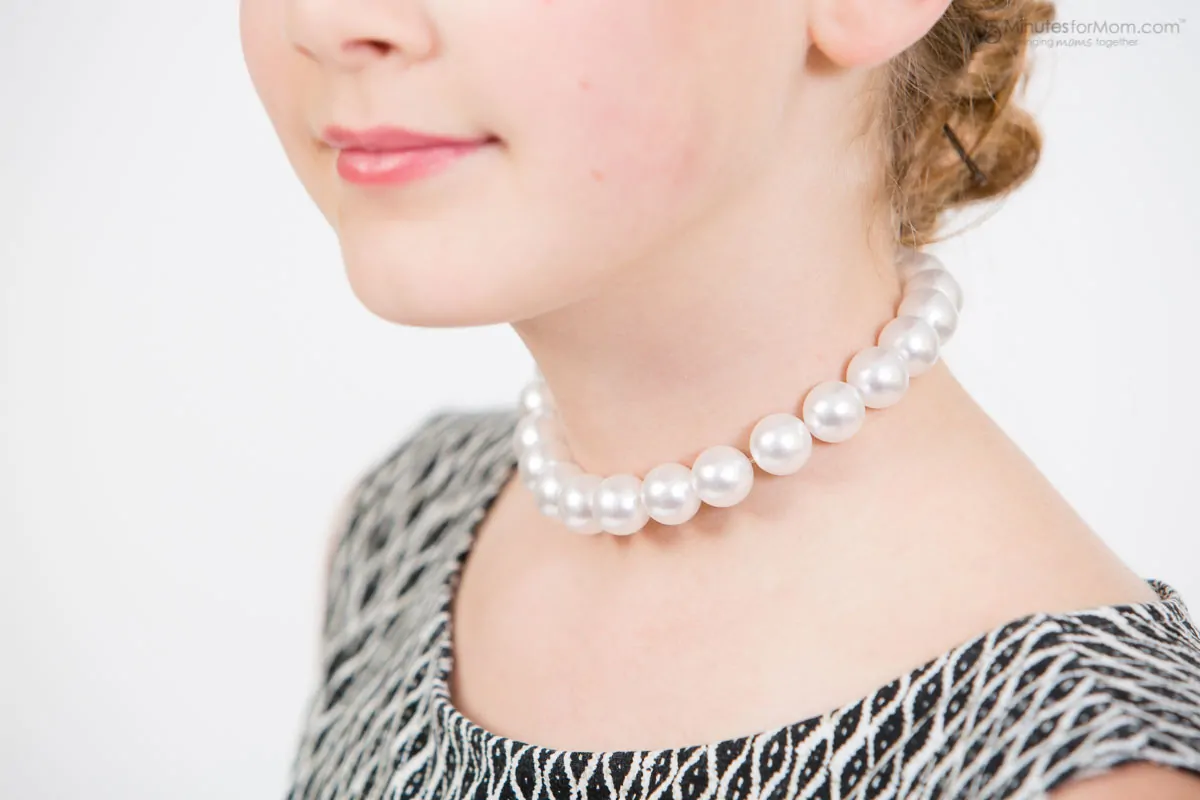 I am not a hair stylist by any stretch, so I simply rolled up Julia's hair along the sides and made into a low bun for a fifties look.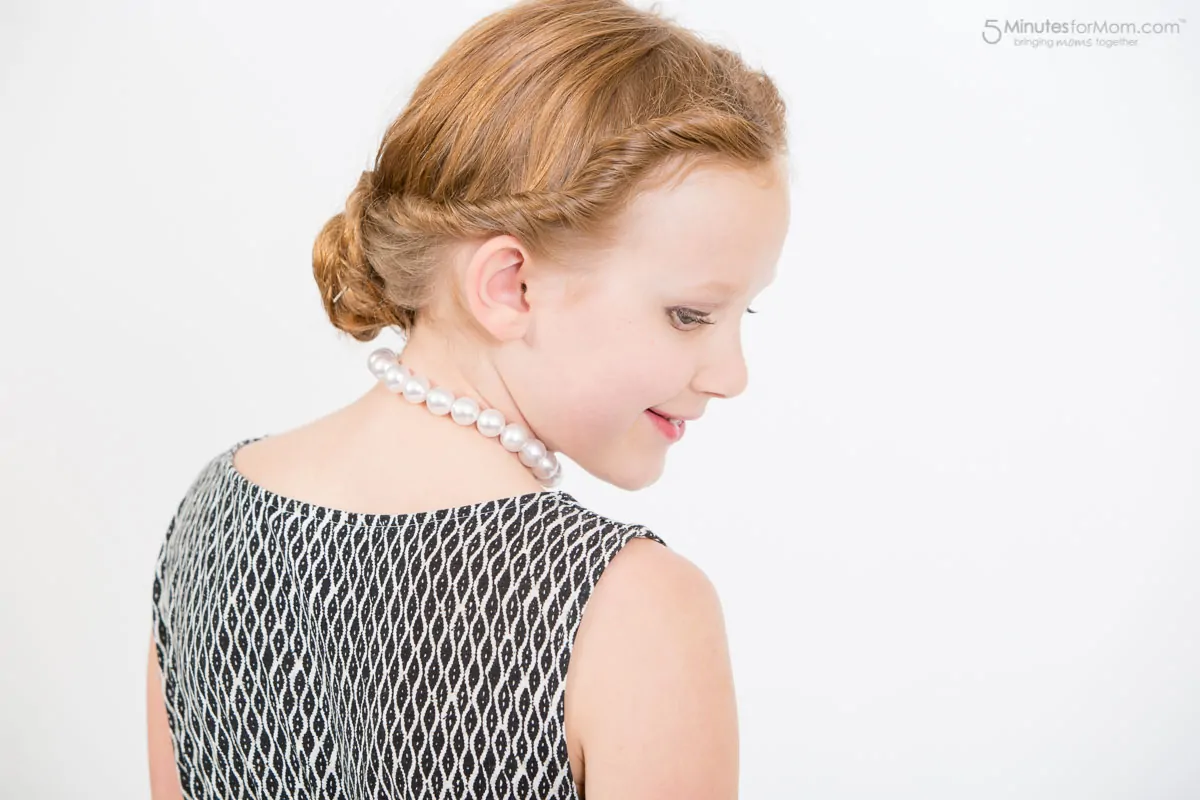 Next, I needed a lab coat. The only size I could find was an adult standard size, so I had to do some alterations to make it smaller.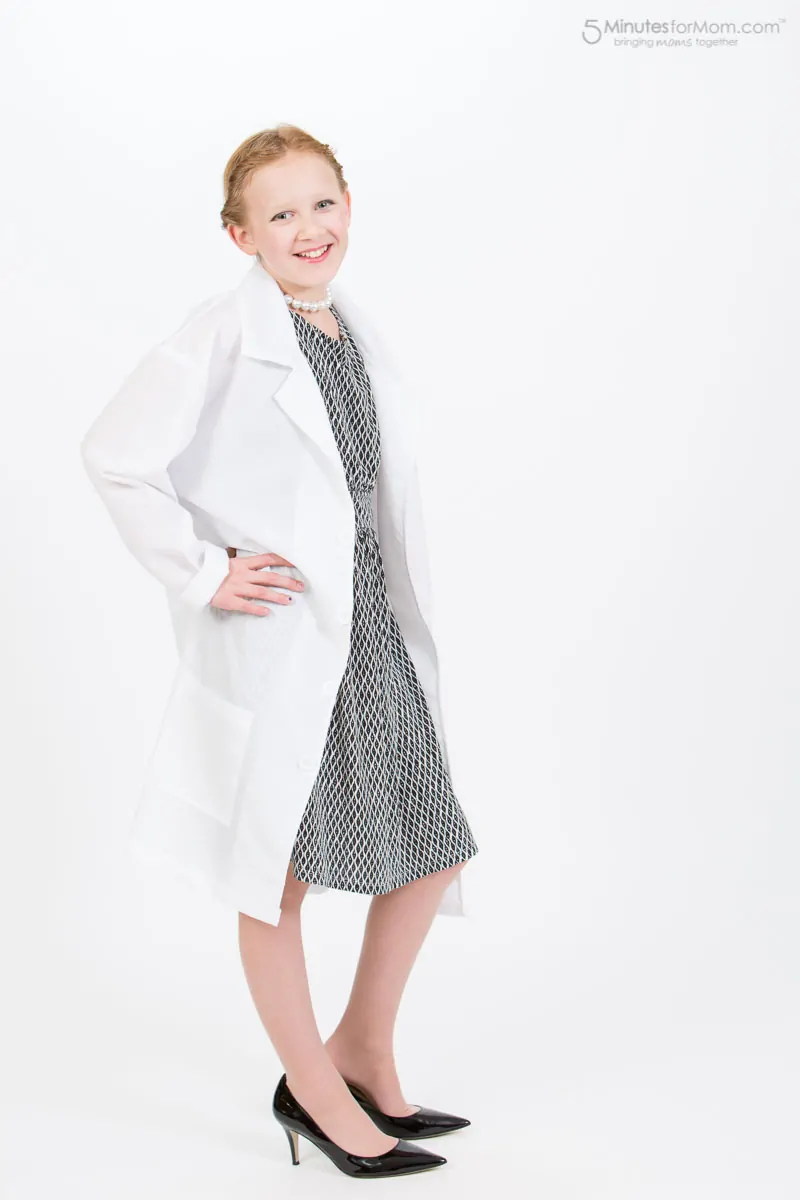 Finally, I printed off a copy of the famous "Photo 51" for Julia to use as a prop. You can get a downloadable version from Take Back Halloween.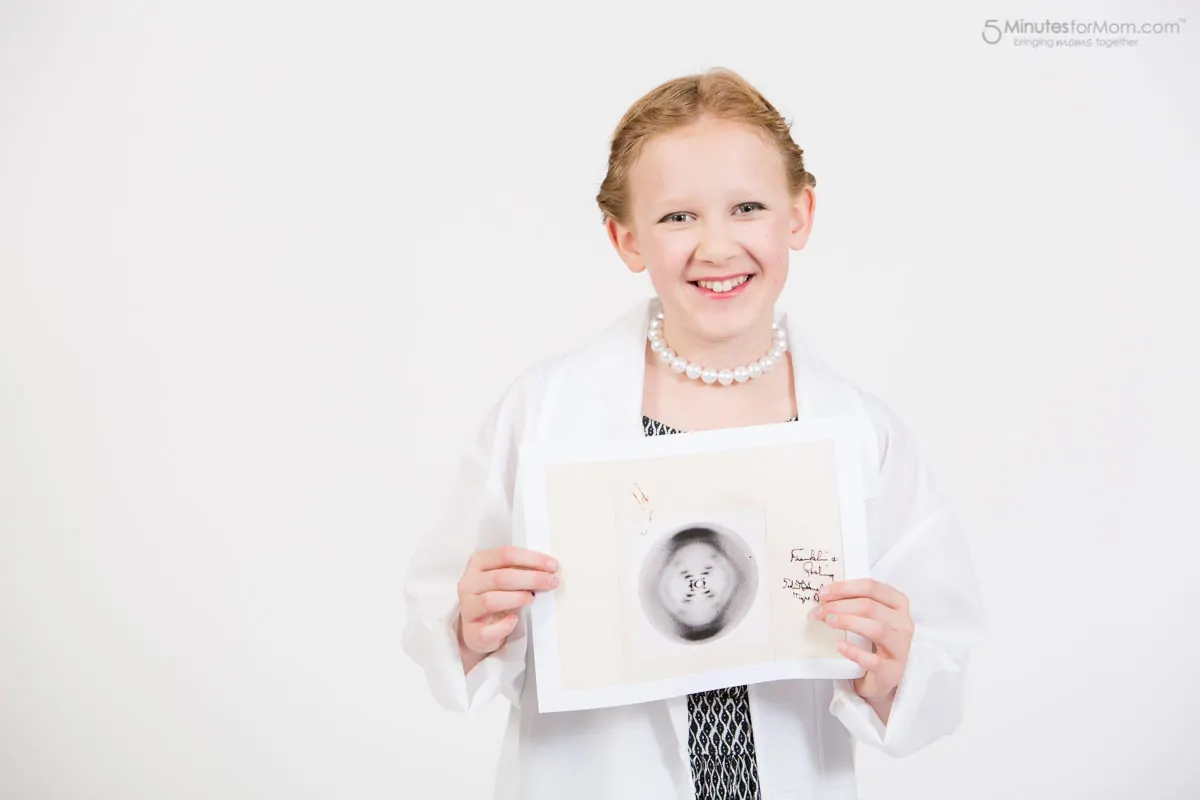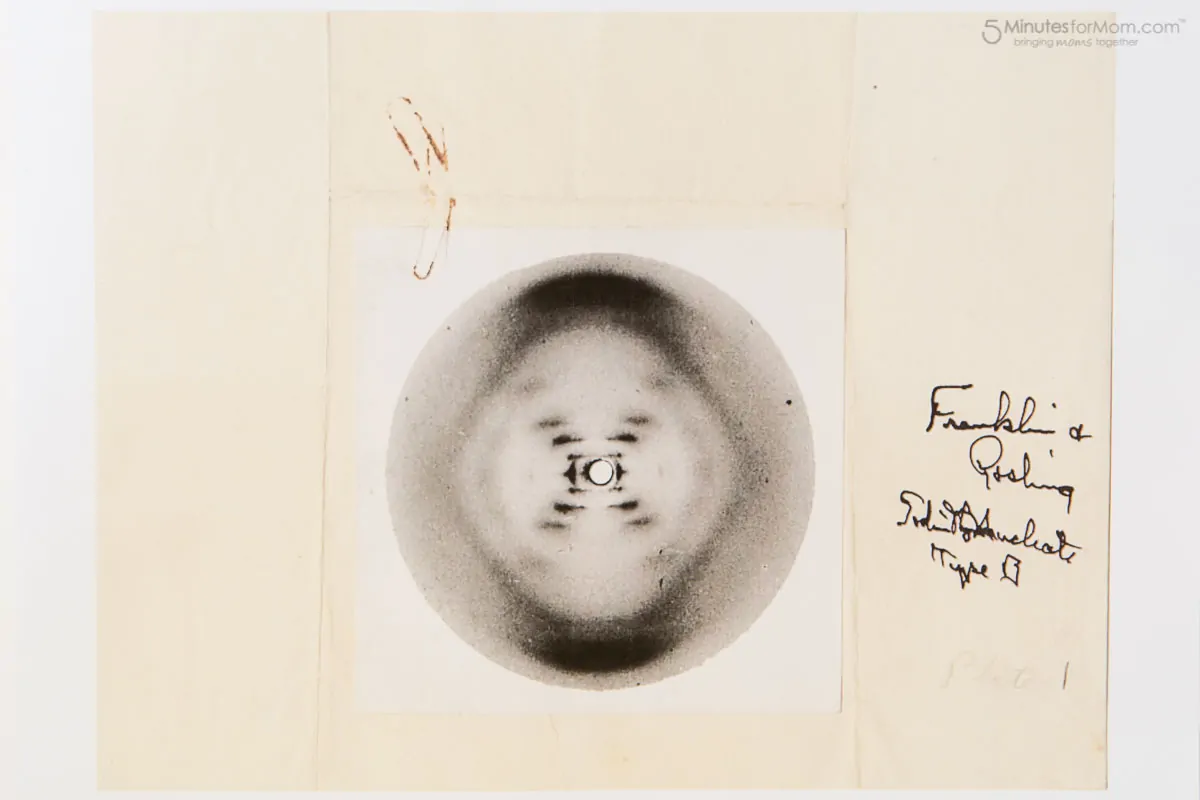 And here is Julia as Rosalind Franklin…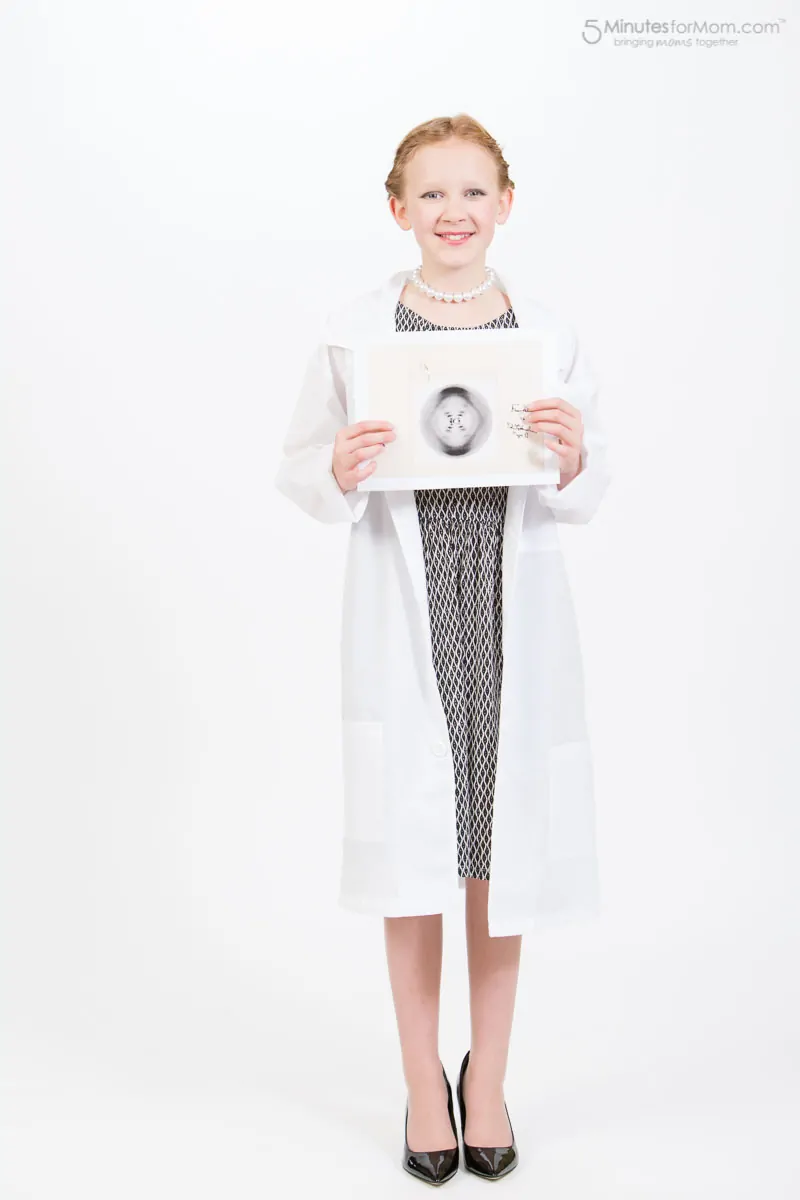 Marie Curie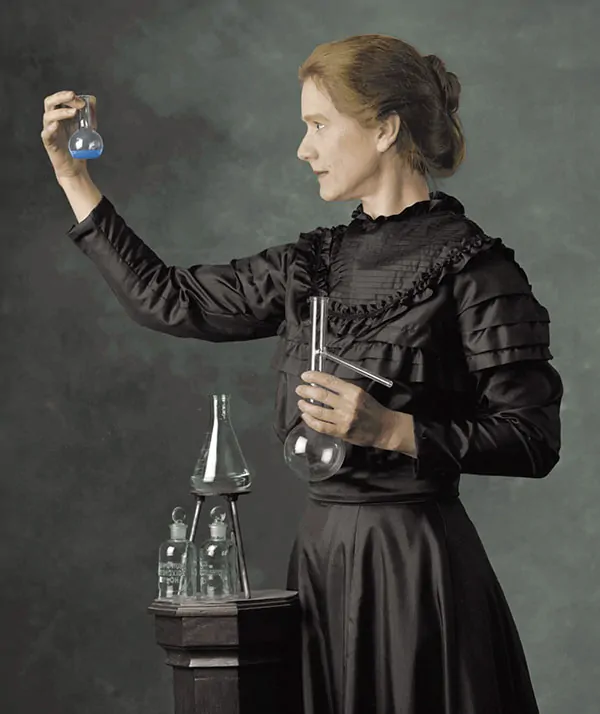 Marie Curie is perhaps the most famous female scientist and she is a fantastic role model for our girls.
Marie Curie, who lived from 1867 to 1934, was the first woman to win the Nobel Prize, and then also the first person to win two Nobel Prizes!
She is still the only person in history to have won Nobel Prizes in two different scientific fields, Physics in 1903 for the discovery of radiation and Chemistry in 1911 for discovering the elements radium and polonium. (Source: Take Back Halloween)
To recreate the iconic look of Marie Curie, you just need a long black dress, a messy bun and a beaker with a glowing blue liquid.
For the blue liquid, I coloured water with several drops of blue sports hydration liquid concentrate.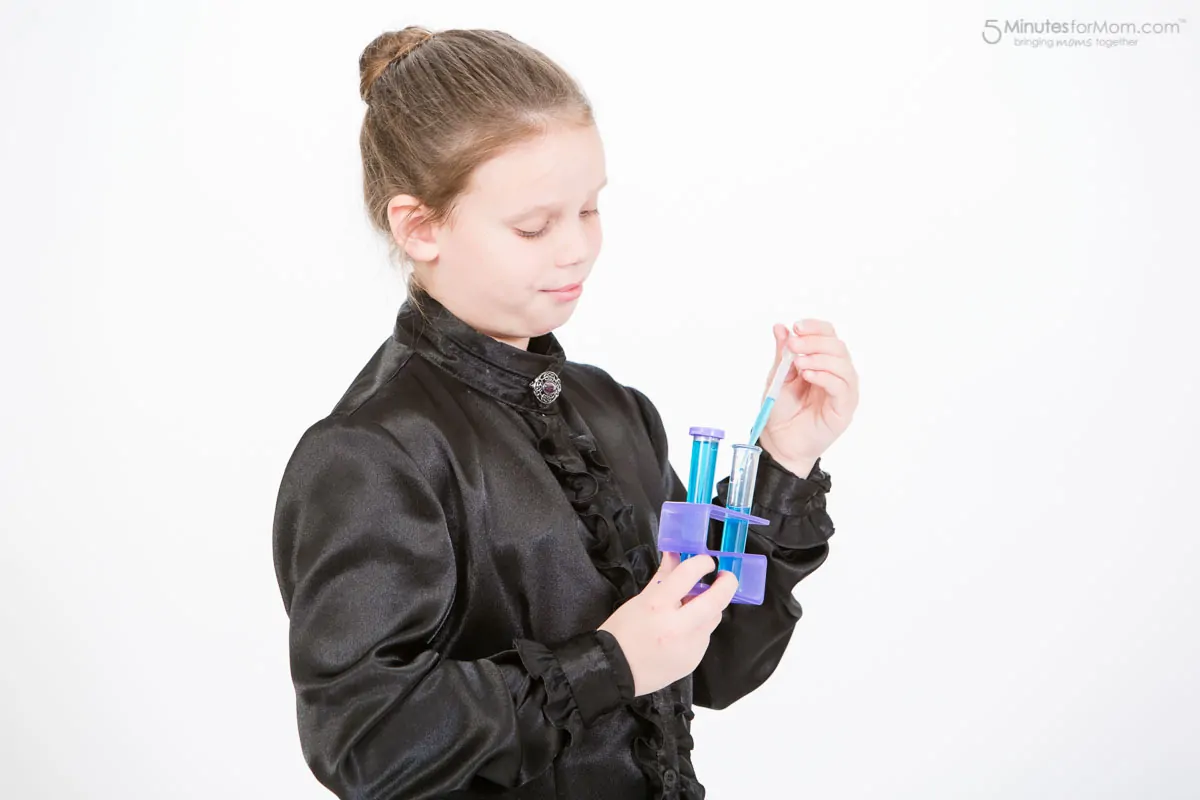 Finding a black, priestess-style dress for a nine year old wasn't going to be an easy task, so I did my best to improvise. At the thrift store, I picked up this black blouse and long black skirt…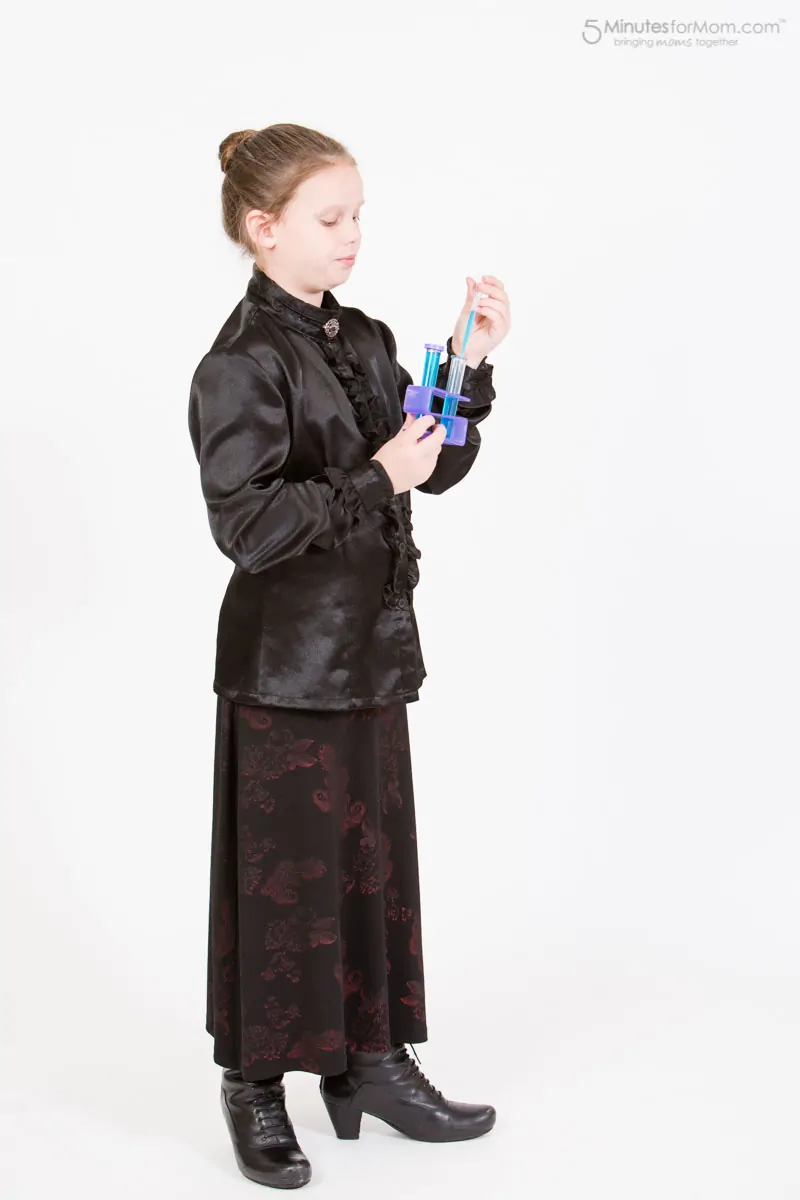 The blouse had a large pointed collar. So I trimmed it, turned it over, and sewed it down. I also added an old brooch from my mom.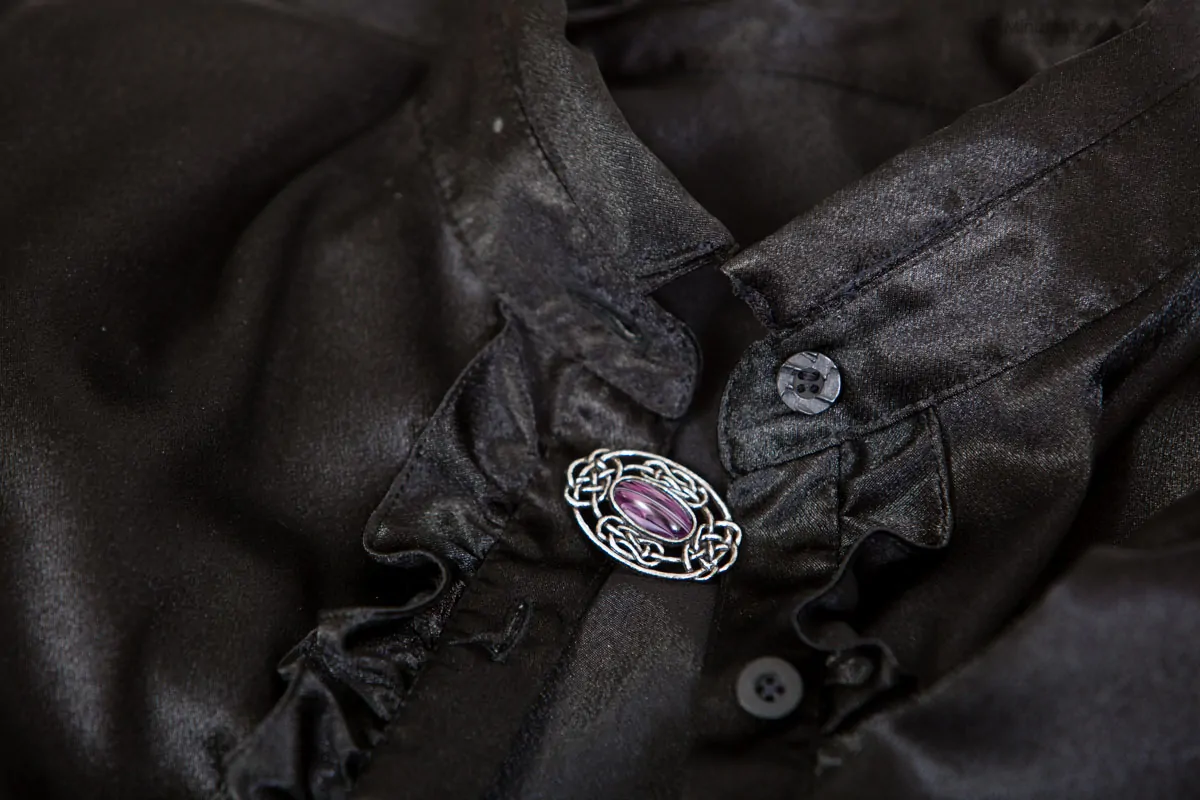 Then, I tied up Olivia's hair in a simple messy bun with wisps of hair coming out.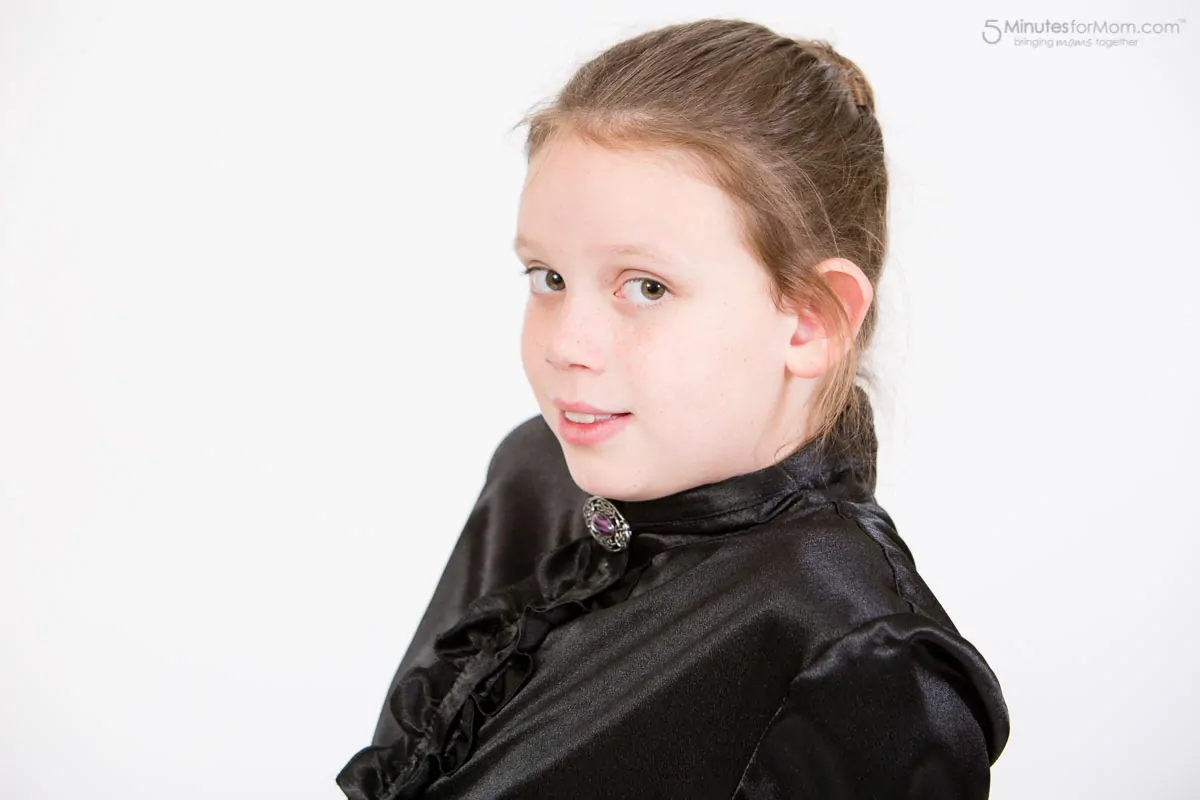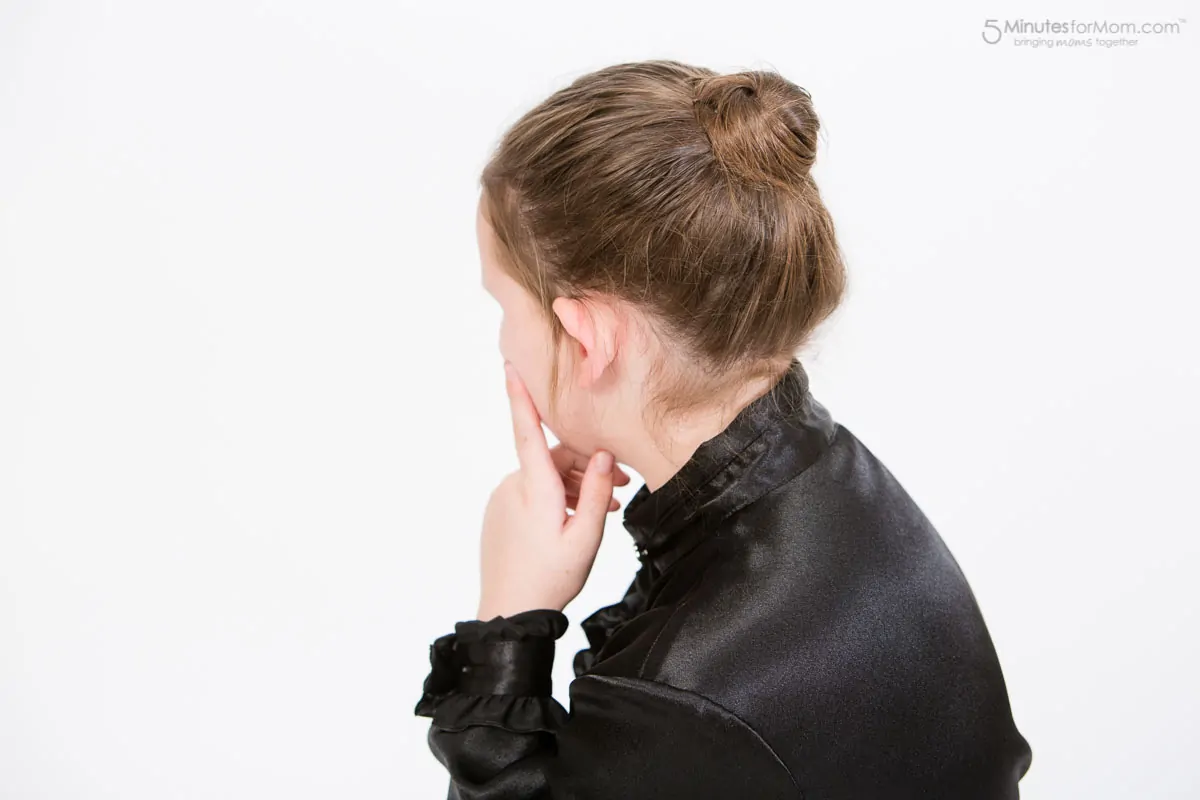 And finally, I used a pair of my boots as a stand-in for Victorian lace up boots. They worked perfectly and were only a couple sizes too big for Olivia.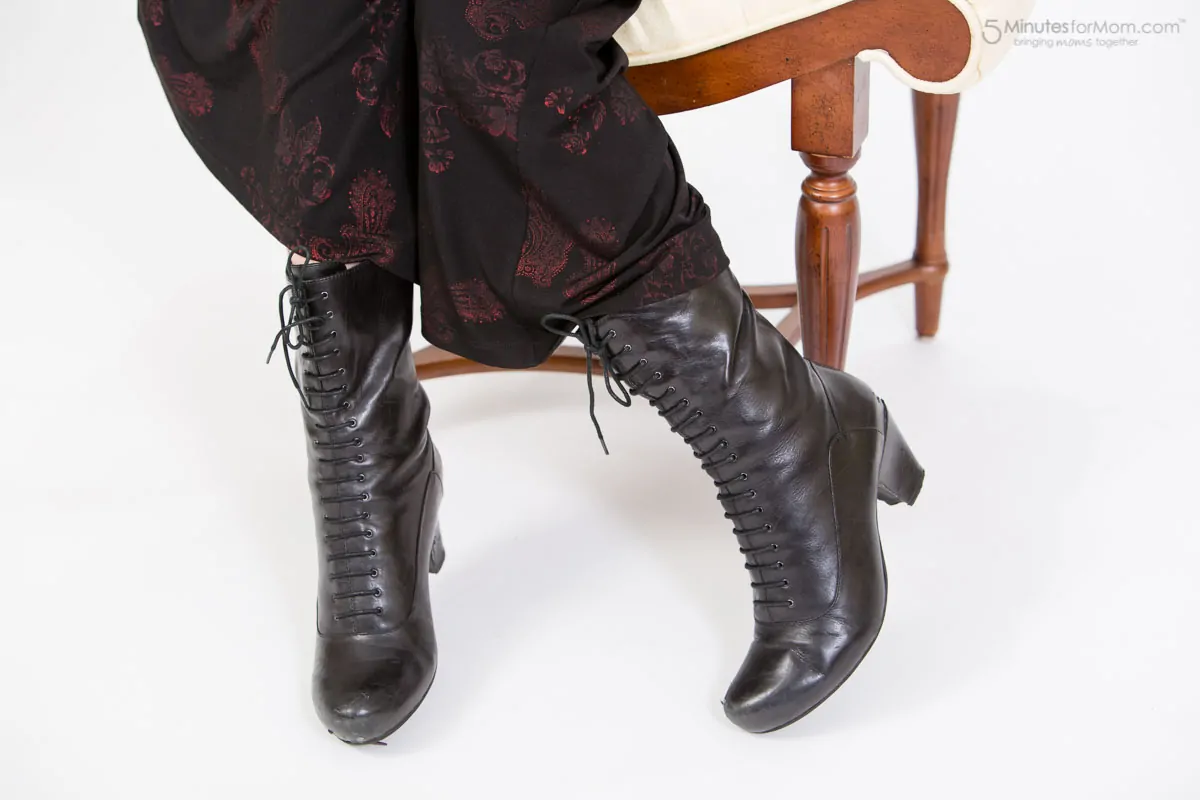 So here are our scientists in their costumes…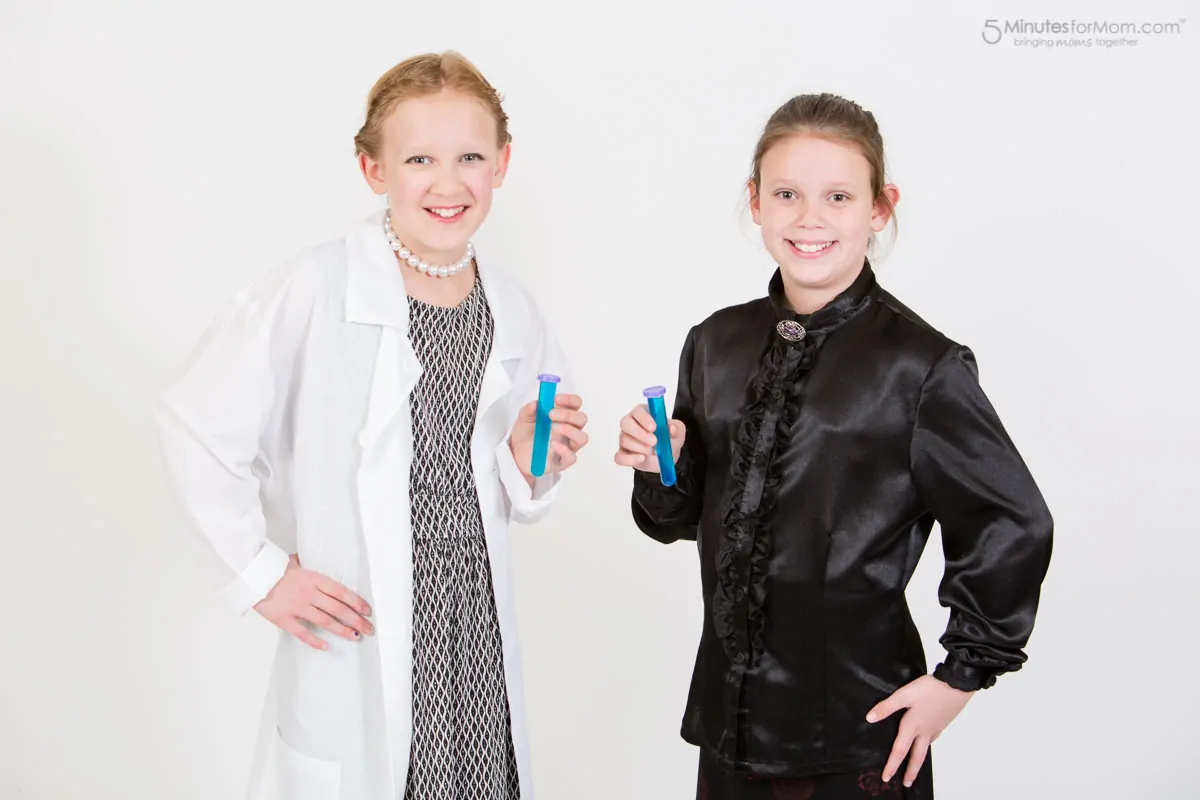 Moving Forward with STEM
If you and your kids want to dive a bit deeper into STEM, Sylvan Learning's EDGE classes provide children with hands-on, cutting edge classes that focus on programs like Robotics, Engineering, Coding, and Math Edge.
Sylvan EDGE is focused on challenging and inspiring kids to master critical skills for the future — and they are made to be fun!
I love that the Sylvan EDGE classes are hands-on, just like making your own Halloween costume!
We hope these costume ideas help get you and your girls excited about STEM. And since incorporating STEM into fun activities like making your own costumes, these Halloween ideas are an extra great way to get your kids growing with STEM!
Find More DIY Halloween Costume Ideas…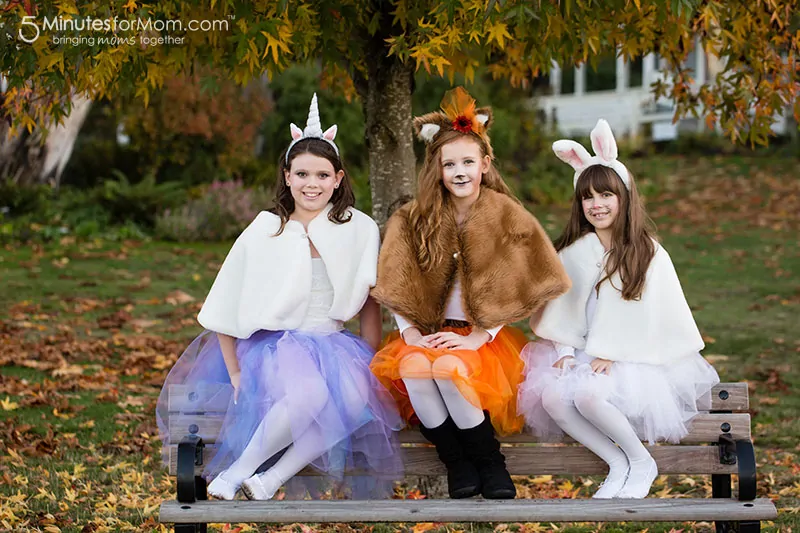 DIY Halloween Costumes for Teens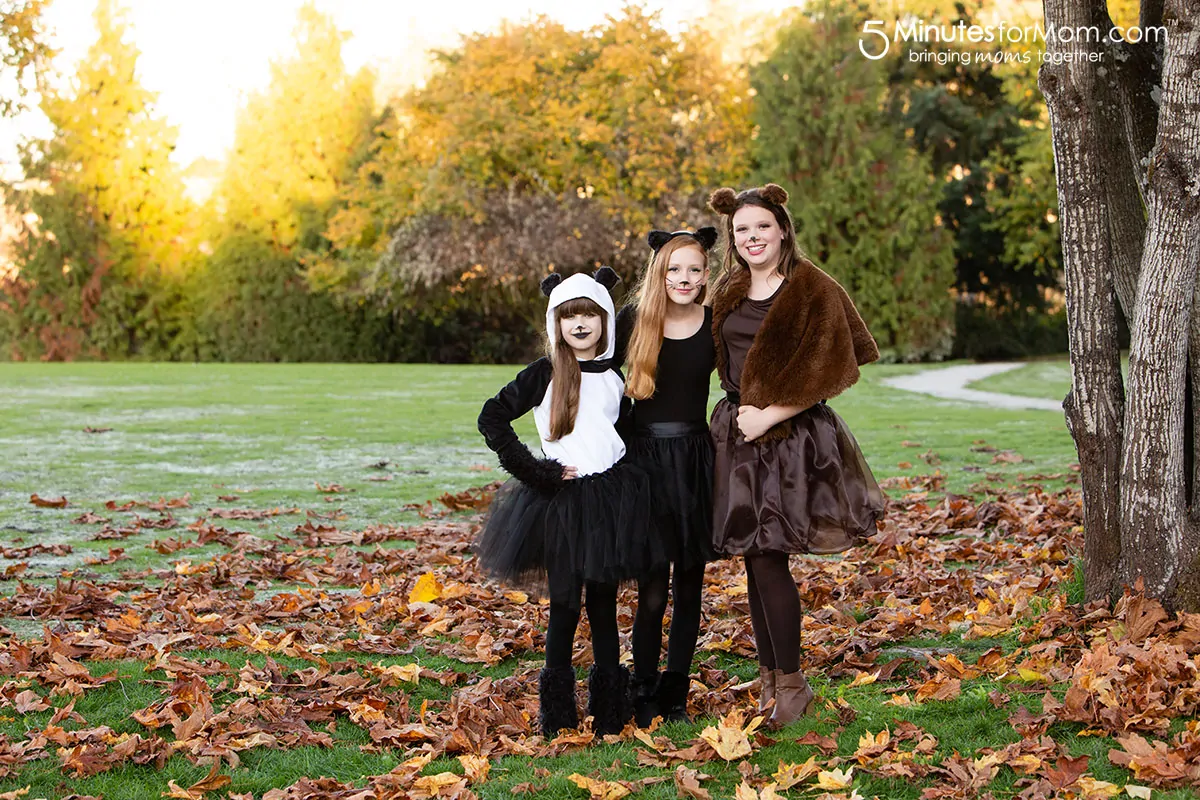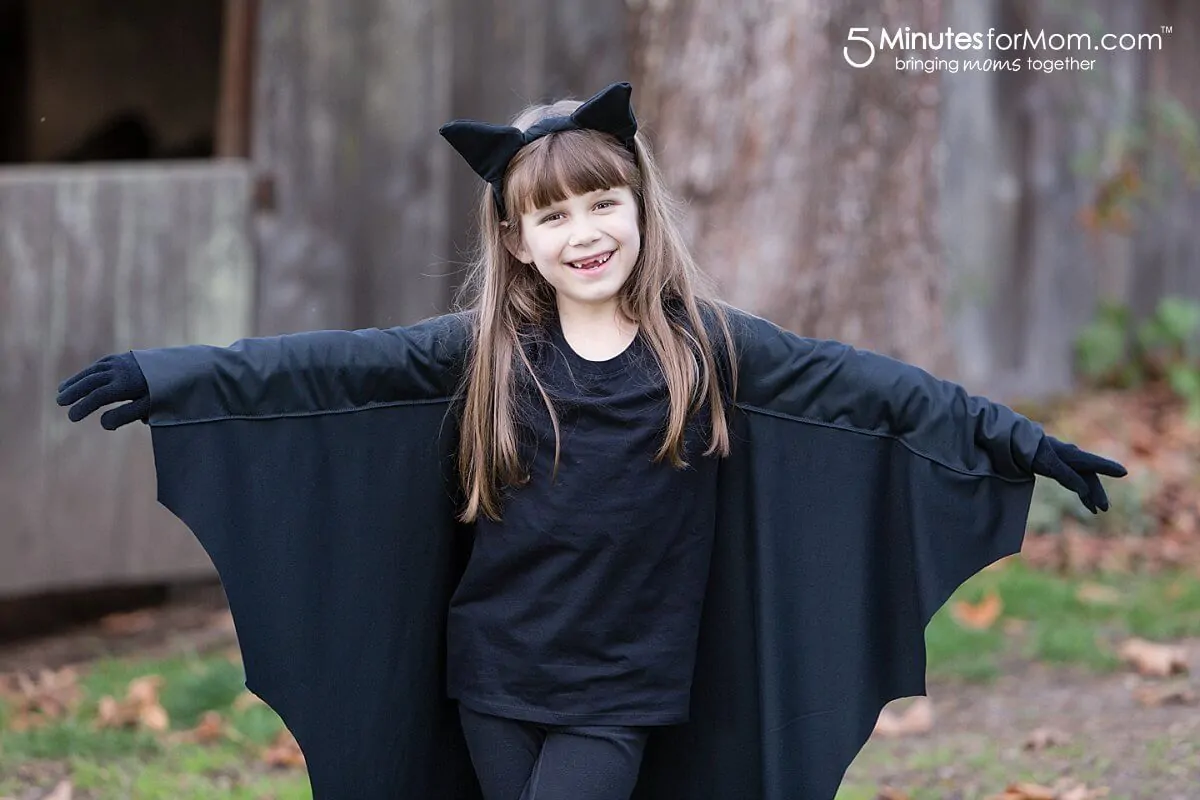 Pin it for Later

Written by Janice Croze, co-founder of 5 Minutes for Mom
Talk with me: @5minutesformom and Facebook.com/5minutesformom
Pin with me at pinterest.com/5minutesformom