This post may contain affiliate links. Read my disclosure policy here.
We're so thrilled to announce this awesome Back to School Giveaway from our friends at Microsoft. Thanks to the Windows and Office teams, one of you will win a new Windows Laptop & a year subscription to Office 365 Home.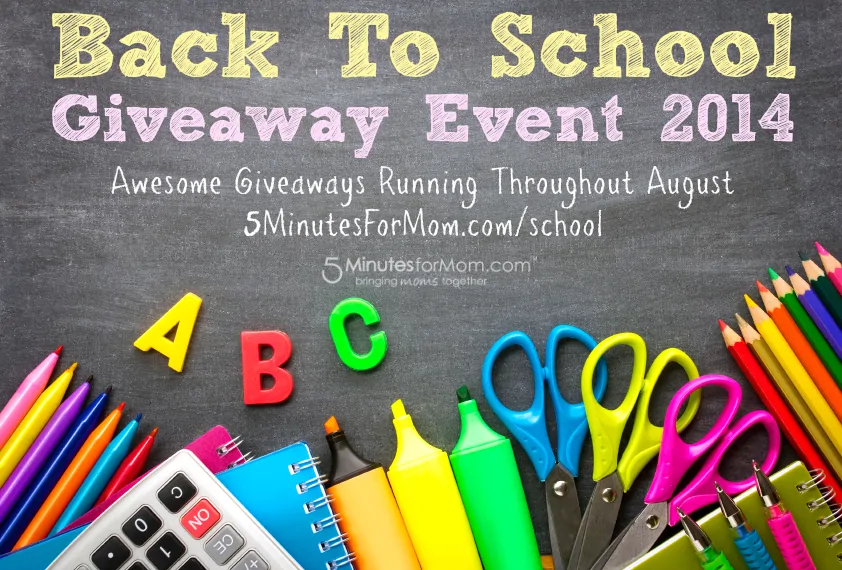 What's better than a laptop?
>>> A laptop that transforms into a tablet!!!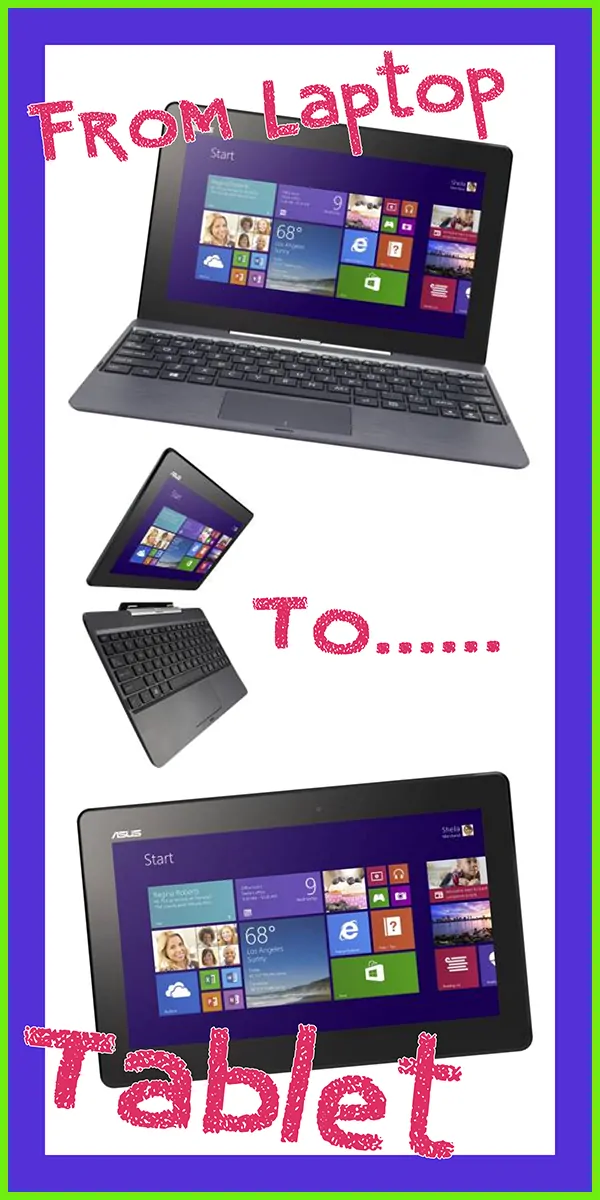 The Asus Transformer Book T100 is a 10.1-inch ULTRAportable device with detachable HD display than can be used as a Windows 8.1 tablet or a laptop. Microsoft Office Home and Student 2013 comes pre-installed. With battery power that can last up to 11 hours. Energy efficiency and multi-tasking performance at it's finest.
And the Asus Transformer Book T100 comes with OneNote.
Have you used OneNote? We've posted before about how awesome it is…
OneNote lets you collect all you the info you need, all in one spot. OneNote is available for Mac, PC, phone, & tablet.
Why use OneNote? Here are some great reasons why:
Notes without limits. OneNote allows you to upload up to 7GB of content to OneDrive for FREE, anytime.
Work better together. Get things done with family, classmates, & colleagues. OneNote offers simultaneous co-authoring for free without loosing changes, and changes made by others are highlighted, with the authors initials.
No web access, no problem. Offline access is FREE.
All in one. OneNote works beautifully with Office.
Your notes everywhere. OneNote comes with Office 2010 & 2013 as well as Office 365 for PCs. OneNote is also available for Web, Windows, Phone, iPhone, Android phones, and as a Windows 8 application for tablets. You can also use OneNote in web browsers with the OneNote web app.
Office 365 – From home to business, desktop to web, and all the devices in between, Office has the tools to get your work done.
Top Features of Office 365
Now thru September 6th, Microsoft is offering $150 off Surface Pro 3 for college students to help them get the tablet that can replace their laptops at a reduced rate. With the all-new Surface pen you can turn out term papers or use it for hand written notes or doodles.
Take advantage of this offer at Microsoft Stores, Best Buy, Staples and Tiger Direct in the U.S., and Microsoft Stores and Best Buy in Canada. To be eligible for this promotion, students must be enrolled in college or university and have a valid .edu email address.
Gear Up for Back to School
Check out this great post on the Office 365 blog for Top 5 Tips for Back-to-School on a Budget.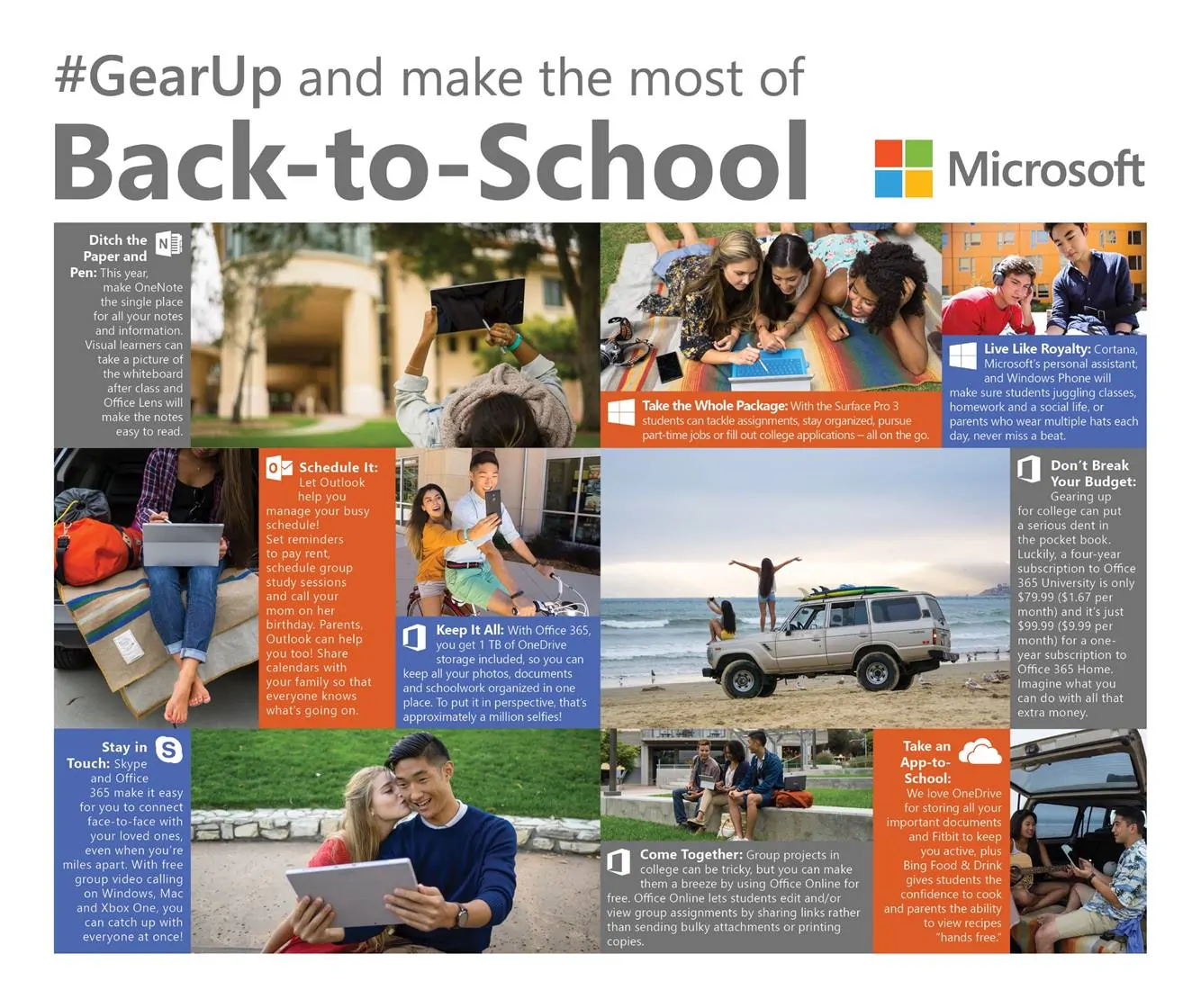 Enter to Win
Would you like to win a Asus Transformer Book T100 and a one year subscription to Office 365 Home, a combined value of $449?!
Of course you would! Use the entry form below to enter!
Enter More Back to School 2014 Giveaways
Here's the list of Back to School 2014 Giveaways we've published so far… Check here daily for updates.
Don't miss any of these giveaways. We'll be updating our Back to School Giveaway Event 2014 post daily with new giveaways.
>>> Don't Miss Any… Click Here to Get A Reminder
Back to School Shopping Guide
We've pulled together an awesome collection of shopping suggestions to get your kids ready to head back to school… check out our Shopping Guide now!