This post may contain affiliate links. Read my disclosure policy here.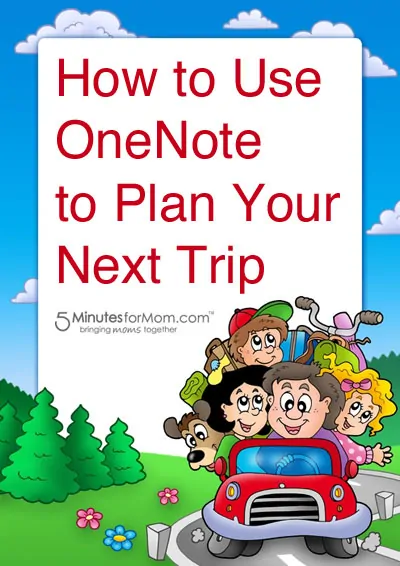 Planning vacations is part of the fun… and when you have a tool like OneNote to help you organize your ideas, it's even better.
Instead of having all of your ideas for sightseeing stops, restaurants to eat at, and hotel accommodations written on small pieces of paper that are scattered all over the desk, use OneNote.
It can help you research and plan your trip all in one place. Microsoft created this free Thailand themed travel notebook to help you plan and research. Don't worry — it's totally customizable.
There have been a couple times when out on the road that one of our kids have been sick and needed to get to a doctor. With OneNote, I can simply scan all our medical history and medications into the computer. This way, I always have that information handy at a moment's notice when my kids need my attention the most.
With Spring Break right around the corner, you might be traveling with a group of friends. Input everyone's information into OneNote, and then give all the group access to your travel book and they can look up the information needed.
OneNote makes it easy and simple to plan your next road trip. Using it takes the worry out of keeping up with sticky notes, and your entire family's ideas of what they would like to do during your vacation.
From the Microsoft OneNote Blog:
To show you exactly how OneNote can help you before, during, and after your trip, we've built a Thailand-themed trip notebook for you, which you can download for free and play with. Even if you're not going to Thailand, you'll quickly see how easy it is to tailor this notebook for your next destination. You can customize this notebook by adding your own information, deleting what you don't care about, and moving the pages and sections around just the way you want them.

Not sure how to customize a downloaded notebook? Office Casual expert Doug Thomas has put together a quick video:

If you don't yet have OneNote 2010 on your computer, download a free, fully functional 60-day trial version. Once OneNote is installed, download our free Thailand travel notebook and then start customizing it the way you want.

Prefer another destination? Visit www.onenotetravel.com to grab any of the 40 other free travel notebooks that we've created for you.
Don't have a Windows 8 Machine with the new Office 365? Why not trade up?
Right now through April 27th, Staples will be offering customers the opportunity to get up to $400 back when they trade in their old PC for a new Windows 8 touch screen laptop or All-in-One or tablet PC. For more details, visit this link.
Where will you go on your next vacation?
Will you be heading out on a road trip or flying to a new city? Tell us all about it in a comment.
Please note: We are Windows Champion Ambassadors. All opinions listed here are our own.
Written by Susan Carraretto, co-founder of 5 Minutes for Mom
Talk with me: @5minutesformom and Facebook.com/5minutesformom
Pin with me at http://pinterest.com/5minutesformom/