This post may contain affiliate links. Read my disclosure policy here.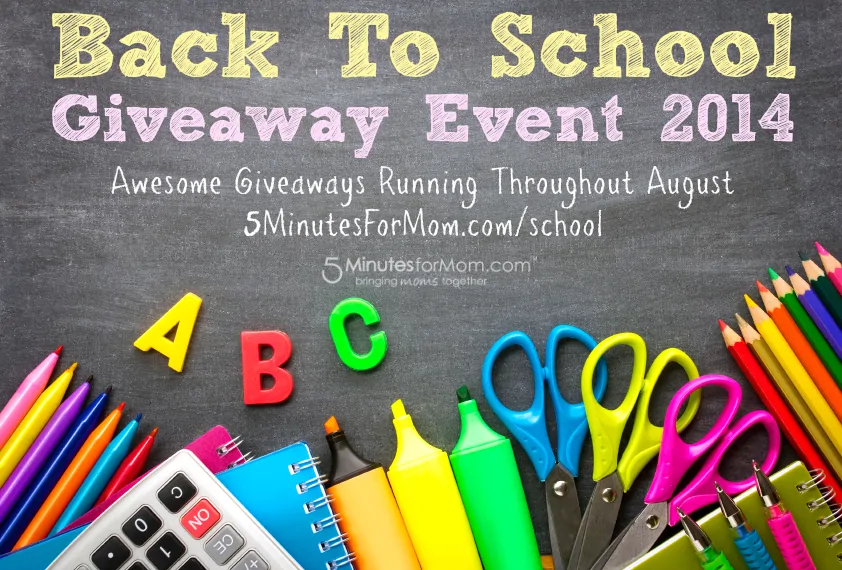 >>> Don't Miss Any… Click Here to Get A Reminder
When do your kids go back to school? Have you started back to school shopping?
It may be as early as the first week of August or it might be as late as the first week of September, but it will happen… our kids will go back to school and we will go shopping.
For parents, the Back to School season usually includes a lot of shopping. Next to Christmas, I think we spend more money on our kids during August and September than any other time of year.
We have to buy everything from clothes to pencil crayons and laptops to lunch boxes.
The Big Back to School Giveaway Event and Shopping Guide
Throughout the first half of August we published 15 Back to School Giveaways and linked them all up below… so you can easily find and enter each one.
We've also created an awesome Back to School Shopping Guide that features brands and products to inspire you and help you decide what to buy for the new school year.
The first giveaway post published, Saturday, August 2nd and we had a new giveaway publish every day through till Aug 16. You can still enter the giveaways until Saturday, September 6th, when all the winners for all Back to School Giveaways will be announced.
How to Enter
Visit each Back to School giveaway post that you want to win, leave a comment and enter using the the Giveaway Tools entry form. To be eligible for each prize, you need to enter on each post. All the giveaways are listed below and on each post so that you can find them easily.
Here's the list of all 15 Back to School 2014 Giveaways…
Make Sure You Don't Miss Out!
>>> Don't Miss Any… Click Here to Get A Reminder
We will send out an email when we publish the Shopping Guide and once all the Giveaways are published so you can be sure to enter.
Spread the Word
We'd love your help sharing this Giveaway Event with your friends and followers. It helps us continue to bring great giveaways to you.
[Tweet "It is #BackToSchool #Giveaway time at @5minutesformom – 15 Giveaways open until Sep 6."]
Back to School Shopping Guide
We've pulled together an awesome collection of shopping suggestions to get your kids ready to head back to school… check out our Shopping Guide now!