This post may contain affiliate links. Read my disclosure policy here.
Keeping kids active indoors on long winter days can be a challenge. I have two girls, who are now ages 8 and 10, and my twin sister Janice has an 8-year-old girl and a 14-year-old boy.
So over the years, we've spent a lot of winter days stuck inside.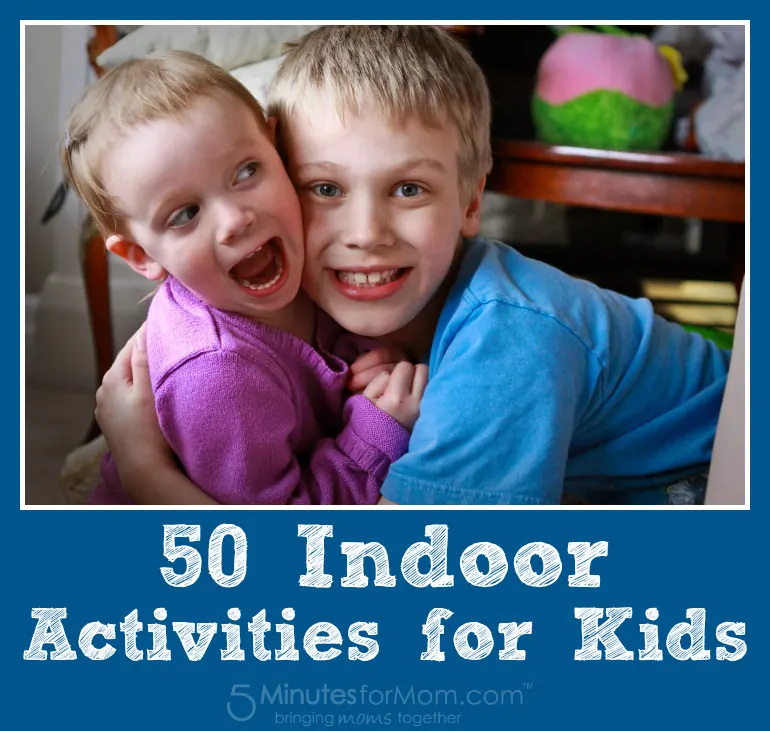 Just like most kids, ours have always liked to stay BUSY. On a rainy Saturday afternoon, you might hear my daughter Julia complain, "It's boring being stuck in the house all day!" If getting outside really isn't an option, we have to spark their interest with some creative indoor fun.

Here are 50 of Our Favorite Indoor Activities for Kids
Get Playing

Have a tea party.
Try both types of tea party… "pretend" tea is always fun, but also try making real tea using herbal fruit tea with honey and serve fancy cookies.
Play board games and card games.
Family time begs for classic board games and card games. My girls ask to play Old Maid and Go Fish over and over.
Wrap up "gifts".
Kids love to wrap presents. Let them wrap up toys & things around the house to give to each other.
Have a "spa" day.
Give each other facials with avocado masks and manicure/pedicures. It's so simple and fun to have a girls spa day at home.
Play hairdresser.
Do each other's hair. Even boys can have fun putting their hair in funny mohawks and using temporary color.
Look at your family photos and videos.
Tell your children stories from when the photos were taken.
Make scavenger hunts.
My girls draw out maps and take each other on elaborate scavenger hunts.
Have a "movie" night.
Make popcorn, set out special chairs and make special movie tickets for everyone. You could make it extra special with unicorn popcorn.
Cotton ball races.
Have races using straws to blow cotton balls across the kitchen table. A little fun competition keeps everyone playing.
Play "pin-the-tail".
Have your kids draw their own pin-the-tail on the donkey game. Let them use their creativity and not limit themselves to drawing a donkey.

Get Moving

Do cartwheels.
If your living room or play space is big enough, your kids can spend time and energy perfecting their cartwheels.
Play indoor "basketball".
Place a bucket or pail in the center of the room and toss either a light toy ball or crumpled ball of paper.
Have an "Easter Egg" hunt.
It doesn't have to be Easter… any time is good for a hunt. My girls love to hide and hunt for all types of toys.
Do yoga.
Kids love trying out yoga poses based on animals.
Play "Simon Says".
This classic game will surely distract them for a little while.
Have a dance party.
Turn on some music and dance around the living room.
Play "volleyball" with a balloon.
It doesn't matter how old you are, it's impossible to resist the urge to volley a balloon back and forth in the air.
Make an obstacle course.
Use couch cushions, pillows, furniture or whatever to build an obstacle course. For older kids, make a "spy" obstacle course with yarn or crepe paper streamers to act as "laser beams" for kids to climb under and over.
Have "potato sack" races using pillowcases.
My girls love pulling out pillowcases and hopping around the house.
Clean the house.
Kids can have fun cleaning… especially if they don't realize you want them to.

Get Making, Baking and Cooking

Cook or bake a new recipe.
Kids love to cook and bake so teach them a new recipe. Challenge older children with more advanced dishes.
Play with your food.
Make fun designs with cut up fruits and vegetables.
Make "Stone Soup".
Make soup from scratch and tell your kids the story of "Stone Soup".
Make homemade play dough.
Two activities in one… make fun colors of play dough and then get creative.
Freeze juice into popsicles.
It's funny how thrilled my girls are each time we make popsicles.
Make a "sensory" tub.
Pour a ton of uncooked rice into a plastic bin to make a "sensory" tub… This might get messy, but it's such fun. Kinetic sand is also a fantastic sensory toy you could put in a plastic bin for indoor play.

Get Imaginative

Play dress up.
You can inspire this timeless activity by keeping a trunk of fun clothes on hand.
Play a simple version of charades.
With young kids, you can simply act out animals.
Make a "roadway" around the house.
Use colored tape and drive toy cars around having them stop and yield at intersections.
Build a fort.
The all-time kid friendly indoor game. My girls build forts everywhere with everything.
Camp indoors.
Set up a tent and make indoor smores. Here's a great recipe for s'mores blondies.
Make shadow puppets on the wall.
Turn out the lights and use flashlights. This also might turn into a game of flashlight tag.
Put on "puppet" or "magic" shows.
My girls love to put on "puppet" shows, which aren't always even using real puppets, and their "magic" shows are comically simple but they entertain themselves and I love how cute they are. You could make these paper unicorns and attach to a stick to make a super easy puppet.

Get Crafty and Creative

Make paper airplanes and have flight competitions.
You can make simple or elaborate planes. Here are some free printables that show how to make a paper airplane. Try different designs and see which flies farthest.
Draw self portraits.
My girls are constantly drawing pictures of themselves and our family. Get in on the fun yourself and your kids will be thrilled.
Make collages from old magazines.
Cutting up magazines is half the fun.
Make sock puppets.
You might as well use those mismatched socks.
Paint.
Test and compare different types of paint from finger paint to watercolors. Try these rock painting ideas and you can use these tips for how to paint rocks.
Make sculptures
Use anything from marshmallows and toothpicks to popsicles sticks and styrofoam.
Have kids make "coloring sheets" for each other.
My girls love to draw the outline of a picture and have the other one color it in.
Make paper bag puppets.
We all remember making these puppets as kids ourselves.

Get Learning

Play store.
The best way to sneak math into play is to put prices on toys & use pretend money to play store.
Invent your own game.
Get a large posterboard, draw a game board and make your own play pieces.
Grow something simple from seeds in a pot.
It might not be gardening season, but you can still watch a bean sprout.
Do puzzles.
Whether you're young or old, if there's a puzzle partly finished on the kitchen table, you'll start hunting for the next piece.
Try "science" experiments.
Look online for simple experiments that are age appropriate.
Play "hangman".
I showed my girls how to play this little game a few months ago and they loved it. They didn't even realize it was helping their spelling.
Read funny, rhyming poems out loud.
Poetry is fun.
Play "memory".
Set out a tray full of objects and have the kids try to memorize what's there. Then take one item away and see who can figure out what is missing.
Make up stories together.
Have each person contribute one sentence at a time… the sillier the better.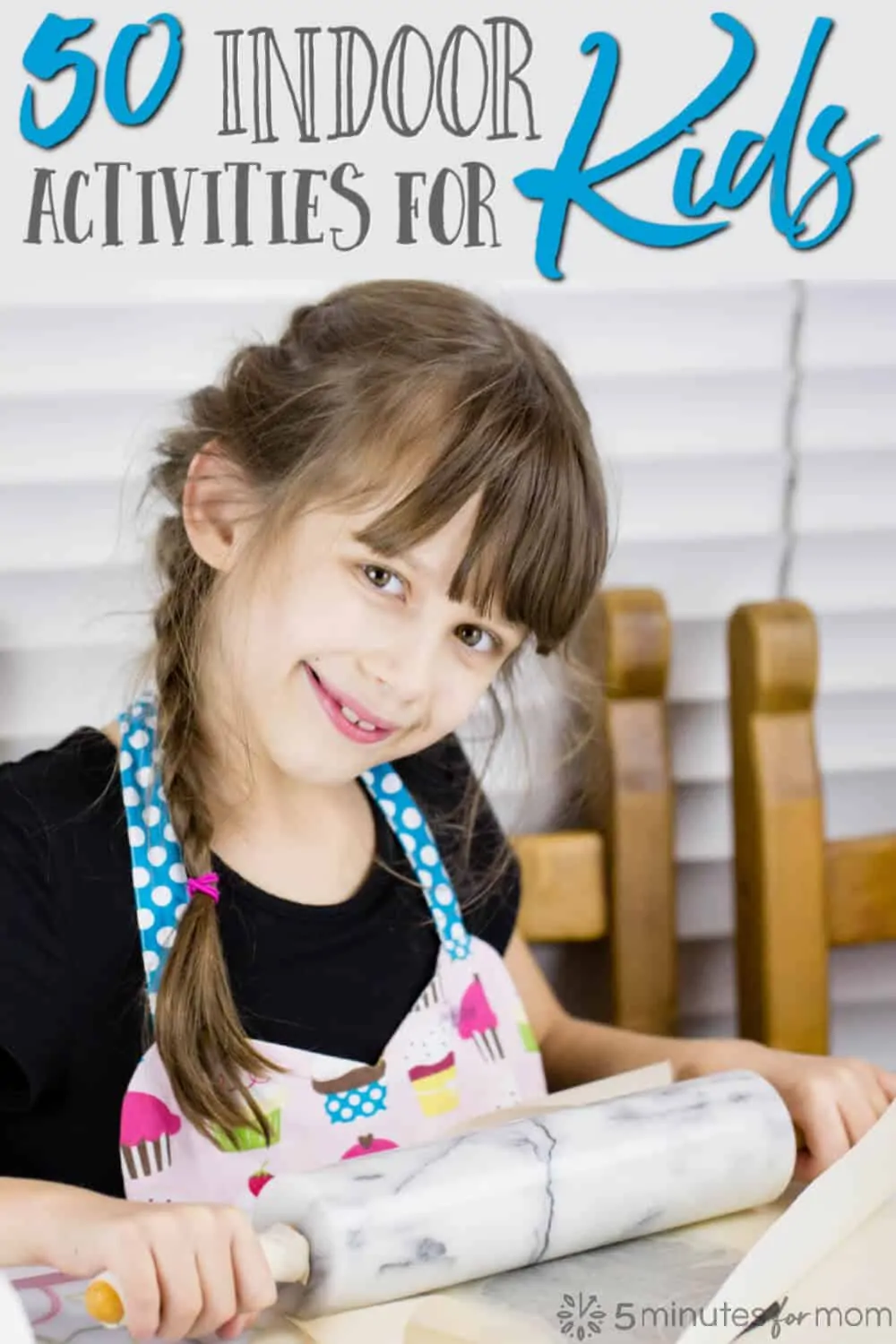 There are so many ways for kids to have fun playing inside. I hope you have a blast with these indoor activities for kids and if you want more ideas, check out our other Kids Activities blog posts and Pinterest board.
We originally published the first version of this post on here on BISSELL.com, but you can only view that page if you are located in the US.
Written by Susan Carraretto, co-founder of 5 Minutes for Mom
Talk with me: @5minutesformom and Facebook.com/5minutesformom
Pin with me at pinterest.com/5minutesformom