This post may contain affiliate links. Read my disclosure policy here.
Susan shares how her daughters have completely changed her idea of a "clean" house.
We all know life with little kids gets messy, but I'm always shocked by how much mess two sweet girls can make in even the shortest amount of time. My girls are now 6 and 8 years old, and over the years I've learned a few things about life with little girls.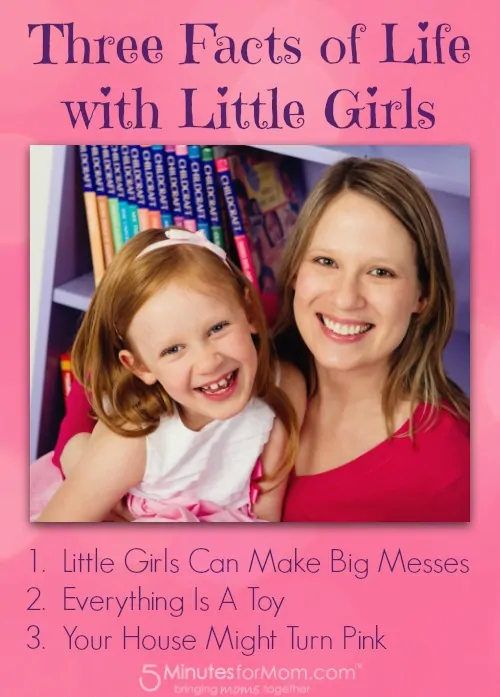 3 Facts of Life with Little Girls
1. Little Girls Make Big Messes
Don't be fooled by their sweet smiles and tiny frames; these little tornadoes leave a path of toys, clothes and food crumbs wherever they go.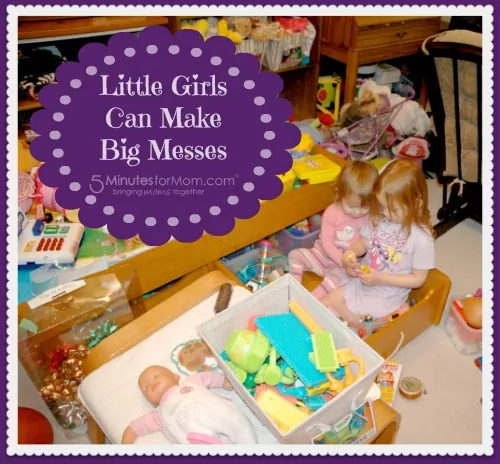 My girls move fast from one imaginary world to the next making toys, dolls and dress-up clothes fly off of shelves and out of drawers to bring life to their stories.
The entire house turns into a playroom overrun with toys. Fortunately, I've discovered a few tricks to inspire my girls to clean up their own rooms. I reveal those secrets in my post: 5 Tips for Cleaning with Kids.
2. Everything is a Toy and Everywhere is a Fort
Everything — even your furniture — will magically turn into a toy.

Click Here to Tweet —–> The bliss of childhood… everything is a toy and everywhere is a fort.

An empty kleenex box becomes a nest for plastic birds and your blue yoga mat turns into a pond for rubber ducks.
The couch is a castle wall and the pots and pans are pushed aside so the cupboard can become a crib for yet another elaborate role play of "mommy and baby".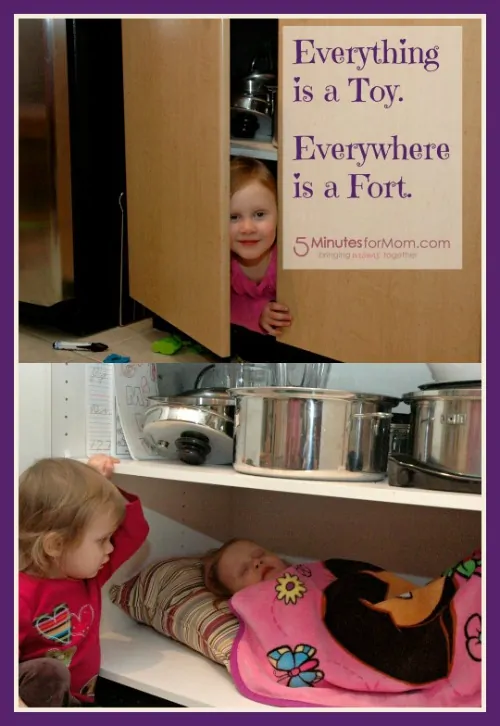 You can create the most fabulous playroom with elaborate toy displays, but the girls will still find a way to play IN the furniture and wherever else they're not supposed to be. Under the kitchen table, behind the couch or in a cupboard, I've discovered my girls in "forts" everywhere.
3. Your House Might Turn Pink
My house is pink. Well, maybe not the paint outside, but everything inside reflects the hundreds of pink toys, pink stuffed animals, pink blankets and pink clothes.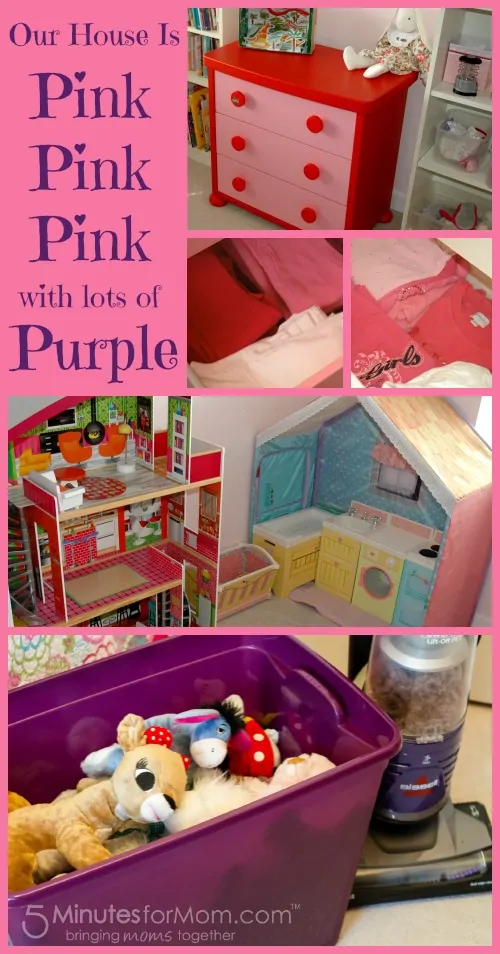 The only break from pink is purple which means our laundry line is a continuum of girlish color.
(Luckily for me, I too love pink and purple, so my laundry fits right in with theirs.)
Most Importantly…
But my most important lesson from raising these two little pretties is to live, love, laugh and snap lots of photos even when it's messy.
Your Turn
What have your little ones taught you about enjoying life and celebrating everyday messes?

Disclaimer: This post is part of a sponsored campaign but as always, you can trust our opinions are our own.
Written by Susan of 5 Minutes for Mom
Join me at: @5minutesformom and Facebook.com/5minutesformom
Pin with me at http://pinterest.com/5minutesformom/